Table of Contents
Mosaic flooring has been around for centuries and it's not going away any time soon either. From exciting ancient Greek and Roman archaeological discoveries to the retro mosaic and terrazzo flooring at your grandparents house – mosaics have withstood the test of time. But what makes mosaic flooring so evergreen and timeless? The reason for that is how this medium combines incredible functionality with beauty. Marble stone tile mosaic is durable, so much so that archaeologists have uncovered mosaic flooring, dating back centuries, in pristine conditions.
Furthermore, thanks to the variety of naturally occurring marble stone colors, the design possibilities are endless. For the colors that are rare in nature, there's always another option – agglomerated marble mosaics.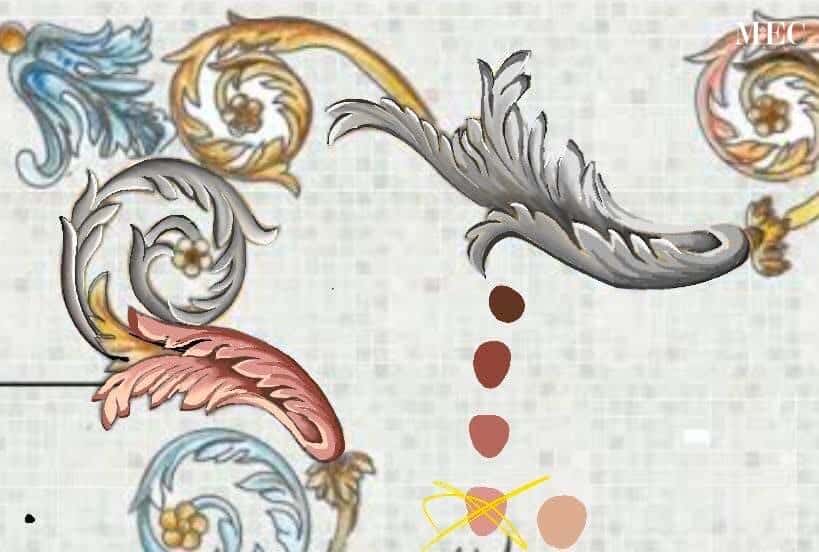 Also Read: Types of Marble From Around the Globe for Your Home
Decorative mosaic flooring is long-lasting, versatile and wonderful. They are suitable for both indoor and outdoor applications. We do not see mosaic floor tile patterns running out of style anytime soon.
Marble Mosaic Tile Flooring Idea You Will Love
It's time for another mosaic design idea list! We know how much our readers love those. Let us have a look at some beautiful, ornate mosaic floor tile patterns we have curated for you. This time we have something for every type of interior design and taste. From abstract mosaic flooring to intricate rugs inspired from all parts of the world, we have it all.
Abstract Art Mosaic Flooring
Looking for something different from the traditional tile patterns? Try abstract art marble mosaic flooring for an out-of-the-box solution.
COVO | Think abstract area rug and durable marble flooring, combined. Covo is one of our first ever abstract marble rugs. We have combined hand cut mosaic floor tile pattern with waterjet tile design.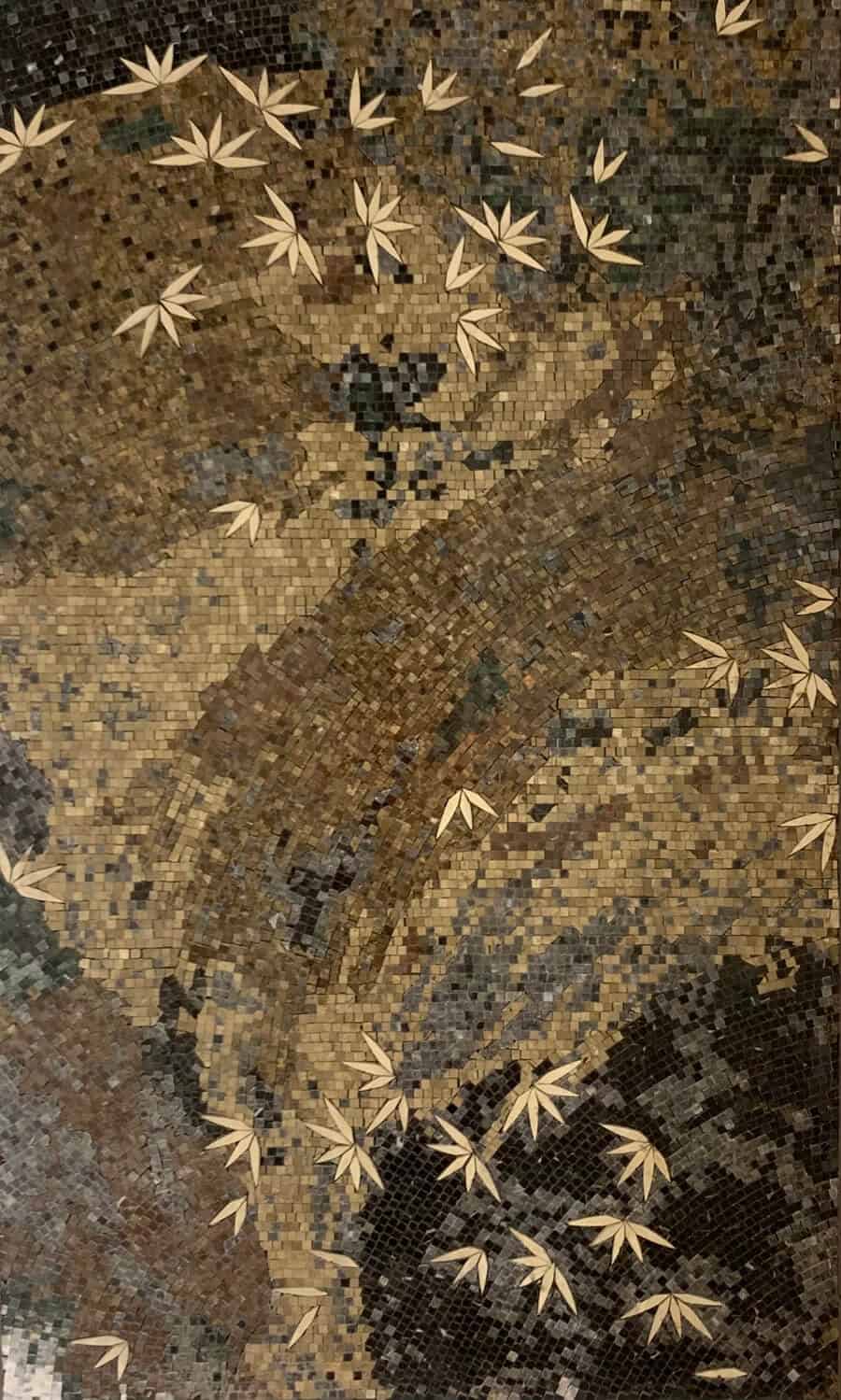 Marble mosaic colors used: Dark Emperador, Light Emperador, Nero marquina, Indian Green Verde Alpine, Gray marble, Perlino Bianco (waterjet leaves).
Waterjet Inlay Mosaic Flooring
While nothing can ever replace the handcrafted mosaic floor tile designs, with the advancement of technology the design horizons have broadened. A different and more precise type of mosaic flooring patterns have become possible with the evolution of waterjet cutting machines.
It is incredible how precisely and neatly a high-pressured stream of water (with abrasive particles) can cut through materials like metal sheets and marble slabs.
If you're looking for unique mosaic flooring ideas, consider these stunning marble water jet inlay ornamental tile designs.
KOBEREC | The marble rug features a vibrant acanthus leaf and scroll pattern inspired by old world European decorative styles. Koberec features marble varieties sourced from quarries located around the globe.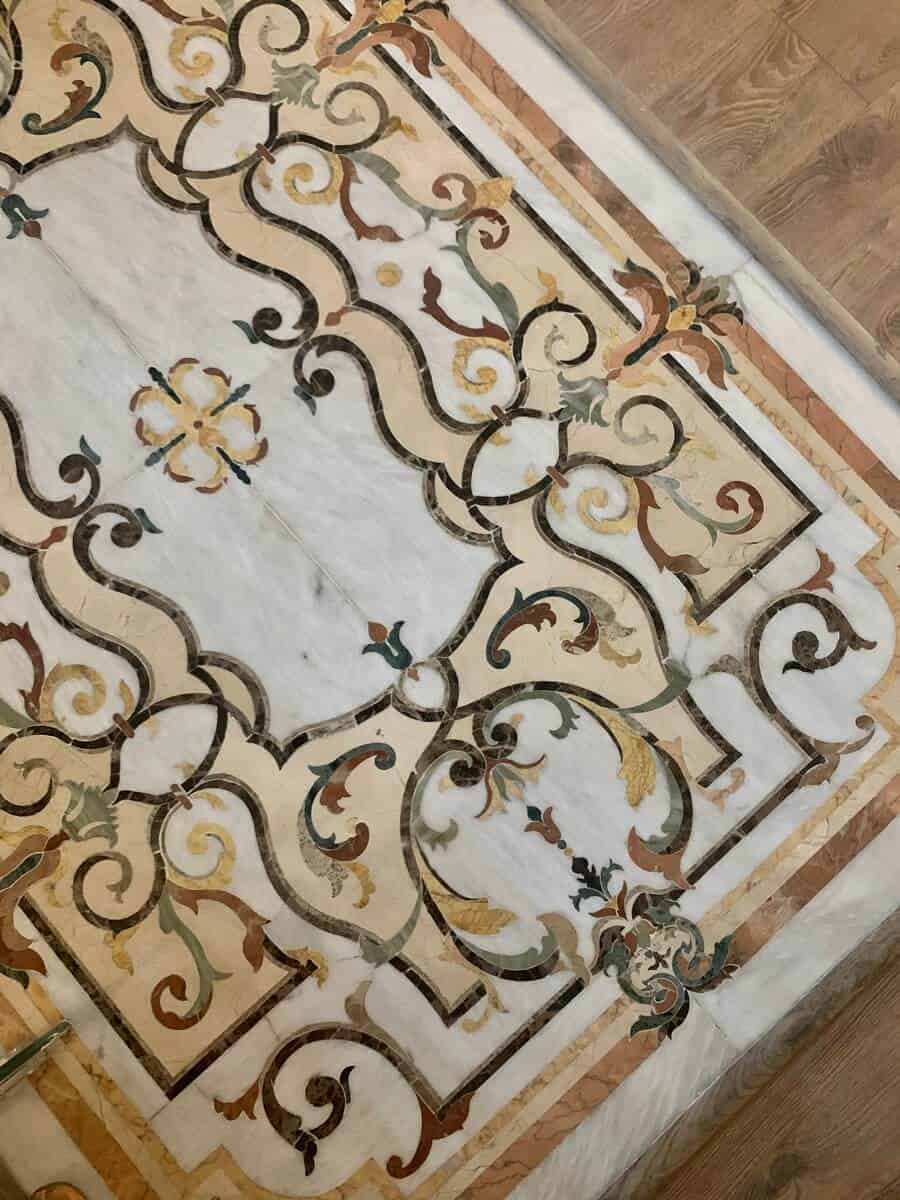 Marble stone tiles colors: Vietnam white, Indian Green, Rosa Valencia, Crema Valencia, Crema Marfil, Verde Laguna, Dark Emperador, Light Emperador, Amarillo Triana.
Opulent Marble Rugs & Intricate Mosaic Flooring Designs
Mosaic flooring is a true testament to the fusion of art and functionality. MEC offers an impressive range of mosaic floor designs that are sure to captivate your senses. Our skilled designers meticulously arrange small, vibrant tiles to create stunning patterns and motifs that transform your floors into works of art. Whether you desire a bold and dramatic mosaic statement piece or a subtle and understated design, our team at MEC will bring your vision to life with unparalleled precision and craftsmanship.
Endless Possibilities: Marble Mosaic Rugs
At MEC, we understand that every space is unique, and our mosaic floor tile patterns are designed to reflect your individuality. From classic geometric designs to intricate floral motifs, our diverse collection offers endless possibilities for transforming your floors. Our team of skilled artisans and designers is well-versed in the art of creating mosaic floor tile patterns that seamlessly blend style and functionality. With MEC, you can be assured of receiving flooring options that not only enhance the beauty of your space but also withstand the test of time.
TESORO
Impactful and bold, the Tesoro is the new gem of handmade marble mosaic rugs. The aesthetic central motif alone can be used as a stand alone mosaic floor medallion. Tesoro is for opulent, maximalist spaces. It can go well with luxurious decor and furniture pieces. Note the golden marble gradient.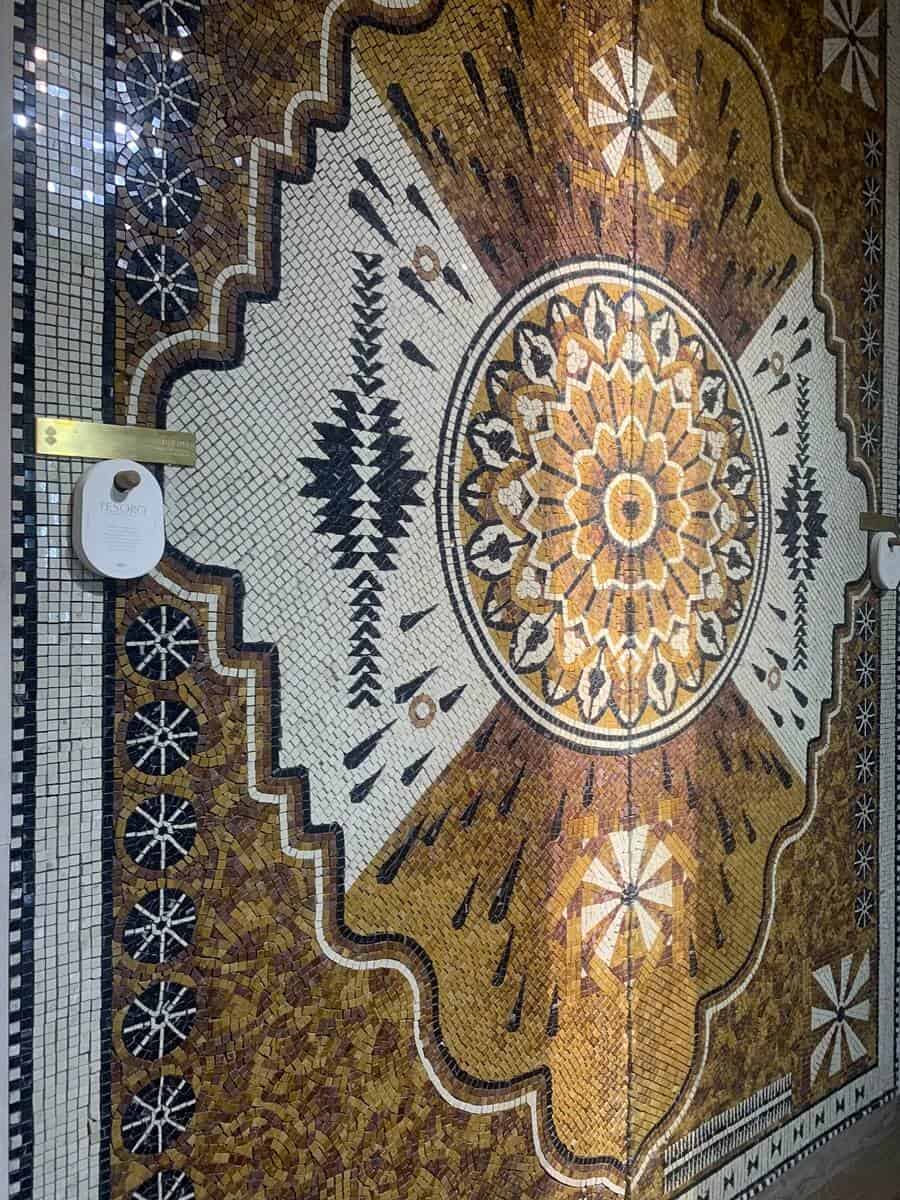 Introducing a gradient with natural marble stone is a skill not all craftsmen possess. MEC's marble floor patterns and rugs are fashioned from premium marble tesserae. Each rug is custom handmade to order, by a team of Italian-trained craftsmen.
Marble mosaic colors used: Perlino bianco, Nero Marquina, shades Brown Onyx & Red Onyx.
BASILIO
Get the warm cozy look of a real rug minus the fuss of dust and spills. Exquisite floor tile patterns made using hand-cut marble mosaic tiles by expert Italian-trained craftsmen. This opulent mosaic flooring rug features floral and botanical details and an intricate mosaic tile border.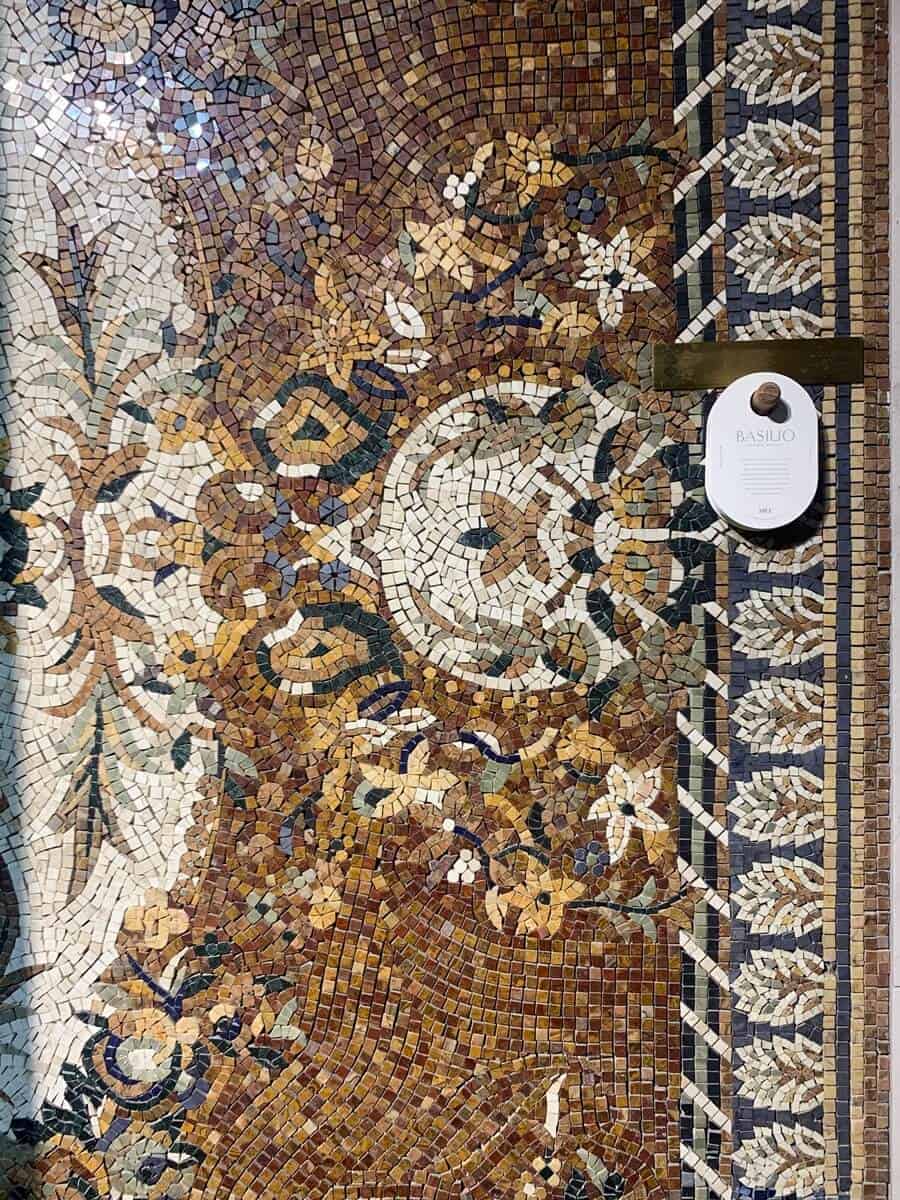 Basilio is so rug-like that you might not be able to distinguish it from a traditional rug from afar.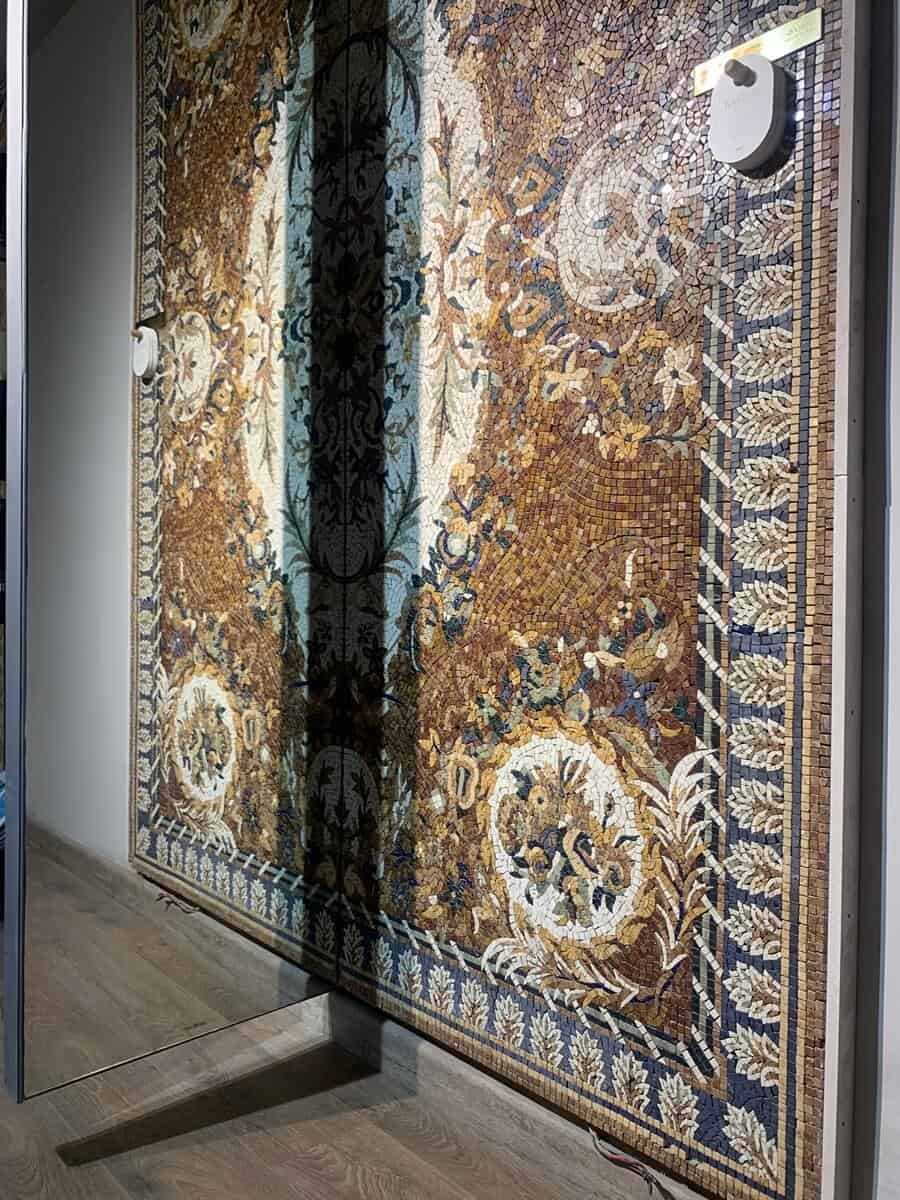 Marble mosaic colors used: Red onyx, Indian Green, Crema marfil, Verde laguna, agglomerated blue marble mosaic, Crema Valencia, Amarillo Triana, Nero Marquina.
ILARIO
Ilario is a statement of style, and personal taste. Completely handcrafted from premium quality marble this delightful mosaic floor design offers durability with minimal maintenance. The central motif of this mosaic flooring design steals the show.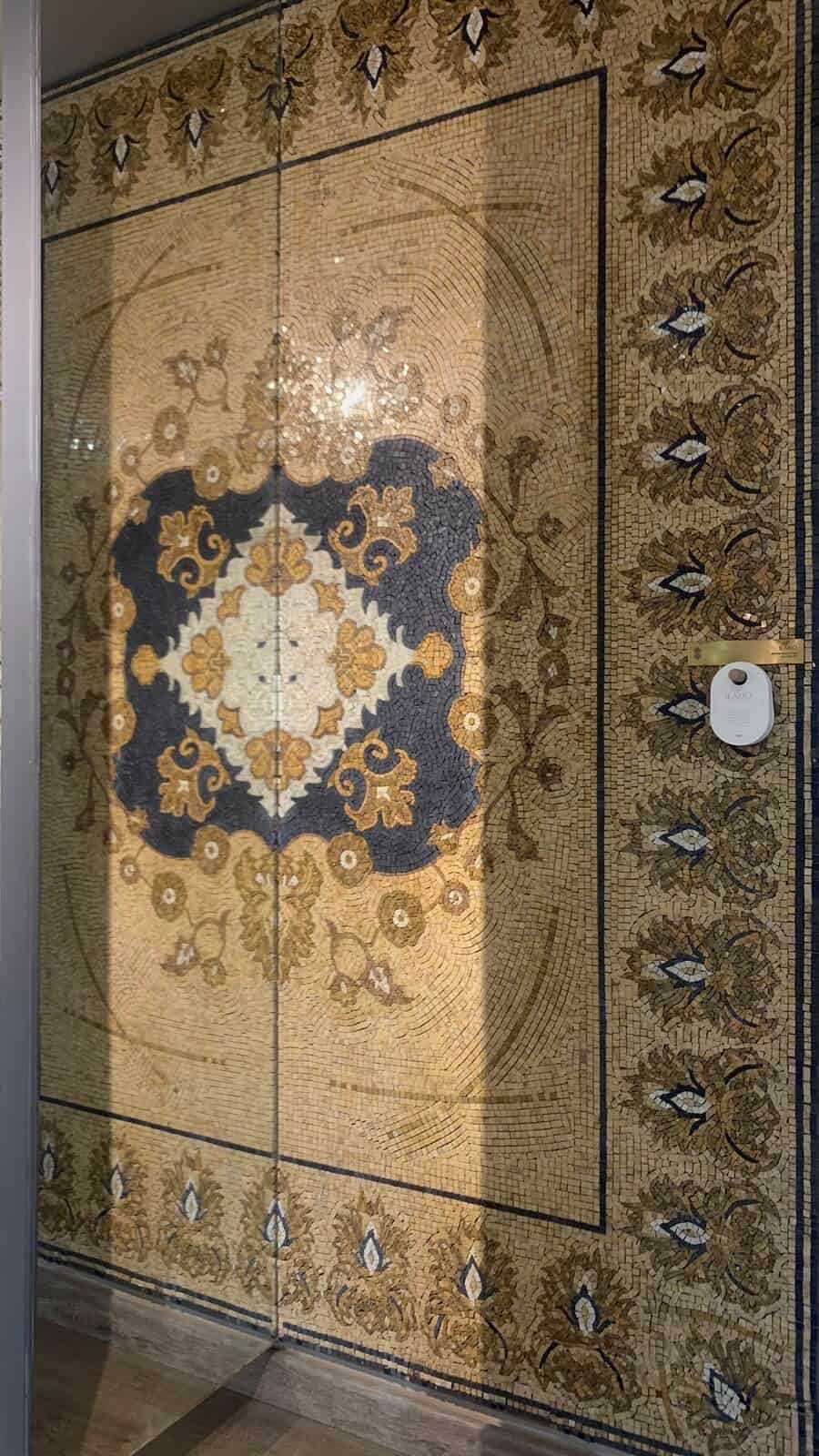 A diamond shape surrounded by vividly blue agglomerated marble tiles. Ilario has design elements of both Eastern and Western origins. The oriental vegetal designs and European motifs.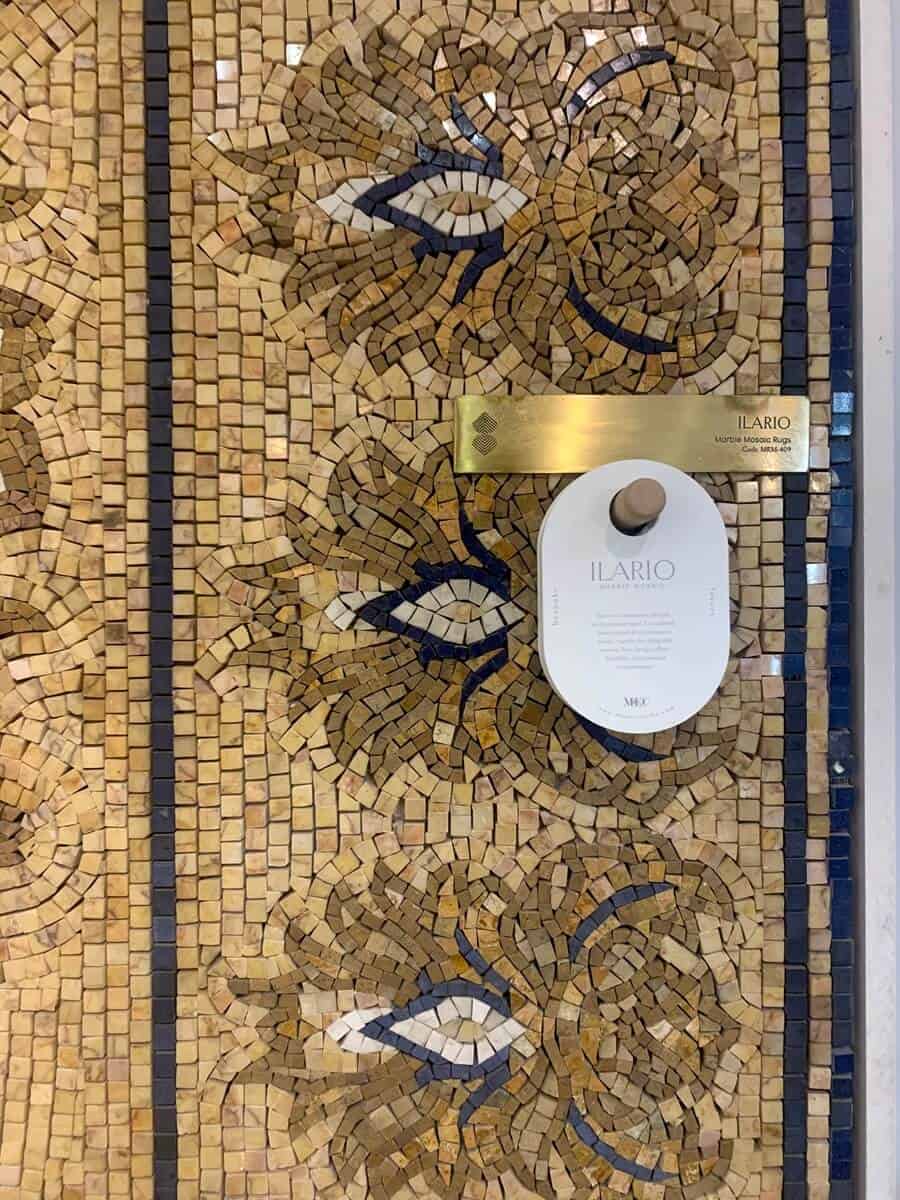 Marble mosaic colors used: Crema Valencia, Indus Gold, Vietnam white, agglomerated blue marble mosaic.
MERIDA
For those who like marble and prefer clutter-free designs, Merida is perfect. The design is not so busy that it overpowers the surrounding interior while at the same time it depicts finesse and expert craftsmanship. Light colored marble floors can make a room feel brighter and bigger.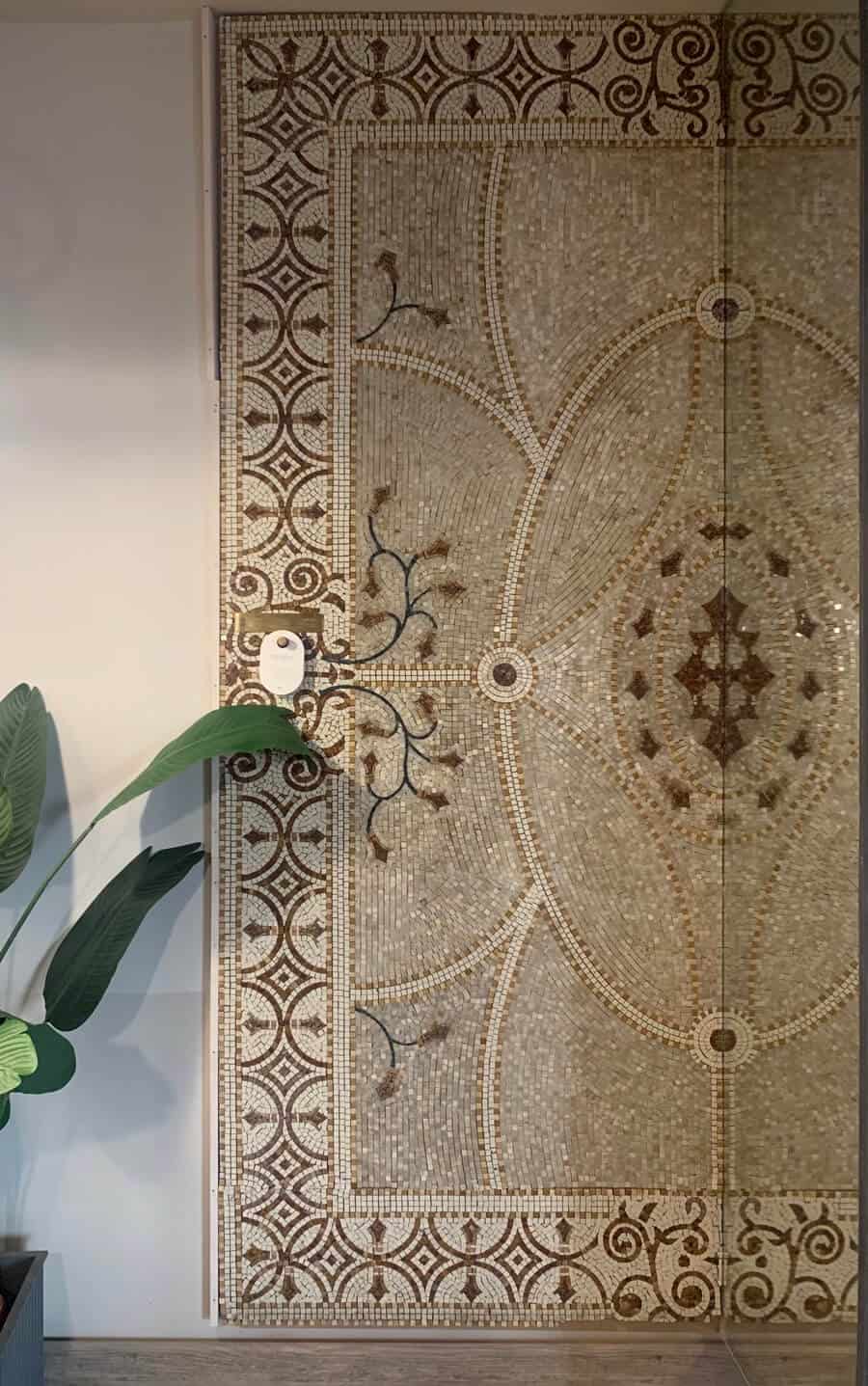 Marble mosaic colors used: White onyx, Red onyx, Perlino bianco, India green.
DEKORR
Adorn your interior with Dekorr marble mosaic flooring to add vintage classic European grandeur to the entire space. Inspired by the richness and grandiosity of Baroque ceiling art, Dekorr marble rug brings that opulent style into a mosaic medium for floors.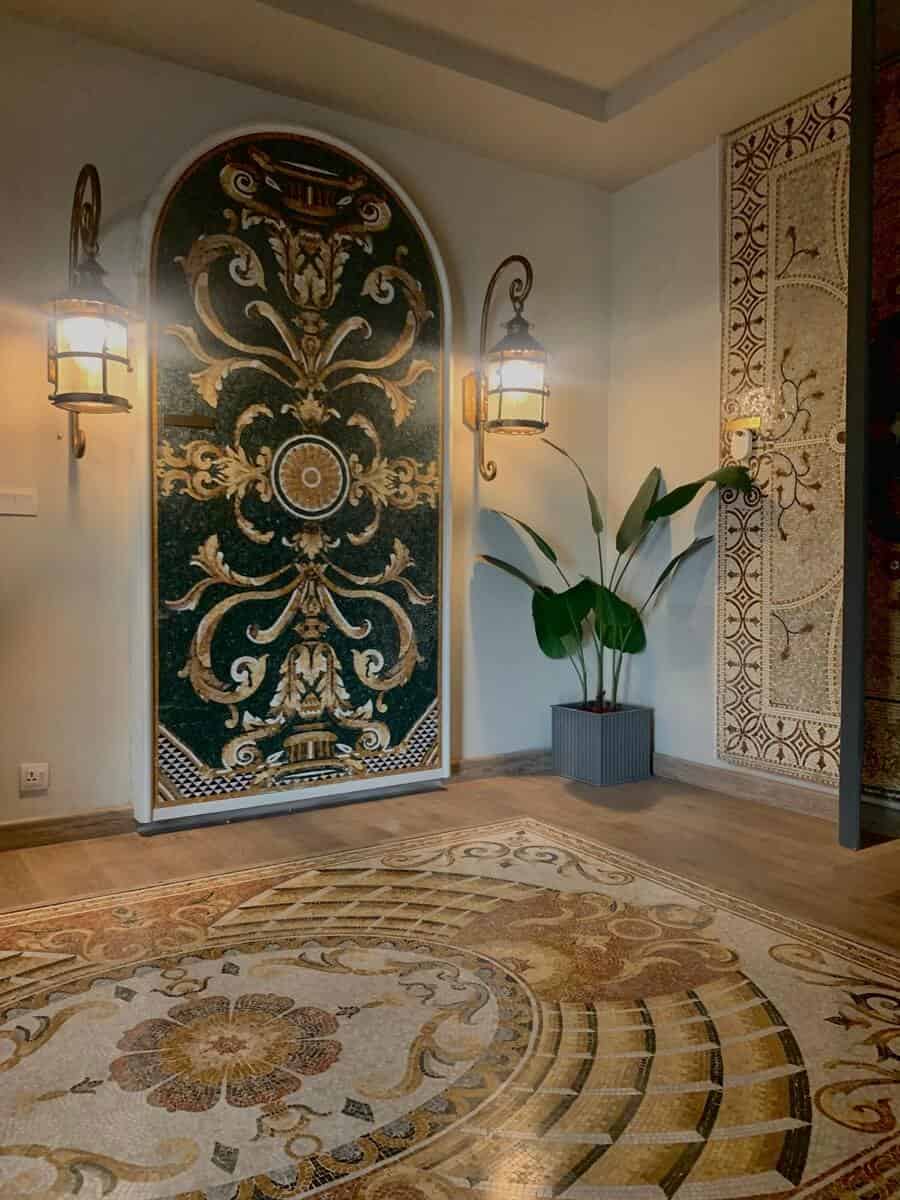 Dekorr uses a variety of natural marble stone colors and shades to achieve smooth three dimension effects throughout the design. Nero Marquina / Indian Green marble creates a splendid contrast. The marble rug features ancient Roman chalice curly acanthus leaf scroll-work and a round floral motif, among other splendid patterns. The expert craftsmanship gives Dekorr, mosaic floor tile pattern, depth and a realistic carpet feel.
Marble mosaic colors used: Indian green, Vietnam White, Indus Gold, Alicante, light Emperador, Dark Emperador, Crema Valencia, Amarillo Triana
Mosaic Floor Tile Patterns – Finish Options
All handcrafted marble mosaic floor tile patterns by MEC are available in 3 distinct finishes. You can get you custom marble flooring made with polished marble tiles or you can go for the honed or tumbled options for a more rustic and natural stone look.
FAQs
Can I Get These Mosaic Floor Tile Patterns Customized?
Absolutely! MEC offers free color, design and size customization for all mosaic flooring options. Want to change a design detail or swap a color to better match your room? contact us for free customization and design consultation. That's not all, we know how important home style and renovation decisions are to you so we constantly strive to make the process easier. Ask for samples and complimentary 3D interior design renders.
What are the advantages of mosaic flooring?
Mosaic flooring offers durability, versatility, and a unique aesthetic appeal that can transform any space into a work of art.
Can mosaic flooring be installed in high-traffic areas?
Yes, mosaic flooring is an excellent choice for high-traffic areas due to its durability and ability to withstand heavy foot traffic.
Are marble mosaic rugs suitable for both residential and commercial spaces?
Yes, marble mosaic rugs are versatile and can be installed in both residential and commercial spaces, adding a touch of sophistication and elegance.
Are mosaic floor tiles prone to cracking or chipping?
When installed correctly, mosaic floor tiles are durable and resistant to cracking or chipping. However, it is essential to handle them with care during installation.
Are mosaic floor tile patterns suitable for modern interior designs?
Yes, mosaic floor tile patterns can seamlessly integrate into modern interior designs, adding a touch of artistic flair and visual interest.
What makes MEC the ideal choice for mosaic flooring?
MEC's design intricacy and fabrication expertise set us apart. We specialize in creating bespoke mosaic flooring options tailored to your specific preferences and requirements.
How can I get started with mosaic flooring by MEC?
To begin your mosaic flooring journey with MEC, simply reach out to us via our website or contact us directly. Our team of experts will guide you through the process and help bring your vision to life.
Related Blog Articles