When it comes to tile material for pools and wet environments, glass mosaic is one of the most practical and versatile ones out there.
What is a Pool Mosaic
Pool mosaics are patterns, designs and images created by arranging together small, usually colorful, tiles made of glass, ceramic or porcelain. Mosaic projects created for swimming pools and water bodies feature non-porous, weather resistant tiles.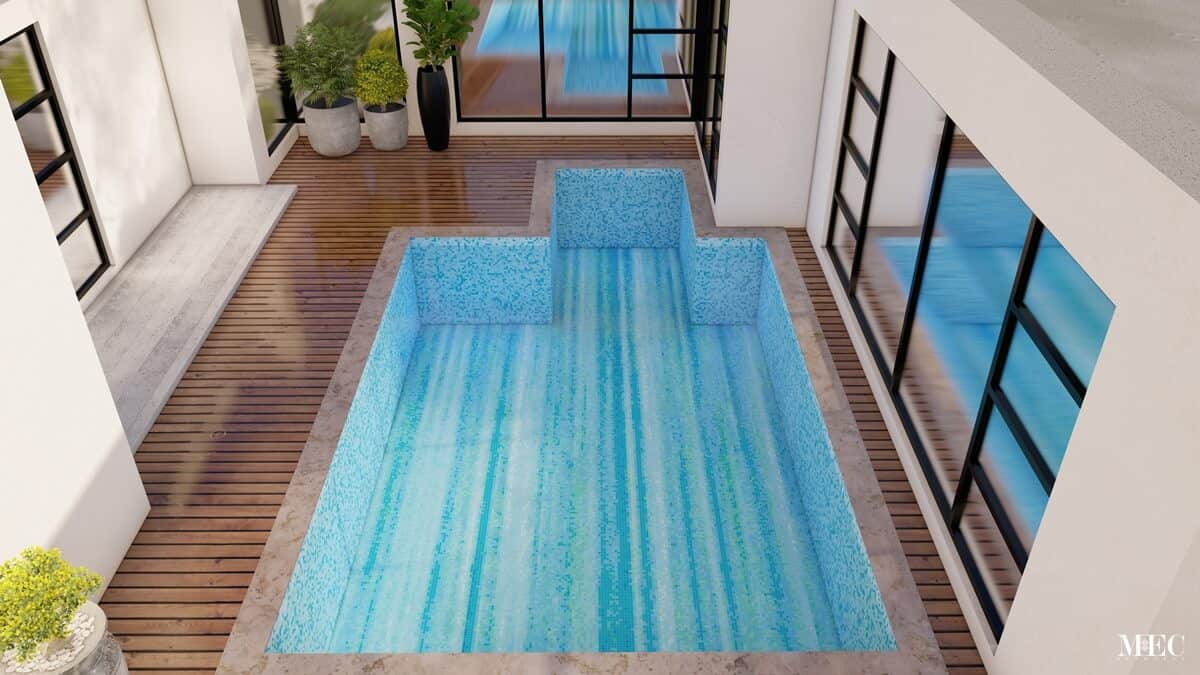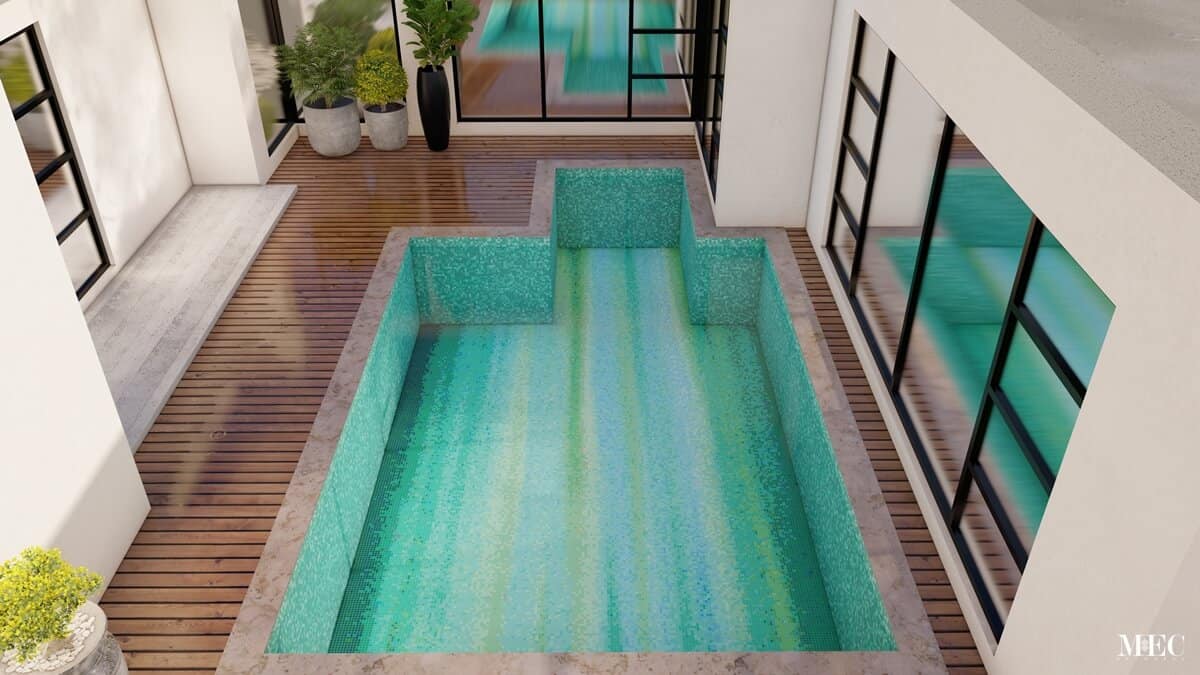 What Makes Glass Mosaic a Popular Tile Choice for Pools?
As a refresher, let us revisit what makes glass mosaic tiles an incredible tile material choice for swimming pools. A good pool glass mosaic tile is:
Non-porous, thereby making it highly resistant to mildew, mold, fungus and microbes
Thermal shock resistant – which means the tile would not crack from temperature changes.
Frost-resistant, making it a suitable material for colder climates
Chemical resistant, making it more durable. They do not wear off from the usual pool water chemicals and mild detergents and cleaning solutions. Furthermore the color does not fade.
Easy-to-clean and low maintenance.
Visual Impact of Mosaic Pool Designs on the Swimming Pool
The color palette, pattern, texture and mosaic pool design can have a great impact on the ambiance and appearance of your backyard oasis. Furthermore, art, of any kind, has an emotional component – so the colors and design choices can impact the mood as well.
Let us have a look at some of the most important aspects of selecting mosaic pool designs and materials. And hopefully, by the end of this piece, you will feel more equipped and confident to take the first step toward choosing the ideal mosaic tile art for your swimming pool & water bodies.
Elevate your pool design with custom-made pool mosaic ideas
Below is a list of custom mosaic pool tile design ideas we have recently completed. All projects depict ideas as to how custom mosaics can enhance your swimming pool. Customize a pool with mosaic uniquely designed just for you.
1. Swimming Pool Glass Mosaic Art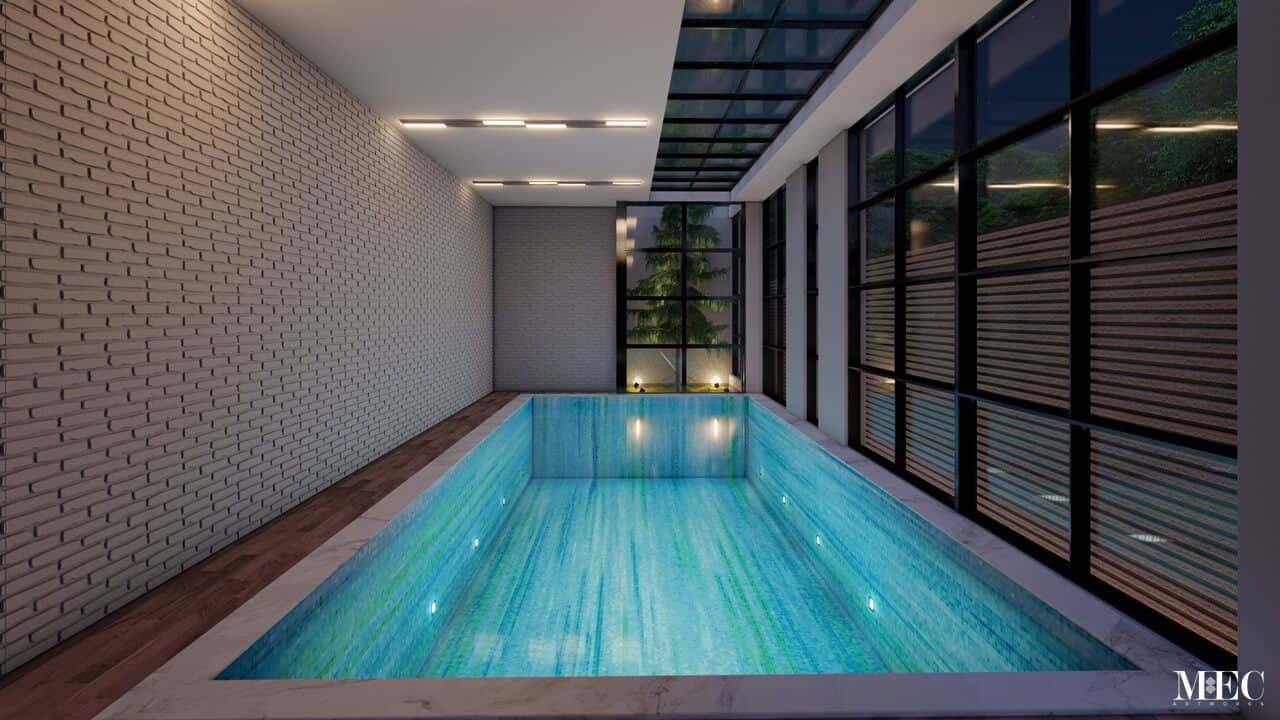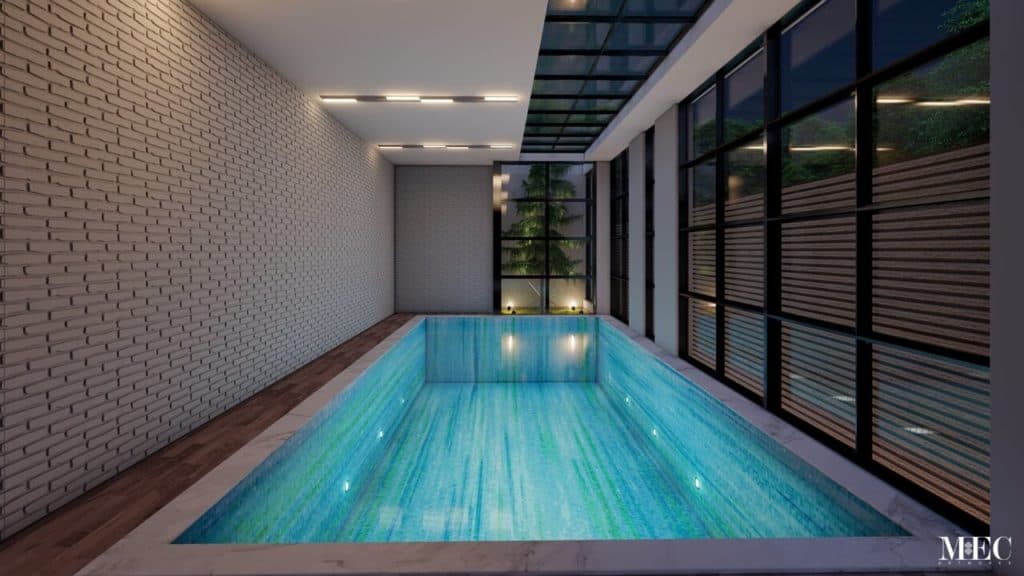 Abstract line glass mosaic patterns in a cool blue green color palette make natatoriums appear bigger and brighter. When lines are parallel to the length of the pool, has a visual impact on the overall pool size.
2. Starry sky pool idea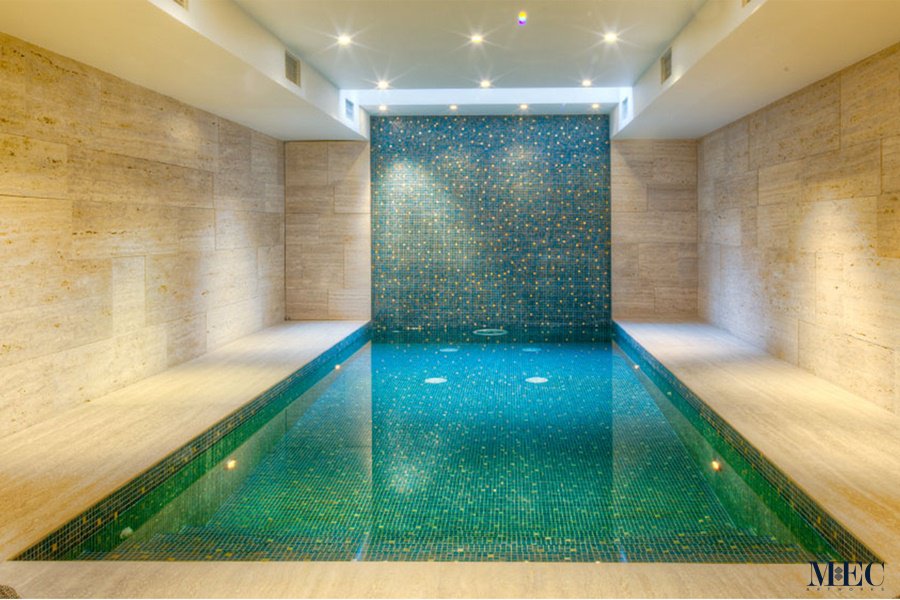 Adding a splash of color by scattering bright colored glass tile among a blue pool mosaic creates a lovely effect. Starry night pool mosaic tile can be used on pool walls and fountains as well.
3. Green Blue exciting custom mosaic art tile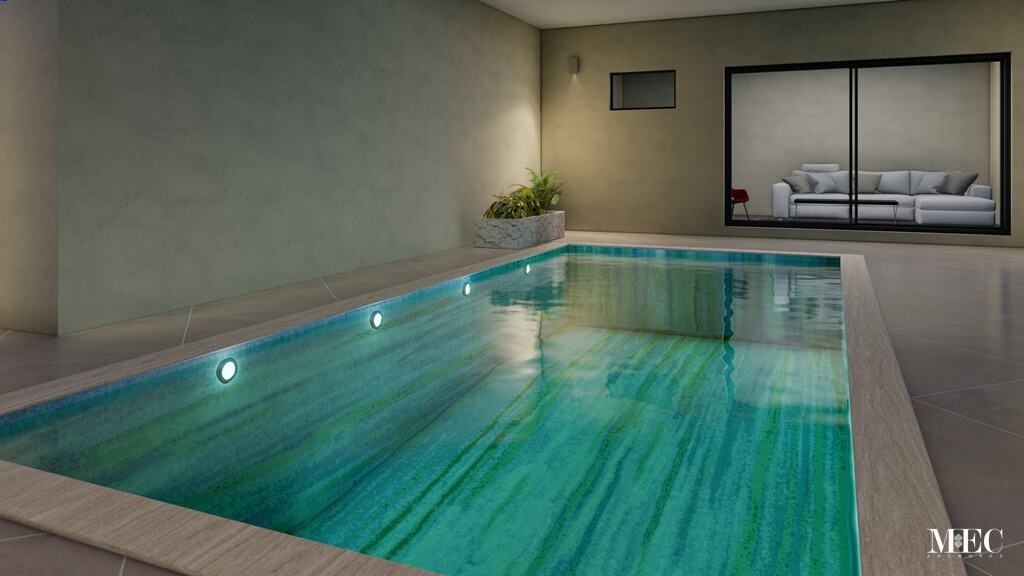 What do you want from swimming pool mosaic designs? Other than the obvious practical function, do you also want mosaic tile work to beautify your pool? How about expressing your style by personalizing your space? MECs exciting mosaic art tile can achieve all that for you.
4. Dolphin Mosaic Pool Art and Mosaic Fish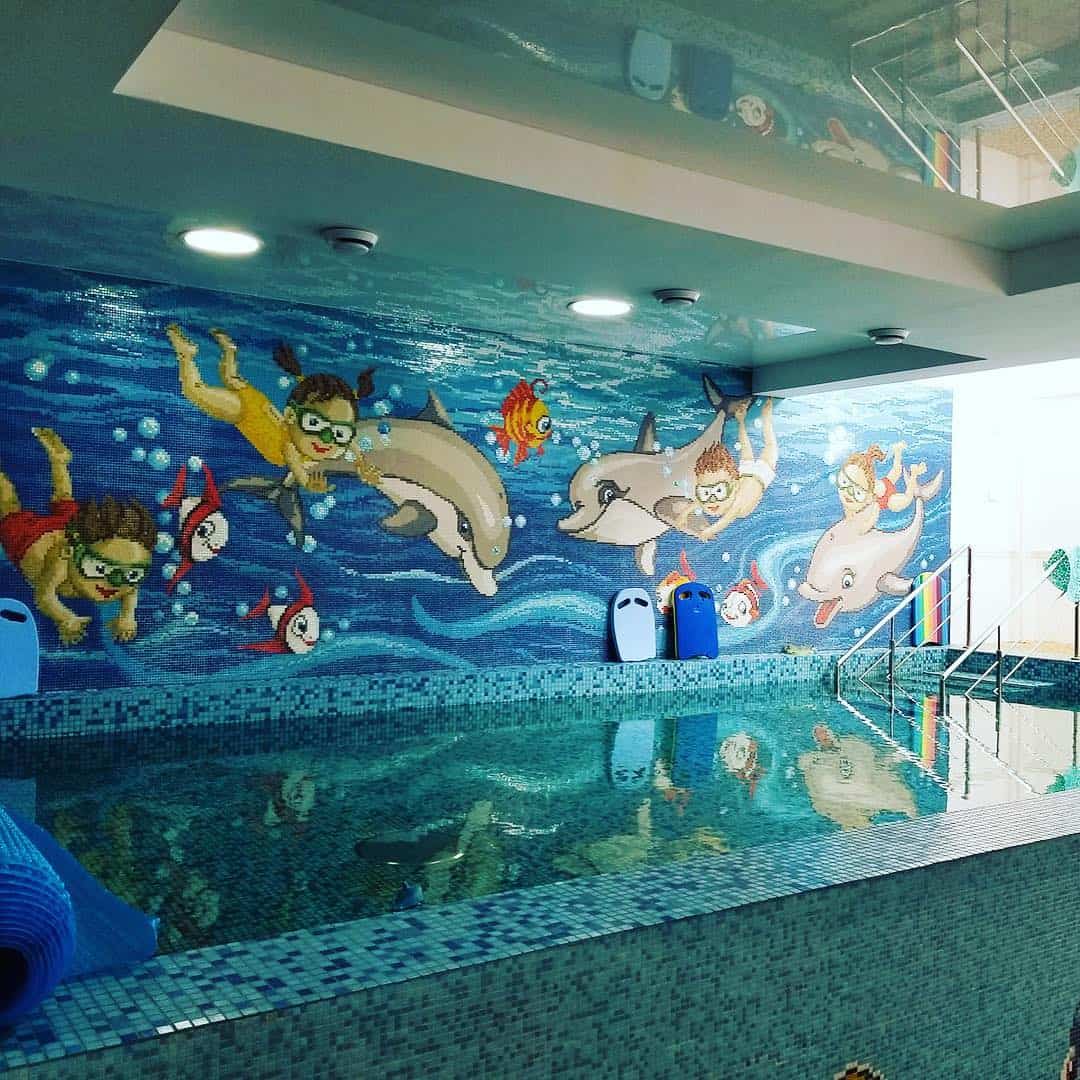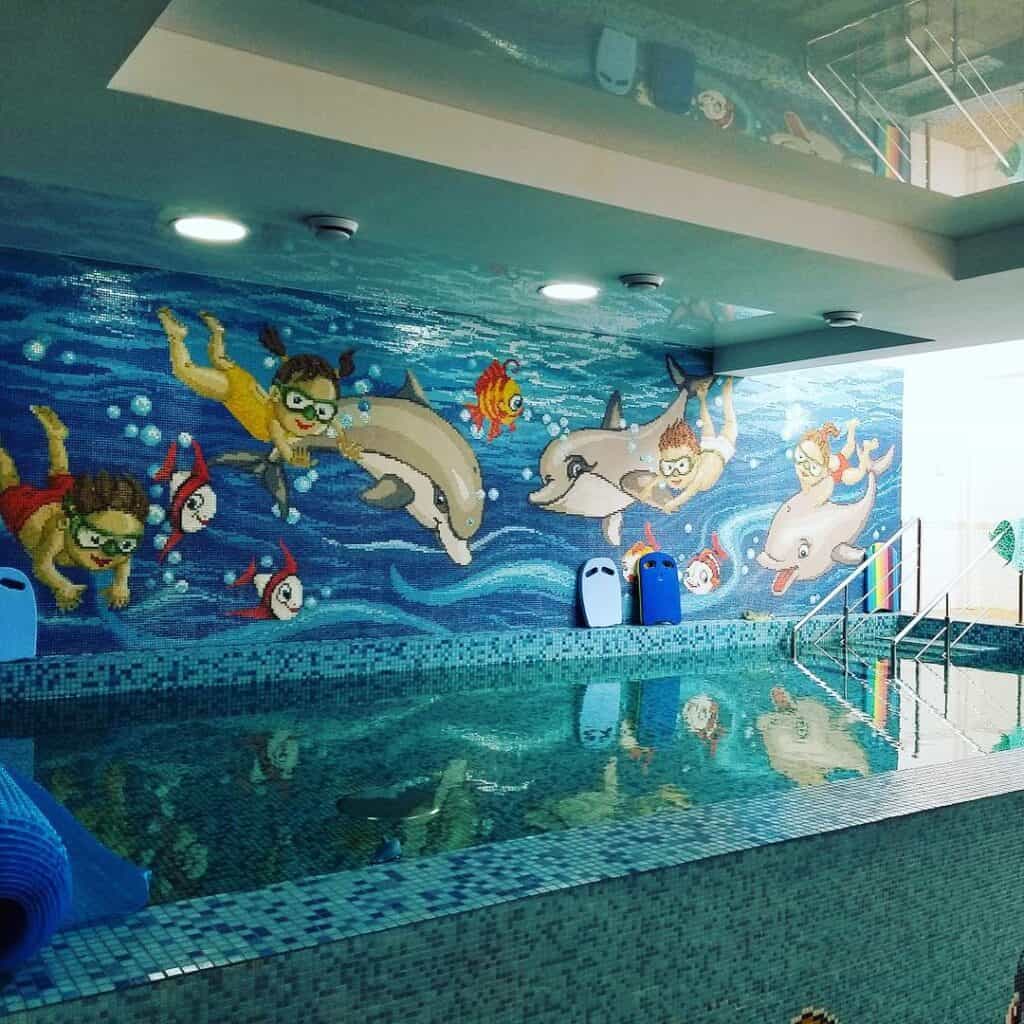 Create a lovely coral reef sea life and dolphin scene in your pool with custom mosaics. Get individual mosaic fishes, sting rays, octopus, sea shells and dolphins. Or have us design an intricate underwater mosaic scenery just for you. Add a treasure chest to your pool mosaic project and let people discover the hidden gems as a surprise.
5. Pool Floor Glass Mosaic Rug Border Idea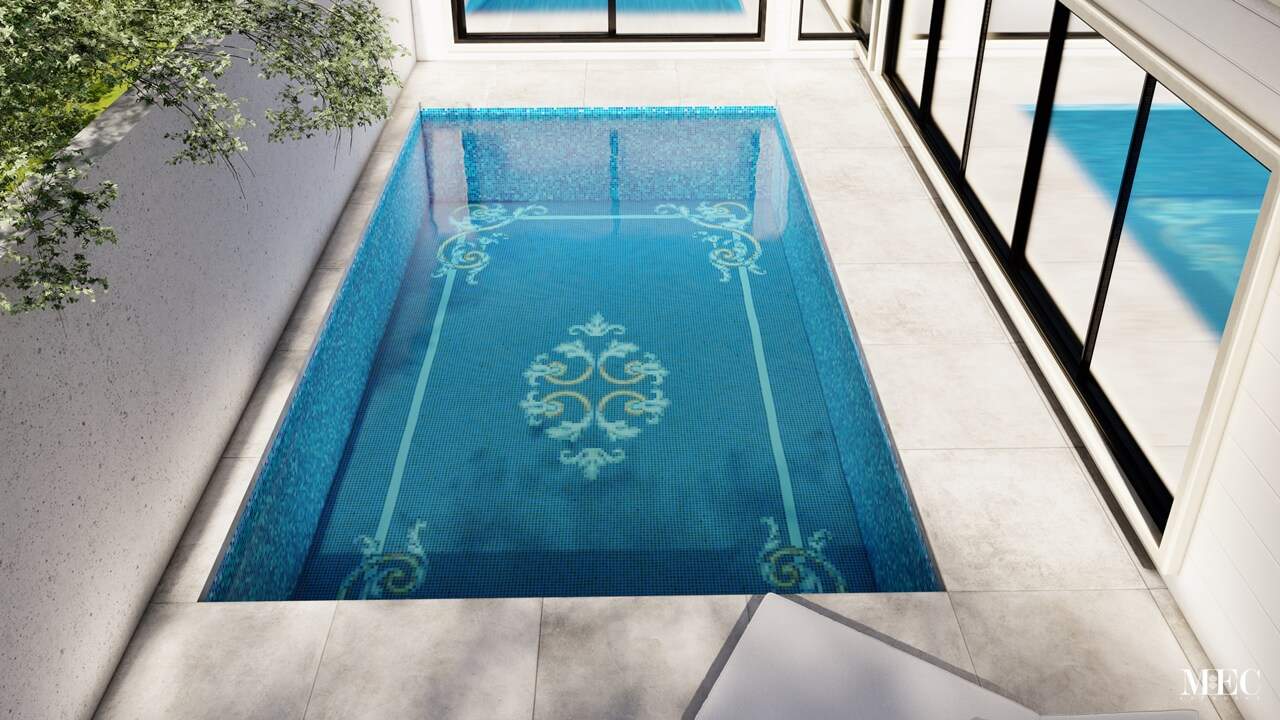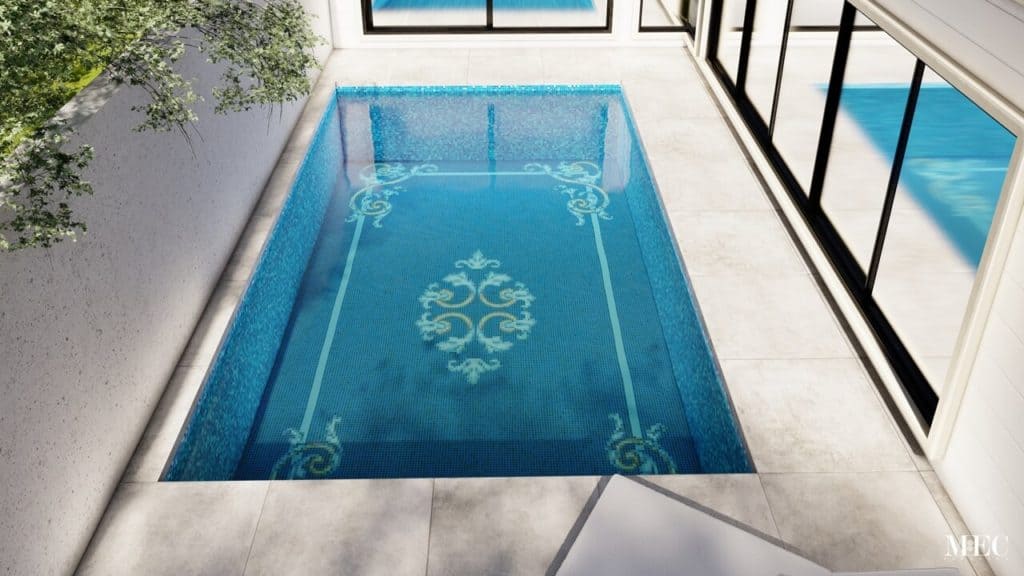 Mosaic rug flooring designs can look great on pool floors. All it needs is a little modification and color palette adjustment and we are good to go!
6. Emerald Abstract Glass Mosaic Pool Art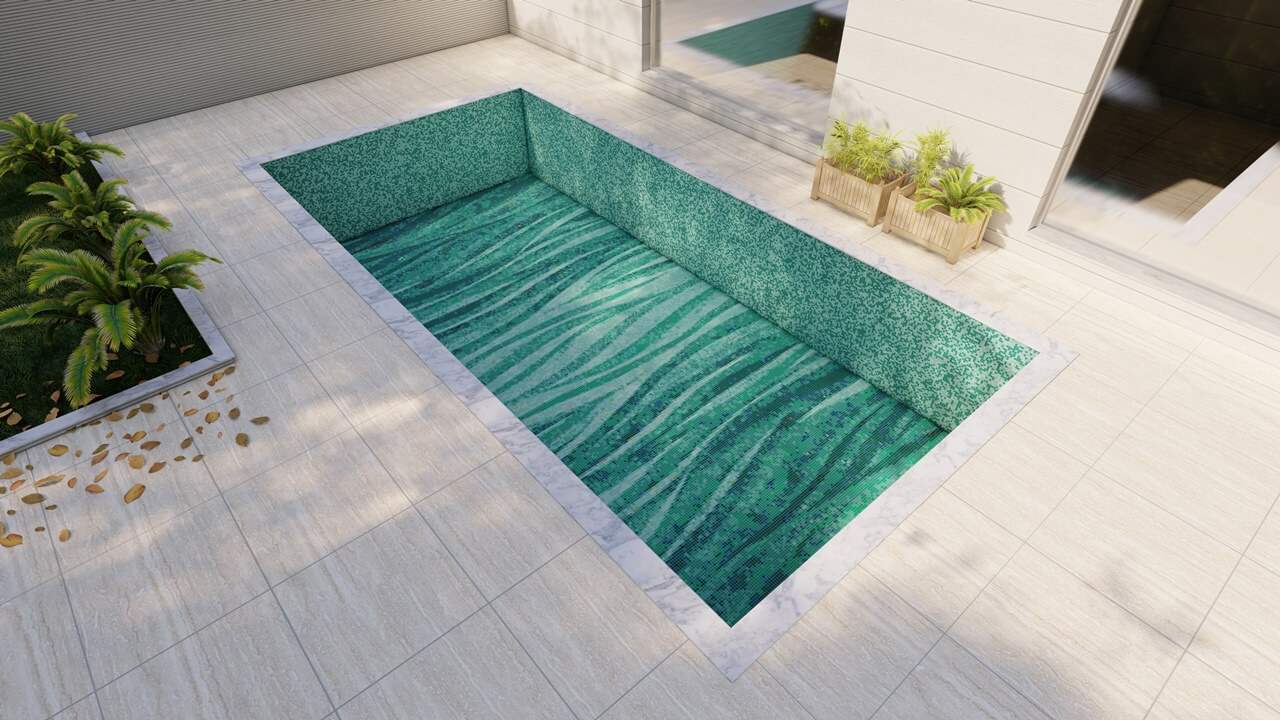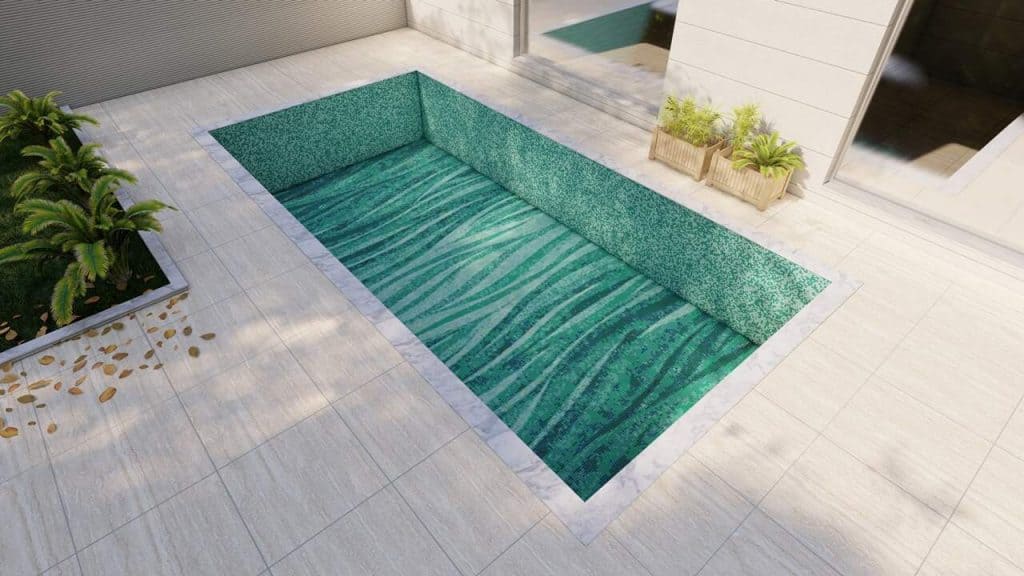 Emerald green glass mosaic wavy abstract pool mosaic art. The pool walls are clad with a Vertex 20 vitreous glass mosaic blend in a matching color palette.
7. Petal Mosaic Pool Glass Tile PIXL Art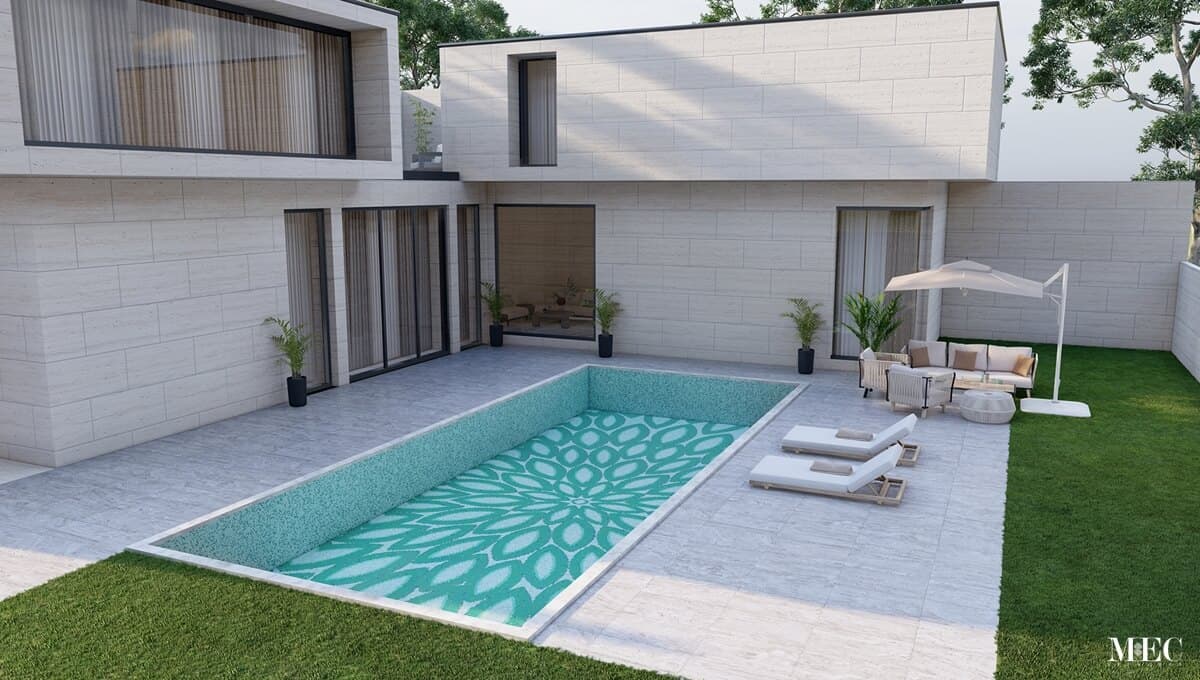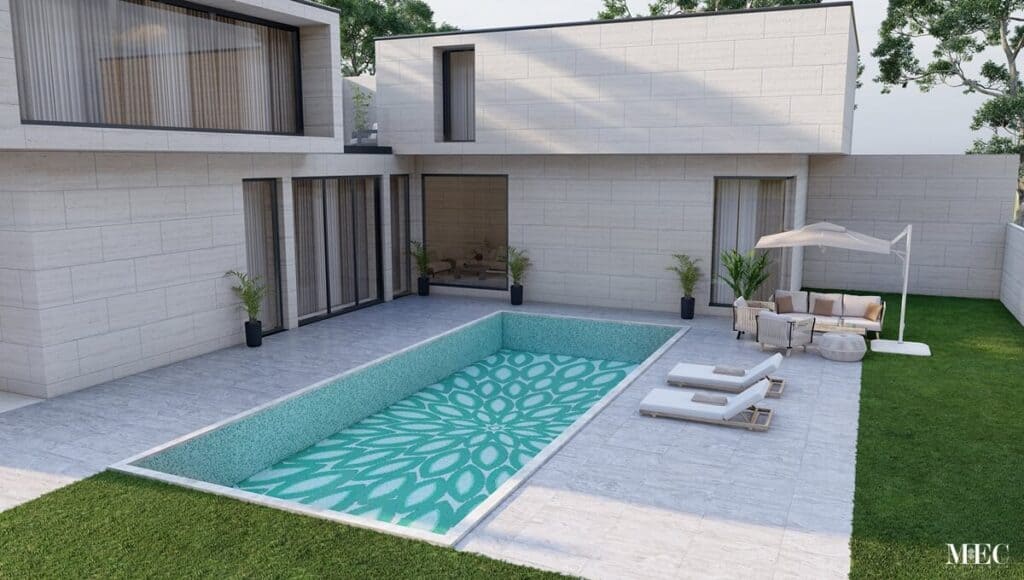 This custom colorway semi abstract petal mosaic pattern was personalized for a residential pool. The client wanted to see blue and aquamarine monochrome options. So, we prepared these 3D renders for them. Renders and samples make a custom mosaic ordering process smoother.
8. Ocean colors abstract pool mosaic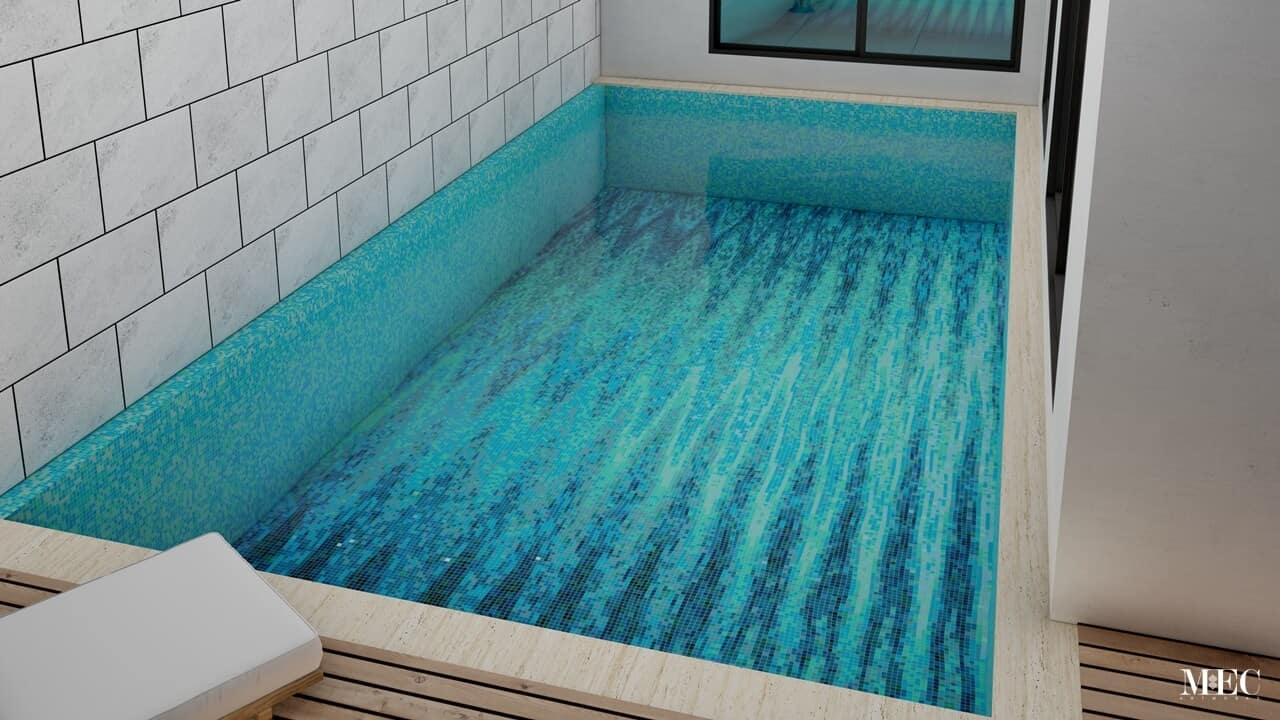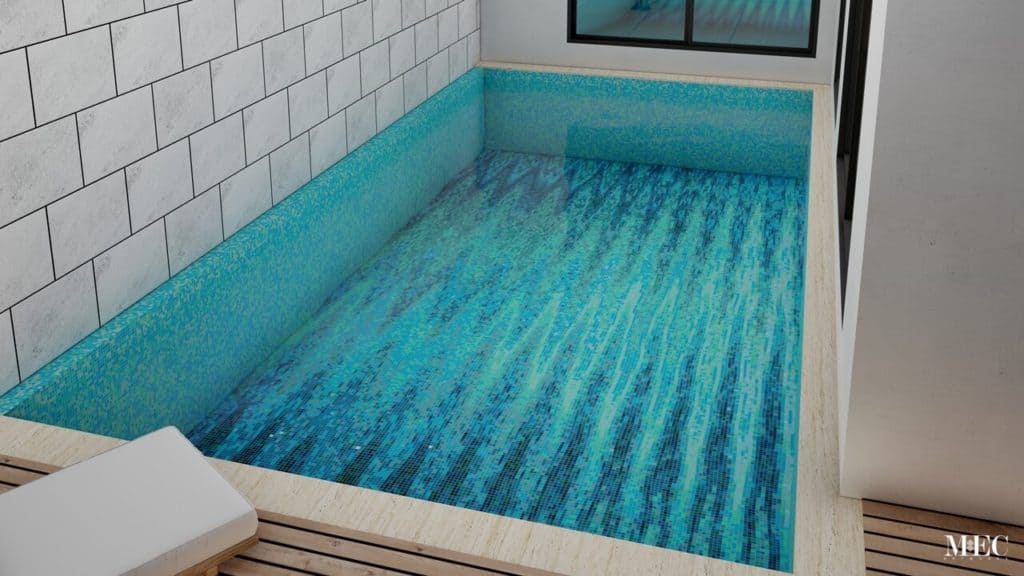 Ocean colors abstract pool mosaic is a blue and sea green abstract glass tile pattern that looks like narrow stretched sound waves. Digital paintings like these can easily be turned into pool mosaic ideas with MEC's PIXL tile art system.
9. Teal Green Abstract Pool Tile Distressed Look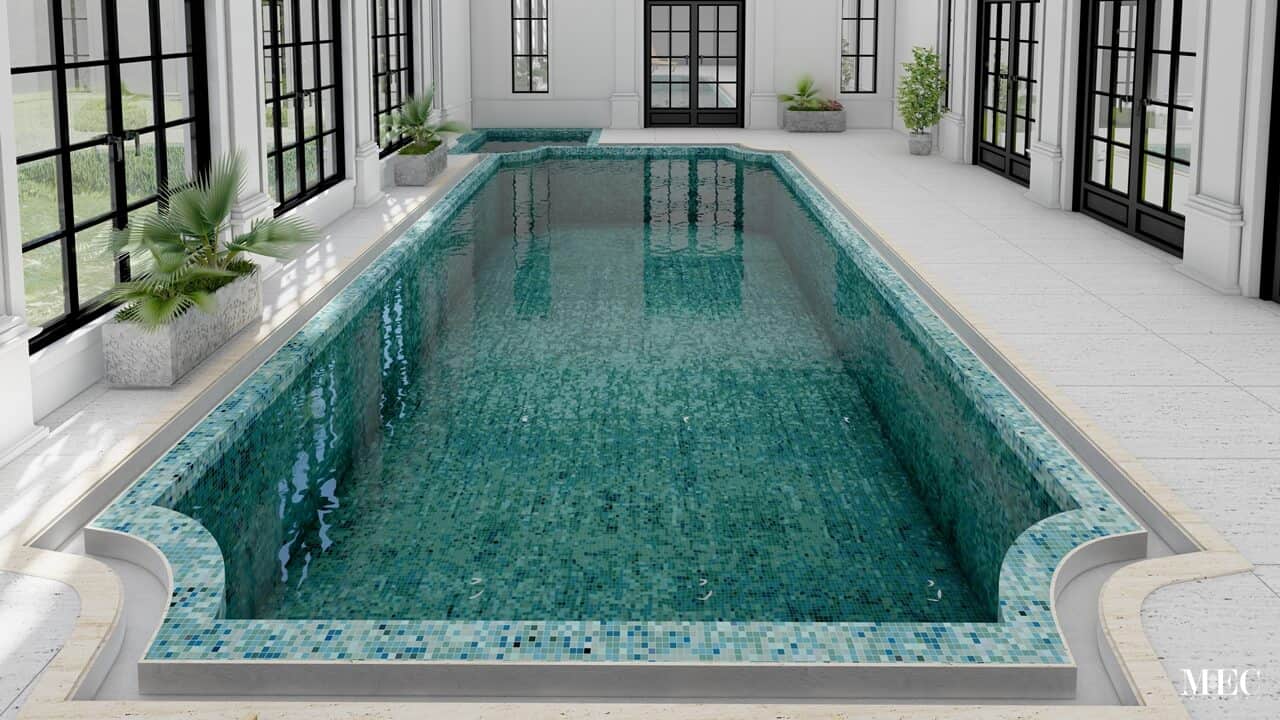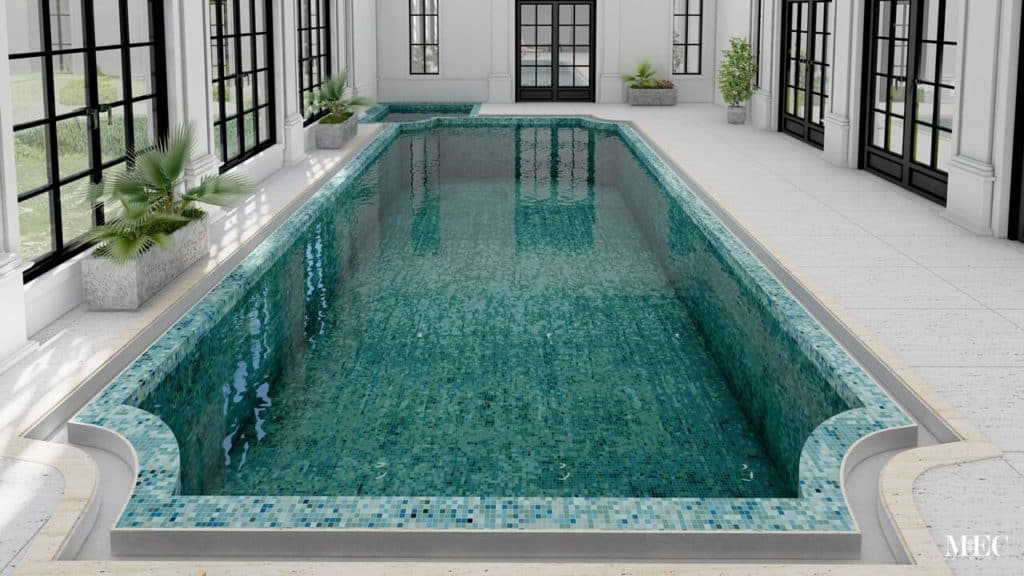 This teal glass mosaic tile pool might look like a simple random blend at first. However, when you look closely it will reveal a subtle sophisticated pattern. Distressed abstract rug like effect, custom made for a pool floor. For more modern pool designs, browse through our website or request an e-catalog today.
10. Tree logo Pool Tile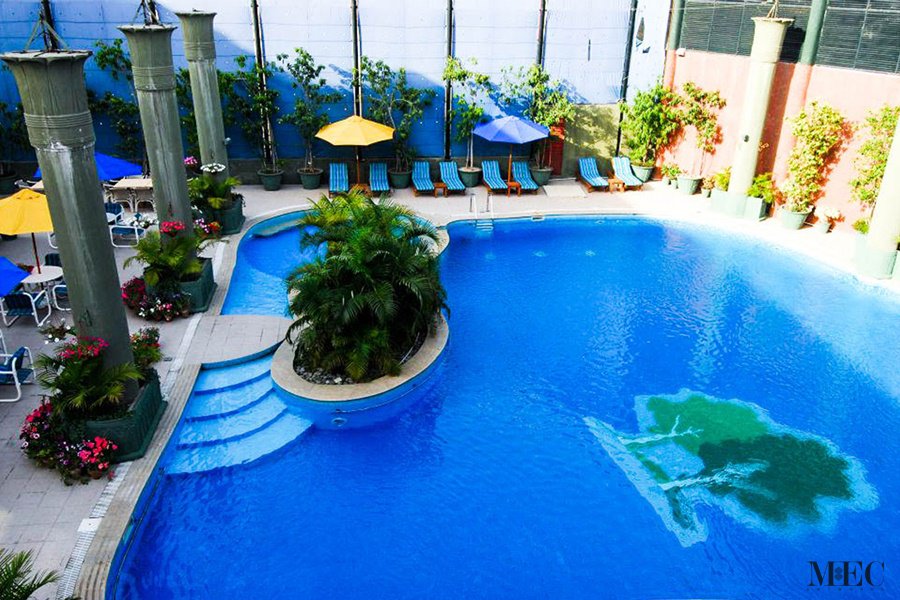 A custom made swimming pool tile design by MEC depicting a spa and wellness club's logo as mosaic. The tree mosaic motif you see on the pool floor is the club logo made with vitreous glass tiles.
11. Lap Pool Idea with Abstract Mosaic Art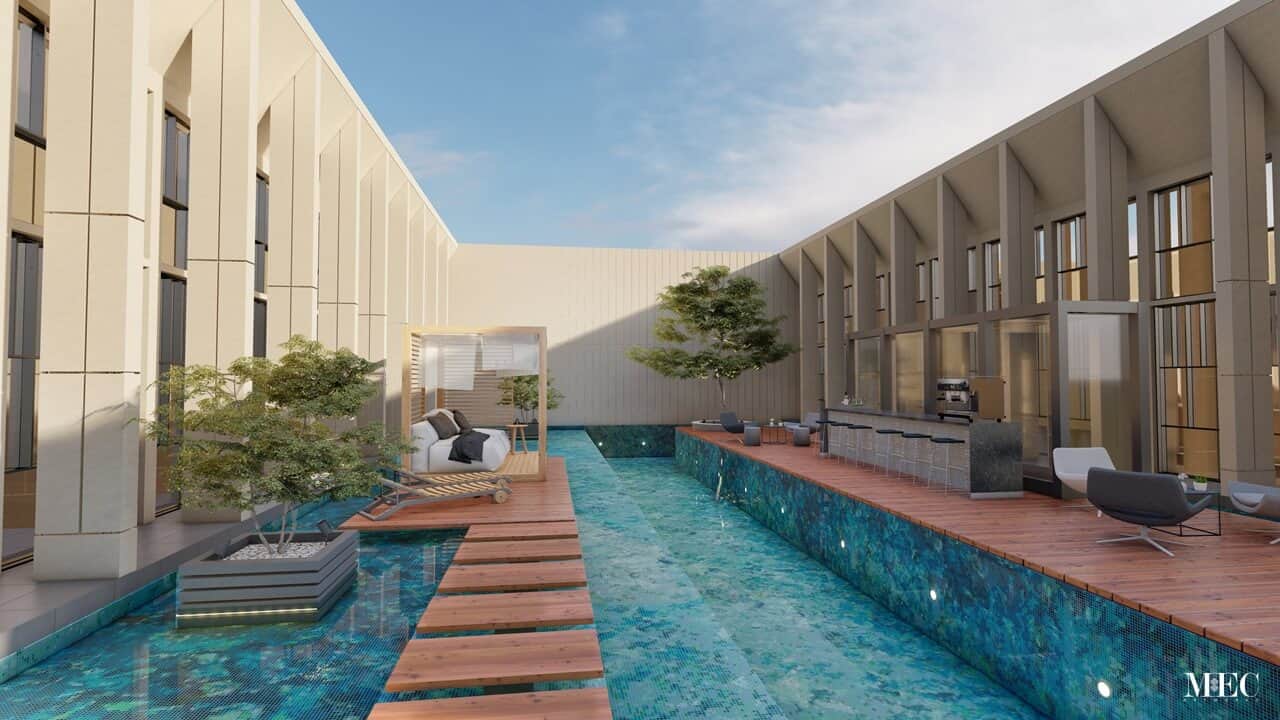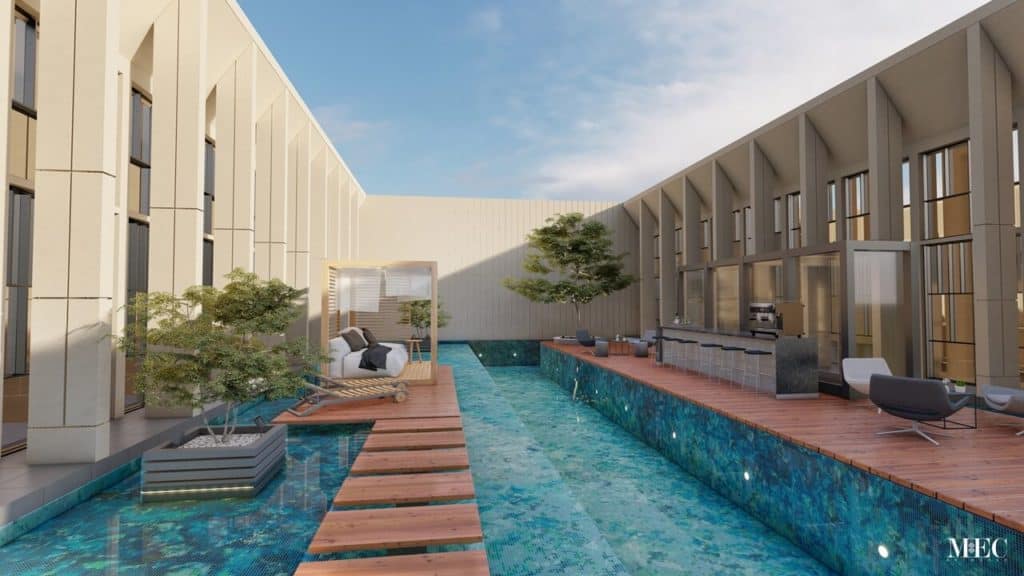 Glass mosaic pool tiles are a versatile choice for adding character and color to a space. This custom PIXL pool mosaic abstract art can be adjusted and extended seamlessly to fit your unique swimming pool. The mosaic art features a lighter textured design on the floor. It fades into a deeper darker shade as it moves towards the pool walls.
12. Moroccan Zellige Trellis Idea for Pool Mosaic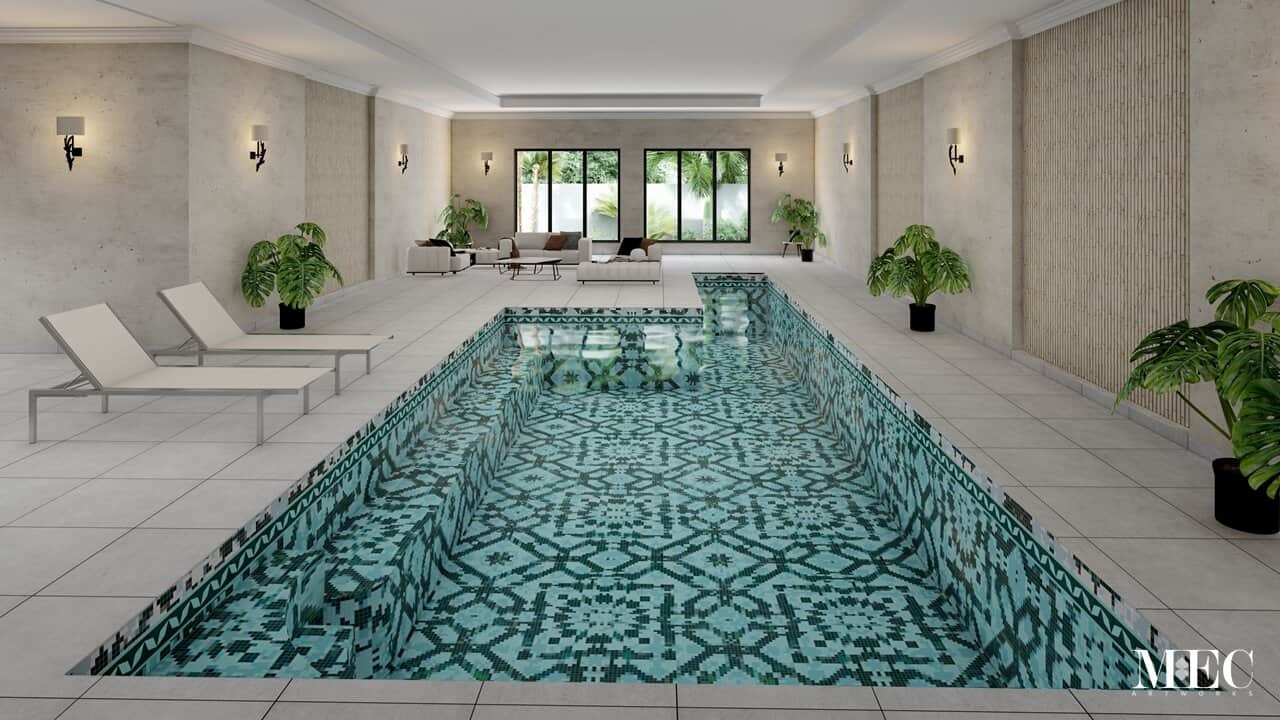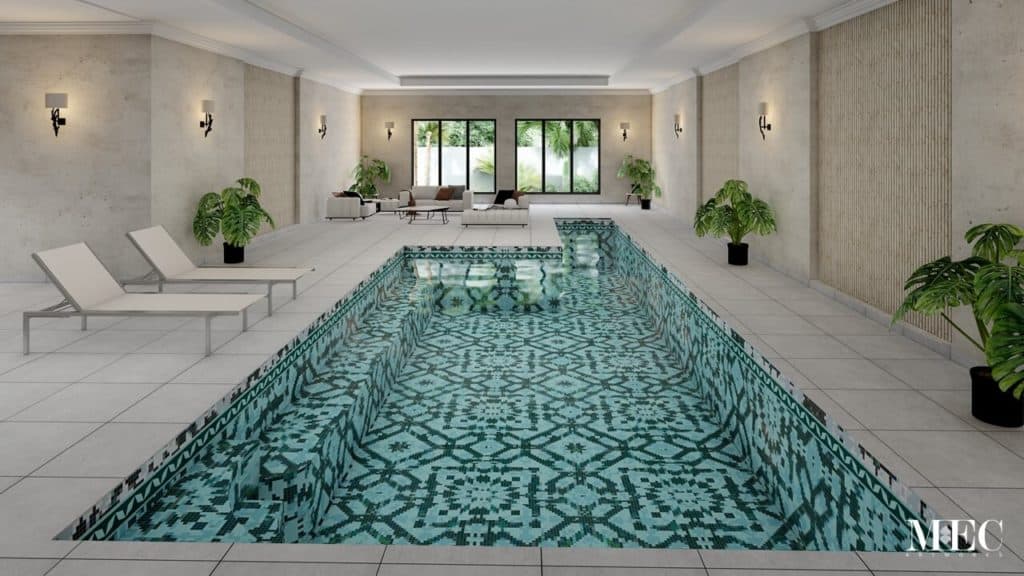 When it comes to Mediterranean pool tile ideas, no list is complete without Moroccan zellige patterns. Feat your eyes on this gorgeous Moroccan trellis mosaic pattern developed especially for pools and fountain areas.
13. Incons Glass Mosaic Tile Pool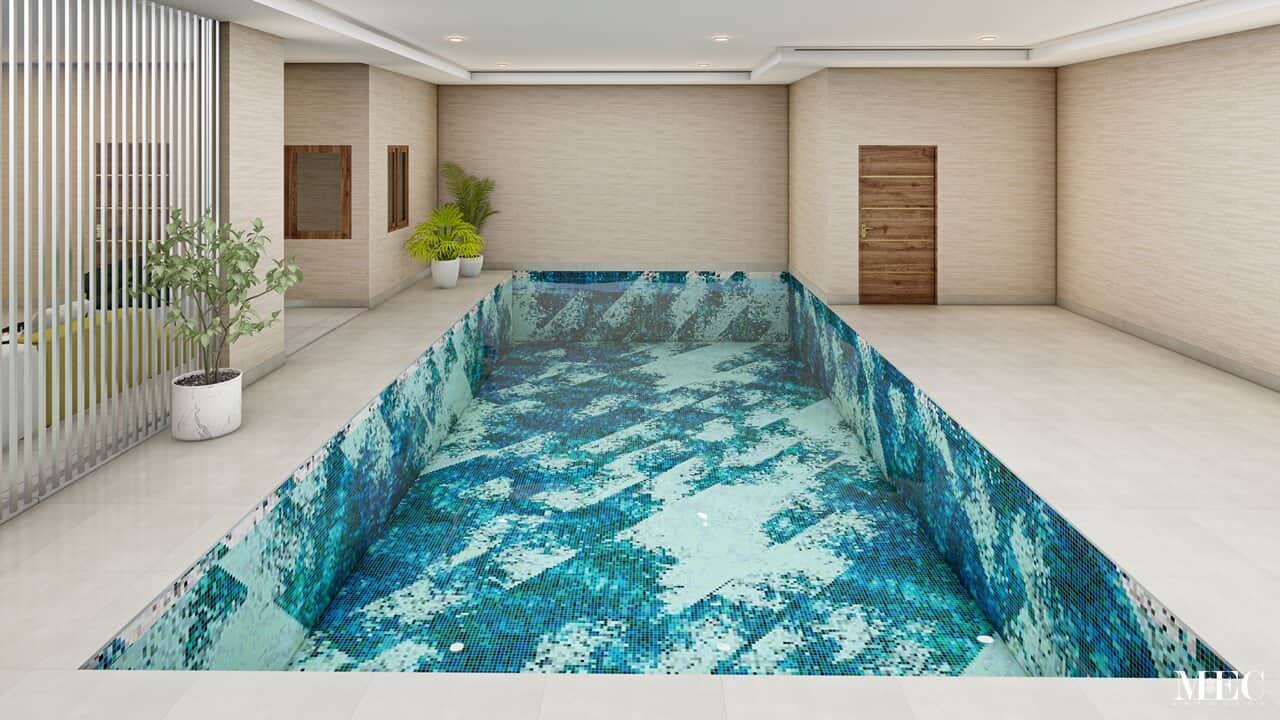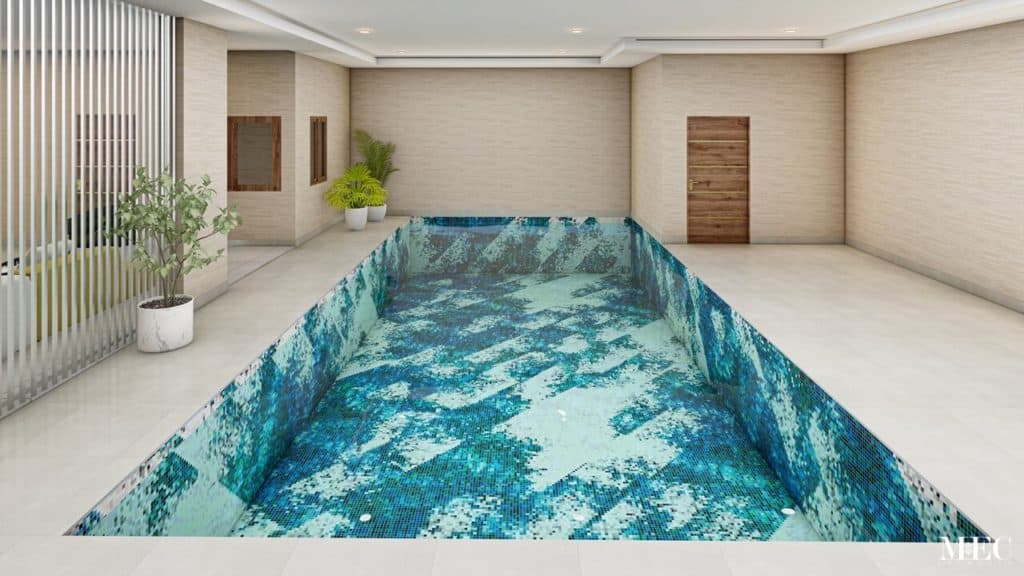 There must be a reason why so many architects and landscape artists opt for custom mosaic tiles. We would say functionality and aesthetic qualities are at the top of the list. Icons PIXL mosaic pool features diagonal stripes of a stunning teal, blue and white abstract design.
14. Fiosat Glass Mosaic Artwork Idea for Pool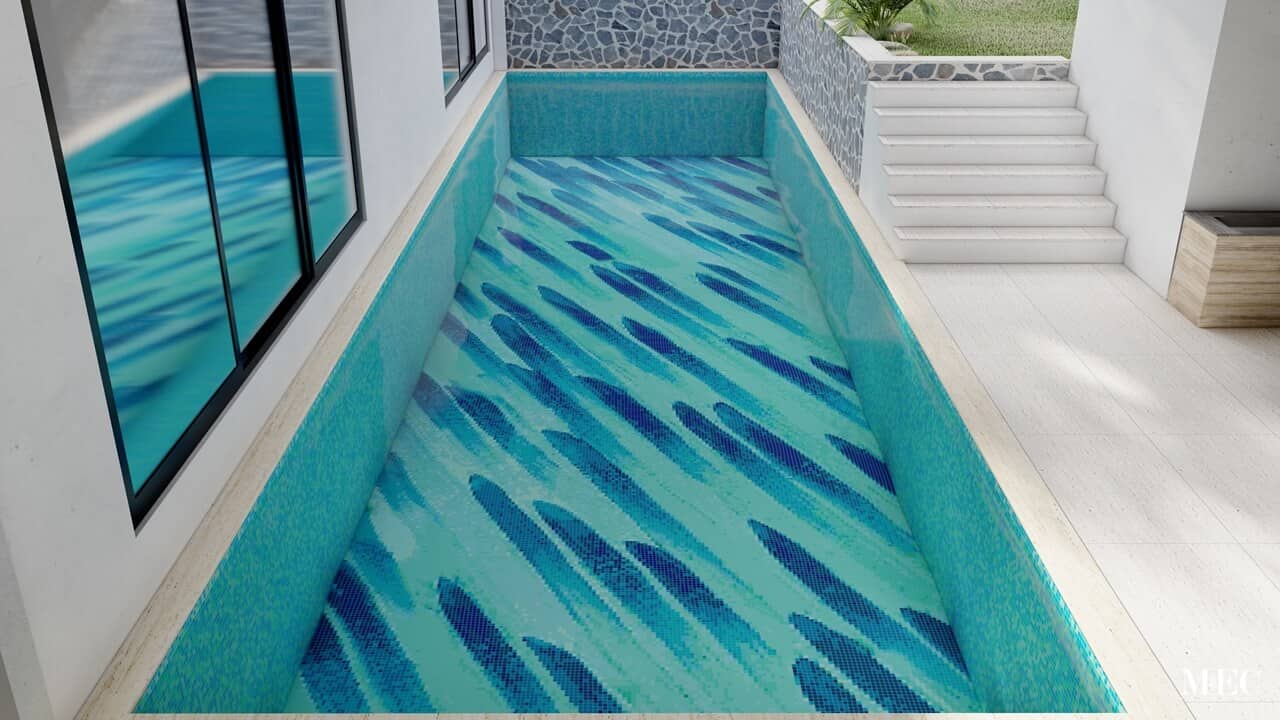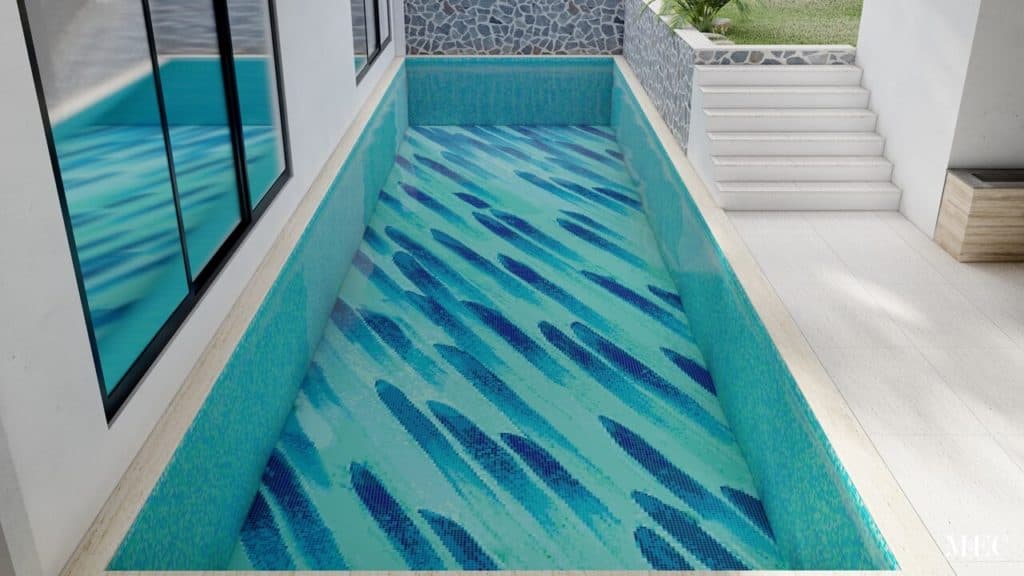 Fiosat PIXL is a pool mosaic design with a diagonal blue smudge effect. The abstract pool mosaic idea is loosely based on meteor showers.
15. Aqua Blue Abstract Lines Mosaic Pool Tile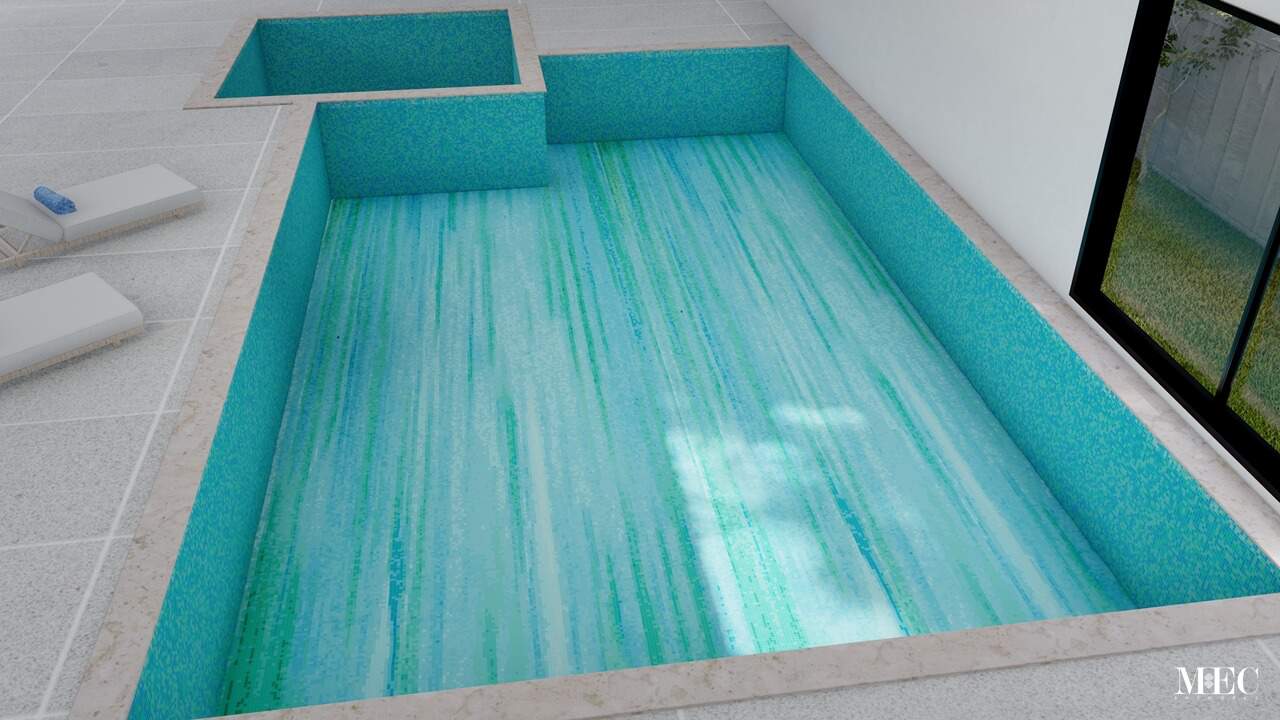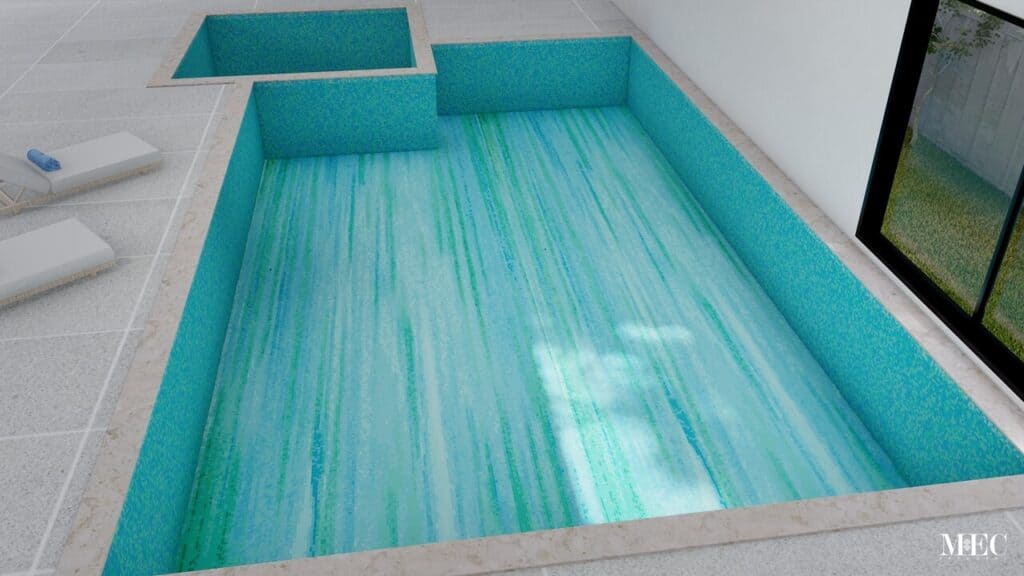 Pick a pool mosaic from the dozens of tiling designs from our catalogs and have it customized to your taste. From color theme to size and pattern, everything in our pool floor designs can be personalized.
16. Blue Bars Abstract Pool Design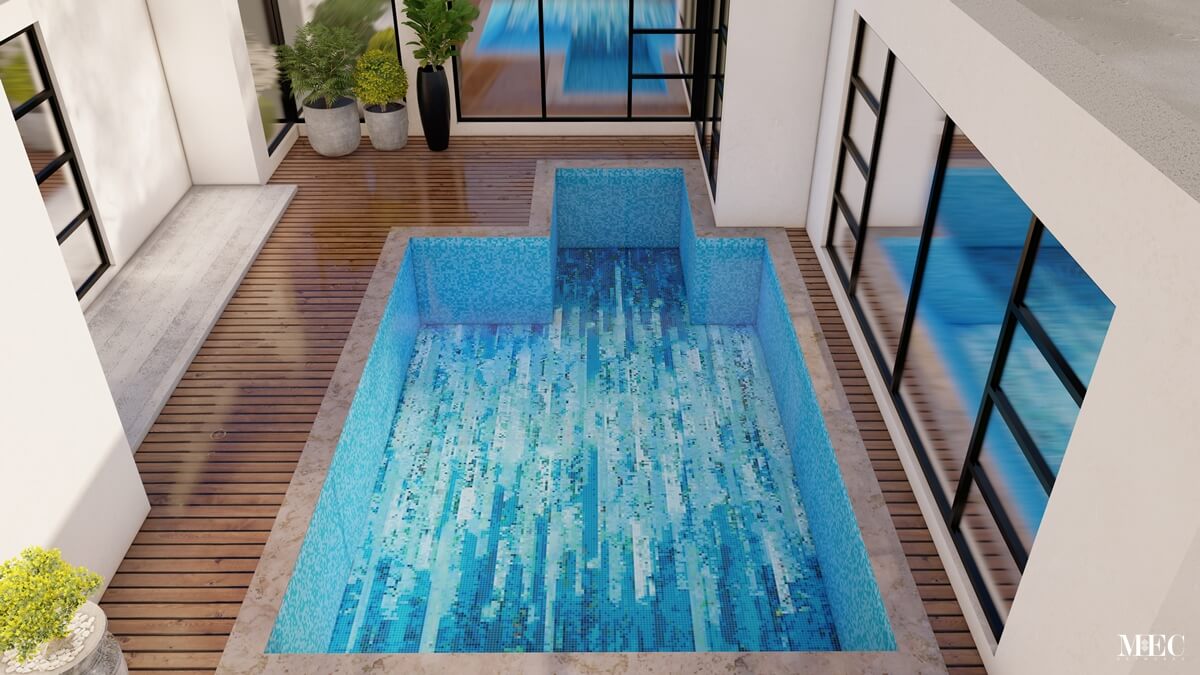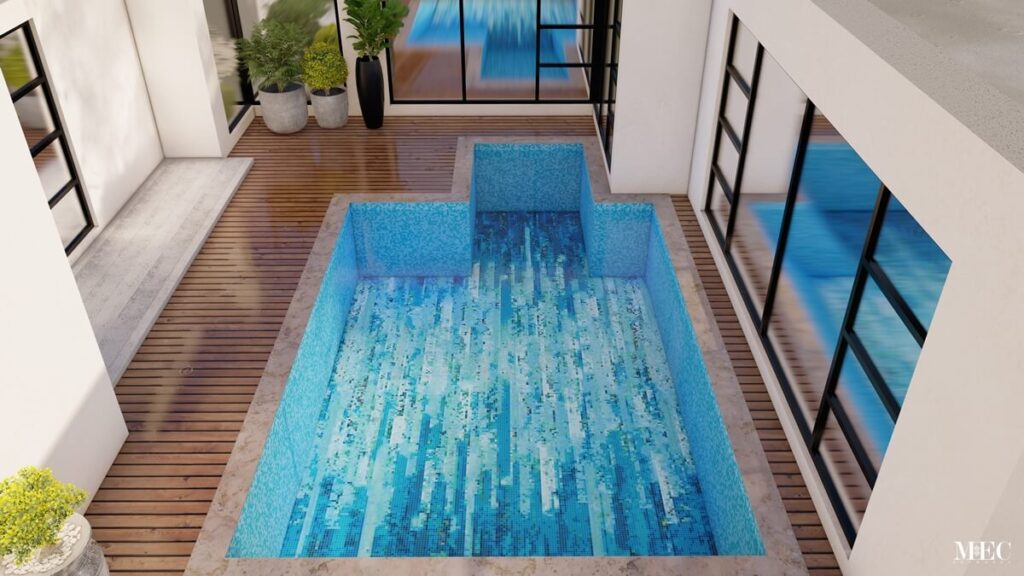 Your backyard oasis deserves designer pool tiles, custom fabricated to order. Blue bars PIXL gets its name from the textured plank like strip abstract art. The pool floor design features shades of blue Vertex glass tile and white mosaic.
17. Abstract Green Stretch Pool Mosaic Tile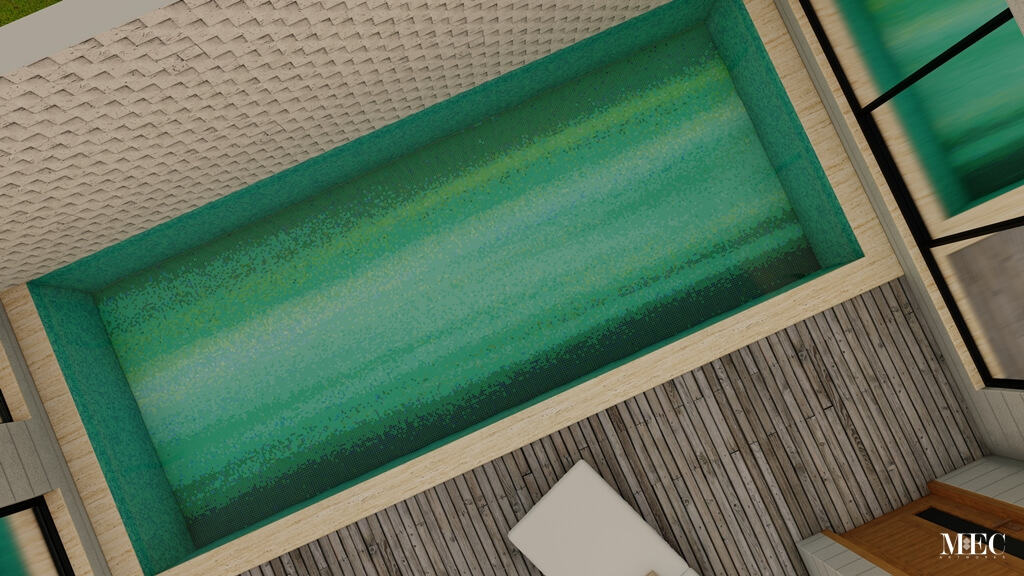 Need out-of-the-box mosaic designs for pools? You have come to the right place. This abstract green glass mosaic will give your swimming pool a futuristic sci-fi effect. It can be customized to fit your unique pool area or feature wall.
18. Fujiwa Wave Swimming Pool Mosaic Tile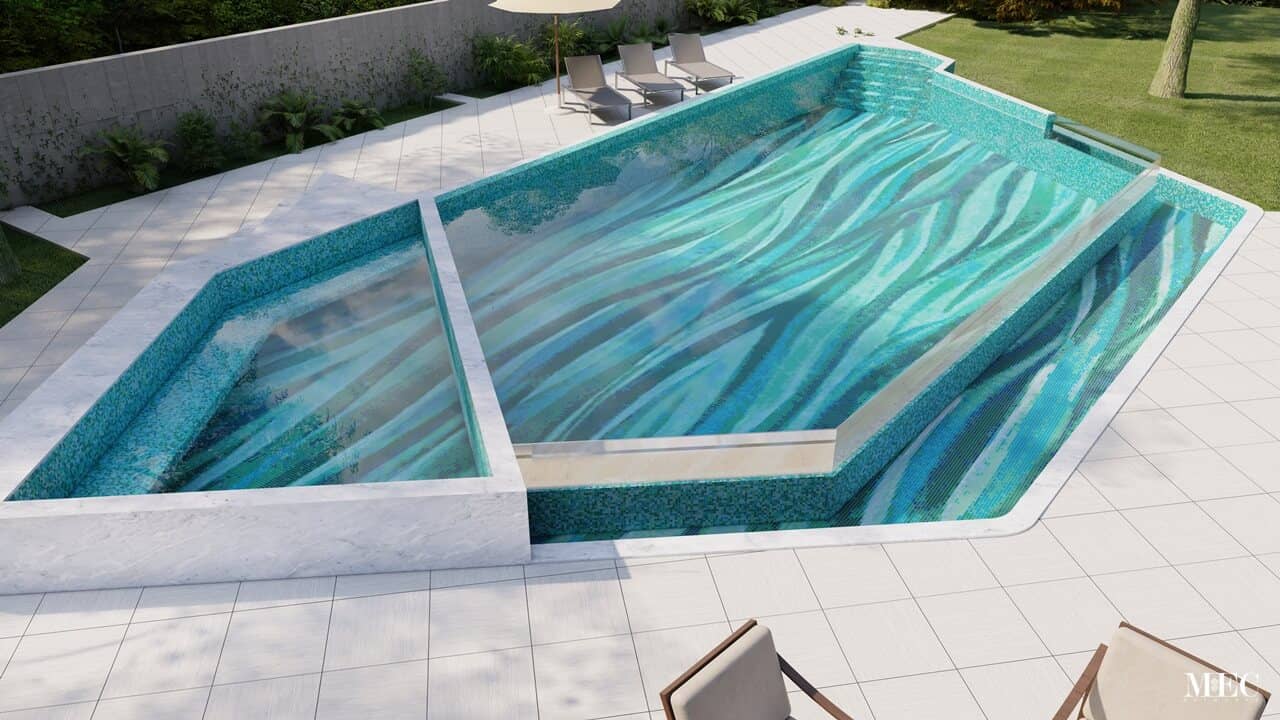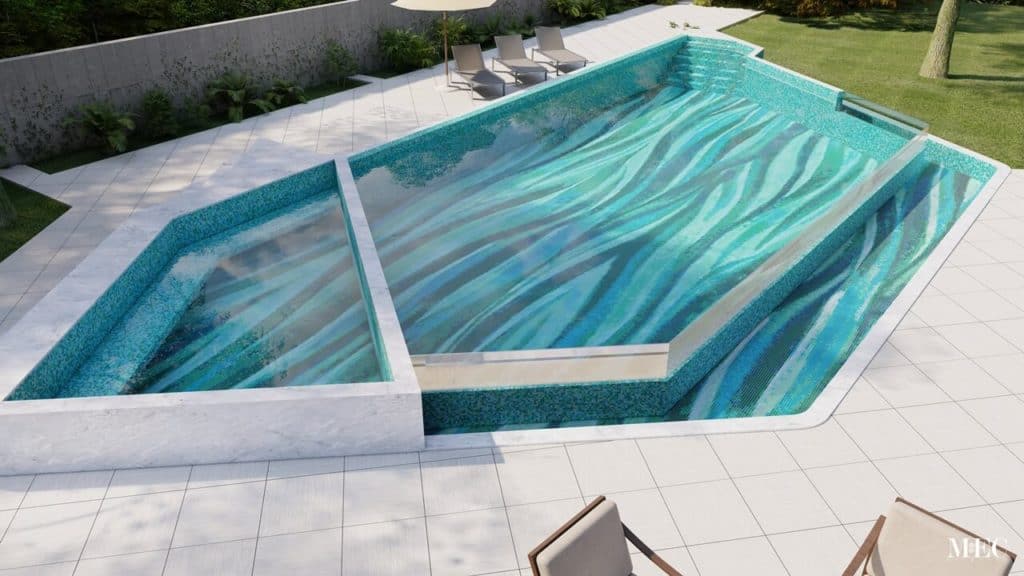 When we say we can work with all kinds of swimming pool shapes, we mean it. Behold! MEC's colorful pool tile pattern "Fujiwa Wave".
19. Elysian Palm Leaf Pool Glass Mosaic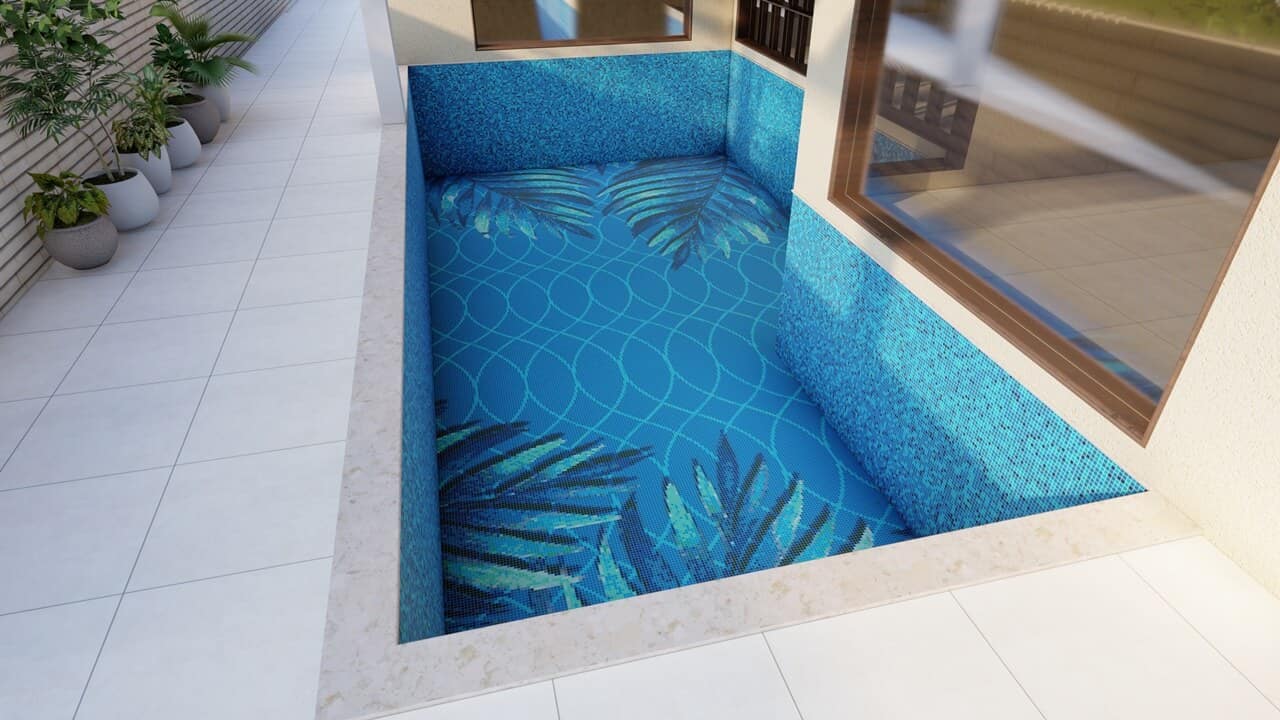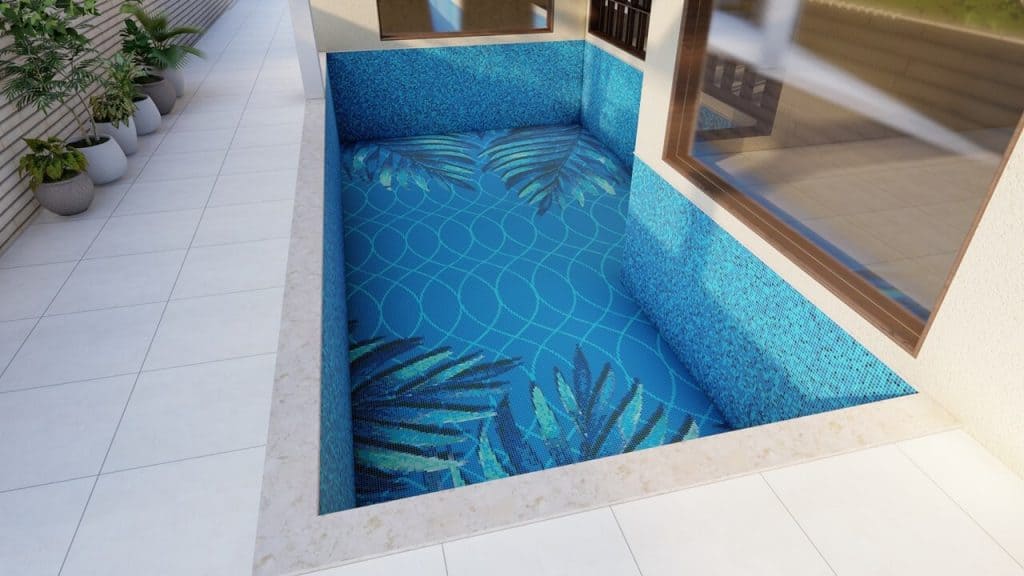 Add this beauty to your modern pool tile ideas. Larger-than-life palm leaf PIXL glass mosaic on a soothing blue and white tile backdrop.
20. Mint Green Mosaic Pool Tile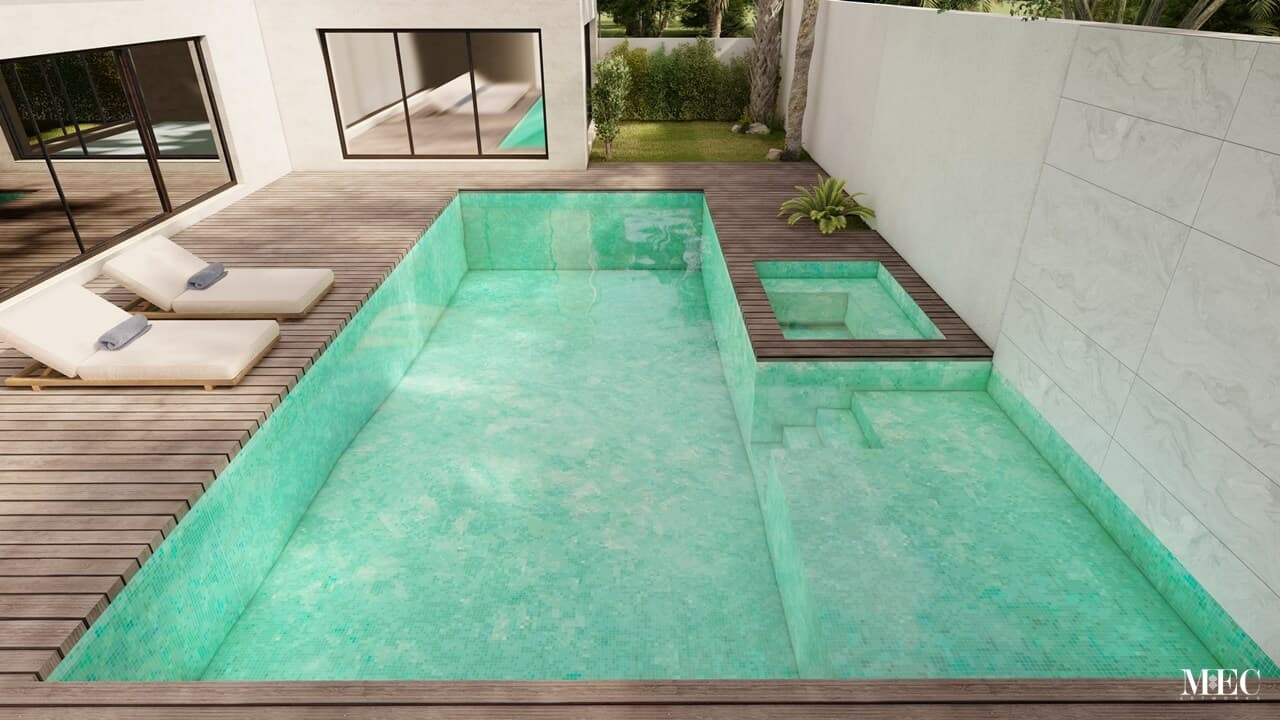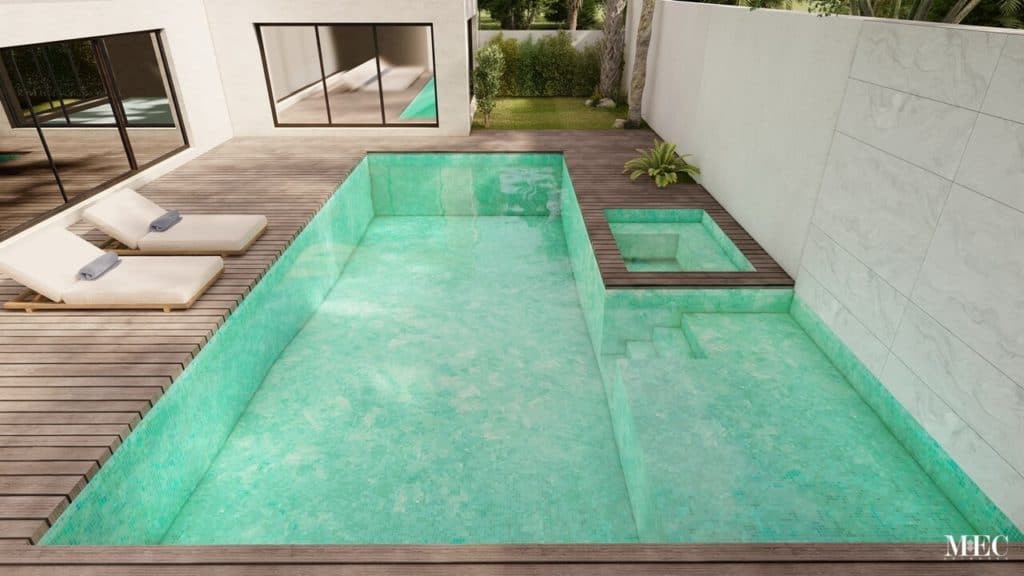 If you want a subtle texture in your pool, have a look at this Mint Green glass mosaic as an example. We can create unique custom pool tile patterns for a variety of pools, fountains, spa and hot tubs.
21. Dark Tile Floral Pool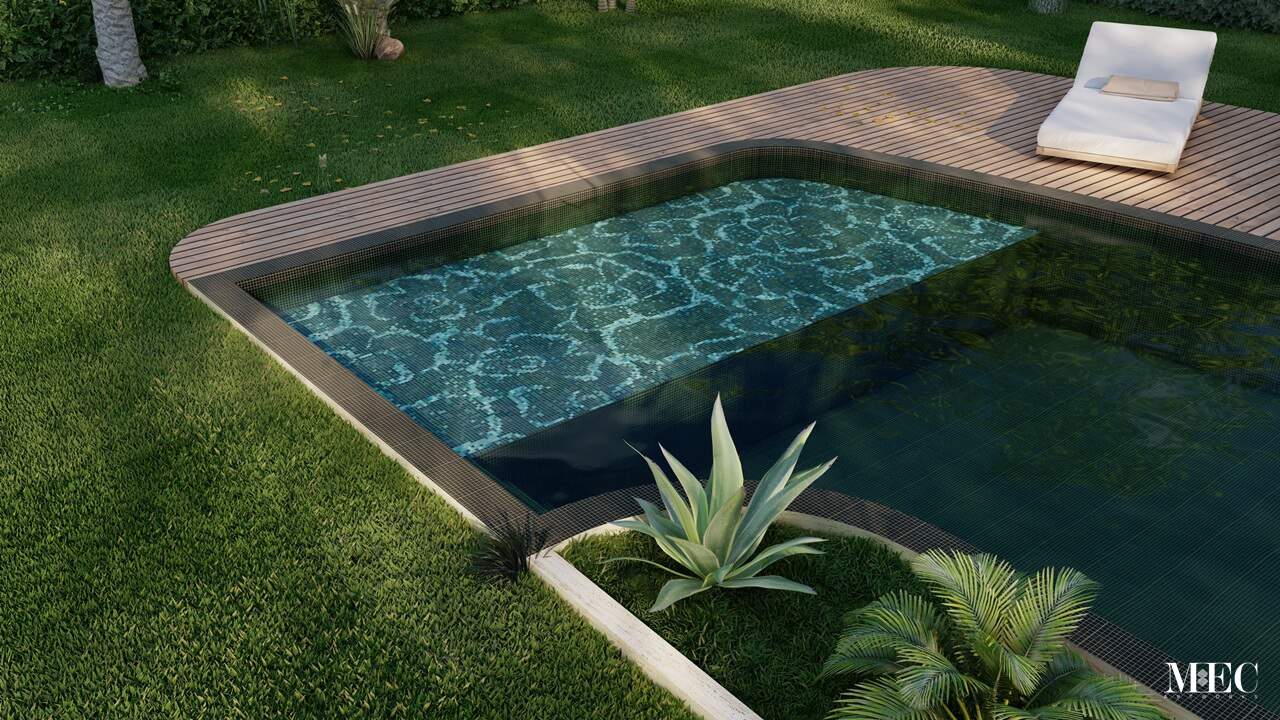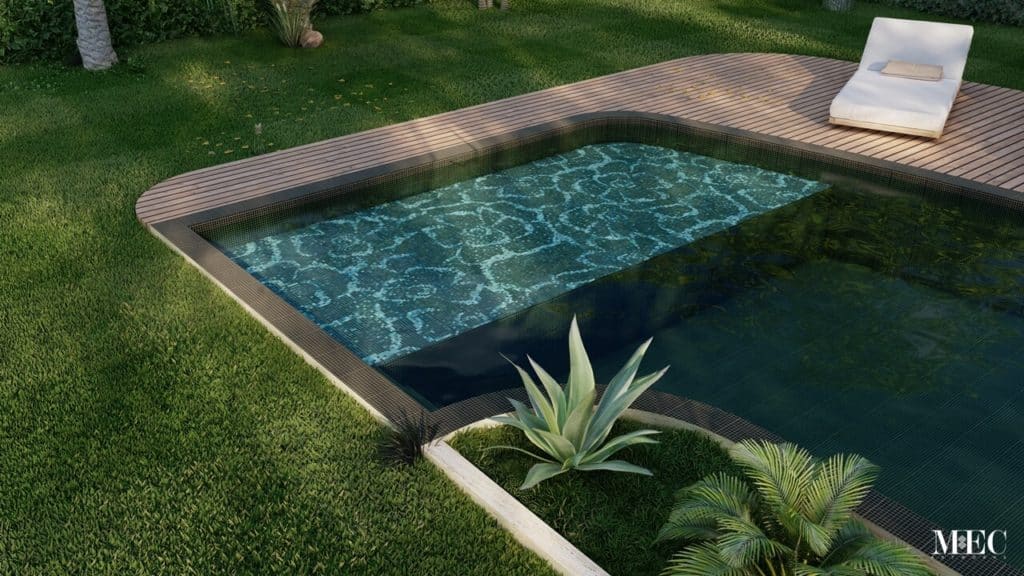 A dark teal swimming pool tile with a floral semi abstract sun shelf mosaic design. If you are looking for mosaic pool designs that are out of the box, MEC has got you covered. We love creating custom pool mosaics for our clients.
22. Blue Digital Abstract Pool Mosaic Tile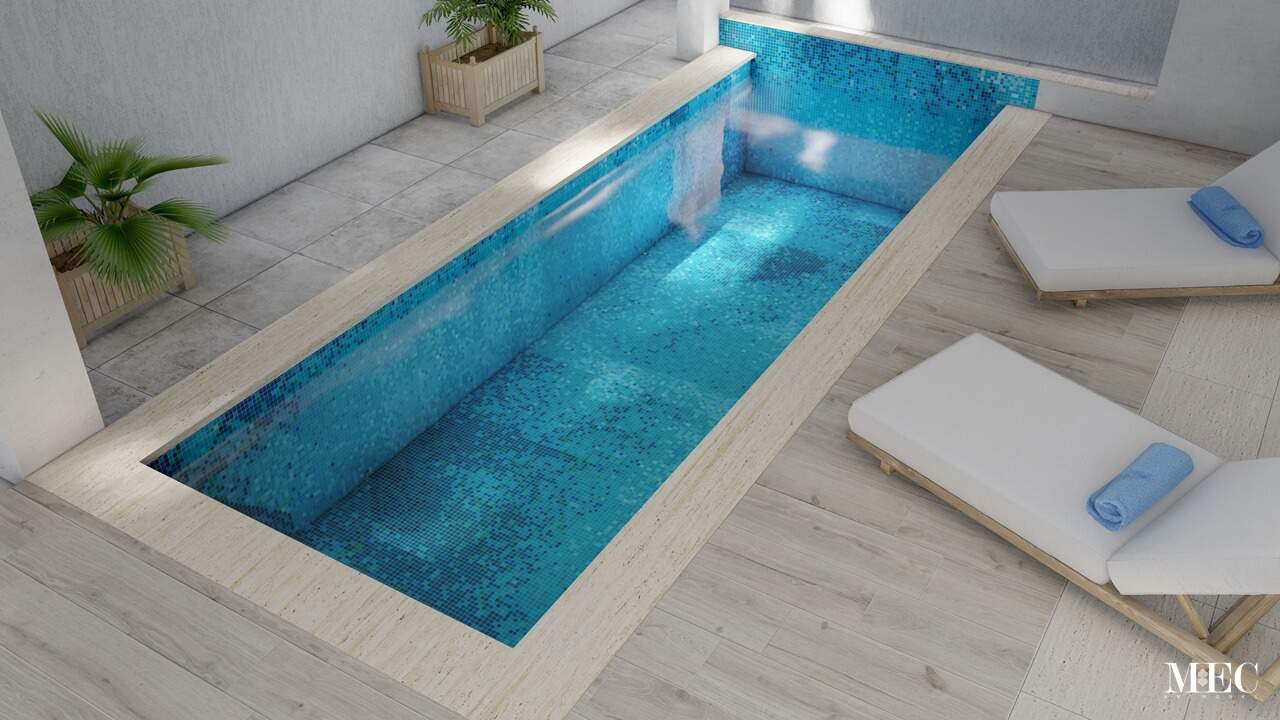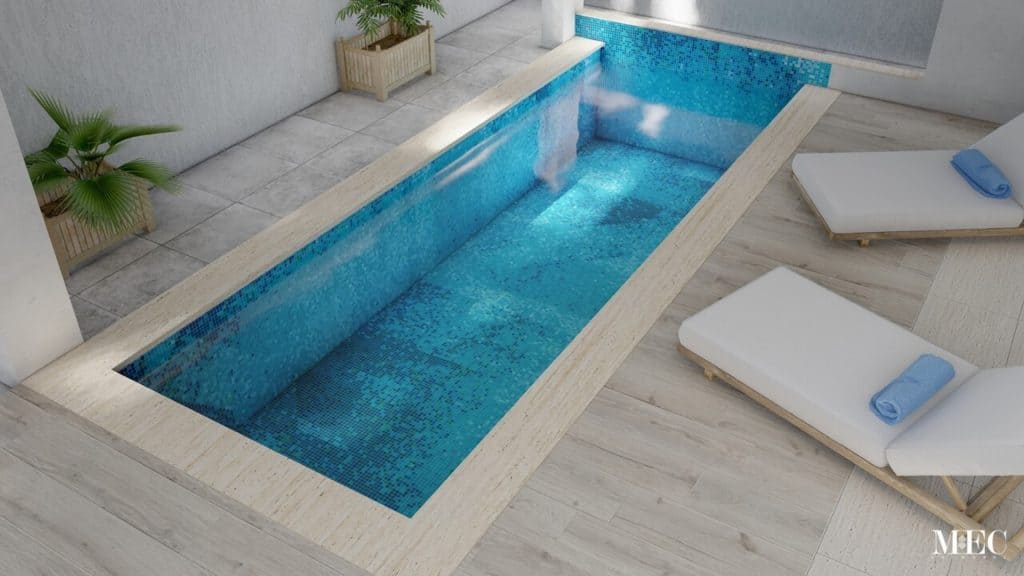 Think classic blue tile pools with a modern design twist. That is what you get when choosing an MEC PIXL swimming pool mosaic art. Beautiful, one-of-a-kind abstract glass mosaic project, designed and fabricated just for you.
23. Blue Green Abstract Bars Pool Mosaic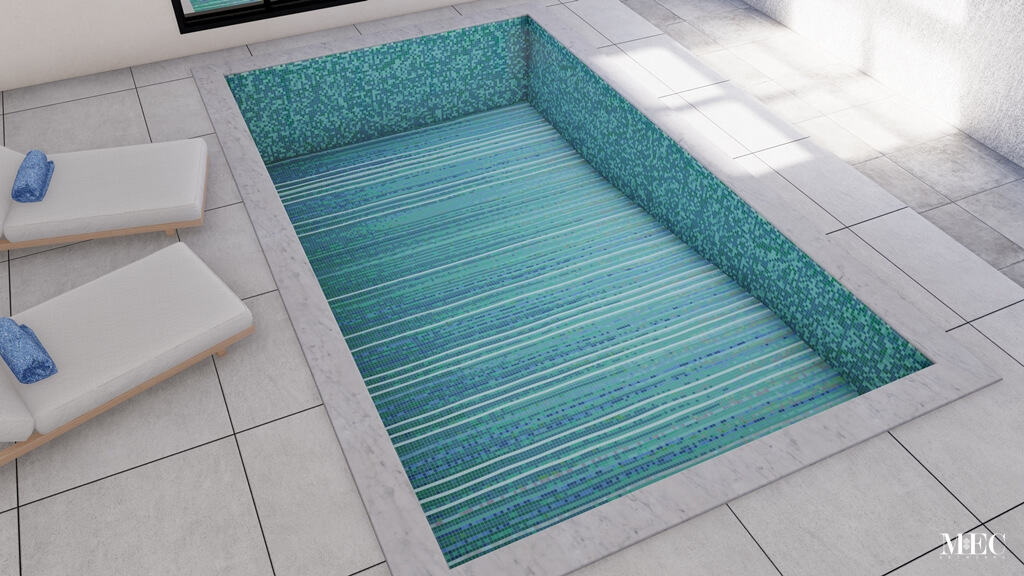 Our PIXL range consists of stunning modern pool tile designs that will liven up your swimming pool area. These abstract blue green bars along with a Vertex 20 blend give an otherwise plain pool a cool look.
24. Green Blue exciting custom mosaic art tile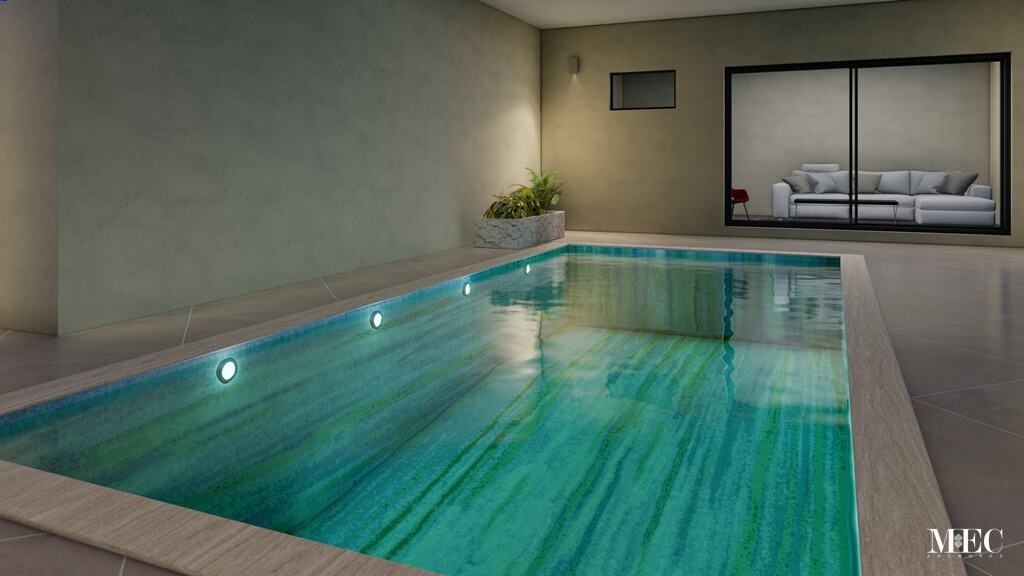 What do you want from swimming pool mosaic ideas and designs? Other than the obvious practical function, do you also want mosaic tile work to beautify your pool? How about expressing your style by personalizing your space? MECs exciting mosaic art tile can achieve all that for you.
25. Kosmik PIXL Glass mosaic pool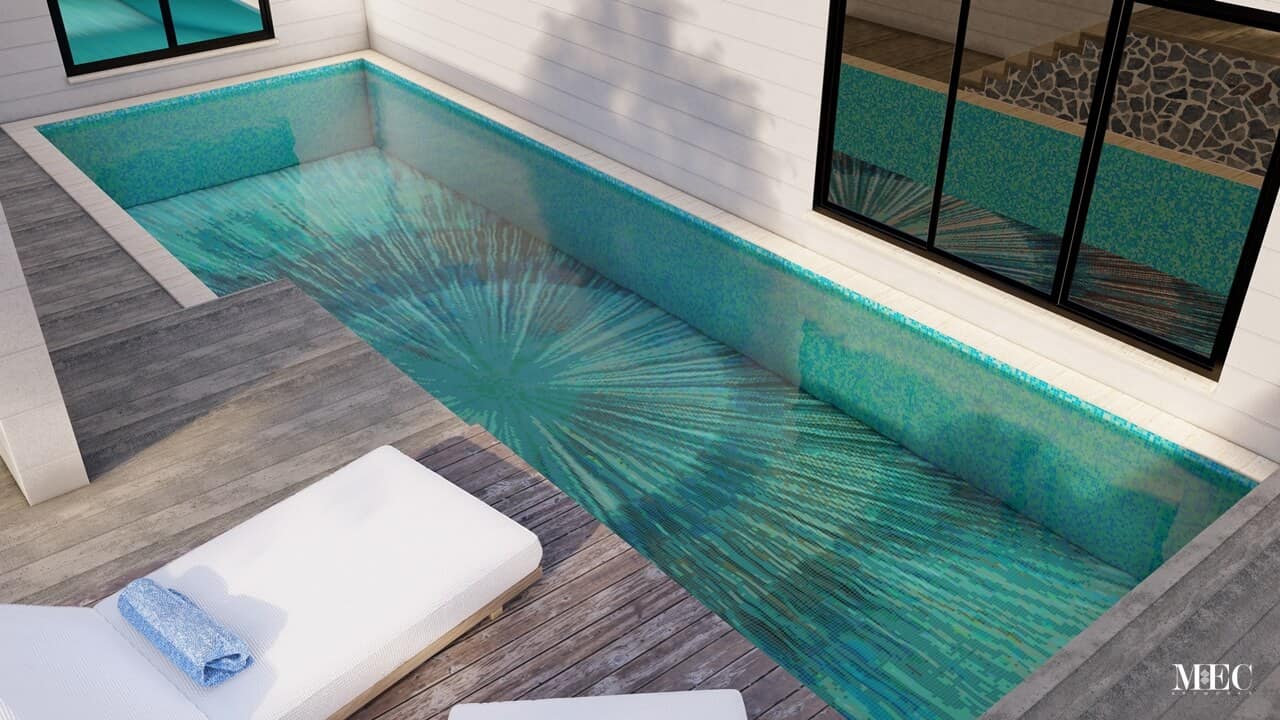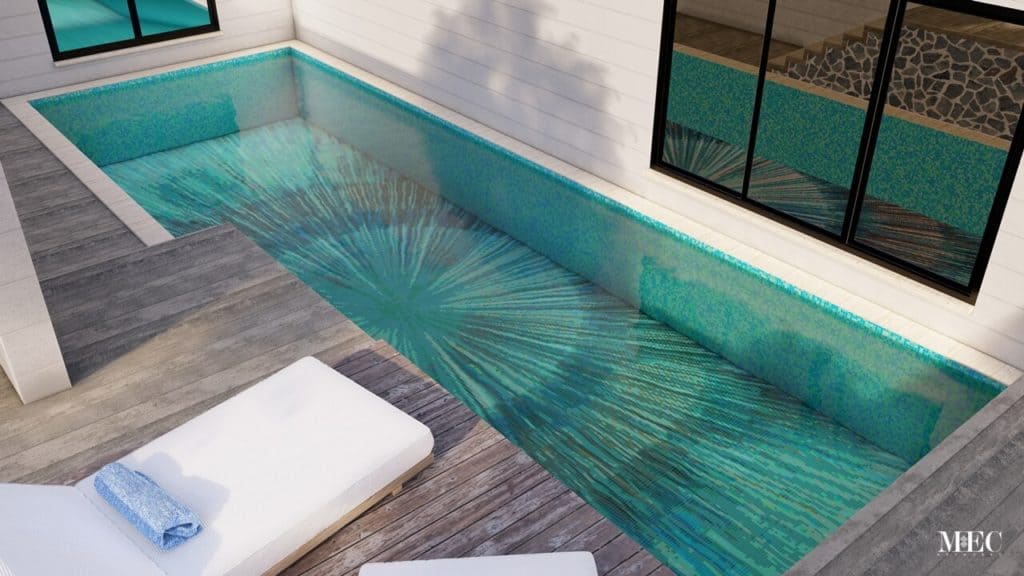 We have got some modern pool tile images and renders for you. Kosmik is inspired by the cosmic light phenomenon. Kosmik is a great choice if you like round and radiating ray patterns. For more out of the world pool design ideas, get in touch with us. We offer free personalized design consultation.
26. Embracing the elegant movement of waves in pool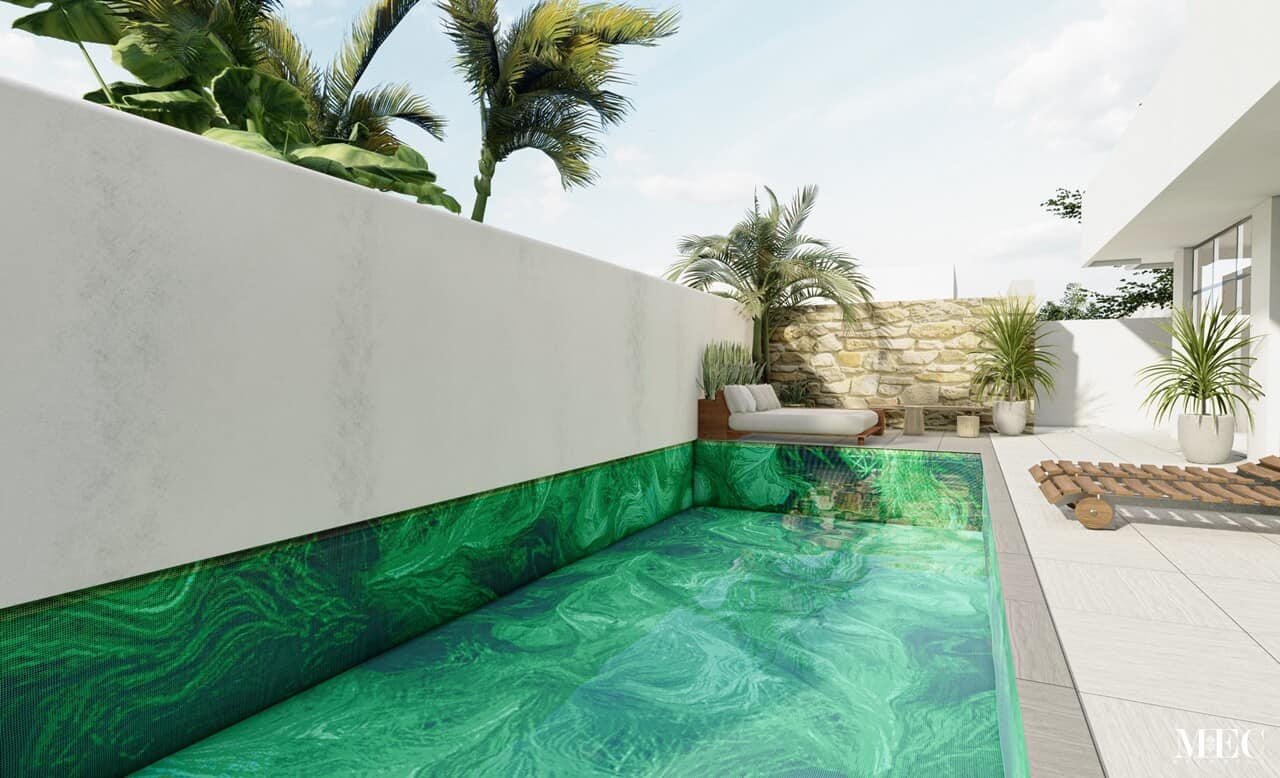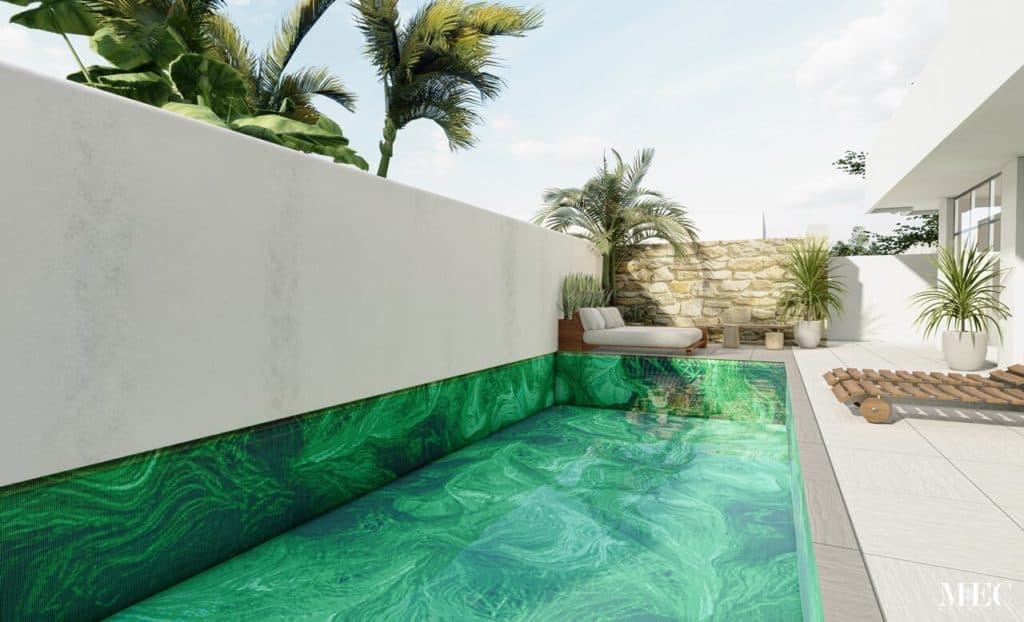 Adorn your pool with this artistic green glass tile pattern for an instant upgrade to your space. Vertex mosaic are not only safe for swimming pool application, they are also a highly recommended pool tile material alternate to ceramic tiles.
27. Rainforest Teal Pool Mosaic tile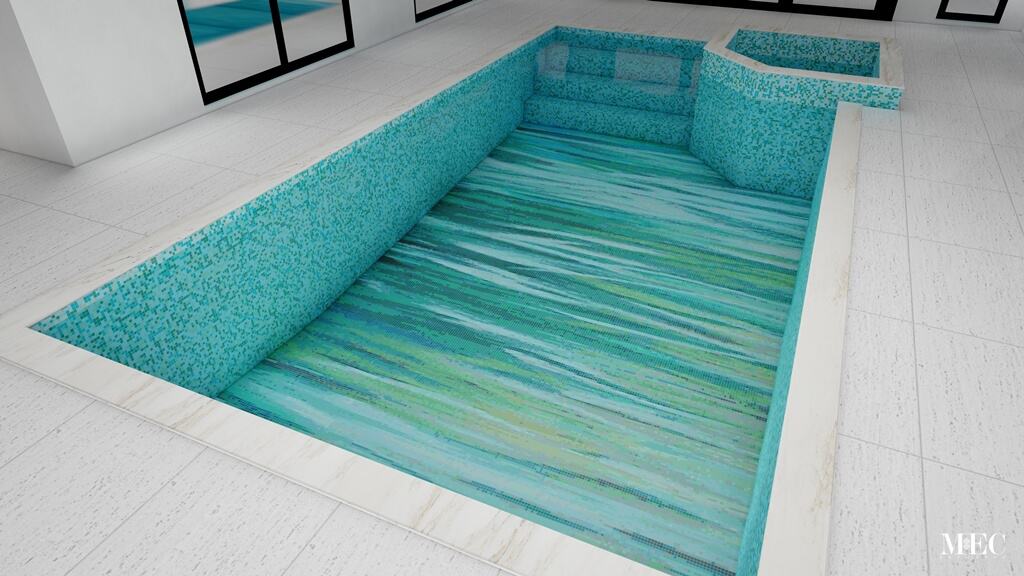 Here is another one for your list of colorful pool tile ideas. A customized version of Incredible Rain forest PIXL design from the Mist catalog.
28. Whirlpool Swirl Pool Mosaic Design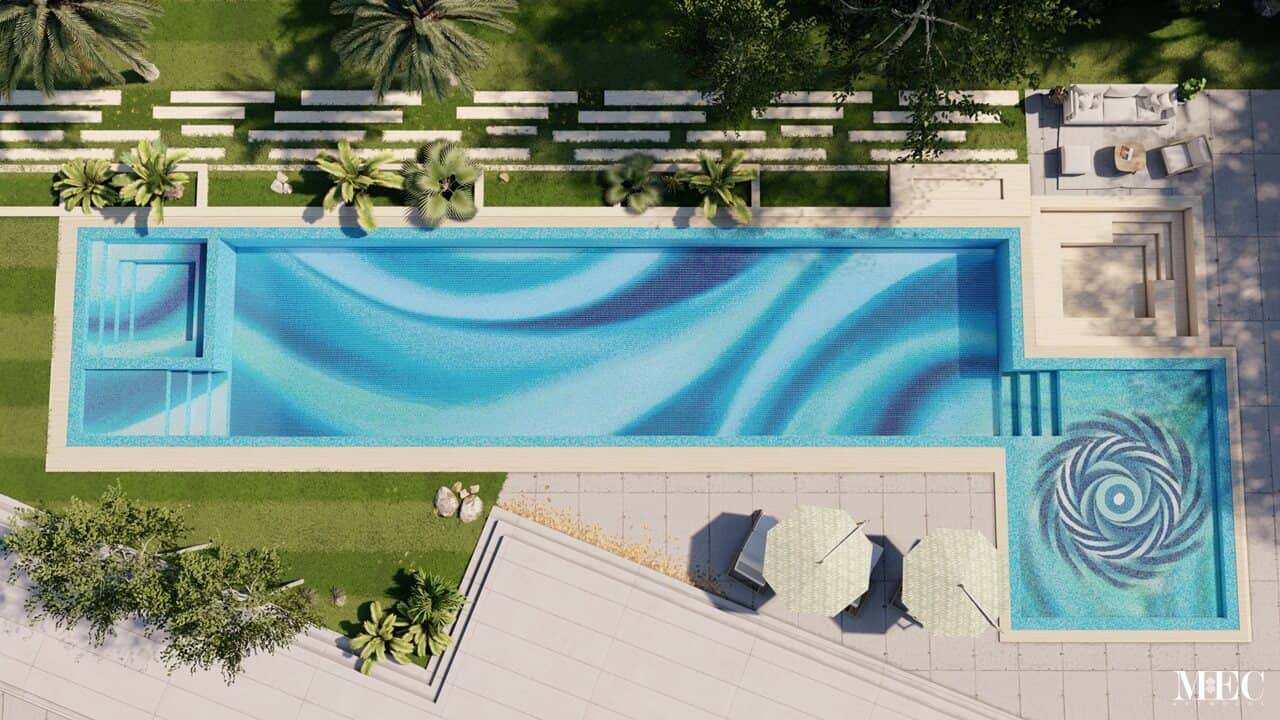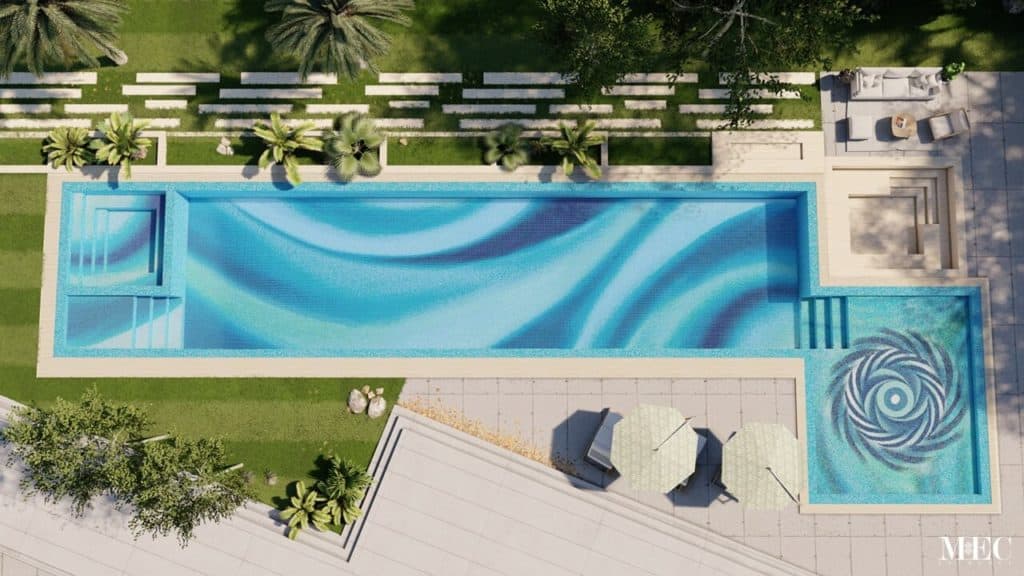 Make a visual impact with our abstract PIXL pool tile design options. The best part – they are custom made to order each time. We love the whirlpool medallion on the baja-shelf-slash-kids-area of this swimming pool.
29. Vertex Glass mosaic pattern Idea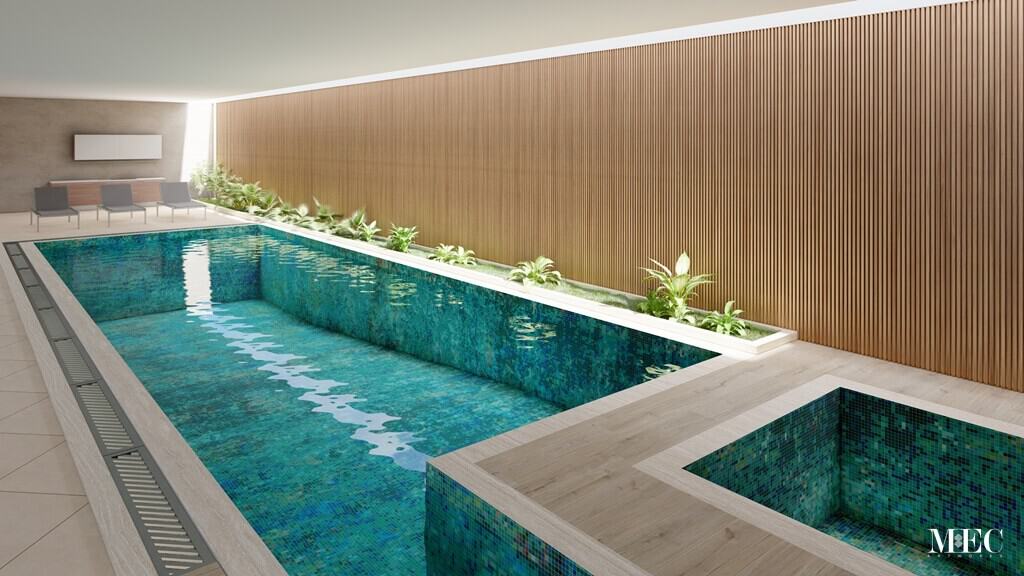 Your swimming pool deserves the same love and attention that the rest of the interior design decisions got. Deadline approaching and you have yet to choose? Fret not, we have swimming pool mosaic ideas ready for you to pick from. Everything is totally customizable and we promise a smooth process. Here is a semi covered natatorium with an abstract glass mosaic pool tile artwork.
30. Aqua & Gold Marble Effect Abstract Pool Mosaic Tile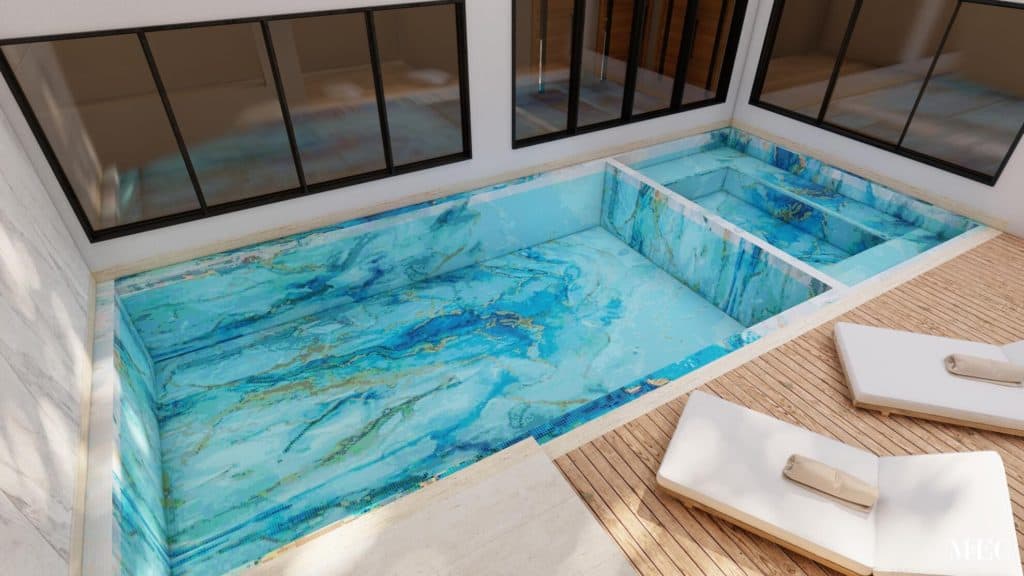 Get that gorgeous marble slab effect in your pool with glass mosaics. You read that right, with our AddTek software we can convert any image or artwork into a mosaic-ready design. In this case the client wanted to combine acrylic pour paint, marbling and a touch of gold.
31. Fujiwa Wave Ombre Mosaic Tile Design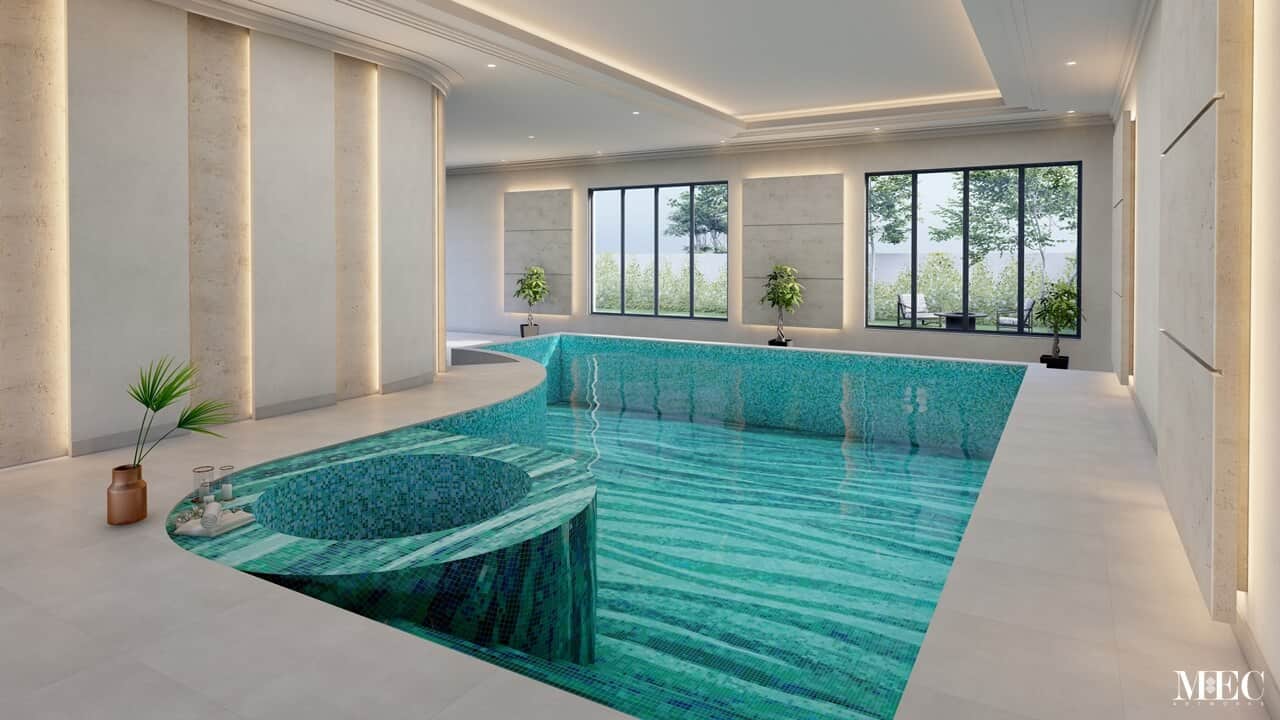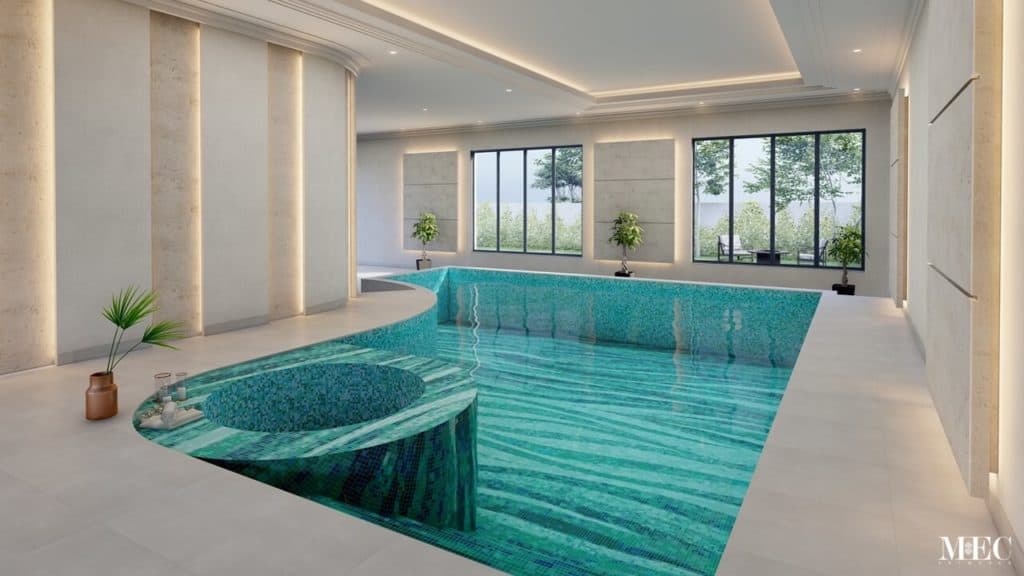 If we gave awards to our mosaics, Fujiwa Wave would have won "Pool Design of the Year" for 2022. It is a glass mosaic abstract wavy pattern.
32. Blue Triangle & Gradient Pool Mosaic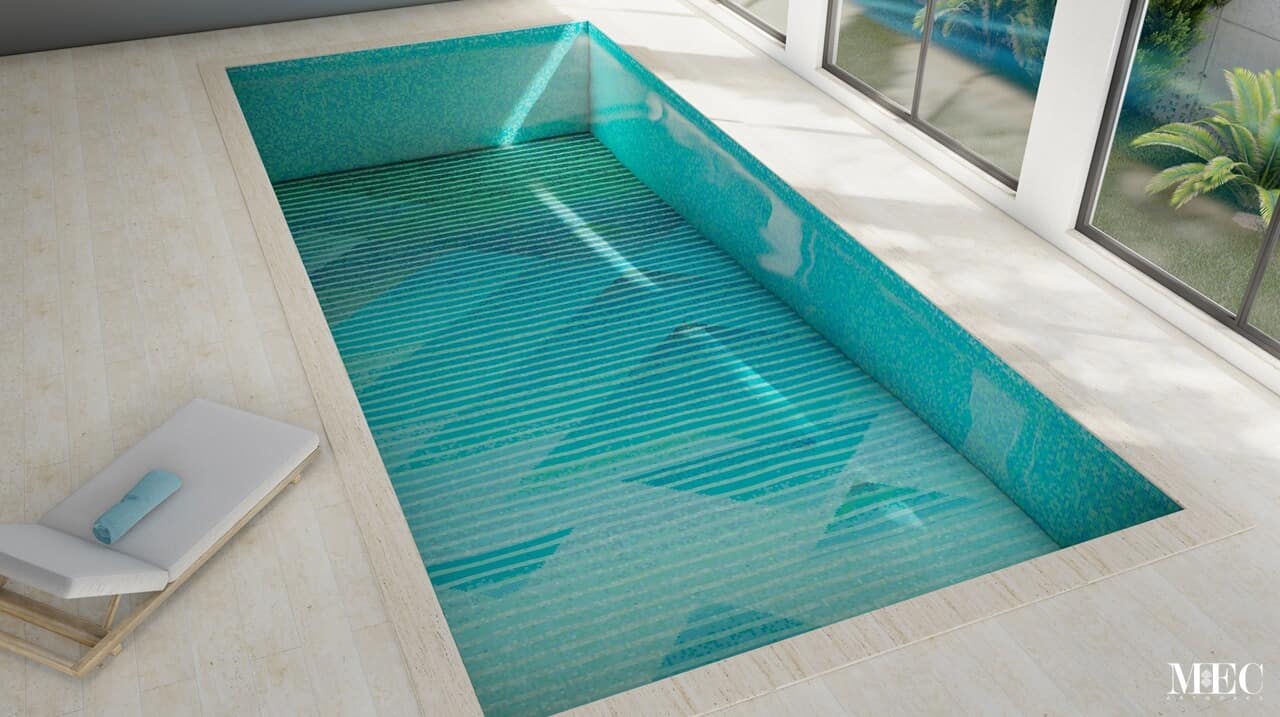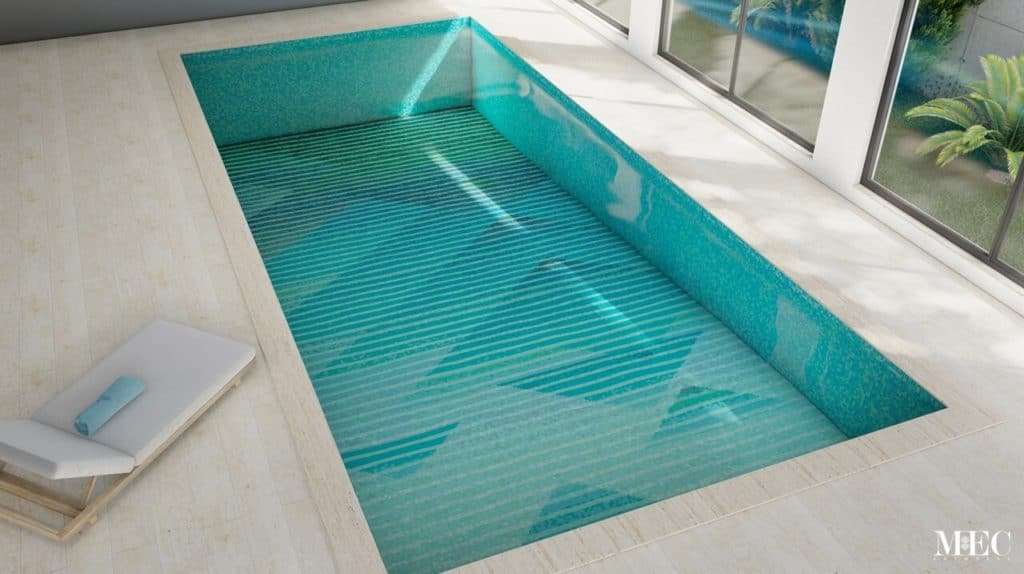 Lines, a color blue & green palette, triangles – what's there not to like in this abstract gradient pool tile art.
33. Hitari glass mosaic pool tile idea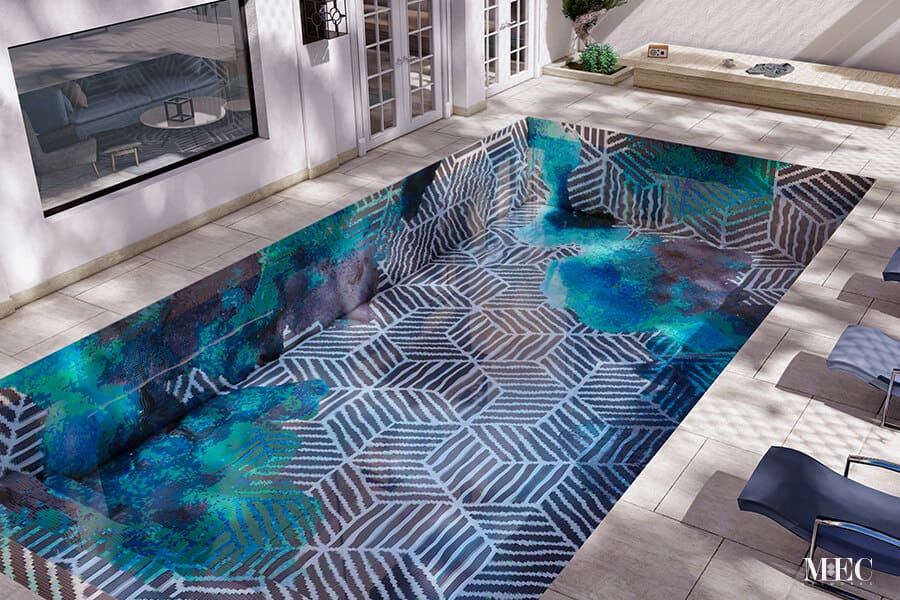 One of our latest modern abstract art pool mosaic ideas featuring a black and white line hexagon pattern with a colorful element. Hitari PIXL captures the effects of ink diffusing in water and colored smoke beautifully.
34. Noxu geometric glass mosaic pool tile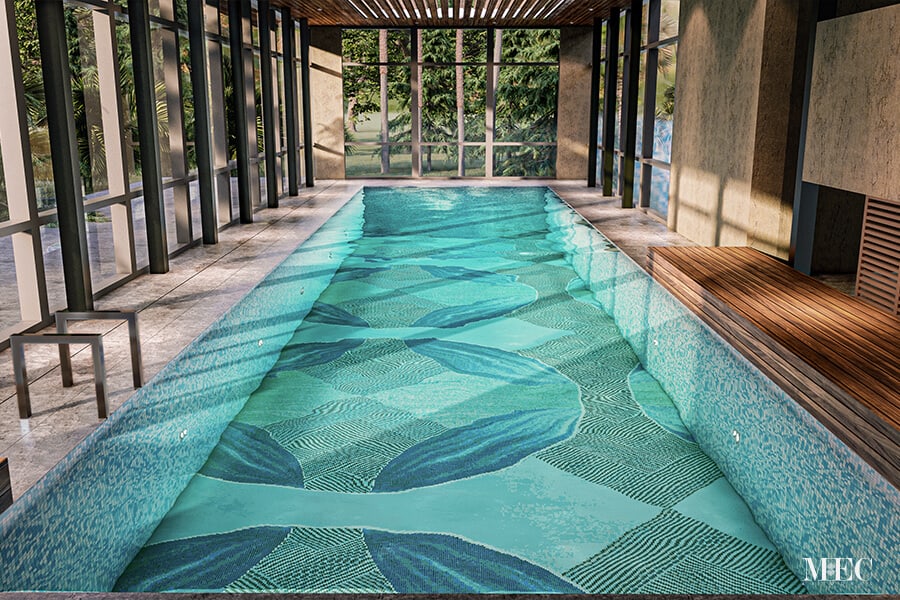 Orange Peel meets pencil color abstract in this detailed glass mosaic pool tile pattern. For more pool mosaic ideas, drop us a message.
35. Tropical Retreat Pool Glass mosaic design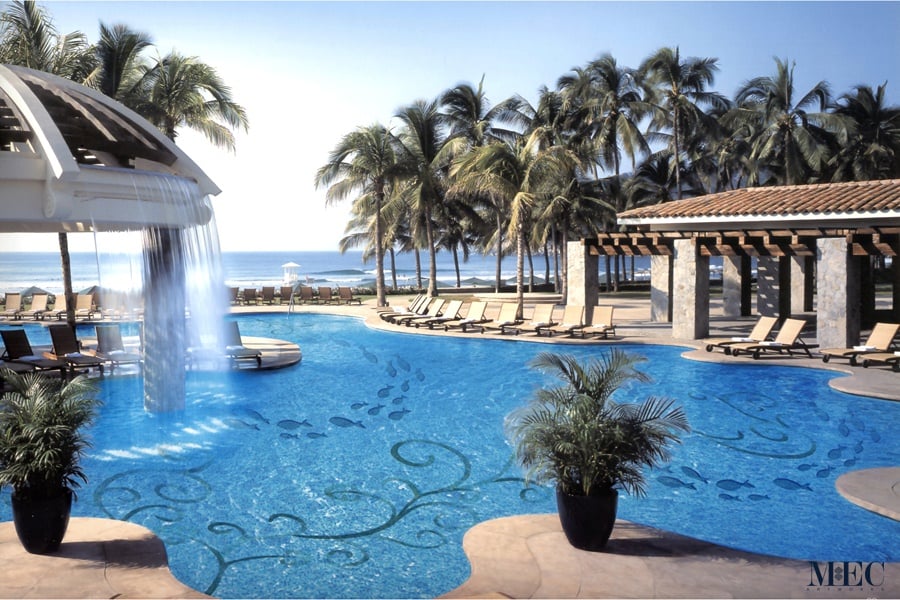 Irregularly shaped pool with curves featuring stylized scrolls and fish shoal. Handmade pool mosaic ideas are a smart way to add design and texture to your swimming pool.
36. Spiral Splash Pool Mosaic Idea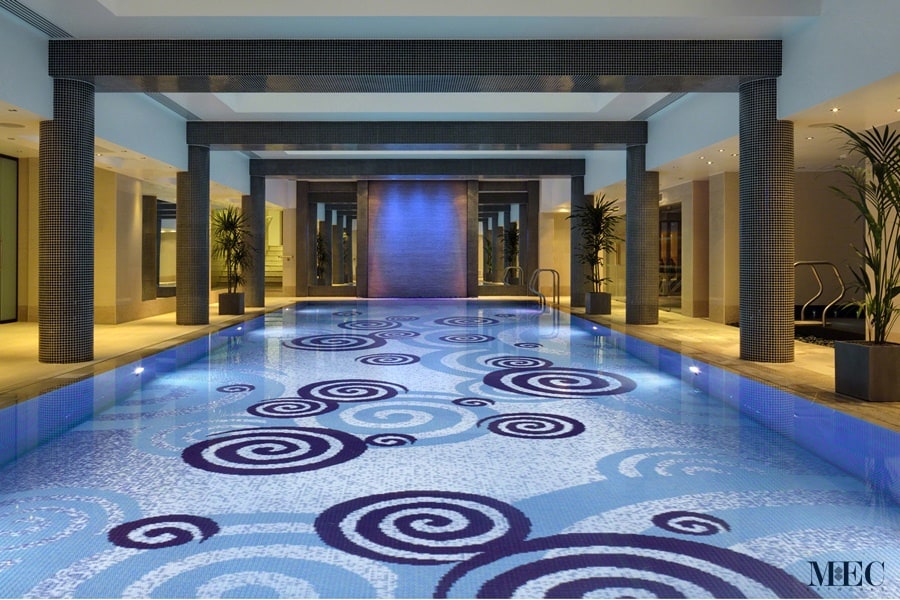 Dark blue and aqua blue spiral curls of various sizes adorn this Spiral Splash swimming pool. The background features a blue gradient tile effect. Need more similar pool mosaic ideas? We can custom create some for you!
37. Blue-green wavy mosaic tile design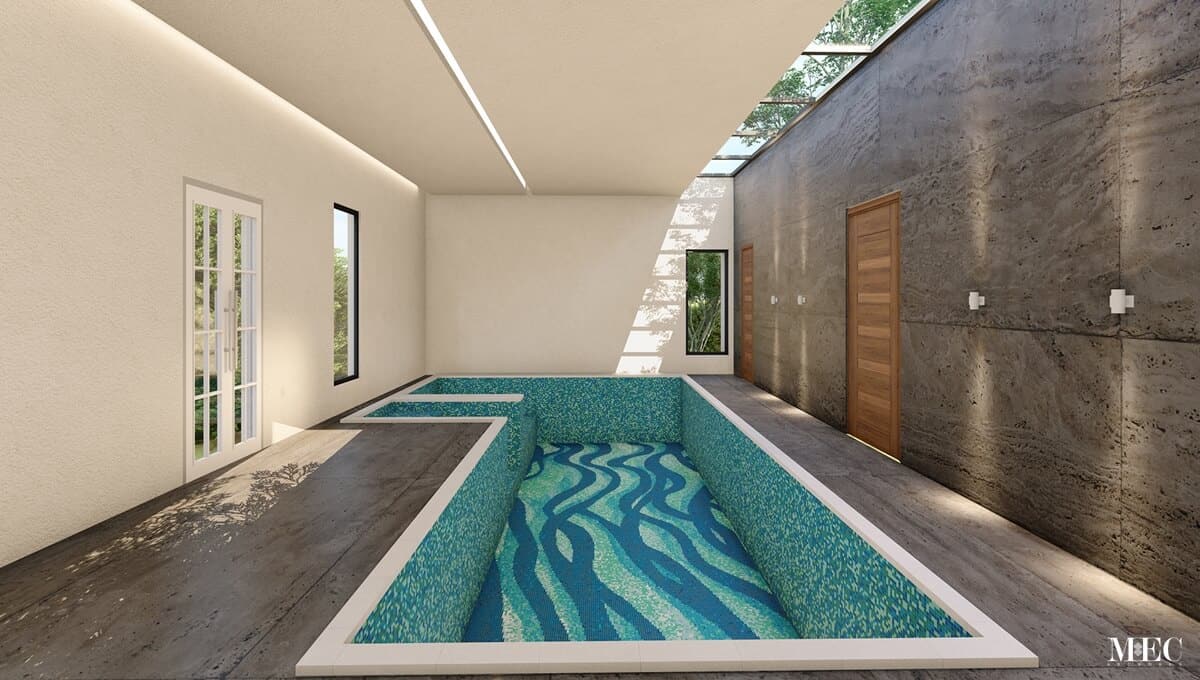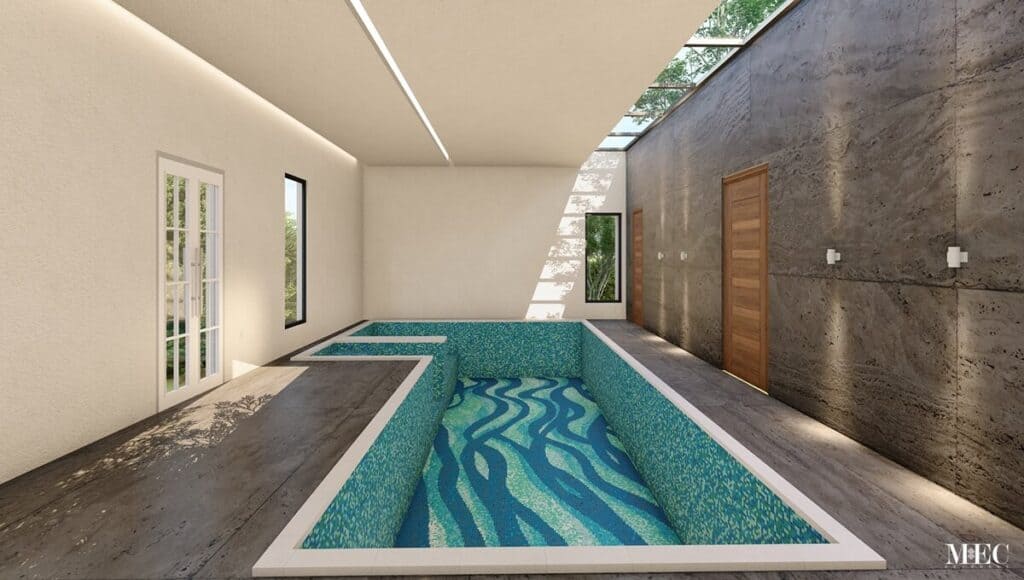 No two custom made MEC pools are alike. You can make your space stand out of the crowd with the help of PIXL pool mosaic ideas. For instance, here is a wavy mosaic tile design with bright colored squiggly lines.
38. Mid Century Modern Geometric Pattern Pool Mosaic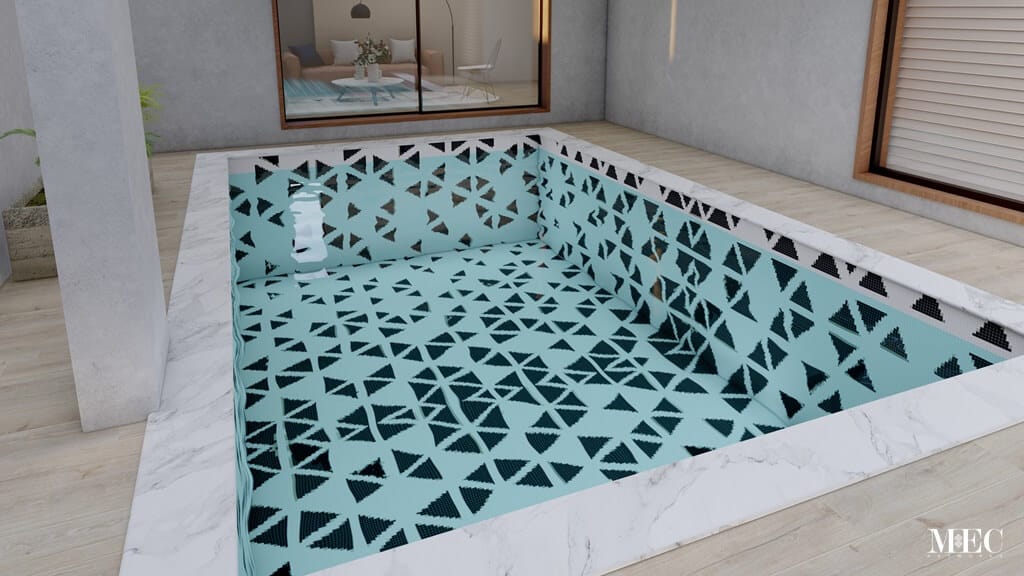 If you like Mid century modern geometric abstract patterns, this is the mosaic for your pool. Fading triangles pool tile mosaic design idea.
39. Personalized Pisces Pool Mosaic tile design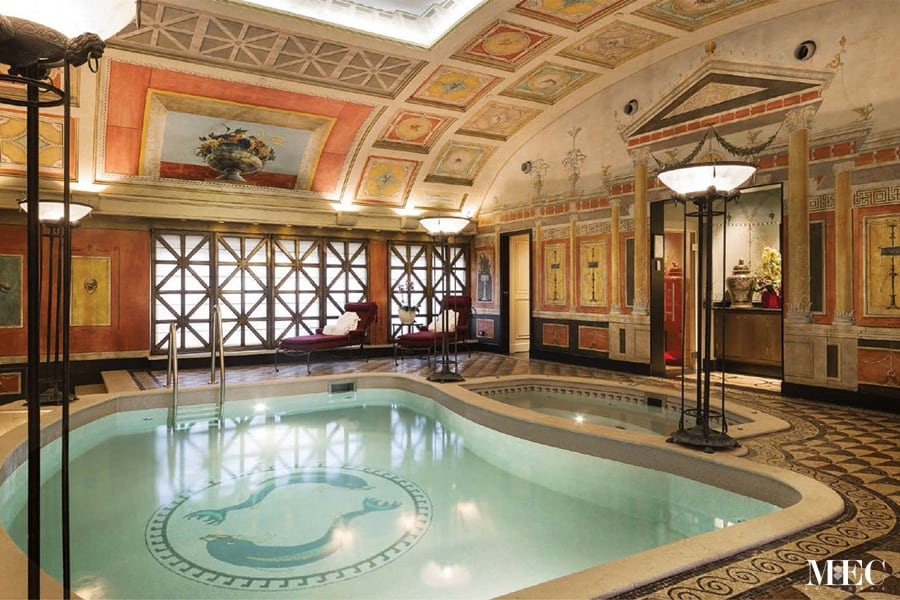 Sea water creatures are a popular pool mosaic tile theme. This personalized pool mosaic medallion features fish arranged in an artistic way with a delicate mosaic border. Check out our design catalogs and look-books for more pool design ideas.
40. Gatsby Esque pattern pool Design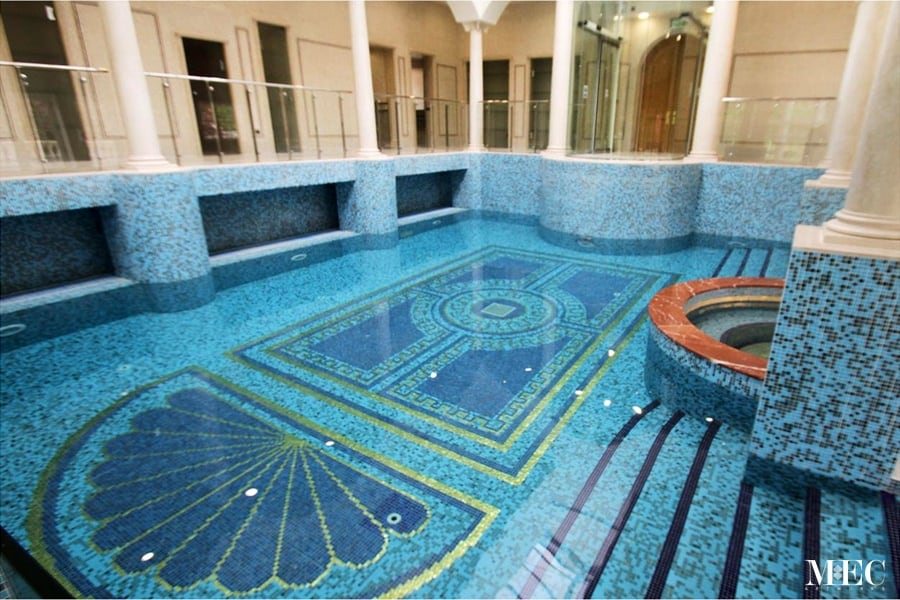 Bring the grandiose and luxury vibe of art Deco to your natatorium. The Gatsby-esque pool features 24 karat gold leaf Oro gold details.
41. Roman style seashell portrayed in mosaic pool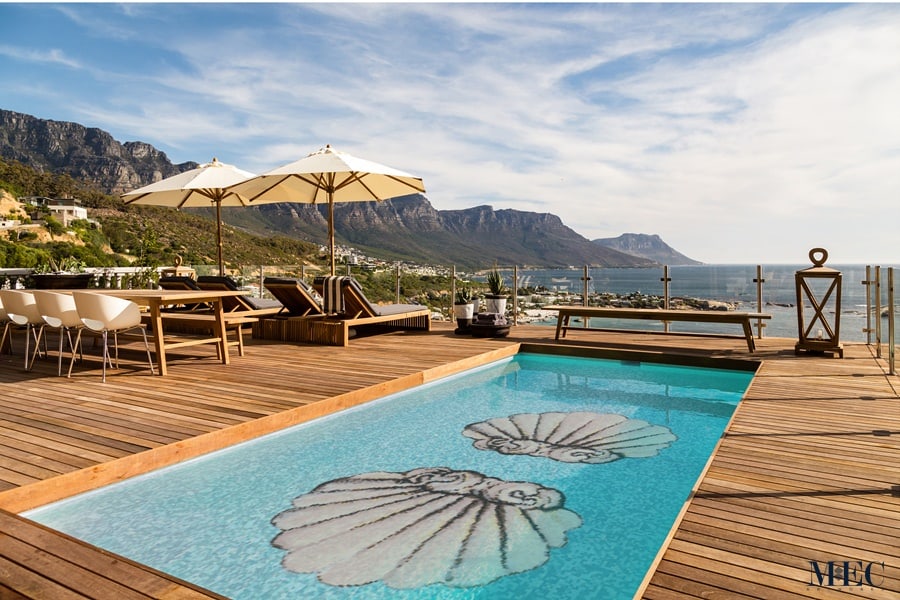 Seashell imagery with Ancient Roman architecture and design stylization. Drop us a quick email if you want some more Roman inspired pool mosaic ideas. Why cover your pool in plain solid colored tile when you can treat it like an art canvas!
42. Arabesque Geometric Swimming Pool Mosaic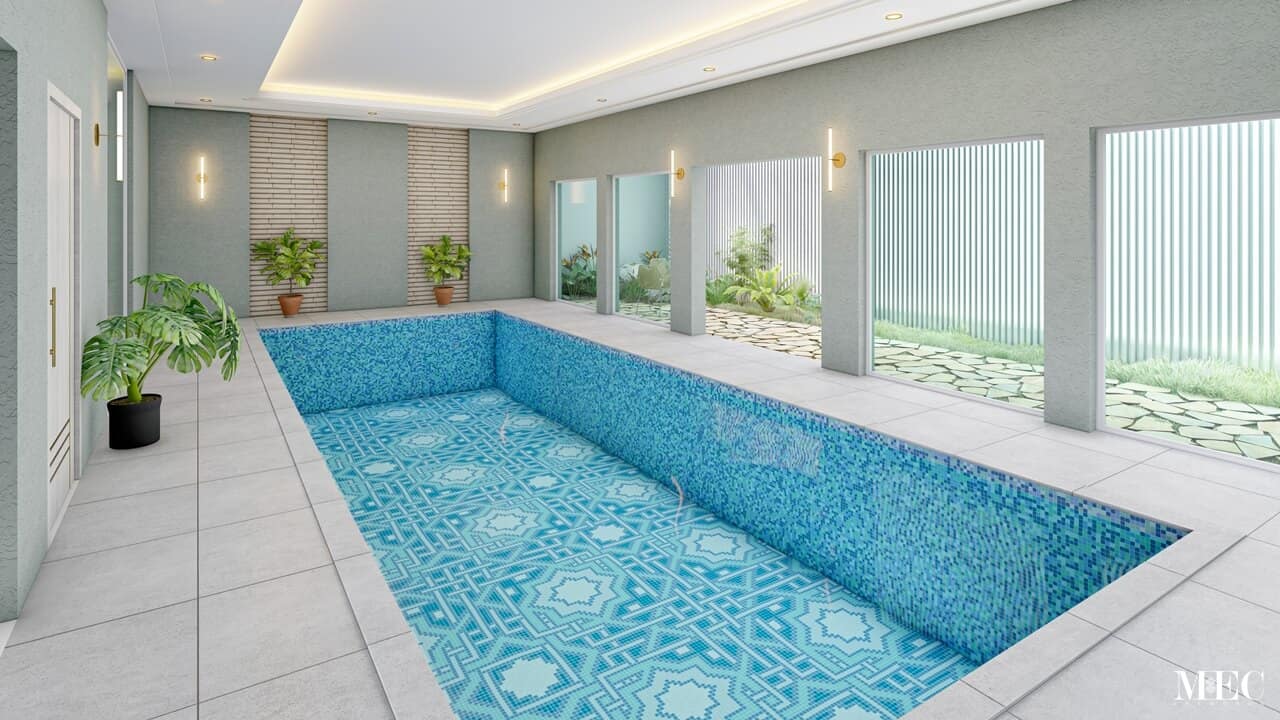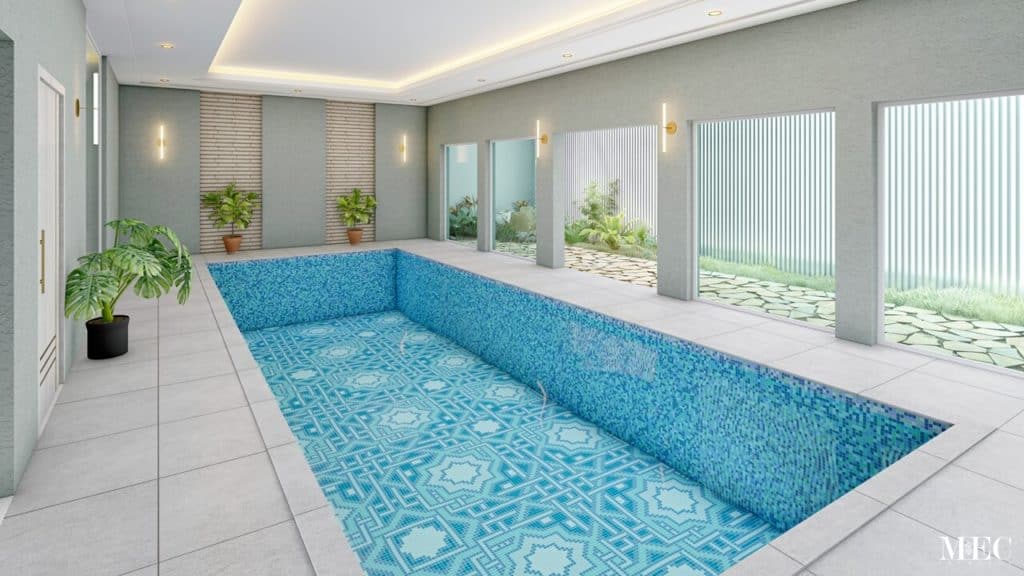 This geometric arabesque mosaic tile pool pattern can add that Mediterranean style to your home. We also offer custom designed Moroccan patterns and modern Spanish pool mosaic ideas.
43. Ink diffusing glass mosaic pool tile design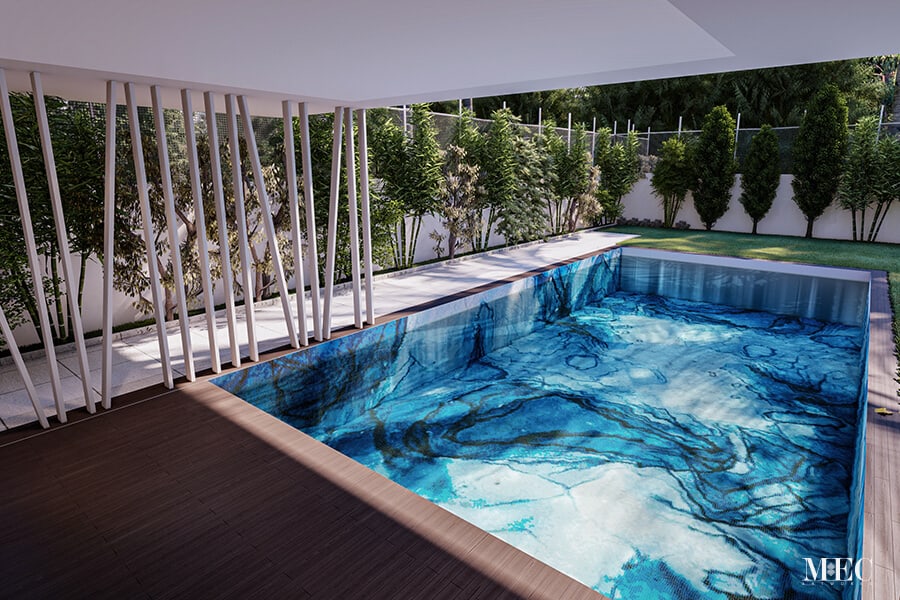 Savu is a modern mosaic pool design with an incentive twist. Effects as delicate and intricate as ink diffusing in water can be brought to mosaic tile art with technology and craftsmanship.
44. Zebra-striped mosaic pool design tile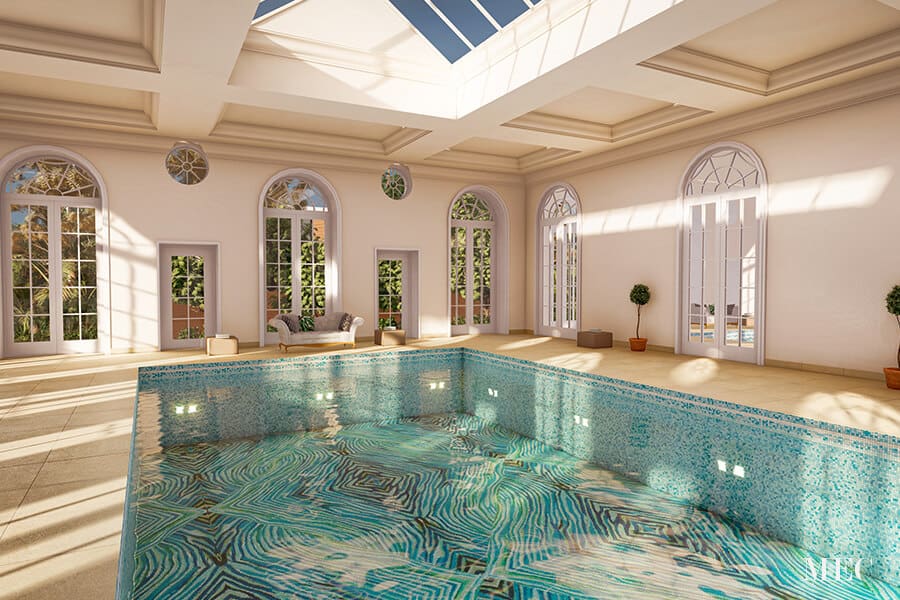 Animal prints can work great for swimming pools if incorporated creatively. This Artistic Zebra stripe themed mosaic pool design tile is a fine example of that. Need more animal pattern pool mosaic ideas? Drop us a short message and we will get back to you with tailor made design options.
45. Handcrafted marble mosaic pool deck tile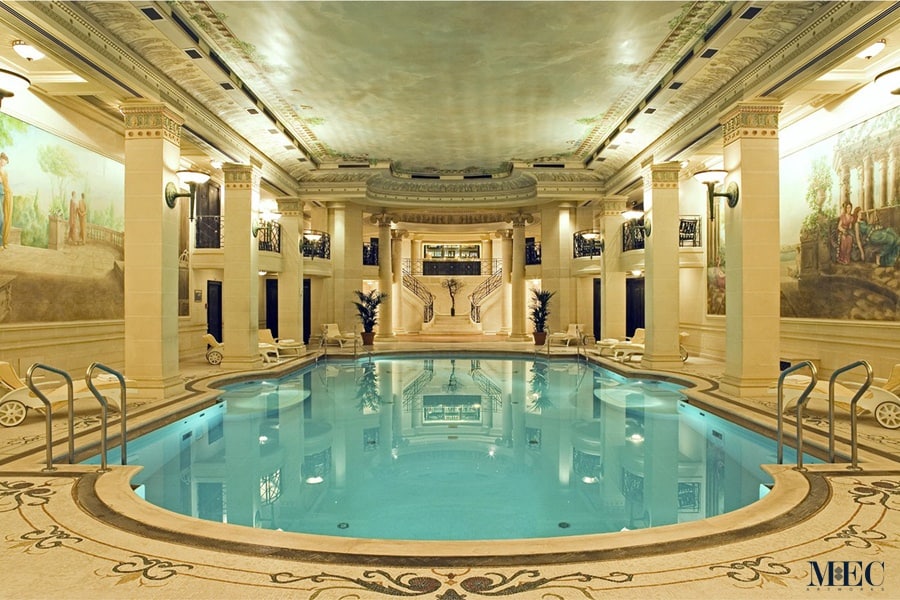 Pool interior and waterline are not the only areas you can cover with amazing mosaic tiles. Give the swimming pool deck area a style makeover with ornamental handcrafted marble mosaic.
46. Linear glass mixed color pool tile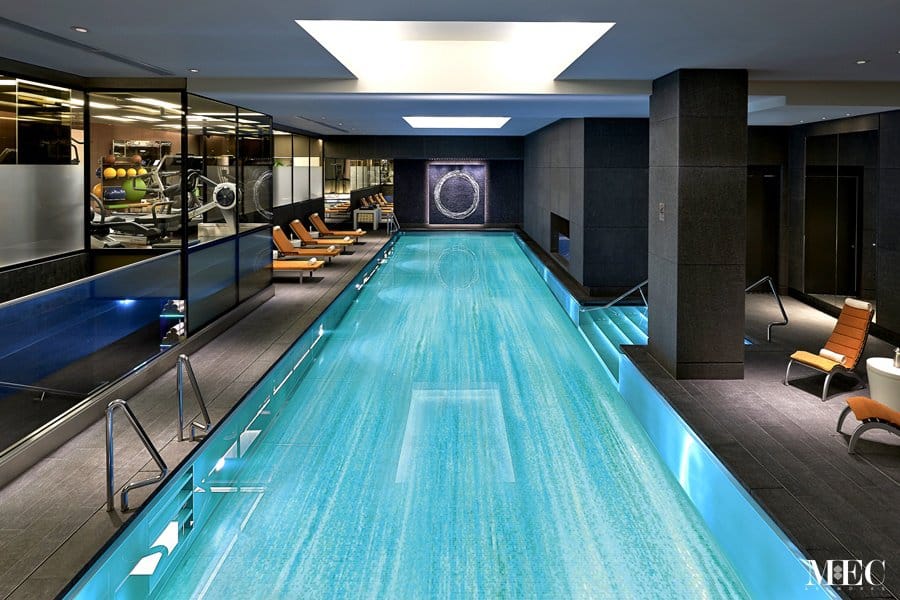 The length is one of the best features of a lap pool. You can further highlight that characteristic with an abstract linear mosaic pattern. Add in the colors of your choice to create your own custom glass tile palette. Check out our PIXL collections for similar pool mosaic ideas.
47. Wavy patterned glass pool mosaic tiles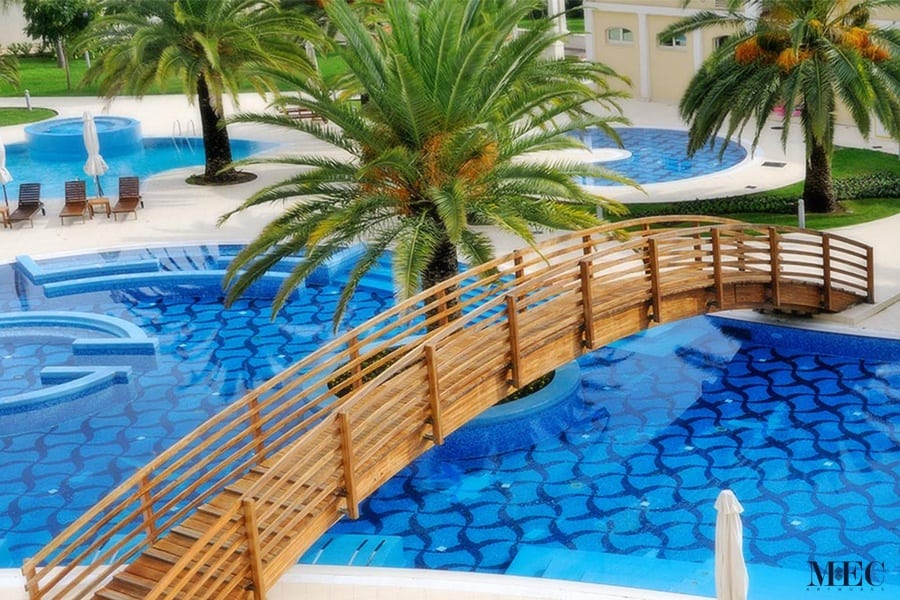 Wavy pattern pool mosaic floor custom made with glass tiles. Wavy cross is a seamless mesmerizing pattern that adds character and movement to the swimming pool.
48. Versace Medusa Greek Pool Mosaic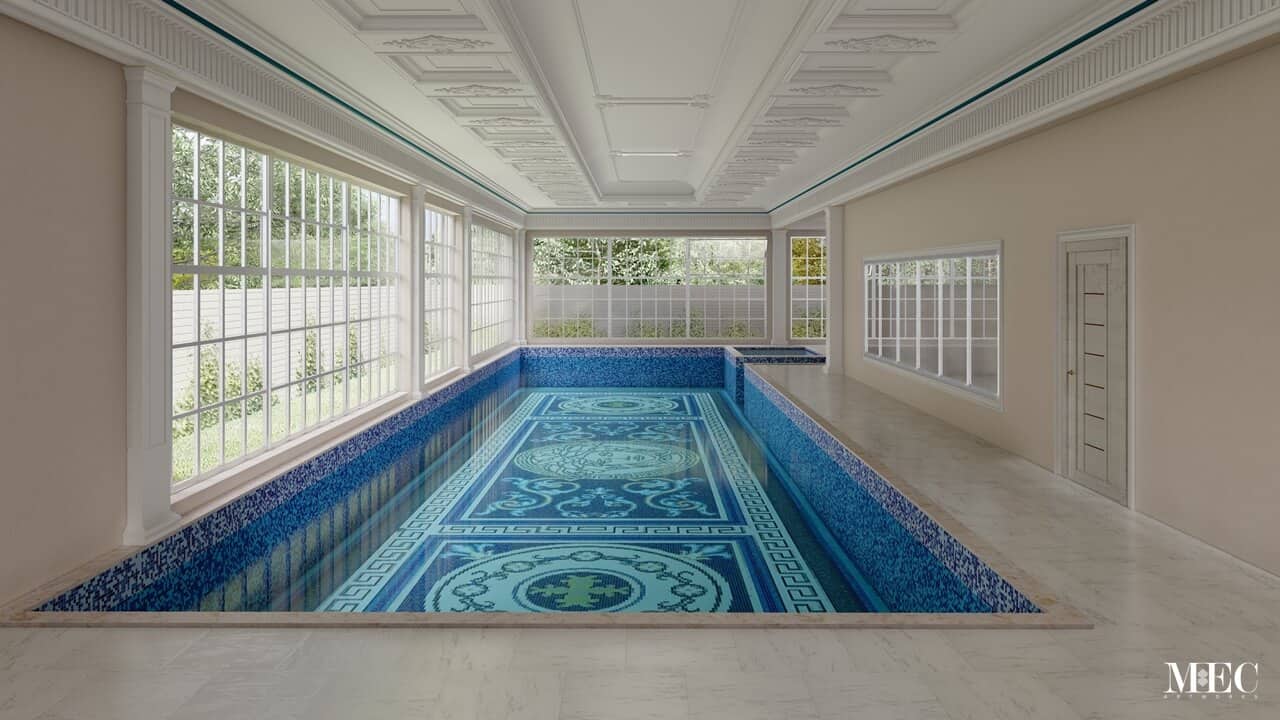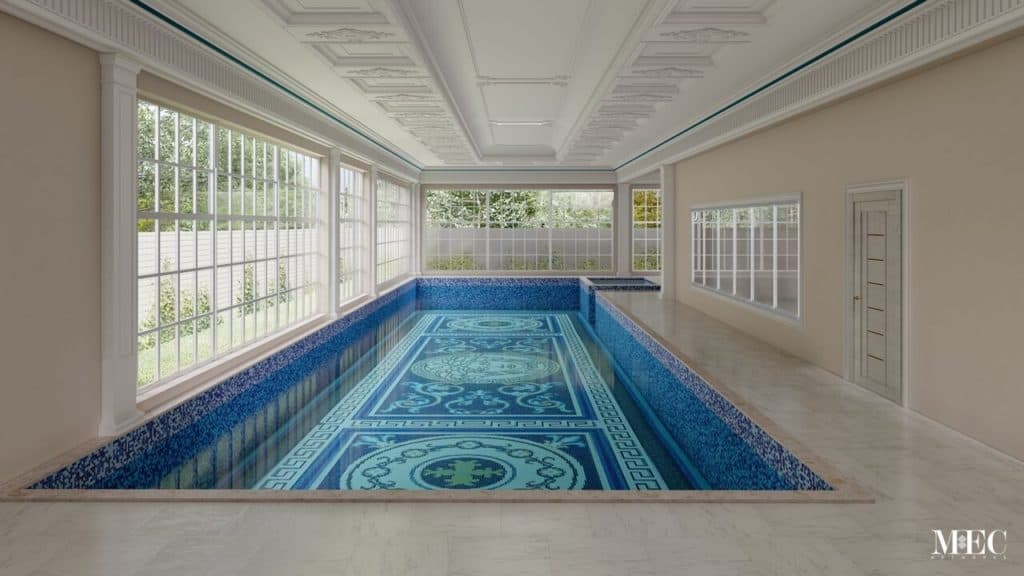 If you are looking for more opulent pool mosaic designs, consider an intricate Greek flooring. Need more Versace pool mosaic ideas, we have got those for you!
49. Greek Square Pool design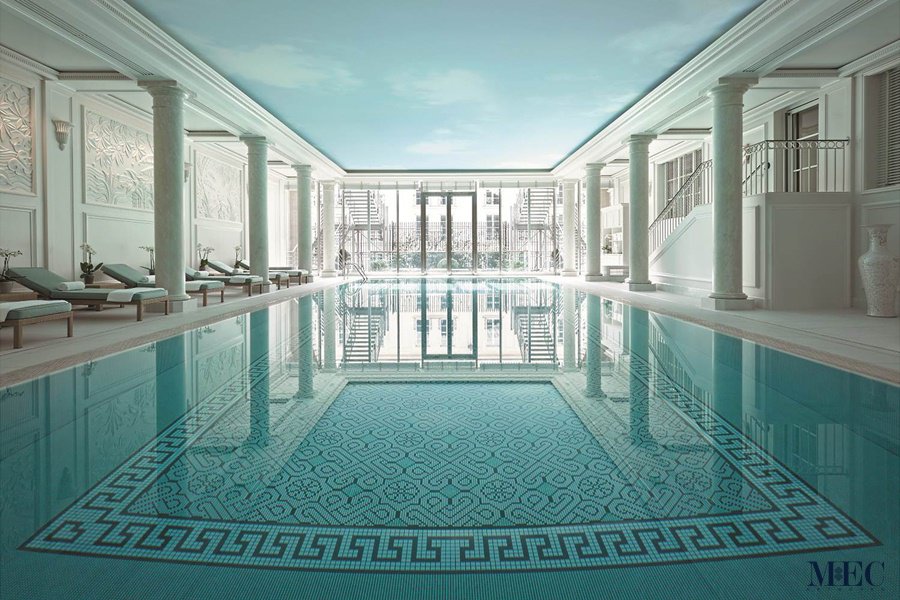 The Greek Square mosaic pool features Celtic knot pattern and Greek meander. The knot-work is surrounded by a Greek Key mosaic border at the perimeters.
50. Ocean Blended Pool Design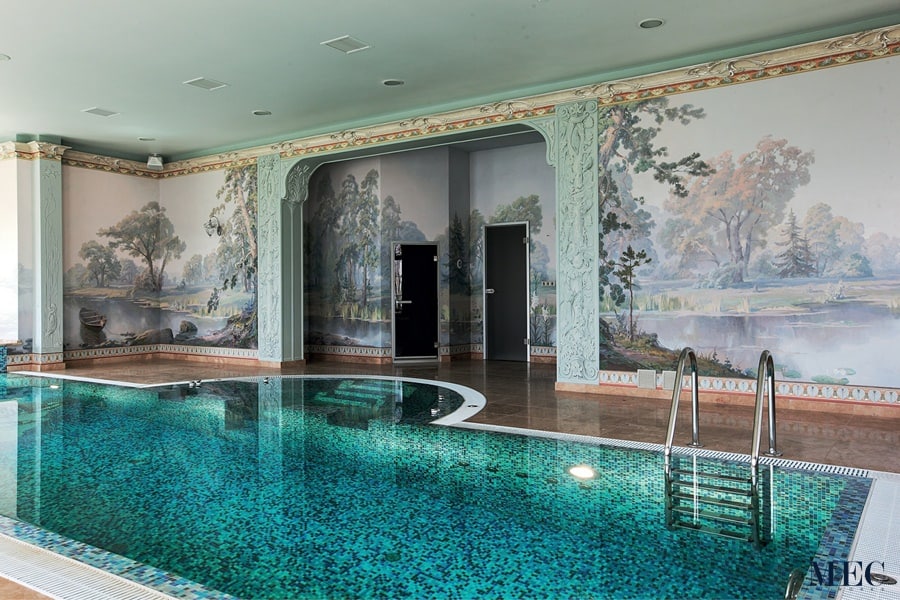 Ocean blend is one of our classic Vertex 20 glass mosaic mixes. You can create your own mosaic blend with colors and tile texture of your choice.
51. Roman style glass mosaic pool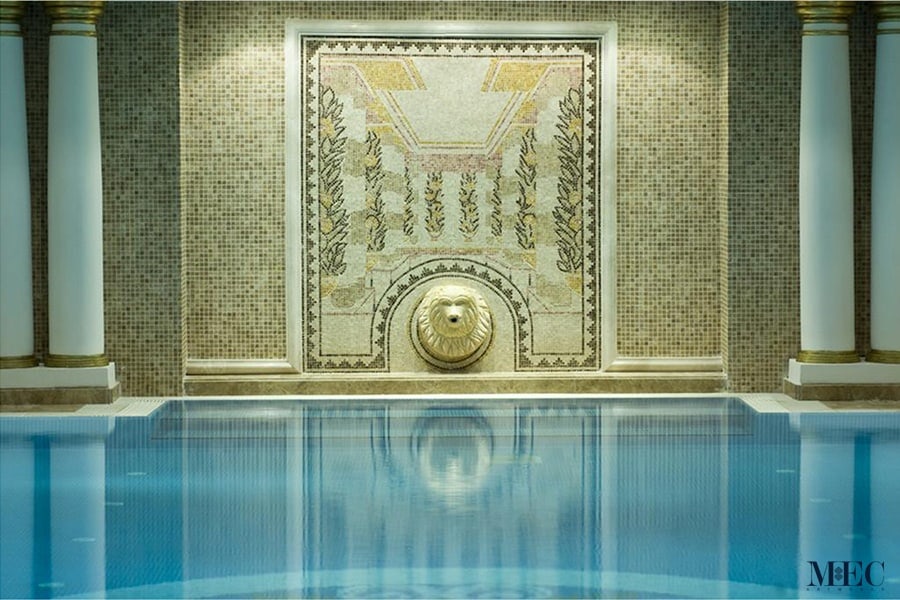 Bring the flair of ancient Roman architecture and design to your natatorium. Here is a Roman column mosaic scenery handcrafted for a pool area wall.
52. Versace Logo Vertex Glass Pool Wall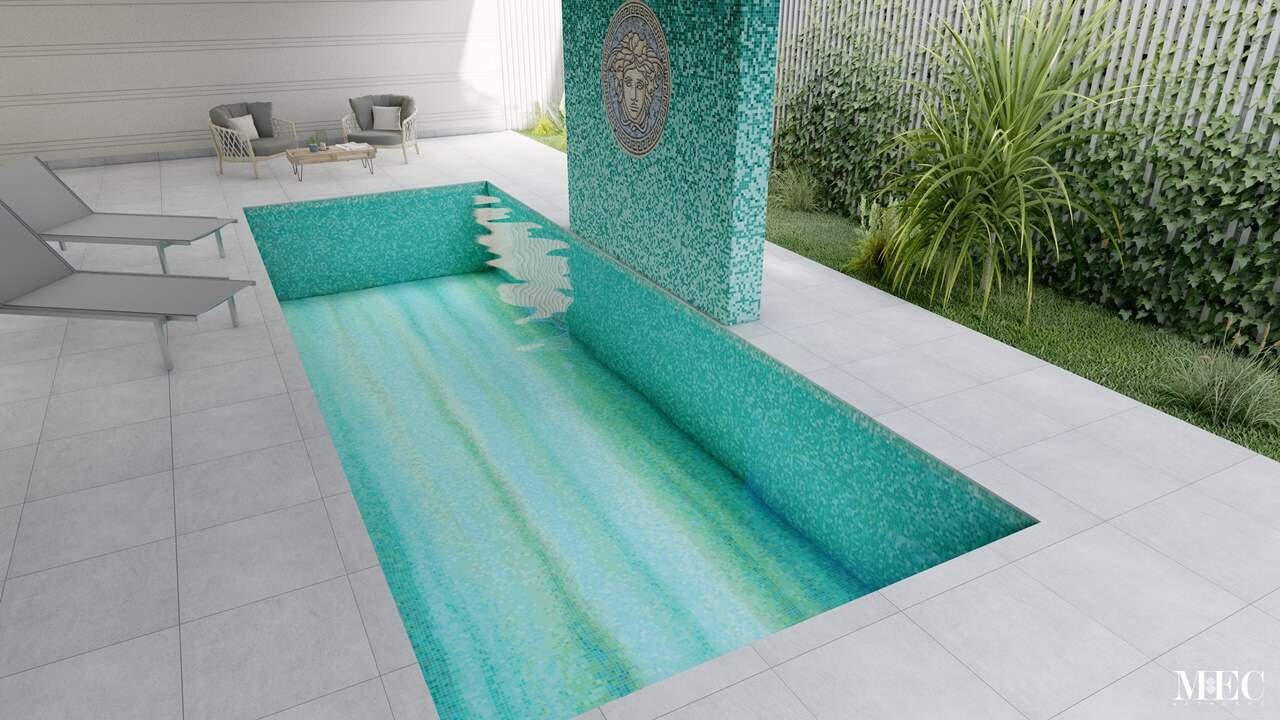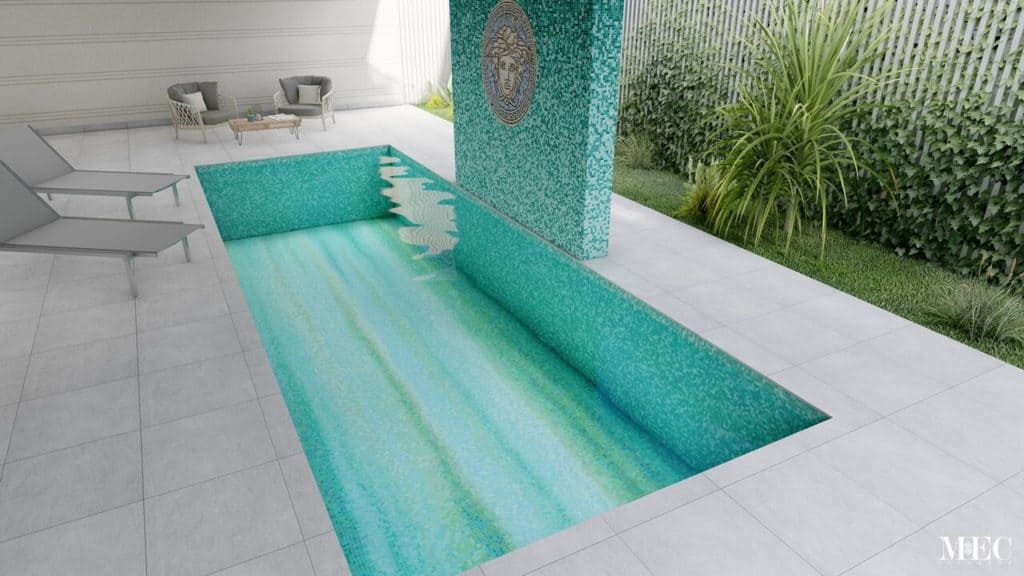 Eclectic swimming pool area wall featuring a Versace Medusa medallion mosaic on a green and aquamarine vertex glass gradient.
53. Abstract Line Texture Pool Mosaic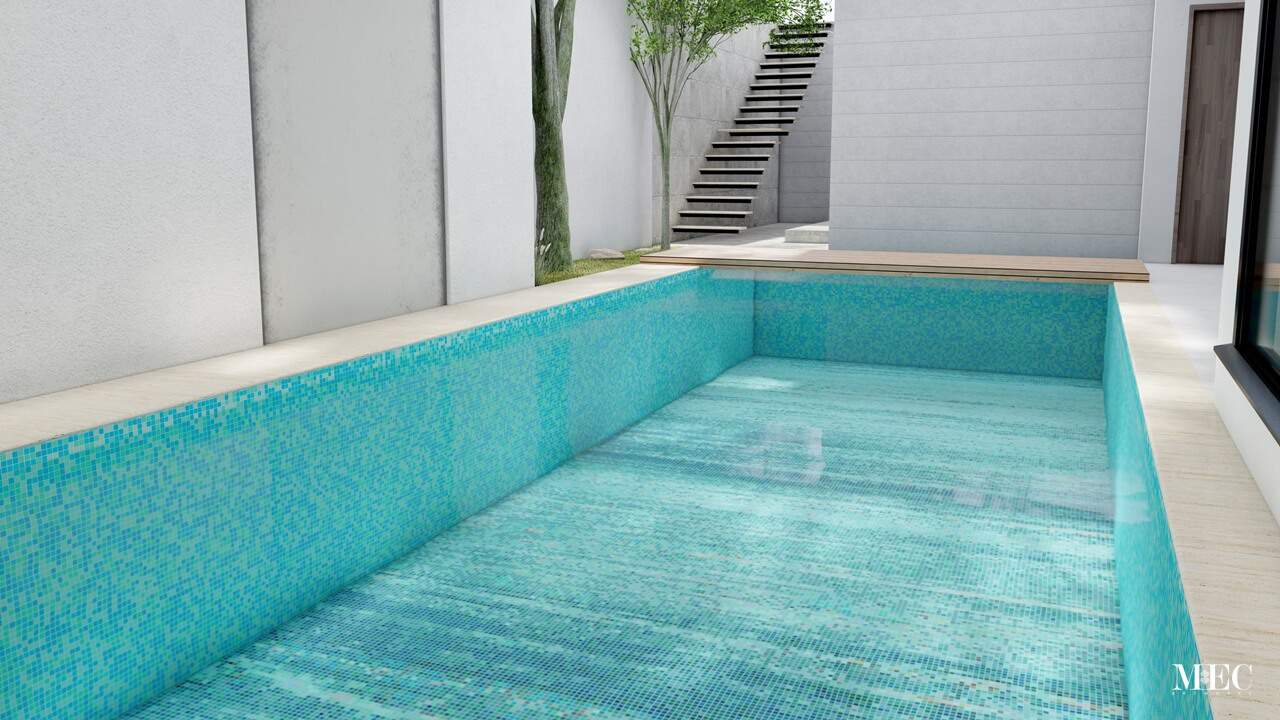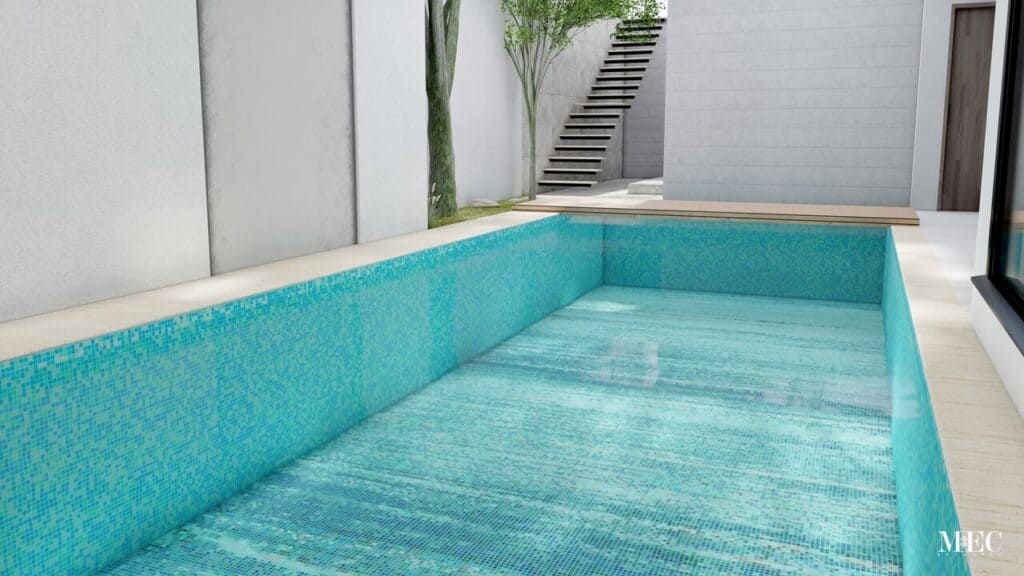 Our AddTek mosaic system lets us create sophisticated textures and images in mosaic. Abstract line texture pool tile art has the ability to enhance the overall look and aesthetic of the pool area. Wondering how your pool mosaic ideas would look like if created by MEC? Request a free render today!
54. Grand Swirl Pool Design Idea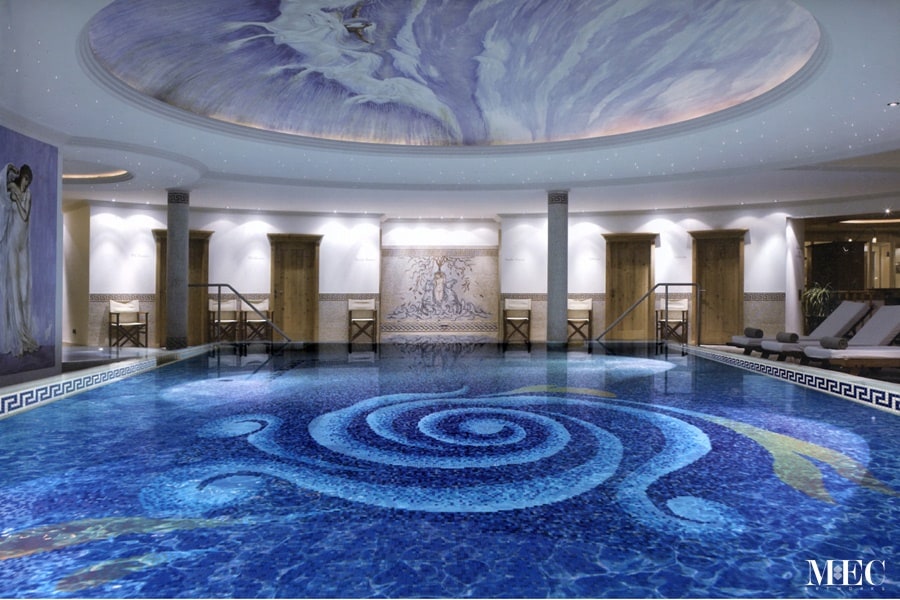 There is something about swirls and waterbodies. We created a stylized abstract curling swirl mosaic tile art for swimming pools. You can get grand swirl pool mosaic personalized.
55. Swimming Pool with Columns Covered with Glass Mosaic Art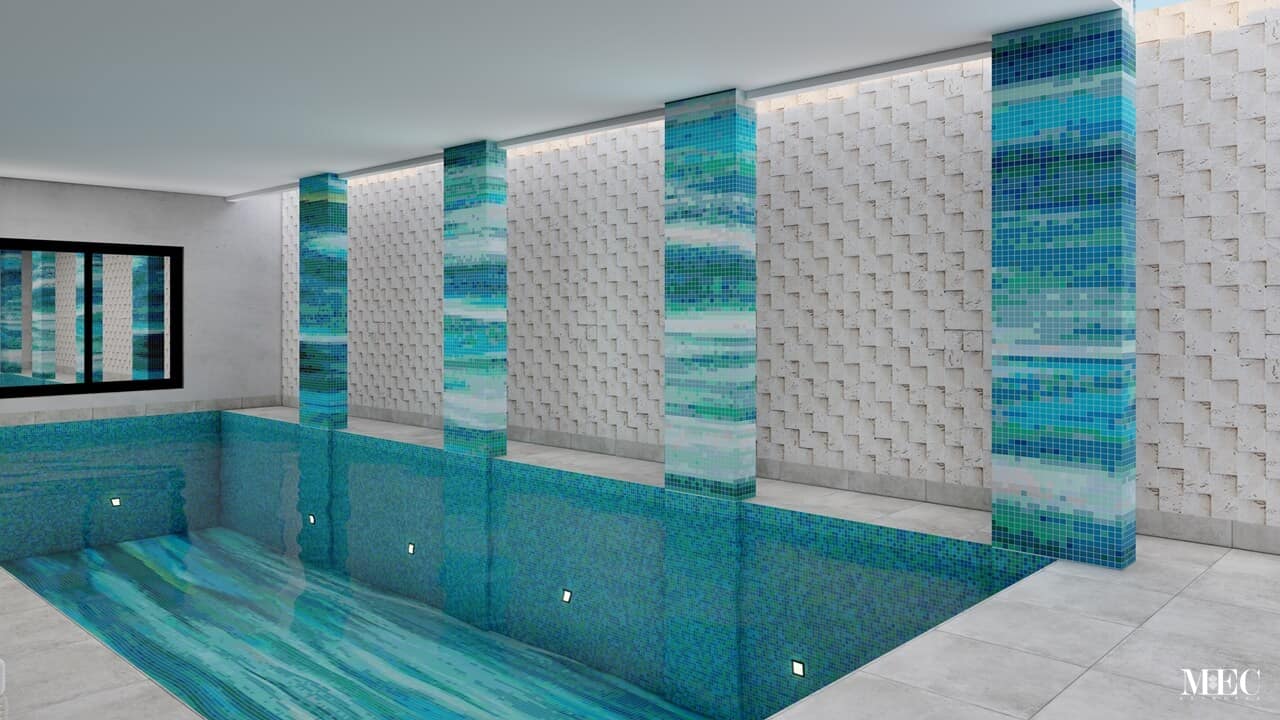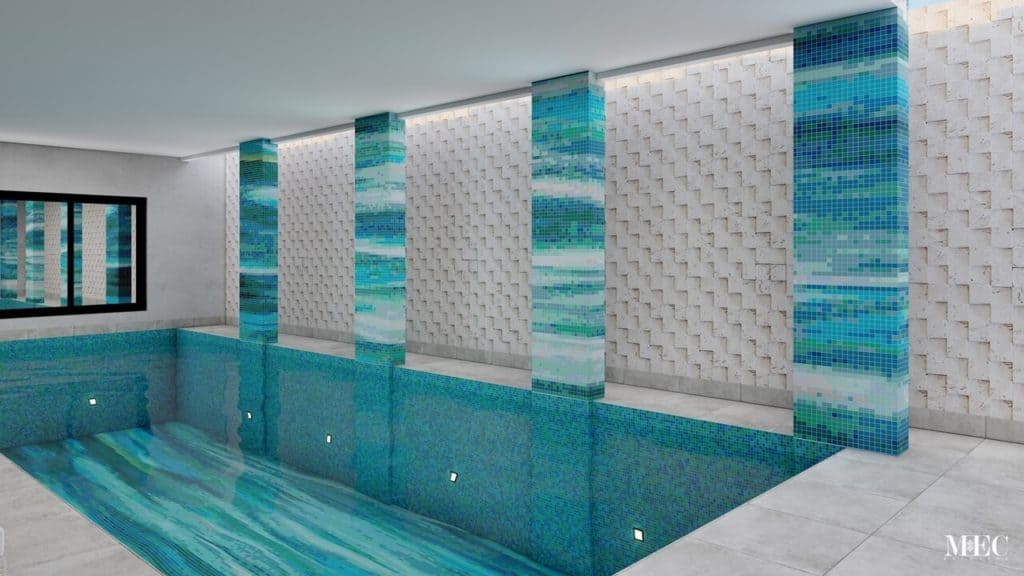 Why limit beautiful glass mosaic tile art to the pool body when you can extend it to the surrounding structures. Here is a great example of how PIXL mosaic can be installed on pool area columns and walls.
56. Ribin Glass Mosaic Pool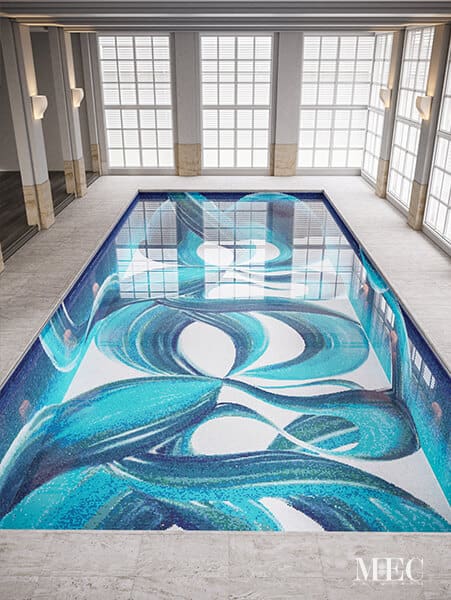 Defy the ordinary with MEC's exciting abstract pool mosaic ideas and abstract tile art. Ribin showcases mesmerizing flowy abstract design on a white field tile background.
57. whirlpool glass mosaic pool design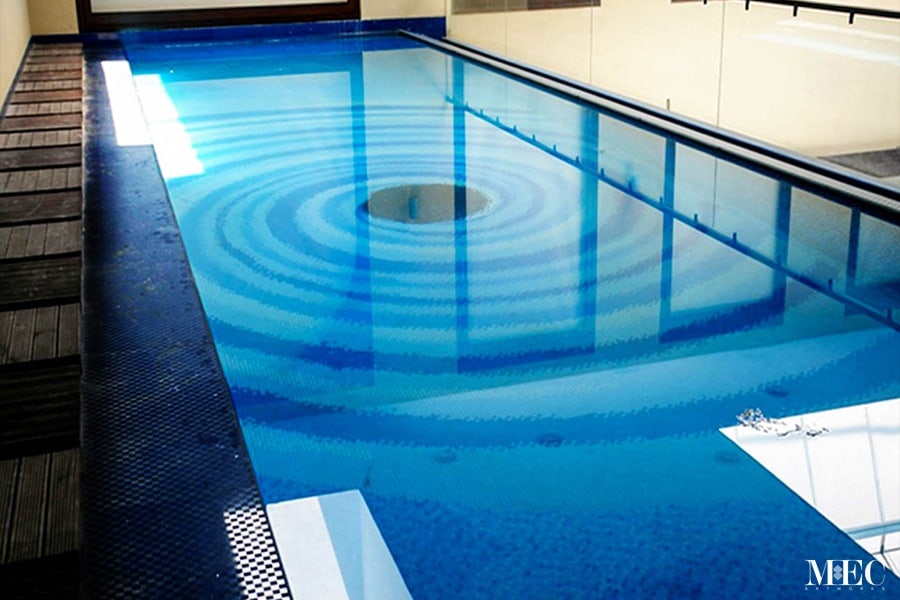 Give your pool a thrilling look with a custom made whirlpool glass mosaic tile art. Vortex creates a visual illusion and can be personalized.
58. Abstract Blue Glass Mosaic Pool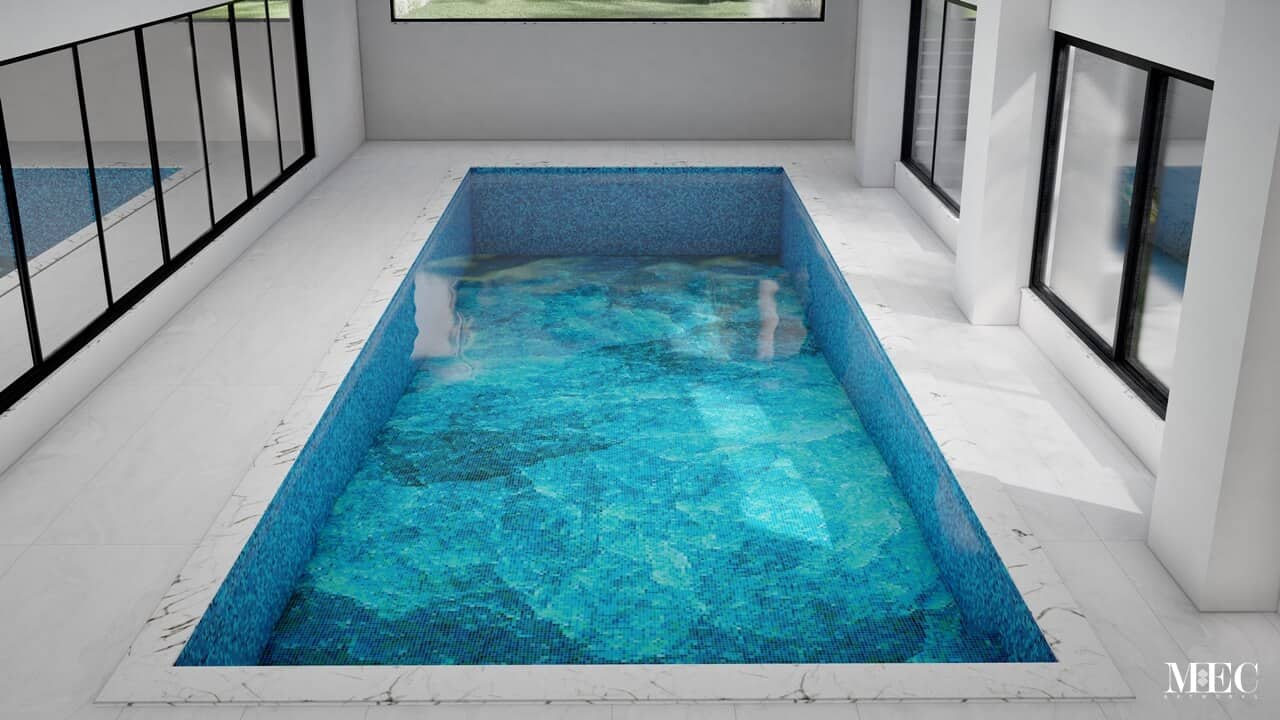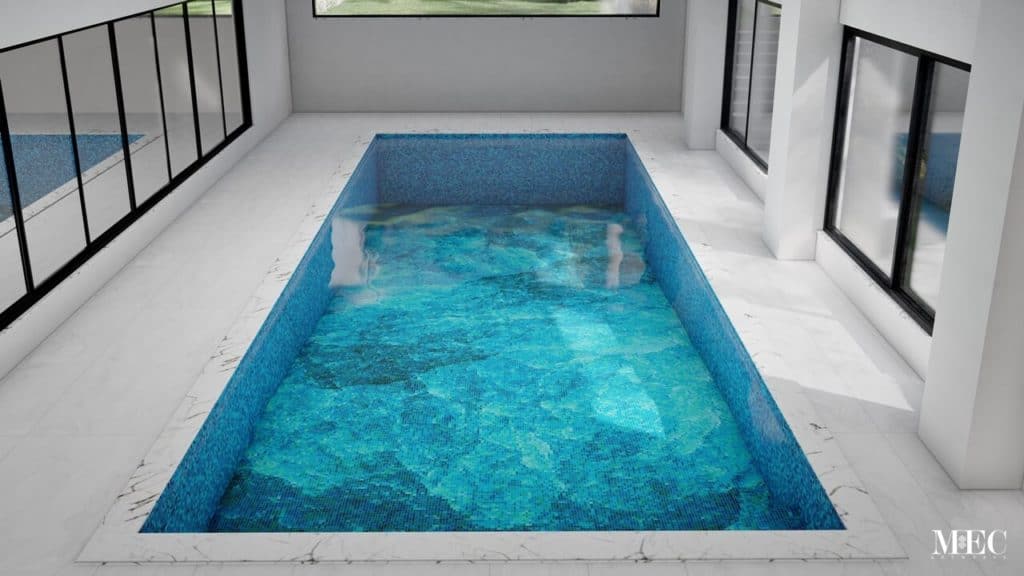 Give your swimming pool area a style upgrade with MEC's abstract glass mosaic designs. With a pool mosaic ideas and tile art like these, there is barely any need for other ornamental details.
59. Versace Pool Idea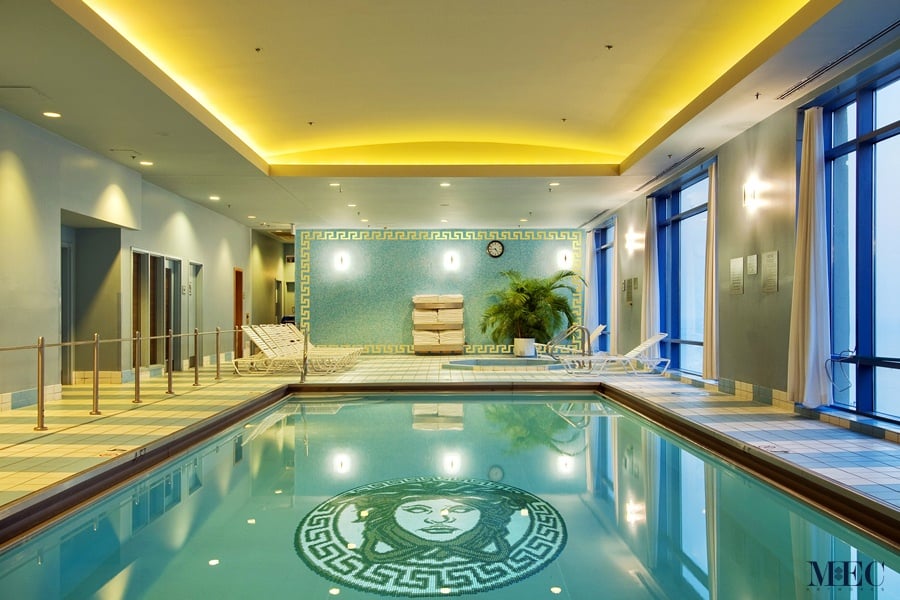 Versace Pool – Handcrafted Versace Medusa pool mosaic medallion. Accompanied by a Greek Key feature wall made with yellow and turquoise glass mosaic tiles.
60. Moroccan Pool mosaic design
Moroccan zellige style tile in a pool? Yes, please! We love merging different art styles and tile designs with mosaic. This swimming pool bed features a seamless Moroccan tile inspired flooring pattern made with Vertex glass.
61. Regal Pool Mosaic Design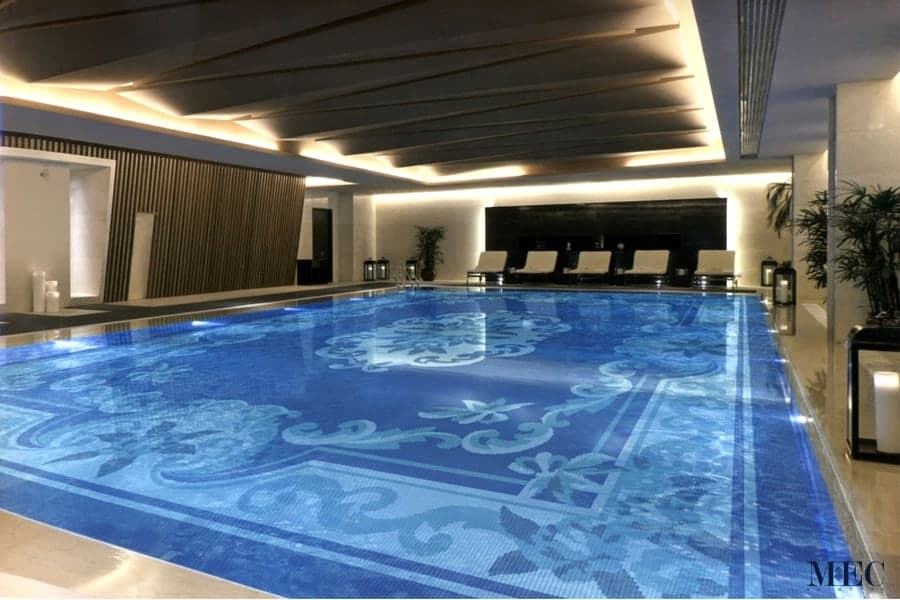 Mosaic rug patterns are not just for floors. With a little help from MEC designers, you can convert any marble floor mosaic design into a pool glass tile pattern.
62. Feder Glass Mosaic Pool custom-made design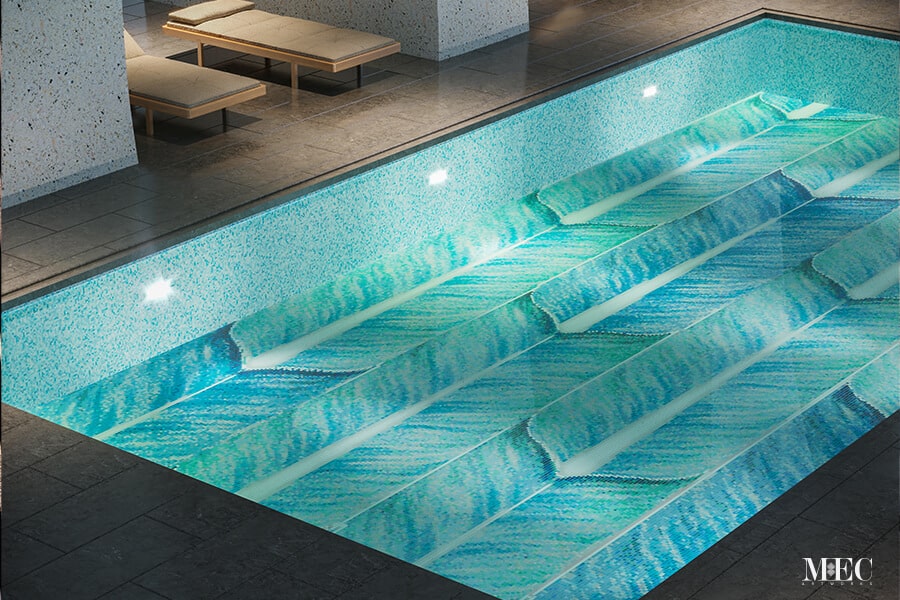 A nature-inspired abstract pool tile design idea. Feder draws inspiration from feathers and tail fins. For more pool mosaic ideas inspired by nature, drop us a quick message.
63. High Contrast Glass mosaic pool design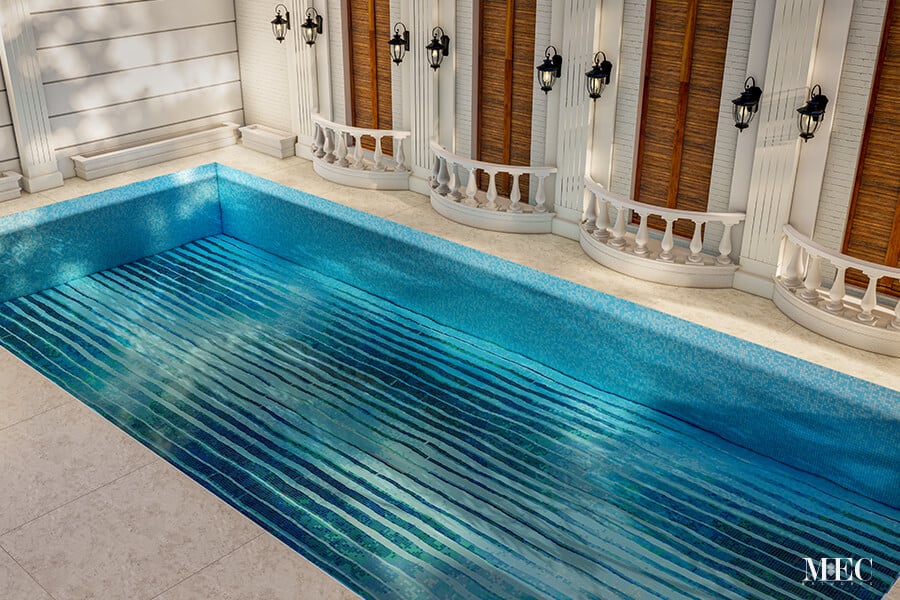 Contrasting blue-lined abstract mosaic pool design. High-contrast glass tile pool mosaic ideas and designs make for wonderful focal pieces.
64. Classic Mosaic Greek Pool Mosaic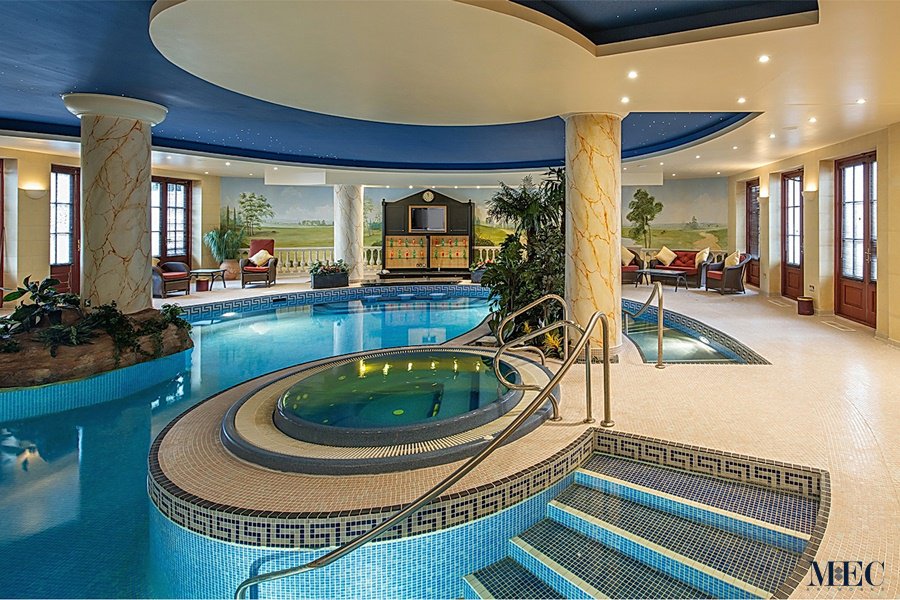 There is something timeless and luxurious about classic Greek borders and designs. Greek meander waterline with a vertex glass blend works great for swimming pools of various sizes.
65. Custom sketched and hand-colored pattern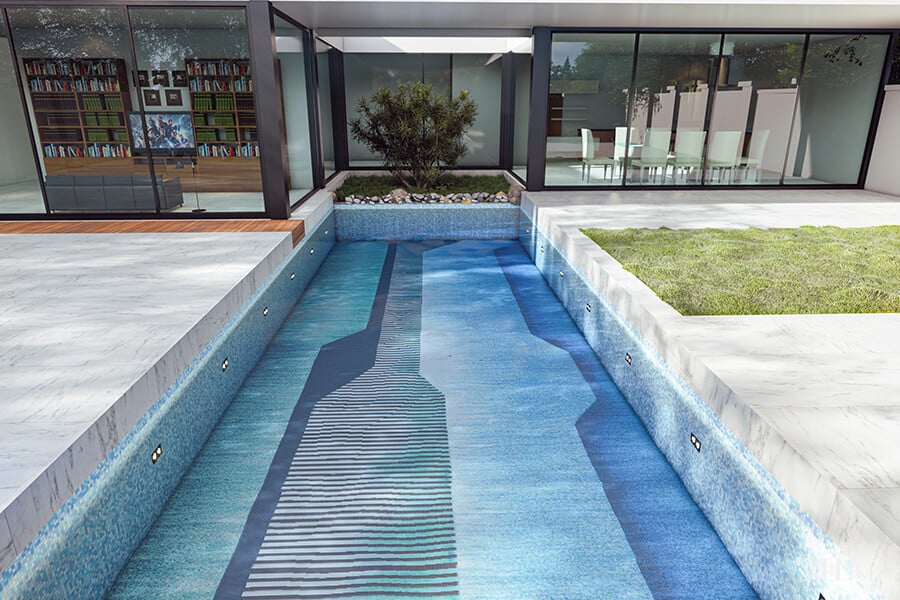 Here is a perfect addition to your idea collection for modern pool tile designs. Tuffa features sleek hand-sketch-converted-to-mosaic abstract art.
66. Aqua Minecraft-esque Mosaic Swimming Pool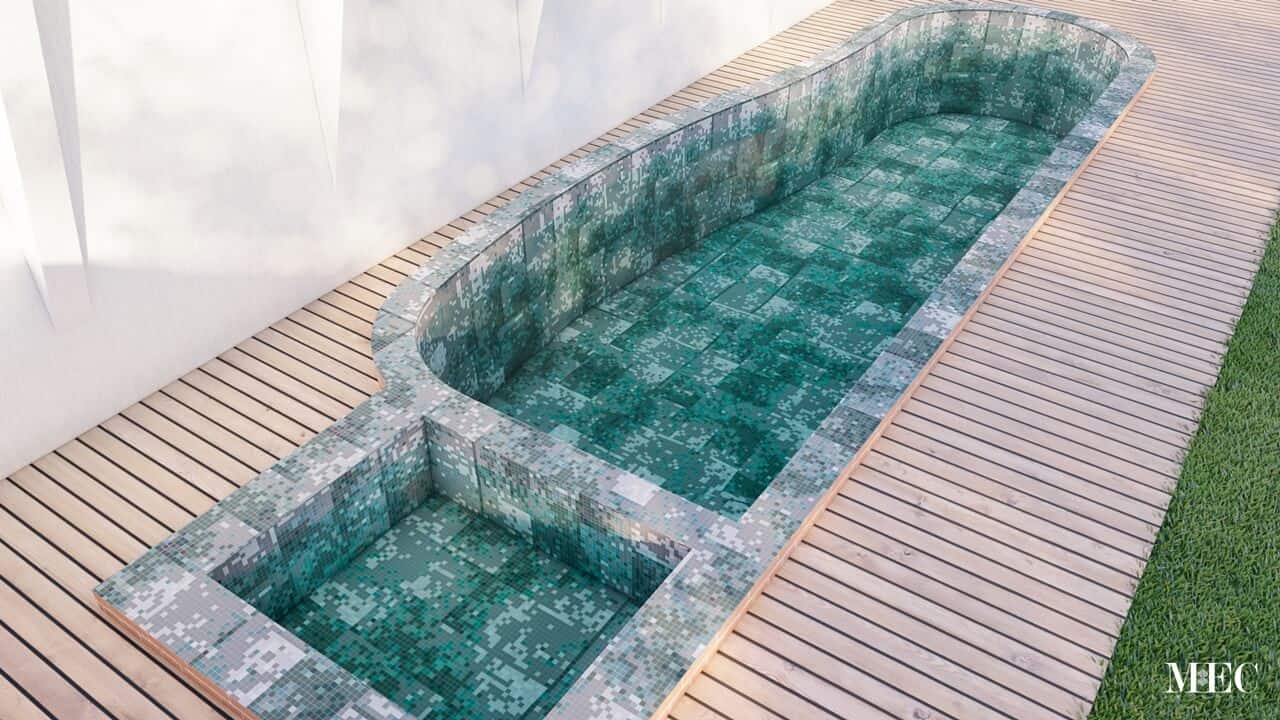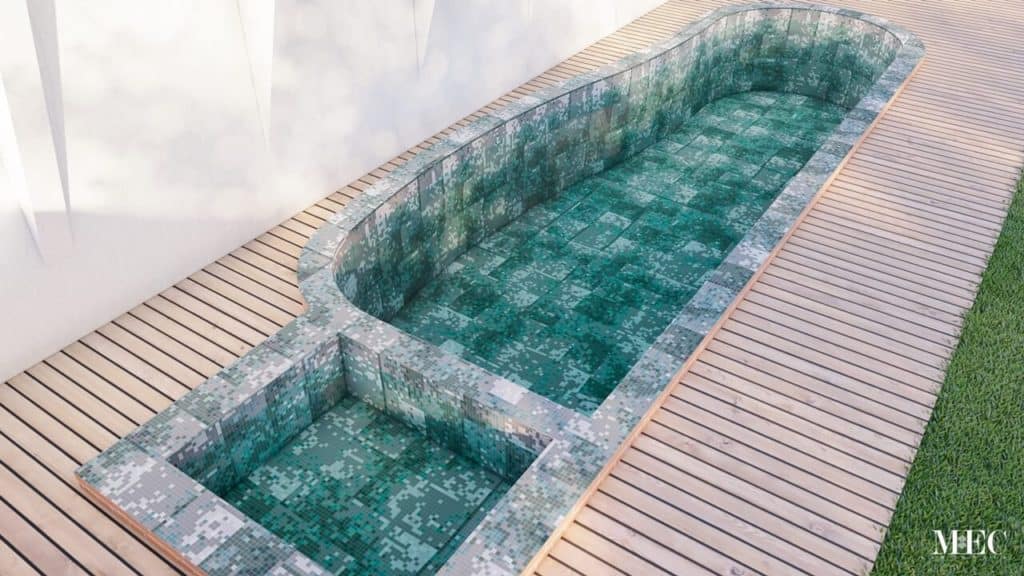 Turquoise and aqua green minecraft like block pattern made with mosaic. When it comes to abstract PIXL pool mosaic ideas and patterns, the options are virtually endless. You can adorn your walls and swimming pool floor with mosaic tile art inspired by your favorite videogame.
How do we create custom mosaic pool designs for you?
Our proprietary system, AddTek®, plays the biggest part in converting concepts, sketches and images into actual mosaic-ready designs. With our exclusive AddTek® PIXL mosaic software, we can transform any image into a mosaic render within seconds. It is incredibly fast and efficient. The intelligent software transforms the image (a scanned sketch in this case) into mosaic in the best way possible.
It selects the most fitting colors from the digital Vertex glass tile library and reveals a digital work of art. The design teams can tweak the colors and refine the design. Our designers usually give finishing touches to the generated PIXL. This adds a human touch and makes each PIXL design unique and non-replicable. Want to see how different grout colors would look with your PIXL mosaic design? AddTek® can render the options to make your choice easier.
Featuring a cool glass mosaic palette and a calming smooth design, Gradan is ideal for adding a pop of color in a contemporary-minimalist space. The overlapping smooth waves design is meant to be soothing. The undulating serene shapes are inspired by sound waves and frequencies.
Can I Turn My Own Drawing into Mosaic?
Yes! Customization is our forte. Want to see a design made by you converted into a PIXL mosaic for your pool? Drop us an e-mail or contact us here.
Wrap Up
We hope you enjoyed our curation of pool mosaic ideas. Trying to decide on the perfect mosaic pool designs that reflect your personal style and go well with the style of your house can be daunting. However, with design tips, free consultation and a large selection of unique modern glass mosaic pool tile ideas, MEC strives to make it easier for you. The purpose of this idea guide was to inspire you to get started on your own custom pool project. For questions and comments related to custom made pool mosaics, simply drop us a message.
FAQs: Mosaic Pool Ideas
Why are Mosaic tiles the most used for swimming pools?
Mosaic tiles are popular because they make your swimming pool more durable, easy-to-clean and aesthetically pleasing. Quality mosaic tiles, when installed properly, make the pool more resistant to algae and microbial growth. A good pool mosaic tile is non-porous, thermal shock resistant and fade proof. Materials like glass mosaic come in a wide assortment of colors and finishes. Which means you can get a one-of-a-kind pool mosaic design of your choice custom made with them.
Must swimming pools be painted blue?
Blue might be the most widely used color for pool mosaic tiles, but it is not the only choice. You can choose to clad your swimming pool with creative mosaic ideas featuring different color palettes. Blue often is used to enhance the natural effect of water bodies. You can use white, beige or aquamarine colored tiles in your outdoor pools and they might still have a pale blue appearance in the daylight. Have us prepare a 3D render for you to see how your pool mosaic design might look in your space in different lighting conditions.