Handcrafted, Custom-made Scenic Italian Landscape Mosaic for Your Space
Table of Contents
Travel around the world from the comfort of your home with handcrafted landscape mosaics and scenic custom mosaic tile art.
With summer coming to an end, you are once again reminded of the fact that you were not able to travel due to the seemingly never ending quarantine but we have got you covered. Our Italian landscape themed mosaics, which would surely make up for times you miss traveling. From North to South of Italy, we have a range of mosaics you can select from. Fulfill your craving for experiencing the salty air by the ocean in one of the five small villages, Cinque Terre, in Northern Italy, that has the population close to 400 people to the most beautiful Venice canals where you enjoy the evening in a Venetian gondola.
Manarola, Italy – Colorful Landscape Mosaic
A place that looks like a painting came to life, with a spectrum of colors that calms your soul, along with its wild flowers growing and completing the environment, it is no surprise one would want to leave such a serene looking place.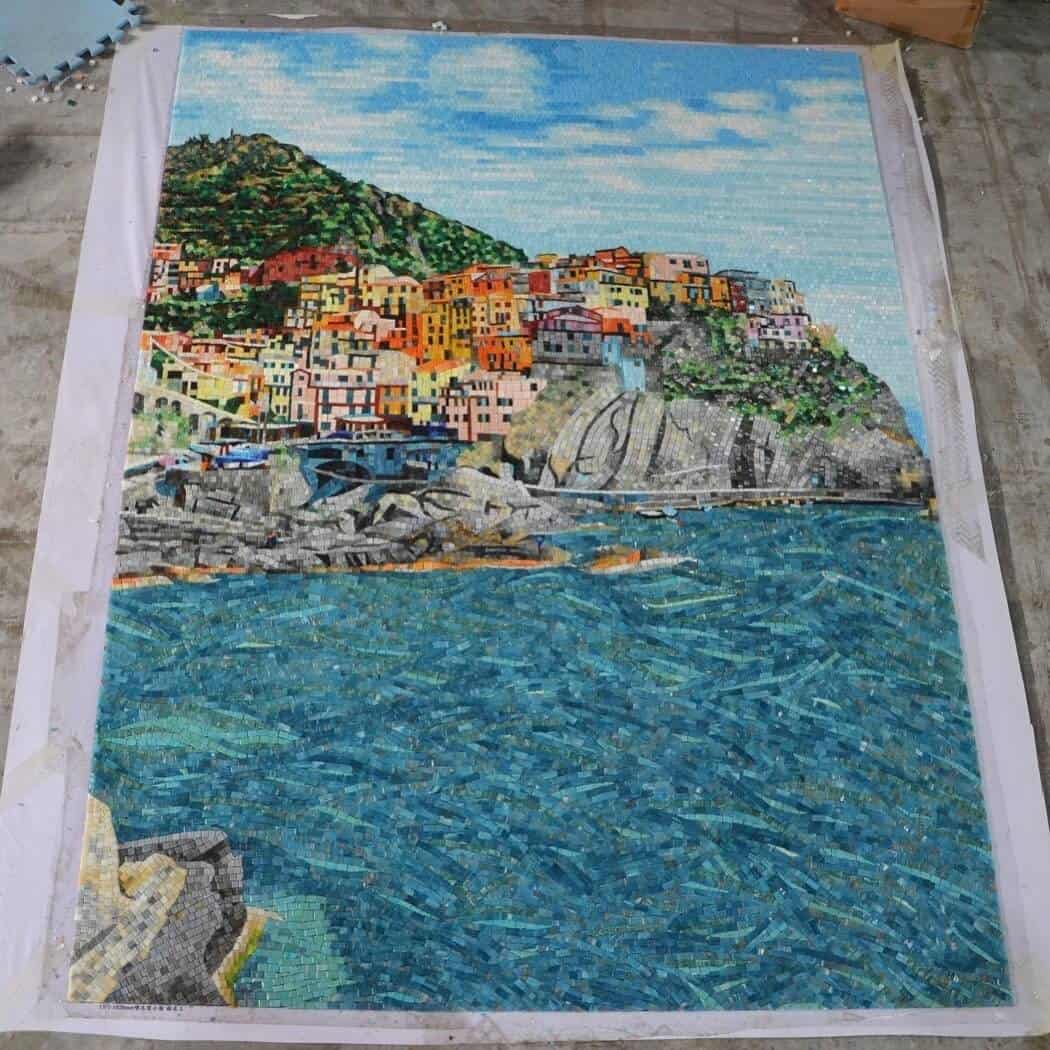 Manarola is one of the five seaside towns on the coastline of the Italian Riviera. Imagine all the sunsets you can see from the terrace while enjoying the olives and grapes. With a landscape mosaic of this picturesque Northern Italy village installed at your home, you'll get to live that countless times. It can also be a really great conversation starter between the people you invite over.
Balcony in Tuscany, Italy – Landscape Mosaic
This place has been an inspiration to many artists, poets, sculptors to movies being shot for its eye catching scenery. You clearly can not go wrong with choosing a breathtaking view of a balcony in Tuscany as a landscape mosaic for your space.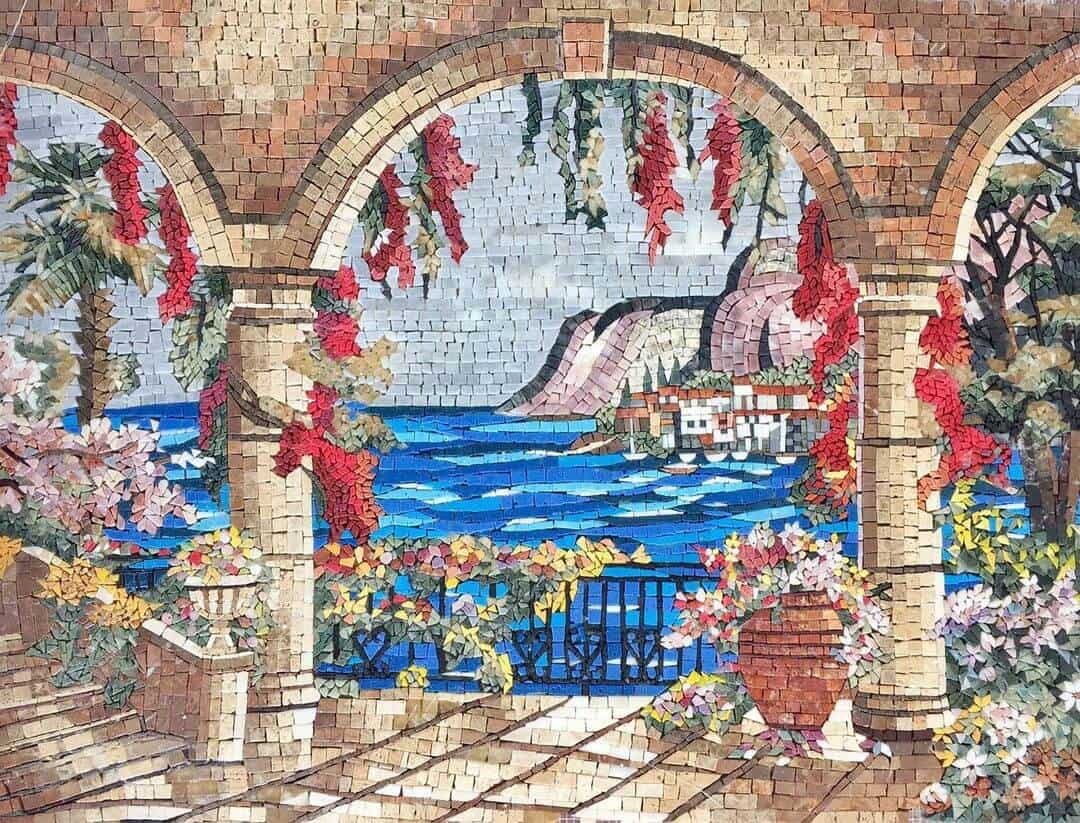 The scenic mosaic teleports you to the exact location with the stone laid tiles beneath you, mild sweet scent of flower potted in large vessels. As you observe further, you can see ant sized people out in the ocean either fishing or just cruising, having the time of their life with their loved ones. Your imagination can run wild with a landscape mosaic like this, never letting you get bored of it as you would notice something new every time you lay your eyes on it.
The Molo, Seen from the Bacino di San Marco by Canaletto
This mosaic is based on one of the works of a Venetian painter from the eighteenth century, Giovanni Antonio Canal, known as Canaletto. He is famously known for creating scenes of Venice along with some from Rome and London. This specific painting that the eye catching mosaic is based on is The Molo, Seen from the Bacino di San Marco. This landscape mosaic takes place at the heart of Venice, a view from San Marco basin, facing the Doge's palace [no, not that meme doge :)].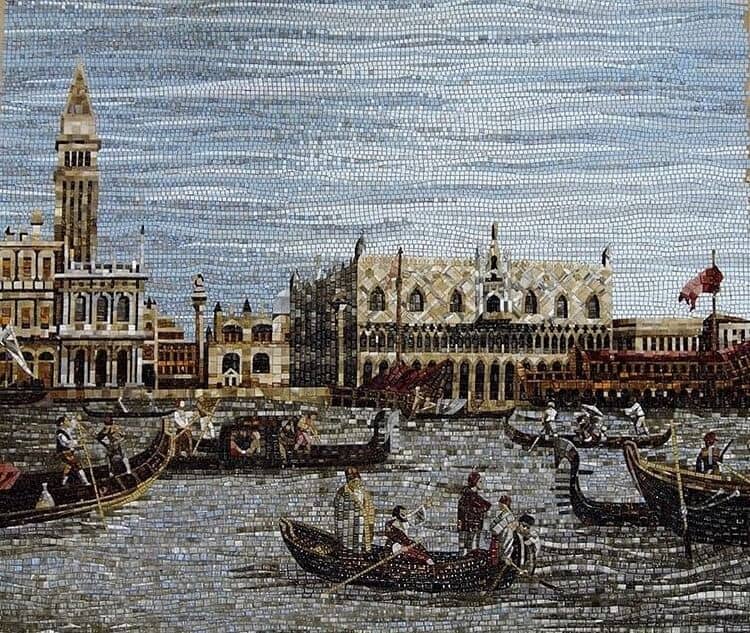 With the rise in popularity of landscape and cityscape art, Canaletto's work gained popularity but unfortunately not in his own lifetime. You can see through his art works how dedicated he was to Venice and always came back to it on several occasions. He offered us realistic pieces which take you back in time. His subjects were not only the Venetian buildings across the canal. But a sense of energy and daily activities of the people on the boat taking place on the quayside of Molo. Canaletto also displays the key structure that defines Venice. There is a bell tower on the right and Doge's palace on the left with the columns of Saint Mark and Saint Theodore standing at the entrance of Piazza di San Marco.
Two Men in Gondola
The scene takes place in a small Venice street. Two men adorned in a white outfit can be seen coming from an early morning delivery right before that canal gets busy with the people of town and tourists. You can almost hear the soft splashes of water hitting against the buildings nearby caused by the waves of the gondola. As you see further away, you can guess that these men just passed under that little white bridge.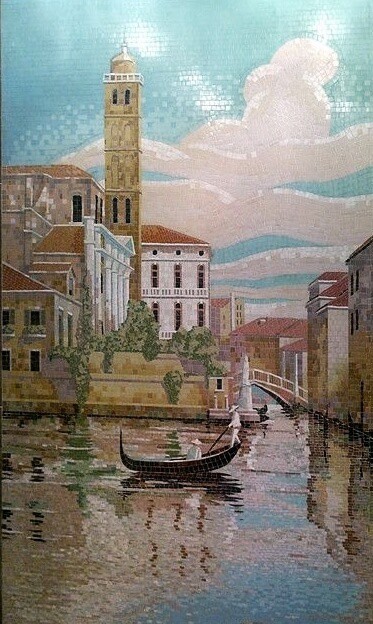 The simplicity in the style of the sky and cloud depicted here perfectly compliments the complex details of the buildings. The reflection in the water along with the lights and shadows playing a huge role in giving a sense of the time of the day. This landscape mosaic would go very well in an outdoor setting in your home by the backyard or as a backsplash for the pool.
Sailing boats, Seascape Mosaic
Still but full of life, another stunning mosaic where the event is taking place at dawn. The main focus is on the ships themselves but two black silhouettes can be seen on the right ship. The minimalism is very striking as you can still sense the life in there. The sunrise gives hope and motivation to the sailors as they venture off into the sea to catch food for the town.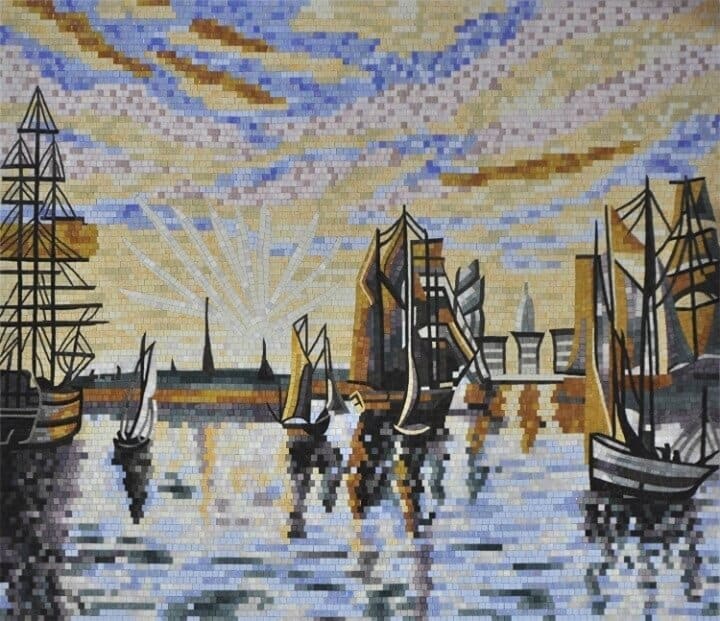 You can see the port in the background and the details go even more blur but still giving you an idea what can be expected there. The rays of the sun look like they are going the pierce through the sky, not sparing anything or anyone of it's glory. This seascape mosaic with ultimately grab the attention of the spectator, leaving them in awe with its the subtle shimmer and gleam of our mosaics. Having this mosaic installed at the right location can brighten up the surroundings.
Fatto con amore – Made with Love
The beautiful scenery and seascape is not the only thing 'Italian' about these beautiful custom made mosaics. Our team of mosaic craftsmen is trained by a team of expert mosaic artists from Italy – how wonderful is that! Furthermore, we source some premium quality marble stone from quarries in Italy for our marble mosaic range. Bring stunning views from the diverse land of Italy to your walls with a completely one-of-a-kind landscape mosaic. Have these marvelous mosaic scenes inspired you to get a custom handmade piece for your own space? We would love to help bring your dream mosaic art concept to reality. Drop us a message today. One of our design experts will get in touch with you shortly after, to provide free landscape mosaic design consultation.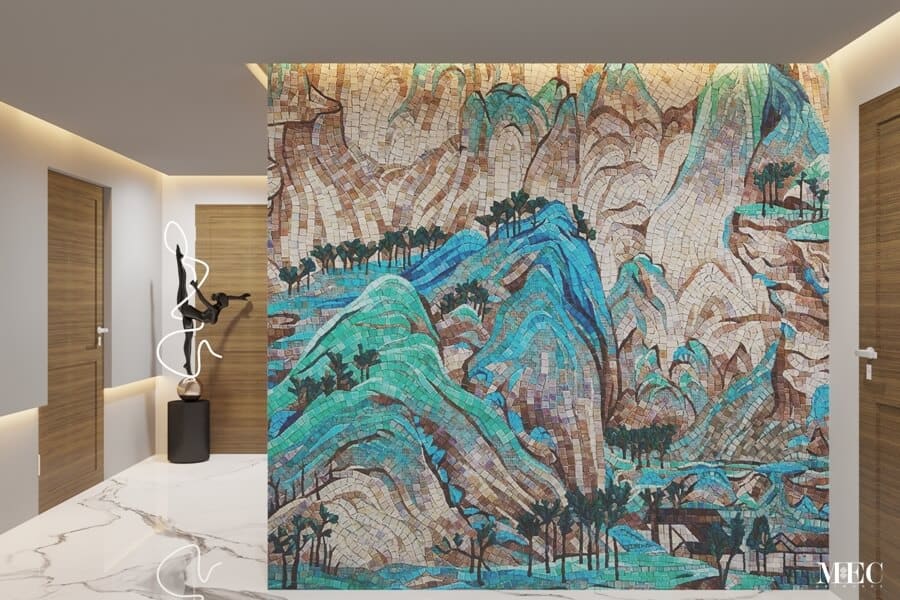 Resources:
http://www.canalettopaintings.com/molo-seen-from-the-bacino-di-san-marco/
FAQs
What is landscape mosaic art?
Landscape mosaic art is a form of artistic expression that uses small pieces of colored materials, such as glass or ceramic, to create images inspired by natural landscapes.
How can landscape mosaic art enhance my space?
By incorporating custom mosaic designs inspired by landscapes, you can add a unique and visually appealing element to your floors, walls, or other areas, transforming the space into a vibrant and inviting environment.
What spaces are suitable for landscape mosaic art installations?
Landscape mosaic art can be installed in various spaces, including residential homes, commercial establishments, outdoor areas, public spaces, and even swimming pools.
Can landscape mosaic art be used on floors?
Yes, landscape mosaic art can be applied to floors, creating stunning focal points that bring the beauty of nature indoors and add a touch of elegance to the space.
Can I incorporate personal elements into landscape mosaic art?
Yes, custom mosaic designs can incorporate personal elements such as favorite flowers, landscapes, or meaningful symbols, allowing you to infuse your own personality into the artwork.
Are landscape mosaic art installations difficult to clean and maintain?
Not at all. Landscape mosaic art installations are relatively easy to clean and maintain, requiring regular but straightforward cleaning routines to preserve their beauty and longevity.
Are landscape mosaic art designs customizable to suit different interior styles?
Absolutely! Custom mosaic designs can be tailored to complement various interior styles, whether it's a contemporary, traditional, or eclectic setting.
Can I install landscape mosaic art in a pre-existing space or renovation project?
Yes, landscape mosaic art can be incorporated into pre-existing spaces or renovation projects, bringing a fresh and captivating element to the design.