Looking for custom mosaic ideas for walls for your space? There are so many themes and styles to choose from! Have on custom designed and produced just for you with MEC.
Welcome to our comprehensive guide on using mosaic art as wall decor. At MEC, we specialize in bringing timeless elegance and artistic flair to your living spaces. In this article, we will explore the stunning ways in which mosaic art can transform your walls into captivating masterpieces that inspire and captivate. Whether you're a homeowner, an interior designer, or an art enthusiast, this guide is designed to help you make the most of mosaic art and create an ambiance that truly stands out.
What is a Mosaic Mural?
A mosaic wall mural is a larger-than-life masterpiece, an artful composition crafted from small, colorful glass mosaic tiles. These tiles are skillfully arranged, either by hand or with the assistance of cutting-edge PIXL technology, to form intricate patterns, designs, or pictures. Mosaic murals come in various forms, from hand-cut tiles to pre-made sheets or grids, offering incredible versatility in both design and application.
What sets mosaic wall murals apart is their ability to flourish in diverse environments. They aren't confined to indoor spaces alone; these stunning artworks are equally at home outdoors. Moreover, they can withstand wet and humid conditions, making them a splendid choice for areas like bathrooms, kitchens, and poolsides.
The MEC Difference: Crafting Your Vision
As you continue reading, you'll discover a treasure trove of mosaic mural ideas in this blog post. We'll showcase a wide array of creative and inspiring designs that can spark your imagination and help you envision the transformative potential of mosaic wall art. At MEC, we take this remarkable art form to new heights, specializing in designing and creating custom mosaic mural patterns that elevate the aesthetics of any space, be it indoors or outdoors. Our mosaic wall murals aren't just decorations; they're a testament to our expertise and passion for transforming spaces. Whether you have a specific vision in mind or are seeking mosaic mural ideas, our dedicated team at MEC is committed to bringing your dreams to life.
The Beauty of Mosaic Art
Mosaic art is not a new concept. This art form, whether as glass mosaic wall art or ceramic mosaics, has existed for a good hundred years by now. Pebble and stone mosaics date back even further, as far back as the 3rd millennium BC. From the Egyptian hieroglyphic engravings to today's teens equipped with spray paint cans and stencils obsessed with graffiti. There appears to be a primal instinct programmed into us that tells us that the wall is a canvas and the possibilities are endless.
Endless Imagination, Infinite Designs: Mosaic Art Today
Today, however, mosaic art has evolved into something remarkably accessible and customizable. Now, from the comfort of your home, you can transform your walls into breathtaking mosaic masterpieces with just a few clicks. If you're new to the world of this delightful art form, allow us to be your guide through a realm of mosaic possibilities. As you scroll down, you'll embark on a journey through some of the most popular mosaic art themes.
Here, you may find the inspiration and mosaic ideas for walls to create your very own, one-of-a-kind custom-made tile art. The world of mosaic art is rich with creative opportunities awaiting your exploration.
Understanding Your Wall Mosaic Design Needs
At MEC, we firmly believe in the power of collaboration when it comes to creating custom mosaic designs for your walls. Our design team works closely with each client, fostering a partnership that allows us to truly understand your design needs.
We don't just value your input and ideas; we consider them the very heart of our creative process. Your vision and style are the guiding forces that lead us in the creation of a mosaic masterpiece uniquely yours. Through this collaborative journey, every step of the design process is meticulously tailored to your specific requirements.
43 Mural Mosaic Ideas for Walls Designed & Handcrafted by MEC Artisans
1. PINK ROSE FLOWER MOSAIC WALL ART
The living room holds a special place in our homes. It serves as a central gathering area where we entertain guests, relax with loved ones, and create cherished memories. Given its importance, it's essential to make the living room a reflection of your personal style and aesthetic. Custom mosaic designs offer a remarkable opportunity to transform your living room walls into captivating works of art, elevating the ambiance and leaving a lasting impression on all who enter. Read our blog post for Living Room Wall Mosaic Ideas.
2. Grisaille Mughal wall mosaic
A scenic Grisaille wall art mural, handcrafted using glass mosaic tiles. Grisaille wallpapers feature monochromatic art with background in varying shades of grey, sepia, greige – which helps achieve a lovely three-dimensional effect. Color can be added to some parts of the image – like the vibrant elephants and people in the foreground of this mosaic mural.
3. FLORAL FUSE FLOWER MOSAIC IDEAS FOR WALL
Designed to make a dramatic visual impact, the fantastic Floral Fuse glass mosaic artwork will whisk you away to another place. Larger-than-life monochrome floral pattern on a gorgeously colored abstract background.
4. Juvel Mosaic Wall Art
When it comes to mosaic ideas for walls, we often think of interior spaces, but why not extend our creative endeavors to the great outdoors? Outdoor walls offer a blank canvas, waiting to be adorned with captivating mosaic artworks. By bringing the beauty of custom mosaic designs to your outdoor walls, you can transform your exterior living spaces into enchanting retreats, capturing attention and infusing them with personality. Read our blog post for Outdoor Wall Mosaic Ideas.
5. scifon mosaic wall design
A Textur mosaic mural might just be the missing piece that could tie up all the elements of your interior design. For a more subtle look, opt for a mosaic color theme that matches your walls and decor. Scifon, in this setting, is a great example of how wonderfully matching palettes can work.
6. blue haven shower wall mosaics
If you are into the whole book match marble wall look but crave something a little more out of the box and unique this is for you. – Blu Haven features delicate translucent florals, water lilies, against a neutral light backdrop. Big see-through petals arranged in a mirror image symmetry.
By transforming your shower walls into stunning works of mosaic art, you can create a serene and captivating ambiance that turns every shower into a rejuvenating retreat. Read our blog post for Shower Wall Mosaic Design Ideas.
7. Glass Mosaic of the Parrot's Realm
The parrot's vibrant plumage gleams with striking shades of crimson and azure, capturing the eye and infusing the artwork with a sense of vitality. Each individual glass piece has been meticulously crafted to accentuate the bird's intricate features, resulting in a mesmerizing display of color and texture. The background of the mural reveals an enchanting forest scene, where a lush and verdant tree spreads its branches, encompassing a rich spectrum of emerald and jade hues.
8. creek nature mosaic IDEAS FOR WALLS
Serenity Creek might be a great wall decor option. It is a handcrafted artwork made with calming shades of green. Serenity Creek mosaic depicts a refreshing yet tranquil natural scenery with trees, fresh flowing water stream all made with tiny pieces of colored glass.
Europe houses many of these timeless classics. You may look there for mosaic ideas for walls to bring some of the visions from there into your home. From the vibrant blues to the calming beiges, these pieces of art are full of vintage glamour.
9. Reeves Fusion ABSTRACT MOSAIC IDEAS FOR WALLS
What's better than an abstract painting to create a focal point? A one-of-a-kind custom made abstract art that is made up of a thousand little glistening tiles, of course. Abstract art transformed into a mosaic tile PIXL pattern with MEC's AddTek system.
10. Enivro green leaf mosaic wall art
A tropical leaves mural that? is sure to impress anyone who walks into the room with its spectacular color palette and design. Enviro Green, combines plant-themed elements and digital art.
11. eso bliss abstract mosaic art wall
Mosaic art is not just for walls and backsplash area. Here is an example of a stunning abstract mosaic art clad on panels of a sliding door. Eso Bliss is a calming and surreal abstract mosaic from MEC's Elysian collection.
12. Exquisite bird mosaic art
The Exquisite Splendor masterpiece depicts abundance, happiness, serenity and a touch of luxury. This mosaic piece will bring the marvelous refreshing nature-scene, featuring a pair of gorgeous exotic birds and their chirping with the rustle of leaves and aroma of ripe fruit, to your interior and liven up the entire surroundings.
13. fleur tile mosaic artwork
The simple black floral pattern infused with real metal shine of platinum mosaic goes nicely with modern as well as classical interiors.
14. Fall Sprinkle Mosaic Wall Decor
Falling Sprinkle is an abstract glass mosaic pattern with a glimmering metallic brown and brilliant white glass color palette. Think of a hanging vine with small leaves and a copper-brown glitter – that sums up this abstract mural.
15. lavessi mosaic wall art
There is just something about that liquid marble effect that is so captivating. Levessi is MEC's take on bringing that abstract paint effect to mosaic tile. You can use PIXL mosaic ideas for walls, backplash areas and swimming pools.
16. whimsy world mosaic wall art
Exotic blossoms, tropical leaves, animals with aristocratic accessories including have all been intricately handcrafted with colorful glass mosaic tiles. This mosaic art has an almost Alice in Wonderland like essence about it because of the hypnotist chameleon, big-eyed nocturnal monkey with a monocle and a regal macaw.
17. rhea eye mosaic mirror tile art
Rhea mosaic art mirror combines two stunning glass products – mirror and mosaic tesserae. We experimented with a different mosaic cutting and arrangement techniques with Rhea. This mosaic mirror wall art called for glass tile pieces smaller than the commercially available ones.
18. scarlet gem red gold glass mosaic art
If you are looking for a unique wall decor that can steal the show, our handcut Scarlet Gem mosaic art just might be what you need. Each tiny glass mosaic tile has been manually cut and arranged to create this magnificent abstract wall art. Featuring crimson, scarlet and red tiles along with golden, bronze and copper mosaic strips – this mosaic artwork design commands attention.
19. Sapphire Sparkler Glass Mosaic Wall Art
Bring your interior to life with invigorating abstract PIXL mosaic art. Sapphire Sparkler is an enthralling blue glass tile mosaic from MEC's Elysian collection. Inspired by spiral fireworks, this eye-catching feature piece will elevate your interior style.
20. ARTISTIC Landscape MOSAIC IDEAS FOR WALLS
Behold, our exquisite mosaic landscape collection, where artistry and nature converge to create breathtaking spaces. Elevate any space with the captivating allure of a glass mosaic feature wall depicting a captivating mosaic scenery. Drawing inspiration from a mesmerizing stylized mountain scene adorned with distant palm trees, this exquisite artwork is designed to transform your surroundings into a visual masterpiece.
21. greek bougainvillea flower mosaic wall art
Greek Bougainvillea is a mosaic artwork rendition of a painting. The painting features a peaceful Greek street with chairs and table set under a bougainvillea and an eye-catching blue shutter window.
22. arabesque wall art mosaic tile
Give your indoor and outdoor spaces an instant glam up with Arabisk abstract glass mosaic. Arabisk has a distressed rug appearance with a subtle arabesque geometric pattern. The blue and turquoise color palette makes Arabisk perfect for swimming pools and water bodies as well.
23. chinoiserie sage green mosaic wall mural
Chinoiserie Sage glass mosaic art mural featuring birds, fruits and blossoming trees. The mosaic has been inspired by retro wallpapers, an aesthetic style that is making a comeback. Named after chinoiserie art, this mosaic artwork features two different kinds of tree branches and rich blue feathered birds on a soothing sage green vitreous glass background.
24. covo marble mosaic wall niche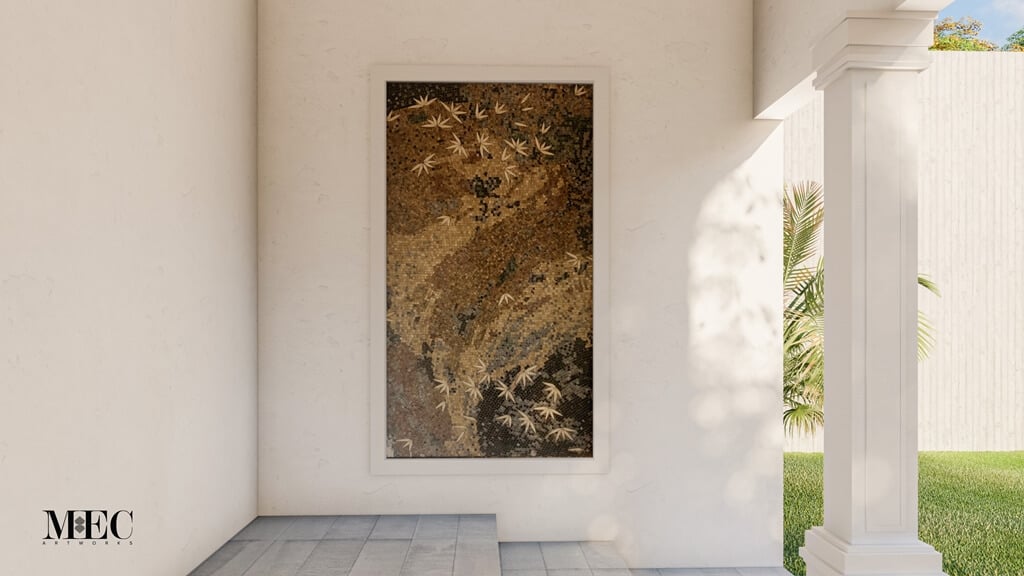 Mosaic ideas for walls are an excellent option to decorate the exterior and facade of a residential or commercial building. Mosaic sources from a trusted supplier would likely be thermal-shock resistant and weather-proof. This means you can install a custom mosaic art of your choice in an outdoor area of your house regardless of the type of climate and weather that area has.
25. Peacock mosaic wall art
Elevate your interior decor with our stunning Peacock Mosaic Design on a Wall Niche. This captivating masterpiece combines the intricate beauty of peacock feathers with the architectural elegance of a wall niche, creating a focal point that exudes luxury and sophistication.
26. hoak green mosaic tile art
Seamless botanical design with a modern flair. Hoak Green PIXL mosaic pattern features a distressed leaf print. Hoak has a lively Vertex glass color palette – green and aqua leaves with a light neutral background.
27. Geometric mosaic IDEAS FOR WALLS SHOWER AREA
Spectacular glass mosaic art based on an ultra-geometric pattern by Zdenek Hojsak, a Prague based graphic designer. The original mosaic artwork had a dark color palette with colorful aqua blue, green and purple ombre details.
28. agalia bathroom mosaic wall art
Delicately intertwining scrolls mosaic inspired by the vintage Persian tile patterns. Maraic patterns are handcrafted from the finest European marble. So, the classic stone combinations radiate an enchanting effect.
29. amarelo flower mosaic wall tiles
Transform a plain wall into a gorgeously vibrant focal point with Amarelo. A glass mosaic mural featuring a rich mustard yellow background and floral elements reminiscent of vintage patterns and wallpapers.
30. incons mosaic wall art
MEC's PIXL Elysian offers a wide range of glass mosaic abstract tile patterns for walls. We love playing around with abstract art ideas to create new designs. In Incons' case we randomly diagonally sliced an abstract design casually and reshuffled the strips.
31. joris mosaic wall arTwork
Joris features mosaic tiles of different sizes, which adds an extra level of detail and a gorgeous texture to the design. The Vertex Gem glass tiles used in this handcrafted mosaic add a wonderful glimmer with their texture and metallic copper glitter.
32. cascades blue mosaic wall art
Marine Blue Cascades pattern from MEC's PIXL range can serve as a cool abstract backdrop to any environment. Adorn any space of your choice with this intense dark teal, blue and turquoise mosaic palette.
33. eulan ABSTRACT MOSAIC IDEAS FOR WALLS
Eulan glass tile mosaic is a PIXL tile pattern based on abstract art. It is complicated to preserve the texture and gradients from a digital drawing or a painting to a mosaic. This is where MEC's exclusive AddTek system comes in.
34. Abstract Tiffany blue mosaic wall art
Enchanted Tiffany Squares Vertex glass tile pattern from MEC's PIXL range creates a beautifully tranquil mosaic art featuring abstract square shapes. The cool turquoise palette with a hint of blue and green is perfect for any space, like feature wall murals and restaurants.
35. andes wall art mural
Choose mosaic over regular tiles for bathtub surround to? transform your bathroom into a stunning space. Andes is an abstract PIXL mosaic by MEC especially designed for feature walls. We recreated the distressed abstract painting look in the mosaic medium using a champagne and blue color palette.
36. aqua abstract mosaic wall art
MEC's PIXL range is inspired by a splashing waterfall. The cool turquoise & blue glass tile tones are perfect for any space, like feature wall murals and swimming pools.
37. aurora mosaic wall art decor
Arctic Aurora is inspired by the enchanting Northern Lights. It can serve as mesmerizing abstract backdrop to any environment. For instance, powder room or patio.
38. augustine mosaic bathroom wall art
Enthralling marble mosaic tile pattern with strong geometric shapes. The overlapping effect of the square motifs give add depth to this design. Maraic can be used on other surfaces like walls, patios and backsplashes.
39. aurora gray mosaic wall design
Monochrome Arctic Aurora from MEC's PIXL range is inspired by the enchanting Northern Lights and can serve as mesmerizing abstract backdrop to any environment. Adorn any space of your choice, e.g. powder room or patio with this neutral gray, black and white Vertex mosaic art.
40. damask wall mosaic art mural
Glass Mosaic damask pattern for wall featuring 24 K gold foil glass tiles. The sophisticated gold, black and white damask elements give the interior a regal feel.
41. dark sparkle mosaic wall art
Dark and thrilling, Heaven Sparkle pattern from MEC's PIXL range can serve as a bold contrasting abstract backdrop to any environment. Adorn any space of your choice, e.g. powder room or patio with gray and black Vertex glass mosaic art.
42. koi fish mosaic wall
Behold! Our exquisite Koi Fish Mosaic Wall – an intricate masterpiece inspired by nature. Handcut to perfection, this artful mosaic showcases two graceful koi fish gliding through pond plants in turquoise blue waters. Crafted with a blend of Murano glass and Vertex glass, the mosaic boasts iridescent, metallic foil, and glittery finishes, complemented by solid-colored glass tiles.
43. almond blossom mosaic backsplash wall
Introducing our exquisite Almond Blossom mosaic backsplash, inspired by Vincent van Gogh's timeless painting. Crafted with the finest glass mosaic tiles, this masterpiece captures the Almond Blossom painting's enchanting color scheme with remarkable precision. The vibrant hues and delicate brushstrokes come to life in the glass medium, adding a captivating and artful allure to your kitchen space.
Bringing Your Dream Concepts & Mosaic Ideas for Walls Into Reality
Ideas and inspiration for custom mosaic wall art can come from any source – some might even be unpredictable. Browse online, look around you in real life – take notes and plenty of photos. You can even customize an existing mosaic pattern to your liking. So the variety of designs and themes available are ample. You just have to choose the one that speaks to you and will fit in snugly with the aesthetics of the home. After choosing the designs, you will have to choose the materials best suited for that design. Feel free to reach out to us with mosaic art ideas that you shortlist and we will be more than happy to create the magic for you.
Conclusion
Throughout this blog post, we've embarked on a journey to discover the profound impact of custom mosaic designs for walls. From the inviting warmth they bring to living room walls, to the outdoor spaces that become captivating outdoor galleries, the elegant embrace of curved walls, and the immersive beauty of mosaic art in shower areas, we've witnessed how mosaic artworks possess the innate power to transform any space into a mesmerizing and deeply personalized masterpiece.
We have delved into the advantages of customization, celebrated the sophistication born of craftsmanship, and appreciated the enduring durability that mosaic artworks bring to your surroundings.
Your mind might be brimming with mosaic design ideas now and we are here to help you bring them into reality. Whether you envision a stunning mosaic mural, captivating outdoor art, or an immersive shower experience, MEC is here to bring your mosaic ideas for walls to life. Don't wait any longer; contact our team today, share your design ideas, and embark on the journey of creating a truly unique and breathtaking custom mosaic design for your walls.
FAQs