The perfect grout color for mosaic art tiles might be no color at all
When it comes to picking the perfect glass mosaic tile art for your wall or backsplash, there are so many choices to make; from tile type and texture to size, colors, and design. With millions of combinations, the possibilities are truly endless.
Once the mosaic tile art is chosen and finalized, the grout details are often overlooked. The importance of picking the right grout is somehow overshadowed by the overwhelming tile choices and decisions.
The grout color can make or break the look of your brand new mosaic tile art. It is more than the binding material that holds your tiles together and prevents cracking. The grout significantly impacts the overall appearance of the art tiles. The goal is to find a shade that can nicely contrast the tile color and helps to give that "mosaic effect" to the design in a subtle manner without being too overpowering.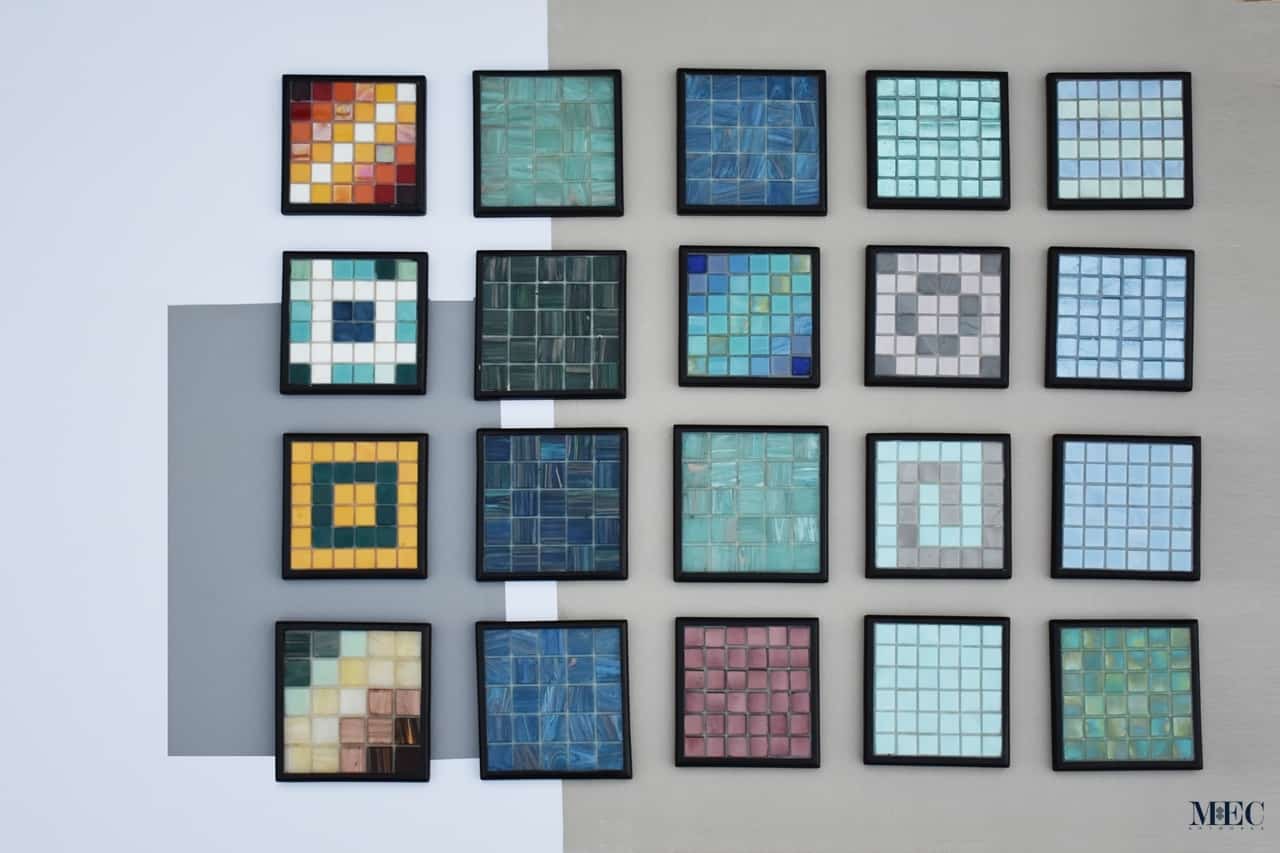 The right grout color is easier to find when working with a single color mosaic tile art. However, when it comes to artistic glass tiles that feature several colors (anywhere between half a dozen to over two dozens!), it is a bit trickier to get the perfect grout. What if we told you that the solution to this problem is eliminating "color" altogether. Behold! The Translucent Epoxy Grout.
Clear epoxy grout is ideal for maintaining visual continuity to the mosaic. The semi-transparent nature lets light refract and reflect light in a way that it takes on the color characteristics of the tile being used. This way, it doesn't interfere with the design and aesthetic of the tiles. The epoxy grout assumes a neutral tone and works with just about any glass tile color, wonderfully complementing them and thereby making the installation seamless.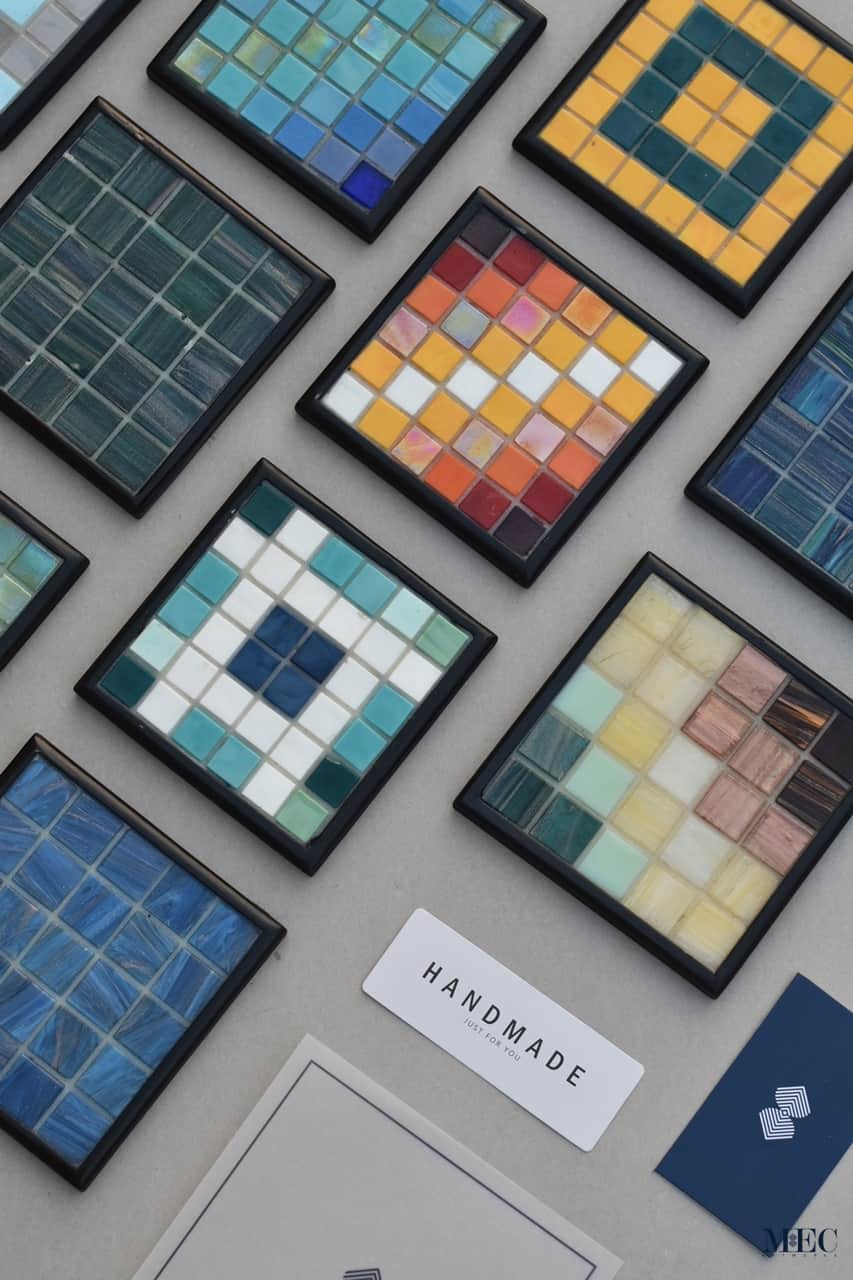 With epoxy grout, you no longer have to use different grout colors for different glass mosaic tile art colors.
We have listed some pros and cons of epoxy resin grout for you to weigh and compare before making the decision to shift from the traditional cementitious option.
Pros
Works with all glass mosaic colors
Enhances the visual appeal and aesthetic of glass mosaic
High-quality and durable
Safe and non-toxic | preferred for hygiene sensitive environments like hospitals
No grout sealing required
Suitable for a wide range of environments including high traffic areas and backsplashes
Waterproof & stain resistant
Some epoxy grout variants are suitable for swimming pools and outdoor applications as well
Epoxy grout is resistant to cracks, harsh weather conditions and a wide range of chemicals.
Cons
Costs more than regular cement-based based grout options
Mixing and application requires more time and work
Shaping the grout is easier with cement-based materials
Does not work well with porous or textured times, cleaning the epoxy grout out of the details is tricky.
Here are some of the best translucent epoxy grout options available in the market:
Starlike® Crystal
Bostik | Pre-Mixed Translucent Grout Glass-Filled Diamond
Laticrete | SPECTRALOCK® PRO Premium Translucent Grout
MAPEI | MAPEI Flexcolor™ 3D (Crystal Moon #201)
Epoxy resin grout is recommended for shower areas, floors and hygiene sensitive environments such as healthcare facilities. What makes epoxy grout an excellent choice for these areas is its waterproof and non-porus nature. Unsealed cementitious grout absorbs and water and is more susceptible to mold and microbial growth. Epoxy is also stain-proof, thereby making it a great grouting choice for kitchen mosaic tile backsplash.
Other Considerations
There are a few things that you have to keep in mind when working with clear epoxy grout:
A white base is recommended for laying and fixing of glass tiles that you intend to grout with clear epoxy grout.
Some epoxy grout comes in two parts that have to be mixed before application, others come in a ready-to-use form.
Make sure that there is no grout residue left on the tile surface after installation. The cleaning is easier before the epoxy grout dries. Once it is dried, you might need an acid wash to remove the epoxy residues.
Epoxy grout is made from a two-part resin and has to be prepared in small batches.
The benefits of using a premium translucent grouting material outweigh the cons. But is it worth the extra cost? We think it is worth investing in a material that was specially developed with glass mosaic art tile in mind. Save yourself the trouble of frequent selling and maintenance. Leave behind all worries of unsightly discolored and crumbling cement grout and go for the epoxy option if your project budget allows it. The bottom line is that if used properly the clear epoxy grout will be the best option for your glass mosaic project in the long run.