Table of Contents
Tempted to try mosaics? We have rounded up useful some tips that will help you for find the right patterns for you space. Bonus: mosaic design ideas and inspiration for your next project.
21 Stunning Mosaic Design Ideas to Get You Started
Interested in mosaic art but haven't found your design idea yet? A good place to get those creative juices flowing is to browse through existing mosaic art. What are some good sources to find mosaic art, you might be wondering. We can list a few: mosaic art installations in public spaces, famous artists, design and architecture magazines, Pinterest boards, catalogs and showrooms.
1. Masterful Mosaic Murals
These larger-than-life artworks serve as the focal point of any space, whether it's a living room, an office lobby, or a hotel entrance. Imagine a stunning landscape depicted through an intricate arrangement of colorful tiles, capturing the essence of nature or a historical scene. The level of detail and craftsmanship in mosaic murals is truly awe-inspiring, making them a perfect choice for those seeking a grand statement piece.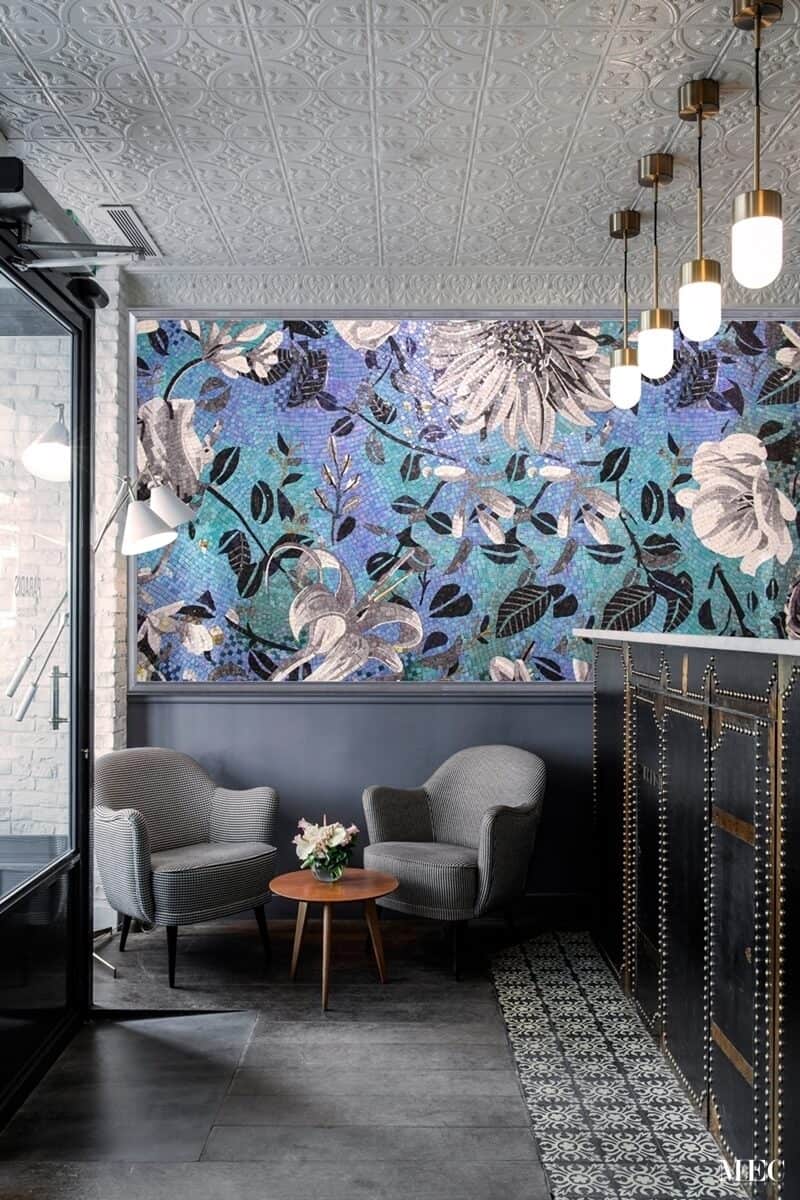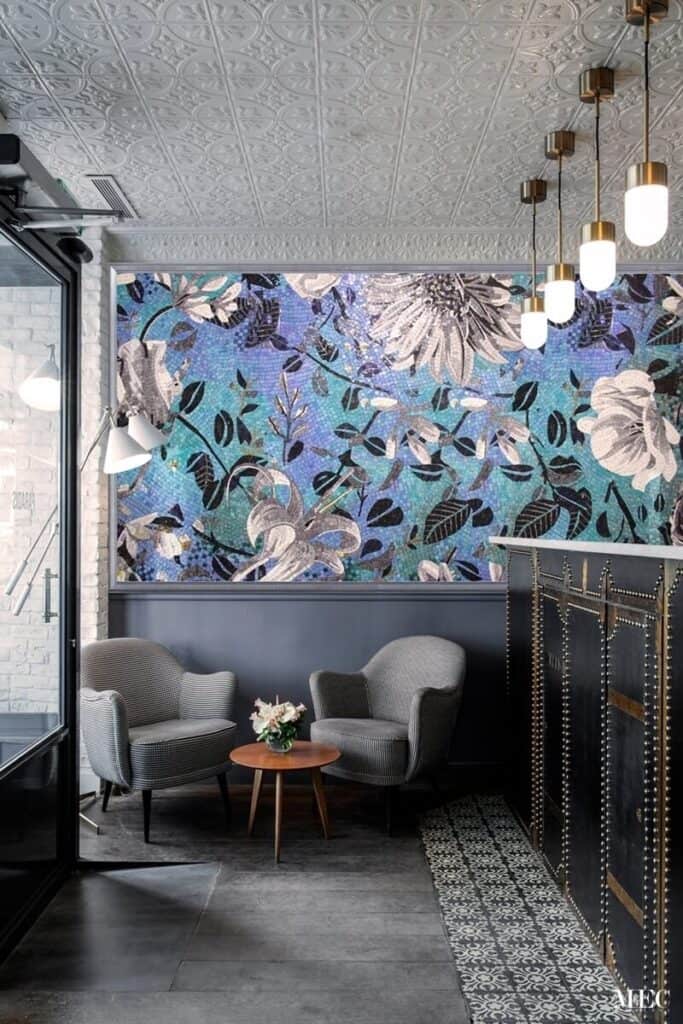 2. Kitchen Backsplash Elegance
Revitalize your kitchen space with the timeless elegance of mosaic tile backsplashes. Enhance the visual appeal of your cooking area while also providing a practical and easy-to-clean surface. Choose from an array of designs and patterns, ranging from classic geometric shapes to intricate floral motifs. Mosaic backsplashes add a touch of sophistication and individuality to your kitchen, transforming it into a culinary haven.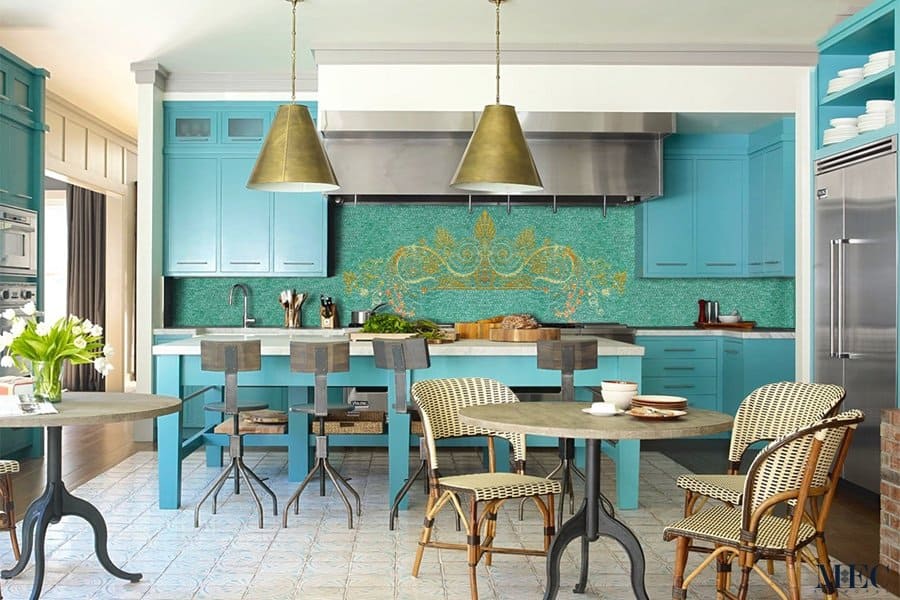 3. Mosaic Flooring Marvels
Elevate the flooring in any room with the sheer opulence of mosaic tiles. From luxurious bathrooms to grand hallways, mosaic flooring offers a striking blend of functionality and artistic allure. Delight in the intricate patterns and textures that mosaic tiles provide, whether it's a mesmerizing Moroccan-inspired design or a contemporary geometric masterpiece. Step into a world of creativity with mosaic flooring that exudes elegance and charm.
4. Mesmerizing Mosaic Medallions
Imagine a majestic mosaic medallion adorning the entrance of your home or the center of a grand hall. These intricate circular designs serve as a testament to the craftsmanship and artistry of mosaic artisans. The medallions can be customized to depict various themes, from intricate geometric patterns to delicate floral arrangements. Embrace the timeless beauty of mosaic medallions to make a lasting impression on your guests.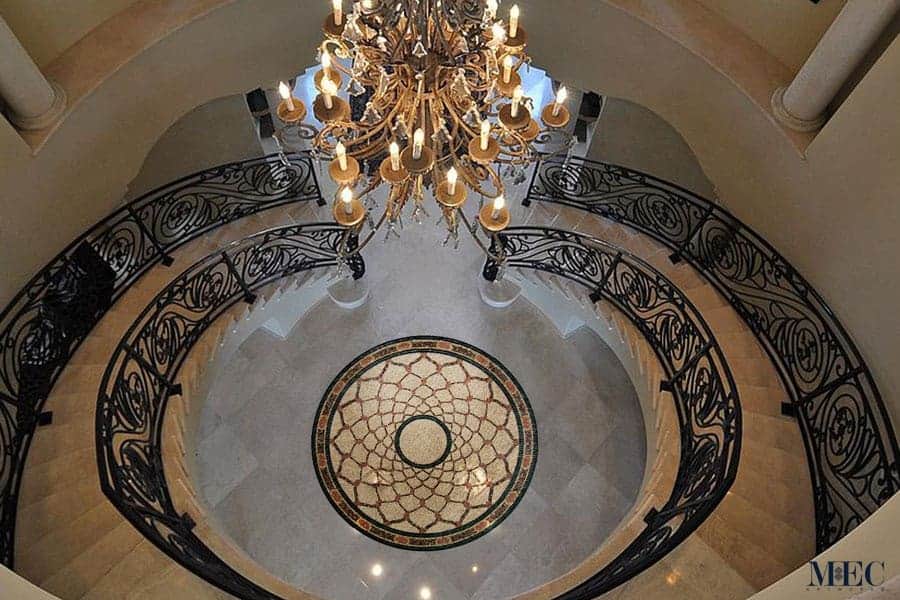 5. Outdoor Oasis with Mosaic Tiles
Extend your love for mosaic art to your outdoor spaces and create an enchanting oasis. Whether it's a mosaic-tiled patio, a stunning poolside mural, or a mosaic-decorated garden pathway, these outdoor installations will elevate your landscape design to new heights. Embrace the natural beauty of your surroundings while infusing it with the captivating charm of mosaic tiles.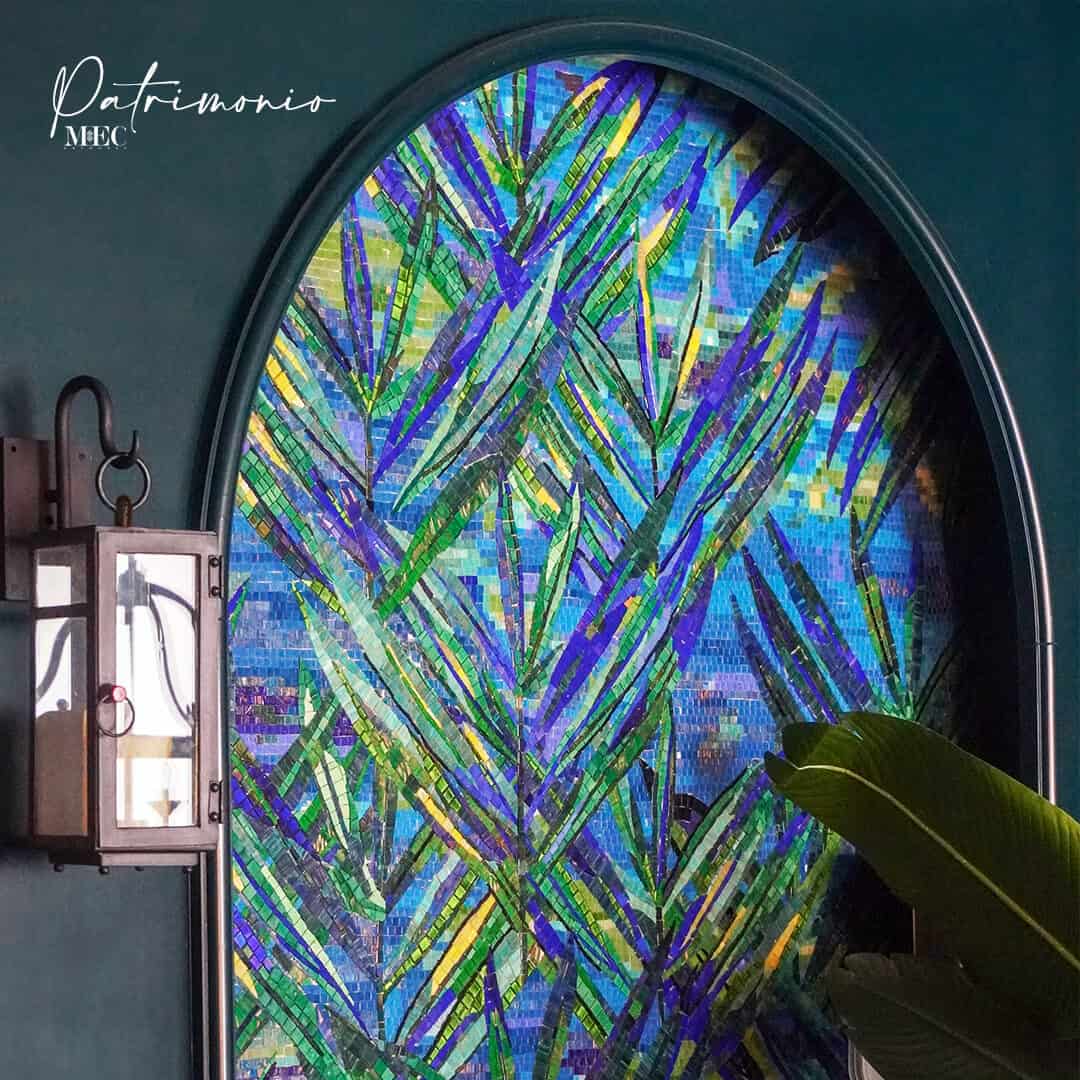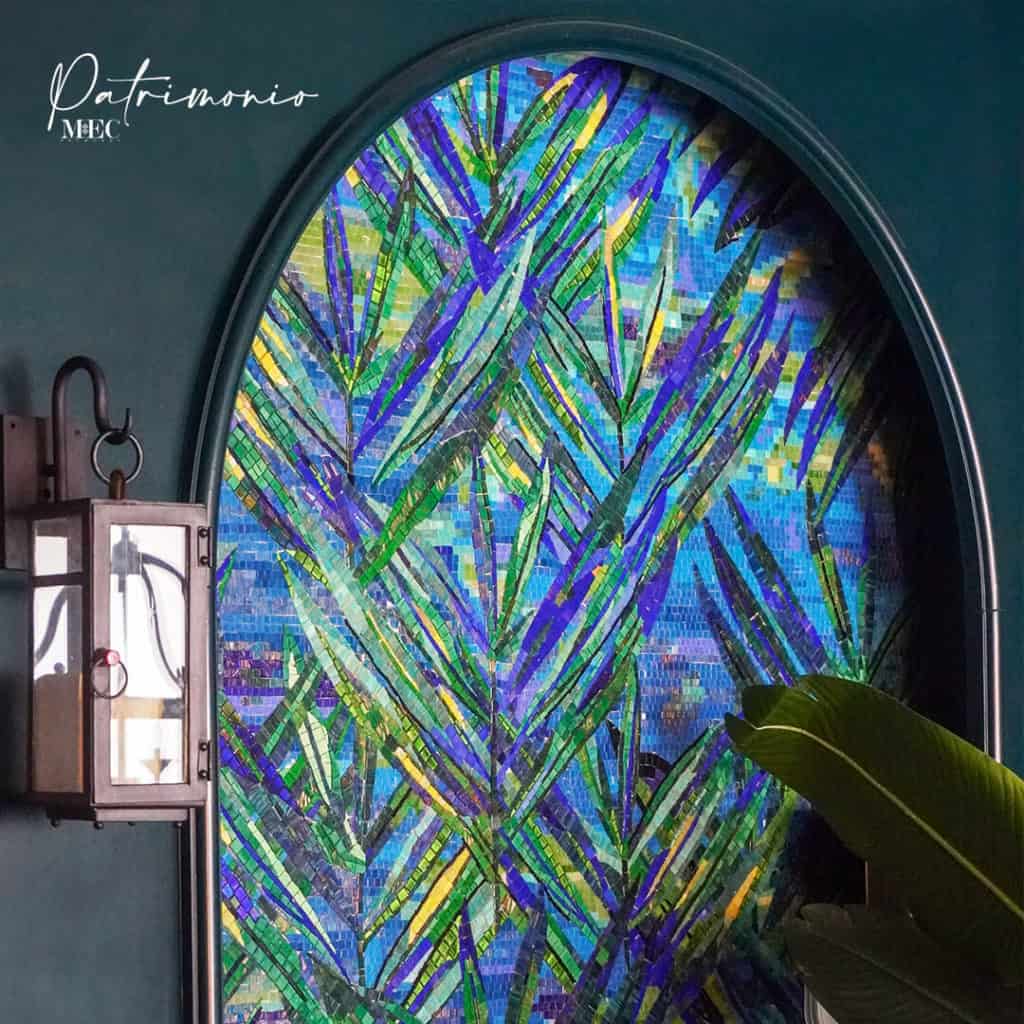 6. Vibrant Mosaic Borders
Add a touch of artistry to your walls or floors with vibrant mosaic borders. These decorative accents can effortlessly transform a plain surface into a visual masterpiece. Choose from an array of color palettes and patterns to suit your design aesthetic. Mosaic borders can be used to frame a mirror, delineate sections of a room, or even create a stunning mosaic rug effect.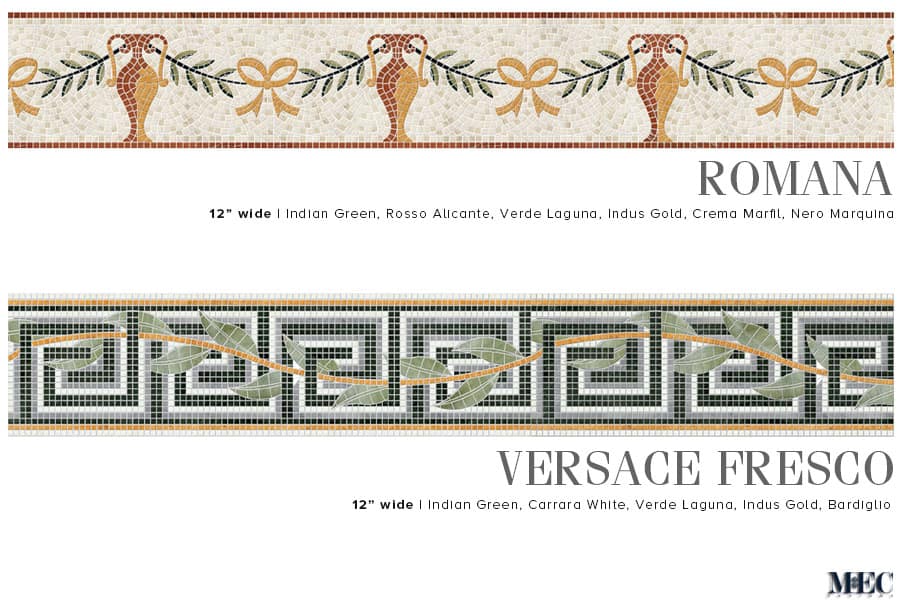 7. Whimsical Mosaic Patterns
Unleash your playful side with whimsical mosaic patterns that add a sense of joy and wonder to any space. Let your imagination run wild as you explore designs featuring cute animals, fantastical creatures, or even scenes from beloved fairy tales. Mosaic art has the power to transport you to a world of magic and enchantment, making it an ideal choice for children's bedrooms, playrooms, or even as a statement piece in an eclectic living room.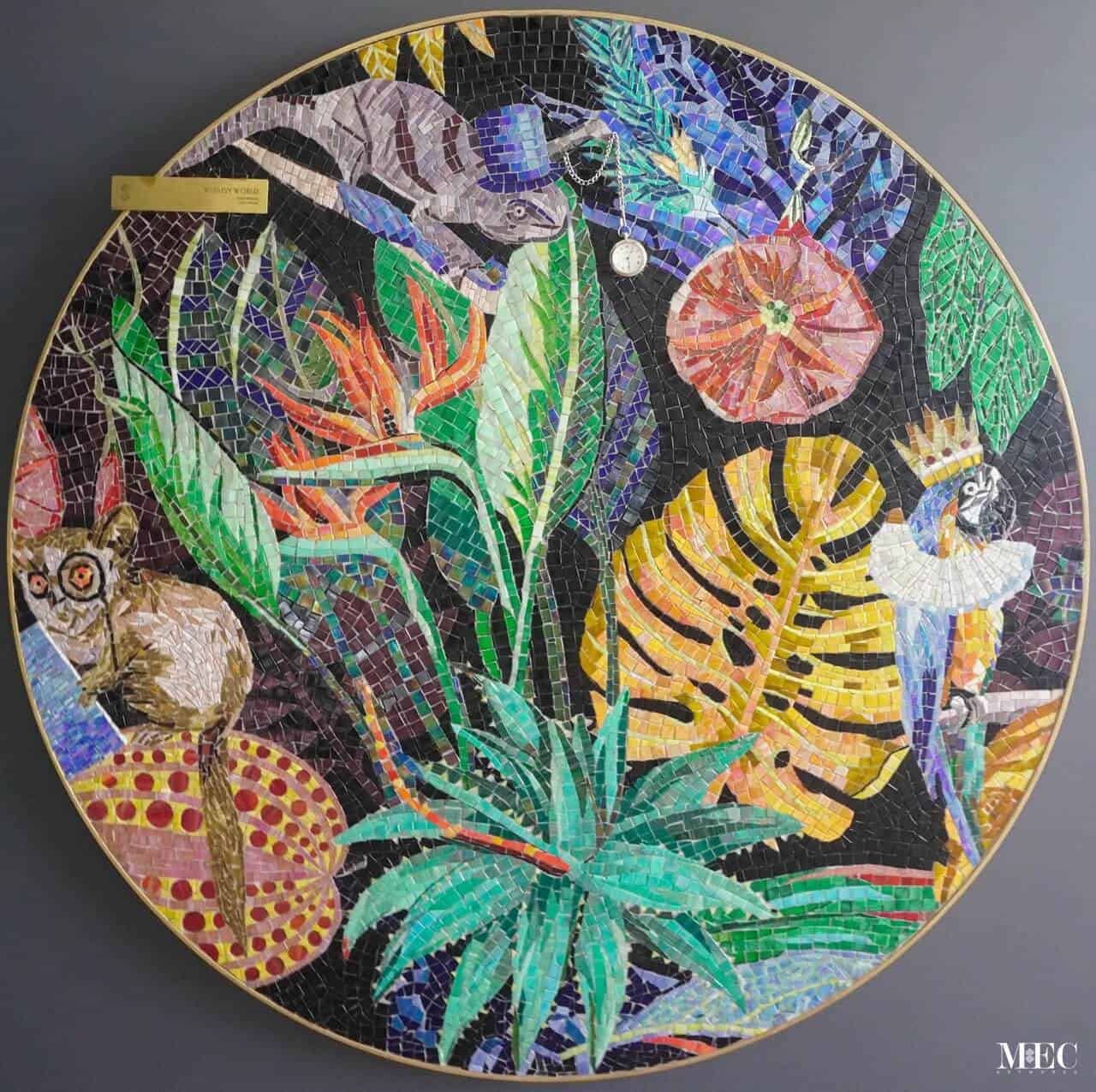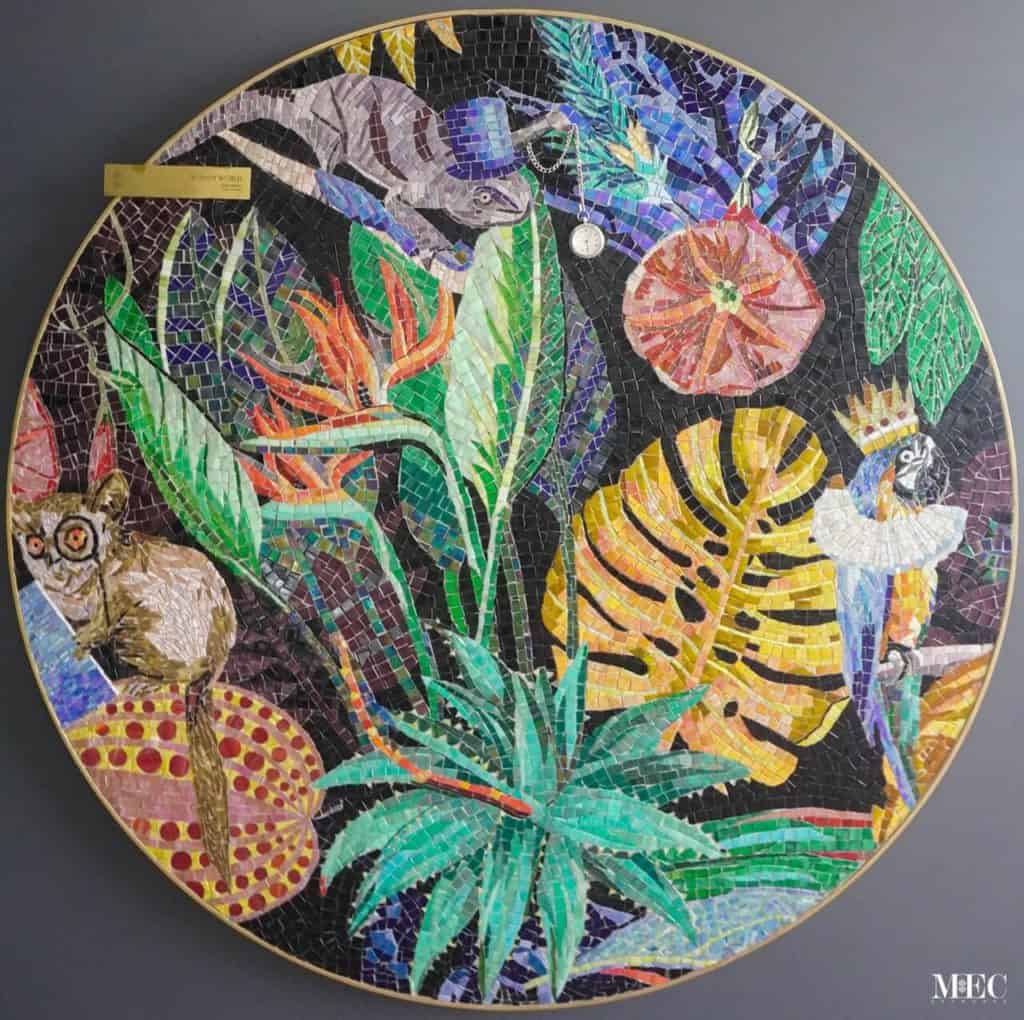 8. Mosaic Tile Art for Bathrooms
Transform your bathroom into a luxurious retreat with the elegance of mosaic tile art. From shower walls adorned with shimmering glass mosaic tiles to intricate mosaic borders framing a vanity mirror, the possibilities are endless. Embrace the spa-like ambiance that mosaic tiles create, turning your daily self-care routine into a truly indulgent experience.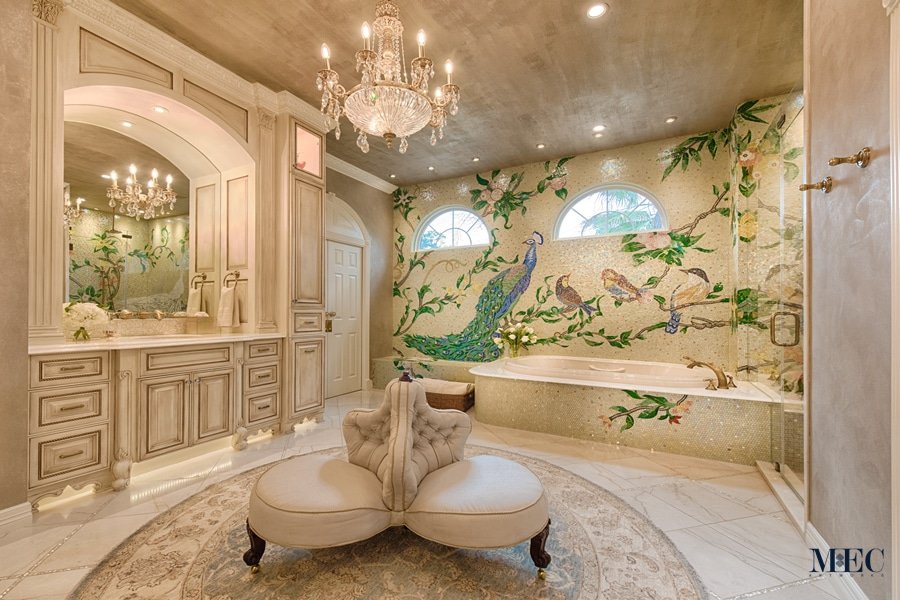 9. Modern Minimalist Mosaics
For those who appreciate clean lines and a contemporary aesthetic, modern minimalist mosaics offer the perfect blend of simplicity and elegance. Explore geometric patterns, monochromatic color schemes, and sleek designs that seamlessly integrate with modern interiors. These understated yet impactful mosaic artworks provide a touch of refinement to any space.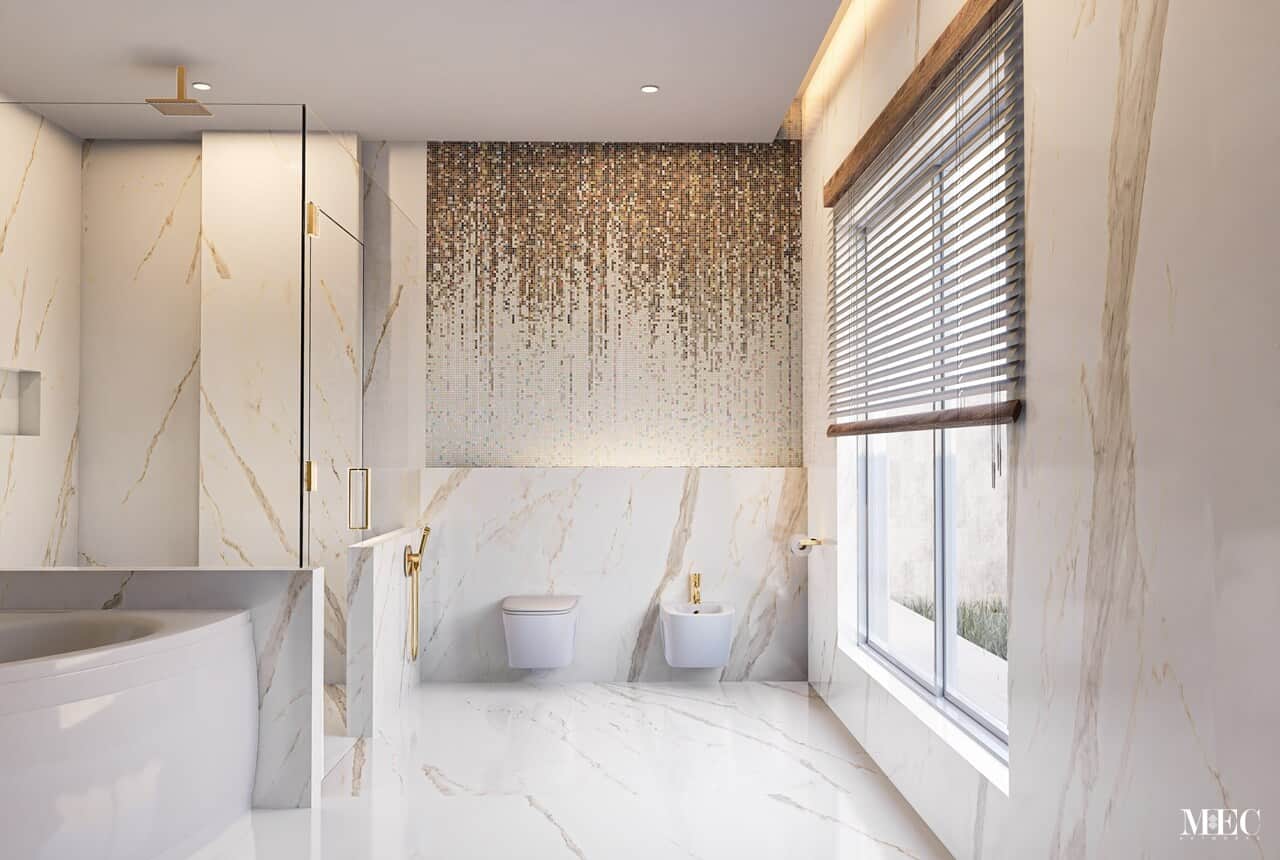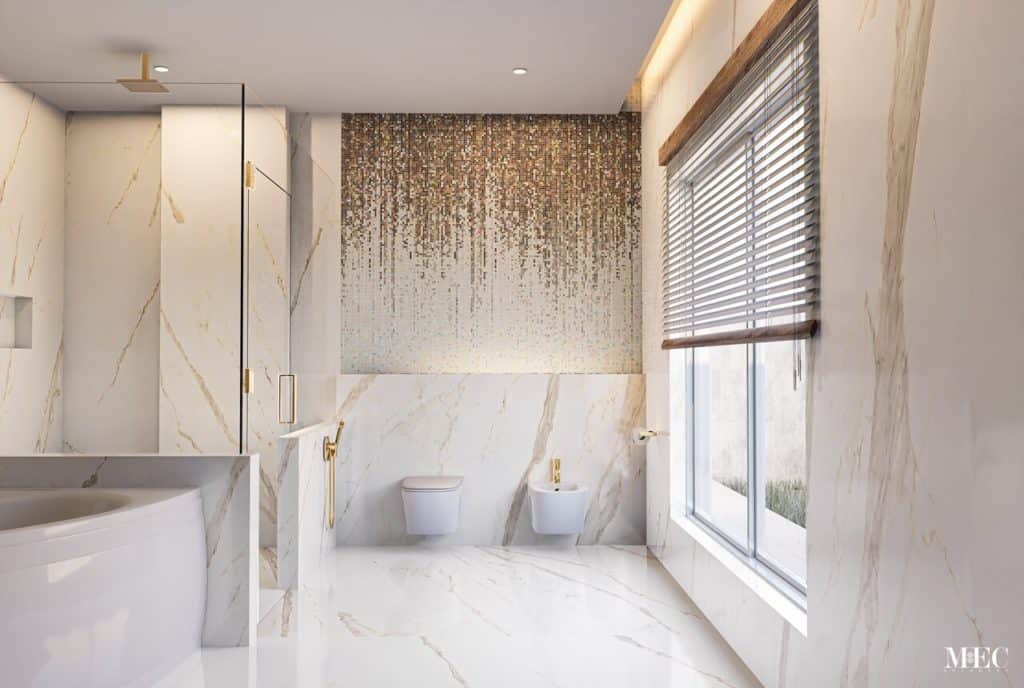 10. Timeless Mosaic Archways
Transport yourself to a world of timeless beauty with mosaic archways that evoke a sense of grandeur and history. Whether you're designing a classic European-inspired entryway or a Mediterranean-style courtyard, mosaic archways add an element of sophistication and old-world charm. Experience the architectural splendor of intricate mosaic motifs that pay homage to centuries of craftsmanship.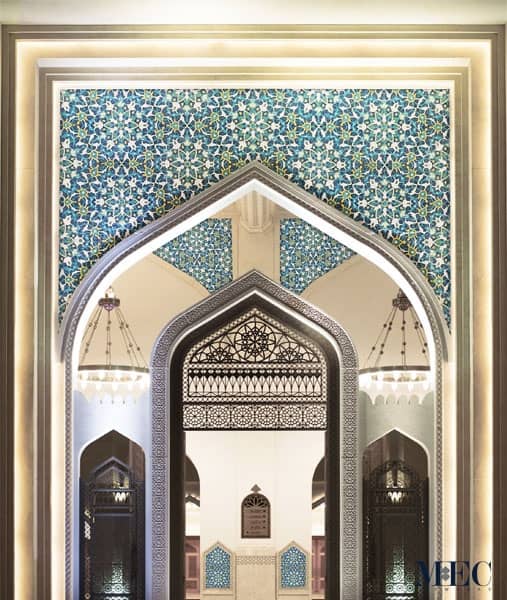 11. Expressive Mosaic Portraits
Immerse yourself in the art of mosaic portraiture and witness the incredible skill required to create these expressive artworks. Mosaic portraits capture the essence of individuals through a meticulous arrangement of tiles that form intricate images. Commission a personalized mosaic portrait of a loved one or explore famous historical figures reimagined through the lens of mosaic art.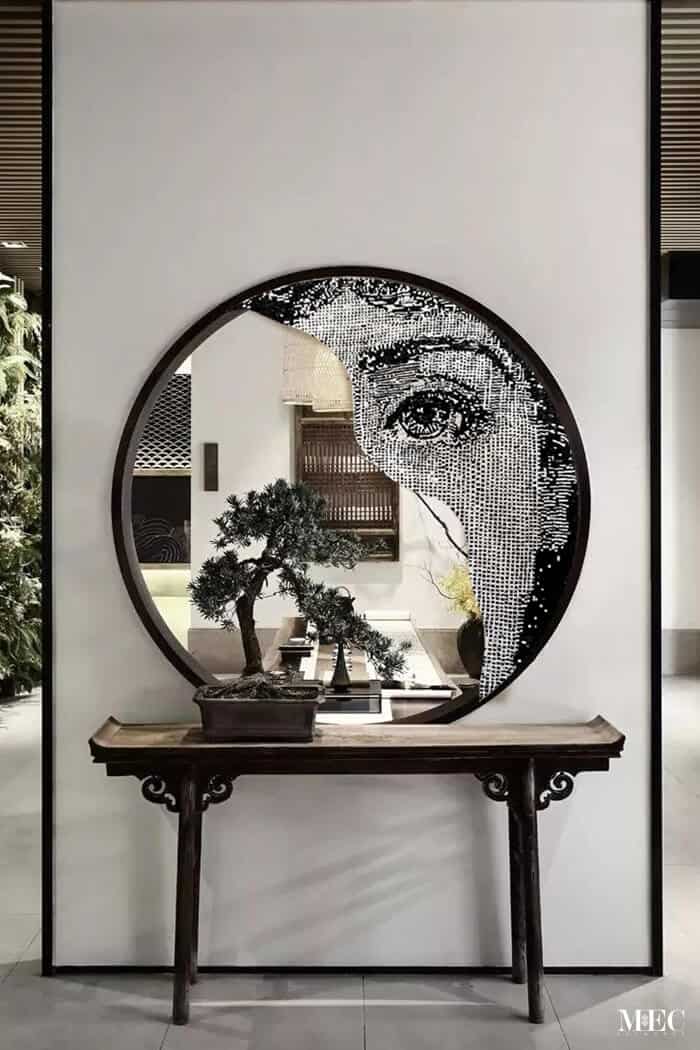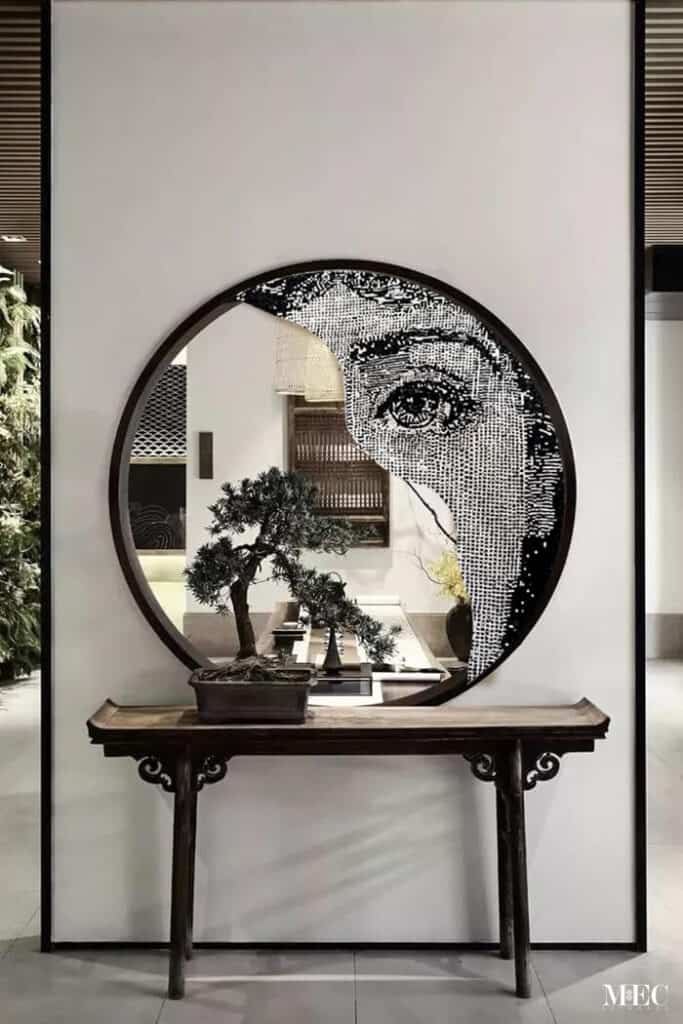 12. Mosaic-Inspired Wall Art
Embrace the versatility of mosaic-inspired wall art to infuse your living spaces with creativity and vibrancy. Whether it's a single striking mosaic panel or a collection of smaller mosaic tiles arranged to create a larger composition, these artworks effortlessly command attention. From abstract designs to nature-inspired motifs, mosaic wall art showcases the boundless possibilities of this captivating art form.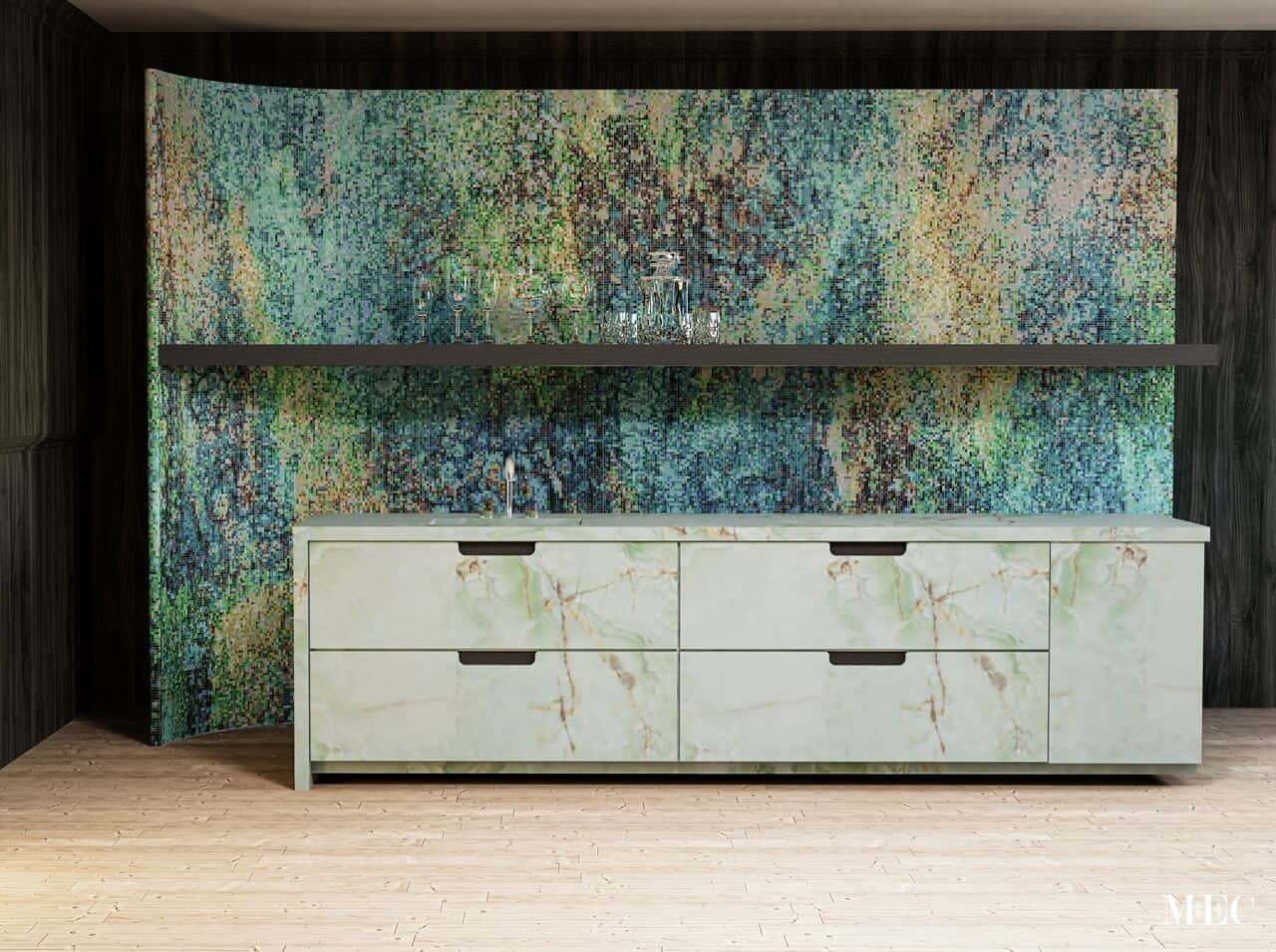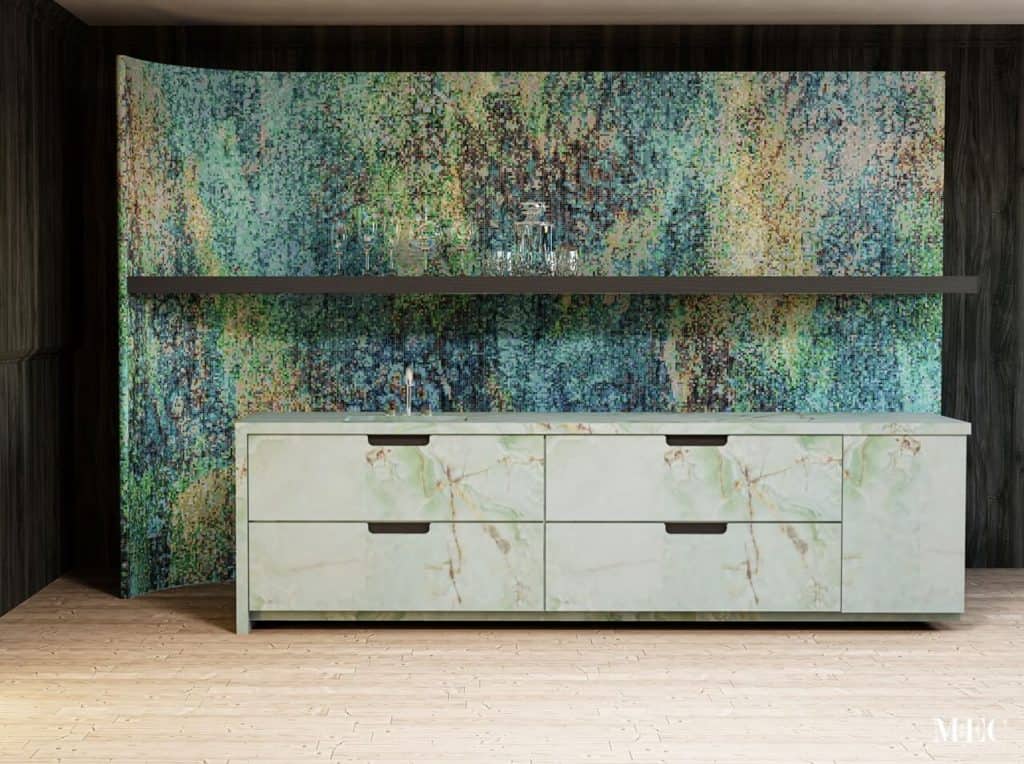 13. Bold and Beautiful Mosaic Geometric Patterns
Embrace the power of bold geometric patterns in mosaic tile art. Delve into the fascinating interplay of shapes, lines, and symmetry as you create striking designs using triangles, squares, hexagons, and more. Unlock a modern and dynamic aesthetic that showcases the harmonious fusion of art and mathematics.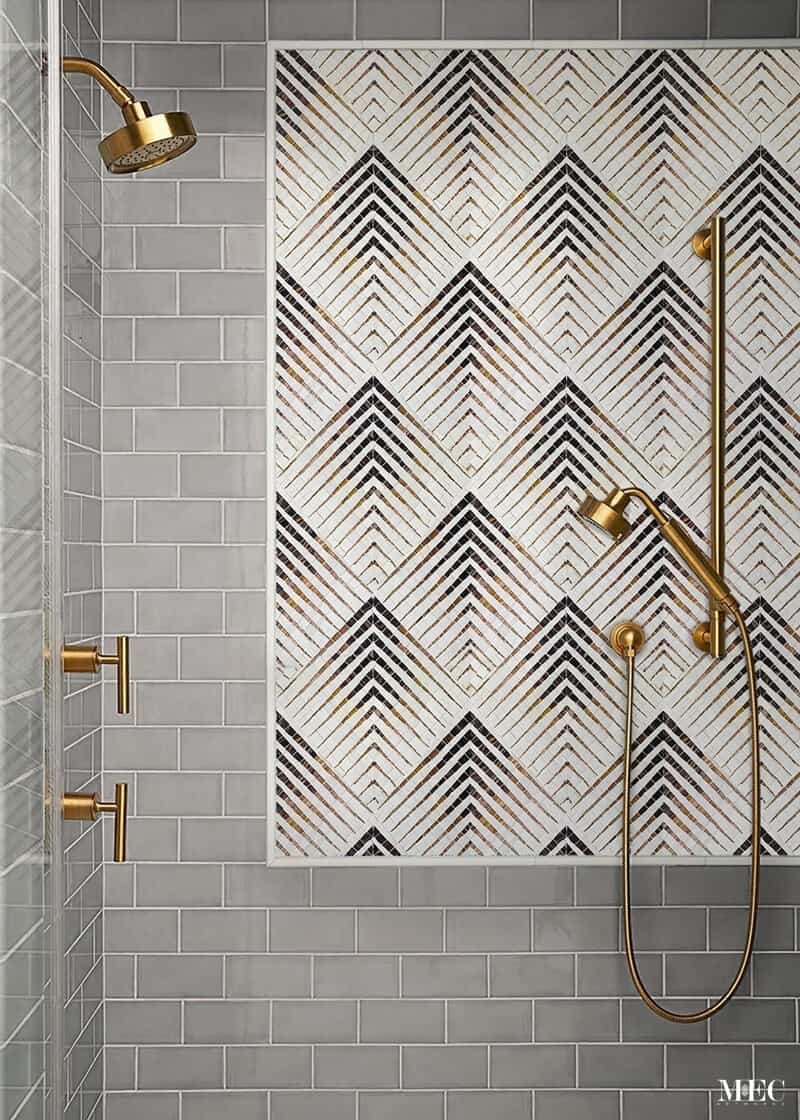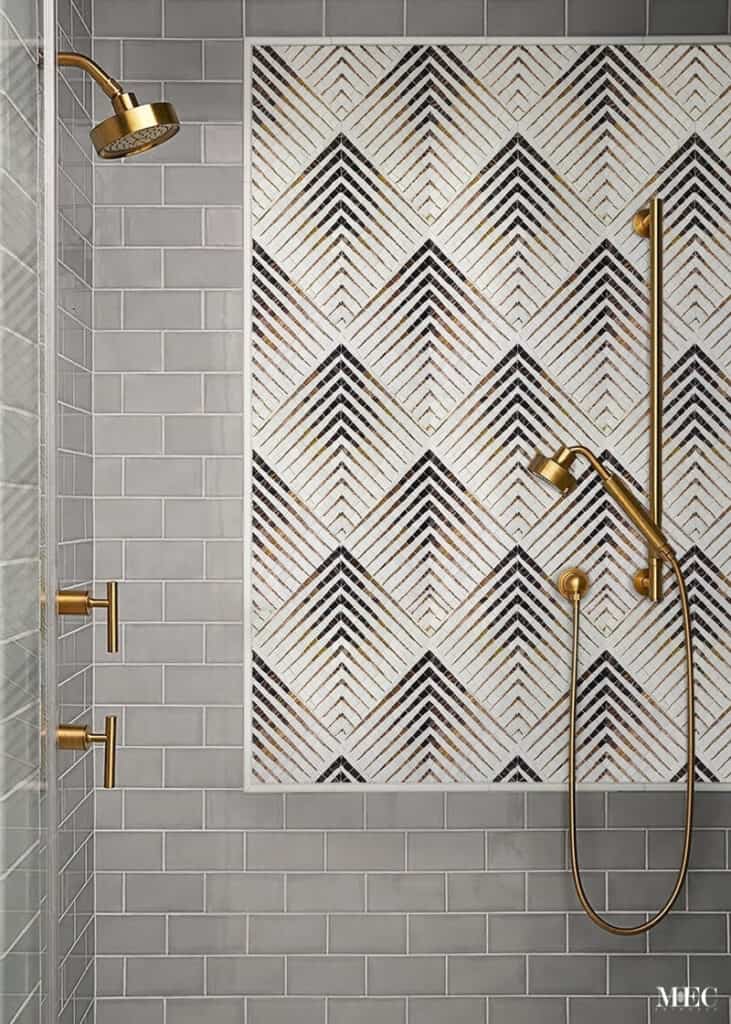 14. Nature-Inspired Mosaic Landscapes
Immerse yourself in the beauty of nature with mosaic tile art that vividly captures breathtaking landscapes. Bring serene seascapes, lush forests, or majestic mountains to life using an exquisite medley of vibrant tiles. Embrace the intricate artistry of mosaic techniques to evoke the essence of natural wonders within your indoor spaces.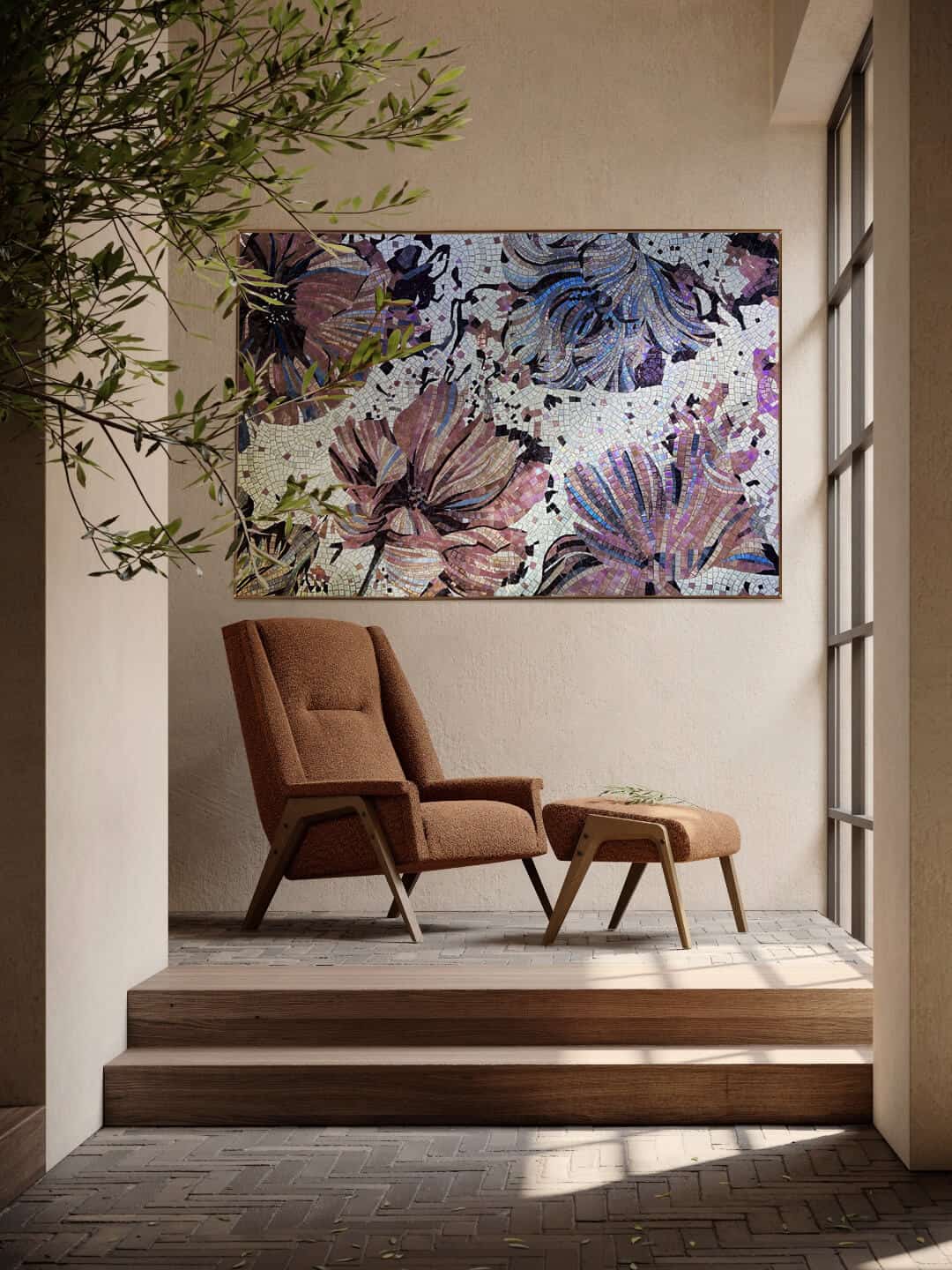 15. Mosaic Tile Art for Outdoor Kitchen Backsplashes
Extend your culinary creativity to your outdoor kitchen with mosaic tile art adorning the backsplash. Elevate the aesthetics of your cooking area while enjoying the durability and easy maintenance of mosaic tiles. Let your outdoor kitchen become a visual masterpiece, where culinary delights and artistic beauty merge.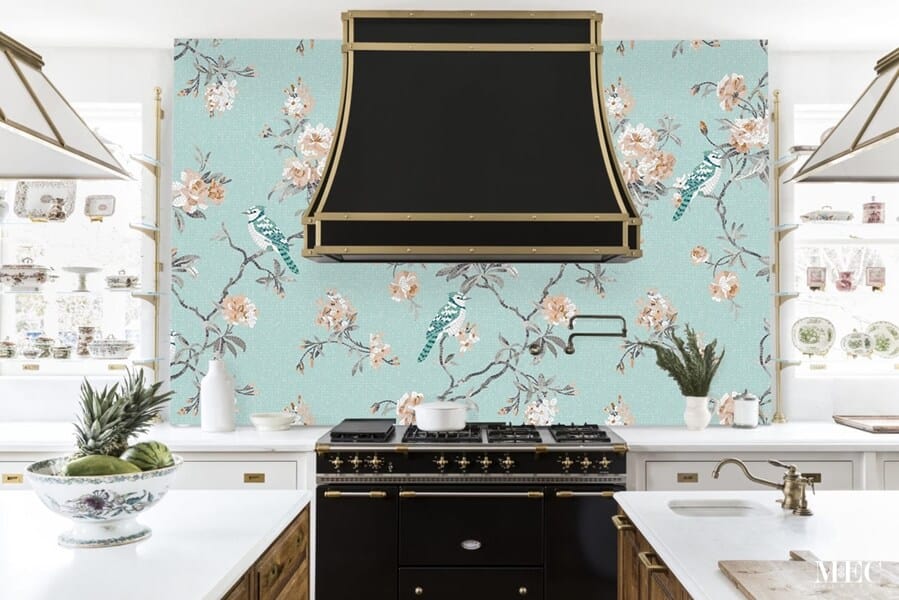 16. Famous Painting & Art Style Inspired Mosaic Ideas
There's only one Mona Lisa and as much as you love Van Gogh's art, you cannot teleport the starry Night from The Museum of Modern Art to your living room. Since the chances of you owning any piece of art from your favorite famous masterpiece, we present the next best thing. No, it is not art prints or replicas, we are talking about stylized mosaic versions. Art you know and love re-imagined in the mosaic medium. From capturing the the bold geometry and glamour or Art Deco to opulent Baroque inspired flooring, feast your eyes on some amazing mosaic design ideas: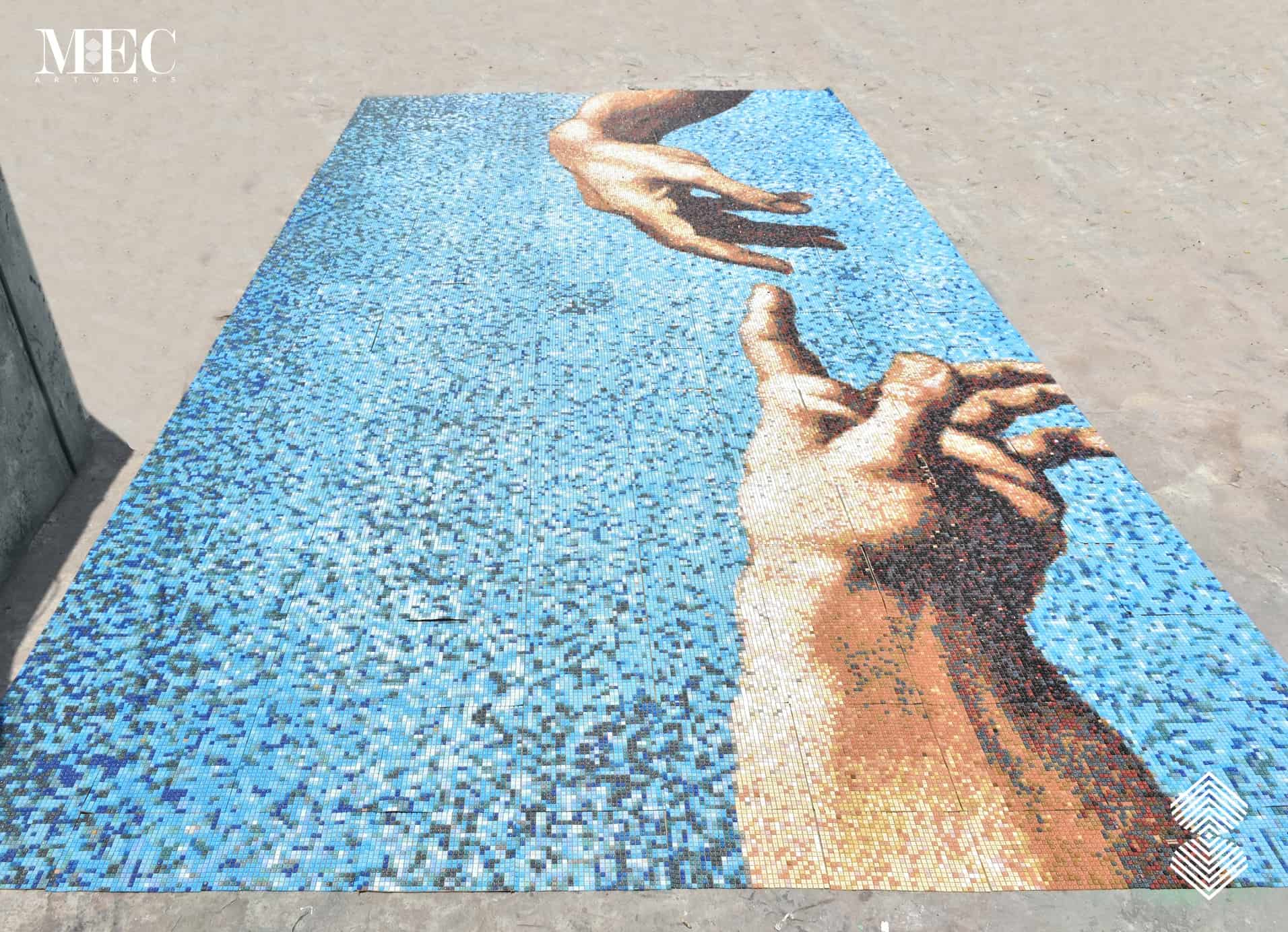 Thousands of tiny colorful tesserae, dozens of color and texture options, and a ton of design possibilities – where does one begin? Saying that there are thousands of mosaic tile design options would be an understatement. Tile mosaic art is quite dynamic and versa-tile.
17. pompon wall mosaic bird art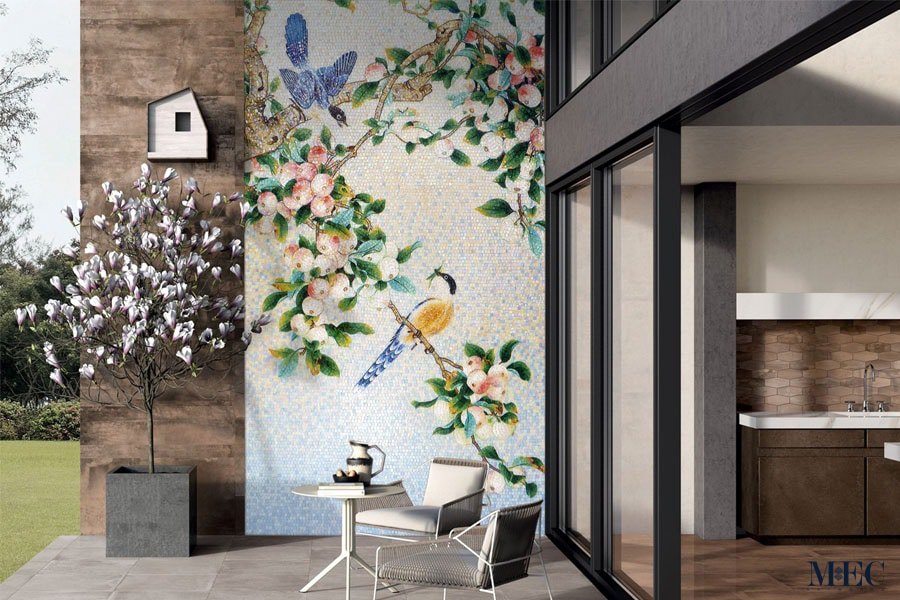 Sarah Ryan's inspiration behind this exclusive glass mosaic mural was nature and its many wonders. The wall art masterpiece depicts happiness, serenity and a touch of luxury.
18. mosaic birds swimming pool wall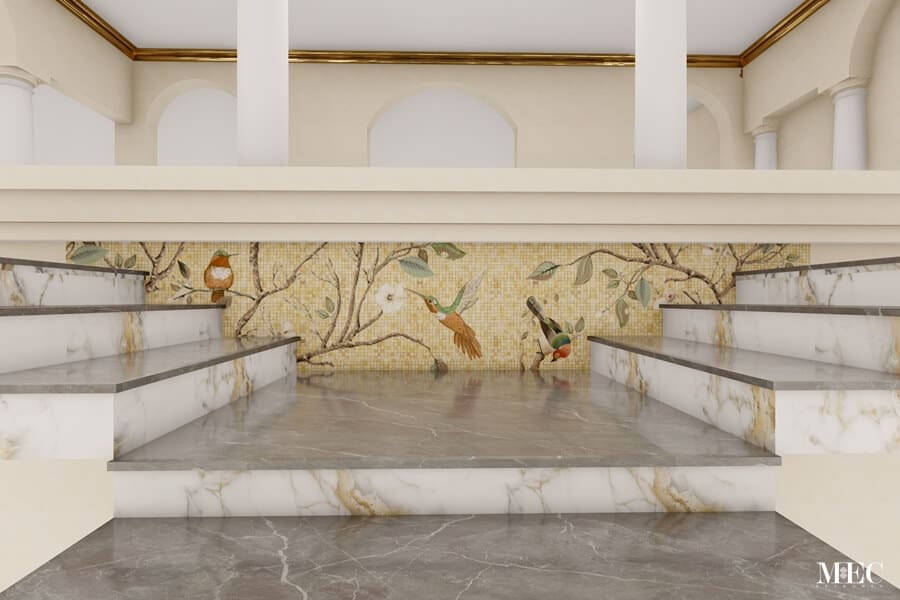 Transform your swimming pool into a breathtaking feature wall with our exquisite collection of mosaic tiles. Dive into a world of natural beauty as mosaic birds and trees come to life, creating a captivating mural that will mesmerize all who behold it. With its wallpaper-style design and vibrant colors, this mosaic masterpiece adds a touch of elegance and sophistication to any pool setting.
19. birds and versace medallion mosaics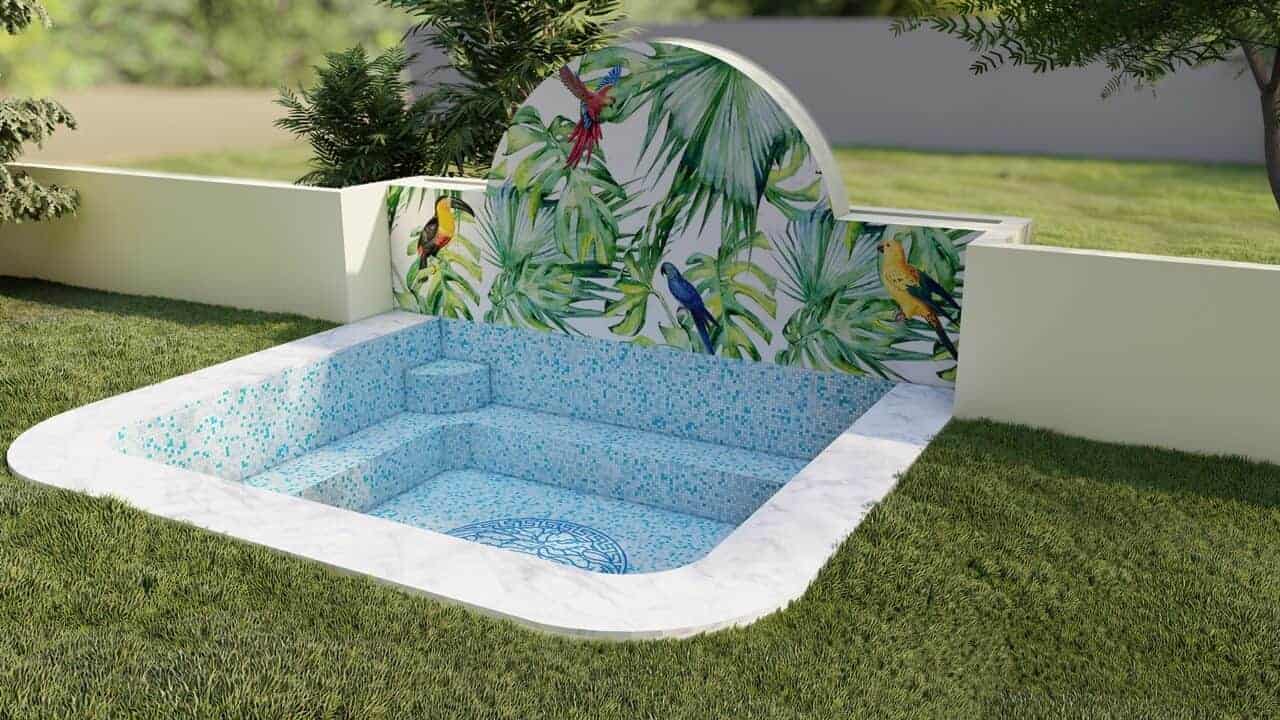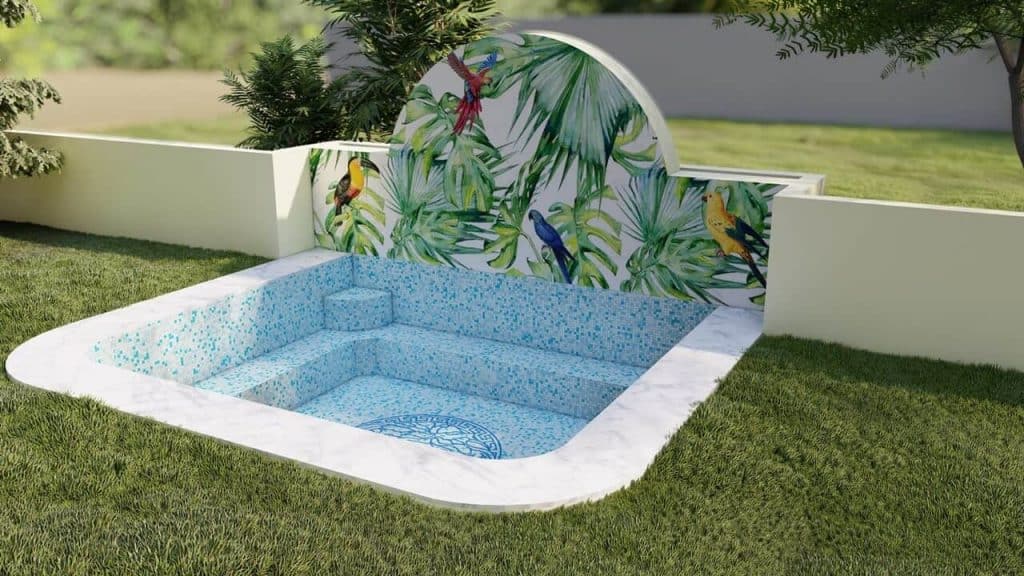 One client from Atlanta, Georgia (USA) ordered both. Steven, liked our Versace Pool mosaic medallion and a custom tropical birds and plants mural so much that he couldn't give either up. So he went with the iconic Versace mosaic design for the hot tub floor. And decided to get the adjacent wall with a custom created mosaic art featuring exotic birds and tropical leaves. Other than the Medusa medallion, the rest of the hot tub will be adorned with a classic blue and white Vertex glass mosaic blend.
20. sakura cherry blossom mosaic wall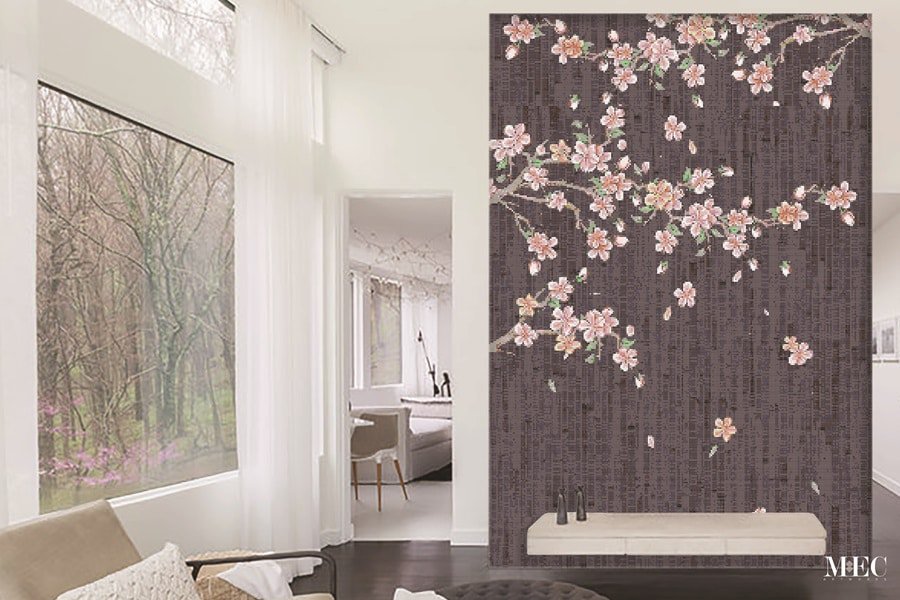 Glass tile mural featuring a cherry blossom tree in calming and soft color theme. The is just a elegant floral part only covers a part of the mural, leaving the rest of the canvas for a grey simple abstract background and falling petals.
21. crane bird mosaic pattern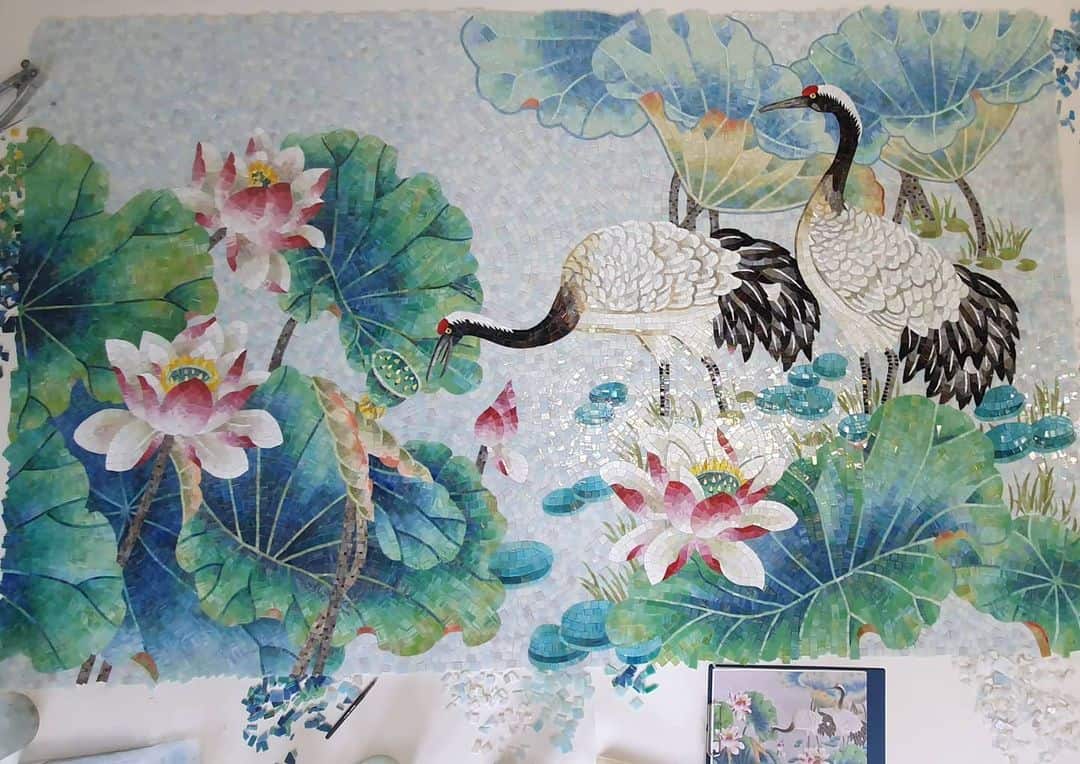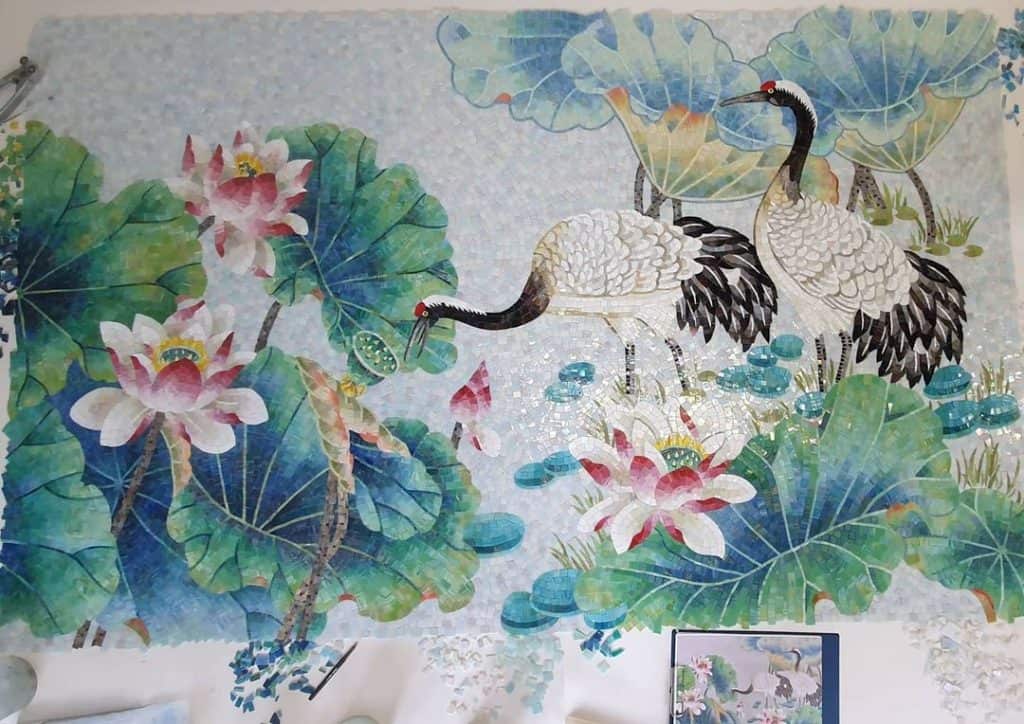 Crane Bird Mosaic Pattern is a true testament to the beauty and artistry found in mosaic designs. Crafted with utmost care and precision, this pattern showcases the graceful silhouette of the majestic crane bird, capturing its essence in a mesmerizing display of colors and intricate detailing. Whether used as a standalone piece or incorporated into larger mosaic projects, this unique pattern is sure to add a touch of sophistication and visual appeal to any space.
Since just about any design concept can be transformed into mosaic, trying to pick the perfect one for your space can be overwhelming. When the choices are virtually limitless how do you shortlist them and eventually proceed with one?
Shortlisting The Perfect Mosaic Design
Here is a quick guide on how you can set the initial direction
Interior Design Style
A good starting point would be the interior design of the space for which you are considering a decorative custom mosaic. What style is your room? Contemporary minimalist with mid-century modern elements, coastal, rustic, traditional – there are so many. Share your design inclination or a mood board with a MEC mosaic design consultant to get free expert advice.
Mosaic Goals
Another important consideration can be what you want your mosaics to do? Do you want it to blend nicely with the rest of the interior? Get a subtle mosaic design that compliments the room. You also select an eye-catching mosaic to add a pop of color and make a design statement.
Color Palette
Selecting the color scheme is one of the first things that needs to be done when looking for mosaic designs. Inspiration for the color palette can come from anywhere. The room design itself, your personal favorite colors or even the most unexpected random sources.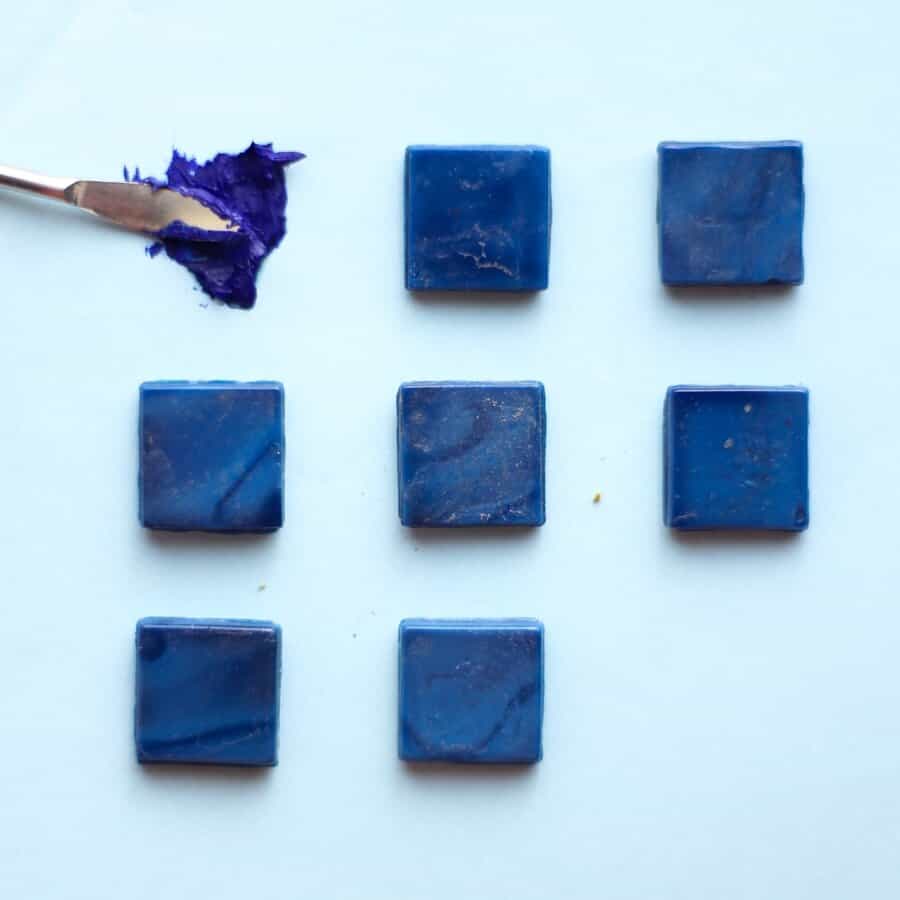 The options range from a 4 color random mixing to a colorful 20+ color mosaic mural and everything in between. Soft pastels, bright colors, or monochrome – go with whatever suits your taste and space most.
Tile Materials
Narrow down the mosaic options further based on tile material. Glass mosaics work best for swimming pools, bathrooms, backsplashes and murals. Whereas, marble mosaic is perfect for decorative flooring, niches and front elevation. Other ornamental materials such as gold foil mosaic tiles and mother of pearl mosaic can be used in combination with other mosaics for an added touch of glam.
Fabrication Technique
Do you like your mosaics staggered, neatly arranged on a grid? Or do you prefer more intricate mosaic art with hand cut mosaic tiles arranged together manually? Both fabrication techniques have their own charm and appeal. There is of course the cost factor, the manual fabrication can be higher prices because of the skill and hours that go into it.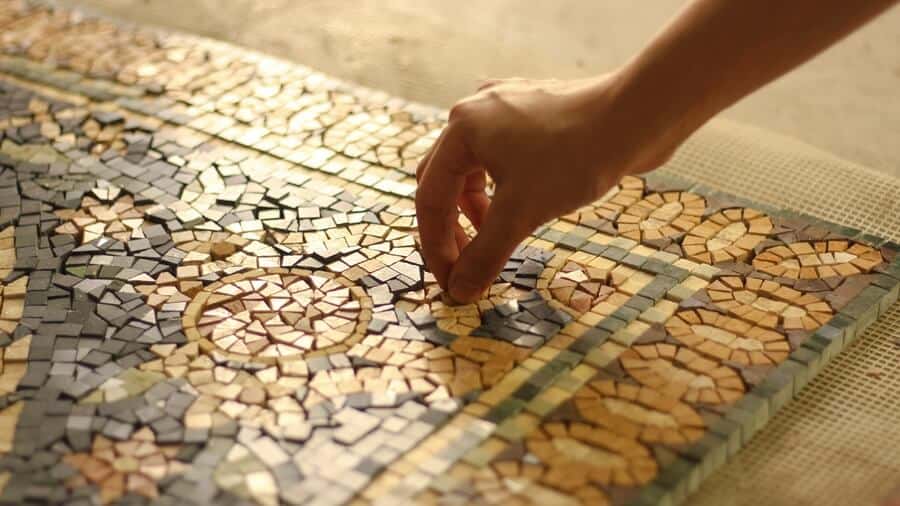 Budget
Your tile budget is a factor as well. Be clear about how much you are willing to spend on your mosaic project. This will help you assess if you can afford to splurge on premium mosaics with high-end materials and an intricate design.
Go With Your Gut Feeling!
Ignoring all the rules and going with whatever feels right to you is a valid option as well. Don't let anyone tell you that you cannot get a certain mosaic design for your space. If you love it, you should go for it! Express your eclectic individual style with a custom glass mosaic design.
Conclusion
In conclusion, mosaic tile art offers an endless realm of creativity, allowing you to transform spaces into captivating showcases of artistic expression. With a multitude of design ideas at your disposal, from enchanting mirror frames to whimsical garden sculptures, there is no limit to the beauty and impact you can achieve. Whether you are a seasoned mosaic artist or a beginner embarking on a new creative journey, the world of mosaic tile art invites you to explore, experiment, and let your imagination soar. Embrace the intricate beauty, versatility, and durability of mosaic tile art as you bring your design dreams to life. Let the artistry of mosaic tiles inspire and elevate your surroundings, creating truly extraordinary spaces that leave a lasting impression. Unleash your creativity with MEC, and let mosaic tile art be your guide on a remarkable artistic adventure.
Is custom mosaic easy to install?
Yes, the mosaics come on a mesh sheet and are installed just like a regular tile. We also provide a complete installation guide to assist the installer for installation purposes.
Are mosaic tile art installations difficult to maintain?
No, mosaic tile art installations are relatively easy to maintain. Regular cleaning with mild soap and water is usually sufficient to keep them looking vibrant and beautiful.
How do I choose the right colors for my mosaic tile art?
To choose the right colors for your mosaic tile art, consider the overall theme and mood you want to convey. You can opt for complementary colors for a harmonious look or contrasting colors for a bold and vibrant statement.
Can I use mosaic tile art in a swimming pool?
Yes, mosaic tile art is a popular choice for swimming pool designs due to its durability and ability to withstand water and chlorine.
Can mosaic tile art be installed on uneven surfaces?
Yes, mosaic tile art can be installed on slightly uneven surfaces by using a thicker layer of adhesive or by leveling the surface beforehand.
Can I use mosaic tile art for fireplace surrounds?
Yes, mosaic tile art can be used to create stunning fireplace surrounds, adding a unique and artistic touch to your living space.
How do I choose the right grout color for my mosaic tile art?
Consider the overall color scheme and design of your mosaic tile art. You can opt for a grout color that complements the tiles or one that creates contrast for a more dramatic effect.
Can I install mosaic tile art on bathroom walls and floors?
Yes, mosaic tile art is a popular choice for bathroom walls, backsplashes, and floors due to its durability, water resistance, and aesthetic appeal.