Table of Contents
At MEC, we are passionate about transforming spaces into captivating works of art. With our extensive collection of mosaic tiles for 3D surfaces, we bring a touch of elegance, sophistication, and artistic brilliance to any environment. Whether you're an interior designer, architect, or a homeowner with a flair for creativity, our mosaic tiles offer endless possibilities for elevating your space to new heights.
Mosaics for 3D Surfaces
Mosaic tiles have been used for centuries to embellish walls, floors, and various surfaces. However, traditional flat mosaics pale in comparison to the mesmerizing effect of our 3D mosaic tiles. These extraordinary pieces of art are meticulously crafted to create stunning visual illusions and breathtaking textures. By combining the artistry of mosaic design with the dimensionality of 3D surfaces, we have redefined what is possible in interior or exterior decor.
Tiling plain 2D surfaces. like flooring and walls. is simple. However, it gets tricky when it comes to curved surfaces like shower enclosures, turret entrances, swimming pool benches, and concave ceilings. There is a lot of cutting and waste involved, not to mention the installation challenges and effort it goes into making it aesthetically pleasing.
Mosaic tiles, both mesh-basked and paper-faced, are the perfect solution. They can be applied to curved surfaces (both outward curving and inward curving) very smoothly. Since the mosaic tiles are already small and come in form of sheets that are not rigid it adds a significant degree of flexibility. The grouting spaces have a cushion for contracting and expanding which helps the mosaic tile sheet follow the curvature of the surface.
Curved Mosaic Walls & Niches
Hanging up photo frames, paintings and other traditional forms of wall art is usually not possible on a curved wall. As an alternate, you can go with creative wall paint or decorative wallpaper for such walls or you can go a step further and embellish with tiny gems – thousands of glistening glass mosaic tiles. Be it a feature wall or a curved niche, Vertex Glass and Murano glass can be used to create amazing designs and patterns for walls. Glass mosaic walls are functional as well as ornamental. They are easy to clean and require very little maintenance once installed properly.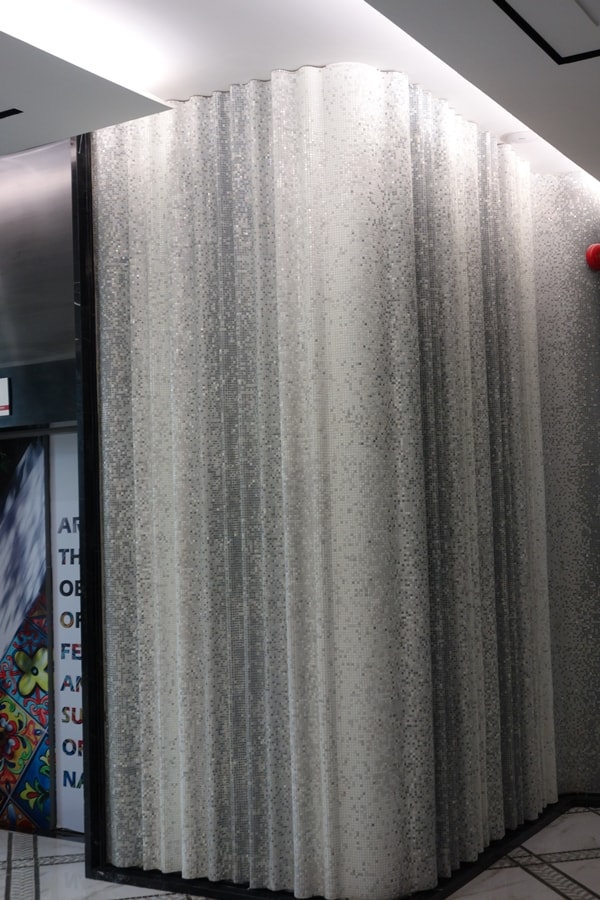 For tips on DIY mosaic tile installation on curved walls visit TAL. Got an idea to completely transform a blank wall or a one of a kind 3D mosaic sculpture? Get in touch with us today.
Mosaics on Pillars & Columns
Cylindrical architectural features like columns and pillars often have limited decorative finish options. Glass mosaic, however, opens up a world of possibilities. From random color blends to ombre faded effect in mosaic tiles to actual designs and patterns, the options are endless. Transform those plain pillars into works of art with a custom-designed mosaic.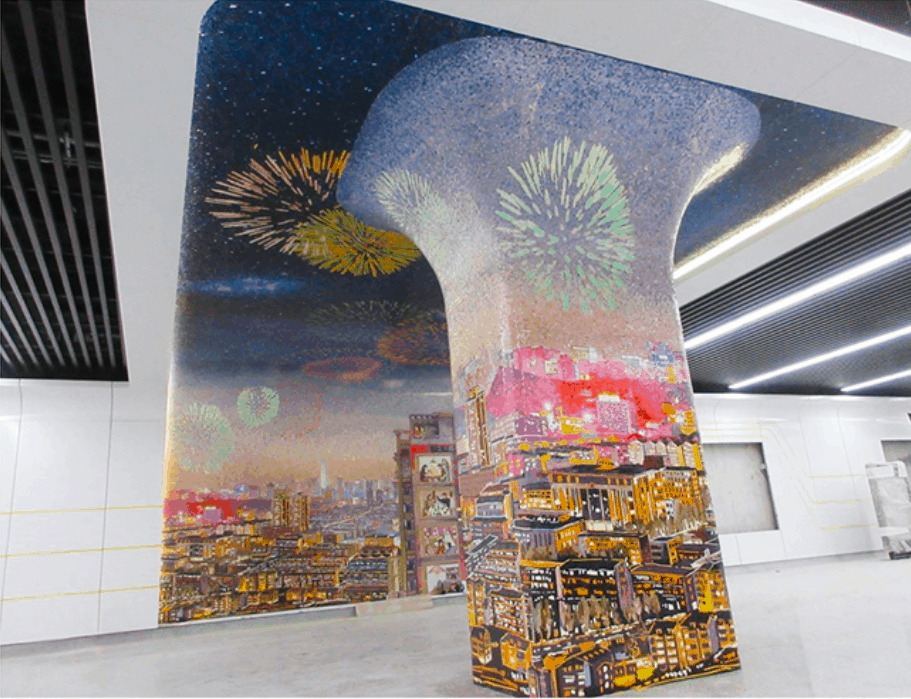 Mosaics on Swimming Pool Steps & Benches
Glass mosaics are water-proof, thermal shock resistant, and can withstand a variety of chemicals and cleaners. These characteristics make glass tiles perfect for outdoor swimming pool applications. Glass mosaic that is approved for water bodies have an anti-slip surface as well. Swimming pools can be built in a variety of shapes and sizes. Swimming pools can feature steps and benches with curved sides and/or edges. Furthermore, for freeform and asymmetrical pools mosaic is by far the best tiling option. Adorn the pool floor as well as internal and external walls with mosaic tile art and turn it into a beauty!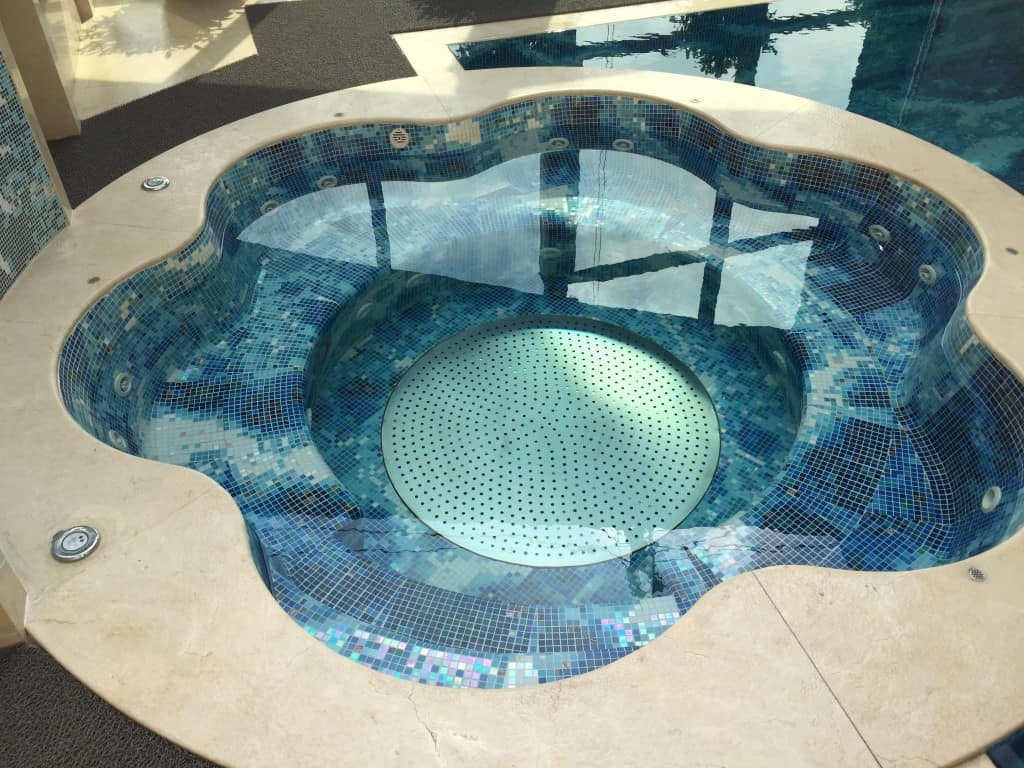 Make sure you check the technical specification of the mosaic tiles you are considering for your pool or get them from a trusted brand or supplier. Also see "Is Glass Mosaic Suitable as Bath and Shower Tile?".
Mosaics in Spas, Shower Enclosures & on Walls
Glass mosaics are amazing for wet and humid environments like spa, shower areas and backsplash walls for the same reason that makes them the ideal pool tile. Glass mosaic along with epoxy resin grout is the winning combo for bathrooms. It eliminates the risk of microbial growth and mold. Mosaics are thermal shock resistant, so you don't have to worry about the temperature fluctuations causing cracks.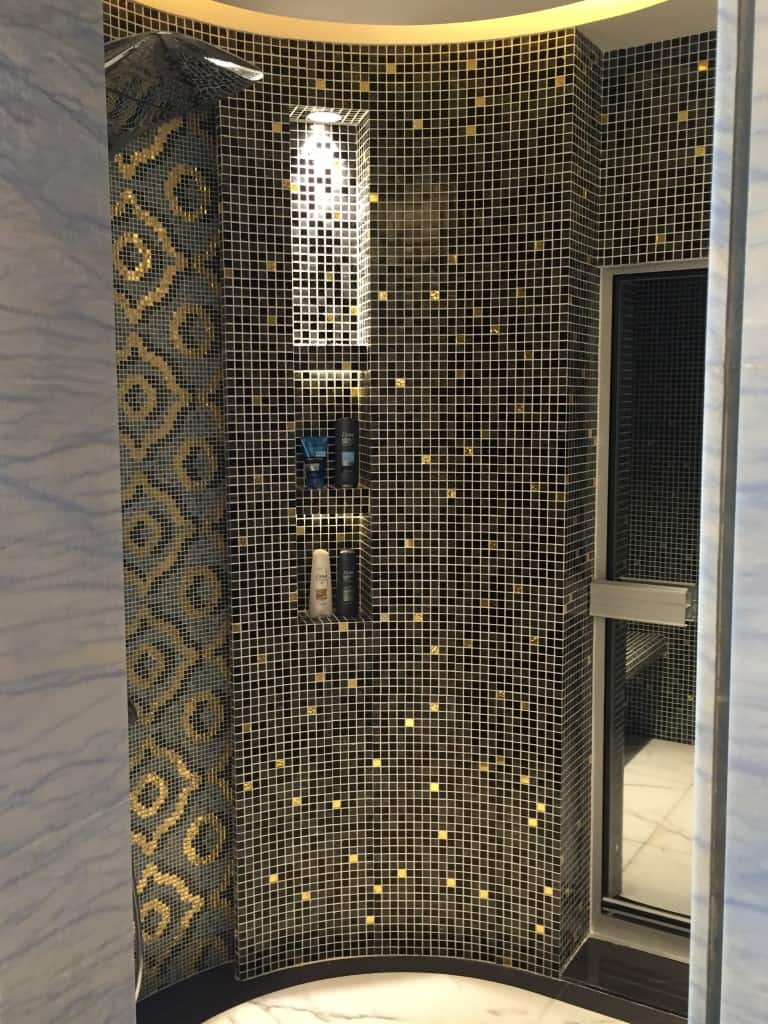 Adorn curved spa benches, shower cabin walls, and curved backsplash areas with glass mosaic without a worry. Simply share your color, finish and design preferences and let MEC take care of the rest.
Mosaics on Inner & Outer Domes (concave/convex)
Domes are a little more tricky than simple curved surfaces when it comes to being clad with mosaic tiles. Each dome structure is different and many things need to be kept into considerations and calculation when designing a mosaic tile pattern for a dome. Here at MEC, we prepare an intricate and precise three-dimensional render of the dome before designing the custom mosaic. The design and installation process requires a lot of care and attention.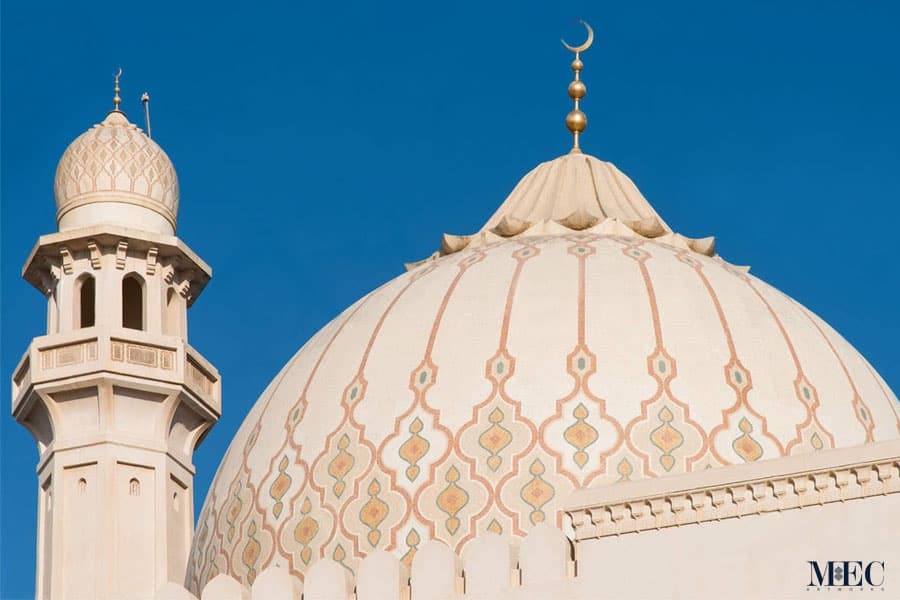 MEC's ever-growing diverse portfolio of dome projects is unsurpassed by any other mosaic producer in the world. Our mosaic designs have been selected to adorn 3,500+ domes around the world.
Other Three Dimensional Surfaces
MEC's capabilities of cladding 3D surfaces with mosaic tile is not limited to curved walls, domes and columns. Think of a more complex 3-D structure or sculpture, we can adorn it with mosaic. From simple handmade planters to abstract sculptures we have a system and expertise to design and install mosaic tiles on a wide range of complex surfaces and we do love a challenge!
Here is a sculpture we cladded with 24k gold-foiled Oro glass tiles for a client in the Middle East.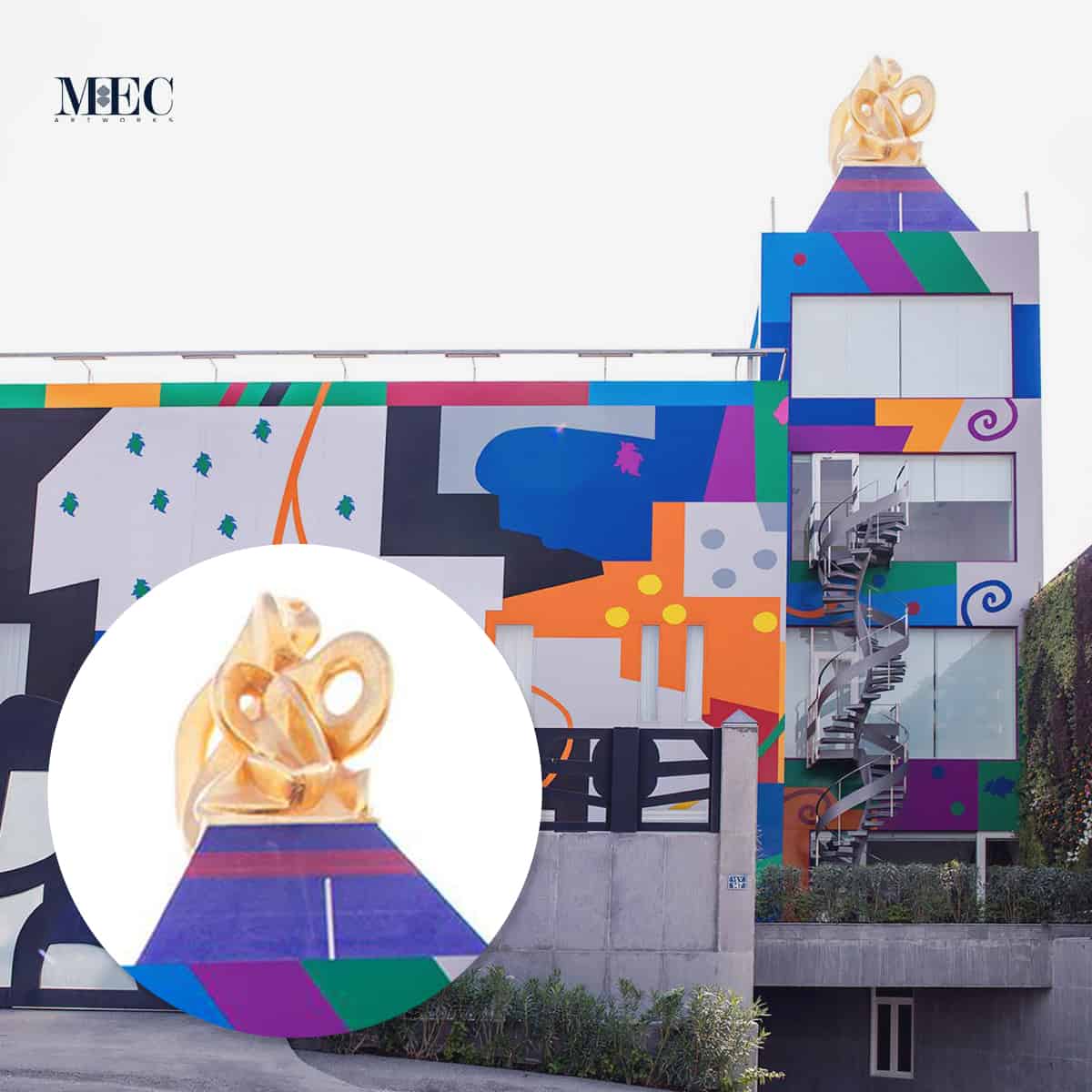 Get in touch with us today for free design consultation and mosaic renders. We ship worldwide.
Conclusion
In conclusion, 3D mosaic tiles offer a captivating and innovative way to elevate your space into a realm of artistic brilliance. With their mesmerizing designs, depth, and textures, these tiles transform ordinary surfaces into extraordinary works of art. Whether you're looking to create a focal point on a feature wall, add dimension to your floors, or enhance your countertops, 3D mosaic tiles provide unparalleled design flexibility. With their durability, craftsmanship, and commitment to sustainability, these tiles ensure that your investment in beauty will withstand the test of time. Explore the possibilities with 3D mosaic tiles from MEC, and let your space become a canvas for artistic expression and enchantment.
How are 3D mosaic tiles different from traditional flat mosaics?
Unlike traditional flat mosaics, 3D mosaic tiles incorporate depth and dimension, creating visually captivating illusions and textures that enhance the overall aesthetics of the space.
Can mosaics be installed on curved walls?
Yes, mosaics can be installed on curved walls. With proper techniques and materials, they can conform to the curve and create a stunning visual effect.
Do 3D mosaic tiles require additional maintenance compared to regular tiles?
While 3D mosaic tiles do not require extensive additional maintenance, it is important to clean and maintain them regularly to preserve their beauty and longevity.
Can I use the same mosaics for both flat and curved surfaces?
Yes, you can use the same mosaics for both flat and curved surfaces. However, you may need to adjust the installation technique to accommodate the curvature.
Do mosaics on curved walls require special adhesives?
It is recommended to use flexible adhesives specifically designed for mosaics on curved walls. These adhesives provide the necessary flexibility to adhere to the curved surface.
Can grout be applied to mosaics on curved walls?
Yes, grout can be applied to mosaics on curved walls. However, it is essential to use a flexible grout that can accommodate any slight movement or expansion.
Can I create intricate designs with mosaics on curved walls?
Absolutely! Mosaics on curved walls offer endless design possibilities. The flexibility of mosaics allows for intricate patterns and captivating visual effects on curved surfaces.
Can mosaics on curved walls be easily removed or replaced?
Mosaics on curved walls can be removed and replaced; however, the process may be more intricate compared to flat surfaces. Professional assistance is recommended for such tasks.