Black & White Custom Mosaic Tiles – Bold, Striking & Timeless
Show your love for monochrome with these black & white mosaics. From abstract art, to grayscale floral patterns to photos-turned-to-mosaics, there is something for every taste.
Table of Contents
Some might see black & white as an absence of colors but it could be one of the most powerful combinations in design and photography. It is a perfect contrast that draws attention to elements such as texture, shapes, shadow & highlight and other details that usually tend to go overlooked and underappreciated with colorful designs.
Black & white monochrome exudes elegance, luxury and a timeless charm. It can range from being sophisticated & formal to adding fun & whimsy depending how it is used. No wonder it has been a favorite for architects, designers, and stylists for decades – and it is not going out of style any time soon.
Looking for ways to incorporate timeless monochrome chic to your living space? Lucky for you that is precisely what we are focusing on today! Stay tuned for some stunning black and white design ideas and inspirations – but first let us talk about why black & white mosaics are so awesome!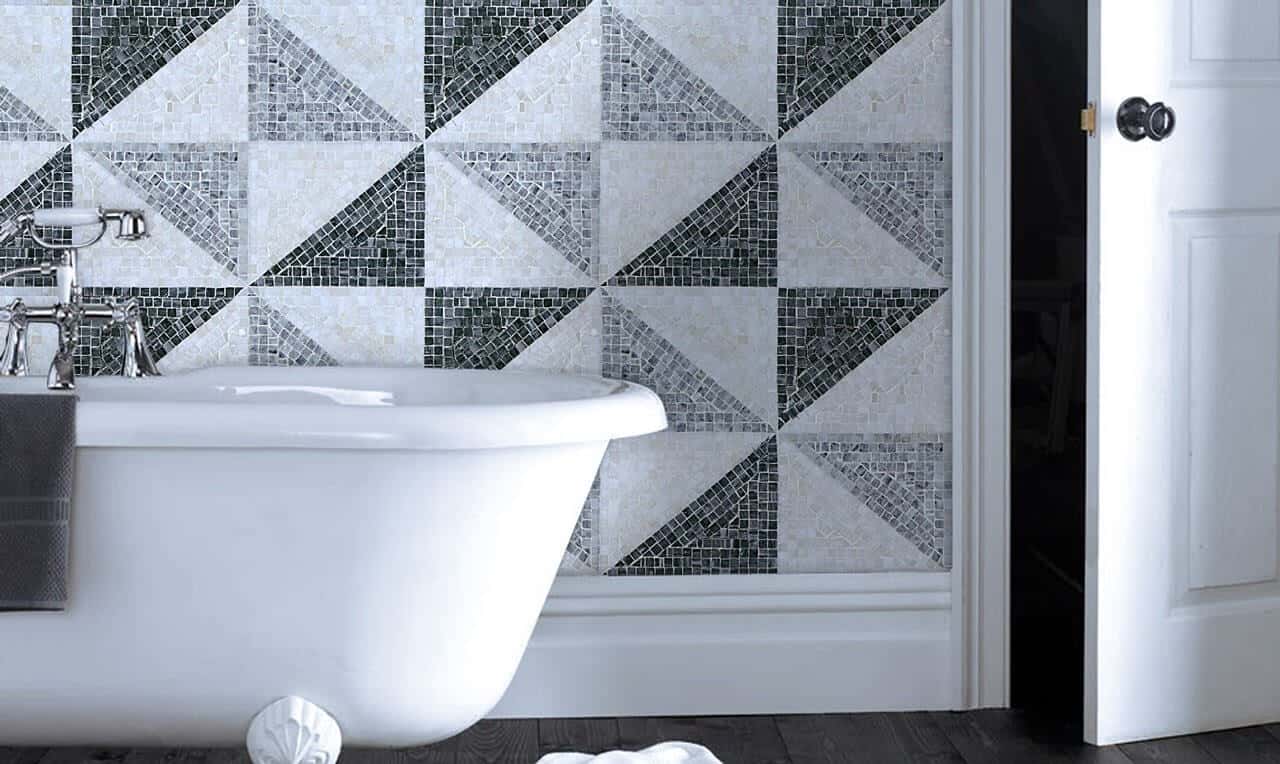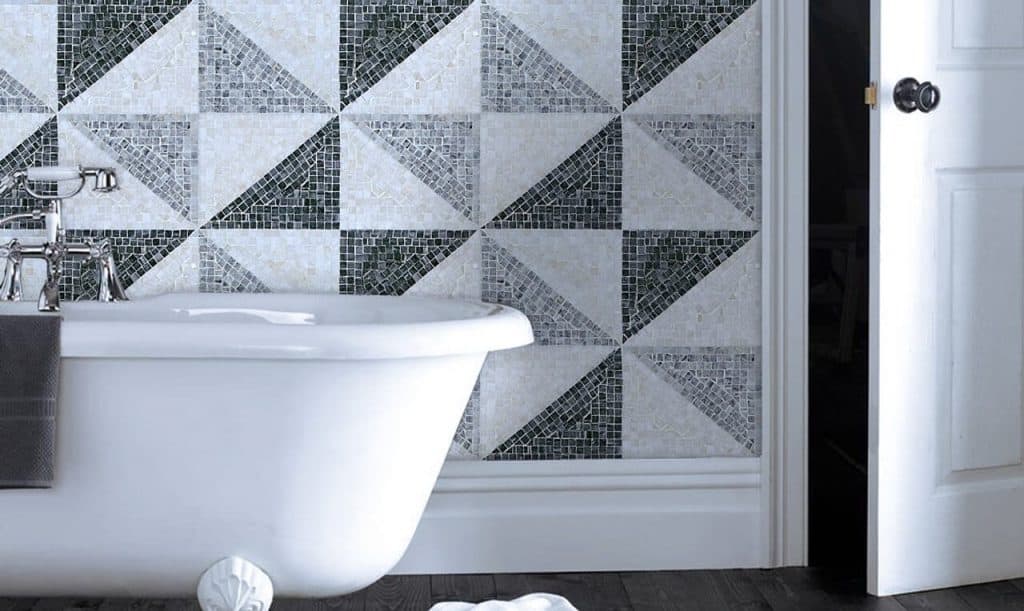 Mosaic Monochrome Chic for Interiors
This color duo tends to compliment any design style – classical, contemporary, eclectic, minimalist, rustic – you name it! There is room (get it?) for black and white in every space. In fact, adding a touch of black to every room is recommended, head over to the Apartment Therapy article to read more. And what goes better with black than the perfect contrast and opposite – white! Of course there are other contenders like gold/brass, ivory, wood among other colors but the charm of the classic black and white combination is undeniable.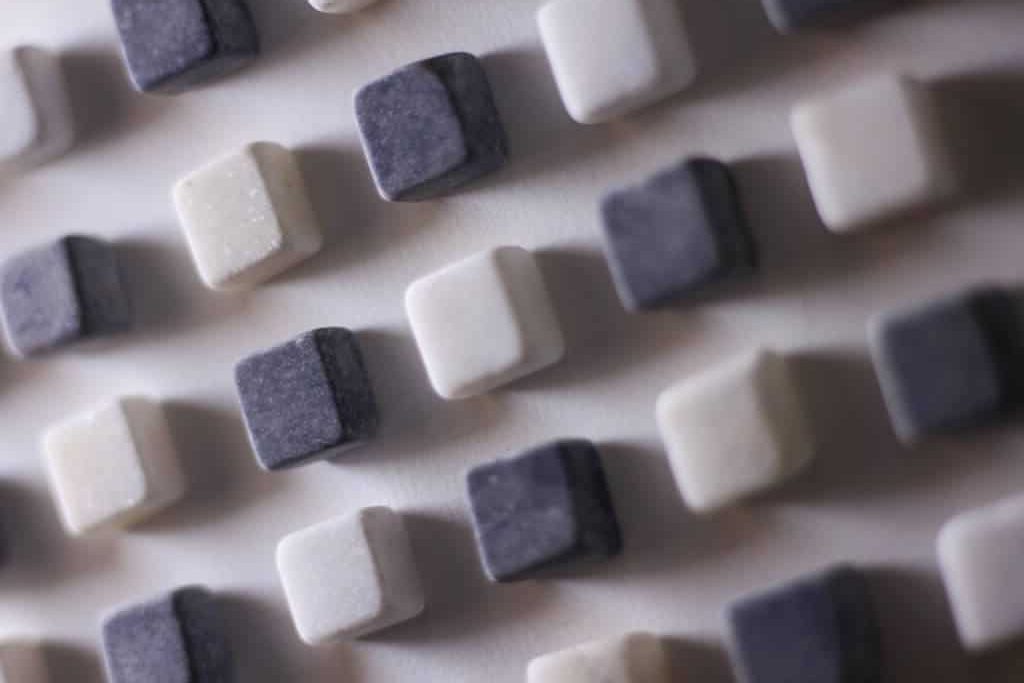 Not only is black & white decor perfect for spaces with neutral color themes, it fits in with just about any color theme. For instance, in an otherwise colorful interior a black and white mural would make a powerful statement. There is something about this monochrome combo which makes it evergreen.
Aesthetic Black & White Mosaic Art for Your Space
Buckle up and let us take you on a fun little tour of black and white mosaic tile art. You will be fascinated by the variety and level of detail that can be achieved even with a limited color palette.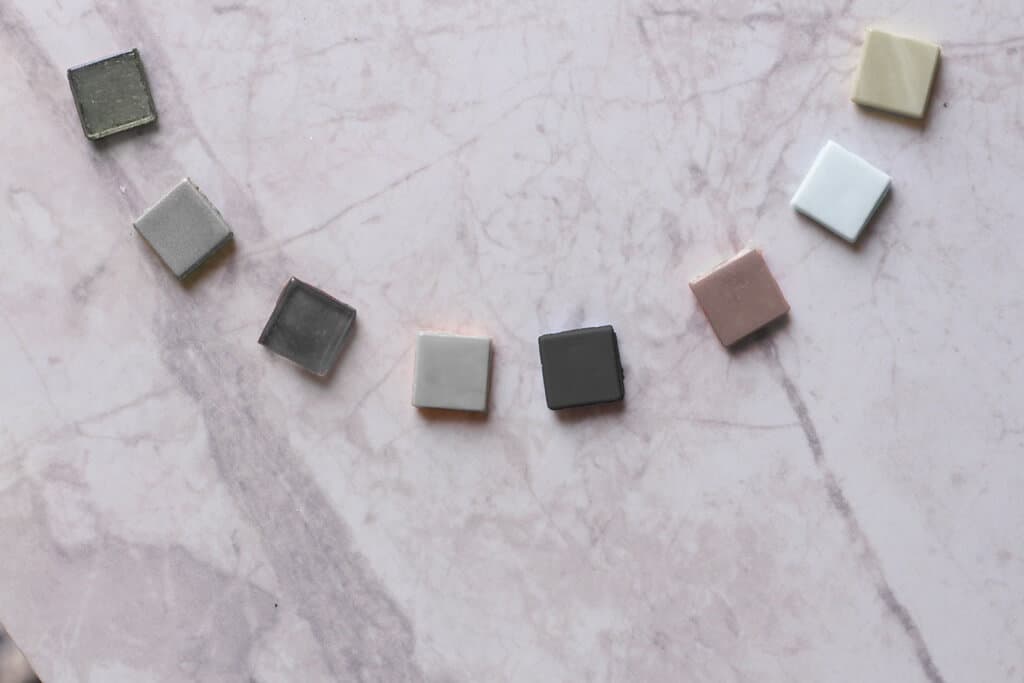 (Some of the designs are not purely black and white and might have some shades of beige or ivory. Some designs share metallic accents like brushed brass.)
Grayscale Abstract Mosaic
From crisp geometric abstract patterns with only 2 colors to stunning and almost photo realistic abstract mosaic designs with several shades of gray – there is a whole world of possibilities. Have a look at some of the best-selling monochrome custom mosaic wall art designs by MEC: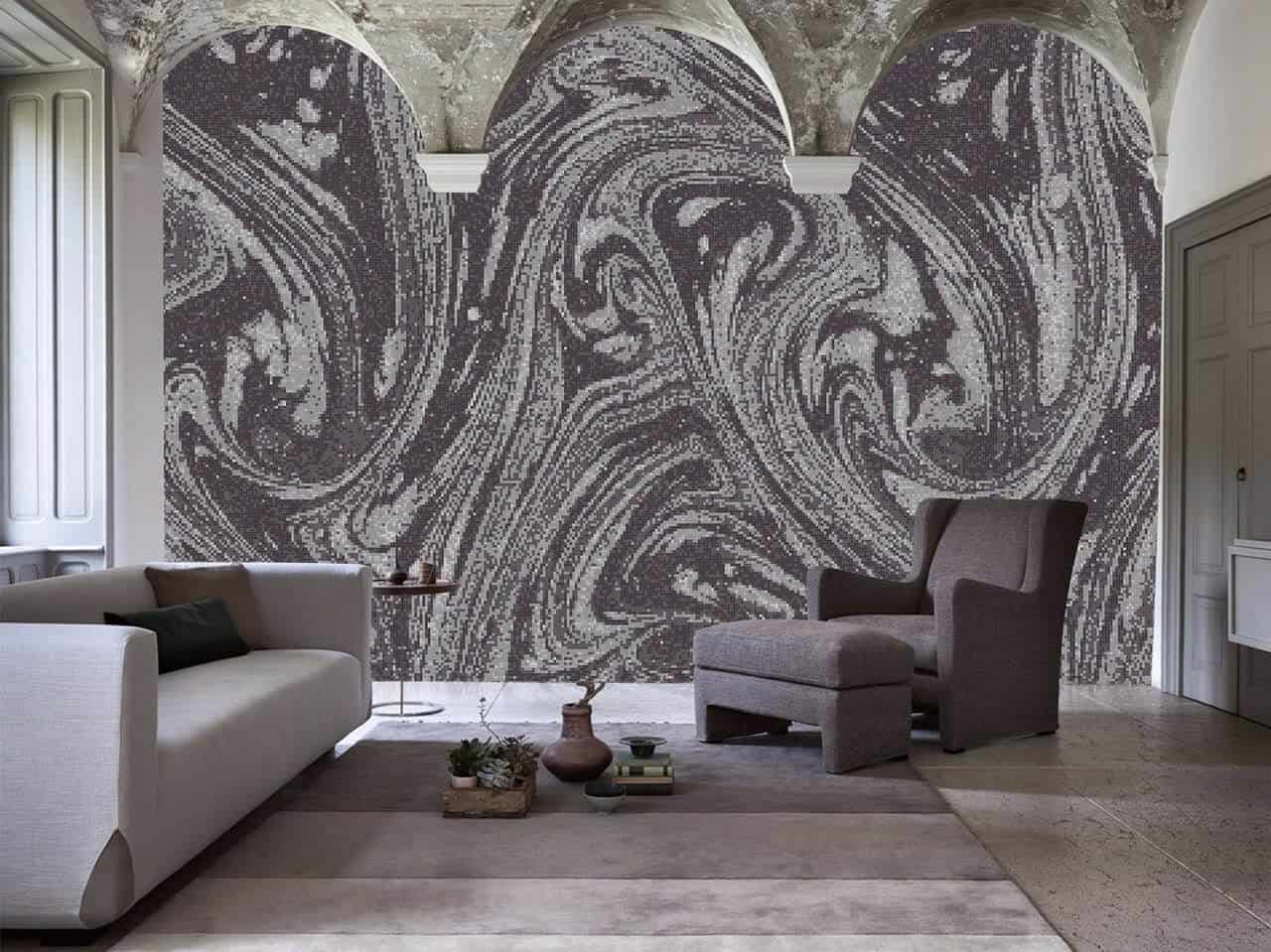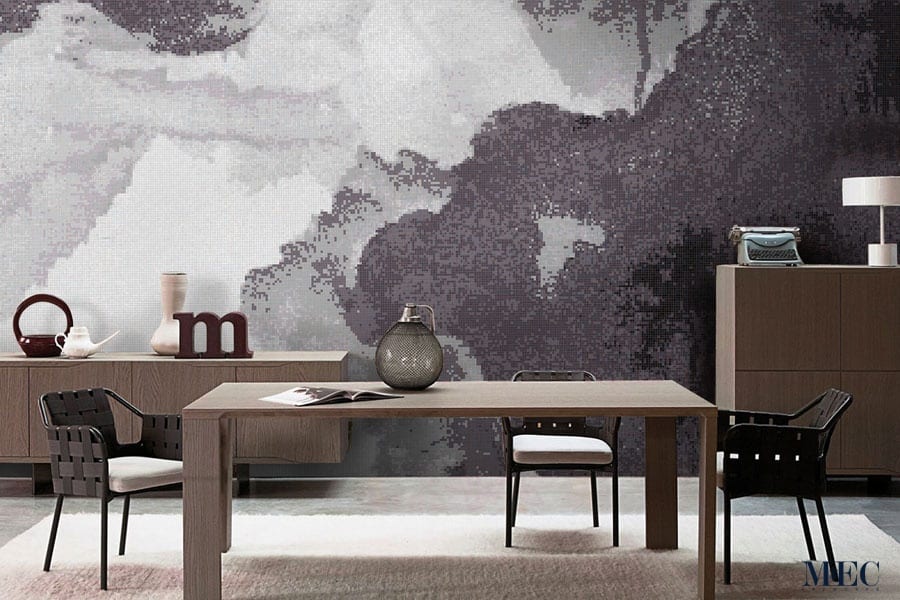 Abstract mosaic makes for show stopping accent walls.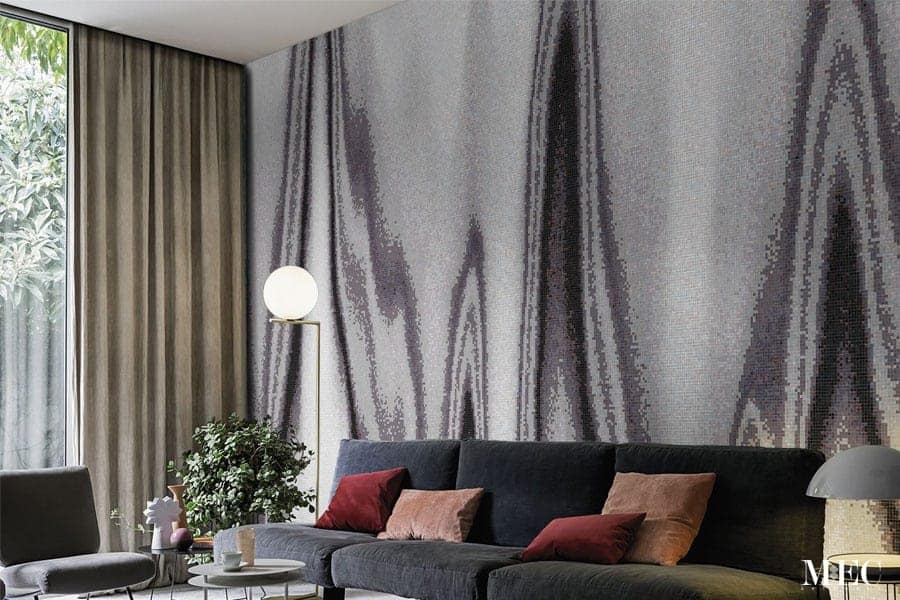 See anything you like? Lucky for you, MEC's PIXL ranges have a grayscale version of every design! Got a design concept of your own? Let us help you with that perfect pièce de résistance.
Florals Sans Colors Mosaic Tile Art
Floral designs without colors? How would that even work, you might be wondering. It would be easier to show with photos than to explain in words. So here you go, feast your eyes on some botanical mosaic marvels: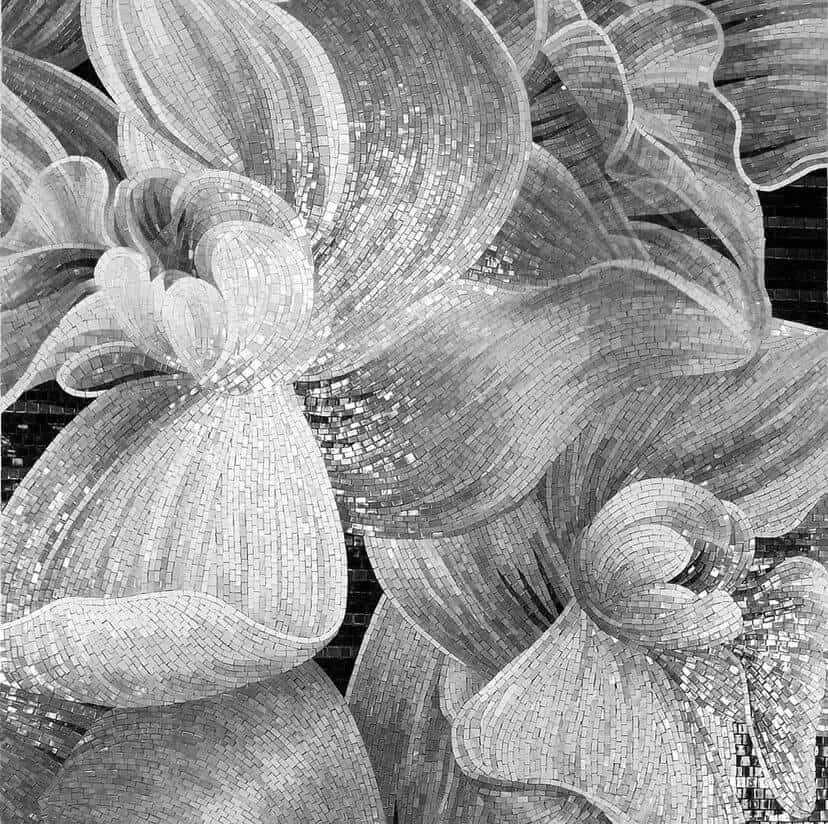 Impressive, isn't it? Do you see how monochrome mosaic art not only preserves but even accentuates the delicate beauty of flowers. Choose a flower mosaic art mural to suit your style and preferences. It could be as simple or intricate as you wish. Can't find the perfect floral mosaic design? We will convert one of our popular designs to grayscale for you or you can have one custom made from scratch!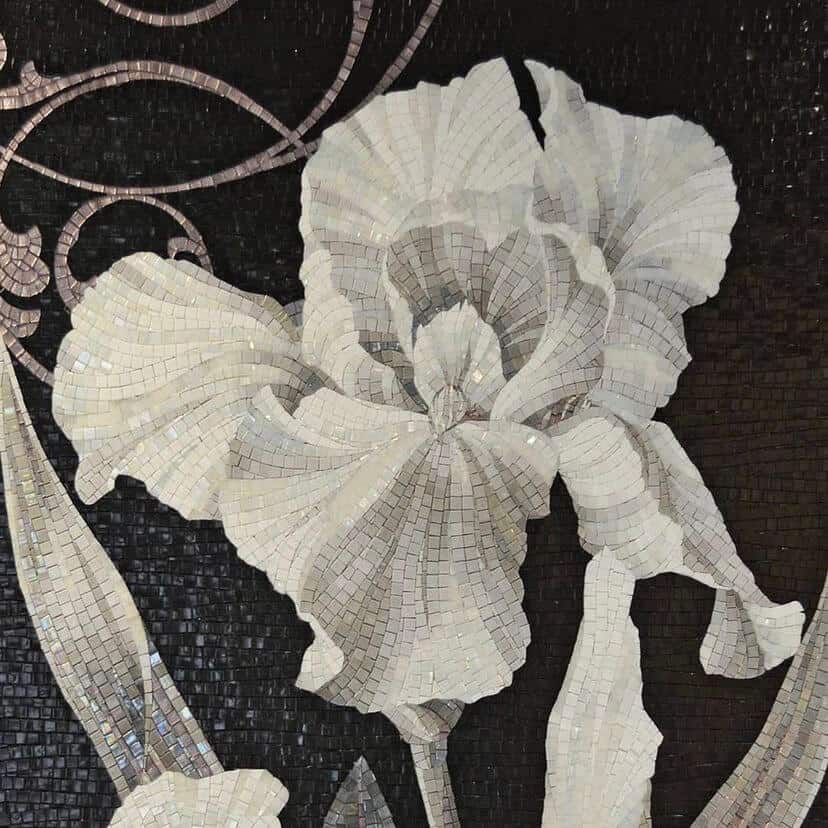 Love black and white mosaic but still crave some color? You can achieve that in two wonderful ways. Don't be afraid to add a single bright color with your black and white tile art, that is one creative solution for adding that brilliant pop of color. Other than that, you can consider introducing glass mosaic tiles with an iridescent finish. Neutral colored tiles from opalescent mosaic ranges let you enjoy a spectrum of colors. Technically, you get these colors without any added pigments all thanks to the iridescent film on top, how fun is that!
Monochrome Photography Mosaic
The first successful photo that has survived to this day was taken back in 1826 by a French inventor. Monochrome black and white or sepia photographs were the only option in photography for decades due to technological limitations. Photography and tech have come a long way since that time yet black and photography is far from extinct. What makes it so popular? How has it withstood the test of time?
Nostalgia is one obvious reason but it is not the only one. Stripped of colors, a black and white photograph gives you no option but to appreciate beauty in form, texture, contrast, light and shadow. When shot well, they can have a powerful impact.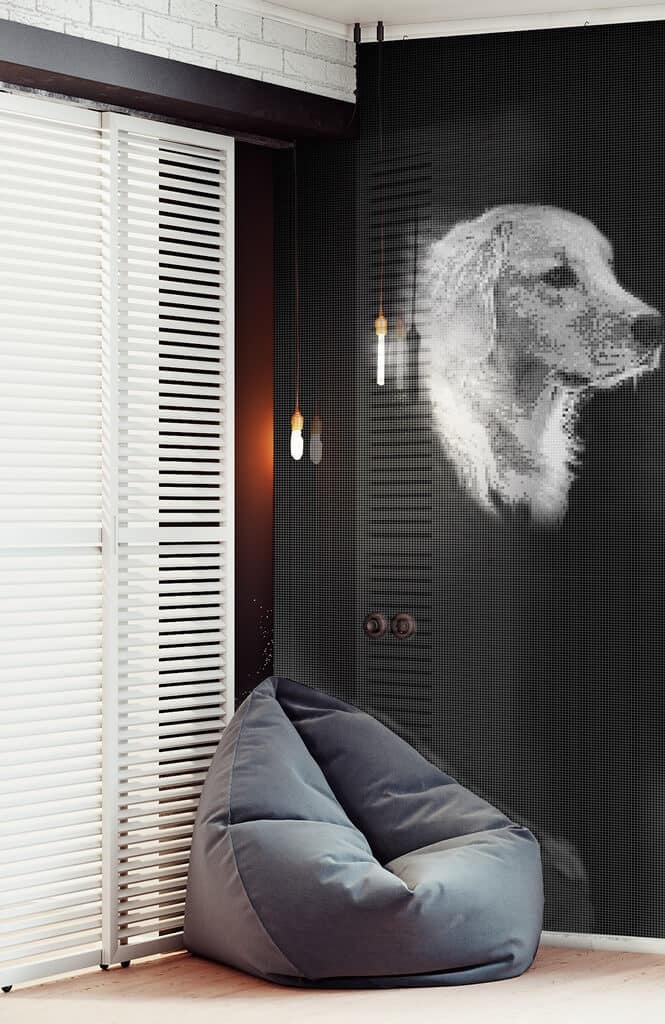 You can have your old photographs transformed into an impressive glass mosaic wall. We can also create some stunning grayscale mosaics for you based on colored photos and portraits.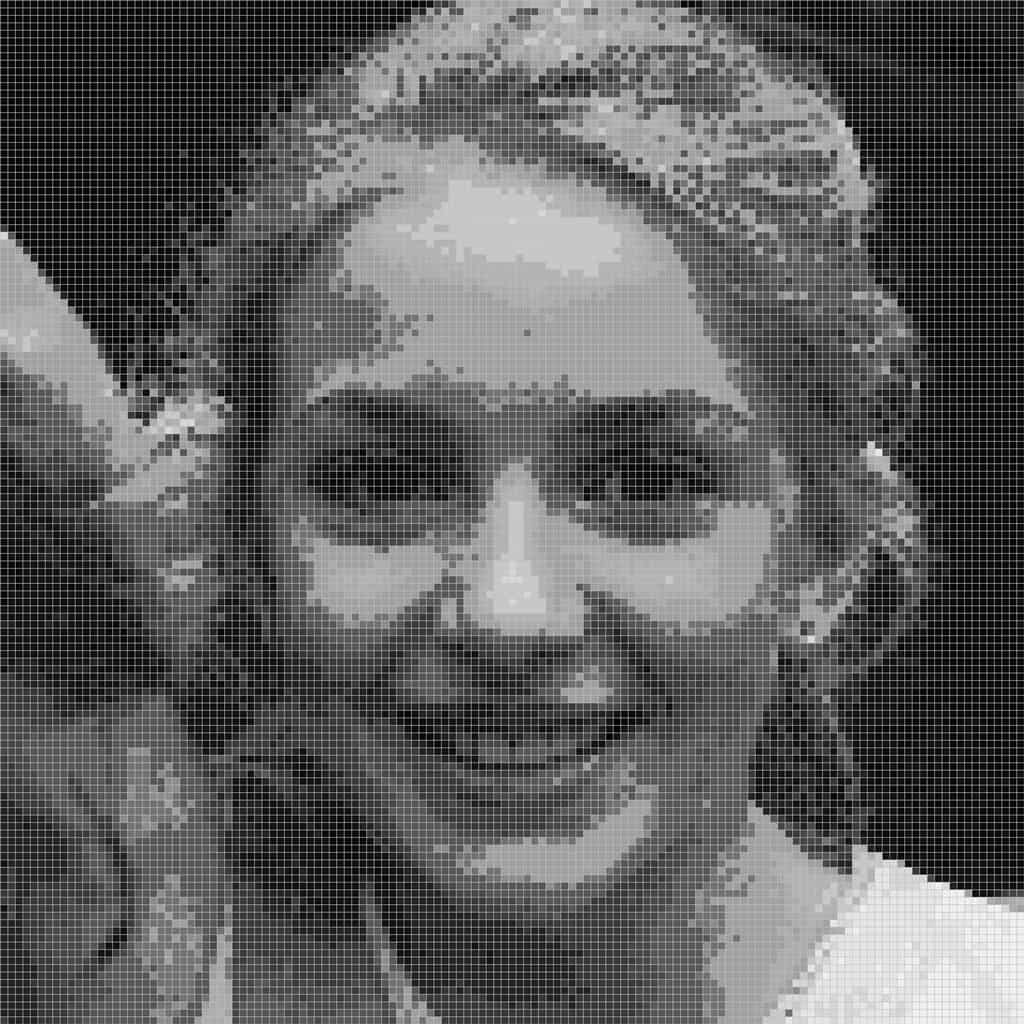 Black & White Swimming Pool Mosaic Designs
Do you love black & white enough to fully immerse yourself in it? Here is a black mosaic swimming pool featuring white glass mosaic flowers: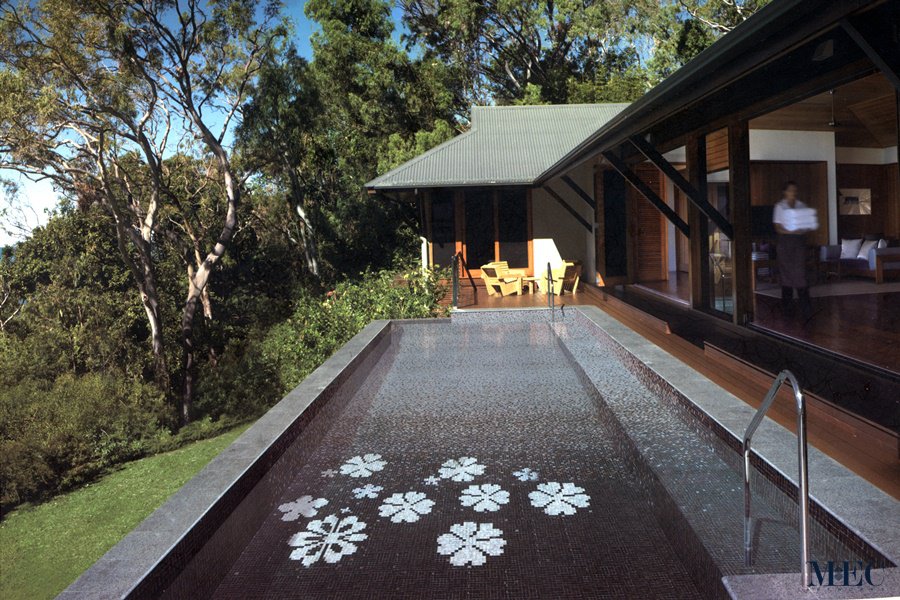 Dichromatic Animal Prints
Did you really think we would do a black and white mosaic list without a mosaic Zebra Print?
Duotone Painting Mosaic Art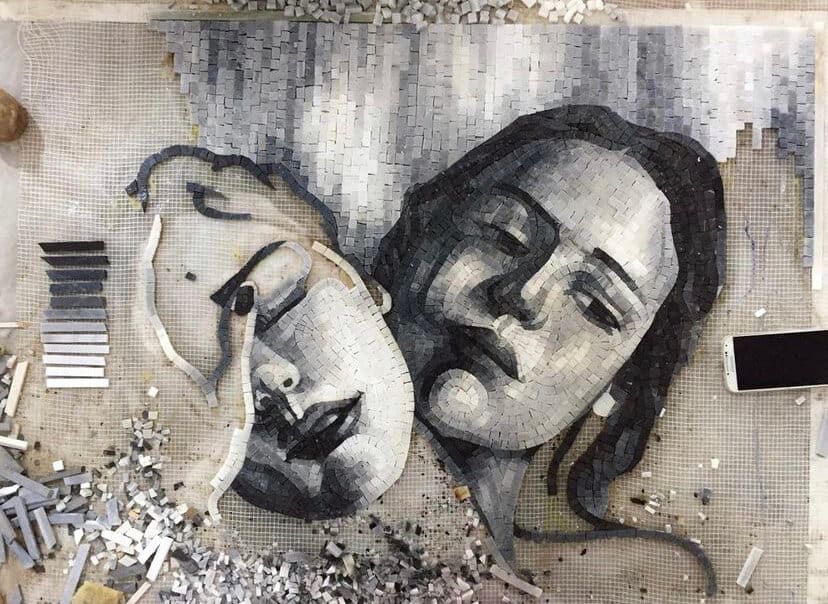 Get creative and introduce a grayscale version of one of your favorite art pieces to your room. It can be hand-cut, it can be on a grid like pixels on a screen. Imagine a pixelated mosaic tile rendition of a famous painting – now that would be a conversation starter!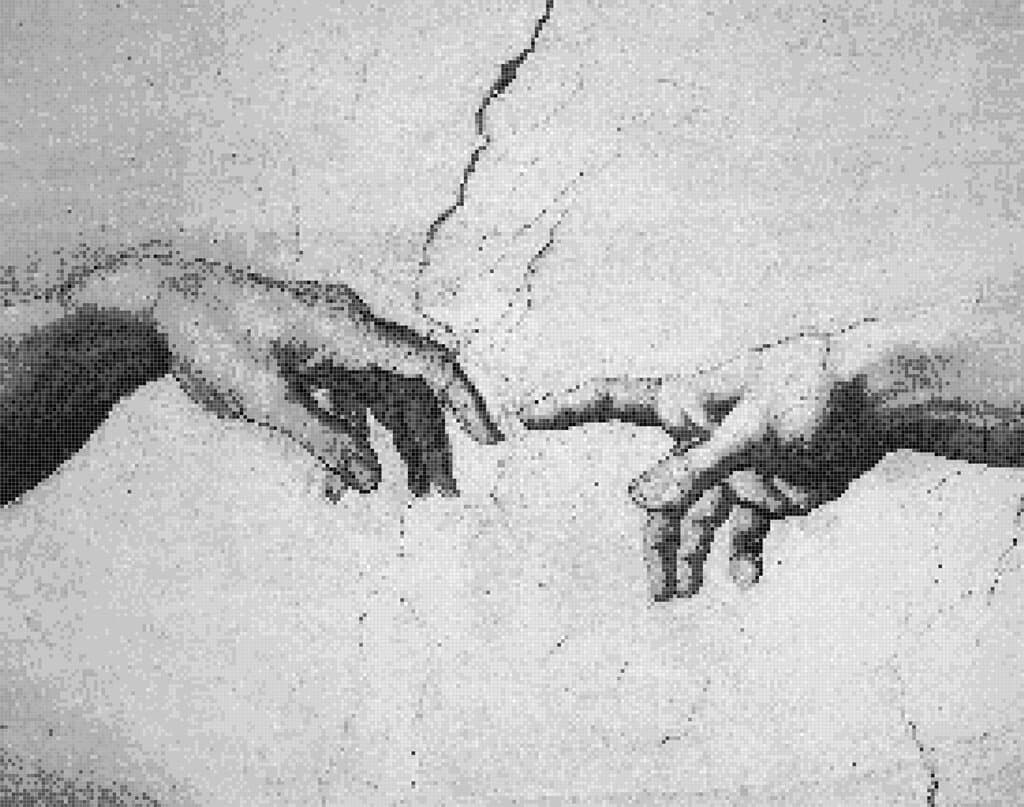 How about an original design converted into a black and white mosaic mural? A lot of ancient Greek mosaics are monochrome. Mainly because they were made with natural marble stone and there was a limited palette. The detail in those mosaics were impressive. Imagine what can be achieved with a wider color range and mosaic technology.
Black & White Marble Floor Tile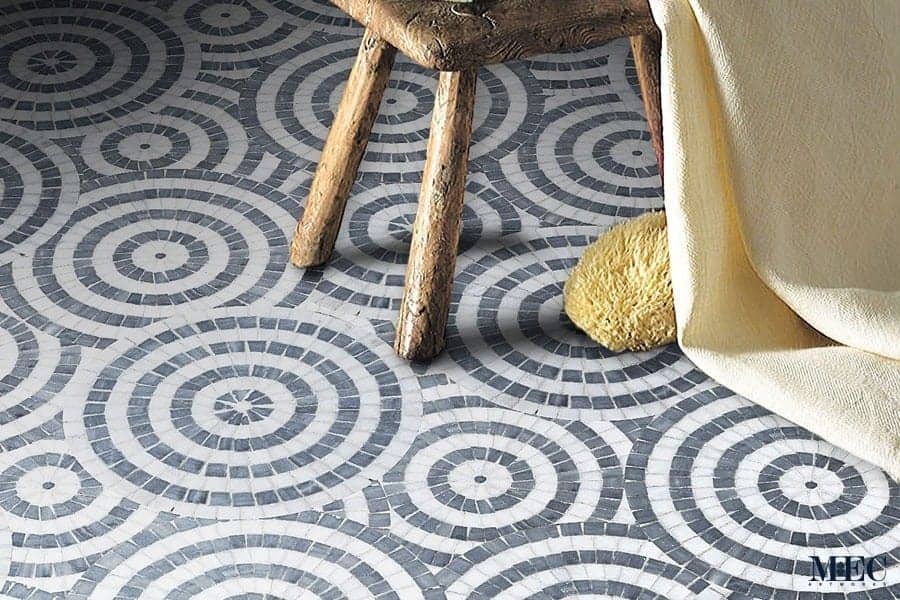 This marble stone color combination has been a timeless classic. Take black and white marble flooring up a notch with handmade mosaics. From neat and crisp two-colored patterns to more intricate and soft grayscale marble mosaic – the options are many. Here are some of our favorite ornamental mosaic floor tile patterns to get you inspired: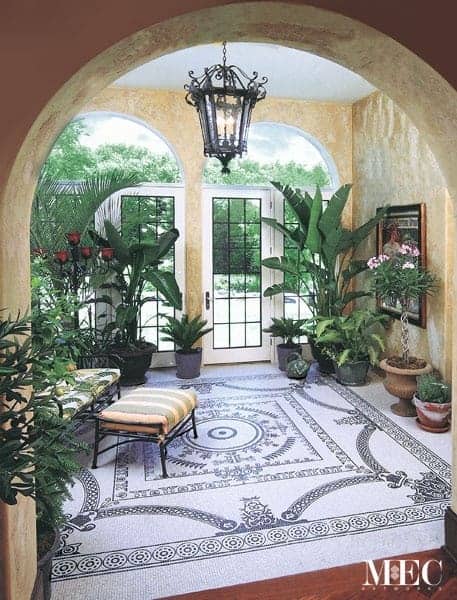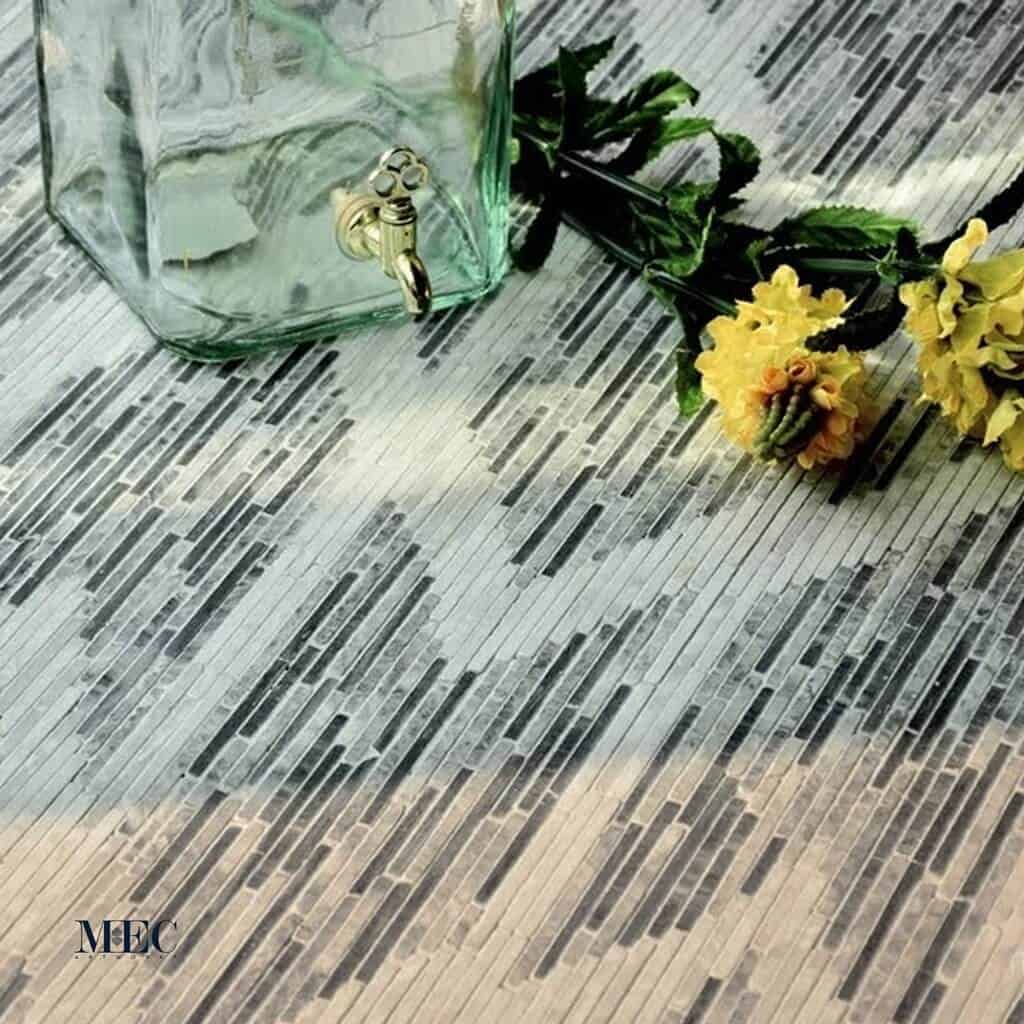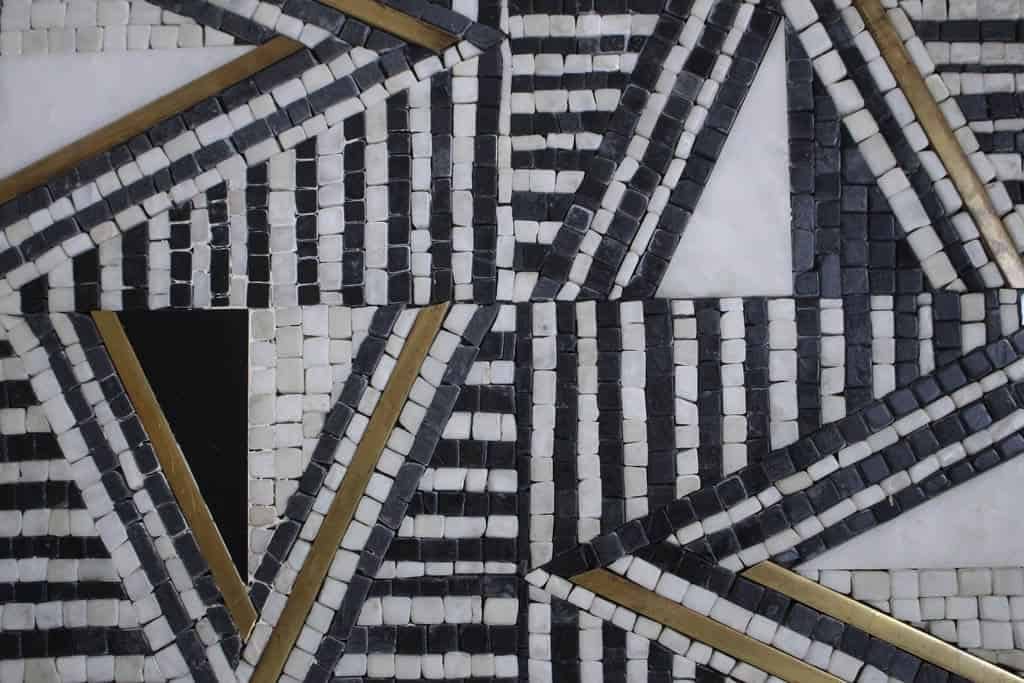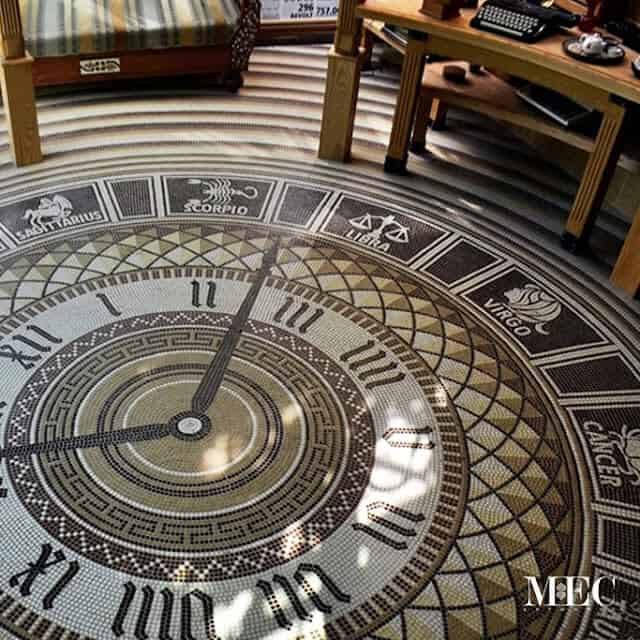 Bookmark this article for later. Use it as a look-book for black and white mosaic inspiration for your upcoming projects!
BONUS CONTENT: Look for more out-of-the-box ideas to incorporate tiles in your interior? Head over to the Redfin blog for unique tips given by tile experts from around the world! See if you can spot where MEC is mentioned: https://www.redfin.com/blog/unique-tile-ideas/
FAQs
How can black and white mosaic tile artwork enhance my space?
Black and white mosaic tile artwork can add elegance, sophistication, and a timeless appeal to any space. It creates a striking visual contrast, adds texture, and brings a sense of harmony to the overall design.
Where can black and white mosaic tile artwork be installed?
Black and white mosaic tile artwork can be installed in various areas, including walls, floors, backsplashes, showers, pools, and even outdoor spaces. Its versatility allows it to complement any room or setting.
How do black and white mosaic tile artworks fit into modern interior design?
Black and white mosaic tile artworks provide a sleek and contemporary touch to modern interior design. They can be used as focal points or accent pieces, adding visual interest and depth to the overall space.
Can black and white mosaic tile artworks be used in small rooms?
Yes, black and white mosaic tile artworks can be a great choice for small rooms. The contrasting colors can create an illusion of depth and make the space appear larger, while the intricate designs add visual intrigue.
How can I choose the right black and white mosaic tile artwork for my space?
When selecting a black and white mosaic tile artwork, consider factors such as the size and layout of the area, the overall design theme, and your personal style preferences. Our team at MEC can guide you in choosing the perfect artwork to complement your space.
How do I get started with ordering a custom black and white mosaic tile artwork?
To get started with ordering a custom black and white mosaic tile artwork, simply reach out to our team at MEC. We will discuss your design ideas, provide recommendations, and guide you through the process of creating a unique mosaic artwork for your walls or floors.