You have decided to go the custom mosaic route for your swimming pool tile finishing. Brilliant! The possibilities are endless. So, where does one start? How to choose the right custom mosaic pool design. How can one decide on the perfect color palette and pattern? We have rounded up some of the best tips and vital considerations that go into the pool mosaic selection process.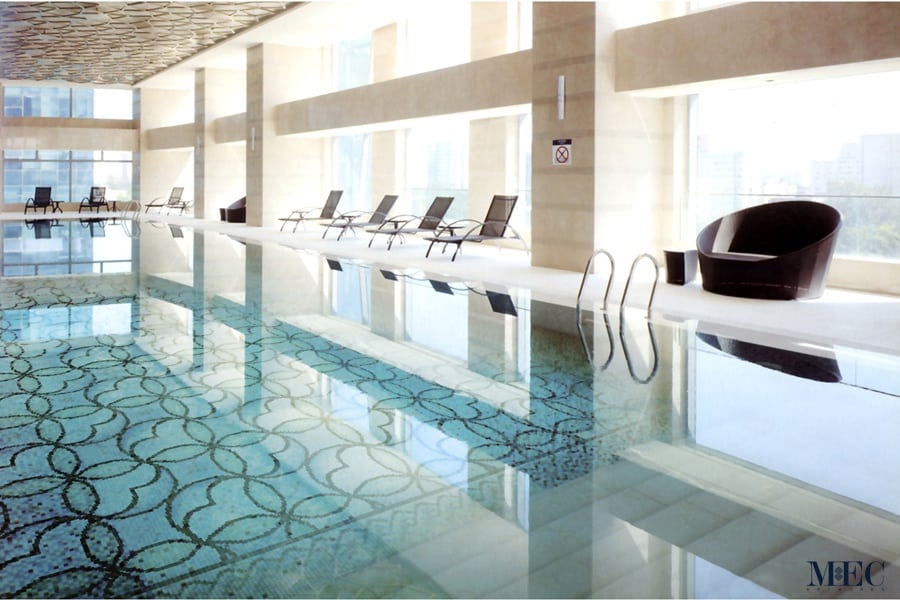 Welcome to our comprehensive guide on how to choose the perfect pool mosaic for your swimming pool. At MEC, we understand the importance of a stunning and visually appealing pool design that enhances your outdoor space. A pool mosaic can add a touch of elegance, style, and personalization to your pool, making it a focal point of admiration and enjoyment for you and your guests. In this article, we will provide you with expert advice and valuable tips to help you make an informed decision when selecting a pool mosaic that suits your preferences and complements your pool design.
Identify the pool area you want to cover with mosaic tile
Set a budget
Consult your landscape designer or architect (optional)
Consider the architecture and surrounding area
Pick the tile material (keep durability, safety & design versatility in mind)
Compare different pool tile design types
Choose the color palette
Ask for renderings and samples
Finalize your decision and place an order
In this article, you will find everything you need to know to make a confident pool mosaic design & color palette decision.
Table of Contents
Benefits of Custom Pool Mosaic Designs: An Overview
Glass tile custom pool mosaics are not only aesthetic, they are practical as well. Thereby, making it an excellent addition to your outdoor lounge or natatorium. You can ensure the longevity of your pool mosaics by getting them installed professionally.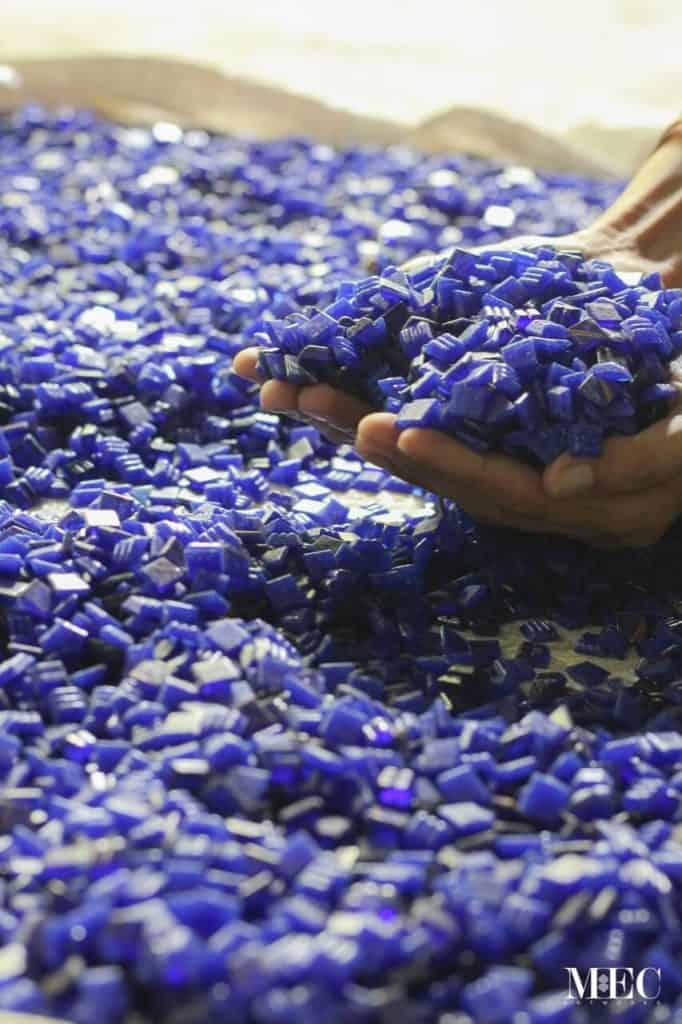 When tile contractors use the right installation techniques and materials – your custom pool can last you for decades.
Importance of Choosing The Right Pool Mosaic Tile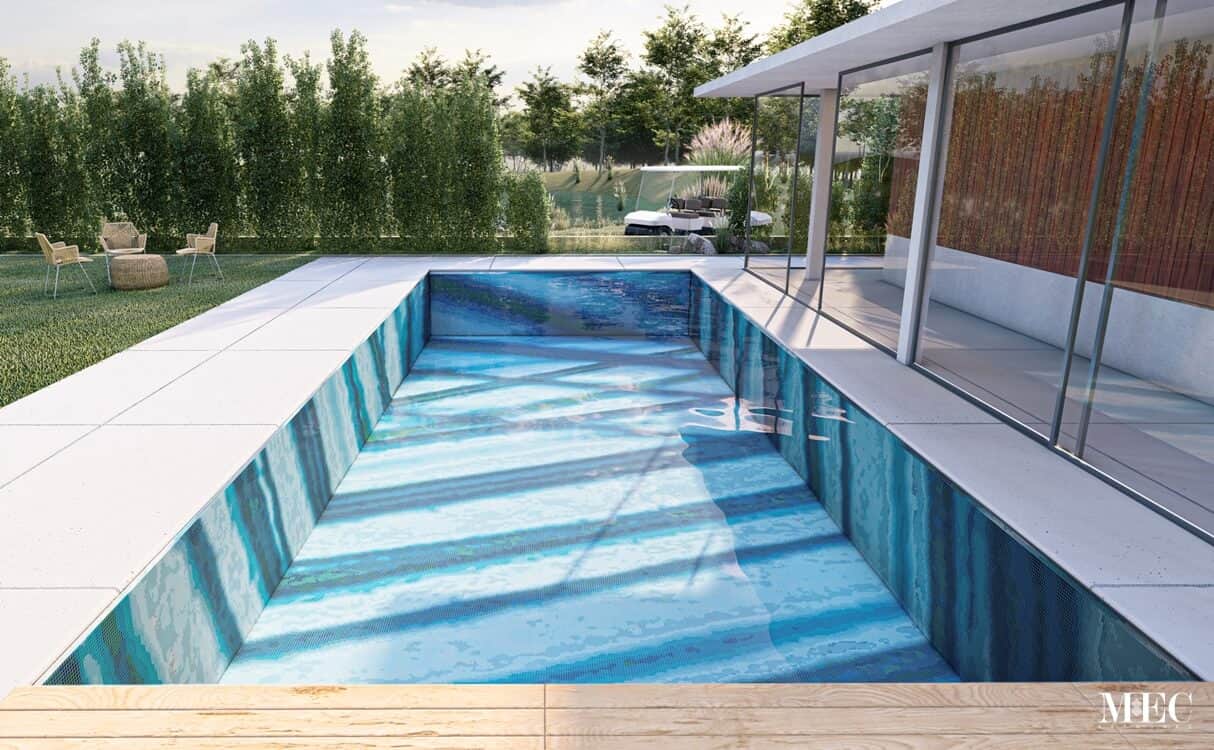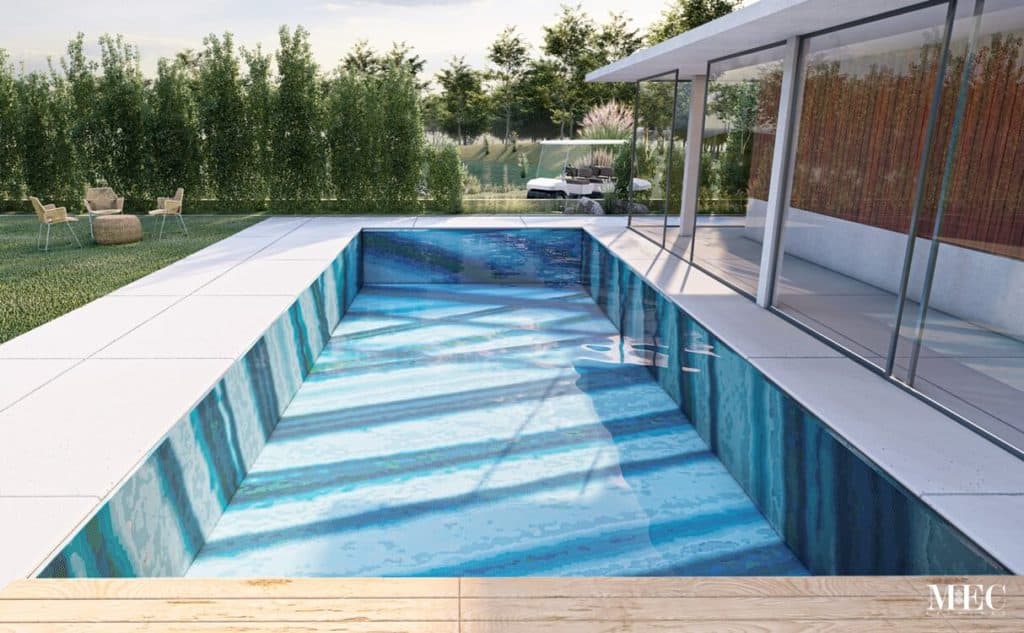 It is crucial to choose the right pool mosaic to really elevate the style quotient of your swimming pool area.  On the custom design route, the options are endless. However, picking a pool mosaic that fits wonderfully into your space can make or break your overall design. 
For those seeking a tropical ambiance, vibrant blue hues are an excellent choice. These shades emulate the color of the ocean and create a refreshing and invigorating feel. They work particularly well with lush green surroundings and can transport you to a tropical paradise right in your backyard.
Some factors to consider while picking a custom pool mosaic design are; the design and architectural style of the space, the size, and shape of the pool, lighting, and placement.
Factors to Consider When Choosing a Pool Mosaic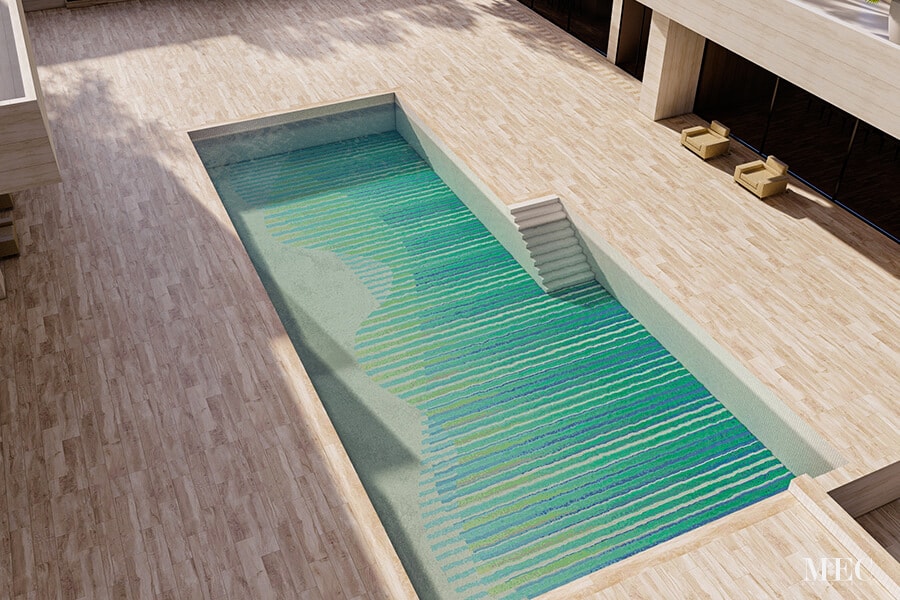 Some of the most vital factors to consider while picking the pool mosaic are; swimming pool shape, size & location, project budget, style, and architecture of the house. The surroundings and environment of the water body should be kept in mind when deciding on the pool mosaic.
When answering the question "How to Choose a Pool Mosaic", here are some of the most vital factors to consider:
Design and Theme
When choosing a pool mosaic, it's essential to consider the overall design and theme of your pool area. Are you looking for a traditional, contemporary, or modern design? Do you prefer nature-inspired motifs, geometric patterns, or abstract art? Take some time to envision the desired aesthetic and ambiance you want to create. This will help you narrow down your options and find a pool mosaic that aligns with your vision.
Pool Size and Shape 
If your swimming pool is unique in terms of shape and size, it needs a custom mosaic design. Curious about what patterns, designs, and color palettes can help you bring out the best in your pool? Share the measurement of your swimming pool with a MEC design consultant to receive personalized pool mosaic ideas and recommendations. 
Color Palette
Colors play a crucial role in the visual impact of your pool mosaic. Consider the colors already present in your pool area, such as the pool tiles, deck, and surrounding landscape. Choose colors that harmonize with the existing elements and create a cohesive and pleasing look. Alternatively, you can opt for contrasting colors to make the mosaic stand out as a focal point. Remember to consider the effect of sunlight on the colors and how they may change throughout the day.
Choosing a pool mosaic design option
Some important considerations when selecting a pool mosaic design. Here are some good questions you can think about to get started. Do you want it to make the space look bigger or wider? Should the mosaic pool designs be modern, eclectic, minimalist, retro, or opulent?
a) Horizontal, Vertical & Diagonal Lines in choosing pool mosaic design
Lines can transform a space. They can have visual and emotional impacts. Architects, Interior designers, landscape planners, and artists use lines creatively to set perspective and change how a space appears. Vertical lines can be used to accentuate the height or length of walls and pools respectively. Horizontal ones make a space look wider. The width of the line itself, the color palette, and the texture can impact the design. Let us demonstrate that with images:
Abstract mosaic pool design featuring crisscrossing diagonal lines. The pattern gives the pool a broader look, making the space look bigger. The pattern is exciting and features movement – creating momentum. The bold and happening pool mosaic draws the viewer's eye across the pool.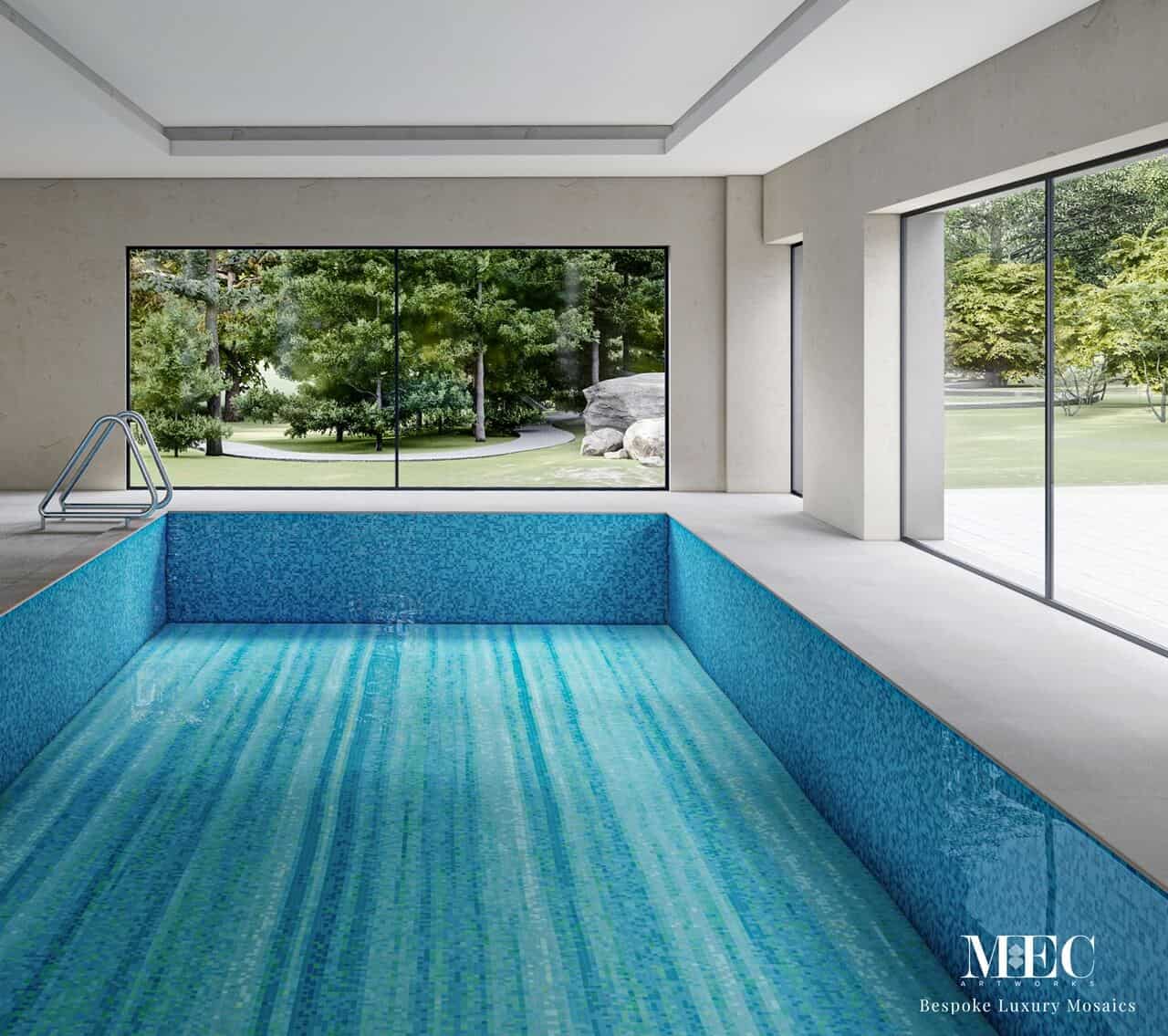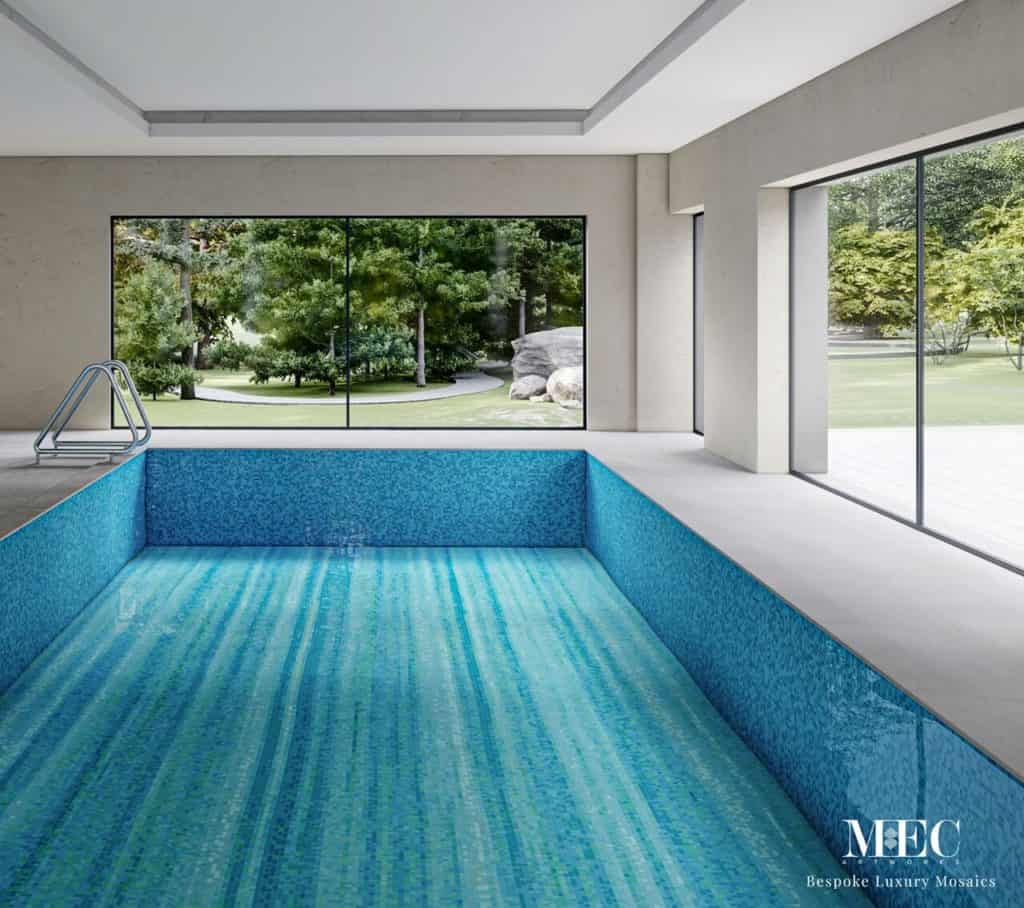 Straight lines make a space look longer, i.e. bigger length-wise. This linear abstract pattern itself is subtle. It can help bring a tranquil, serene vibe to the pool area.
b) The Design Orientation Can Make a Difference for your pool
The same mosaic pool designs can look different when installed in different locations. The reason behind it is that each pool and space is unique. Furthermore the size of the pool, design of the space, and lighting. Let us have a look at some 3D renders featuring similar abstract mosaic pool tile ideas in different spaces: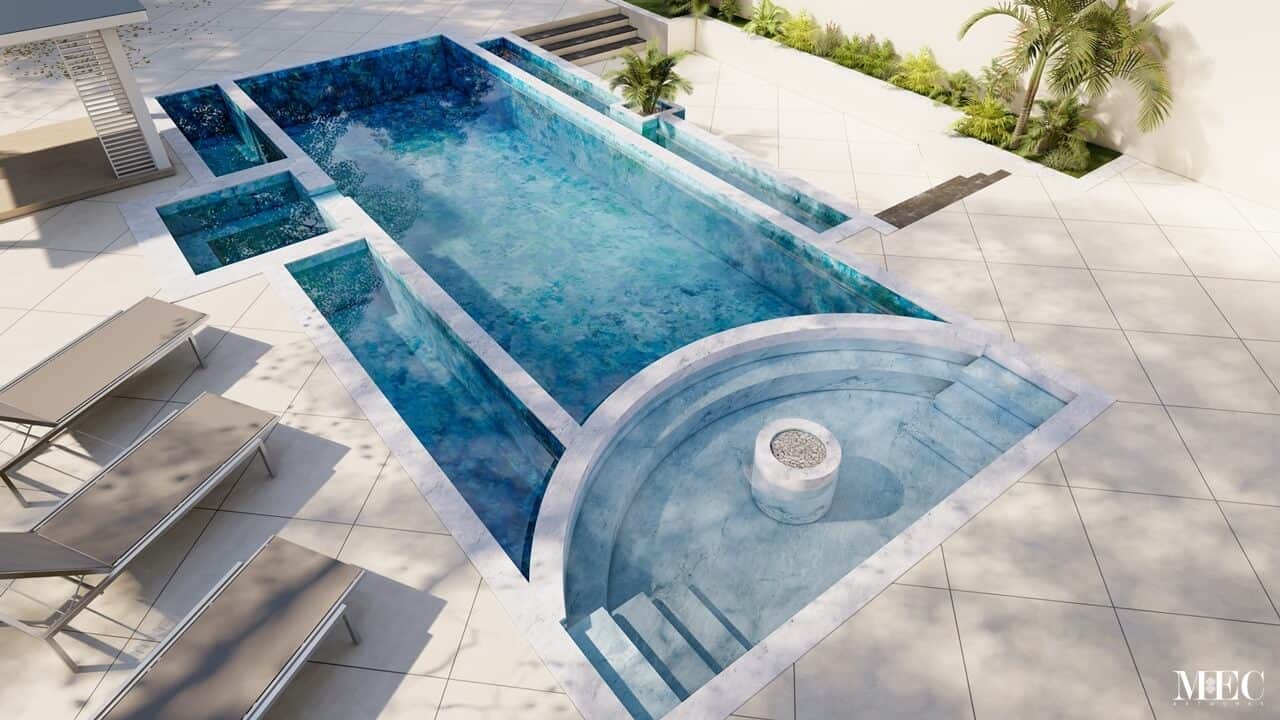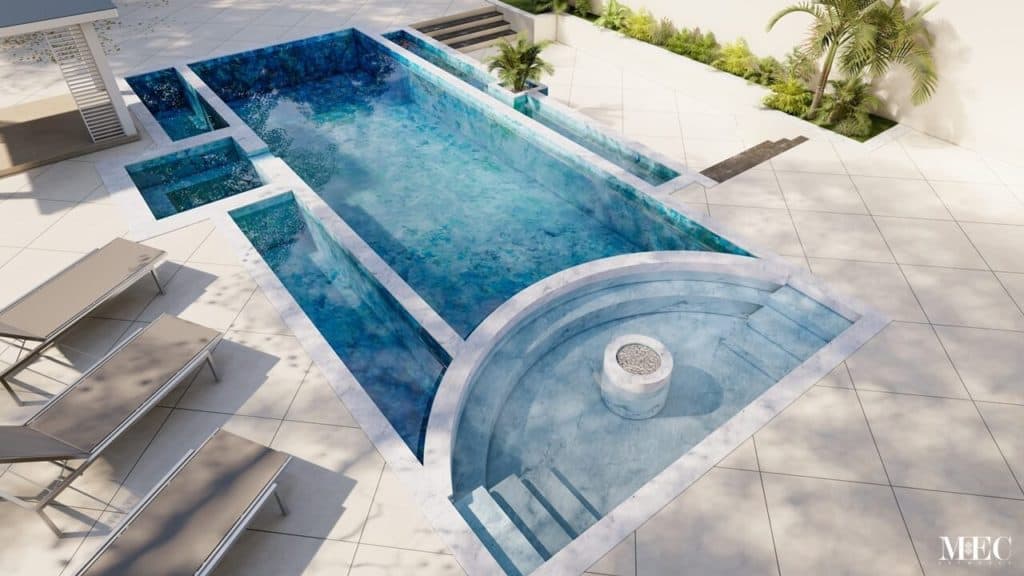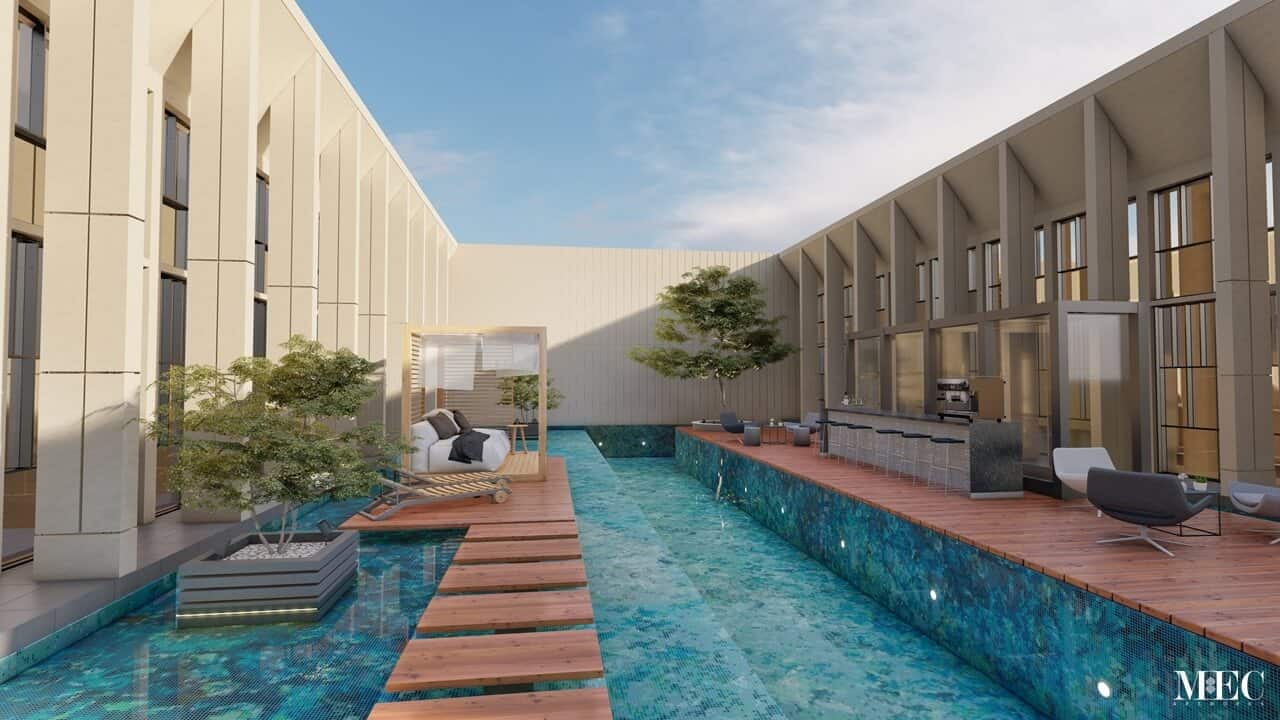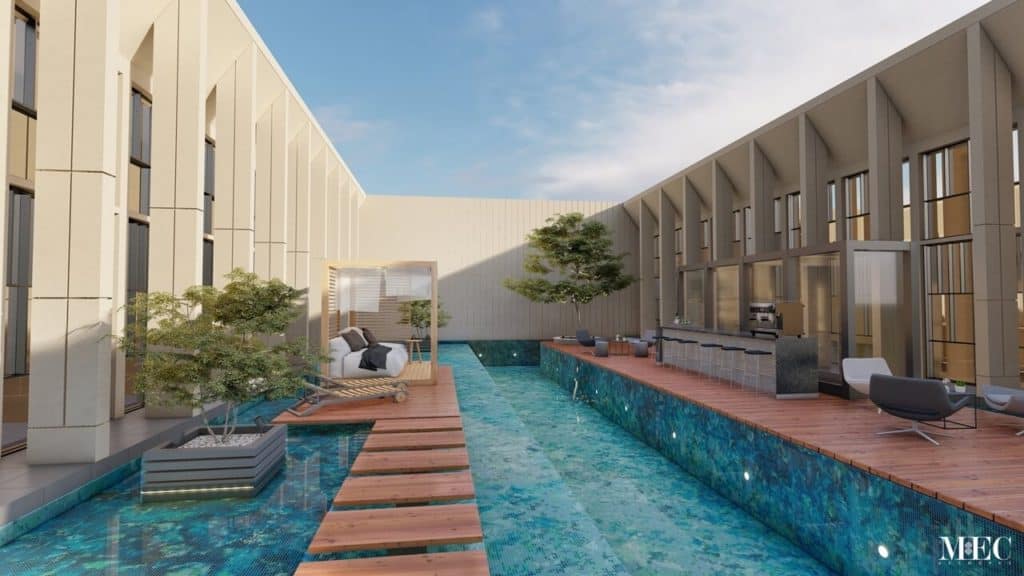 C) Random Mixing Walls vs. Extended Design
Another important decision to make while selecting a decorative pool mosaic tile is related to the walls. Do you want the pool floor mosaic artwork to extend to the walls as well or do you want a visual break with a classic vitreous glass tile random blend? Tile mixing in a color palette that matches the floor mosaic can work wonderfully. 3D rendered presentation of both alternatives can make the design finalization process smoother.
Choosing Pool Mosaic Tile Color Palettes
The mosaic tile color you choose for the pool can transform the entire space visually. Shades of blue and green glass tiles are a popular choice for outdoor pools because they mimic a more natural water-body look. Darker colors suit bigger indoor natatoriums.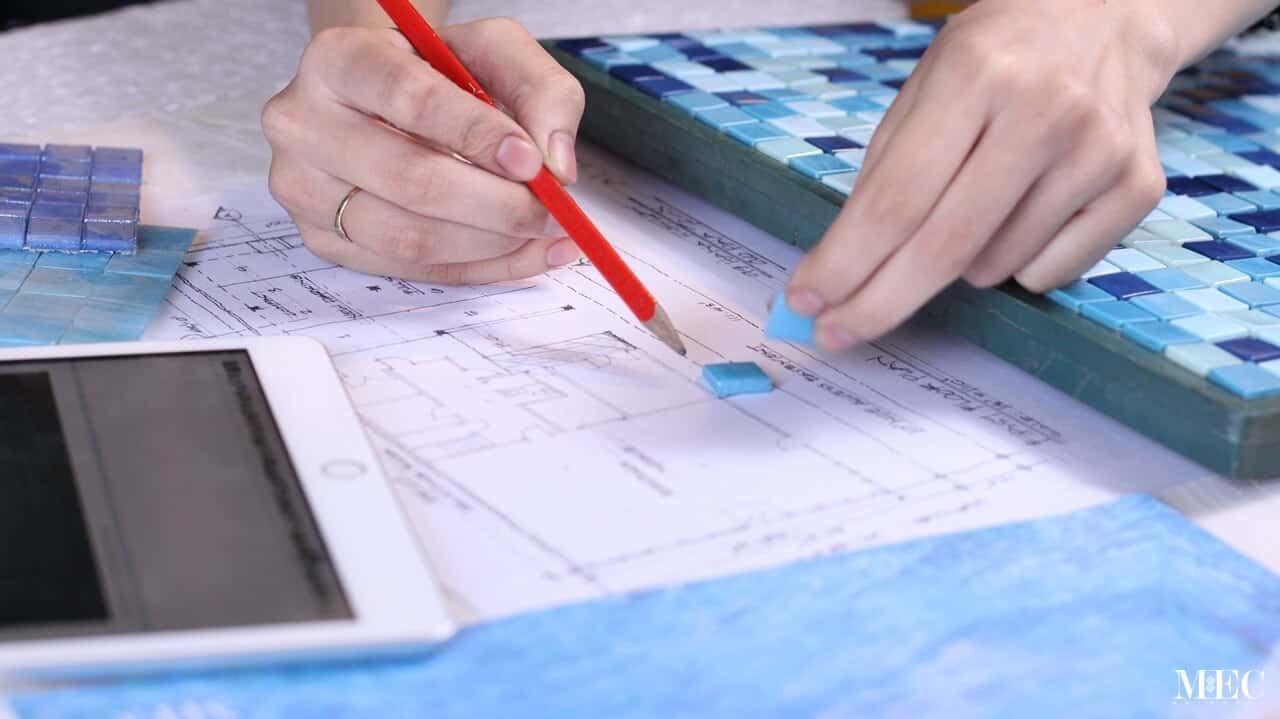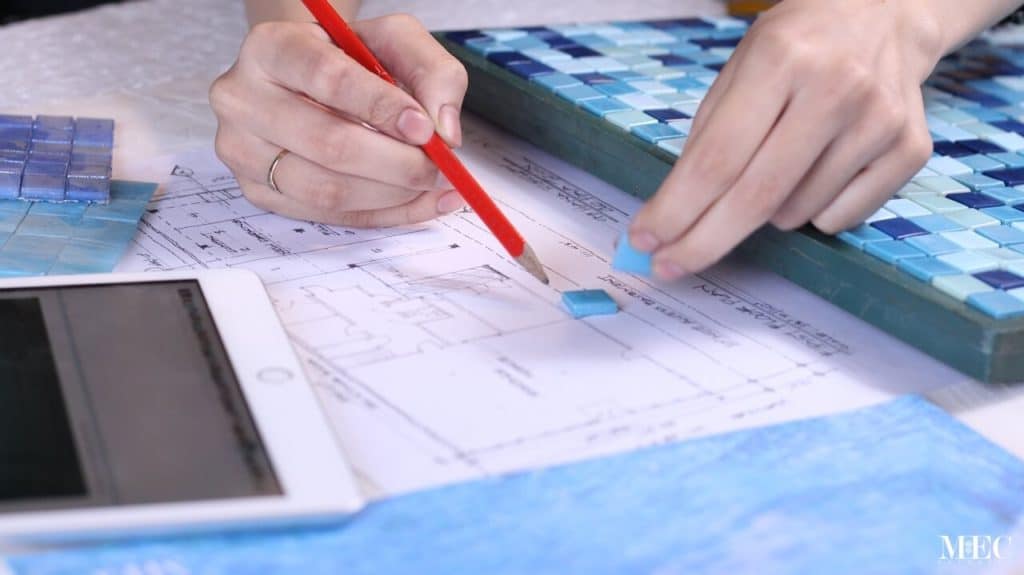 When deciding the colors, ask yourself what you want your pool to add to the environment. Do you want it to be tranquil and serene or do you want it to be bold, vibrant, and exciting? Is your pool an outdoor pool or an indoor one? Would you want to add a touch of nature? Do you want the pool to remind you of tranquil sandy beaches or a tropical destination?
a) Blue, Aqua & Turquoise – this is the most popular mosaic pool design color scheme. People use the same colored blue glass mosaic across the pool or opt for nice multi-shade random blends or fading effect designs. The lighter blue and aqua tiles enhance the natural blue effect of water bodies. Darker blue tiles create a more dramatic impact.
b) Green – Green pool tile gives the pool a more natural appearance. It still makes the water look somewhat blue in outdoor pools. Green glass tiles give off a cool and calming feeling.
c) White – If you want an outdoor swimming pool with a light turquoise effect, white is the tile color for you. For indoor pools, it will appear more white, possibly slightly sky blue depending on the surroundings.
d) Gray – For contemporary houses gray mosaic is an amazing option. For outdoor pools, lighter gray tiles can mimic the freshwater effect.
e) Beige, Cream & Earthy Tones – For outdoor pools, during the daytime, beige and cream tiles can create a beautiful turquoise effect. For indoor covered pools cream and beige glass mosaic tiles can complement a taupe or beige interior.
Remember that there are several factors that affect the color of your swimming pool other than the mosaic tile itself. Some of which include the location of the pool (indoor/outdoors), depth, light conditions and time of the day, environment, and the condition and clarity of the water.
How do I Pick a Color for my Pool?
Vertex glass mosaic comes in a wide variety of colors, making hundreds of unique pool mosaic color combinations possible. The dimensions and placement of the pool as well as the architectural style of the space need to be considered when choosing a color for the mosaic pool. The amount and kind of lighting it gets (both natural and artificial) is an important factor as well.
To visualize how different colors would look in your pool, request a free 3D render from MEC.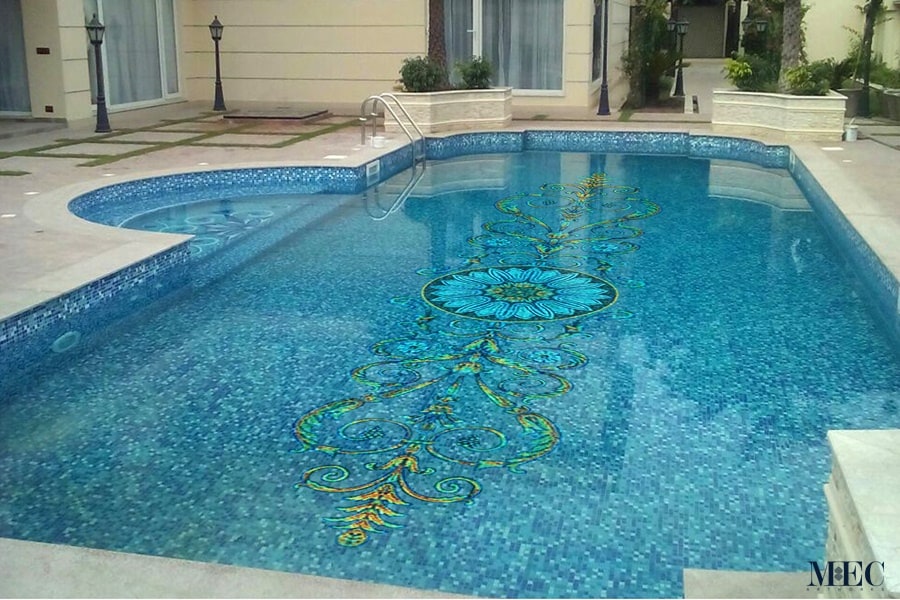 The most important factors to consider when picking a color for your pool mosaic are; the style of your house, surroundings & environment, pool size, shape & placement as well as your own personal preferences.
Avoid darker pool tile colors for outdoor pools because they absorb more heat and the temperature of the pool rises beyond the ideal range in summer.
Overwhelmed by all the things that need to be considered? We strive to make it simple for you. Simply share some details about your space with us and get free realistic interior design renders and design consultation.
Tips for choosing the perfect pool mosaic
Consult your landscape designer or architect to for professional input in choosing the perfect pool mosaic. Alternatively, you can pick a pool mosaic tile art yourself by curating an inspiration board and discussing your project specifications with a mosaic design expert.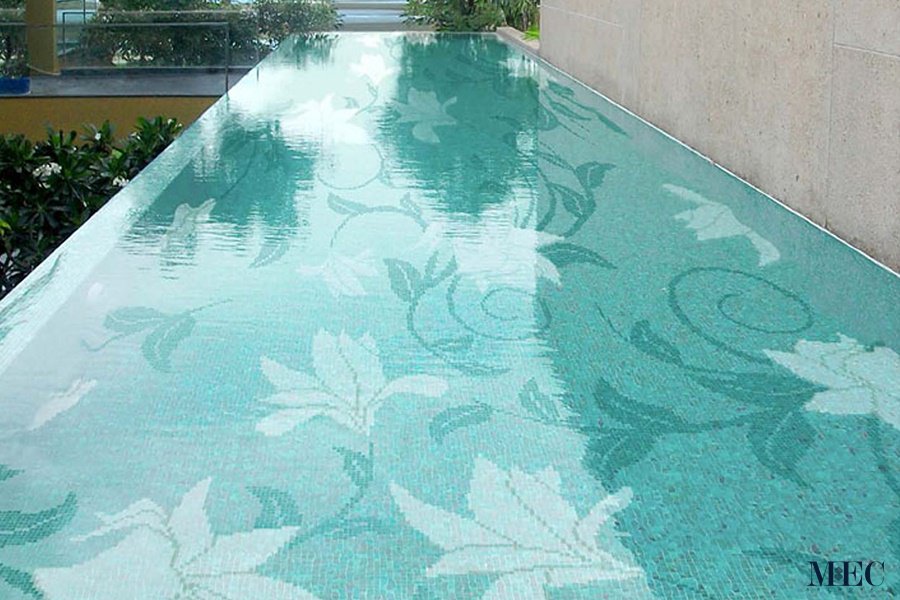 a) Matching the Mosaic to Your Home's Style
Whether your home's architecture is classical or modern, industrial or minimalist – we have pool mosaic designs to suit every space style.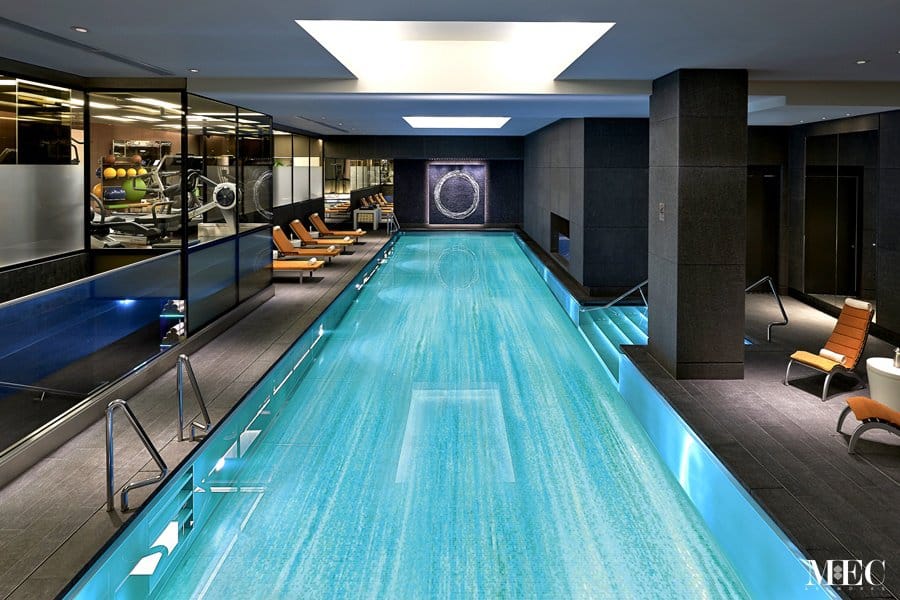 Share some details about your project and receive tailored mosaic design consultation for free. We can work with homeowners, architects, project managers, and designers to create perfect custom-designed pool mosaics for any residential or commercial space.
b) Consideration of Pool Surroundings
Another consideration when choosing the perfect pool mosaic design is the surroundings and environment of your backyard oasis. Some important factors can be the landscaping, architecture, decor, plants (flora), and the surroundings beyond your premises that comprise the overall background scenery.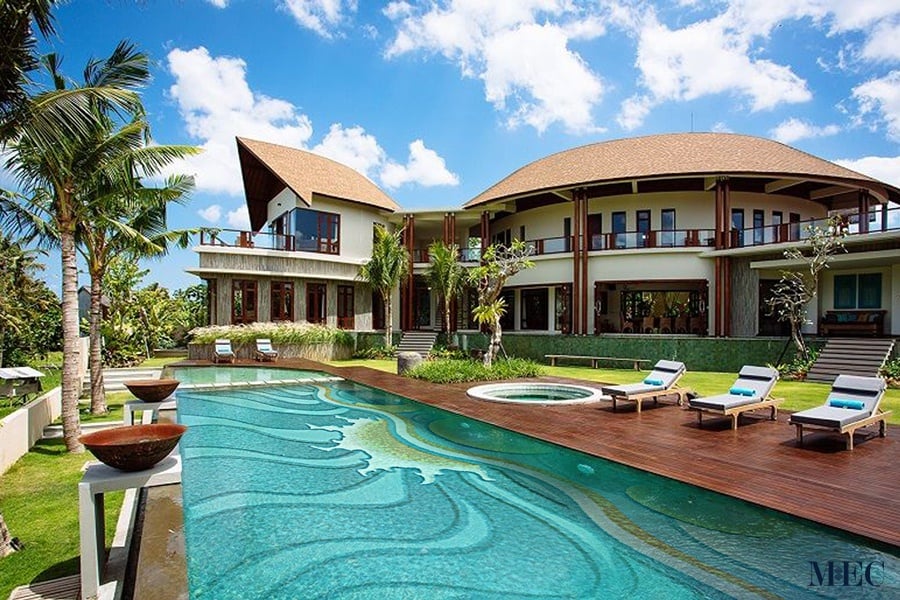 Why should you work with a custom pool mosaic designer?
A) Advantages of Expert Assistance 
Consulting with a mosaic design professional while choosing your custom pool can make all the difference. And guess what! When you choose MEC, you get access to free mosaic design consultation from experts. Book a virtual meeting with us today to enjoy;
expert advice
design guidance
access to the latest trends and techniques
B) Collaboration and Communication 
Our mosaic consultant and expert designers work closely with you to collaborate on the custom pool mosaic project. From the initial design concept discussion to mood board & sample creation and eventually the production stage – we offer constant updates.
The client is kept in the loop throughout the customization and fabrication process to ensure a successful outcome. We want you to not only be satisfied with your one-of-a-kind pool mosaic choice but be completely delighted!
C) The Benefits of a Tailored Approach 
With a custom approach for your swimming pool mosaic, you can get the exact design and color palette that suits your space and aligns perfectly with your style. Getting a tailored pool mosaic design does not have to be complicated or costly.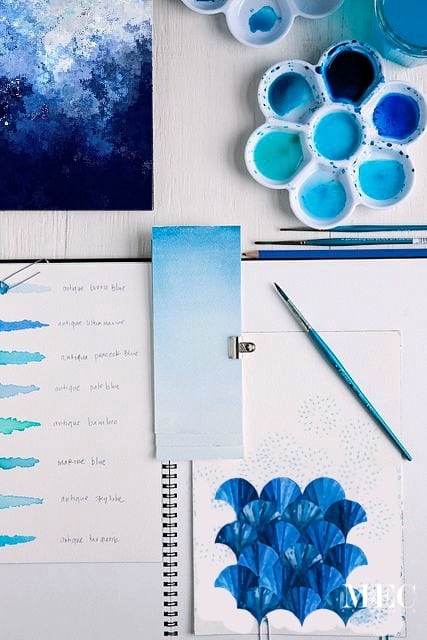 The process of creating a custom pool mosaic
Here are the steps involved in choosing and ordering a custom pool mosaic tile artwork:
Pool measurement
Mosaic art idea and concept
Budget range selection
Tailored design consultation
Color and tile selection
Mood board & 3D Renders
Samples & revisions
Production
Packing & shipping
Installation
To learn more, check out our guide on customizing a pool with mosaic tile art.
Timing & Scheduling
Our typical timeline is 6 weeks after the order is confirmed for small residential projects. The duration can vary depending on the project size, availability of required materials*, and mosaic design complexity. Nonetheless, MEC promises to produce and deliver you custom-made pool mosaic faster than anyone else, without any compromise on the quality. We are able to cut speed up the fabrication while cutting the cost thanks to our;
Streamlined and efficient processes
Latest mosaic-making technology & techniques
A team of expert craftspeople and designers.
* Sometimes we source some special marble or glass tiles that are not in our regular library. That might take an extra 2 weeks.
Final thoughts
To wrap it up, let us quickly recount some tips and the factors that should be taken into account when choosing a custom-designed mosaic for pool projects. Pool size, shape, and location need to be considered. Other factors to be kept in mind are budget, style, and architecture of the house and environment. We hope that this article has helped you prepare for your custom pool mosaic selection. If you still have more questions, fret not. Our mosaic experts are available for a personalized consultation. We will help you navigate your way toward the custom pool mosaic project of your dreams.
FAQs: How to Pick a Pool Mosaic Design?
Should pool tile be light or dark?
For indoor pools and natatoriums, you can select the color theme of your choice – it can be light, dark, or a mix. Keep in mind that darker colors absorb more light whereas lighter mosaic tiles reflect it, thereby making the space brighter.
How do I choose the right pool mosaic for my pool?
There are many factors to consider when choosing the perfect pool mosaic design. Size and shape of the swimming pool, architectural and design style of the space, surrounding scenery, budget, and maintenance requirements.
What are the design options for custom pool mosaic glass tiles?
An ever-growing variety of glass mosaic tile colors and finishes, the latest development in mosaic design technology, and the expertise of artisans make options for custom pool mosaic virtually infinite. We can transform your dream design concepts into one-of-a-kind mosaic masterpieces.
How long does it take to install custom pool mosaics?
The timeline for installation of pool mosaics is relative to the pool size, pool design, and of course – the number of installers working on site. In general, it takes up to a weeks' time to install mosaics on an average-sized pool with a regular shape. 
How easy is it to maintain custom pool mosaics?
Maintenance requirements may vary depending on the material used. However, some factors that can help you reduce the maintenance cost, in the long run, are professional tile installation, quality grout, and good pool water chemistry.
What Theme Can My Custom Pool Mosaic Be?
Choose from abstract, floral, classical, contemporary, art deco, oriental, or geometrical pool mosaic patterns to get personalized. You can even get a portrait or your favorite photography converted into mosaic tile art for a swimming pool.
What is involved in the process of creating a custom pool mosaic?
Curious about the process of creating a custom pool mosaic? Here is a brief overview of the steps involved; Discussion of your project, budget, and mosaic concept with a mosaic design consultant. Selection of a color palette and tile material. Personalized design proposals, 3D renders, and samples.
Do I need to pay extra for custom pool mosaic design revisions?
No, design revisions at any stage without any extra charges. Intricate fabrication of mosaic artwork with updates from the workshop. Packing and free international shipping. Installation of tailor-made pool mosaic at the site.
Is Choosing the Right Color for Custom Pool Mosaic Vital?
Choosing a color palette that compliments the surrounding landscape and enhances the overall aesthetic of the pool can make a huge difference.
Are pool mosaics only suitable for new pools?
No, pool mosaics can be installed in both new and existing pools. Professional installers have the expertise to retrofit mosaics into existing pools without causing any damage.
Are pool mosaics suitable for all climates?
Yes, high-quality pool mosaics are designed to withstand various climates, including extreme heat, cold, and moisture. However, it's essential to choose materials specifically intended for outdoor use and consult with professionals for guidance in your specific climate.