The swimming pool is one of the most exciting features of a backyard. In this post, we are going to present over 33 custom pool mosaics as ideas and inspiration for your own unique one. Our high-quality customizable mosaics are sure to give your pool the impressive appearance it deserves.
Have a look at the magnificent designs we intricately crafted for some of our happiest clients. They will give you an overview of the design variety and possibilities. Let these custom pool mosaics serve as inspiration to get your creative juices flowing.
A gallery of our diverse custom-made pool mosaics to inspire you to get started on a unique swimming pool tile project of your own. Custom-designed glass mosaic patterns are a great way to personalize your pool area and set it apart from the standard default appearance.
Table of Contents
What Are Custom Pool Mosaics?
Pool mosaics are designs or images made from small colorful tiles made of glass or porcelain arranged together. They are available in a wide range of sizes, colors, and finishes. Pool mosaics are perfect for making a statement and adding a personalized touch to the living space. These designs can range from simple patterns and motifs to elaborate scenes, such as dolphins, turtles, or even personalized family crests. Each piece is handcrafted and can be customized to suit your preferences, making your pool truly one-of-a-kind.
The Advantages of Custom Pool Mosaics
Mosaic is one of the most popular pool tile materials due to its practicality, versatility, and obvious aesthetic features. They are durable, safe, and can be made to fit any space and style. Just about any design you can think of can be created as mosaic art and installed in your swimming pool.
Personalization: With custom pool mosaics, you have the freedom to express your unique style and taste. You can work with a professional designer or choose from a wide range of existing designs to create a mosaic that reflects your personality and complements your outdoor space.
Visual Impact: Custom mosaics can turn an ordinary pool into a stunning visual centerpiece. The intricate details and vibrant colors of the mosaic design will capture the attention of anyone who sets eyes on your pool, creating a memorable and impressive focal point.
Durability: Pool mosaics are made from high-quality materials that are specifically designed to withstand the harsh pool environment. They are resistant to fading, cracking, and damage from pool chemicals and UV rays, ensuring that your mosaic remains vibrant and intact for years to come.
Easy Maintenance: Custom pool mosaics are easy to clean and maintain. The smooth surface of the tiles prevents the buildup of algae and grime, making them a practical choice for pool owners. Simply wipe them down occasionally to keep them looking their best.
Are you Considering Custom Pool Mosaics?
Defy the ordinary with custom pool mosaics. Why opt for the mass-produced plain swimming pool tiles when you can adorn your pool with actual art! Think of your pool as a blank canvas that you can cover with a one-of-a-kind mosaic tile design of your choice.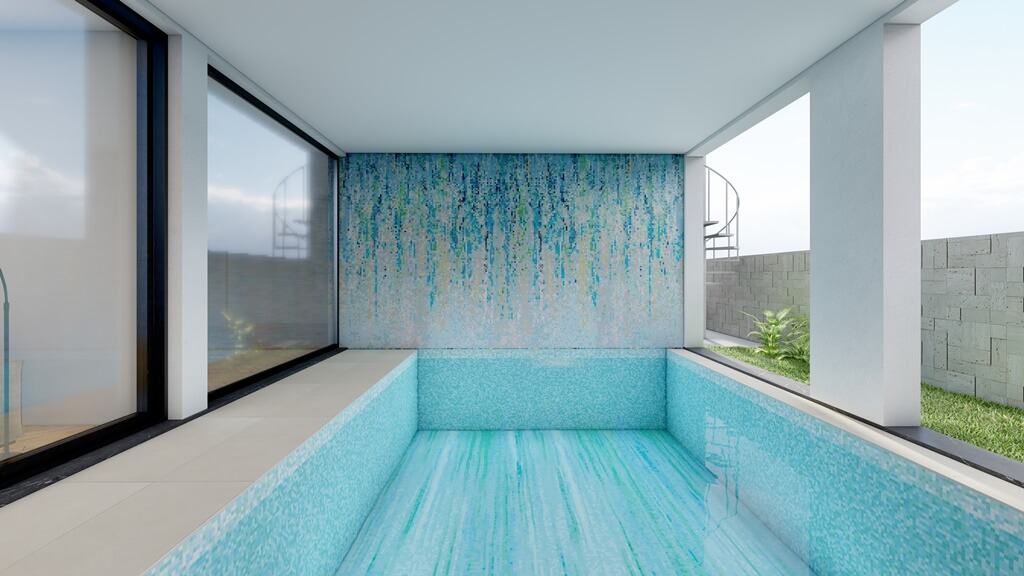 Use any pattern, sketch, or even image as an inspiration for your personalized pool mosaic.
Why "Custom" Pool Mosaics are Best for your Pool
Finishing a swimming pool with MEC pool mosaic designs lets you personalize your space without compromising on the tile quality or functionality. Glass mosaic tiles in a huge variety of colors, you can choose the palette and design of your choice, and your original image, design or sketch can be digitally converted to custom mosaics to beautify your pool area.
Here at MEC, we make the custom design process smooth and exciting for our clients. We offer services like personalized design consultation, mood boards, 3D renders, and samples without any extra charges.
33 Custom Pool Mosaics – Projects Tailor-made for Clients
1. European Scroll Pool Mosaics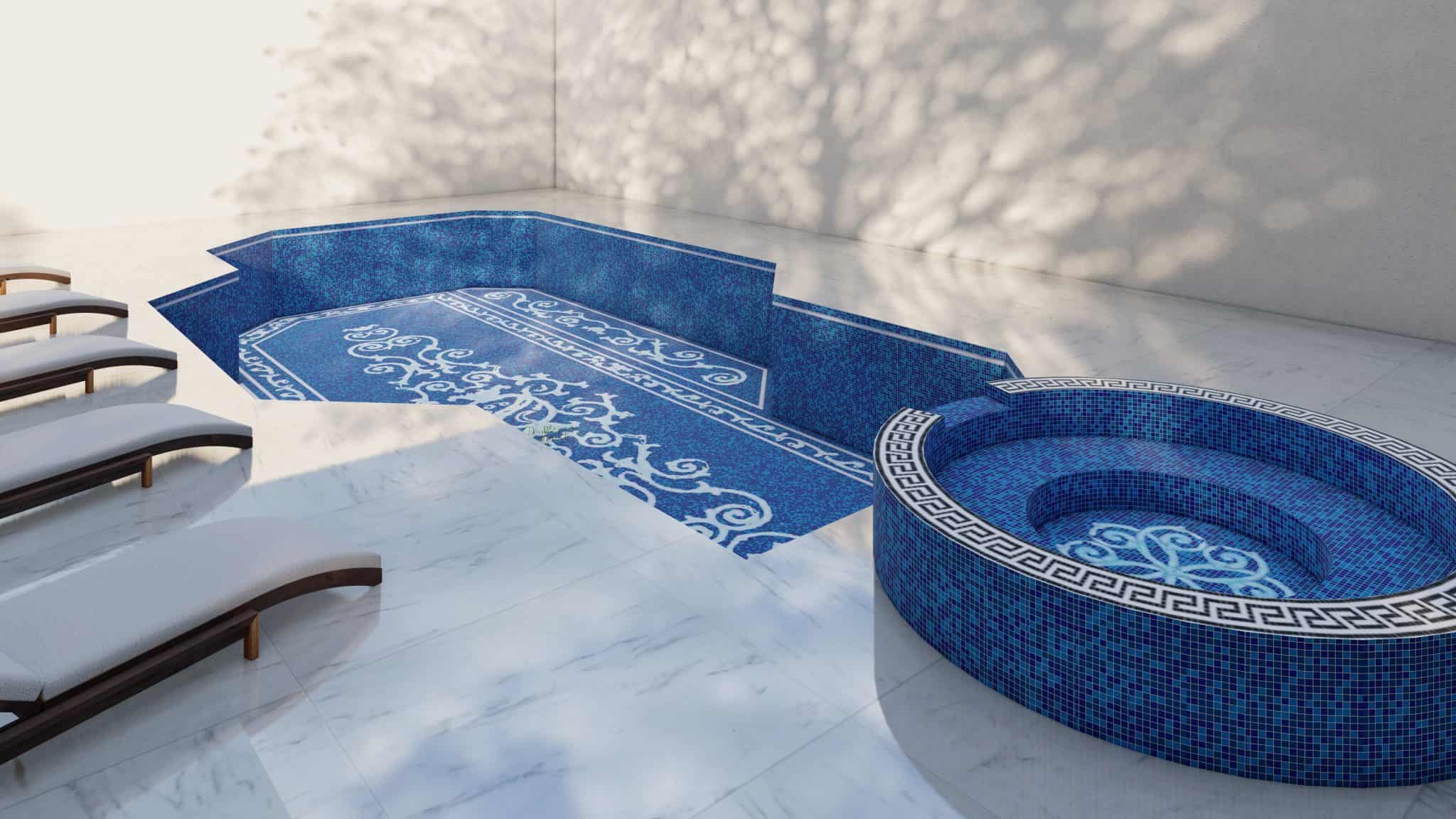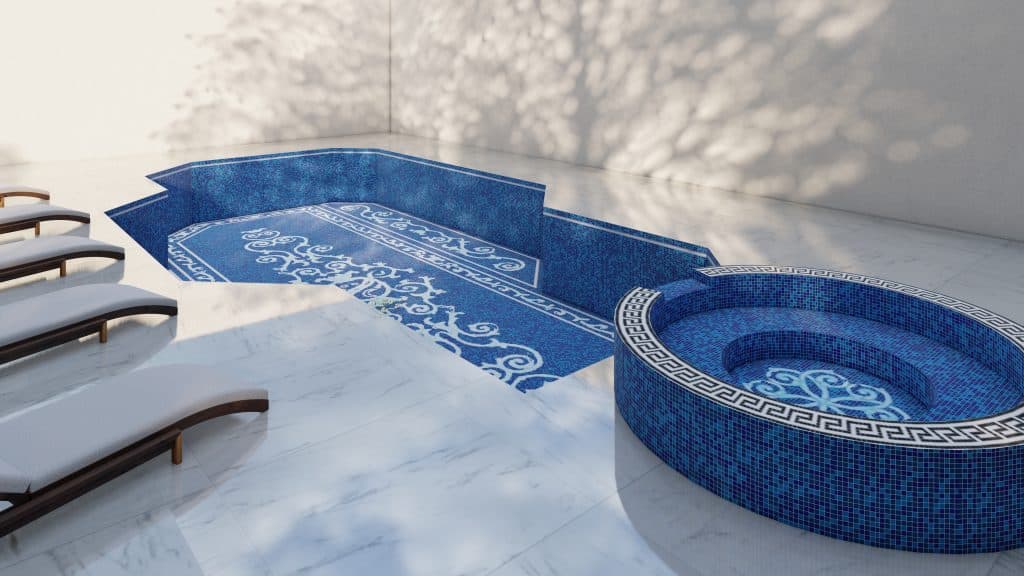 A client approached us for a classical European custom mosaic for their inventive pool. It was a simple rectangle with a trapezoid strip on either side.
Usually, pools like these are clad with modern mosaic images, like abstract art. We loved the challenge of combining an elegant scroll pattern with an unusually shaped swimming pool.
Like what you see? Get started on a custom pool mosaics project of your own by dropping us a message today!
2. Dolphin Pool Mosaic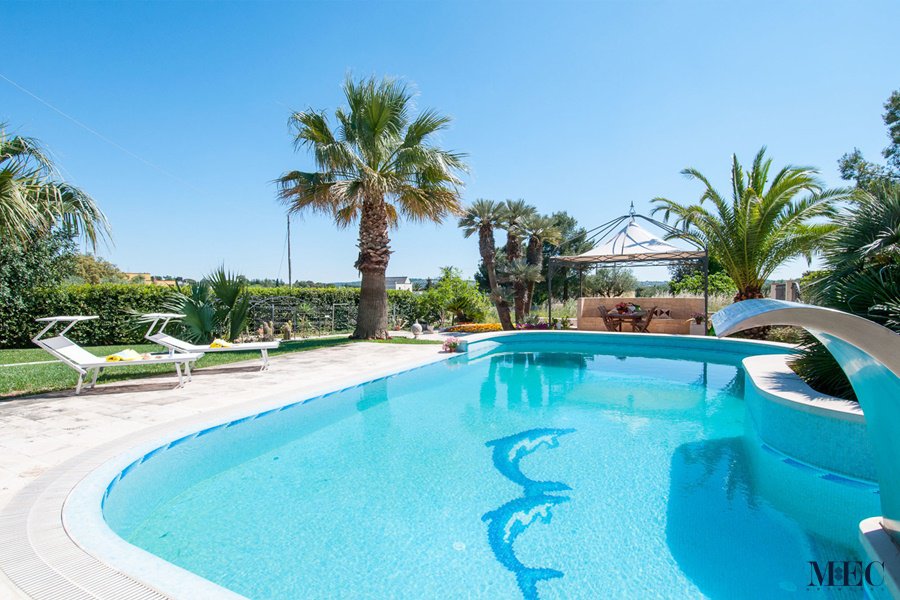 Need a fish, dolphin, or sea-creature mosaic stylized in your favorite way and made into custom pool mosaics? MEC can help make your pool feel more you.
Custom Dolphin pool mosaic – these adorable and wise aquatic mammals are a popular choice for swimming pools. From realistic dolphin tile mosaic images to juvenile cartoon-like dolphin pool mosaics, we have designed it all.
3. Custom Swimming Pool Glass Tile Mosaic Art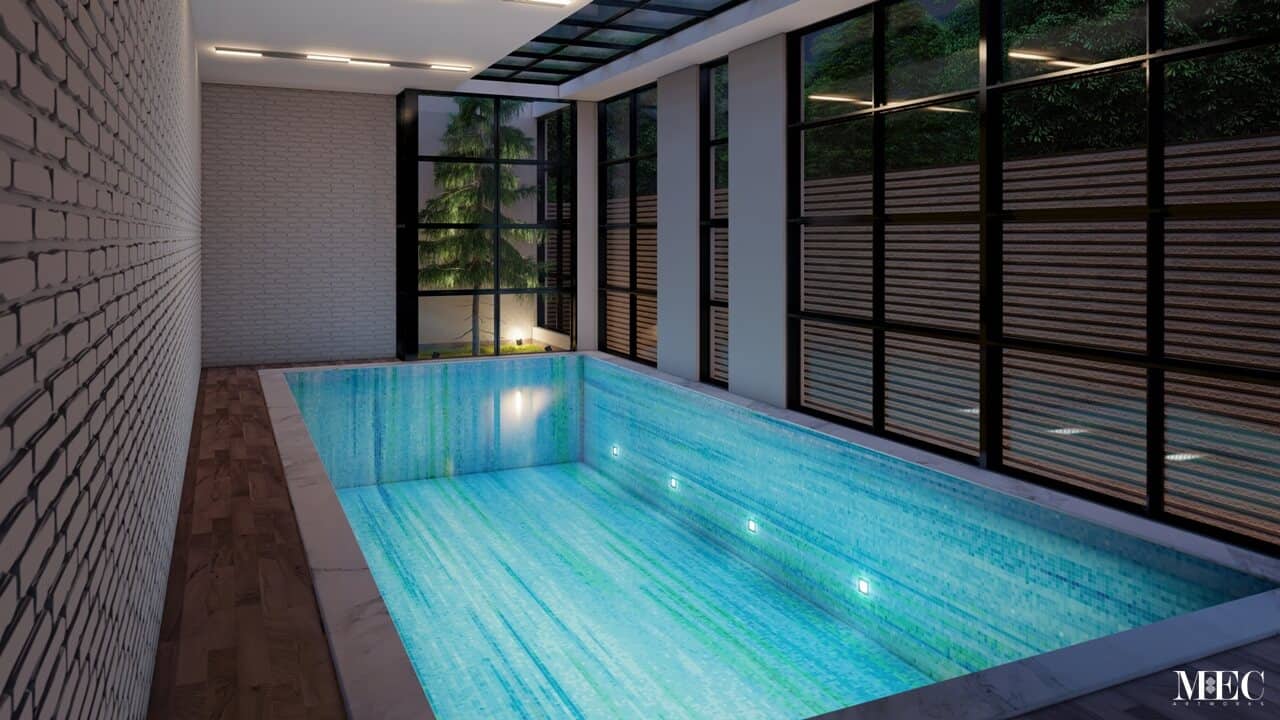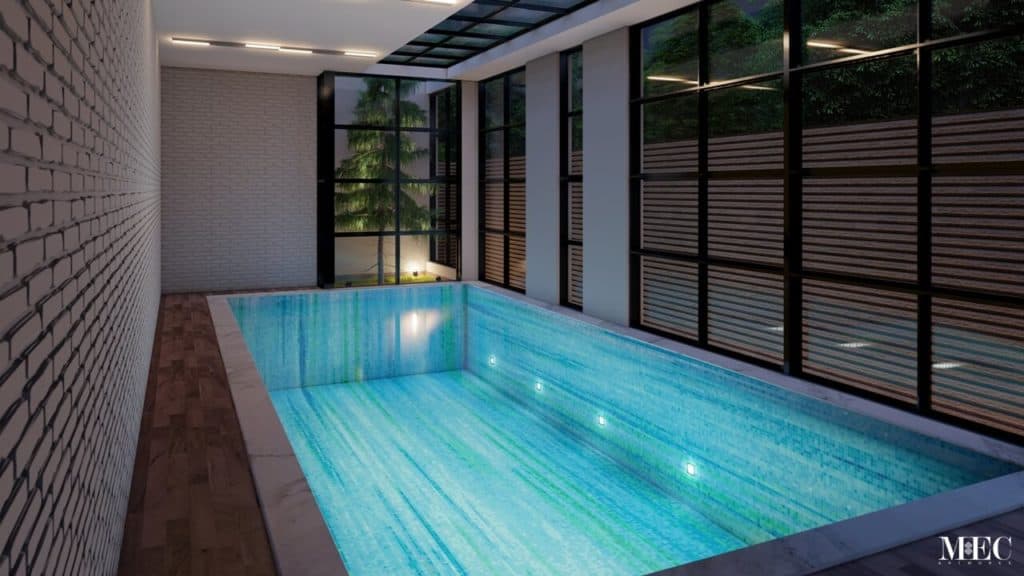 An indoor swimming pool featuring a custom-created PIXL abstract glass mosaic design.
Our PIXL mosaics feature Vertex glass tiles arranged into spectacular grids using an exclusively developed system called AddTek®. This technology lets us create highly detailed custom pool mosaics at revolutionary speeds while cutting down the cost.
4. Miran – Exclusive Pool Mosaic Tile Design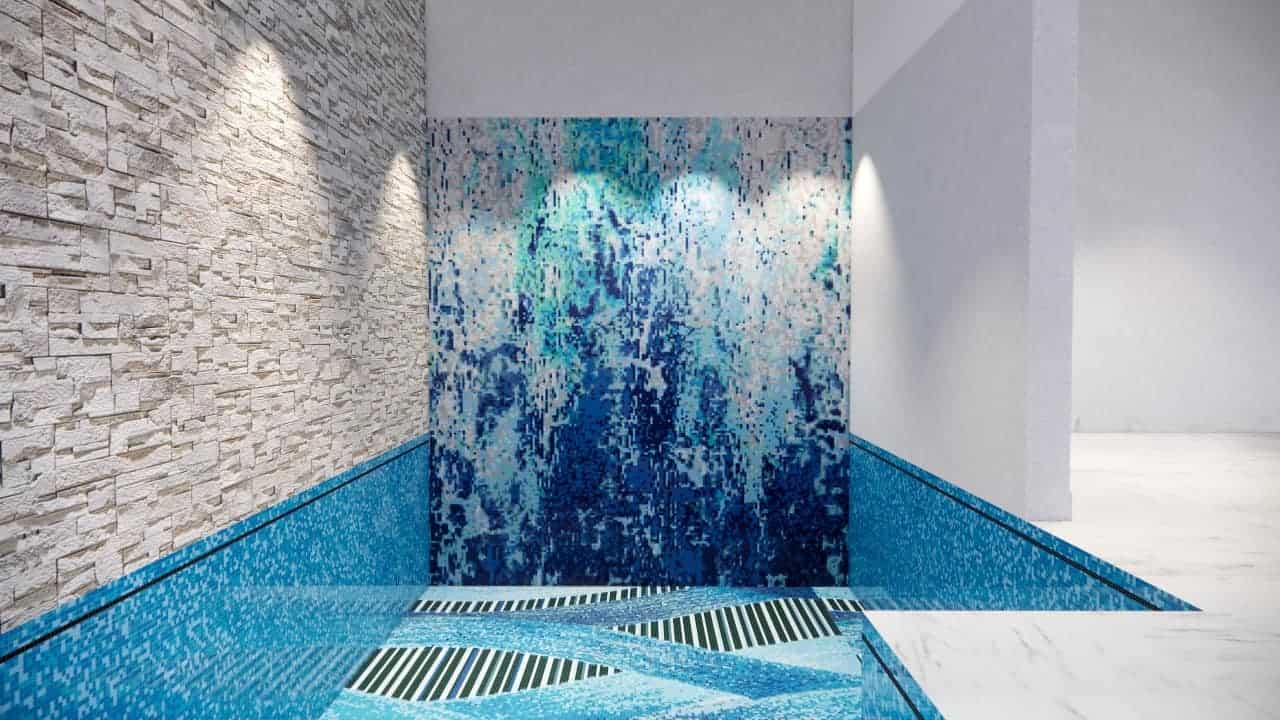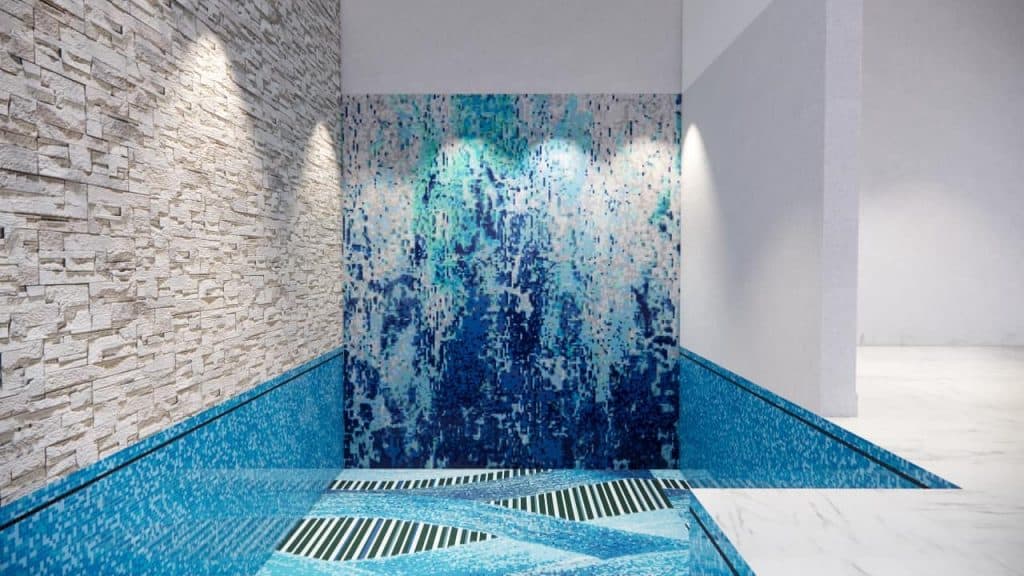 So many pool mosaics to choose from, can't settle for one? Get multiple custom pool mosaics for your space as this client did. Miran abstract PIXL glass mosaic for the pool floor.
A classic blue random blend in matching color for the pool walls and a stunning customized Endcuts Peak for the pool area feature wall. That's one way of making your space exciting and truly one-of-a-kind.
5. Cool Lines Pool Abstract Mosaic Designs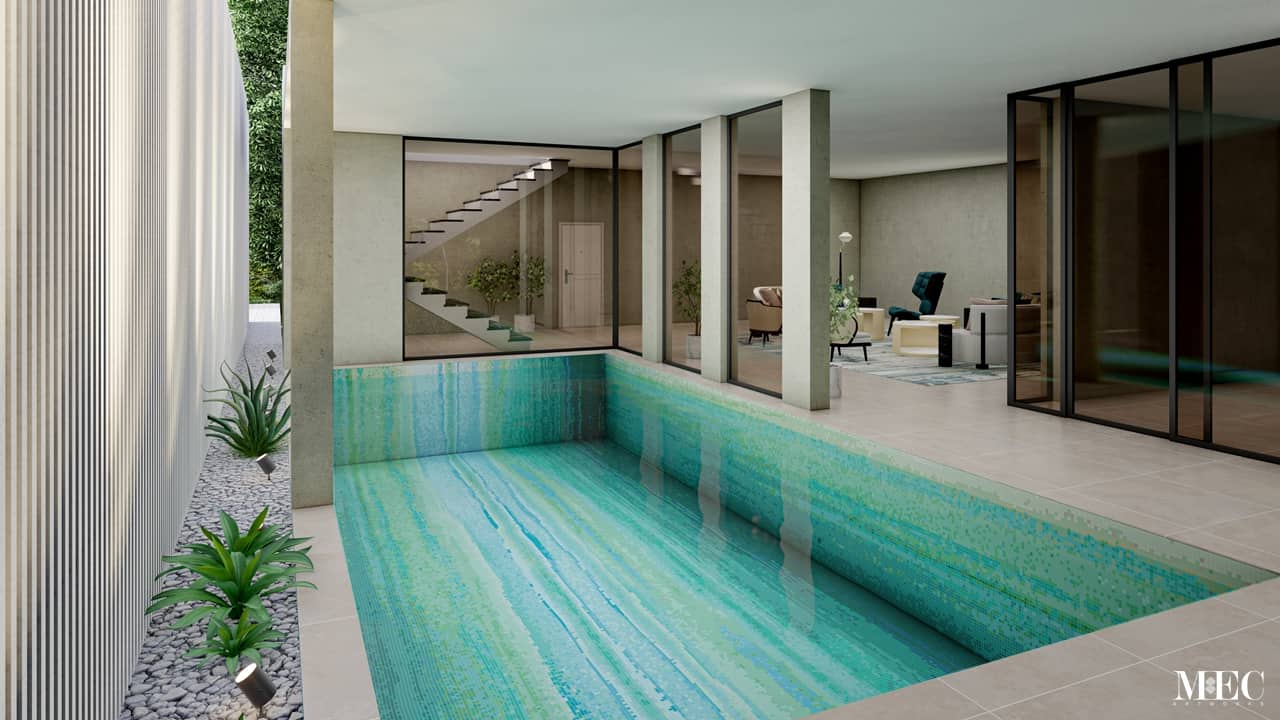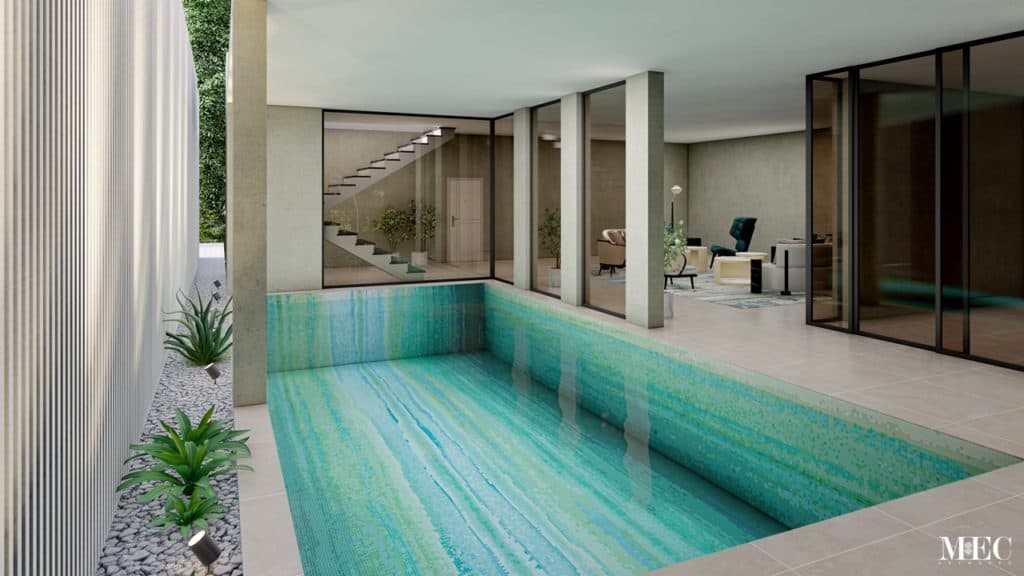 Abstract lines mosaic design in cool color palettes makes the swimming pools look longer and create a refreshing yet serene look. Cool lines pool mosaic was custom-made by MEC for a client for their indoor pool space.
Do you want a customized version of one of our pool mosaics? Or better yet, a unique new design created from scratch for your home? Email us today to schedule a one-on-one meeting with a mosaic design consultant today.
6. Custom Pool Tile Mosaic Designed for a Florida Luxury Villa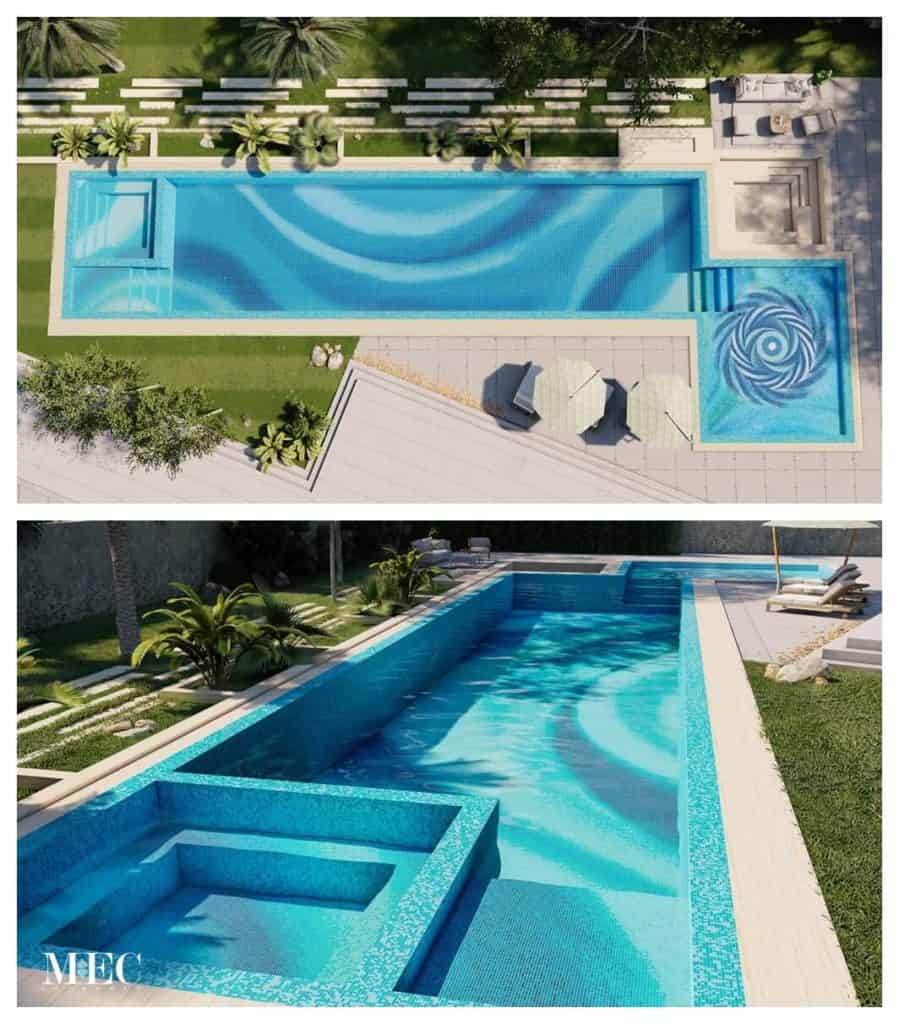 We are so glad we got to work on this gorgeous Florida pool. The client's landscape designer needed soothing abstract patterns with large wavy elements. For the sun shelf area of the pool adjacent to the sunken fire pit, the client wanted to incorporate a Turkish evil eye symbol in an artistic way.
MEC prepared several custom pool mosaics / options and presented them with full-fledged renders for a smooth customized mosaic process.
7. Decorative Glass Tile Pool Mosaic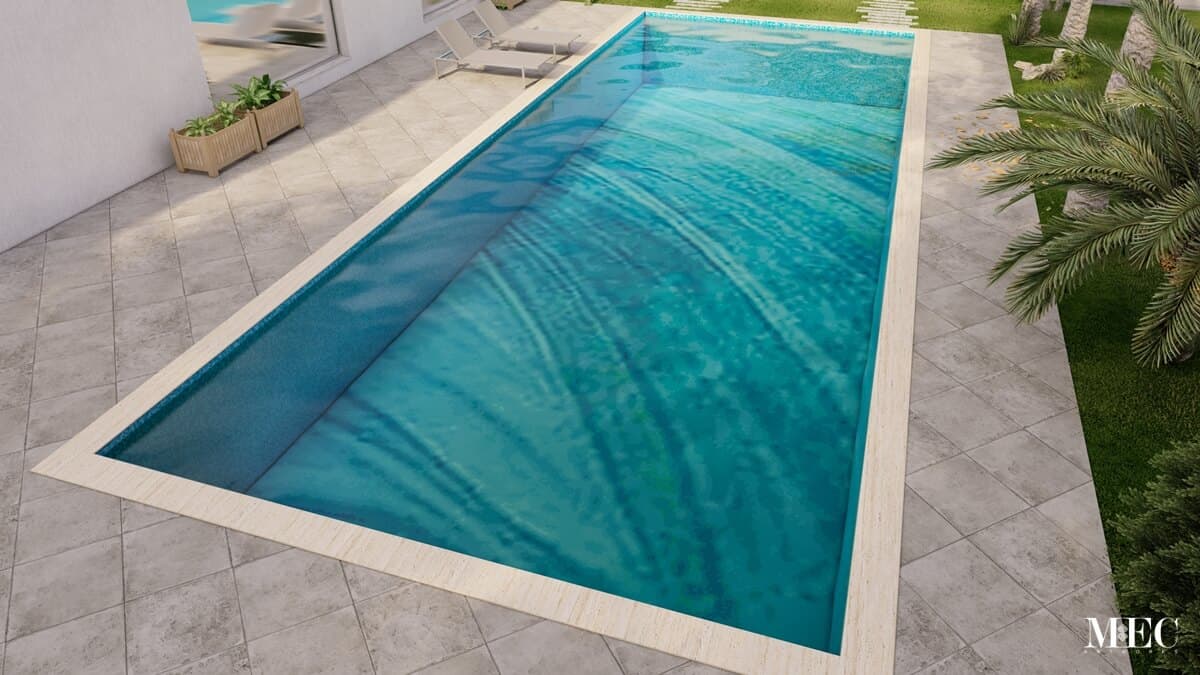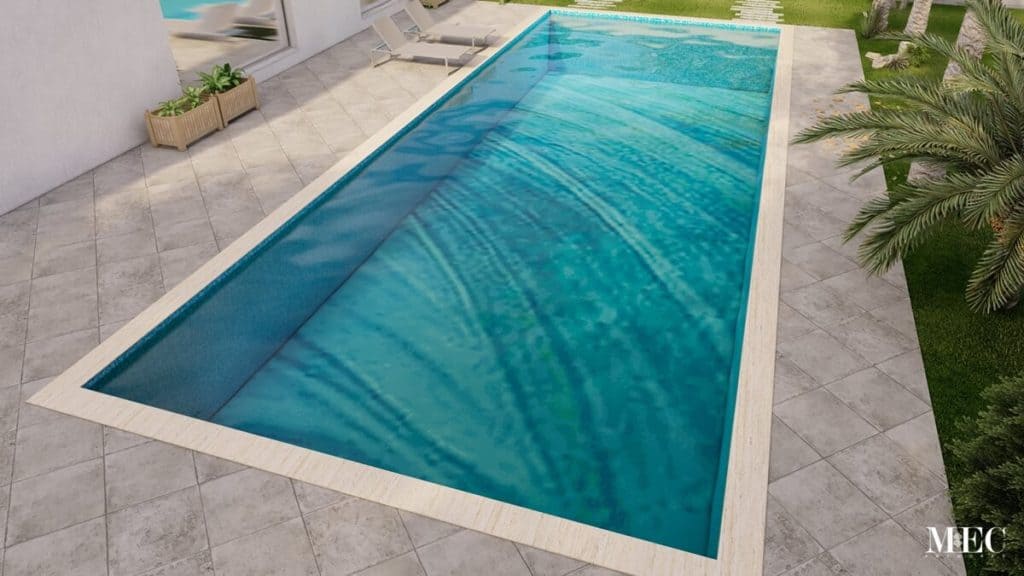 A custom pool mosaic abstract pattern so subtle, you might not even notice it at the first glance. It appears like shadows from the palm trees of ripples and waves on the water's surface.
Upon closer inspection, a beautiful glass mosaic design is revealed. That is precisely what the homeowner wanted for their swimming pool. Something that is fine and artful without taking too much attention away from the surroundings.
8. Blue Ombre Pool Mosaic Tile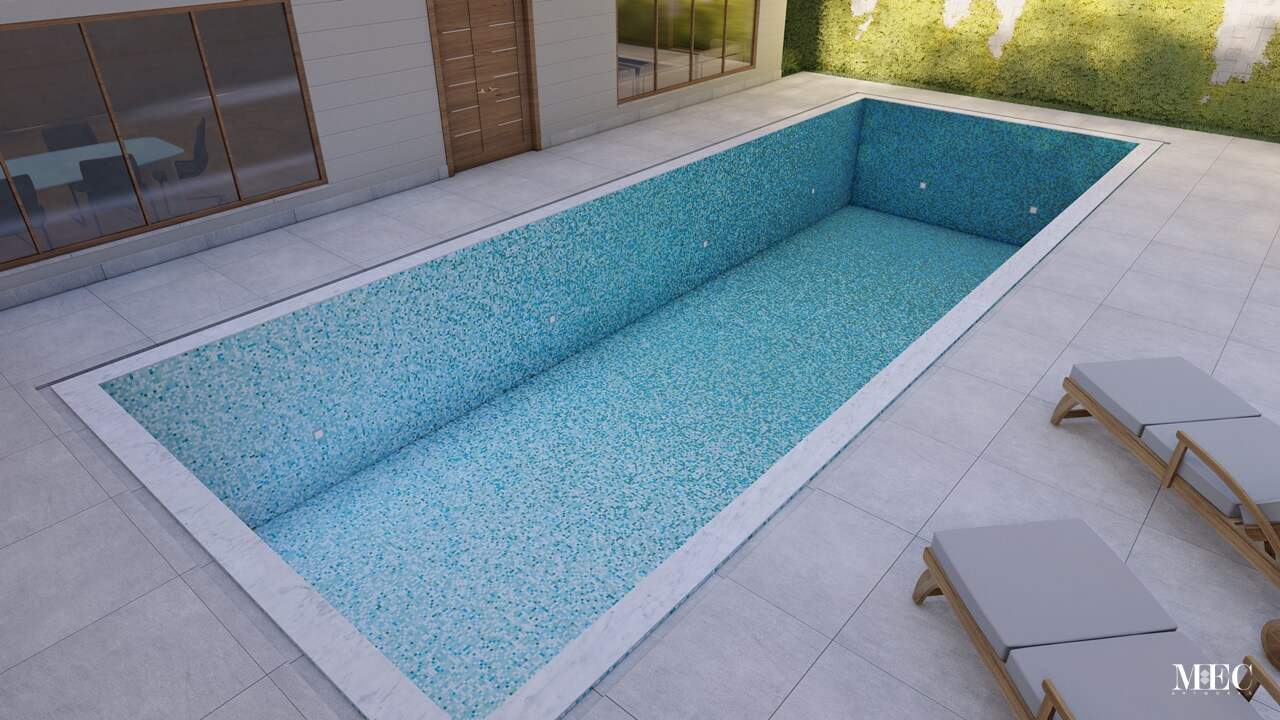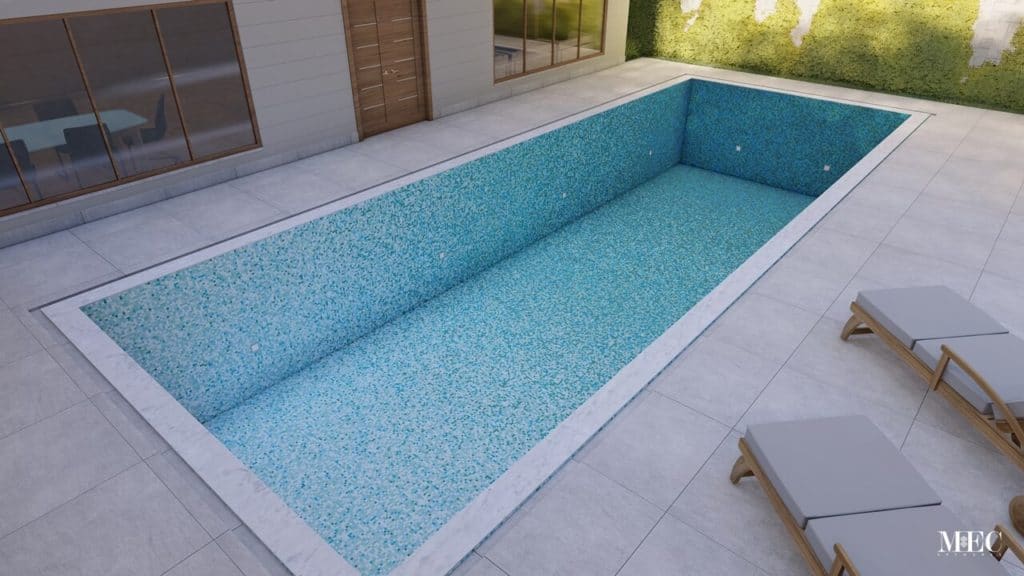 Want to achieve a perfect color gradient for your pool floor? MEC can help you get the right effect and blend with its PIXL AddTek system. This Ombre pool design and other custom pool mosaics can be customized to your pool dimensions and color preferences.
9. Vissen Glass Mosaic Tile Pool Art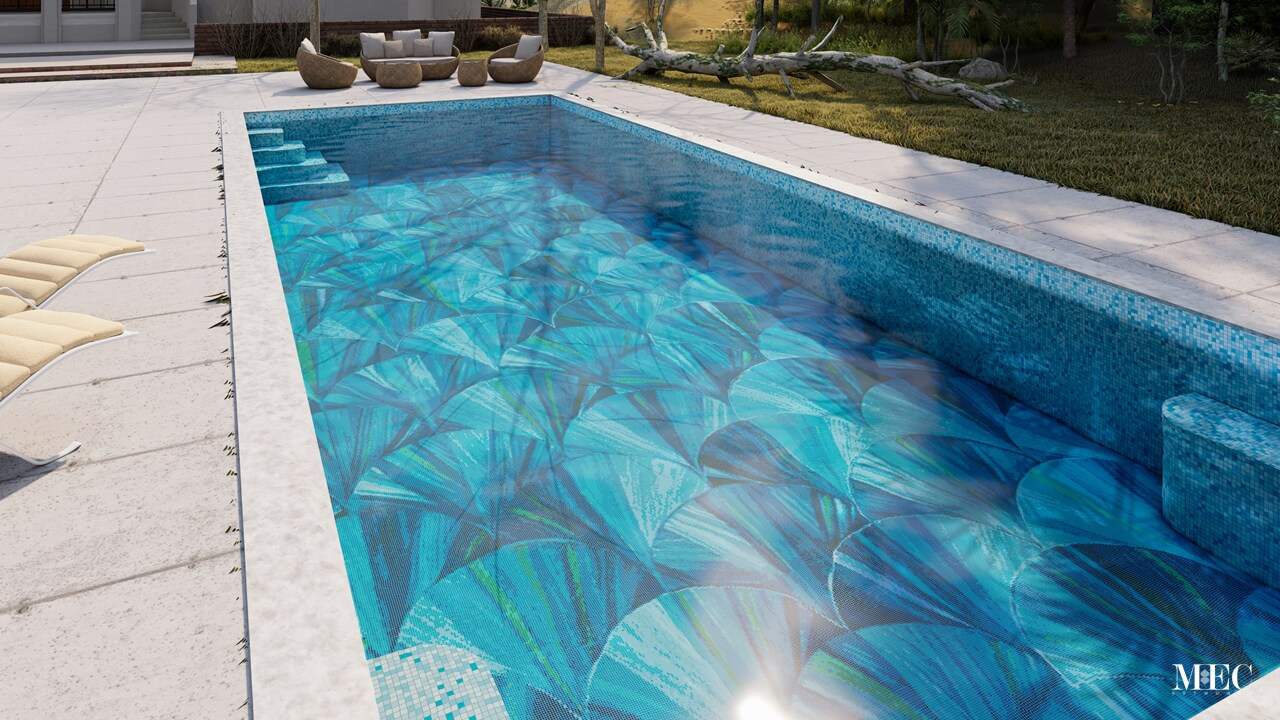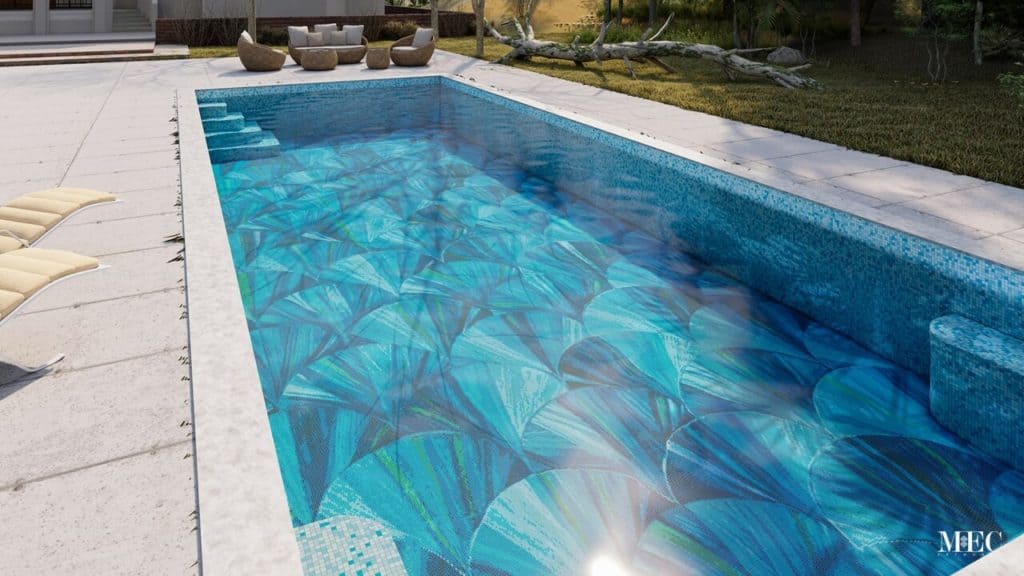 Vissen mosaic is from our Aqua Pools catalog. The design is inspired by a fish-scale pattern and Ginkgo Biloba leaves. The texture has been added by digitizing a manually sketched design.
10. Versace Pool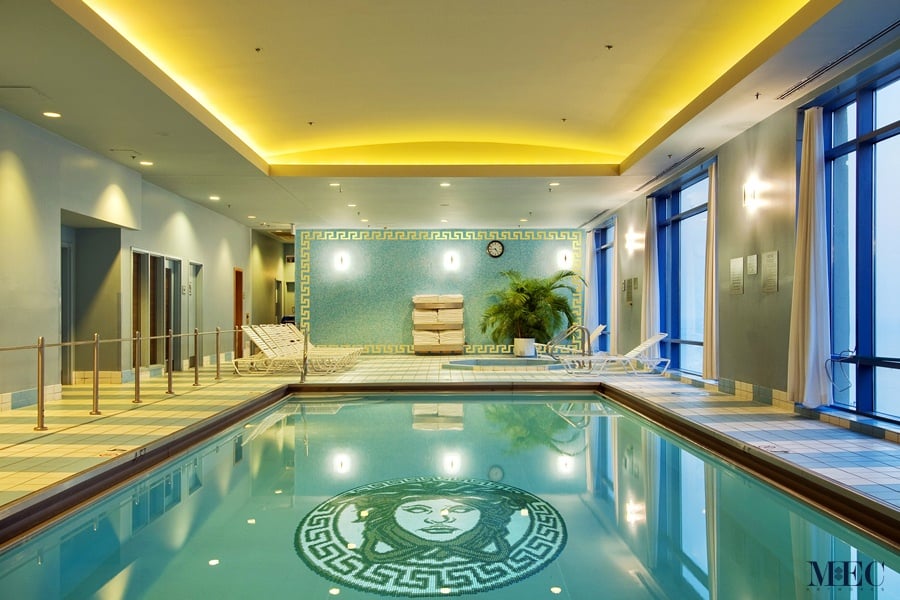 If you do not want your entire pool floor to be covered with ornamental tilework, consider mosaic pool medallions.
11. Glass Mosaic Pool Tile Art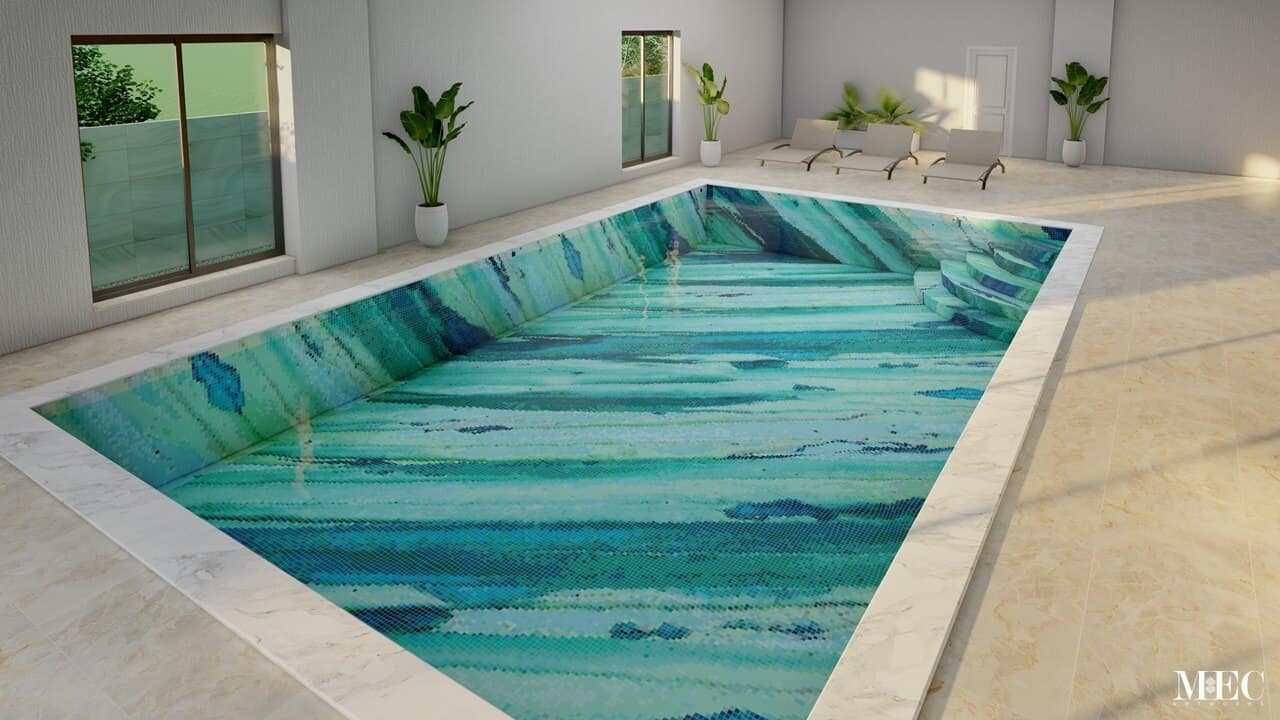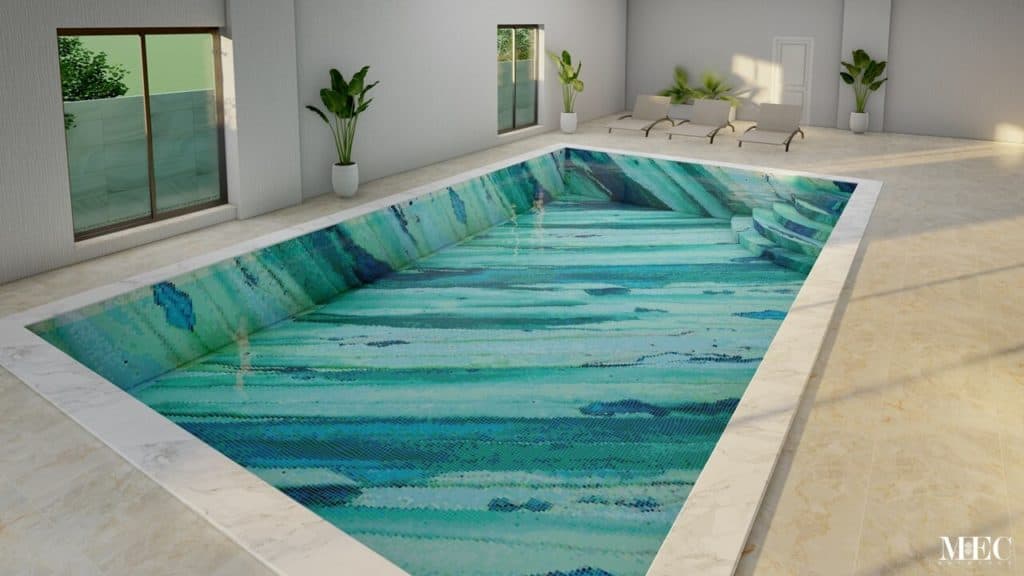 A client shared some watercolor art and marble texture images with us as an inspiration board for this custom PIXL pool mosaic project. The idea was to have something lively and abstract.
MEC designers proposed some mosaic concept art using the prompt and color palette the client wanted. Our of the proposed custom pool mosaics, this refreshing one-of-a-kind design chosen for the project eventually.
12. Elysian Pool Glass Mosaic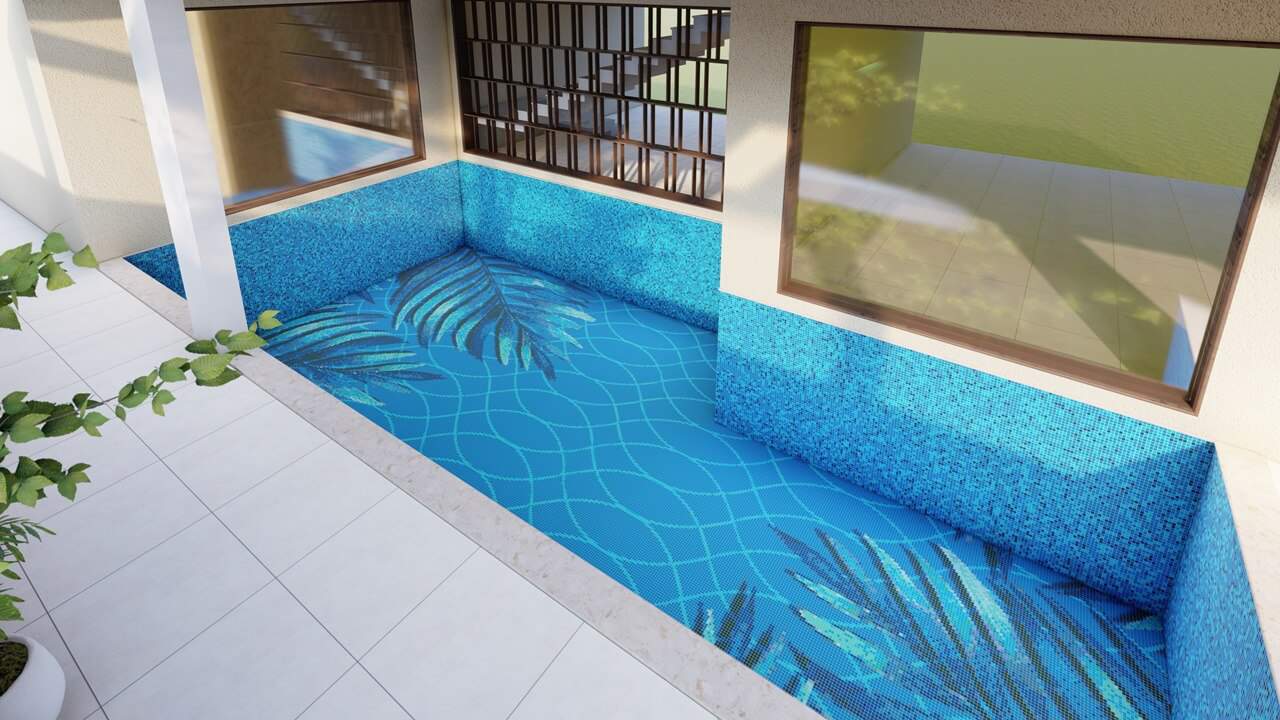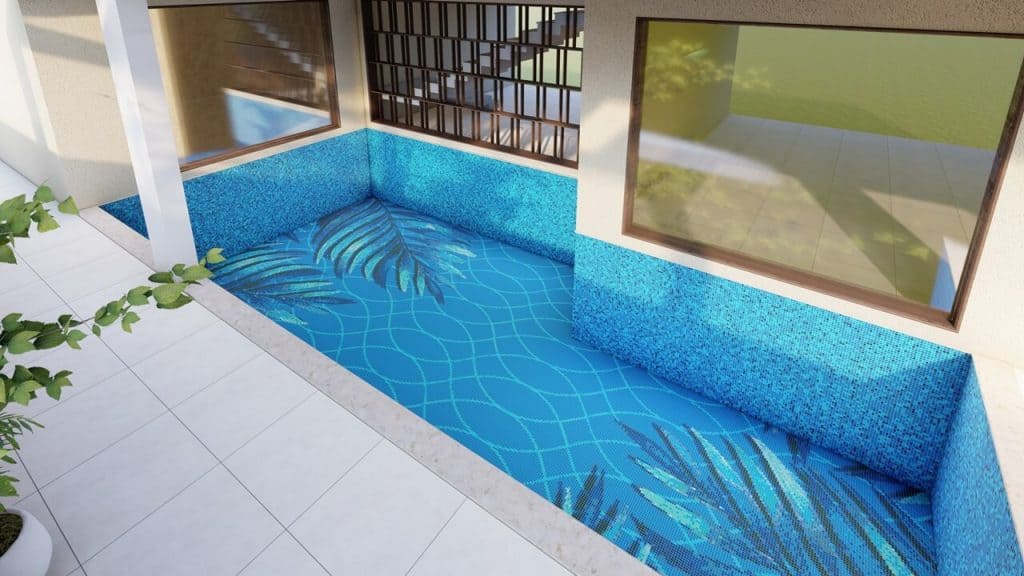 Large tropical lead motifs are set on a backdrop of very fine overlapping waves pattern and Vertex glass blue mosaic tiles. Nature-inspired botanical designs never go out of style. This custom pool mosaic pattern can be used for walls and shower areas as well.
13. Fresh abstract Glass Mosaics Pool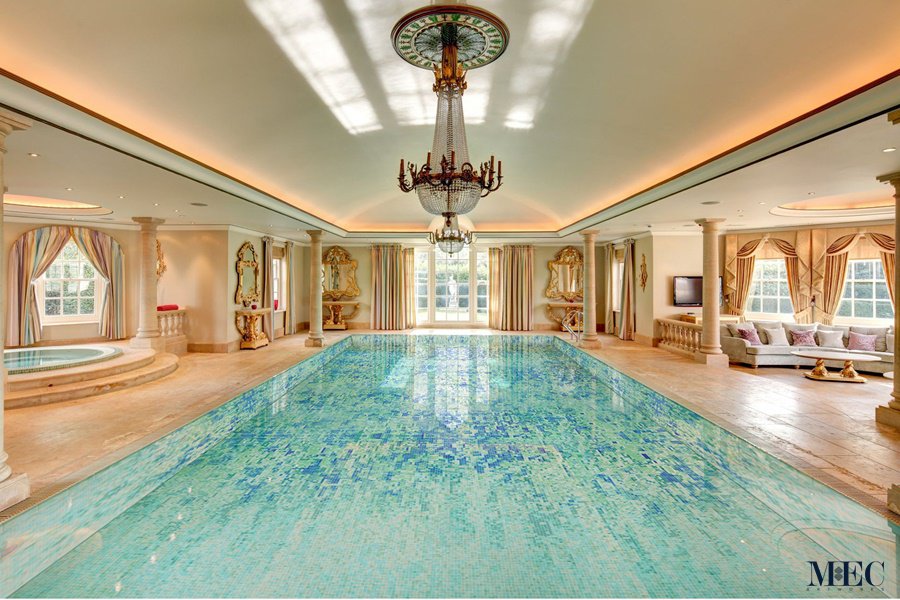 Make your swimming pool more invigorating with abstract PIXL glass custom pool mosaics. A fresh abstract pool tile pattern was custom designed for a project. We loved it so much that we decided to add it to our regular pool mosaic design collection.
14. Abstract Glass Mosaic Swimming Pool Custom Design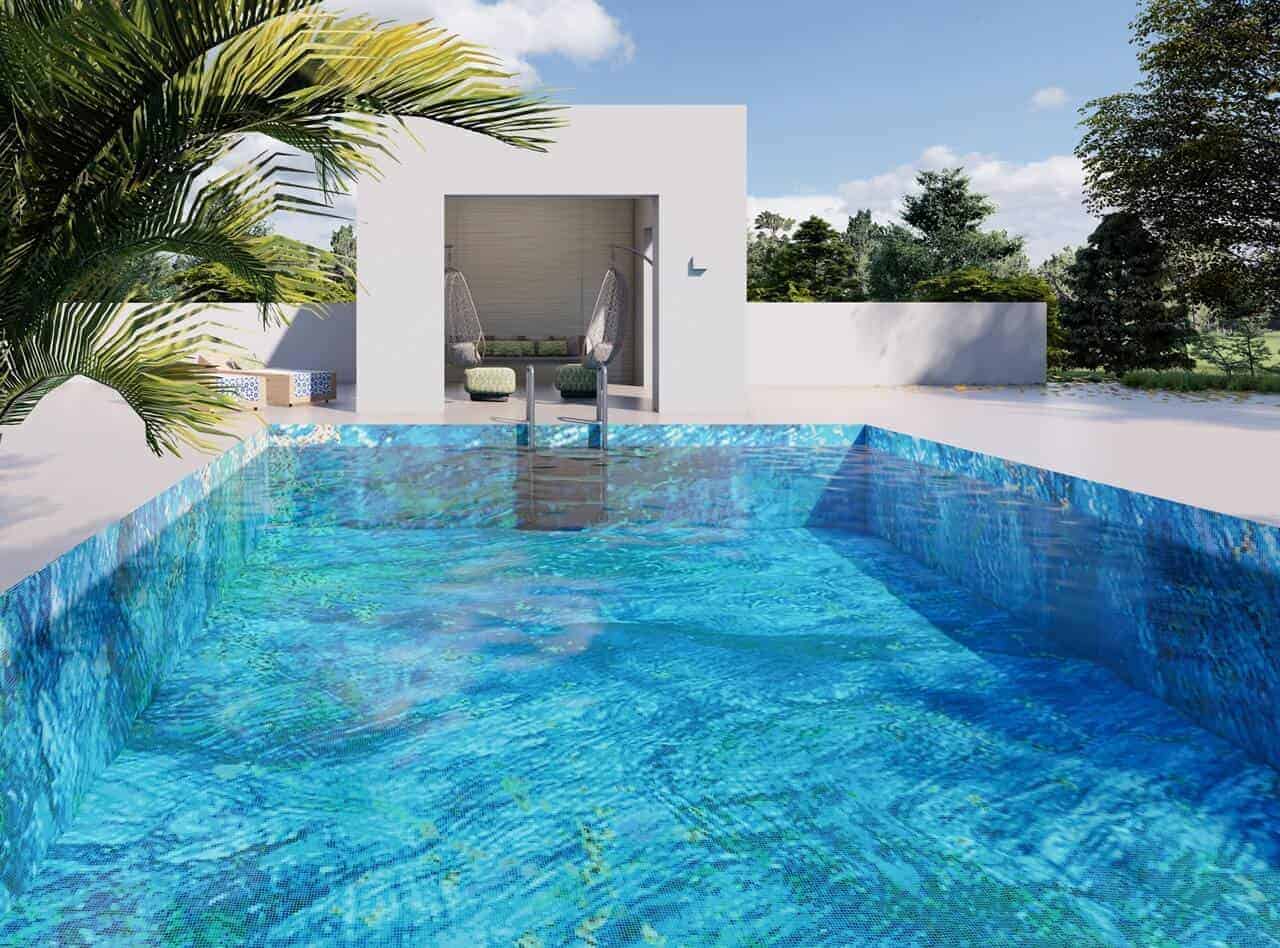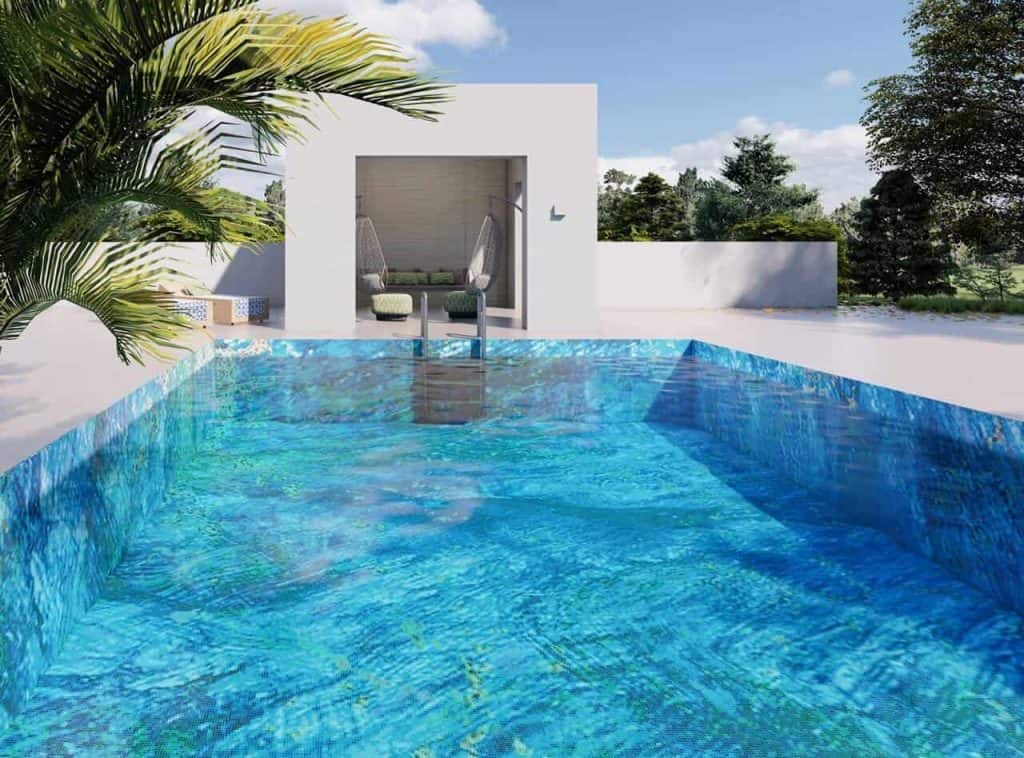 Semi-abstract blue and green glass tile custom pool mosaic designed by MEC. The pool floor and walls are covered with nature-inspired art in a cool color palette. Contact us today for free pool design services and personalized mosaic art.
15. Artistic alternating strips of abstract mosaics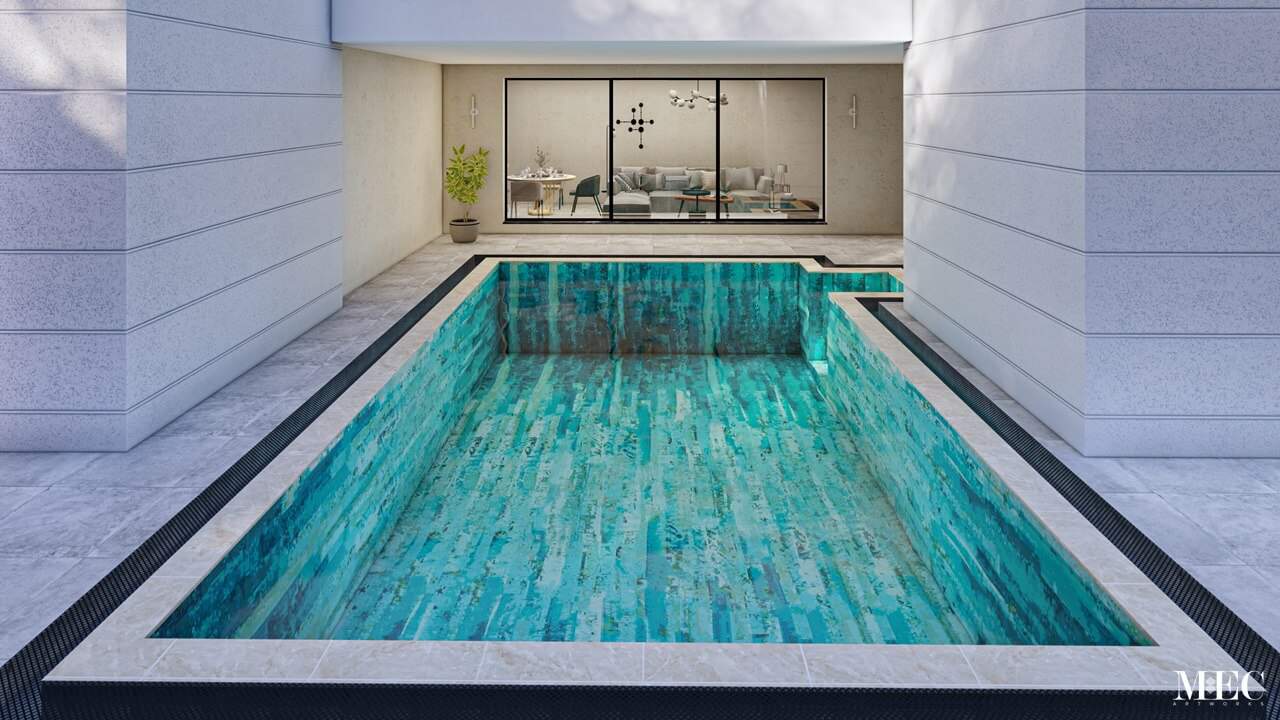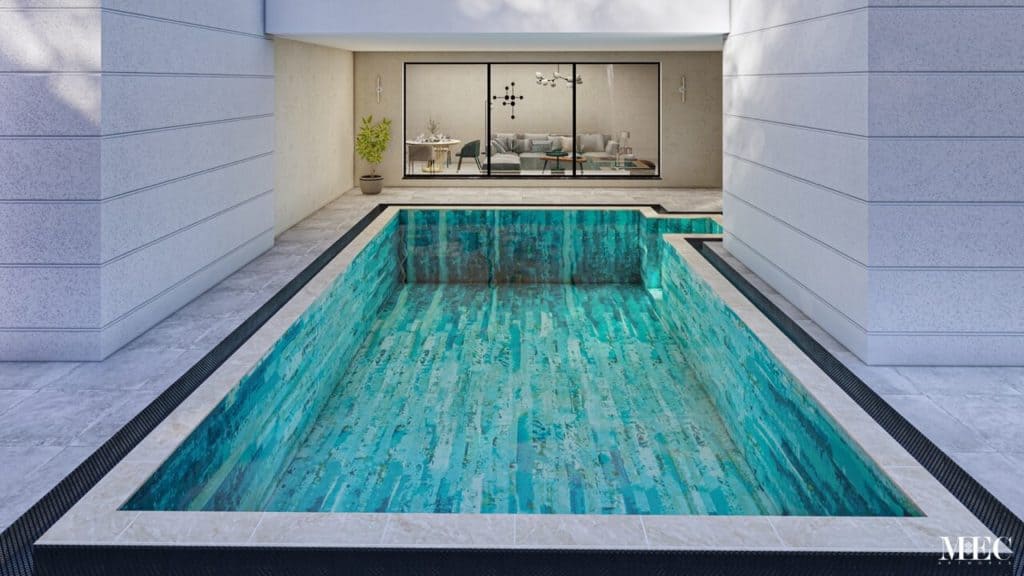 MEC's custom pool mosaics let you literally dive into art. Talk about an immersive experience! This abstract gradient strip pool floor pattern was custom created for a client. The design is lighter in the center of the swimming pool. The pattern darkens into deeper shades of blue as it moves toward the pool walls.
16. Mystical Waters Pool Mosaic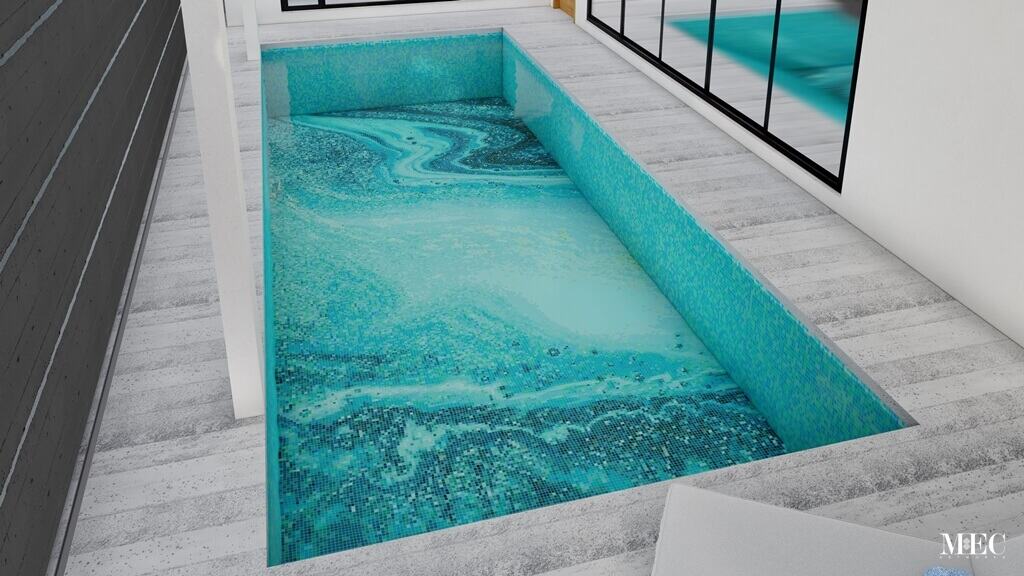 Fascinated by acrylic paint-pouring paintings that look like mesmerizing beaches or ocean waves? One particular client wanted that effect for their swimming pool. We developed the mystical waters digital art based on a collaborative mood board and then converted it to a mosaic-ready PIXL design.
17. Mosaic Tile Pool Fujiwa Wave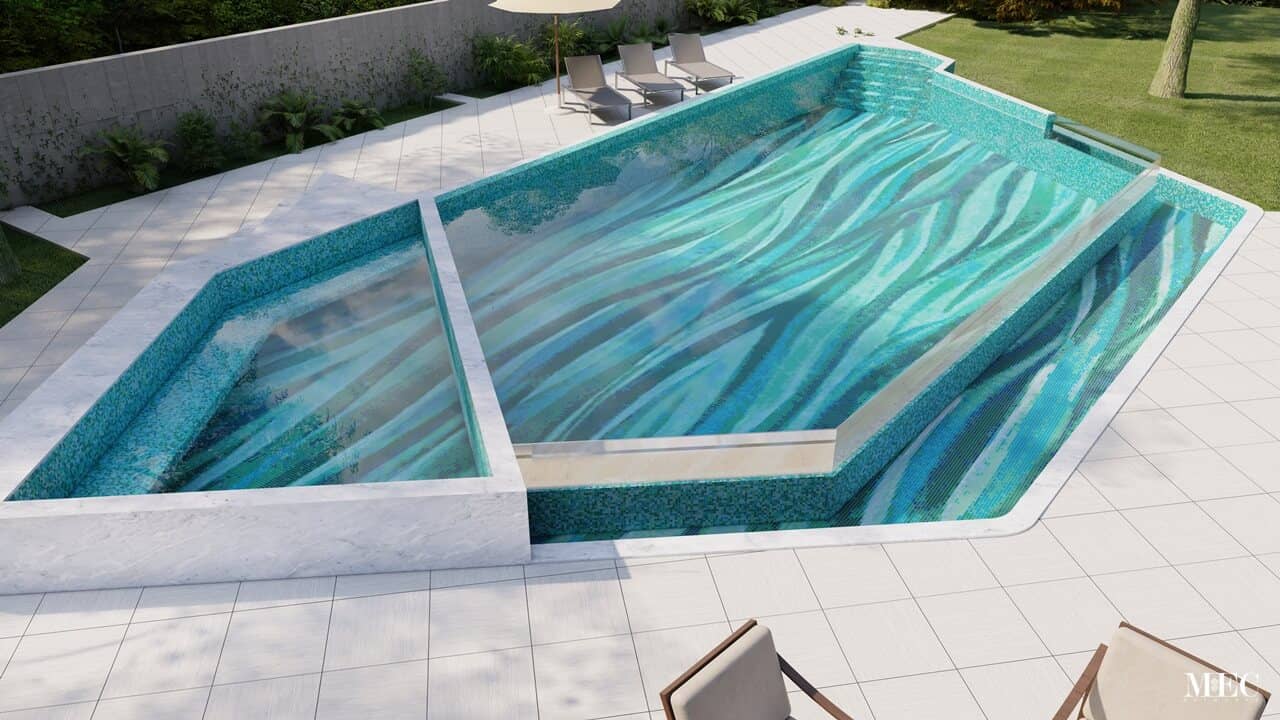 We created this original Fujiwa Wave pool mosaic in 2022 for a very special project. Since then, we got several more orders for the same PIXL glass tile pool art, making it one of our most popular custom pool mosaics.
18. Greek key pool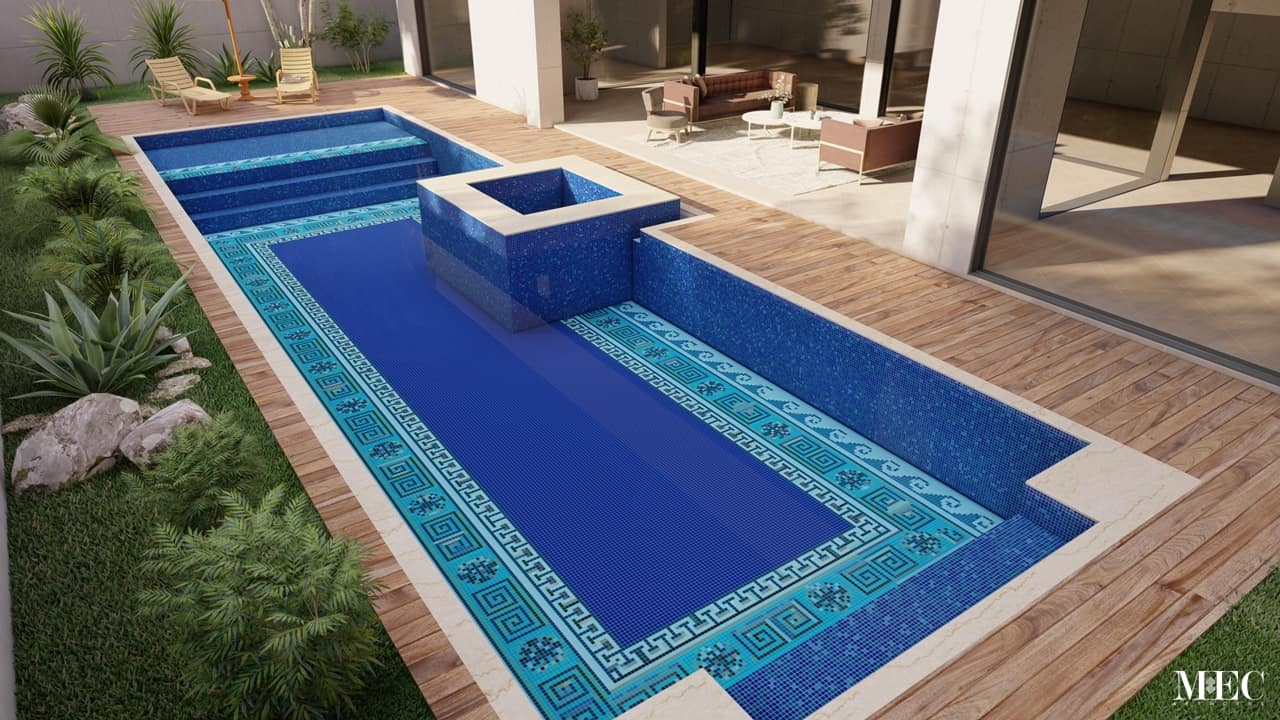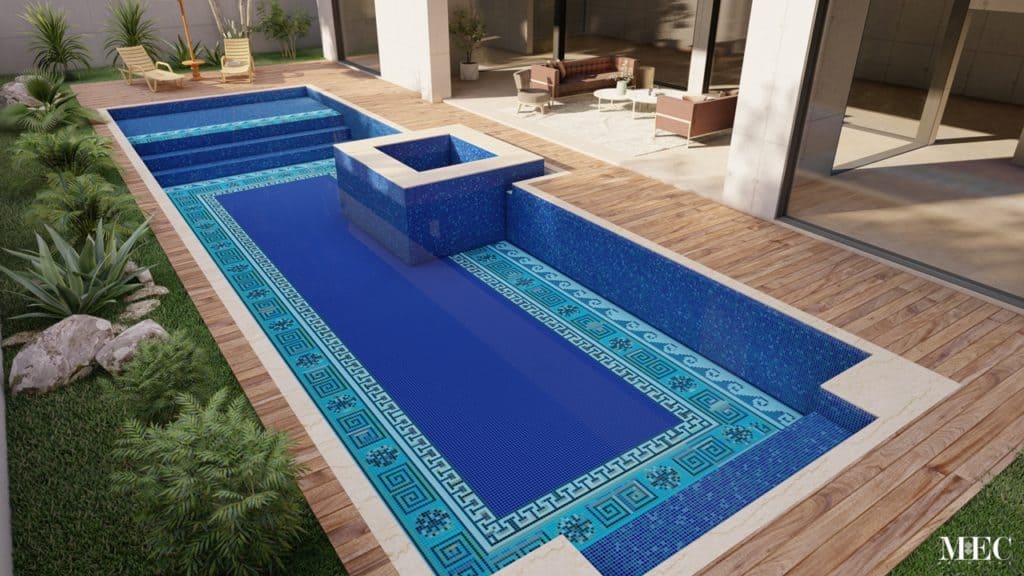 What is better than a Greek border mosaic? Multiple ancient Greek and Roman patterns are incorporated beautifully into one stunning pool mosaic design. Greek Key custom pool mosaic features meander and Greek waves surrounded by dark blue glass mosaic tiles. The Ancient Greek meander symbolizes the eternal flow of things.
19. Kidney Shaped Pool Mosaic Art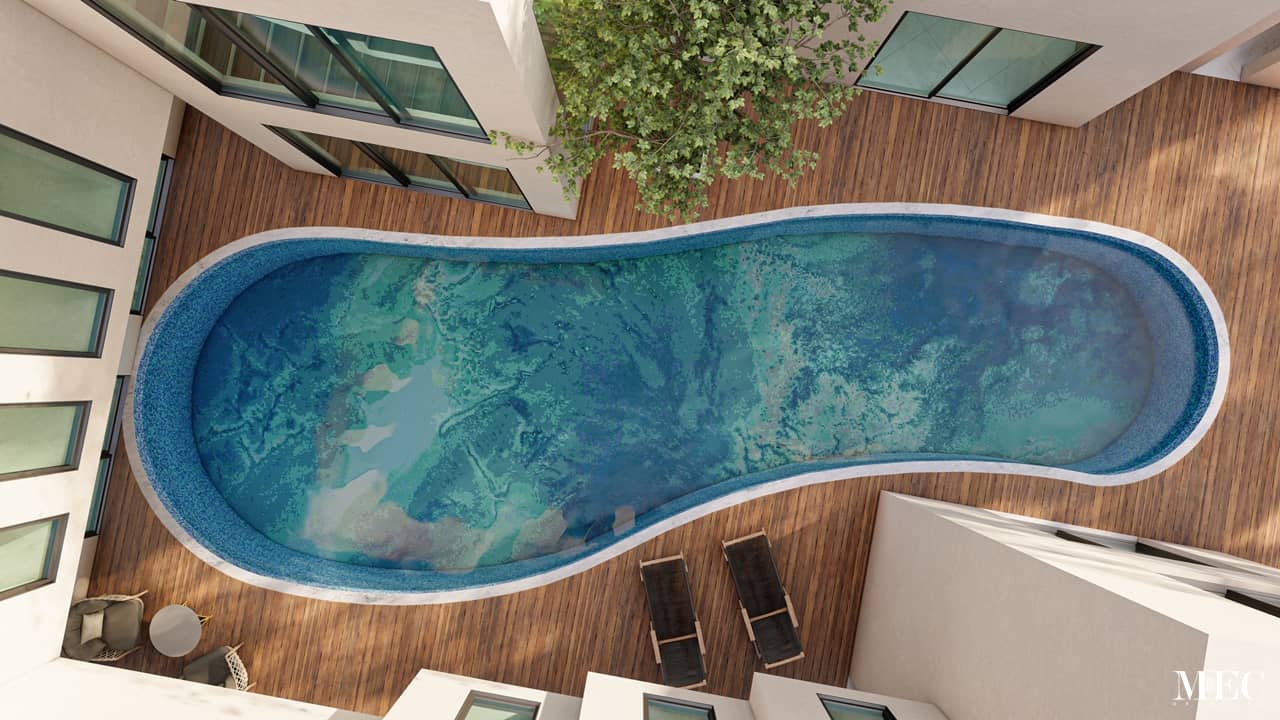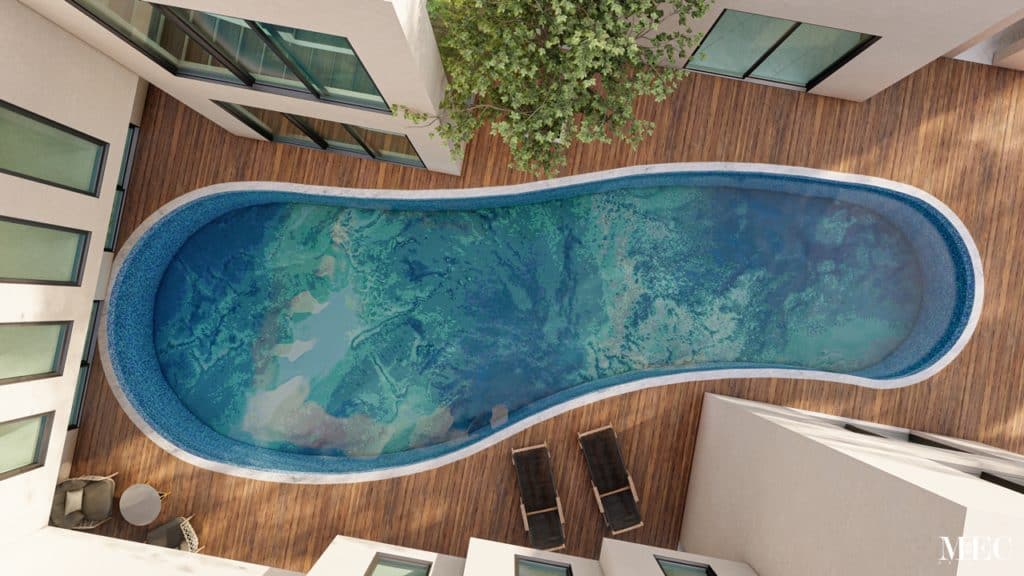 Kidney-shaped swimming pools can be clad with custom pool mosaics as well. We create custom pool mosaics and tile art for pools of all shapes and sizes. A cool turquoise & blue-themed PIXL Mist abstract mosaic design was customized and adjusted to fit this curving pool.
20. Flower Tile Mosaic Pool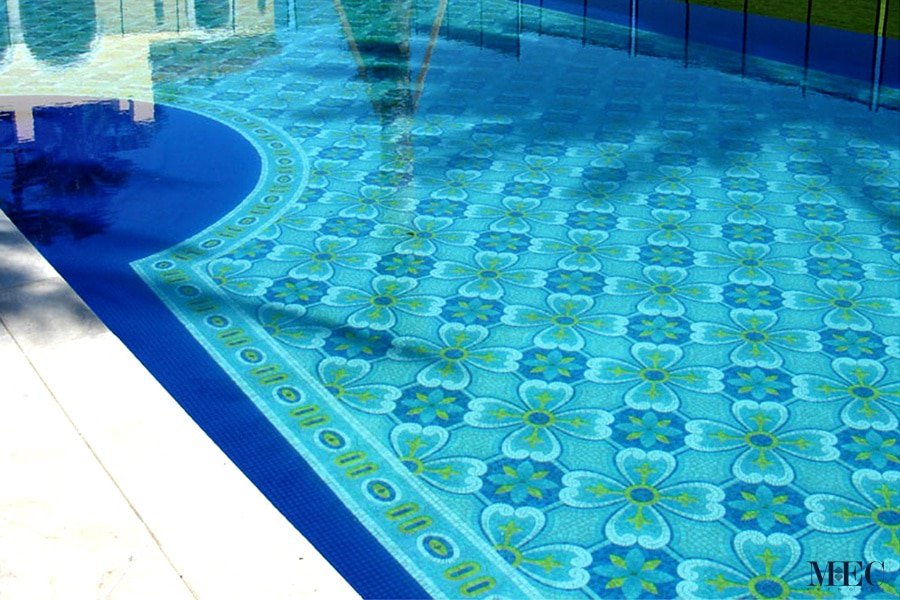 Seamless floor tile-like swimming pool mosaic pattern featuring blue and yellow flowers. For more floral custom pool mosaics and design ideas check out MEC's Le Printemps and Flora collections.
21. Ornate Mosaic Pool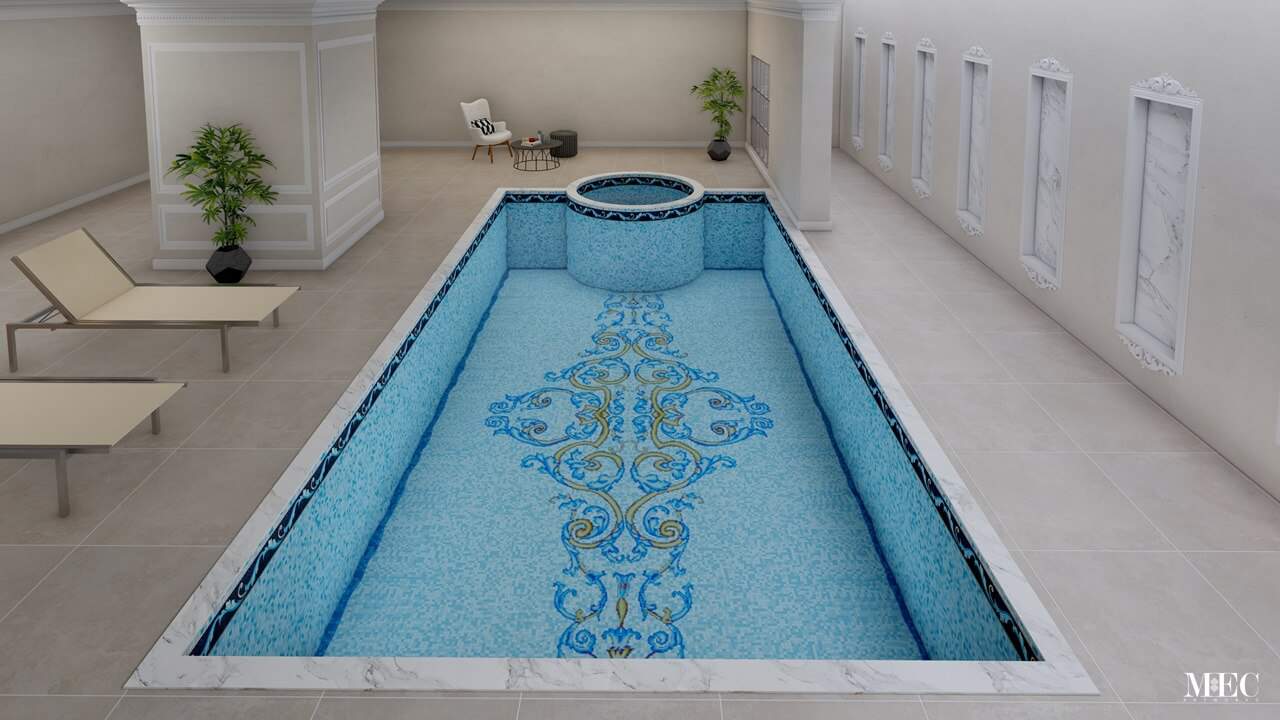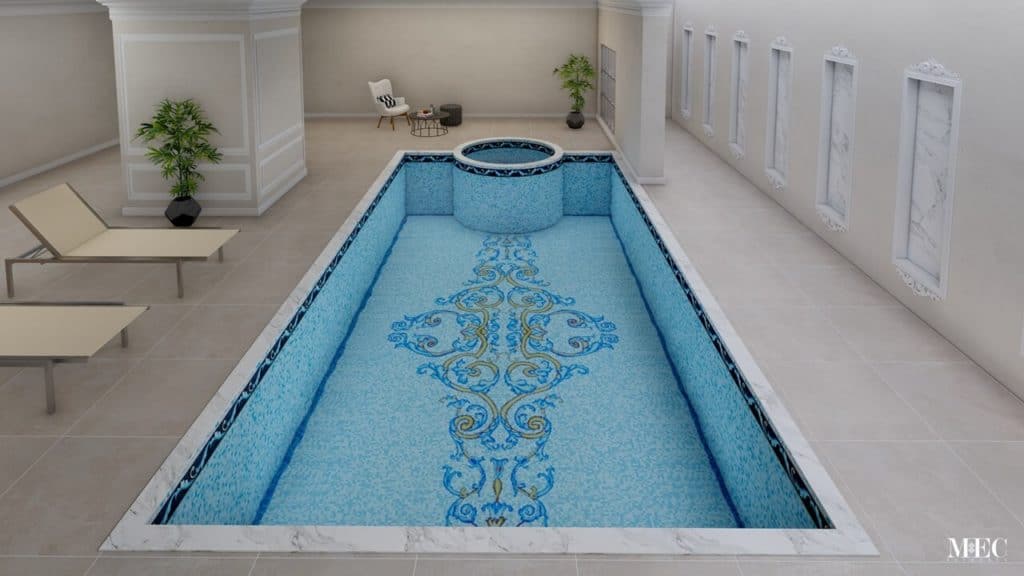 Decorative European scroll motif pattern design customized for a swimming pool floor. Made using Vertex vitreous glass tiles, this mosaic was specially designed for a project in Turkey. The waterline features a dark color theme with an acanthus leaf border. A classic Vertex 20 blend is used as a field tile.
22. Trapezoids-colored mosaic Pool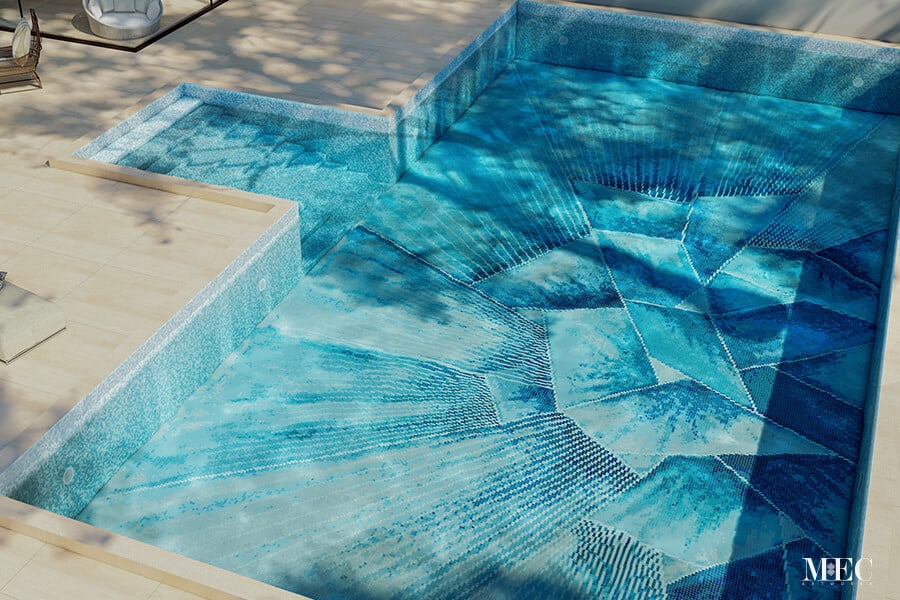 Skiss is a PIXL mosaic design created from a hand-sketched color pencil and watercolor art. We absolutely love how that hand-drawn effect is still apparent as the pattern was converted from one medium to another. The exciting Aqua pool mosaic displays a geometric design featuring trapezoids. Lines radiating out of the geometric cluster, evoke a feeling of joy and excitement.
23. Lily mosaic pattern customized for pool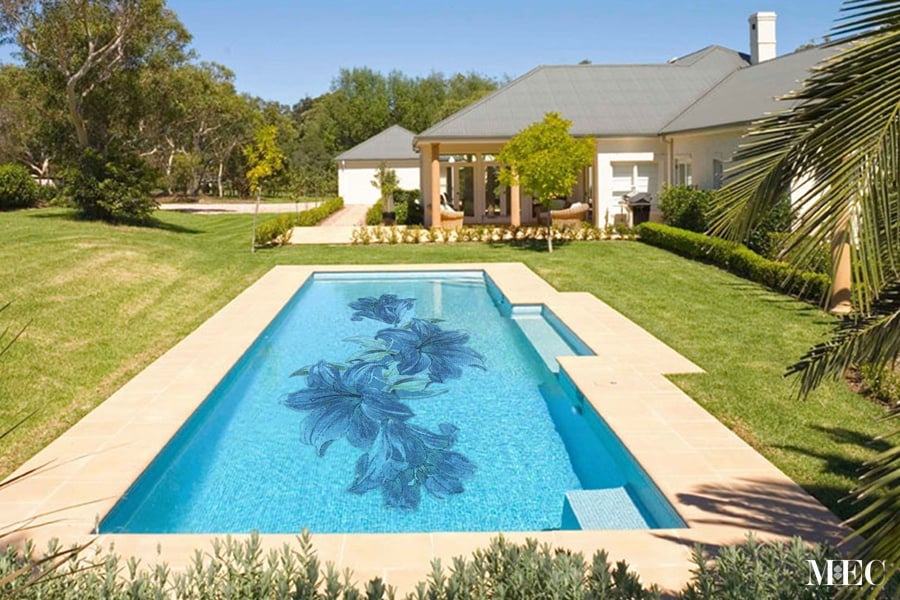 Need a unique idea for your swimming pool? Consider this larger-than-life realistic lily flower mosaic. The floral mosaic glass tile art captures the delicate and radiant beauty of lilies.
24. Aqua & Green Custom Mosaic Pool Tile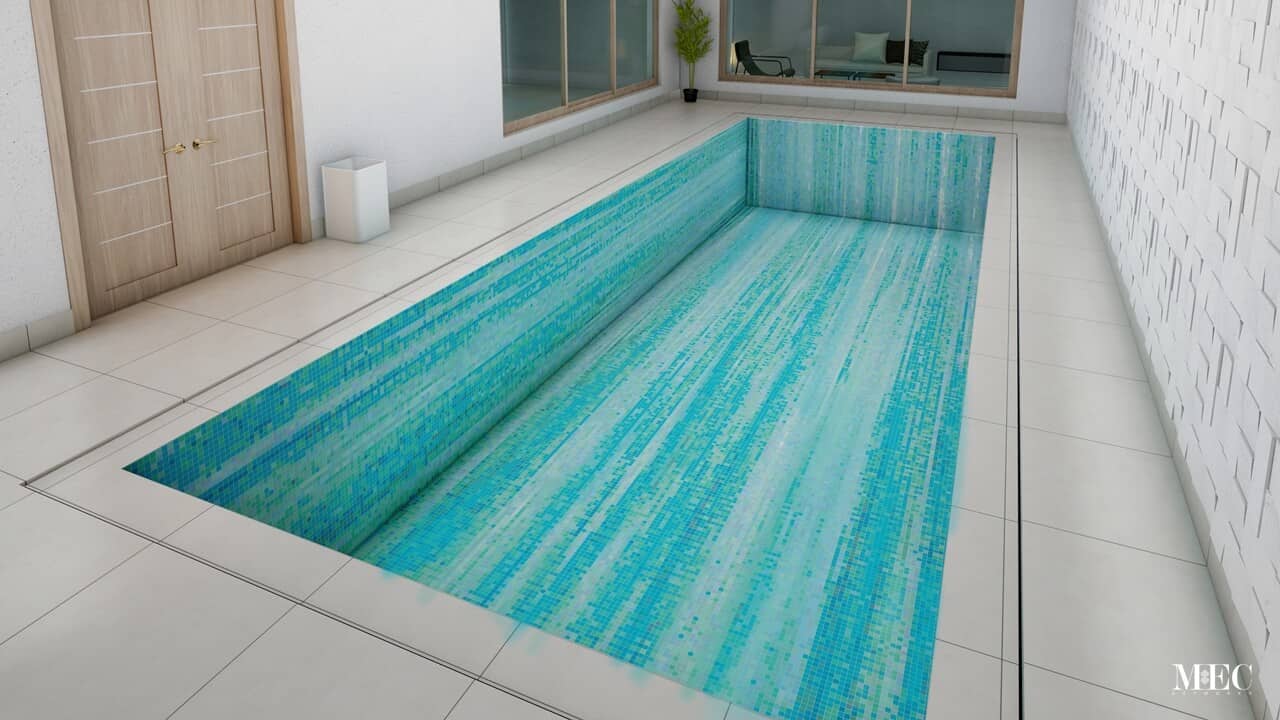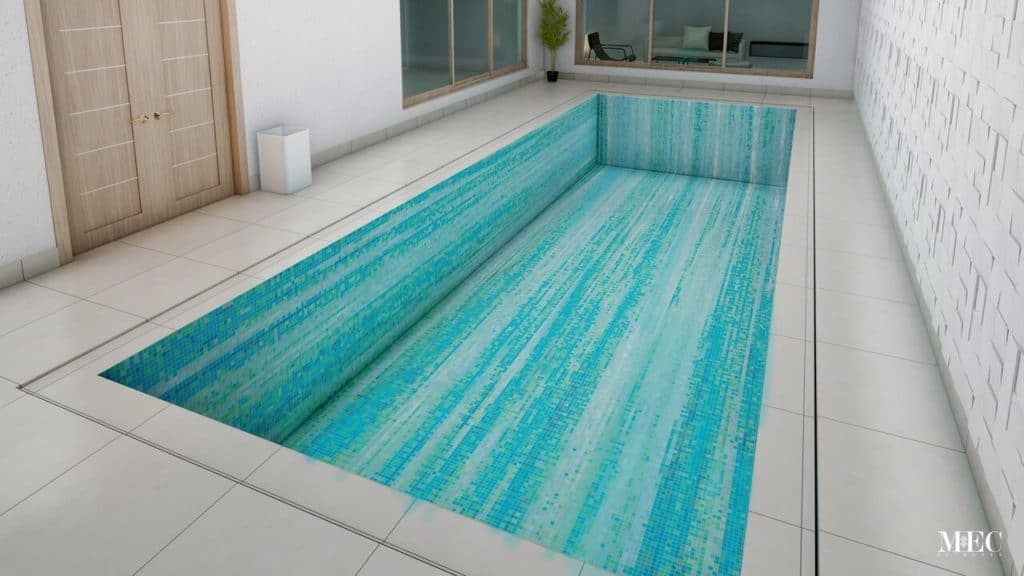 Add this PIXL glass mosaic pattern to your abstract modern pool tile ideas. Cool colors like shades of blue, turquoise and green make for terrific swimming pool tile design.
25. Wavy Mosaic Tile Design for Swimming Pool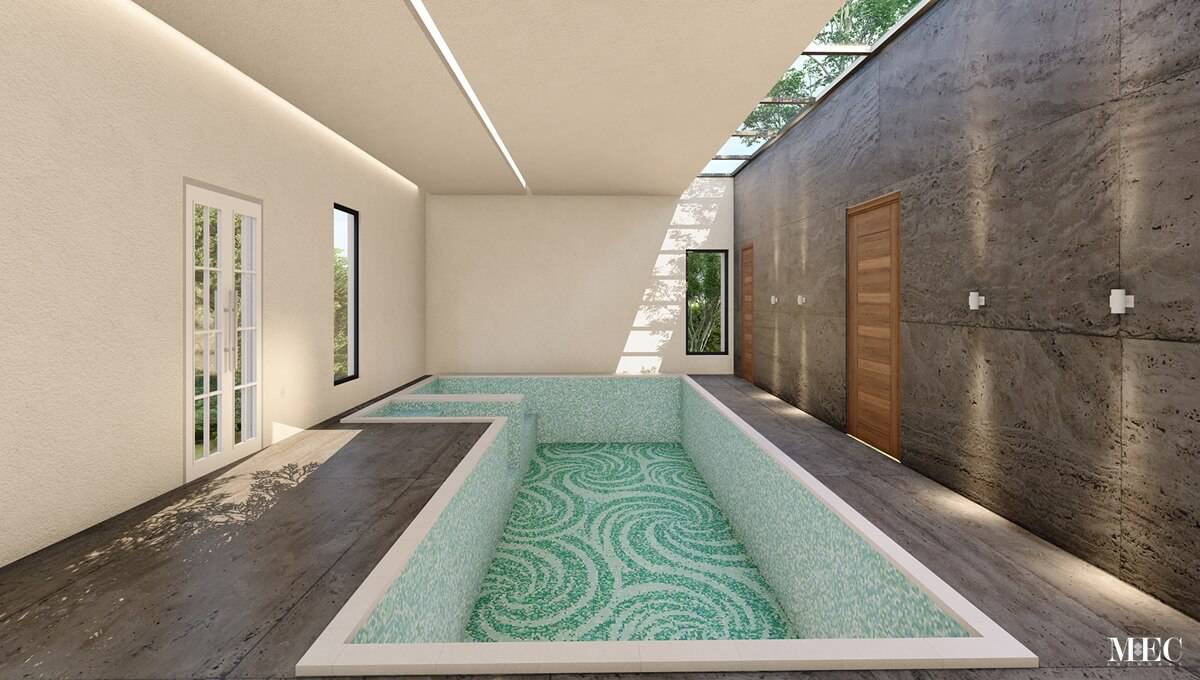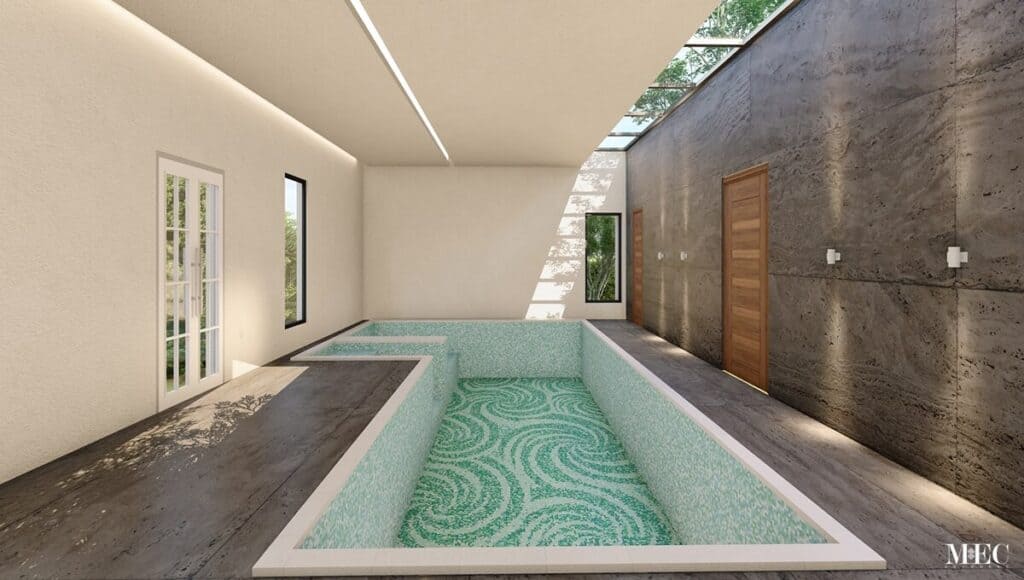 If fun and bold patterns is what you are looking for, we have some swimming pool tiling designs for you. Here is a custom designed wavy lines PIXL mosaic pool we designed for a client. It features blue, aqua and green abstract curvy squiggly lines. A custom Vertex 20 glass tile mix covers the pool walls.
24. Custom made Brown gold pool tiles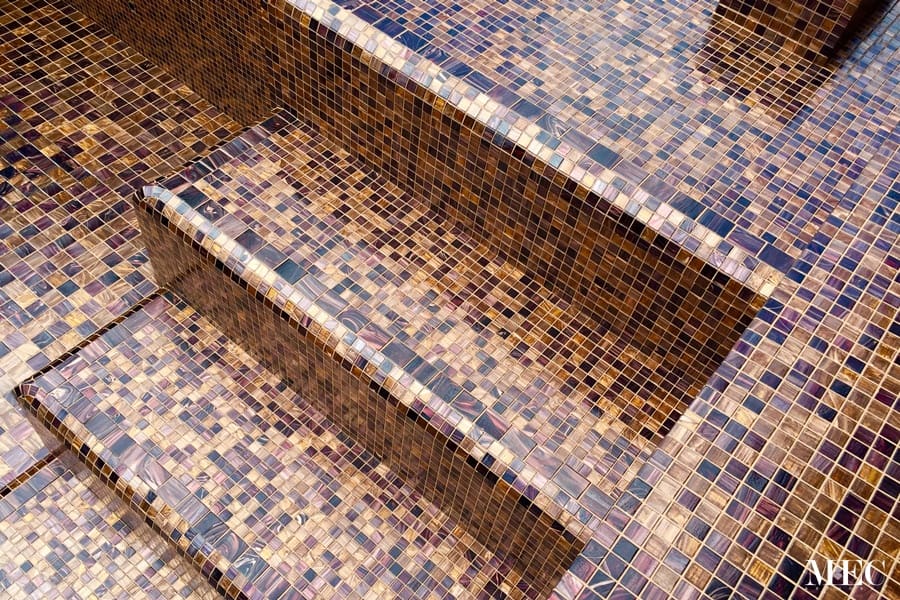 Need some custom pool mosaics tile inspiration? We have pool tile idea photos for you to browse through. Here is a close-up of pool steps clad with a brown Vertex 20 Gem glass tile mix. Serie Gem mosaic tiles feature shimmery veins of copper and gold glitter.
25. Ombre gradient Swimming Pool Mosaic tile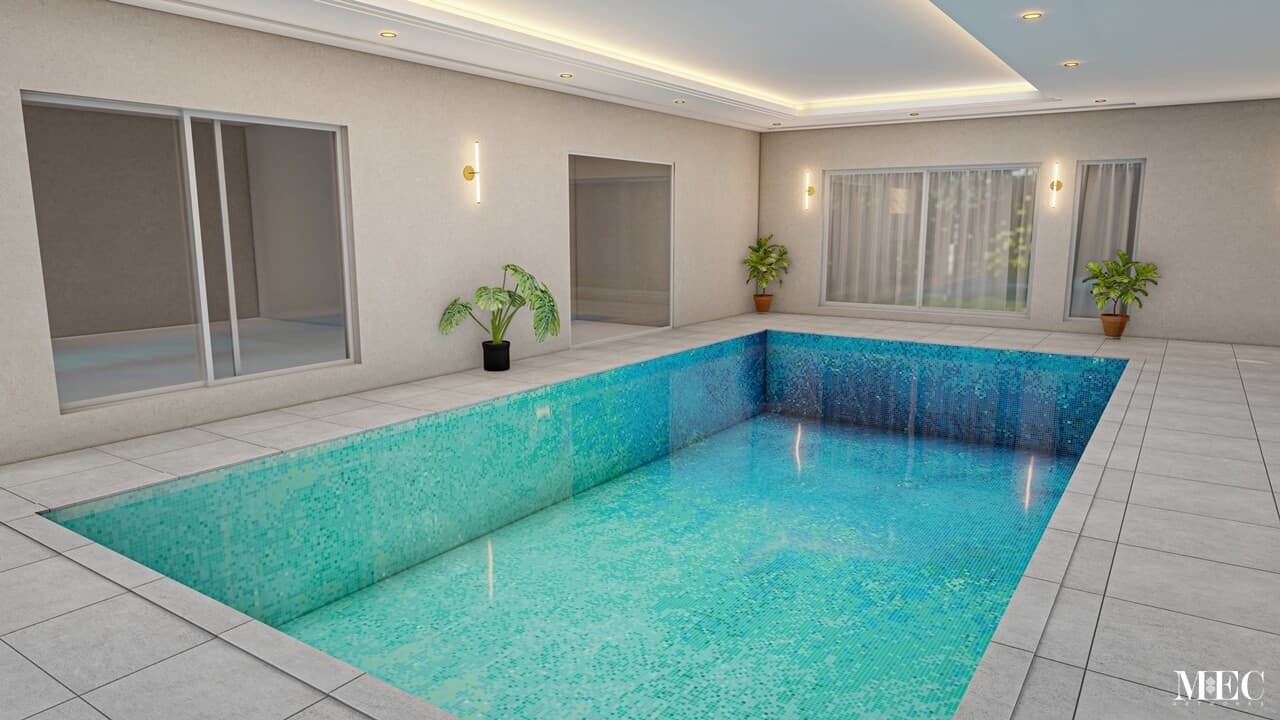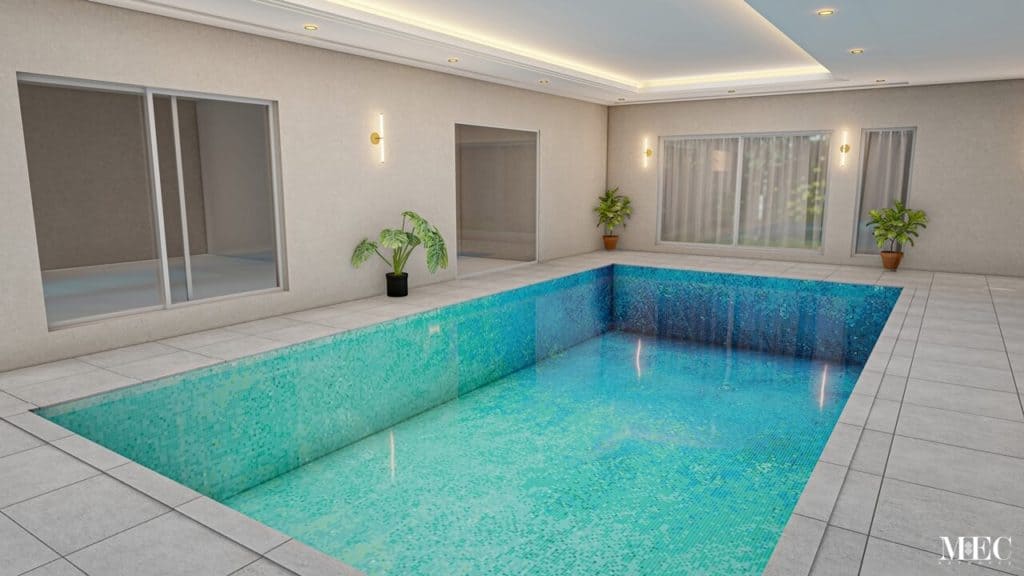 Will we ever run out of custom pool design ideas? No, because with the variety of colors, latest in mosaic techniques and technology the possibilities are virtually endless. Ombre gradient custom pool mosaics are one of the most popular mosaic styles for pool. Get your own ombre swimming pool mosaic customized with MEC.
26. Custom Designed Surf Wave Pool Tile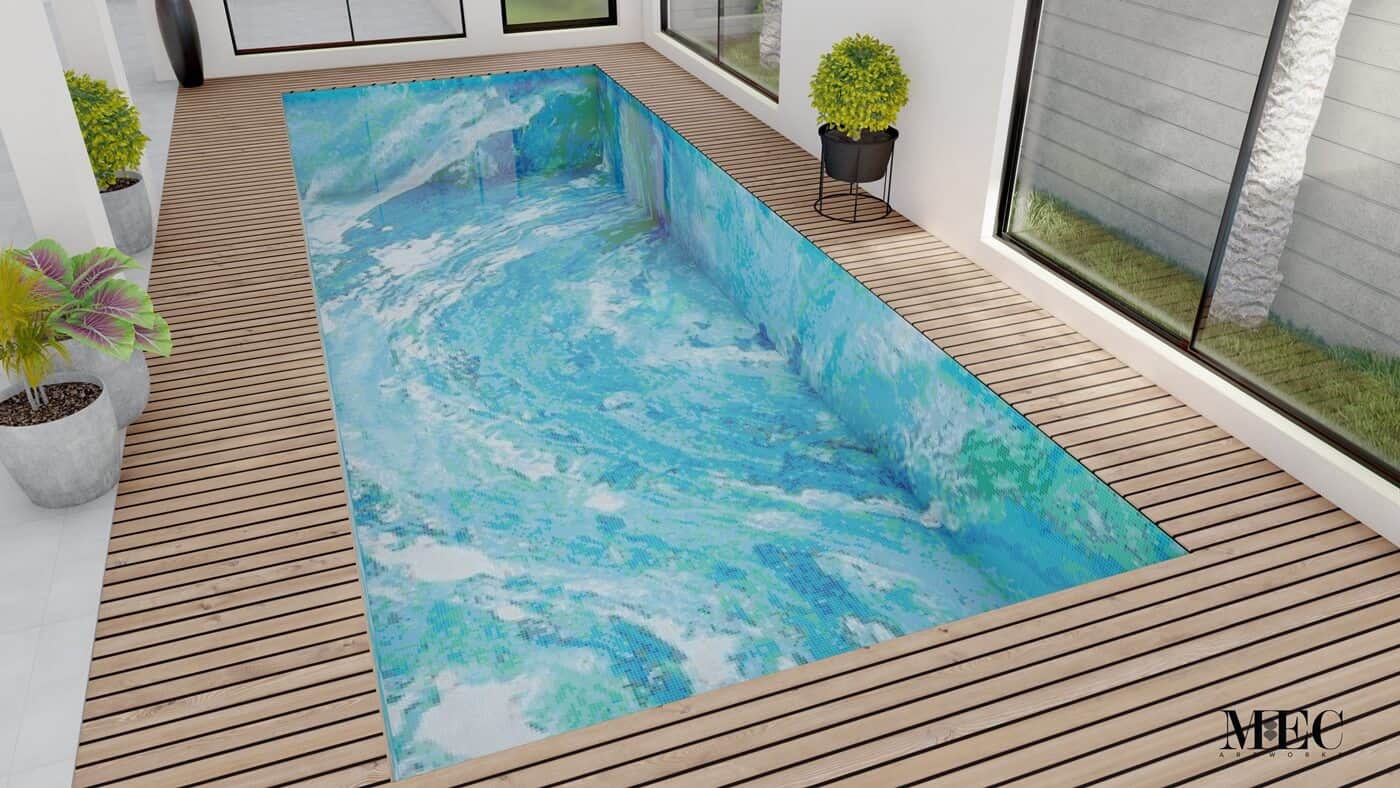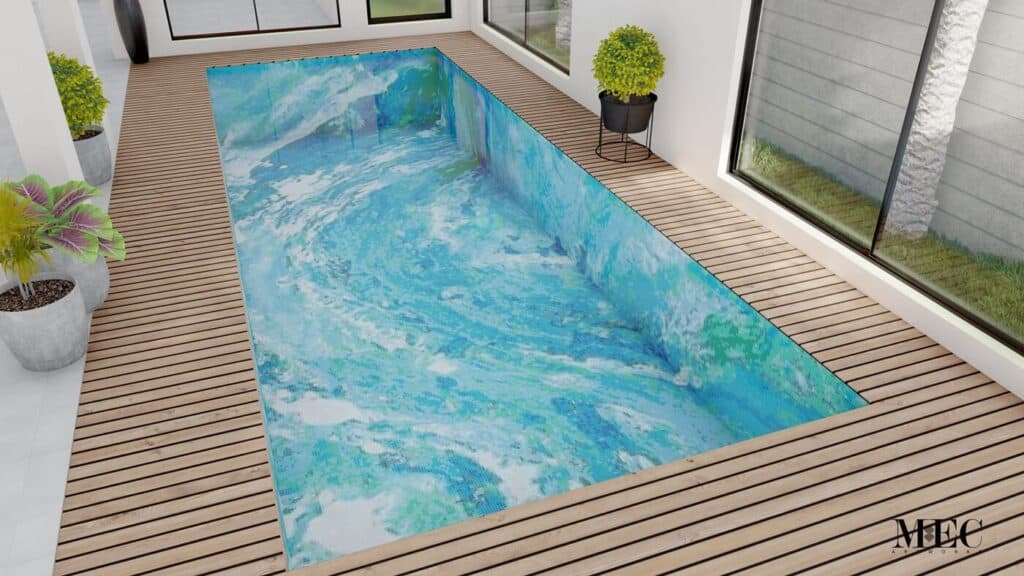 Here is a fun little custom designed PIXL tile swimming pool mosaic project we did. MEC colorful pool tile design embodies the surf wave colors and effect marvelously. A mosaic artwork so refreshing and life-like, it will make you want to take out your surfboard (inflatable ones, would work too).
27. Customized whirlpool glass mosaic pattern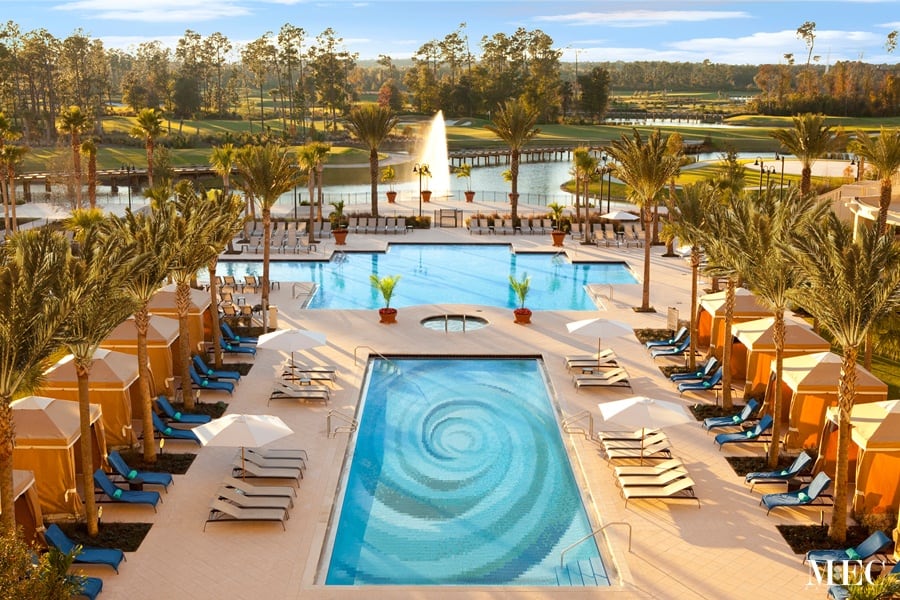 A fun whirlpool spiral abstract mosaic tile pool floor could transform the ambiance of the entire space. MEC custom created this whirlpool glass mosaic pattern tile for a resort.
28. Contemporary Pool Mosaic Tile Art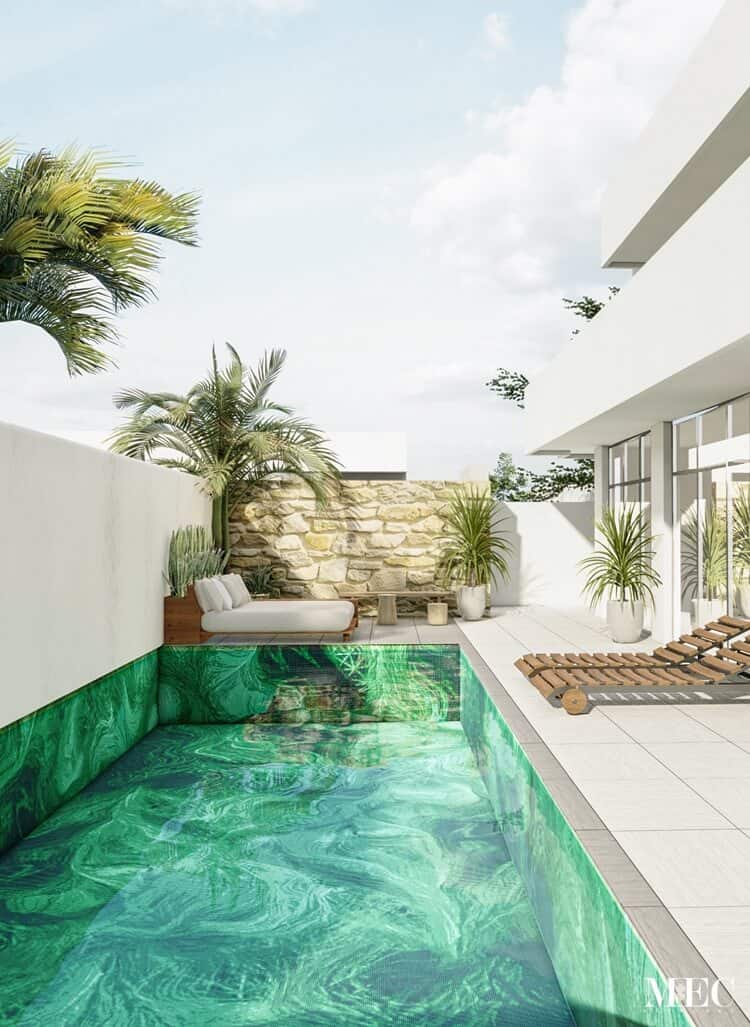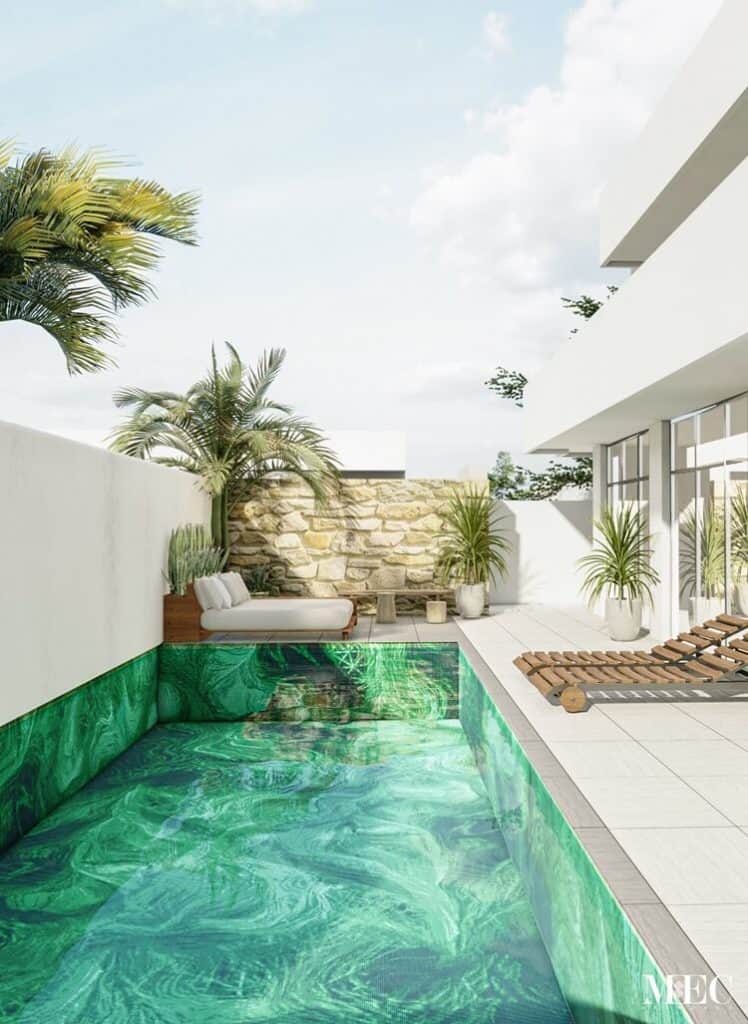 Ellp Abstract Green Tile Mosaic. Give your pool the tile art makeover it deserves. We have contemporary pool tile options for modern spaces. Get custom pool mosaics personalized to match your style.
27. Custom Made Raio Pool Mosaic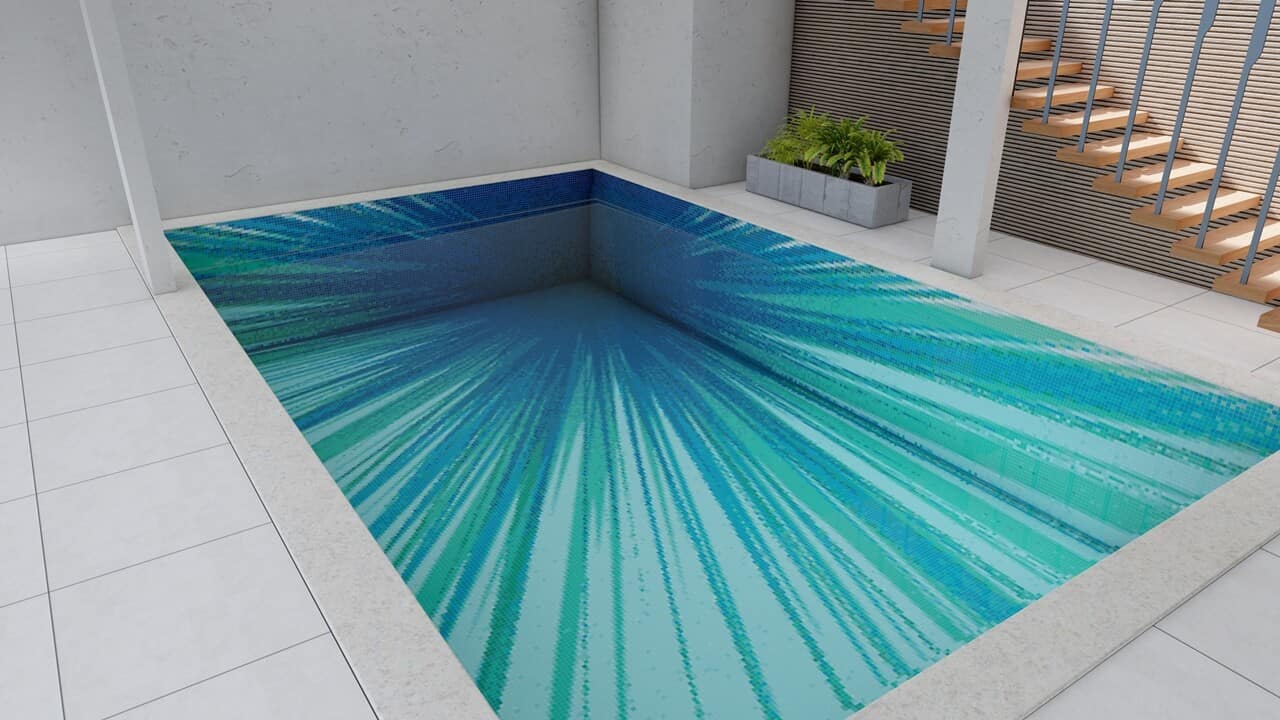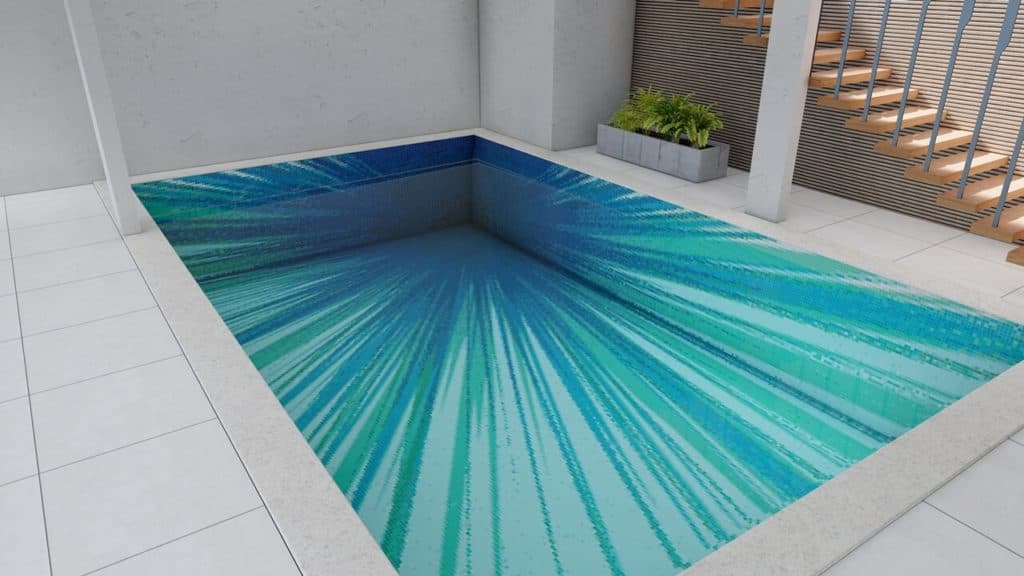 Raio is a wonderful example of how we customize mosaic designs for pools of different sizes. The customer loved our Radio PIXL mosaic art and wanted to get it custom fit to their relatively small swimming pool. We were happy to help.
28. Mosaic Tile Pool Design with Custom Color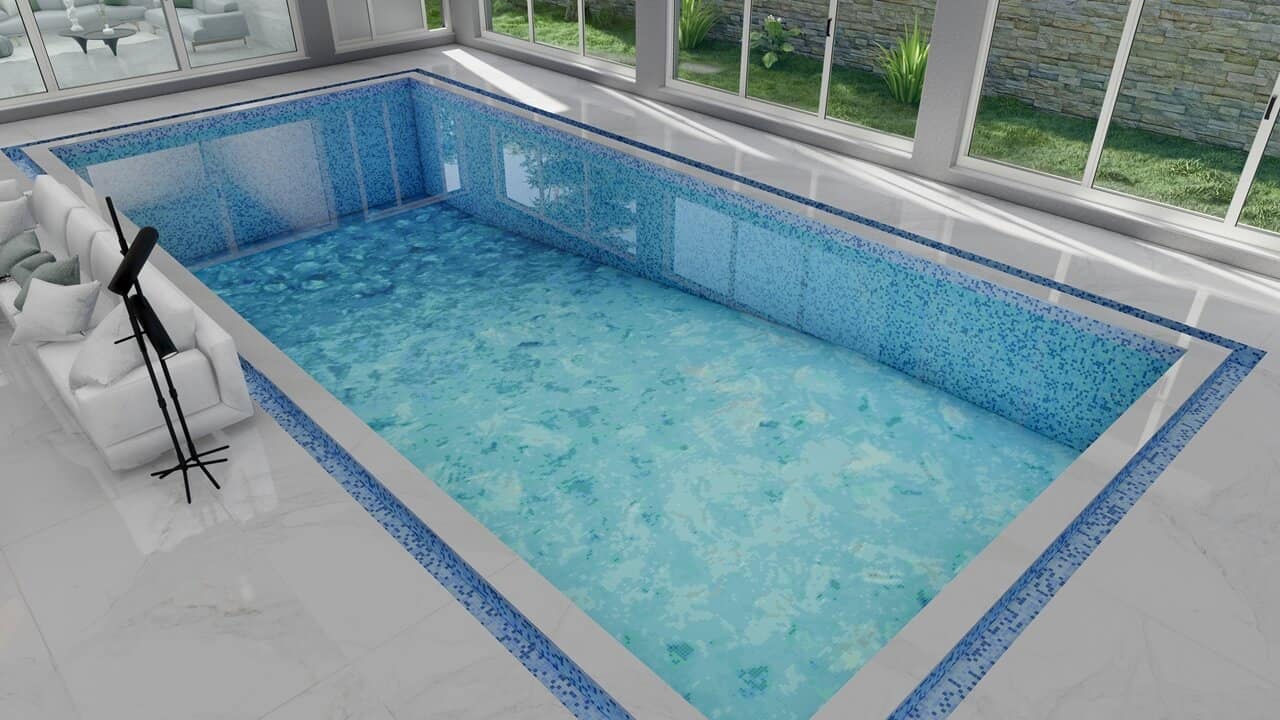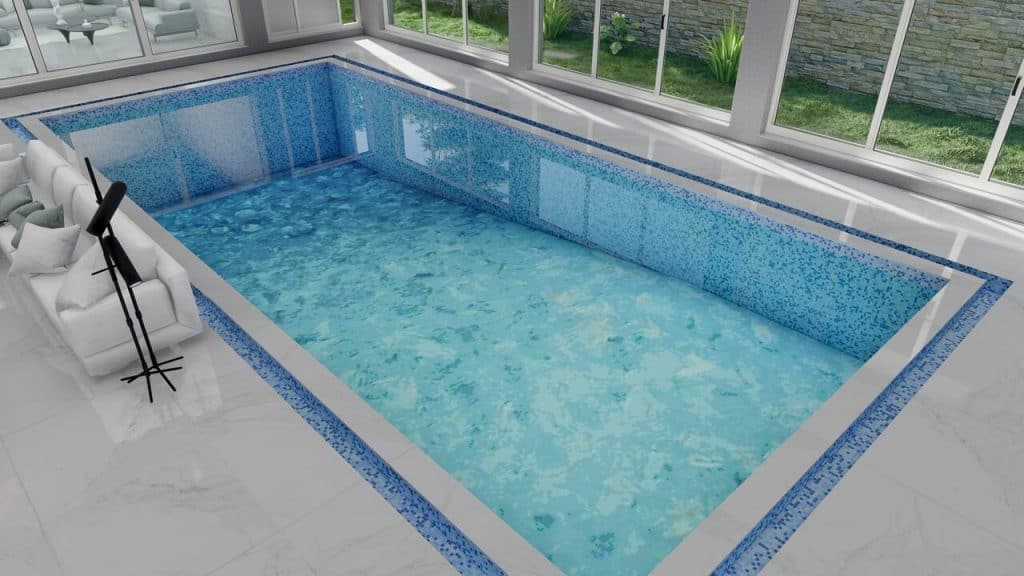 Mosaic tile color shading can be used to highlight the depth effect. Here is a custom blue color palette gradual gradient mosaic tile pool design for reference.
29. Bloom pool custom made idea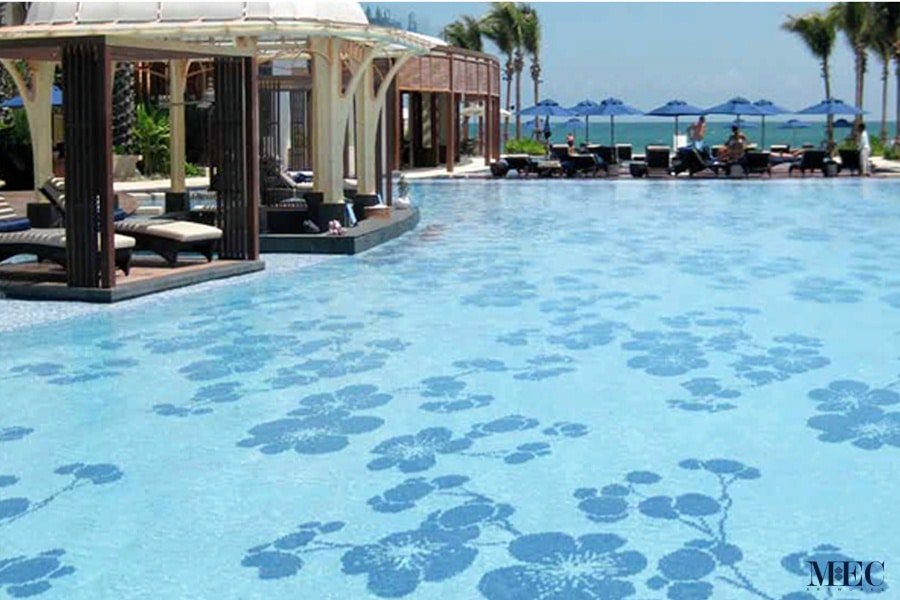 Victorian flower silhouette pattern design customized in mosaic medium for swimming pools. Blue blossom pool tile is perfect for adding texture to the space.
30. Backyard Pool Custom Abstract Mosaic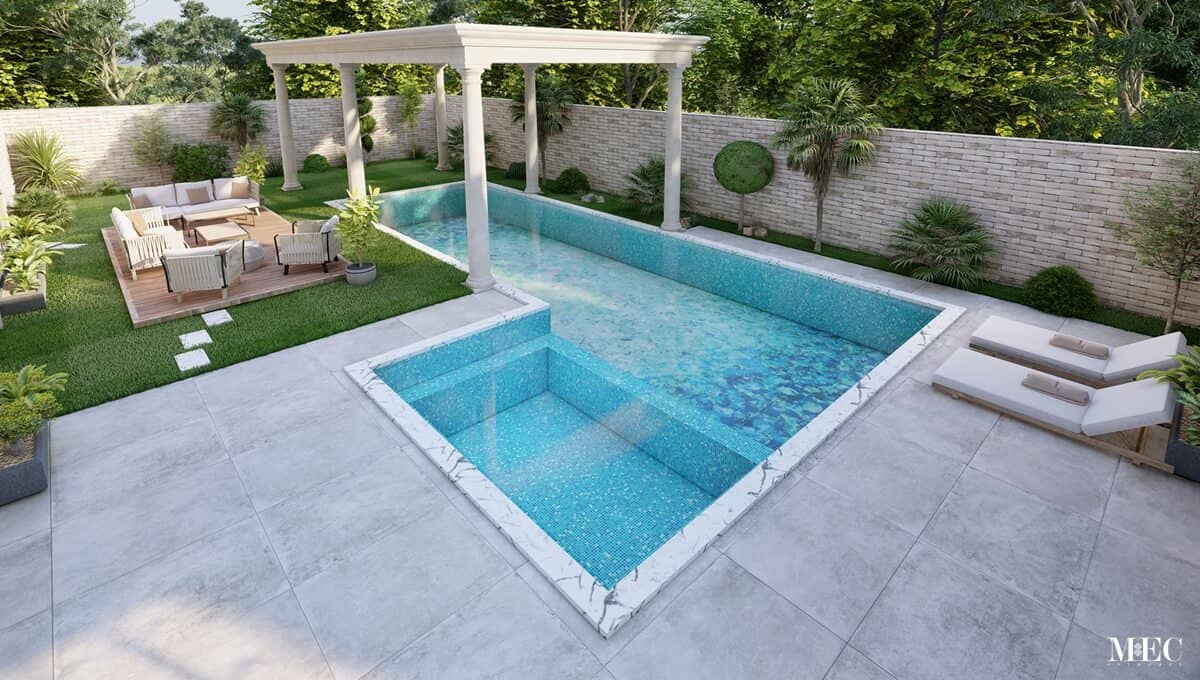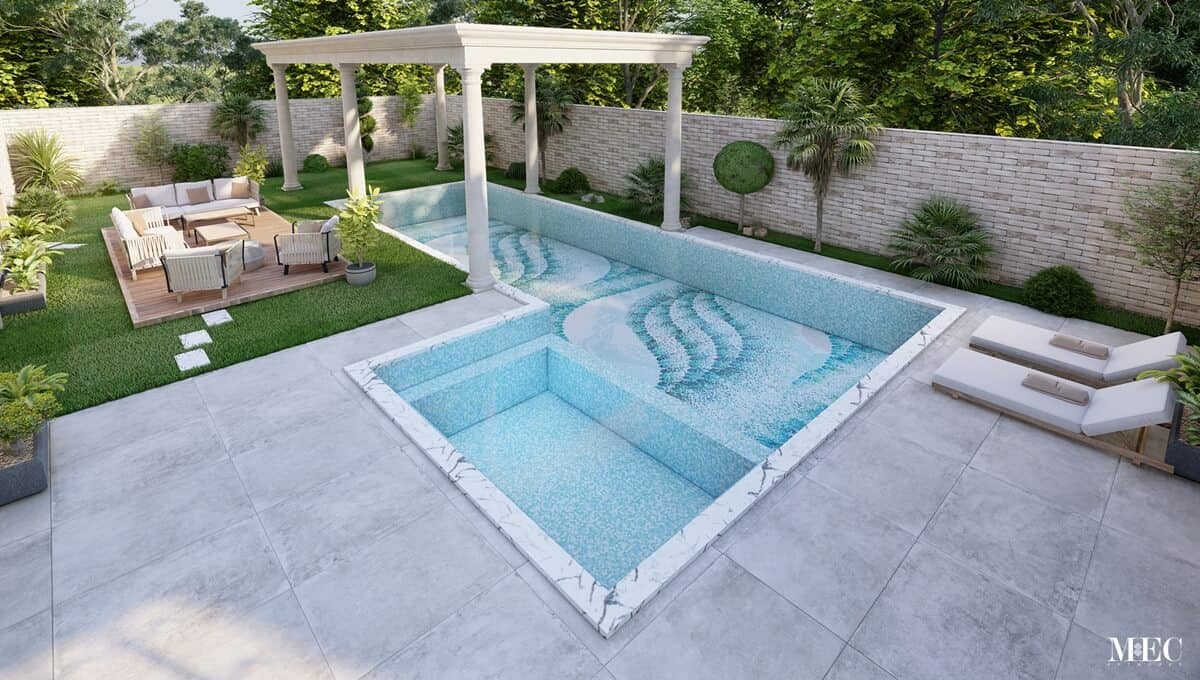 With MEC's PIXL range you can get custom pool mosaics designed to fit your style and space. Request your very own custom renderings to see how different pool mosaic designs would look in your backyard.
31. Blue Tide Pool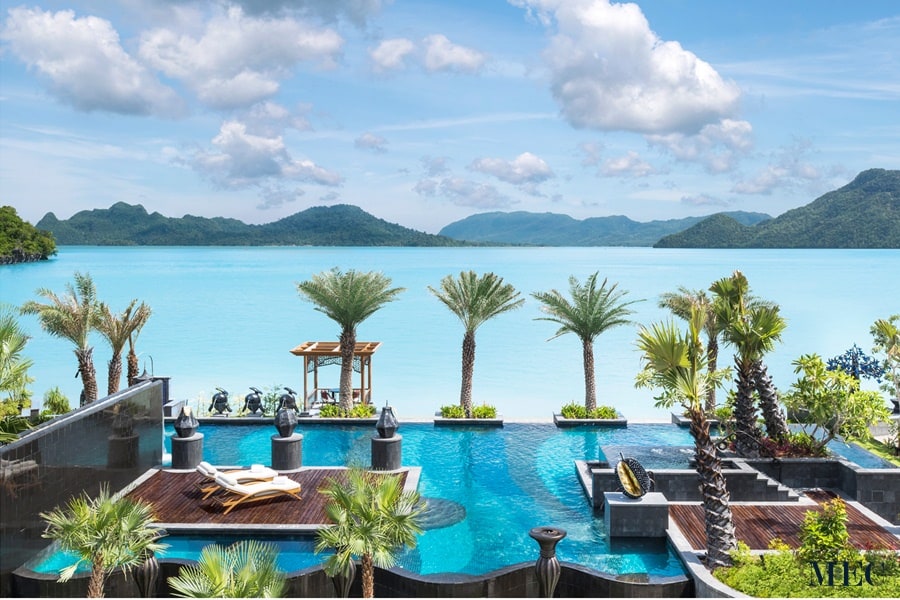 Whimsical waves made with glass mosaic tiles in varying shades of blue for a pool. For more swimming pool mosaic designs and custom patterns created from scratch, get in touch with us.
32. Shallow ocean waters custom made mosaics pool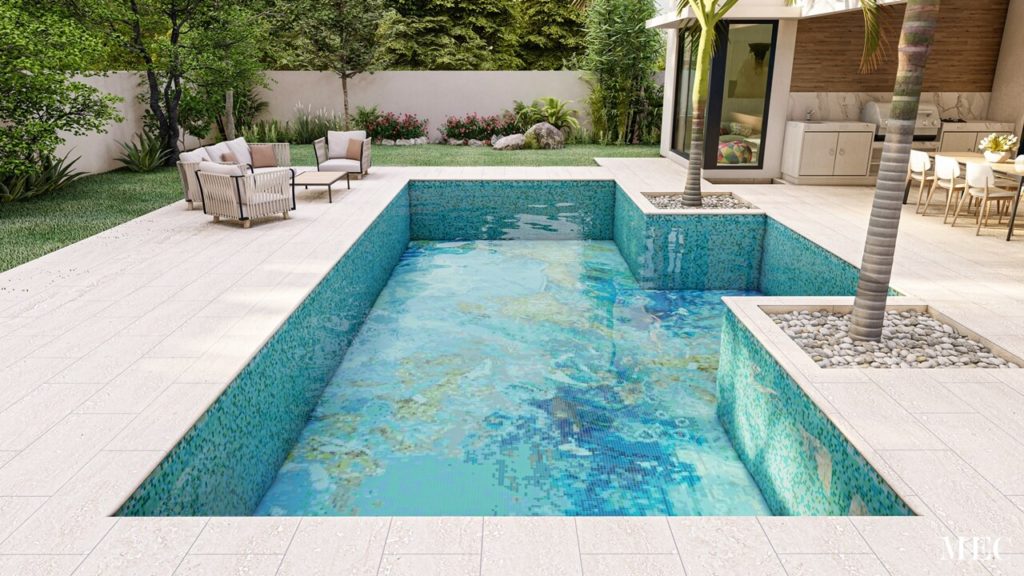 A custom abstract PIXL pool mosaic tile art made with Vertex glass. Fosa draws inspiration from breathtaking aerial shots of clear and shallow ocean waters. With MEC's custom pool mosaics and AddTek system, you can turn any design idea into a pool tile artwork.
33. Custom Designed Mosaic Motif for a Dubai Villa Pool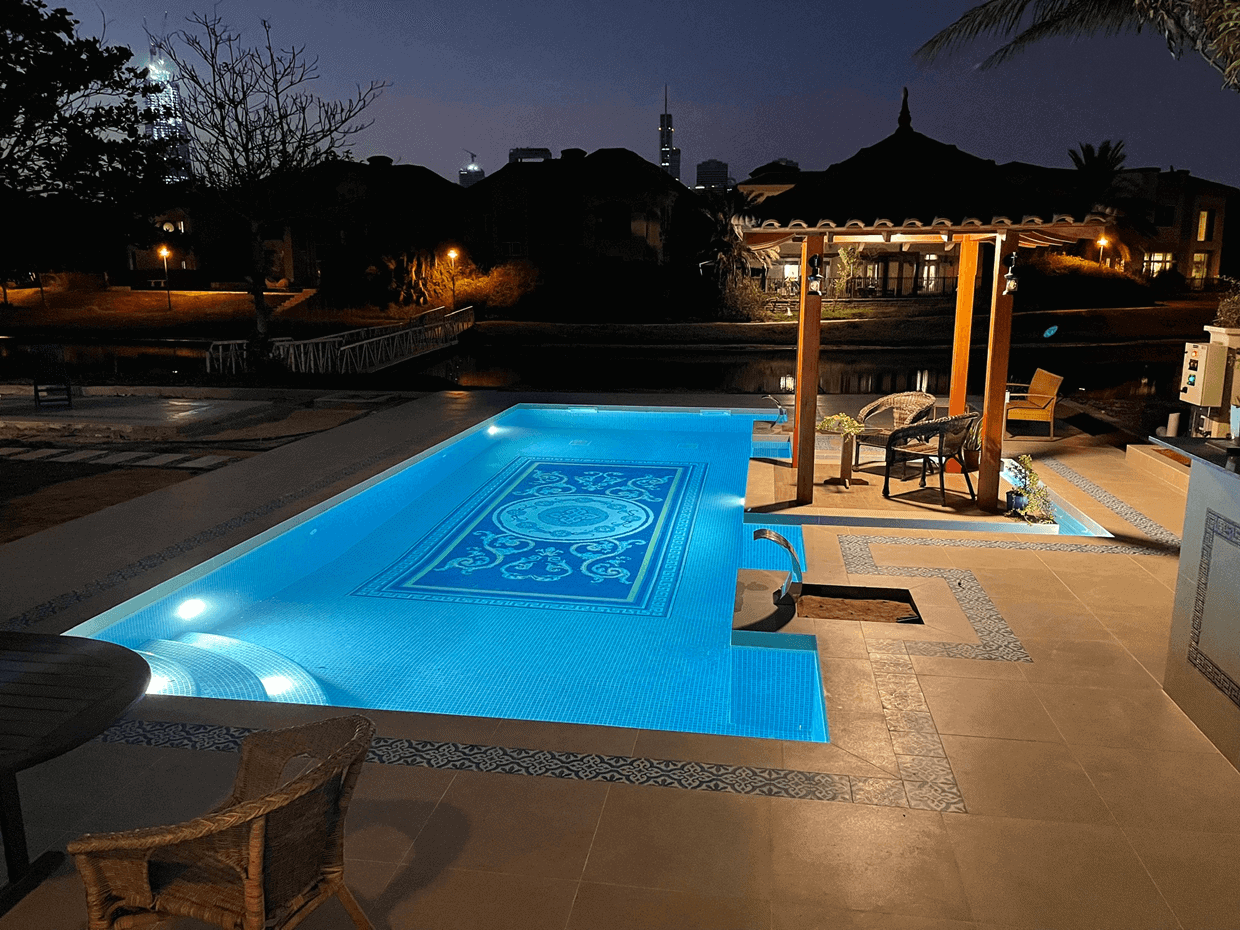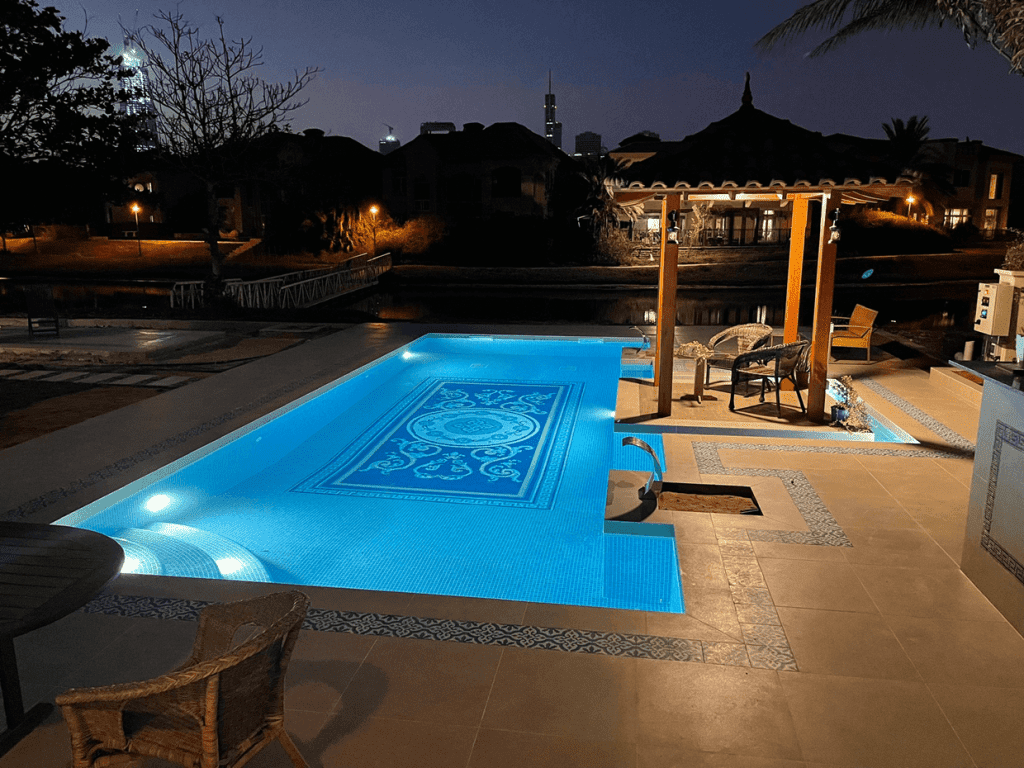 You do not have to be a designer to collaborate with MEC on a unique pool mosaic for your home. The customization request for this Dubai Villa pool mosaic started with simple phone edited collages. Just drop us a message with your ideas related to custom pool mosaics and let us take care of the rest.
Give your pool the tile art makeover it deserves. We have contemporary pool tile options for modern spaces. Get a pool mosaic personalized to match your style.
Customize your Pool
Personalize your backyard and flaunt your style with mosaic tile art – customizing pools has never been easier than this. Here is the process:
MEC offers High-quality custom pool mosaics
Getting quality custom pool mosaics should not have to be time-consuming, complicated, and over-priced. MEC strives towards making quality mosaic materials and craftsmanship more accessible to everyone. We research and adopt incentive ways of cutting costs and production timelines while producing high-quality custom mosaics for your pools, hot tubs, and interiors.
For more vivid and colorful custom mosaic pool designs you can mix reds, pinks, and yellows. No coral reef underwater scene would be complete without those. If you are looking to add a touch of luxury, MEC offers 24k gold-leaf Oro mosaics that are safe for swimming pools. Choose from our extensive mosaic color library to see your dream mosaic concept come to life.
MEC has designed and produced a wide variety of pool mosaic projects around the globe. Simple patterns ranging from classic vitreous glass blends to Ombre and gradient. Want a more complex pool mosaic floor tile design? We have it all, from Michelangelo's Sistine Chapel painting-inspired custom PIXL mosaic to intricate abstract designs. A tropical coral reef scene, dolphins swimming in clear ocean waters, floral & botanical patterns, designs inspired by classic European architecture – you name it, we mosaic it.
FAQs: Custom Pool Mosaics
How can I make my swimming pool attractive?
Glass tile pool mosaic designs are a brilliant way to beautify a pool area. From adding a pop of color using a personalized blend to adorning your pool with one-of-a-kind abstract art – the sky's the limit. Take the appearance of your swimming pool to the next level by opting for a custom design solution to match your space and style. Like mosaics but not ready to cover your entire swimming pool with them? Try a mosaic waterline or deck area border accents. 
Are there special tiles for pools?
The ideal tile for custom pool mosaics is easy-to-clean, thermal shock resistant, and frostproof. Glass mosaic pool tiles are non-porous which means not only do they not absorb any moisture, but they also don't have any spaces for bacteria, mold, and other microbial growth. Pool mosaic tiles also need to have a slip coefficient of 0.60 more.
Is mosaic tile waterproof?
Glass mosaic tiles are non-porous and impermeable, making them waterproof, thereby, ideal for wet & humid areas. Paired with epoxy grout or grout sealants, custom pool mosaics are so durable they can last you for a lifetime, with some light maintenance of course. The properties of glass mosaic tiles do not alter when they come into contact with water or commonly used cleaning chemicals. This makes it a preferred choice for areas like kitchen backsplashes, vanity walls, shower walls, spas, swimming pools, and water bodies such as fountains.
Are mosaic tiles still in style?
Mosaic tiles remain a popular choice for interior designers and architects despite having been around for centuries. Mosaic tiles are not going out of fashion anytime soon. Just like paintings and sculptures have stood the test of time, mosaic art is here to evolve and thrive.
What makes mosaics so timeless?
It is the versatility, durability, and adaptability of the craft. Over the years this art form has been reinvented to match the fashion of different eras. New materials, cutting techniques, and fabrication methods contribute to mosaics never going out of style.
How do you Modernize mosaic tiles?
Mosaic tilework is an ancient art form with an incredible capacity to be adapted to modern design needs and tastes. Here are a few ways to modernize mosaic tiles;
What is the best color of tiles for a swimming pool?
Shades of blue, aquamarine, and turquoise are the most popular colors for swimming pool mosaic tiles because they emulate that natural water body look. Beige, white, green, and brown are the next best colors for pools. One should avoid darker colors such as black and dark gray for outdoor pools because they absorb a lot of heat from the sunlight.
What are pool mosaics made of?
Ceramic, porcelain, and glass are three of the most popular mosaic tile materials for pools. Glass mosaic is preferred by many due to its aesthetics and versatile custom design possibilities. Create your own custom pool mosaics with glass tesserae. Choose between handcrafted or PIXL mosaic techniques and pick your own color theme and style.
Are pool mosaics slippery?
No, pool mosaics feature tiles especially designed to be safe for walking barefoot. Ideally, the slip coefficient of glass mosaics used on swimming pools and bathroom floors is 0.6. Furthermore, the grout lines between the tiles add an additional slip resistance. The smaller the mosaic tile size is, the larger the surface area of grout lines is, often.