If you find yourself wondering "how do I customize a pool", we have some creative solutions to make your swimming pool area stand out. A swimming pool is often the most luxurious feature homeowners have. It is only befitting that the lavish natatorium is adorned with custom pool features. Let us show you some exciting ways to personalize your pool with a special focus on glass mosaic art.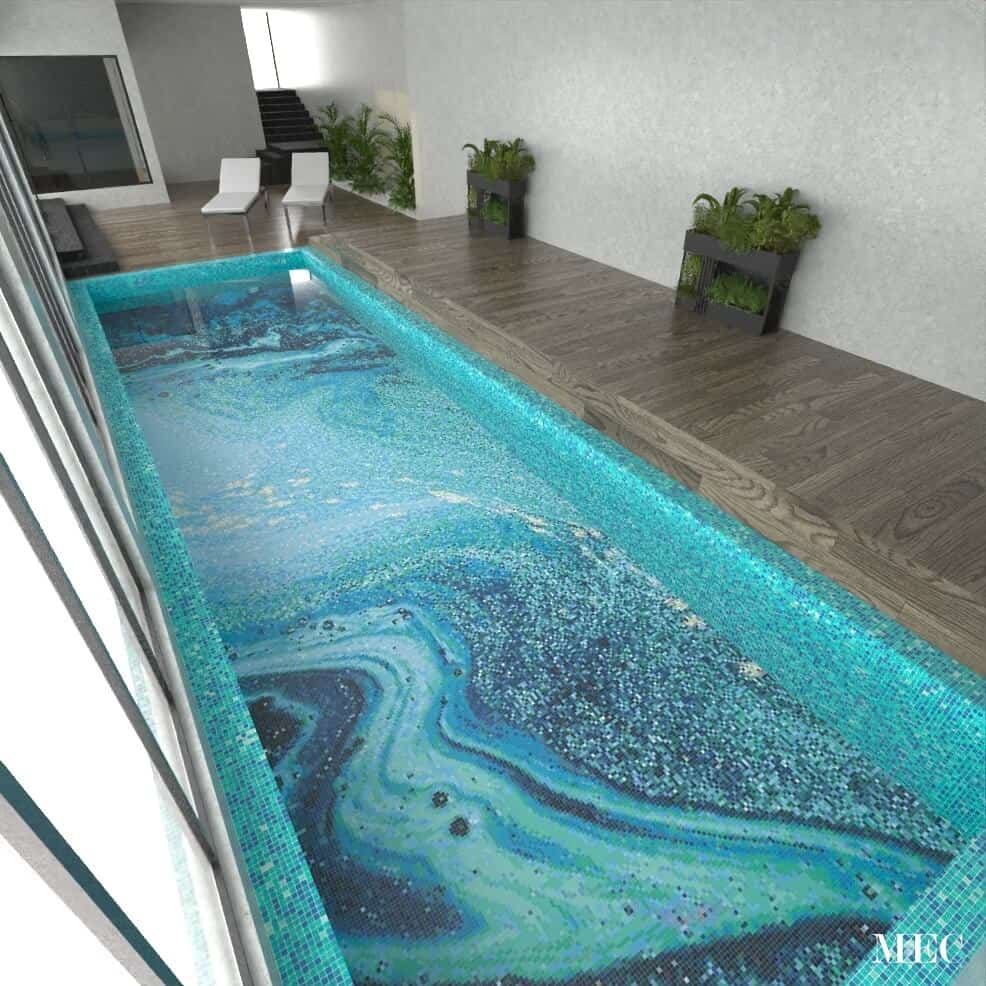 Table of Contents
8 Ways of Customizing a Pool
When it comes to pool customization, the design phase is where your vision begins to take shape. Whether you're starting from scratch or looking to revamp an existing pool, careful planning is key. Here are some essential considerations:
Nontraditional pool shapes – Rectangular pools are classic and practical but there's a world of possibilities. Some alternate fun pool shapes are kidney, oasis, Roman, freeform, and Gunite.
Unique pool deck surfaces – Make your pool area pop out with an exciting deck surface. Instead of concrete or porcelain tiles, try some unique pavers, wood composite, or even bricks.
Mosaic tile art – Treat your pool like a blank canvas and fill it with a vibrant custom mosaic artwork or image of your choice.
Sun shelf or Baja bench – Sun shelves and benches are wonderful transition areas between the surroundings and the pool. It is perfect for lounging in shallow waters on summer days.
LED lights – LED lights are a low-cost and creative way to customize a pool. Introduce these on your pool steps, waterline, deck area, or alongside the water features.
Waterfalls and cascades – Water features like these require some structural additions and a possible remodeling project but it can be so worth it.
Fountains – Fountains add movement to an otherwise still swimming pool surface. They are great features to have in the background for pool parties and BBQs.
Hot tub – One of the most popular and practical additions to swimming pools. It makes the area usable throughout the year. Including one in an existing pool can be difficult though.
Can you add features to an existing pool?
Yes, there are some features that can be added to an existing pool but there are limitations. A pool professional can inspect your existing pool and assess if features like a waterfall can be added, based on the current drainage & filtration system. Laminar jets and LED lights can be added to pools without altering the basic structure.
Swimming pool with features like fountains and plants – Source: pxfuel.com
Existing pools can be customized with mosaic tile make as well. However, the retiling requires the existing tiles to be broken and removed. A smooth surface needs to be prepared before the custom mosaic pool art can be installed.
Top Reasons to Customize Your Pool with Custom Mosaics
While there are several ways to customize a pool, mosaic is one of the best options. Here is what makes custom pool mosaic an ideal option to personalize the swimming pool:
Versatility – limitless design customization possibilities
Aesthetics – Art made from vibrant mosaic tiles can be a visual treat
Variety – a large assortment of tile colors and textures to choose from
Durability – a mosaic is a long-lasting option if installed professionally
Cost – there are mosaic options available for a range of different budget levels
Ease of Customization – customizing pools with mosaic can be less complicated than some other pool remodeling options.
Browse some exciting and trending pool tile ideas and customize the mosaic design you like to perfectly match your space and style preferences.
How to Customize a Pool with Mosaics
You can now place an order for custom pool mosaics through these simple steps of custom mosaic design process:
Measure your swimming pool – You can DIY this step, all you need is a measuring tape and some simple calculation formulae.
Set a budget range – Do some research, set a budget range, and find the best solution based on what you want and the different mosaic tile rates.
Initial Mosaic Art Idea – Have some inspiration photos and patterns ready or ask us to customize an existing pool mosaic design to better fit your space and style
Tile Color Selection – Selecting the right color theme for your pool mosaic is important. Shade cards, renders, and design consultation can help.
Get Complimentary 3D Renders – Visualize how your preferred designs might look in your space before confirming your order. Request renderings to make informed decisions.
Request design revisions & tweaks – When you customize a pool with mosaic tile art, getting the details just right is important for the clients. We understand this, which is why we offer unlimited design revisions without any extra charges.
Receive Physical sample boards – Get free physical mosaic tile samples of your favorite design and match them with your design plan and lighting. What you see on the screen might differ from how the tiles physically look in real life. Texture, finish, and light play an important role.
Finalize the custom mosaic design – We send the mosaic order to our workshop for production only when you are 100% satisfied with the design details and color palette. Our team of Italy-trained expert craftsmen intricately prepares each pool mosaic project on order.
Customize a pool with mosaic – MEC design concept and mood board
Embellish Your Pool with Custom Mosaics
a. How Do I Choose A Pool Mosaic?
Taking some vital factors into consideration will help you pick the perfect custom pool mosaic. For instance, the shape, size, and location of the swimming pool, budget, surroundings, style of your house, and of course, your personal preferences.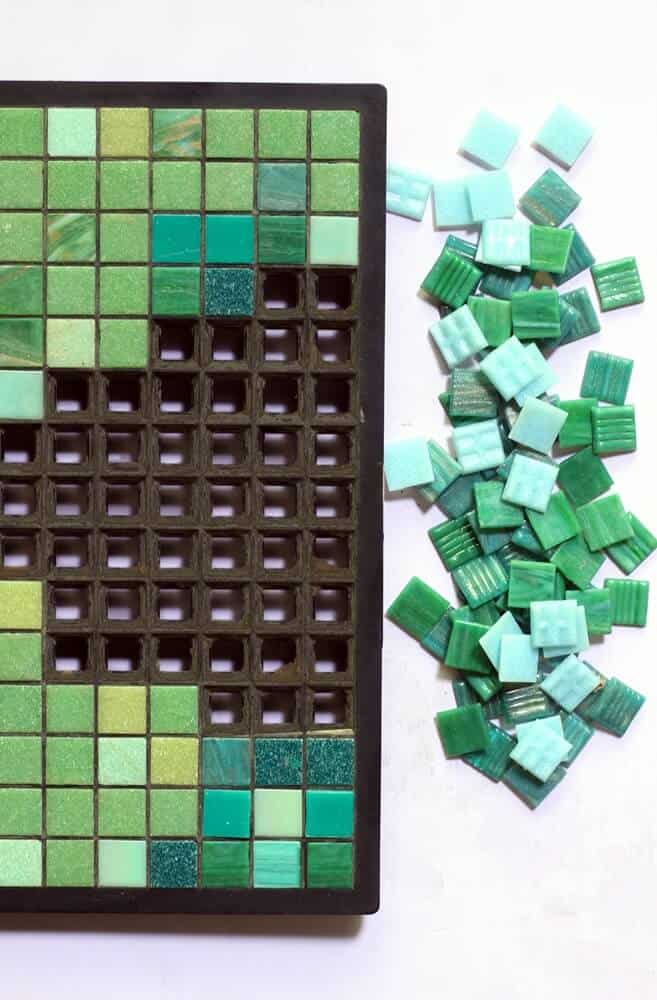 Having limitless customization options is a double-edged sword. On one hand, you can convert any design you can think of into a mosaic. On the other, having that many options might result in option paralysis.
How do you know which custom design would be the best one for your swimming pool? That is where MEC's design consultation and rendering services come in. Helping you decide on the ideal pool mosaic for your space.
b. How to Get Started on a Custom Mosaic Idea?
The inspiration for your very own custom mosaic idea can originate from anywhere. A magazine clipping, a sketch, your favorite photograph, a fabric swatch, a mood board – any of these can be a starting point.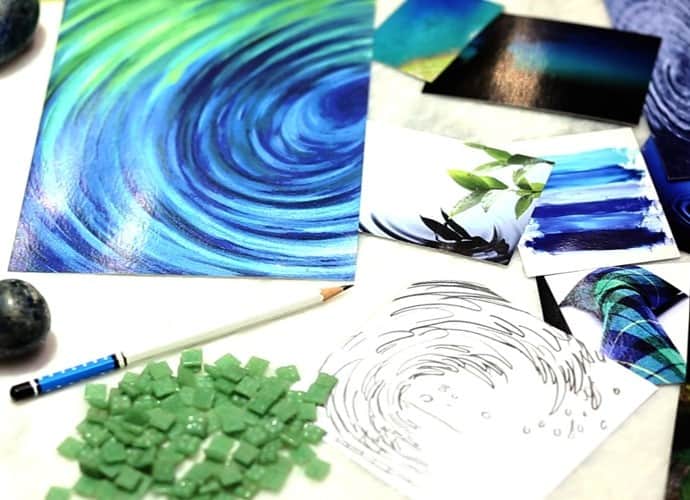 c. Can Anything Be Converted Into a Custom Pool Mosaic?
Yes, the possibilities of what can be transformed in a custom mosaic pool design are virtually endless. Think of your pool or wall as a blank canvas or screen and the mosaic tiles as tiny pixels or units. Arranged together with different techniques (grid or freely hand-cut), mosaic tiles can be used to create images and artwork of your choice to fabricate a one-of-a-kind swimming pool mosaic design.
Can you modify an existing pool?
Yes, your existing pool can get a brilliant makeover with new pool mosaic tiles. If you do not want to tear down the entire existing pool structure for a remodel, retiling it using a customized mosaic is a great idea for renovation.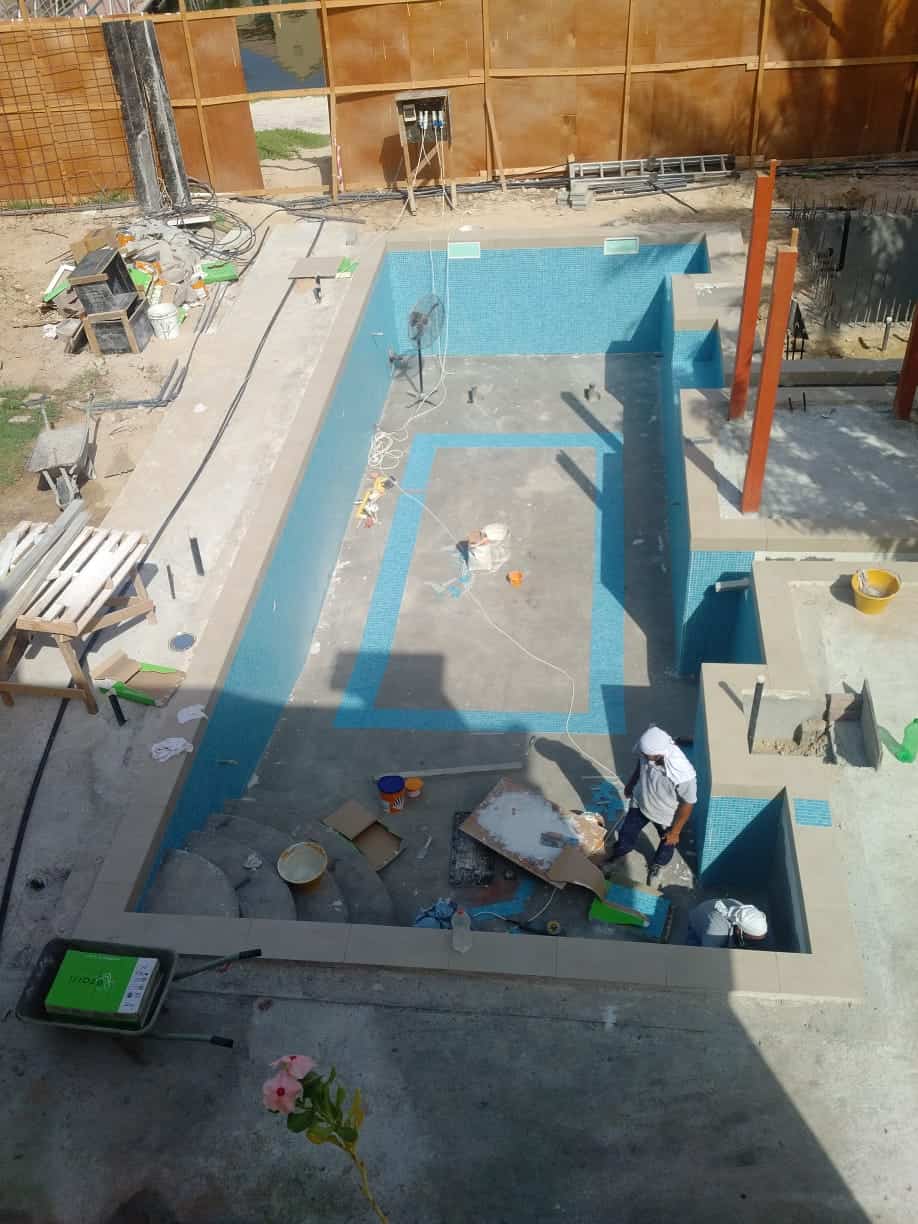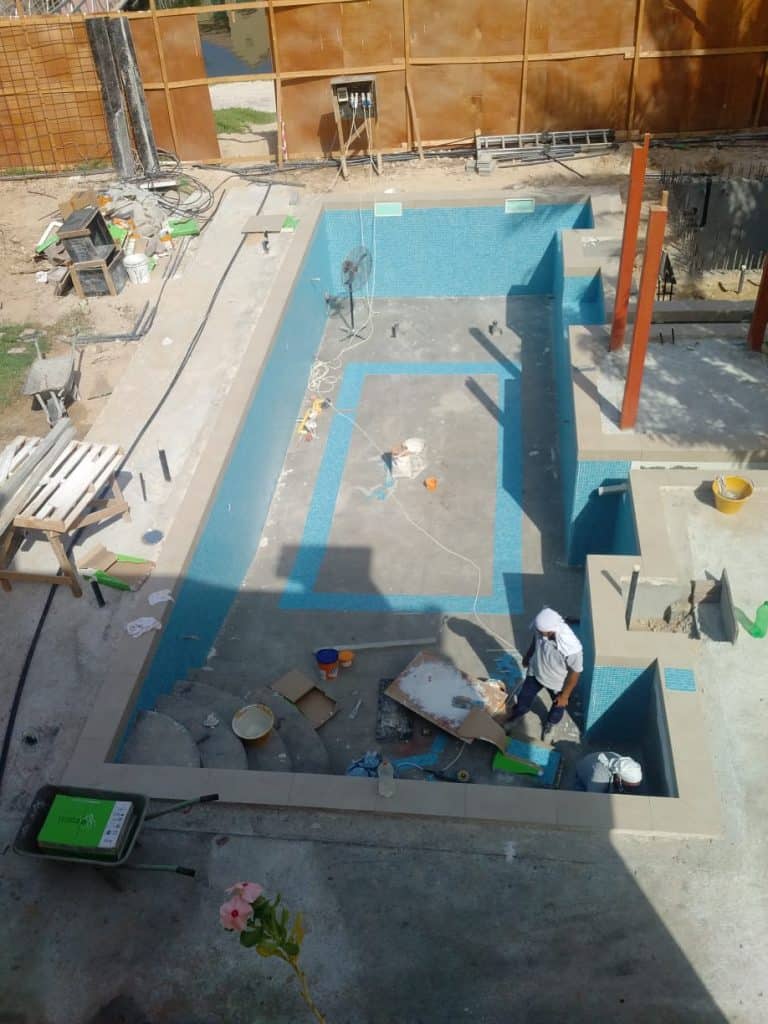 Renovating a pool can seem daunting, but choosing a vibrant new mosaic pattern might be the most exciting part of the process. Here at MEC, we promise to make mosaic customization a breeze for you. Customizing your old swimming pool with mosaic tile is less costly, simpler, and time-saving than a full-fledged pool remodeling project.
Why Choose MEC to customize your Pool?
If you have made up your mind about customizing your pool with mosaic, MEC is your best option. Why? Because customization is our forte. We understand how complicated the process can be and know how to make it simple and smooth for our clients. When picking MEC to customize your pool you can expect;
Expert design consultants
Excellent artisanship & technique
High-quality materials
Complimentary renders and samples
Truly custom and tailored design solutions
For all this, along with unlimited design revision and constant updates about your mosaic project, and free international delivery, talk to us today!
Conclusion
As we wrap this piece up, we hope you got some wonderful inspiration and creative solutions to your question, "how do I customize my pool?". While there are many ways to personalize your pool space like getting creative with water features and lights, custom mosaic tiles are definitely the most versatile option. Other than being practical and aesthetic, mosaic art is also the option that provides the most value for the money in the long run.
So upgrade and customize your swimming pool in style with the glass mosaic design of your choice and enjoy it knowing that it also increases the value of your house. What more can one ask for?
●╭╮╭╮╭╮╭╮╭╮╭╮╭╮╭╮╭╮╭╮╭╮●
Small Announcement: MEC's blog has recently been featured on Feedspot's list of top 25 mosaic blogs internationally. We are honored. Let us know what other mosaic topics would you like us to write about more. Your feedback is so valuable to us.
●╰╯╰╯╰╯╰╯╰╯╰╯╰╯╰╯╰╯╰╯╰╯●
FAQs
What Color makes a pool look bigger?
Lighter-colored glass tiles in general interact with light in such a way that creates an impression of increased space. Glass mosaic tiles along with water and sunlight make the swimming pool area appear brighter and bigger.
Can I change the Color of my pool?
Once you have tiled your pools or chosen the liner, changing the color of the pool is possible to some extent with artificial color lights. If you are willing to make bigger changes and can afford a pool renovation, you can customize the color theme with mosaic tiles. Although some environments and surroundings impact the color appearance, renders and samples can help you pick the exact color palette you prefer.
Are mosaic tiles good for a swimming pool?
Yes, mosaic tiles are an ideal finishing material for swimming pools because they are exceptionally practical, aesthetic, and versatile. Mosaic tiles are non-porous, thereby making them hypoallergenic and antimicrobial. The wide variety of mosaic tile colors can be arranged to create unique personalized images.
Can I customize my existing pool, or do I need to build a new one?
You can definitely customize your existing pool. With the right design elements and features, you can transform your pool into a personalized oasis.
What factors should I consider when choosing a pool shape?
Consider factors such as available space, landscaping, personal preferences, and how the shape will complement the overall aesthetics of your outdoor area.
How can I choose the right water features for my pool?
Consider factors such as the overall design theme, personal preferences, and the desired ambiance when selecting water features. Waterfalls, fountains, and spillover spas are popular choices.
How can landscaping enhance my pool area?
Landscaping adds beauty, privacy, and a natural touch to your pool area. It can include plants, trees, shrubs, and hardscaping elements to create a harmonious and inviting space.
Are there pool accessories that can enhance safety?
Yes, safety accessories like pool alarms, safety covers, and pool fences can be added to ensure the safety of children and pets.