Mosaic Tile Borders: Enhancing Spaces with Elegance
Table of Contents
Mosaic tile borders are a captivating design element that can transform any space into a visual masterpiece. These intricate arrangements of small tiles bring an artistic touch to floors, walls, and other surfaces, elevating the overall aesthetics of a room. With their diverse patterns, colors, and materials, mosaic borders offer endless possibilities for creating unique and personalized designs.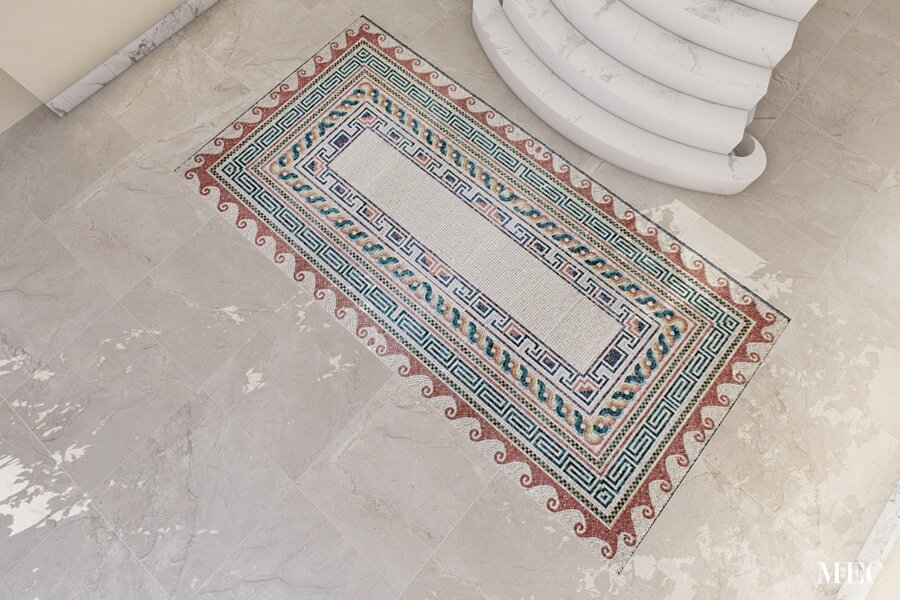 The versatility of mosaic borders is one of their standout features. Whether you're looking to spruce up your kitchen, bathroom, living room, or outdoor area, mosaic tile borders can add a touch of elegance and style. They effortlessly blend with various design themes, from contemporary and modern to classic and rustic, making them suitable for any interior or exterior setting.
At MEC, we understand the importance of customization when it comes to creating a space that truly reflects your personality and taste. Our extensive collection of mosaic border designs provides a wide range of options to choose from. From bold geometric patterns to delicate floral motifs, we have something to suit every style preference. Moreover, we offer the flexibility to tailor the design, color palette, and size of the mosaic borders according to your specific requirements. This level of customization ensures that your space becomes a true reflection of your vision and individuality.
Exquisite Marble Mosaic Patterns Complimenting Mosaic Border Designs
1. This indoor rug showcases an intricate floral theme at its core, with a striking round shape that commands attention. However, it is the meticulously crafted mosaic border that truly sets this rug apart. Combining a graceful weave pattern with enchanting floral motifs, the mosaic border adds a touch of sophistication and elegance to the overall design. Not only does it serve as a decorative frame, but it also accentuates the allure of the floral centerpiece. Impeccably created with attention to detail, this marble mosaic floor rug with its stunning mosaic border is a true work of art that enhances the ambiance of any space.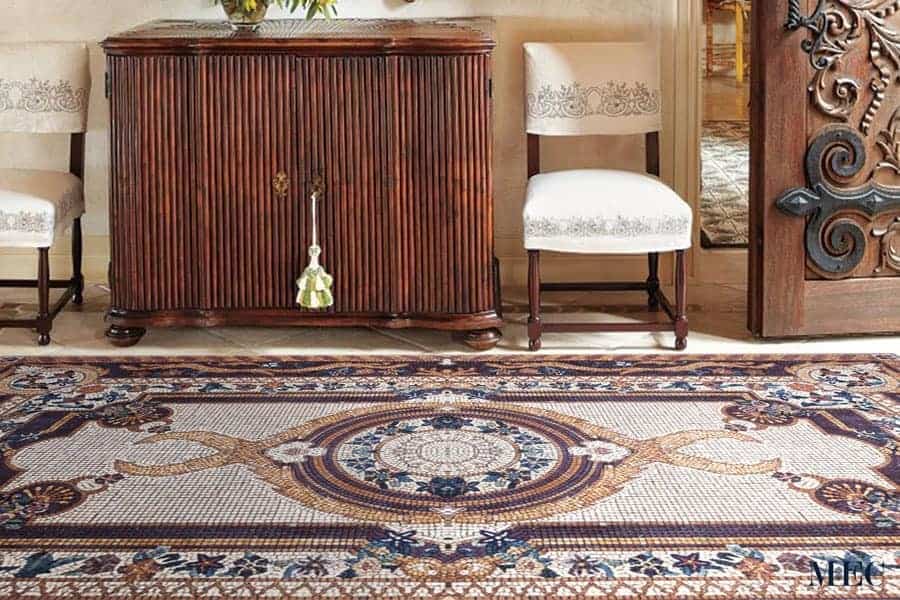 2. Immerse yourself in the ultimate luxury and high-end aesthetics of a marble mosaic floor rug, gracefully displayed in the lobby of a residence in New York. This magnificent rug boasts a captivating round shape, instantly drawing attention to its exquisite craftsmanship. While the floral-themed centerpiece mesmerizes with its intricate details, it is the border design that truly steals the show. The borders feature a captivating weave pattern that gracefully intertwines with enchanting floral motifs, creating a harmonious blend of elegance and sophistication. The color palette of blues, goldens, and greens further enhances the rug's opulence, while the arrangement of five circles, gradually increasing in size towards the outer edge, adds a sense of grandeur and visual intrigue. Every step on this marble mosaic floor rug exudes an air of refinement, making it the epitome of luxury and the centerpiece of admiration in the residence's lavish lobby.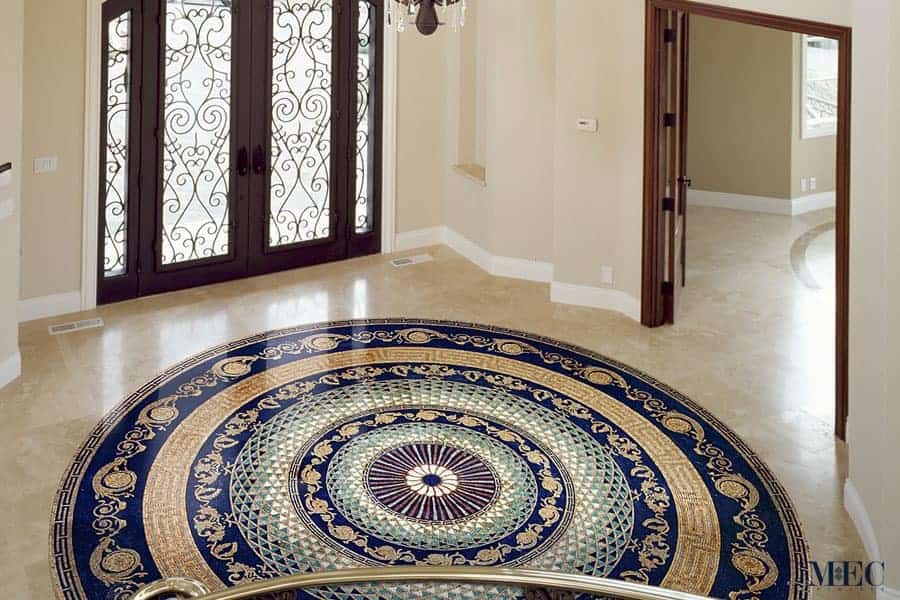 3. Behold the captivating mosaic design adorning a bar stand, which effortlessly elevates the entire ambiance. At the heart of the design, two majestic hens stand proudly, flanked by two more on each side, creating a visually pleasing symmetrical arrangement. However, it is the meticulously crafted border design that truly steals the spotlight. The intricate details and precise artistry of the border pattern uplift the entire bar, adding a touch of sophistication and charm. The semi-circular design framing the mosaic mural enhances its overall impact, creating a captivating focal point that draws the attention of patrons. As your trusted partner in mosaic design, MEC's dedicated design team is at your service to bring your unique visions to life. Whether you desire custom patterns or intricate details, our experts will fabricate the perfect mosaic design tailored to your specific needs. Embrace the beauty and artistry of mosaic designs to transform your space into a captivating and inviting environment.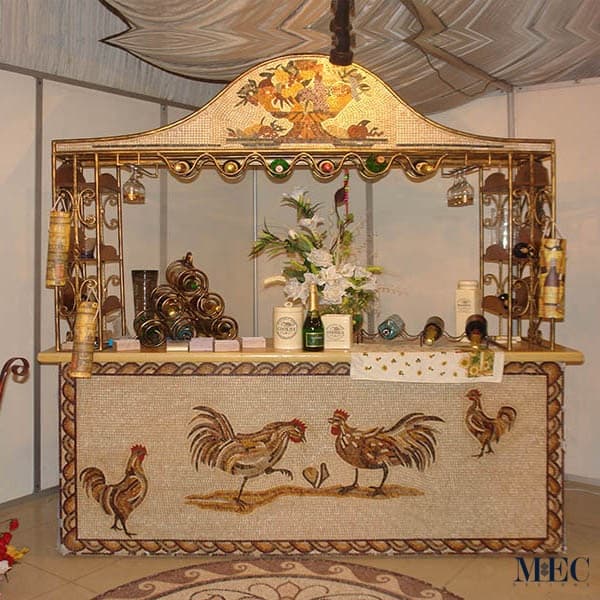 4. The exquisite beauty of a hand-cut mosaic floral pattern displayed in the living room of a luxury apartment in Denmark. This stunning mosaic mural showcases four meticulously crafted flower designs, with a striking large flower at the center, blooming with vibrant colors and intricate details. What truly enhances the elegance of this mosaic masterpiece is the border that surrounds it. The border features a symmetrical design, adorned with different-sized circles and delicate leaf patterns, adding a touch of sophistication and refinement. This meticulous arrangement creates a captivating frame, elevating the overall allure of the mosaic floor pattern. With its artistry and craftsmanship, this mosaic design becomes the centerpiece of the living room, captivating the attention of all who enter.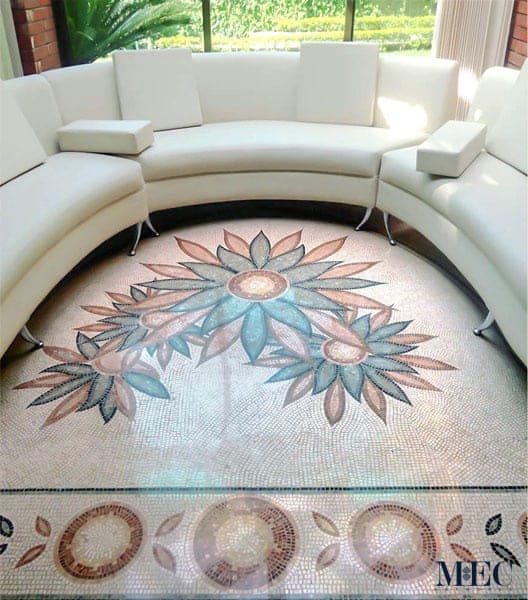 5. This stunning mosaic wall exudes an air of elegance with its blend of gray and white mosaics, creating a harmonious play of neutral tones. What truly uplifts the entire space is the meticulously crafted floral and scroll border that surrounds the mosaic wall on all four sides. The intricate details and delicate patterns of the border add a touch of sophistication, enhancing the overall aesthetics of the area. Amidst this serene setting, a lady can be seen enjoying a peaceful moment, sipping her coffee next to the hot tub. The mosaic border serves as a stunning focal point, elevating the ambiance and creating a sense of luxury and refinement. With its random mixing of neutral color mosaics, the entire wall exudes an artistic charm that captivates the eye and transforms the hot tub pool area into a haven of relaxation and beauty.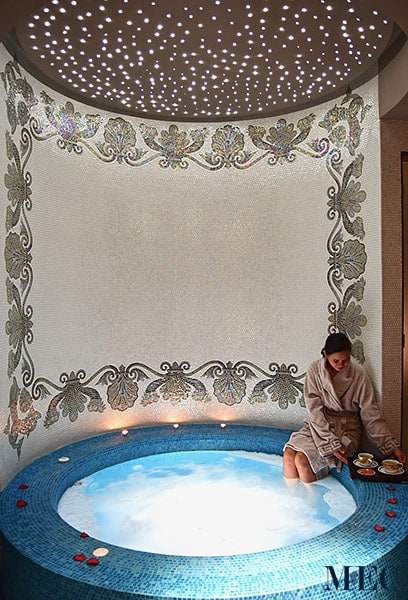 6. Witness the awe-inspiring sight of the Moroccan-themed mosaic pattern adorning the entrance gate of a magnificent mosque in Sharjah, UAE. Handcrafted with meticulous attention to detail, this mosaic masterpiece adds an immense sense of luxury and grandeur to the gate, welcoming worshippers and visitors with its stunning beauty. Take a closer look and notice how the squared Moroccan-themed border design seamlessly blends with the entire mosaic pattern, creating a cohesive and harmonious composition. The shades of blues, gray, white, and brown on the border design are truly mesmerizing, adding depth and visual interest to the gate. Each tile has been carefully placed to create a symphony of colors and patterns, reflecting the rich artistic heritage of Morocco. What makes this mosaic design even more remarkable is its versatility – any pattern can be customized to meet the unique preferences and needs of clients, ensuring a truly personalized and breathtaking experience. The Moroccan-themed mosaic pattern on the entrance gate of this mosque stands as a testament to the meticulous craftsmanship and the timeless beauty of Moroccan artistry.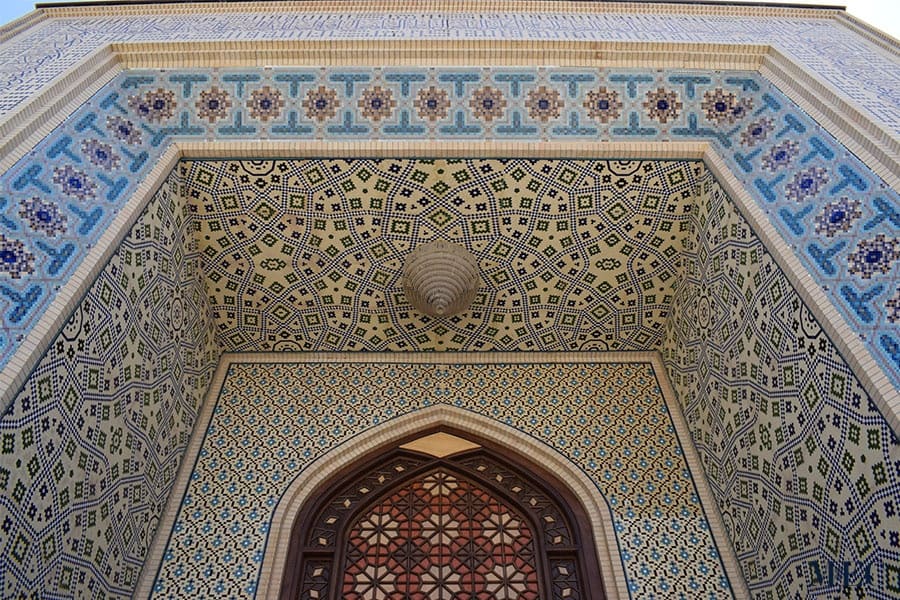 7. Immerse yourself in the enchanting allure of an outdoor gazebo, where a meticulously crafted border mosaic design adds a touch of elegance and beauty to its surroundings. At the bottom of the gazebo, a stunning stripe design in shades of greens enhances the gazebo's visual appeal. The border showcases two lines in a light green hue at the top, followed by a single line in the same shade at the bottom. These lines create a sense of balance and visual harmony. The two shades of greens, ranging from light to dark, perfectly blend with the tone of the gazebo, seamlessly integrating the border into its overall aesthetic. The greens of the mosaic design add a refreshing and natural touch to the gazebo, accentuating its connection with the outdoor environment. As you relax in the gazebo, the border mosaic design captivates the eye, enhancing the beauty and tranquility of this outdoor oasis.
8. Get a glimpse into the meticulous artistry at MEC as you witness our skilled mosaic artists passionately hand-cutting marble pieces for a mesmerizing mosaic border. This image captures the dedication and precision that goes into the creation of our masterpieces. The design being crafted features an intricate pattern that will serve as a mosaic border for a magnificent 200-feet marble mosaic rug, destined for a high-end villa in Qatar. Take note of how the mosaics are cut with precision and placed meticulously at their exact positions, showcasing the expertise of our craftsmen. Each tile is carefully selected and positioned, ensuring a flawless and seamless execution. The resulting mosaic design creates an awe-inspiring look, infusing the space with grandeur and sophistication. From the intricacy of the design to the immaculate placement of the mosaic pieces, this image truly reflects the level of artistry and attention to detail that defines MEC's creations.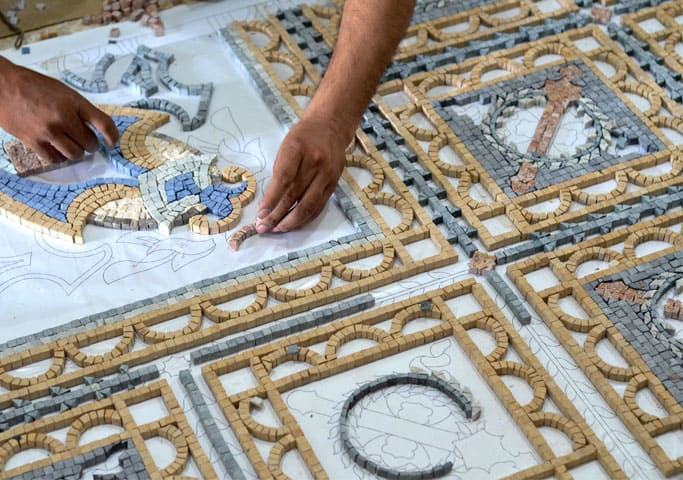 9. The first design features a mesmerizing braid pattern, gracefully flowing from one end to the other. Adorned with vibrant hues of orange, black, and green, this mosaic border adds a dynamic and energetic touch to any space. Its seamless and fluid composition creates a sense of movement and visual intrigue, enhancing the overall aesthetics.
In contrast, the second marble mosaic border portrays a rectangular shape with an exquisite diamond-shaped mosaic design. The combination of white, green, and maroon colors creates a harmonious and sophisticated palette. Each diamond-shaped mosaic tile is meticulously placed, forming a captivating pattern that exudes elegance and refinement. The interplay of colors adds depth and visual interest to the border, making it a striking focal point wherever it is installed.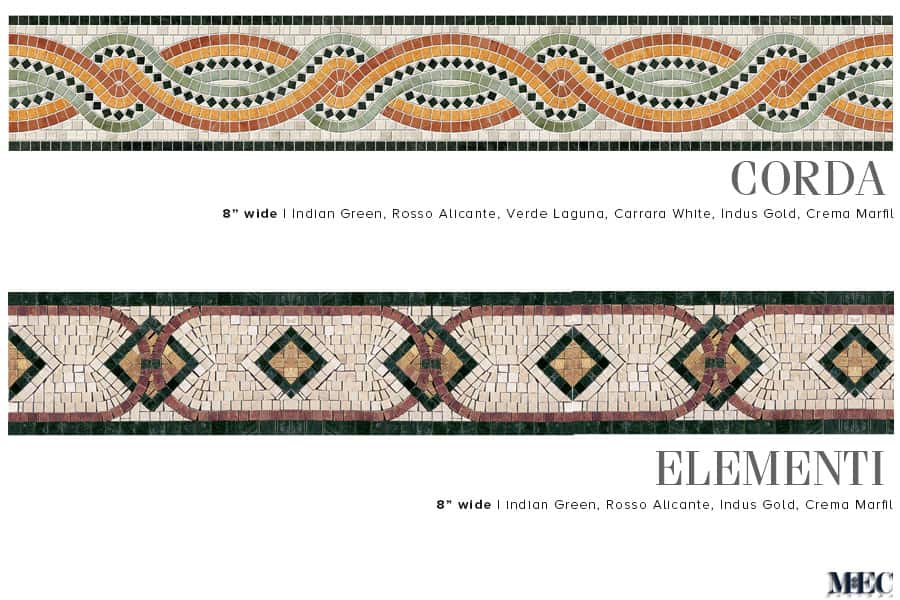 6 Exciting Ways to Use Handmade Mosaic Borders to Liven Up a Space
Tile Mosaic Borders
If you are looking to add some mosaic to your space but do not want an entire wall or floor clad with mosaic, we have the perfect solution for you. Two words – mosaic borders. Yes, you read that right. Whether it be budget constraints or a style preference (e.g. not wanting to overcrowd the interior with a lot of mosaic), handmade decorative mosaic borders might just be the answer!
You can liven up any interior or exterior space by using custom handcrafted mosaics to create beautiful focal points. Mosaic art is versatile and can be personalized to your unique taste and style.
In this blog post, we discuss the limitless possibilities and various ways in which one can incorporate mosaic borders to various areas and surfaces.
Listellos & Accent Tiles
Listellos are basically decorative tile borders that can be used as accents on walls (or even floors). Listellos can also be used on stair risers. Liven up your interiors with a custom made glass or marble mosaic border. Match it with the rest of the interior or play with a contrasting color to turn a plain boring wall into a stunning focal point.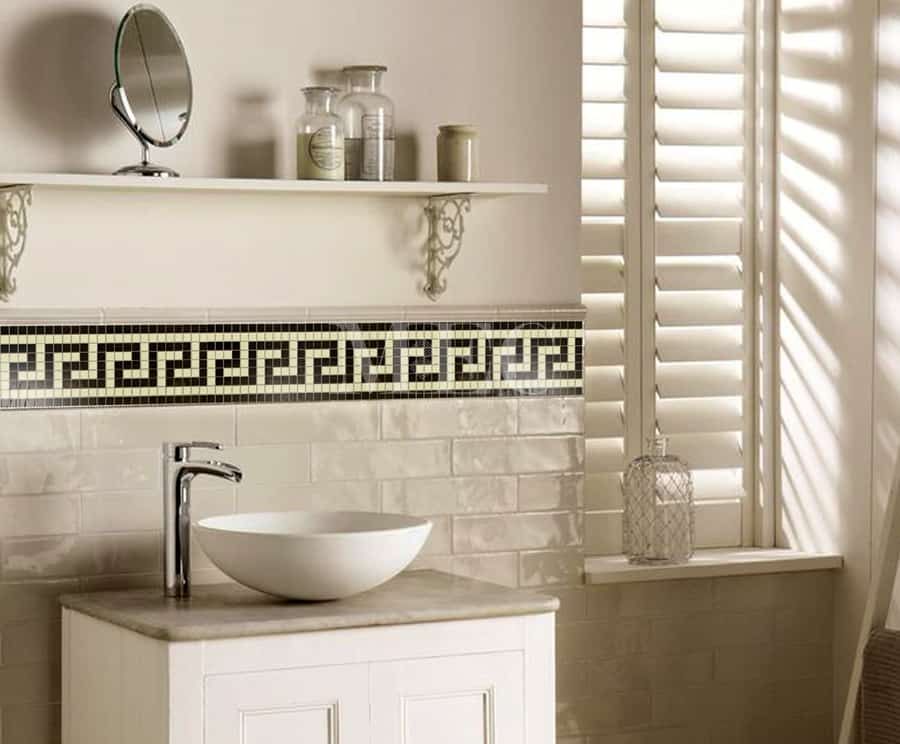 Kitchen & Backsplash
Looking for a backsplash for your kitchen renovation project? Need a decorative element to move the kitchen's style quotient up a notch? Marble and glass mosaic borders work exceptionally well as wall kitchen tiles.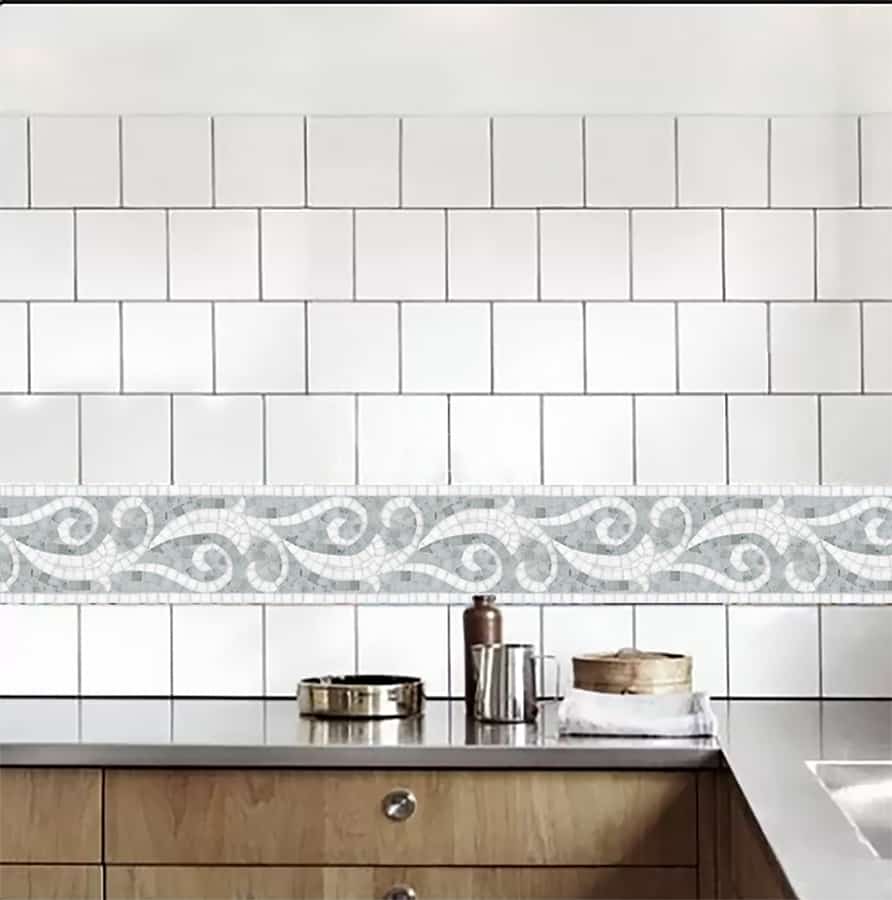 Whether you decide to continue the mosaic border strip across the entire kitchen wall length or are just looking to add some texture and color to the backsplash area, we have got you covered! For more ideas checkout this House Beautiful piece on kitchen backsplashes.
Floor Mosaic & Threshold Tiles
For a seamless transition between two different floorings or rooms, mosaic borders can be used as a lovely tile threshold. Let's say you have tiles as your kitchen floor and a beautiful wooden floor planned for the adjacent area. You might not want a sudden awkward meeting of the tiled and the wooden floorboards, that where the threshold mosaic tiles come in. Choose a design and color palette that connects the spaces and serves as a neat little decorative element as well.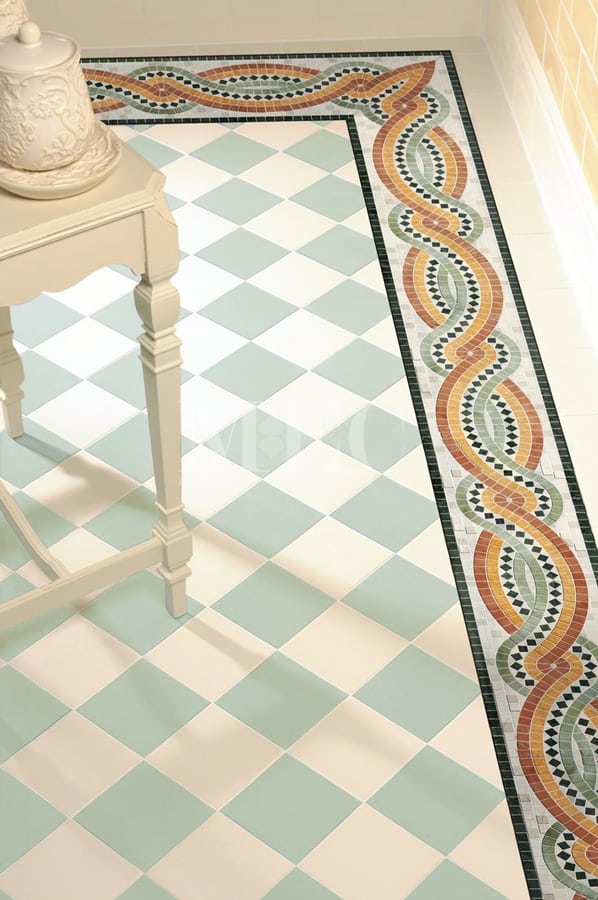 Another creative way to incorporate mosaic borders to your floor design is to opt for a combination of field tiles and custom hand-crafted mosaic.
Match the marble tile finish with the rest of the flooring or make it stand out with glimmering and bright glass mosaic tiles.
Swimming Pool & Deck Area
Water-proof, non-porous, easy-to-clean, versatile, long-lasting, unlimited design options – these are just some of the reasons that make glass mosaic a perfect choice of tiles for swimming pools. When light, glass mosaic tiles and water meet, visually mesmerizing scenes are inevitable. When you opt for a glass mosaic design for your swimming pool, you are in for a treat. Not only are glass mosaic waterline practical they provide an aesthetic touch to your pools, spas and landscapes.
Don't want the entire pool to be covered with mosaic tiles? No problem. Adding an elegant border that runs across the entire waterline of the swimming pool can do wonders to the overall aesthetics. Other options include; a glass tile or marble mosaic border to the deck area. Just, make sure the mosaic tiles you choose for the deck are anti-slip.
Bathroom, Shower Area & Vanity
Mosaic borders make for excellent accent tiles for shower area walls. There are several ways to creatively incorporate gorgeous handmade mosaic borders to your bathrooms and vanity. Perhaps a Greco-Roman marble mosaic border for the master bath floor. How about a
contemporary and colorful Murano glass mosaic border as a backsplash for your vanity area?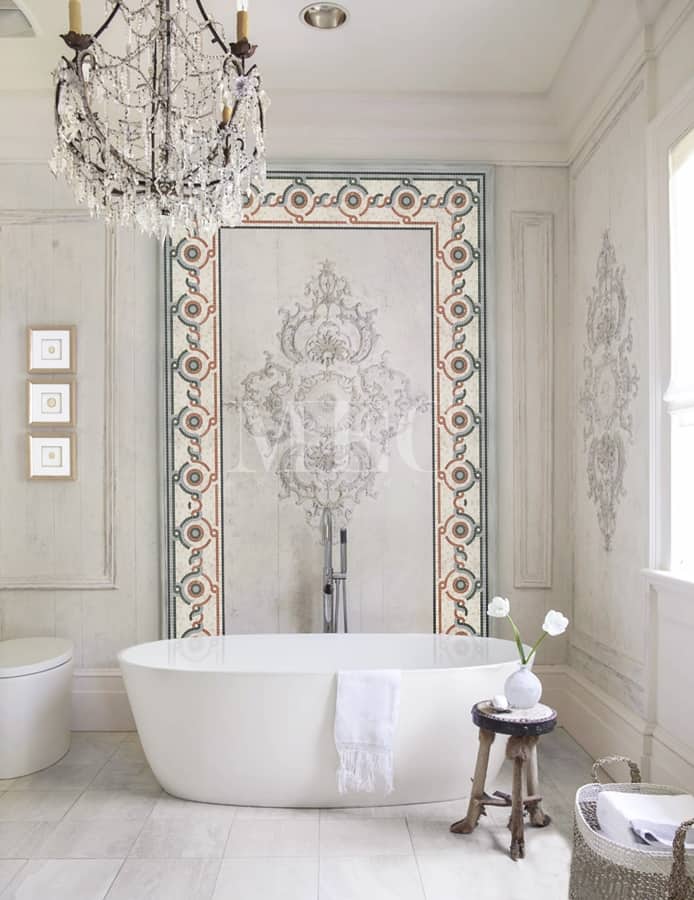 Simply share your budget along with planned interior theme and style preferences. Sit back and let us whip up some amazing mosaic border design options!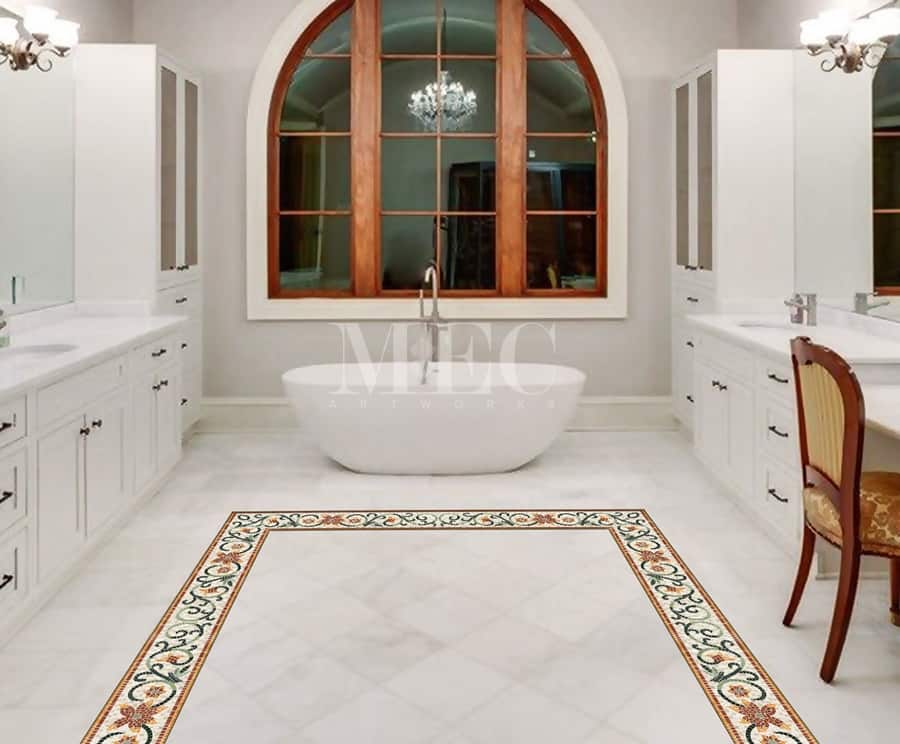 Mirrors, Portrait frames & More
Floors, walls and pools aren't the only surfaces you can adorn with mosaic tile. From tabletops to jewelry boxes studded with tiny mosaic art, people have tried combining mosaics with everything. Serving trays, planters, doors and windows, the possibilities are endless!
Smaller mosaic border designs are perfect as frames for mirrors and portraits. In case you are renting a place or do not want to make large scale changes to the interior of your home, consider these ingenious mosaic options.
Different Mosaic Border Sizes
Mosaic borders can range anywhere between 2 inches to 2 feet! The mosaic strip can have the width of a couple of mosaic tiles, following the "less is more" approach and still make a big impact. On the other hand, you can opt for 15-25 inches wide intricate handcrafted mosaic borders. Bigger borders have room for a lot of design detail. They can also serve as backsplash areas like the kitchen wall or vanity.
So if you're looking to upgrade your interior design and landscape without breaking the bank, try a MEC's mosaic borders. At MEC you get complimentary 2D & 3D renderings as well as free samples*. We keep our customers in loop every step of the way. From the initial design concept stage, to the actual mosaic fabrication. Our clients get free unlimited design and colorway revisions as well as exciting behind the scenes photos of their custom mosaic project from our workshop. Considering it? With so many perks and complimentary services, who could resist! Contact us today for a free one-on-one design consultation.
Conclusion
In conclusion, mosaic tile borders offer a multitude of benefits when it comes to enhancing spaces and adding a touch of elegance. Whether used in kitchen backsplashes, bathroom accent walls, outdoor areas, or other indoor spaces, mosaic borders have the power to transform any environment into a visual masterpiece.
MEC, as a leading provider of custom mosaic designs, offers a wide range of options that can be tailored to suit your unique style and preferences. Our commitment to customization ensures that your mosaic tile borders reflect your individuality and vision. Moreover, we take pride in providing competitive pricing without compromising on quality, allowing you to bring your mosaic dreams to life without breaking the bank.
FAQs
What are mosaic borders and how can they enhance my space?
Mosaic borders are intricately crafted tile designs that can be used to frame and enhance various surfaces. They add a touch of elegance, sophistication, and personalization to your space, transforming it into a visually stunning masterpiece.
Can mosaic tile borders be customized to fit my specific design preferences?
Absolutely! Mosaic tile borders can be fully customized to match your unique design preferences. From patterns and colors to sizes and materials, you have the freedom to create a border that perfectly complements your style and vision.
Are there specific mosaic border designs suitable for bathroom accent walls?
Absolutely! Mosaic border designs for bathroom accent walls can range from serene nature-inspired motifs to intricate geometric patterns. These designs create a luxurious and visually stunning backdrop that transforms your bathroom into a serene retreat.
How can mosaic borders transform a bathroom into a luxurious retreat?
Mosaic borders bring an element of luxury to bathroom spaces by adding intricate patterns, vibrant colors, and artistic details. They create a focal point that exudes elegance, transforming your bathroom into a personal sanctuary of relaxation and indulgence.
Can mosaic tile borders be used in outdoor areas, such as around swimming pools?
Absolutely! Mosaic tile borders are a perfect choice for enhancing outdoor areas, including swimming pool surroundings. They add visual interest, durability, and resistance to water, transforming your pool area into a captivating oasis.
How do mosaic borders enhance the visual appeal of outdoor walkways and pathways?
Mosaic borders along outdoor walkways and pathways create a sense of charm and uniqueness. They can feature intricate patterns, geometric shapes, or nature-inspired motifs, adding a touch of artistry and elegance to the overall landscape design.