Table of Contents
Introduction
At MEC, we take immense pride in delivering top-notch information and expertise in the realm of mosaic tile niches. With our extensive experience and industry knowledge, we understand the importance of providing valuable content that outranks other websites. In this comprehensive guide, we aim to address your mosaic tile niche questions, offer expert advice, and assist you in optimizing your mosaic niches for both functionality and aesthetic appeal.
Walls are an important part of the overall interior and exterior design. So when you decorate a room you have to give a good amount of consideration and time while deciding what you want it to reflect. Making a perfect choice can go a long way in defining the ambiance of the space and reflecting one's personality and style. Need a novel wall décor idea that's not overused like picture frames, paintings, decals, and wallpapers? Try niches, mosaic tile adorned niches to be specific. You can get as creative as you want since mosaic is an art form that is very versatile and can be used to create a virtually infinite number of designs and patterns.
Mosaic Tile Niches Across Eras & Geographical Regions
From Cathedrals to Mosques and everything in Between
Niches are a recess set into a wall, sort of like a built-in shelf. Historically, they have been made with an arch and a semicircular form. Contemporary wall niches are minimalistic and have simpler shapes, sort of like a box nestled in a wall (mostly for decorative purposes). These recessed wall shelves can be used to hold and display anything from vases or any other ornamental or artistic item to TVs and even shampoo bottles and soaps (in case of a bath area mosaic niche). Niches are used extensively in both interiors as well as exterior walls and their history dates back to Ancient Rome. You may find examples of these architectural structures everywhere in different forms and shapes. From the mihrabs in mosques to the niches of old temples and buildings, to wall recesses in modern constructions for both decorative and practical purposes, niches exist in various ways.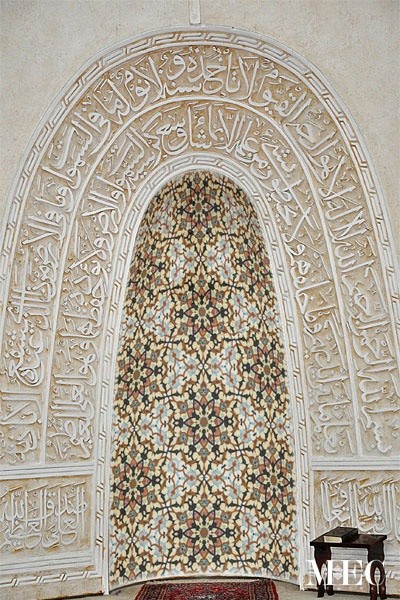 Get Niche – Your Future Self Will Thank You
If you're a design enthusiast and/or a homeowner, consider installing a few niches around the house; a couple in the bathroom as a spare storage shelf that doesn't look too bad either. Maybe a few custom wall niches in the living room or the dining area to display some of your art pieces and collectibles and a big one to hold your flat TV and a smaller one in the bedroom recess that serves as a small bookshelf for your nighttime reading.
Here are a few samples of classic and modern wall niche designs and mosaic tile niche patterns available from MEC, a bespoke luxury mosaic designing and producing company: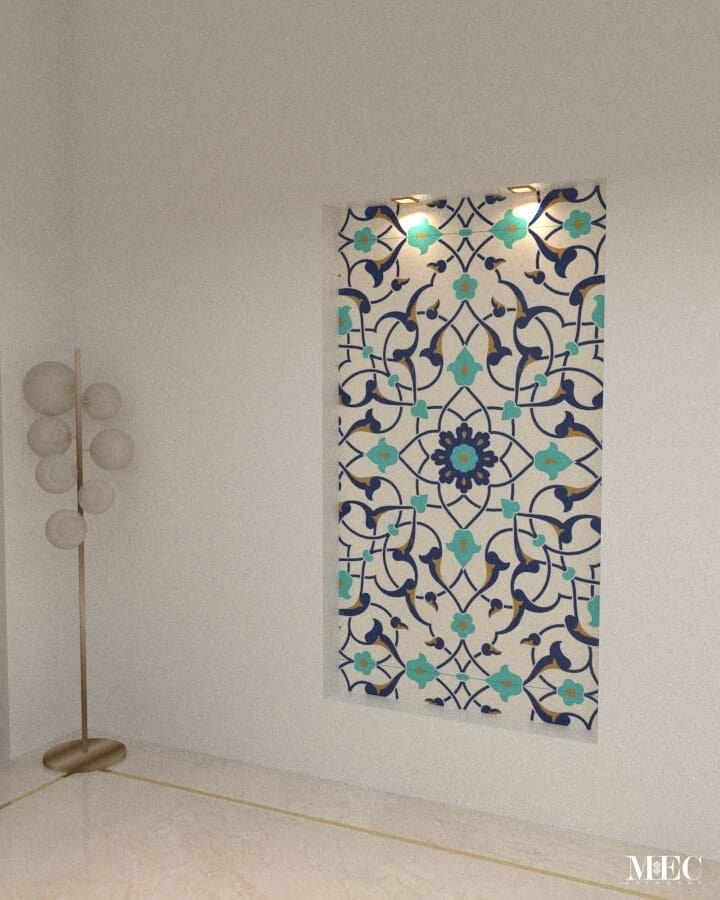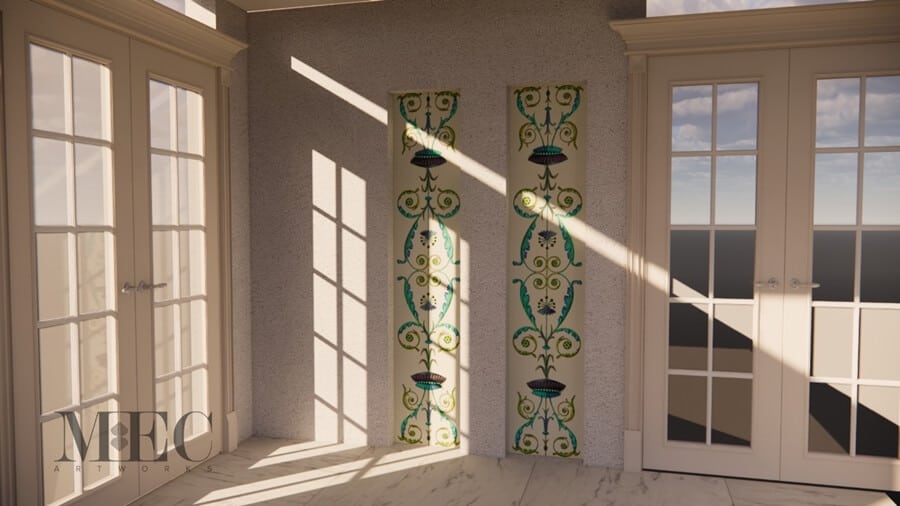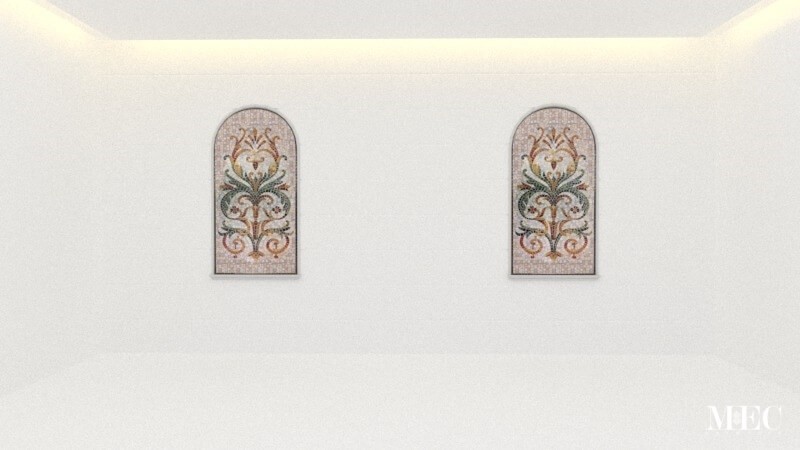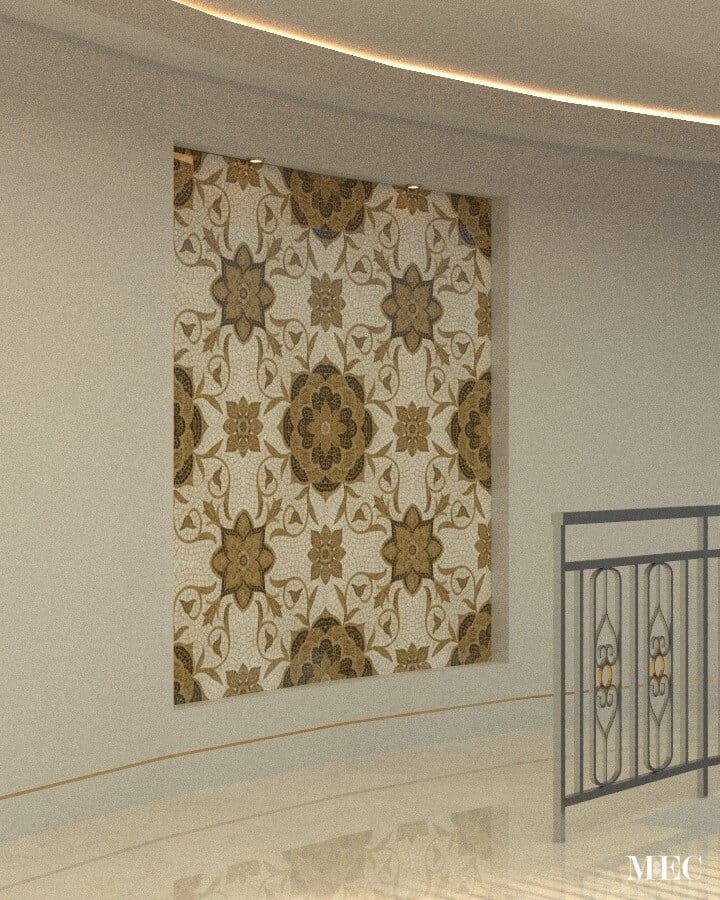 If you already have a house with niches or you freshly got them constructed into the wall your next decision has to be how you want to decorate it. Of course, covering it with wallpaper and using a wise color to paint it are some valid options. However if you want to transform the wall space into an extraordinary piece of art to make a powerful interior design statement, go with mosaic tiles. A mosaic niche will immensely enhance the style quotient of the space. Furthermore, the mosaic niche might also serve as a priceless piece of art that means something special to you because you personally chose the design, pattern, theme, and palette of your dreams. That is one of the major perks of custom-made items; you can get just the perfect balance of everything. You can pick from the extensive range of mosaic tile materials available, natural stones, agglomerated marble, translucent glass tesserae, and glass tile with all kinds of shine and colors you can think of from 24k gold foil embedded tiles to multi-shade tiles with added glitter! Here are some glass mosaic wall designs that can be customized for niches of any size and shared: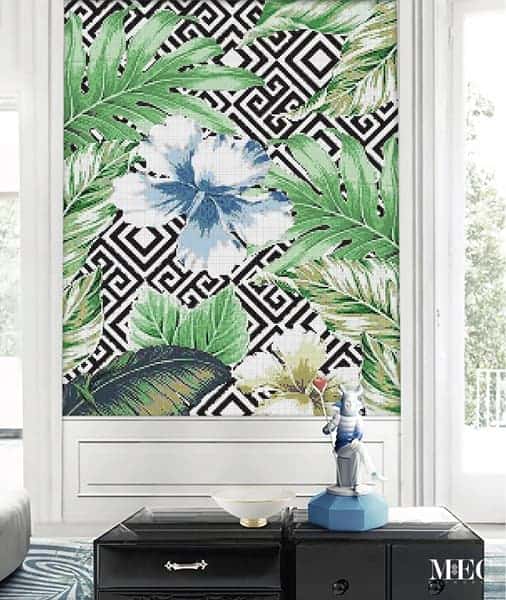 Shower Wall Mosaic Tile Niches
One of the most popular uses of these wall shelves is, you guessed it, the shower area. Bathroom wall niches have become an important feature of modern bathroom interiors. Shower wall niche inserts, shower recesses, and shower niche shelf insets provide a reliable, easy-to-reach, storage solution for soaps, shampoo bottles, and other shower essentials. To avoid common mosaic tile and shower niche problems we recommend that you get them tiled through an expert. A trained professional would ensure compliance with tile installation guidelines. Quality tile installation will increase the life of your mosaic and save you a lot of repair and maintenance costs later. Be sure to check out our blog posts on "Disastrous Mosaic Tile Related Issues & Their Solutions" and "Is Glass Mosaic Suitable as Bath and Shower Tile?". Share these tips and your concerns with your tile installer before getting the project started. Bear in mind that if your mosaic tile material of choice is marble, the tiles installed in a wet or humid area need to be sealed twice a year.
House Exterior Wall Mosaic Niches
Mosaic niches aren't a strictly indoors feature, you can also beautify your home exterior with decorative tiled niches. Consider contemporary wall niches for house elevation to beautify your building exterior. There are many examples of the decorative recess in historical European buildings. Architects from the Renaissance designed semi-circular niches with seashell-shaped design on top. Modern building designs feature contemporary decorative wall niches on the front elevation.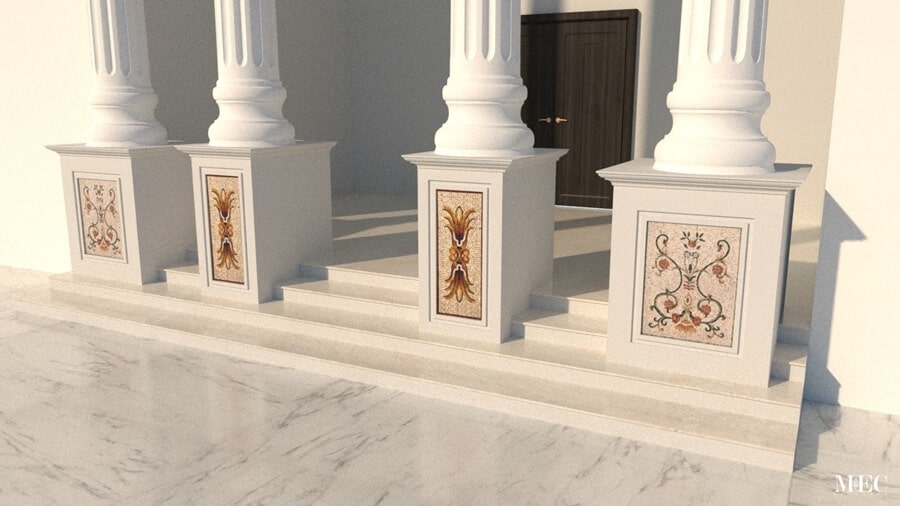 Wondering how your exterior niche would look cladded with a custom handcrafted mosaic design? Get free renders and a complimentary consultation from one of the MEC's mosaic design experts.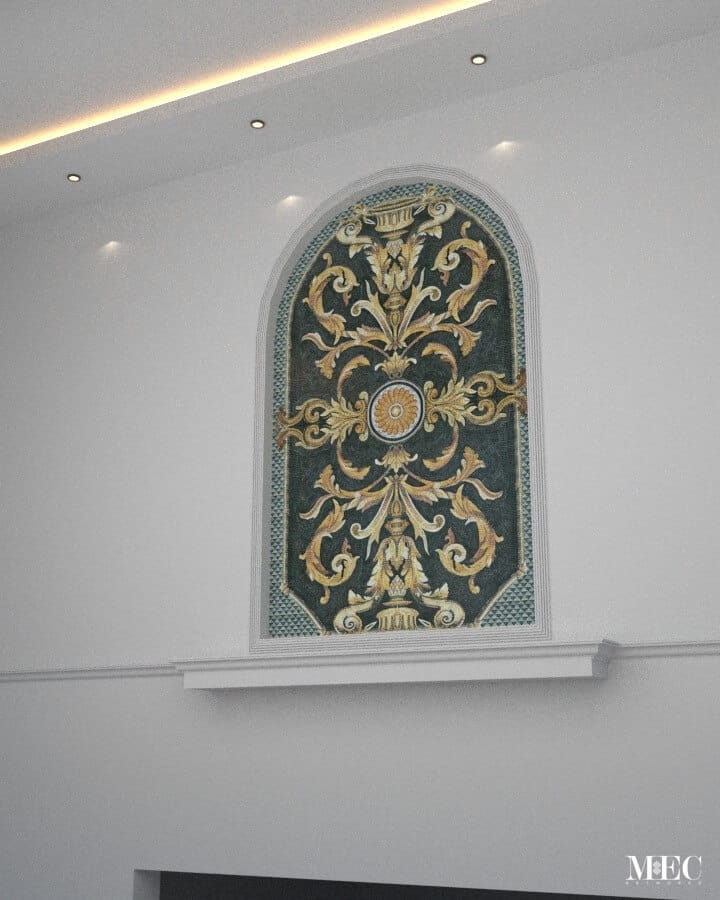 Mosaic Tiles for Niches – Always a Good Idea
As mentioned earlier, a mosaic tile niche is a complete decoration element in itself. So even if a flower vase or a perfume is not in its predestinated place, the niche, space won't seem like it is lacking anything. To emphasize and showcase the niche and its contents more clearly you can always choose to add some sort of display lights in or around it. Don't be afraid to think out of the box, you can try using the area surrounding the niche as a part of the art as well. After it's ready and done, just lay back and appreciate the beauty, boast about it to friends that come over too if you want (after all you invested a considerable amount of your time any money in acquiring that gorgeous one-of-a-kind art piece).
References
Mosaics of the Greek and Roman World by Katherine M. D. Dunbabin
What are some popular mosaic tile niche ideas?
Mosaic tiles offer a versatile and visually stunning option for various niche areas in your home. Here are some popular mosaic tile niche ideas:
Kitchen Backsplash: Create a focal point in your kitchen by using mosaic tiles as a backsplash. The intricate patterns and vibrant colors of mosaic tiles can add a touch of elegance and creativity to your culinary space.
Bathroom Accent Wall: Transform your bathroom into a luxurious retreat by incorporating mosaic tiles on one of the walls. This can serve as a striking backdrop for your vanity or bathtub, instantly enhancing the visual appeal of the space.
Fireplace Surround: Give your living room or den a cozy and stylish makeover by using mosaic tiles to create a captivating fireplace surround. The intricate patterns and textures of mosaic tiles can add depth and visual interest to the focal point of the room.
How can I use mosaic tiles creatively in bathroom designs within the mosaic tile?
In the mosaic tile niche, you can unleash your creativity in bathroom designs by using mosaic tiles for accent walls, shower niches, or mosaic tile borders. Consider creating mosaic tile patterns on bathroom floors or incorporating mosaic tile designs on vanity countertops.
How do I choose the right grout color for my mosaic tile niche installation?
When selecting a grout color for your mosaic tile niche installation, consider the overall aesthetic you want to achieve. Matching grout color creates a seamless look, while contrasting grout can highlight individual mosaic tiles and create visual interest.
What are the current mosaic tile niche trends in contemporary interior design?
In contemporary interior design within the mosaic tile niche, current trends include mosaic tile feature walls, mosaic tile geometric patterns, mosaic tile ombre effects, and mosaic tile metallic finishes. Mixing different mosaic tile shapes and sizes is also on-trend.