Trends come and go in the world of interior design, but some features endure. One such element is mosaic tiles still in style for bathrooms. Mosaic tiles remain a classic and stylish choice for many compelling reasons. They not only improve the appearance of your bathroom but also provide long-lasting durability and aesthetic appeal, which makes them a popular addition to any home. To gather more inspiration, explore our extensive collection of mosaic tiles for the bathrooms.
Why are Mosaic Tiles Still in Style for Bathrooms?
Mosaic tiles are still popular in bathroom decor for a variety of reasons. They remain a fashionable option for many homes. Their versatility, eco-friendliness, and low maintenance contribute to their enduring appeal, making them a popular choice among homeowners and designers alike.
Table of Contents
What are Mosaic Tiles?
Mosaic tile are small pieces of tiles that is used to form a design. Each piece is typically two-by-two inches or smaller in size and comes in a variety of shapes and colors. Glass, ceramic, metal, and marble are used to create these tiles. It allows you to fit them into your home based on your design preferences, available surface area, and personalized style.
Do you associate mosaic art primarily with backsplashes? While mosaic tiles are excellent for backsplashes, their versatility extends much beyond that. They're an excellent alternative for improving bathroom floors, altering shower rooms, adding elegance to pools, and a variety of other imaginative applications. In this blog, we will discuss why mosaic tiles are still in style for bathrooms.
Mosaic Tiles: A Time-Tested Trend in Bathroom Aesthetics
When it comes to maintaining a timeless and stylish bathroom, the enduring appeal of mosaic tiles knows no bounds. These elegant installations transcend mere aesthetics; they infuse your space with personality, enduring style, and a touch of artistic charm, ensuring your bathroom remains in vogue for years to come.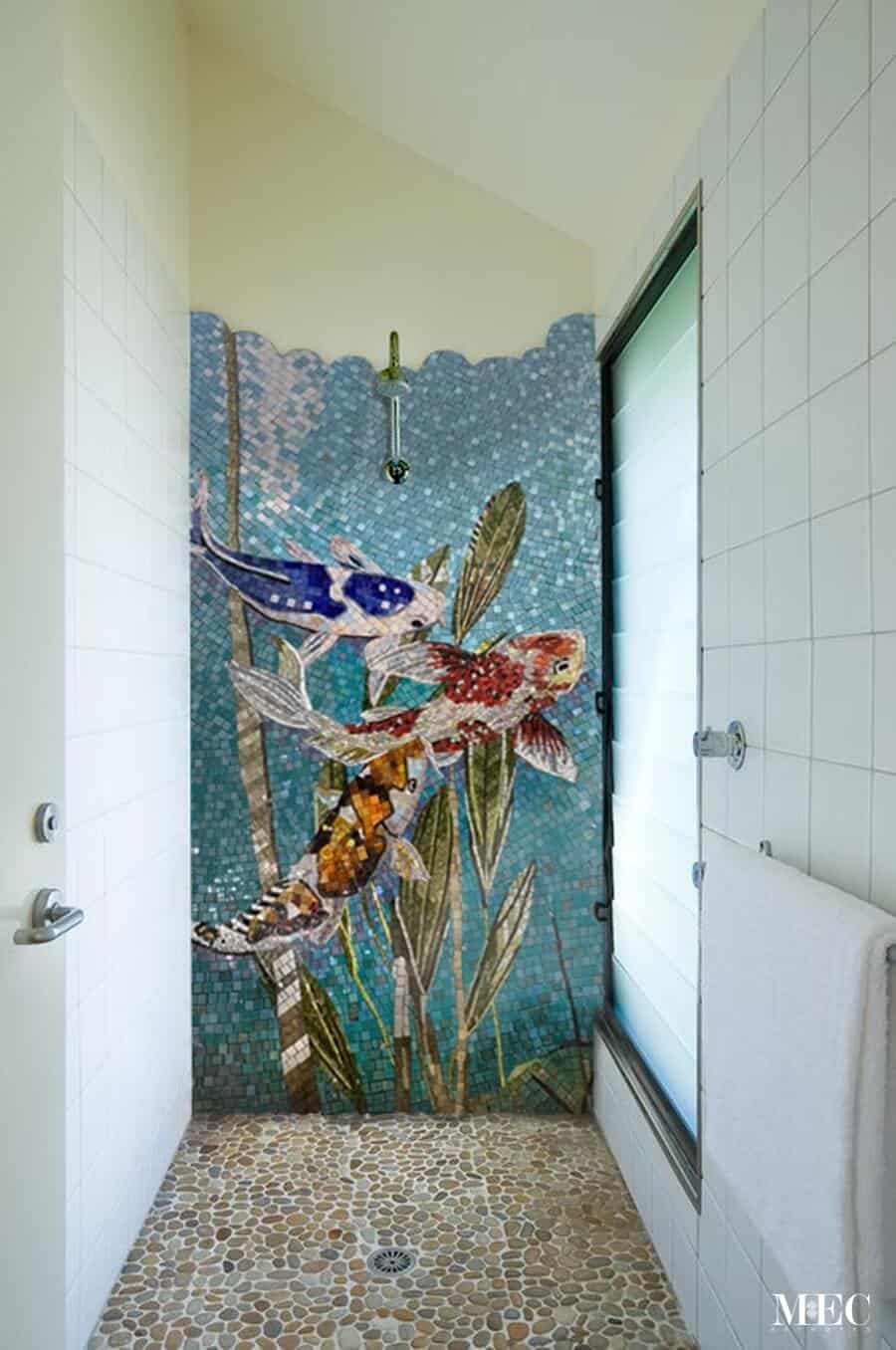 Exclusive Collection
50+ Bathroom Designs
Backsplashes, Shower Walls, Vanity Wall Art – Click Here to Explore Dozens of Mosaic Ideas!
Tile plays a vital role in almost every bathroom design. It is versatile, water resistant, and can be applied to the floor, walls, or even the ceiling. Mosaic tiles, in particular, combine these benefits and traits while adding a layer of usefulness and elegance to your bathroom.
The reason why Mosaic Tiles are Still in Style for Bathrooms
There are a number of convincing reasons why mosaic tiles remain at the forefront of bathroom design trends. In this discussion, we'll delve into these factors that make mosaic tiles a timeless and stylish option for bathroom decor.
1. The timeless aesthetic of mosaic in the Bathroom
In the realm of interior design, the bathroom represents a unique level of attraction and self-expression. When you add mosaic tiles into your bathroom you not only add sophistication but also practical benefits.
Enduring Beauty
Enduring beauty finds its epitome in the world of bathroom design through the timeless charm of mosaic tiles. These small, specifically crafted tiles possess a unique ability to retain their visual allure despite the demanding conditions of a bathroom.
Mosaic tiles, which are typically made of durable materials such as glass, ceramic, or natural stone, provide an enduring elegance that withstands the rigors of moisture and daily use. Their resilience to stains, water damage, and other frequent bathroom issues guarantees that they retain their visual appeal over time.
Bathrooms with mosaic tiles have a timeless beauty that resists passing trends. Mosaic tiles' intricate patterns, fascinating colors, and versatility not only enhance the beauty of the bathroom but also promise a long-lasting, visually pleasing environment.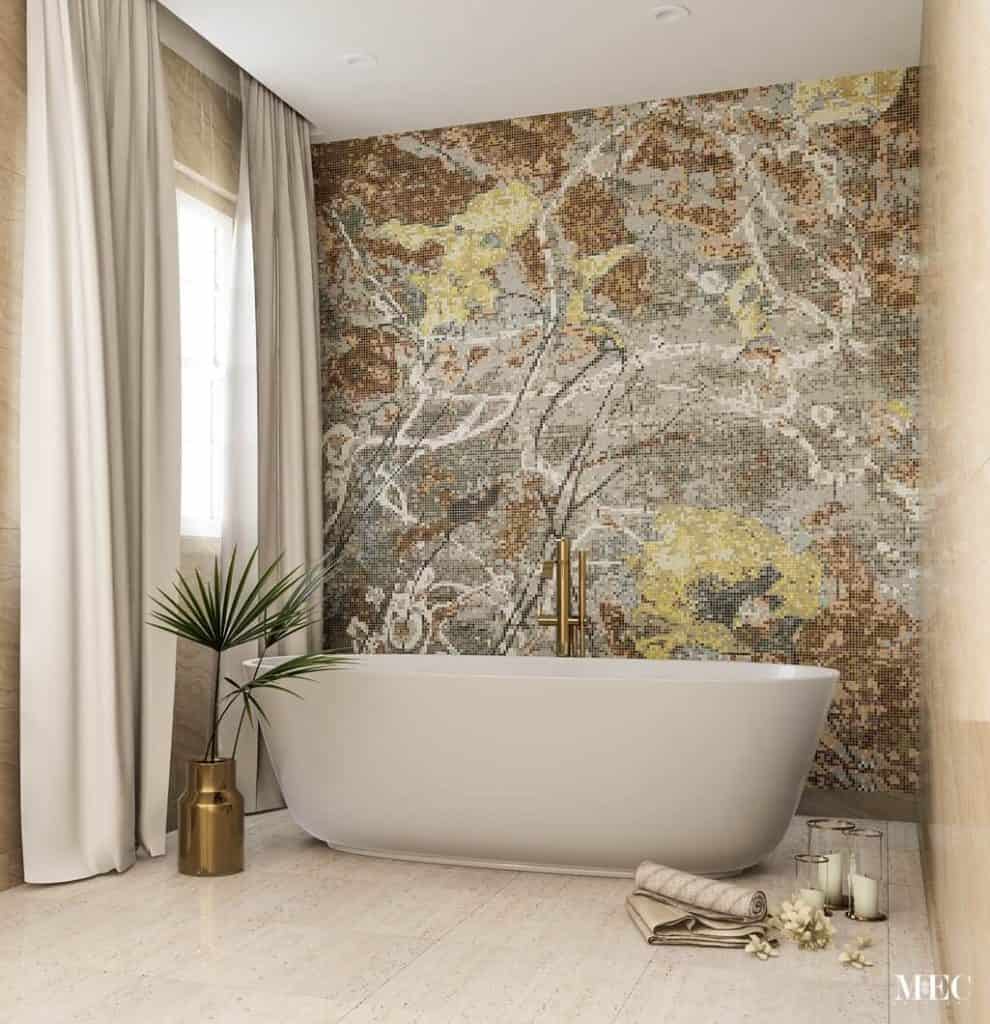 2. The Longevity of Bathroom Mosaic Tiles
The longevity of bathroom mosaic tiles involves regular cleaning and maintenance to prevent staining and grout deterioration.
Water-Resistant
Bathrooms are prone to moisture, so choosing material that can endure regular exposure to water is crucial. Mosaic tiles which are often made of materials like glass, porcelain, or ceramic are extremely water resistant. This quality ensures that they will not warp, stain, or deteriorate for many years.
How do mosaic tiles in bathrooms maintain durability?
When bathroom materials such as tiles, flooring, or countertops are chosen for their durability. It implies they can withstand moisture, heat, and everyday wear and tear. This characteristic ensures that they remain in good condition in the presence of water and humidity, without degrading, warping, or staining.
Minimal Maintenance
Another important aspect of using mosaic tiles that are still in style in bathrooms is their low maintenance. They don't need any special care. Unlike some other types of flooring and wall coverings, mosaic tiles are simple to clean and maintain. Regular washing with mild soap and water is typically adequate to keep them looking great.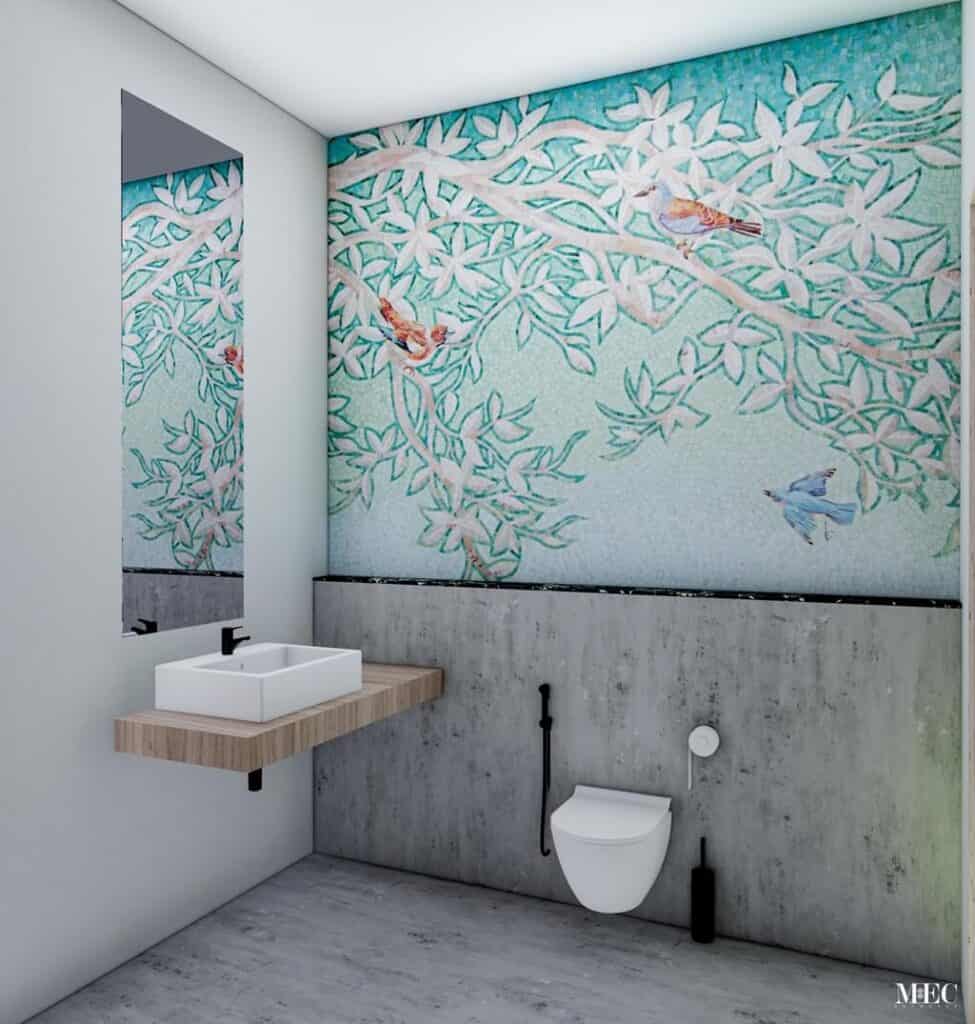 3. Design Flexibility that Mosaic tiles Still in Style for Bathrooms
The capacity to change and customize the layout, materials, and decor of your bathroom is referred to as design flexibility.
versatile design
Bathroom mosaic tiles come in versatile designs. We have a variety of colors, styles, shapes, and patterns to choose from. These options allow you to personalize based on your functional requirements. It allows homeowners to create an aesthetic look from ordinary to captivating design which gives you the feel of a spa-like atmosphere.
These tiles can be used on bathroom floors, walls, and even shower or bathtub surrounds, demonstrating their versatility in the bathroom. Bathroom fixtures that are adaptable, such as vanities, sinks, and storage options. it allows you to tailor the area to your personal preferences and needs.
MEC provides a variety of alternatives for customizing your bathroom based on your needs and tastes.
Customization
Mosaic tiles are available in a range of options. Homeowners can mix and combine colors, sizes, and materials to create a unique design that reflects their particular style. This adaptability enables the realization of many design ambitions, whether you want a contemporary spa-like refuge or a vintage-inspired bathroom.
Complement to Various Styles
Mosaic tiles blend perfectly with a wide range of home styles, from traditional to modern. You may select mosaic tiles that enhance the overall appeal of your bathroom decor, whether you want a classic, elegant style or a current, industrial vibe. Choose the right material, color, and size of mosaic tiles to ensure that they meet perfectly with your style.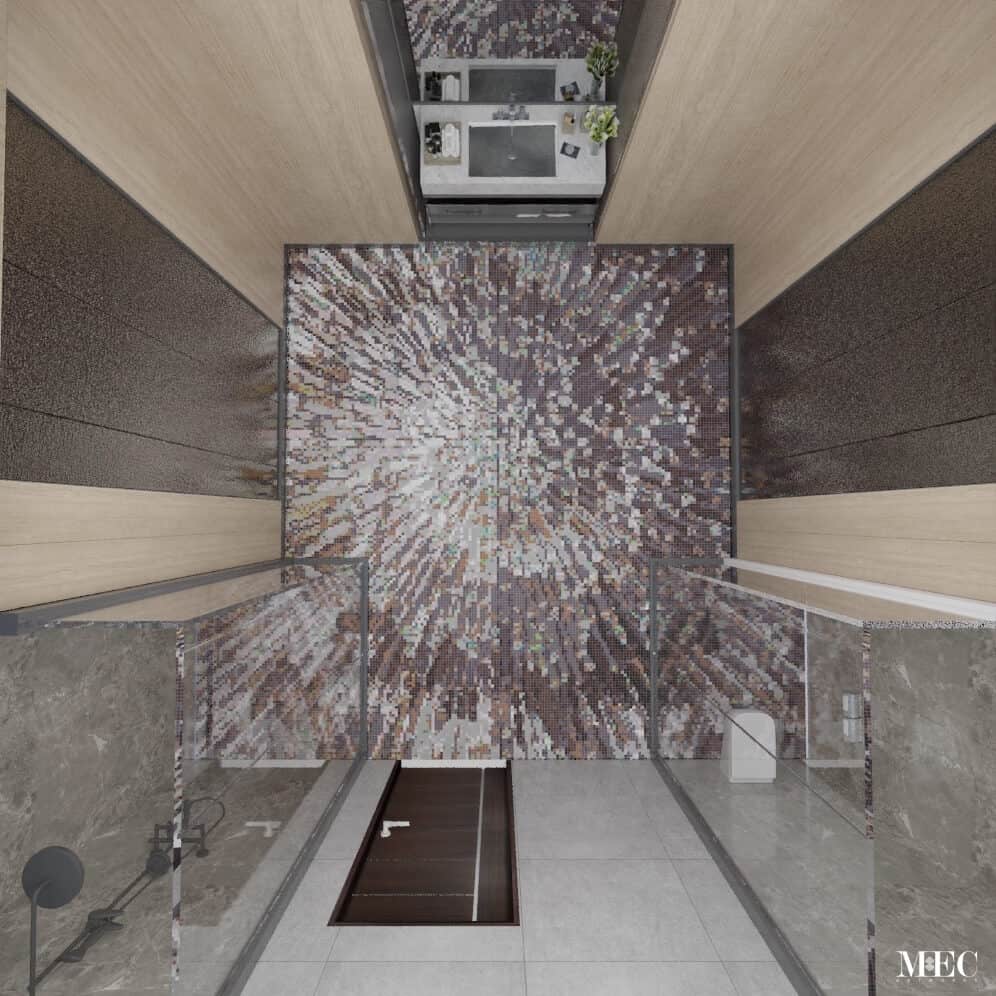 4. Eco-Friendliness
The long-lasting popularity of mosaic tiles still in style for bathrooms can also be linked to their environmental friendliness. Many mosaic tiles are composed of eco-friendly materials like recycled glass, porcelain, or natural stone. These materials are eco-friendly because they reduce the demand for new resources and have a low environmental impact. Furthermore, Mosaic tiles are sometimes utilized in water-saving bathroom fixtures and designs. For example, they can be included in water-efficient shower designs to assist in reducing water consumption. This alignment with environmental friendliness leads to mosaic tiles' ongoing appeal in bathroom design.
To find additional inspiration, explore our creative and artistic mosaic projects.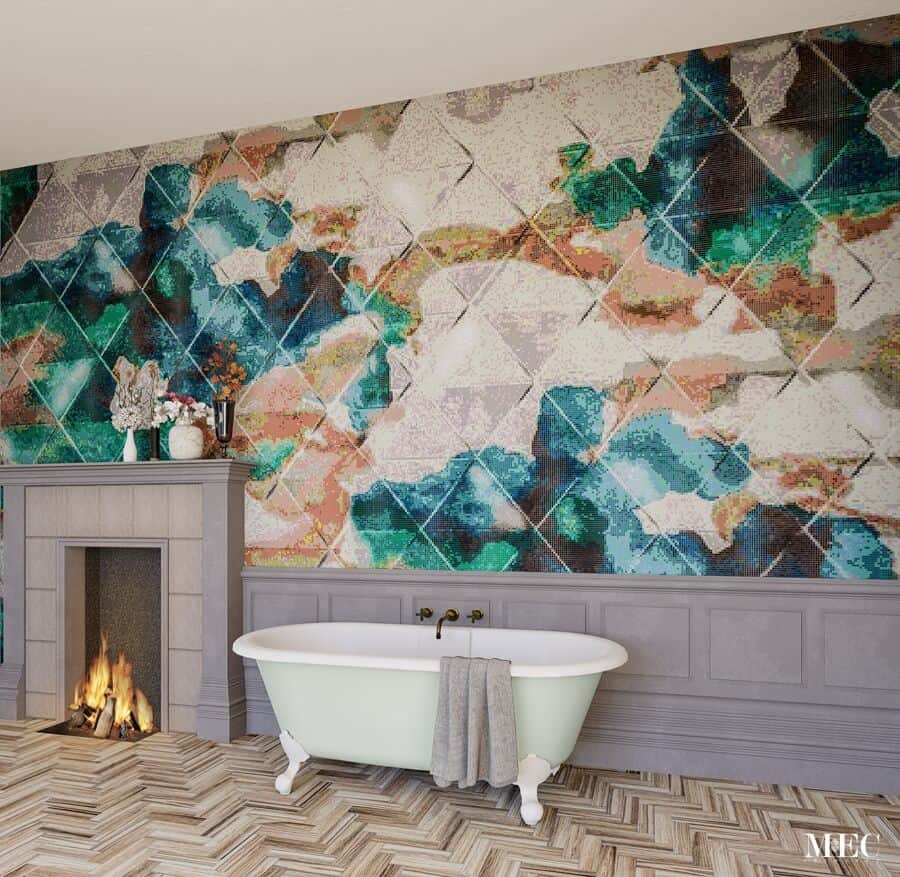 Conclusion: Explore the Reason why Mosaic Tiles Still in Style Bathroom
In conclusion, mosaic tiles combine aesthetic appeal, durability, personalization options, and eco-friendliness, making them a popular choice for enhancing bathrooms. MEC is your trusted partner in this endeavor, offering a wide range of design options as well as the ability to modify designs to your specific requirements. Embracing the timeless elegance of mosaic tiles ensures that your bathroom will stay elegant and functional for many years.
FAQs
Are mosaic tiles good for a bathroom?
Yes, mosaic tiles are a popular and attractive option for bathrooms.
Can I customize the design of mosaic tile for a bathroom?

Yes, you can completely customize the mosaic tile design for your bathroom. Mosaic tiles are well-known for their adaptability and plasticity, making them an ideal choice for personalized and one-of-a-kind bathroom designs.
Where can I find unique mosaic tile ideas for my bathroom?

MEC is your one-stop shop for custom mosaic designs ideal for bathrooms. We are prepared to assist you in creating a one-of-a-kind mosaic masterpiece that is tailored to your specific needs and preferences.
Can mosaic tiles be customized to match the aesthetic of my bathroom?

Absolutely! Mosaic tiles are available in a variety of colors, shapes, and patterns, allowing for a great level of customization.
Do mosaic tiles make a bathroom appear larger?
Yes, the reflected surface of mosaic tiles can give the impression of a larger bathroom.