Discover how can you use mosaic tile on the bathroom floor. whether your priorities are durability, style, or slip resistance, explore the limitless possibilities to transform your bathroom into an extraordinary space.
Do you aspire to make your home interior a work of art? Mosaic tiling is the best choice for this. It is one of the world's oldest art forms, with a millennia-long tradition found in practically every corner of the globe. Get ready to embellish your home with mosaic tile art in every part, including the kitchen, bathroom, and floors.
Which material mosaic tile can you use on the bathroom floor?
Mosaic tiles for bathroom floors are typically crafted from materials like ceramic, porcelain, or glass, all of which offer excellent durability and water resistance essential for high-moisture environments. These tiles cannot absorb water easily because they are designed and manufactured to be nonporous or have low porosity. This aspect is important because it protects the tiles from swelling, warping, cracking, or breaking over time when exposed to moisture.
Table of Contents
The Best Choice for Your Bathroom Floor
When it comes to selecting a flooring material for the bathroom, tile is undoubtedly the top choice. Among the various tile options available, mosaic tiles stand out as a unique and versatile choice. We use different materials like marble, glass, or natural stone to transform your ordinary bathroom into a captivating space. In this blog we will explore 3 key factors that make mosaic tiles a great choice for your bathroom floors, concentrating on their durability, design versatility, and safety advantages.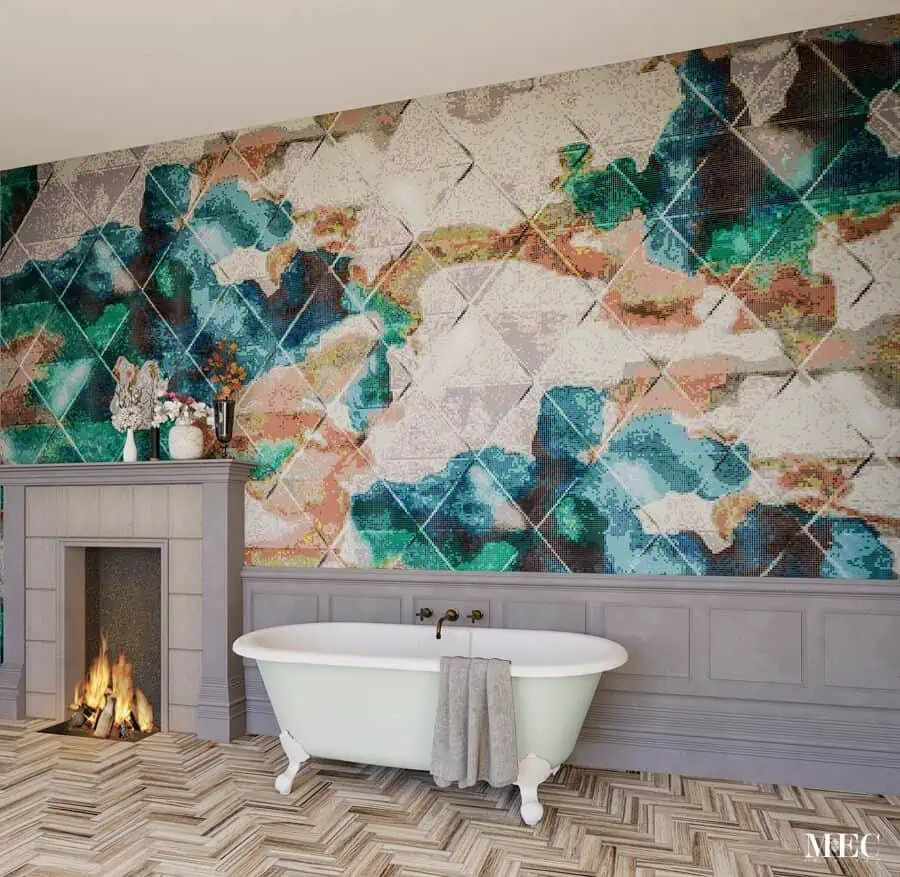 Durability That Withstands Moisture
One of the primary reasons that Mosaic tiles are best for bathroom floors due to their exceptional durability.
Resistance to Water and Moisture
Bathrooms are naturally high-moisture environments due to daily activities like showers and baths. Mosaic tiles are specifically intended to thrive in such environments, as they can withstand prolonged water exposure without warping, breaking, or deterioration. This quality means that your bathroom floor will last for years, avoiding the need for frequent replacements or expensive repairs.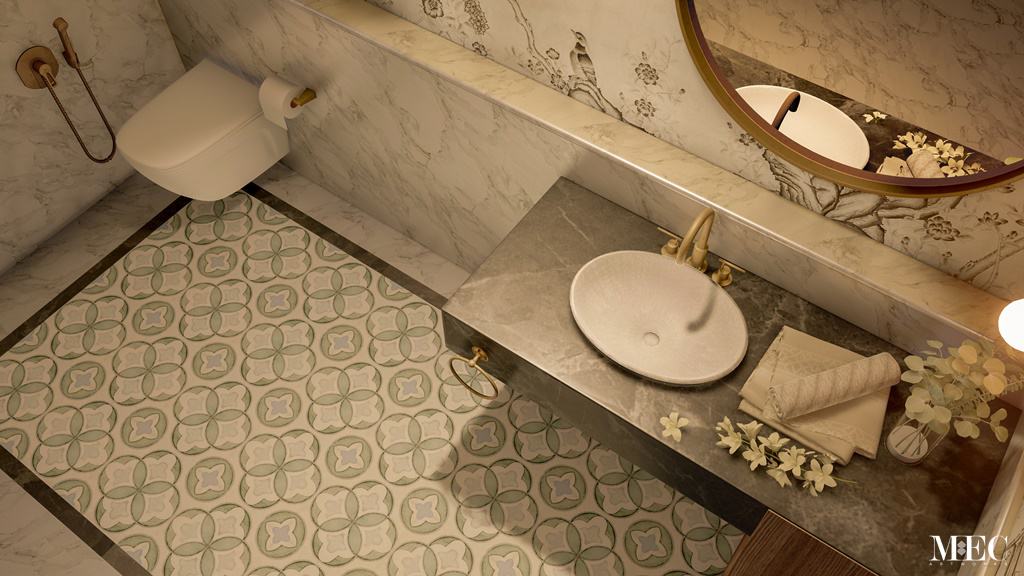 Where should bathroom mosaic tiles be used?
You can use a bathroom mosaic tile in various areas to add style, functionality, and durability. These tiles can be used on bathroom floors, accent walls, borders, around the bathtub, vanity forefront, or in any area where you want to capture attention. Furthermore, where to use bathroom mosaic tiles is determined by your design choices, the quantity of water exposure, and the intended aesthetic. MEC offers the versatility of mosaic tiles that you can use sparingly as accents or as the predominant material in various areas of your bathroom to improve both beauty and utility.
2. Design Versatility for a Personal Touch
The variety of mosaic floor designs when it comes to boosting the appearance of your bathroom knows no limitations. These stunning masterpieces go beyond basic aesthetics, infusing your personal hideaway with personality, style, and a touch of craftsmanship.
Mosaic tiles offer a diverse range of design possibilities that can change your bathroom into a unique and visually appealing place. Our experts provide you with many customizing options that resonate with your taste and personal style.
Elevate Your Bathroom Floor with MEC's Inspiring Customization Choices
MEC offers you many customizable mosaic design options that you can choose and elevate your bathroom into a unique style according to your preferences and creative aspirations. This versatility stems from several key factors:
Color Palette: Mosaic tiles are available in a wide range of colors, from gentle pastels to vibrant colors. This diverse color range allows people to select colors that reflect their design vision and tastes, ensuring that the bathroom floor complements the entire look of the space.
Fabrication Technique Variety: We offer you a variety of fabrication techniques for creating stunning patterns and designs using square mosaic tiles. you can choose from PIXL designs, which use square tiles arranged on grids to create elaborate patterns or opt for our hand-cut mosaic, a real art form in which our artisans individually cut, shape, and place each tile to create larger, more intricate artwork.
Texture and Finish Options: We have the mosaic tiles in numerous texture and finish options. it includes glossy, matte, textured, and even in 3D effects. You can use these options to create different visuals within your bathroom.
Artistic Expression: For those with an artistic flair, mosaic tiles offer a canvas to craft imaginative designs, and intricate patterns, or even weave captivating stories into your bathroom floors. This customization option enables homeowners to turn their bathroom into a blank canvas for self-expression.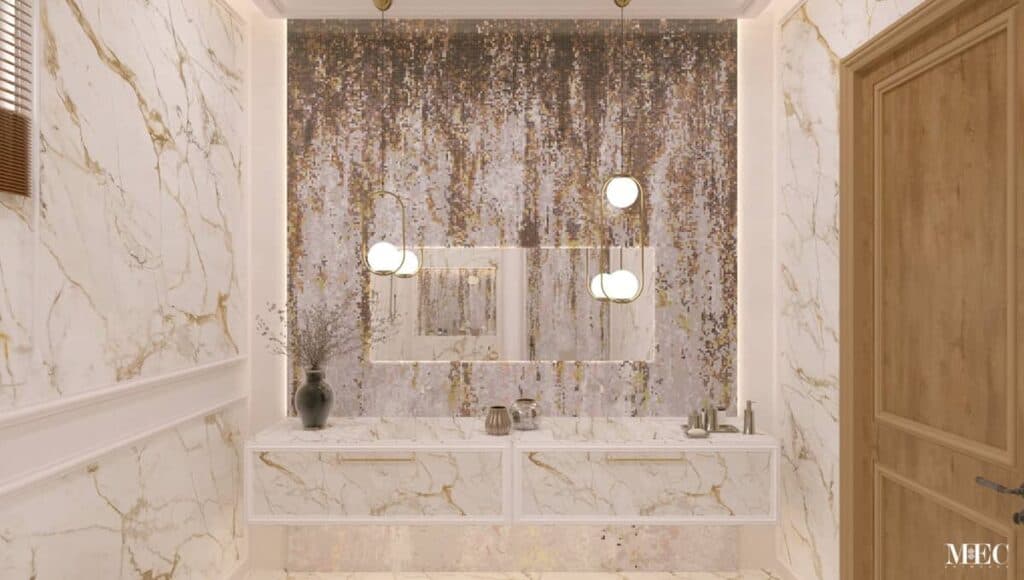 Enhanced Safety Through Improved Traction
Mosaic tiles provide a safe environment that is paramount for any bathroom. Mosaic tiles are incorporated with grout, a cementitious or epoxy-based compound that covers the gap between the tiles. The properly used grout provides an extra layer of protection against water penetration, strengthening the overall moisture resistance of the mosaic tile surface.
Better Traction and Reduced Slipping Risk
These tiles offer a higher level of grip on the floor and reduce the risk of likelihood of slips and falls. This is particularly necessary in areas where water splashes and condensation can make the surface slippery. Here safety is the top priority. Many mosaic tiles have texture surfaces that provide a natural grip on the floor. These textures can range from subtle to prominent, providing a range of slip-resistance possibilities.
The adaptation of universal design is increasing in modern homes. This technique involves crafting environments that meet the varying needs of people such as:
Elders
Young children
people with disabilities.
Using mosaic tiles on the bathroom floor not only improves the resistance ability but also enhances usability and durability. This makes your bathroom more accessible to a wider range of users.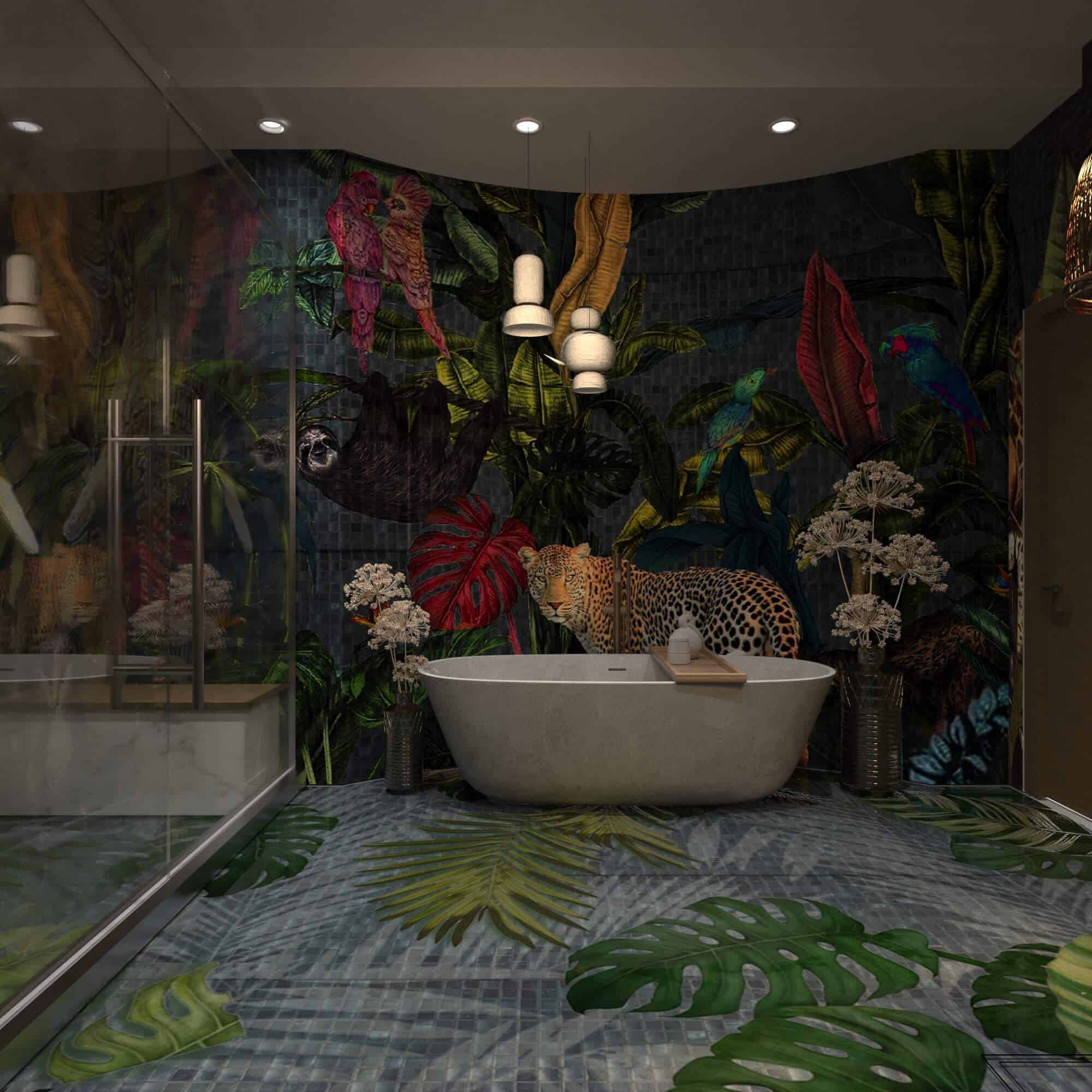 4. Eye-Catching Focal Points
Bonus Reason: Eye-Catching Focal Points
Mosaic tiles are an excellent alternative for bathroom floors when creating eye-catching focal pieces. These tiles are well-known for their design and aesthetic adaptability. They can be arranged to create intricate patterns, vibrant designs, or unique pictures that attract attention to a specific region of the bathroom floor. Mosaic tiles provide a variety of possibilities for highlighting specific areas such as the shower or vanity, or just infusing creative flair into your bathroom. For a deeper glimpse into diverse designs, explore our elaborate mosaic mural projects featuring animal themes.
Can mosaic wall tile be used for bathroom floors?
While mosaic wall tile can be used as a bathroom floor there are some important factors that need to be considered before making a choice like choosing the right durable wall tile, ensuring proper installation, and considering slip resistance.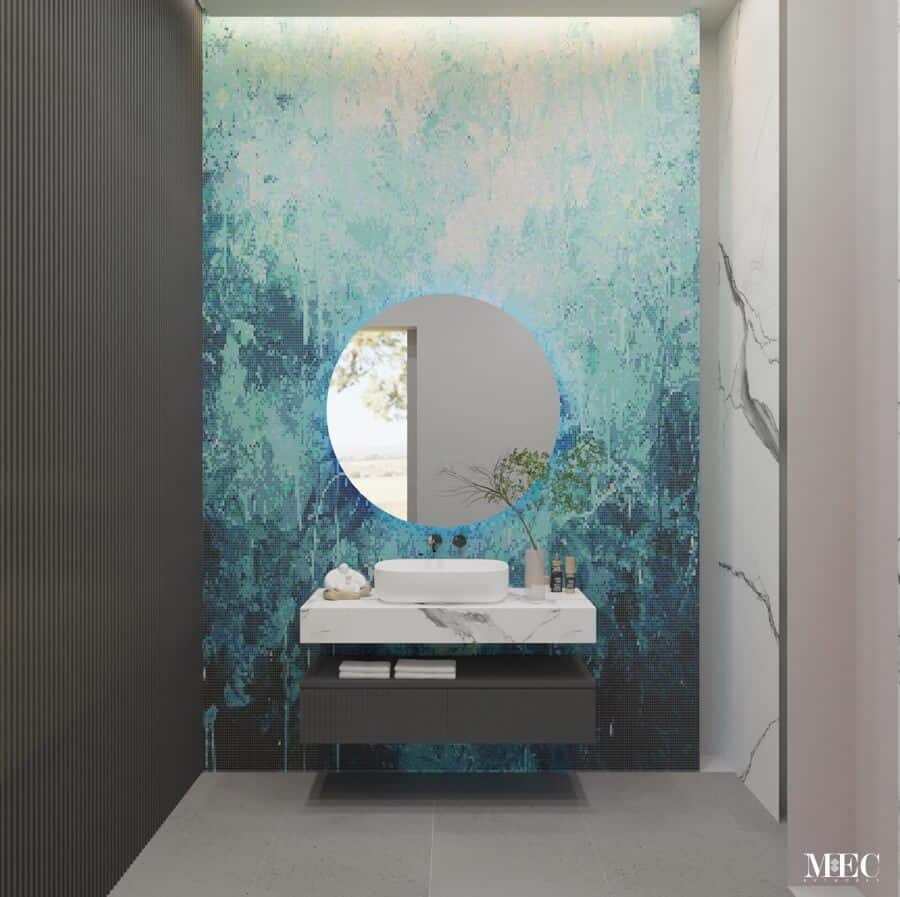 To Things Wrap Up!
Mosaic tiles are an excellent choice for bathroom flooring because of their durability, moisture resistance, and better slip resistance. Their design diversity enables artistic expression, while their safety features correspond with universal design principles for enhanced accessibility. While mosaic wall tiles can be used for bathroom floors, it is best to use tiles made particularly for this purpose to ensure both safety and longevity.
FAQs
Can a glass mosaic be on the bathroom floor?
Yes, textured or frosted glass mosaic tiles can be used on bathroom floors to enhance slip resistance. These tiles not only add visual appeal but also offer an additional layer of safety, especially in wet conditions.
Is mosaic tile good for the bathroom floor?
Yes, mosaic tiles are an excellent choice for bathroom floors due to their versatility in design, and durability, making them suitable for various areas in the bathroom such as the bathtub area, vanity, or shower space.
How long do mosaic tiles typically last in a bathroom?
With proper installation and maintenance, mosaic tiles can last for many years, even decades. To maintain their longevity, keep the grout lines sealed, clean them regularly, and address any faults as soon as possible.
What materials are used to make mosaic tiles?
Mosaic tiles can be made from a variety of materials, including ceramic, porcelain, glass, natural stone, and others, giving you a variety of alternatives.
Are there eco-friendly bathroom mosaic tile options?
Yes, there are eco-friendly mosaic tile solutions manufactured from recycled materials or sustainable sources, allowing you to preserve a green bathroom decor.