Ordering Custom Pool Tile Mosaic Design with MEC
MEC is collaborating with a landscape architect, Chase, to create a custom pool tile mosaic design for a luxury villa located in South Florida. The story of every custom mosaic design is unique. If you have enjoyed our piece on the handcrafted Dubai villa pool tiles, you are in for a treat. Read on to see the homeowner and their architect's concept mood board evolving into a glass mosaic pool masterpiece.
Initial Contact, Virtual Meetings and Choosing MEC
During their research on custom mosaic for pool, the Florida homeowner couple and their landscape designer stumbled upon MEC. They reached out to us over email and wanted to set up a meeting over Zoom to learn more about MEC's mosaic design & fabrication services and expertise.
During the virtual online meeting, the Izairis and Chase, briefed us on the project and their concept and preferences for the swimming pool. They were keen on knowing more about MEC, our mosaics, similar projects and what makes us unique. MEC's design consultant was happy to walk them through the company's offerings, our various mosaic tile ranges, mosaic design possibilities and the customization process. At the time, they had been considering a few other mosaic tile companies and artists as well.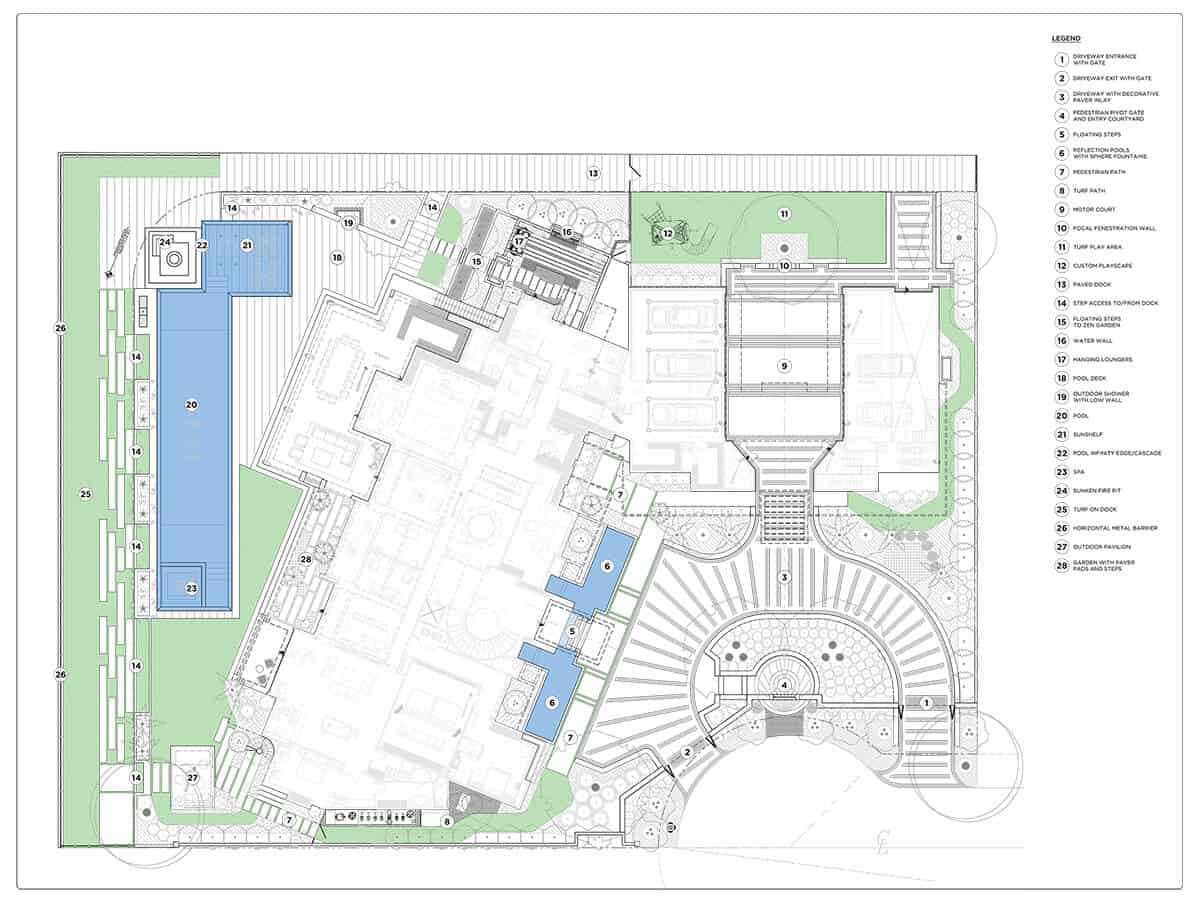 They seemed especially delighted to hear about the free renders, samples and unlimited design revisions. We explained how we were able to convert complex designs into PIXL mosaics while cutting down on the production time and costs with our AddTek system.
We were chosen for the project soon after and we were excited to start working on it.
Custom Pool Tile Mosaic Design Concepts
Chase, the landscape designer, shared a few concepts we have developed for pool inspiration images with the MEC design consultant. We also reviewed the plans for the high-end residence pool mosaic together. They wanted to create a customized swimming pool tile mosaic design based on the inspiration patterns.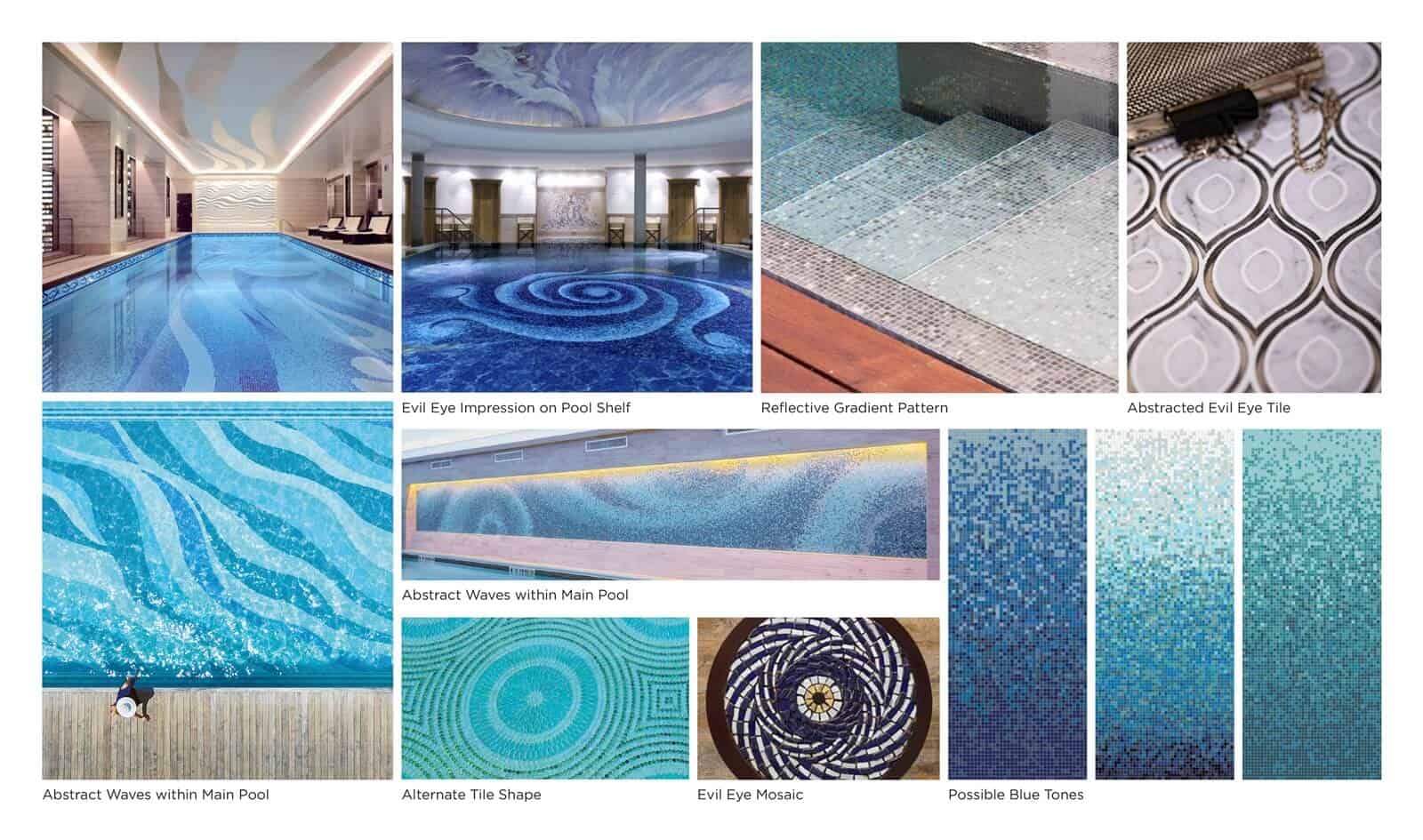 That is where the design team comes in, they create custom designs based on the preferred color theme, design inspiration and notes from the client and their designer. After the plans are shared and discussed, our design team starts working on the initial design proposals.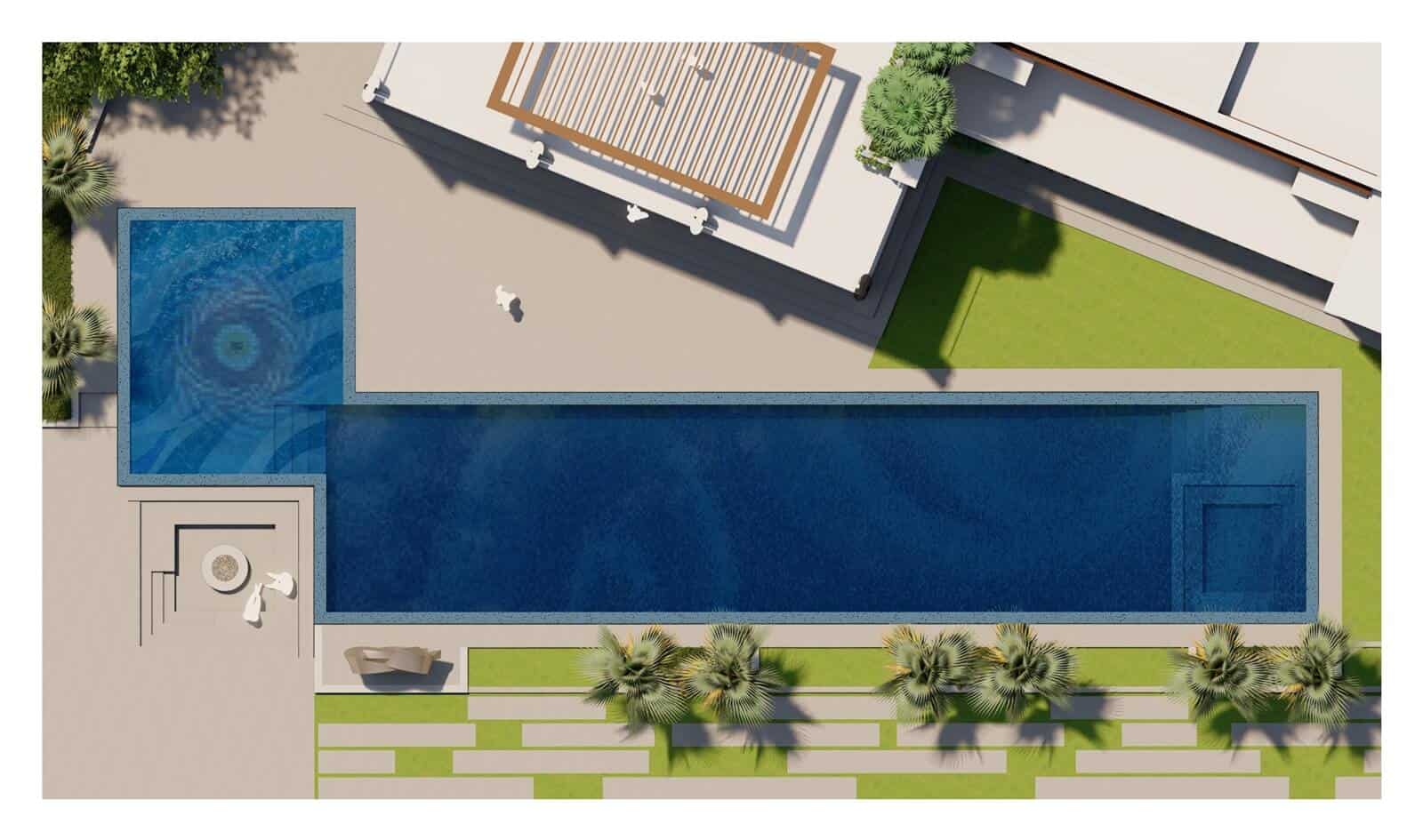 Custom Pool Tile Mosaic Design Presentation
"I am delighted to attach the presentation we have prepared for Izairi Residence Pool", wrote the MEC design consultant, as we shared the initial mosaic design presentation with the Izairis and Chase.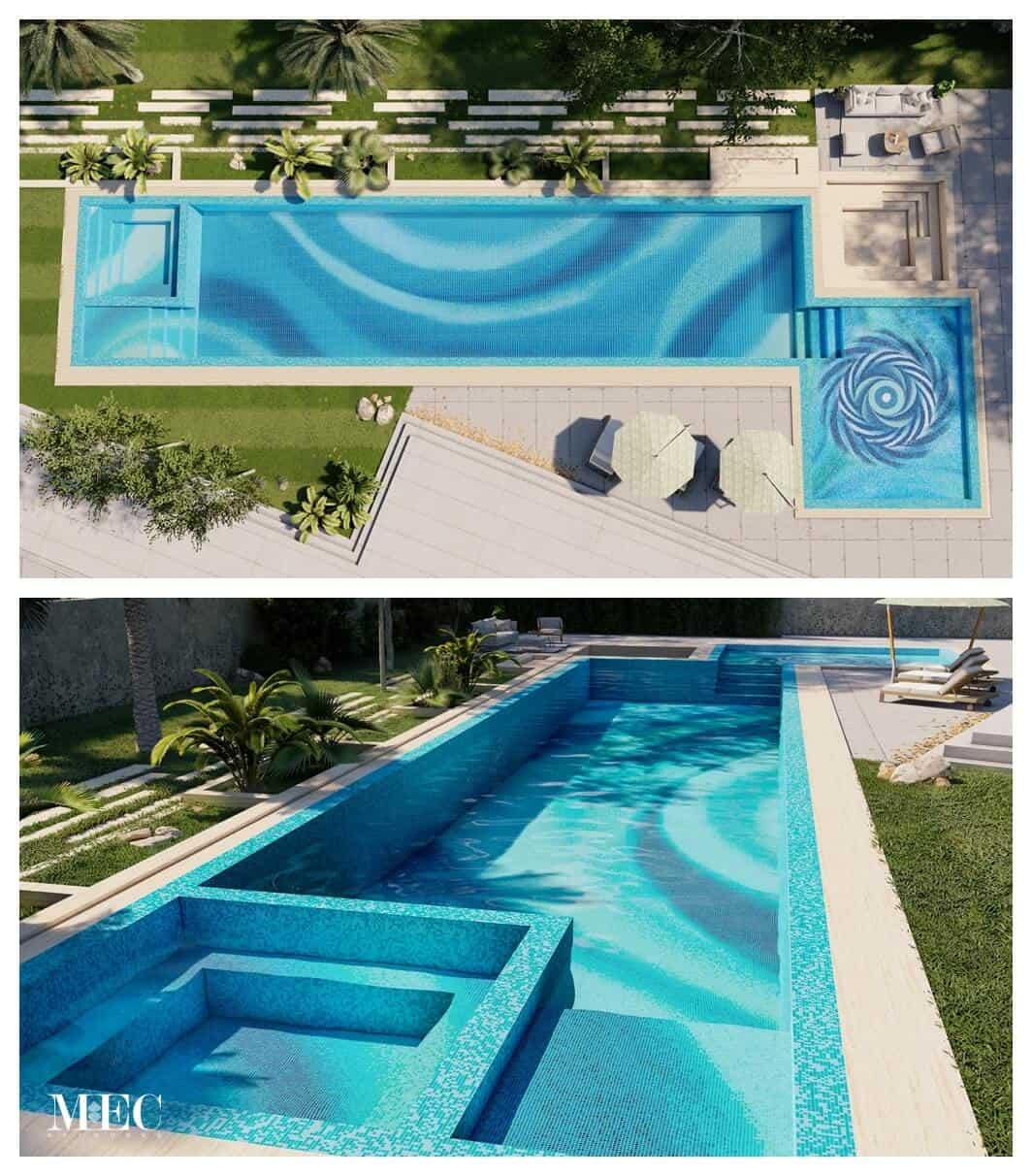 It included several options with slight color variations to denote a free flowing mosaic wave theme. We asked for honest and detailed feedback so we could fine tune the design or come up with more options if needed.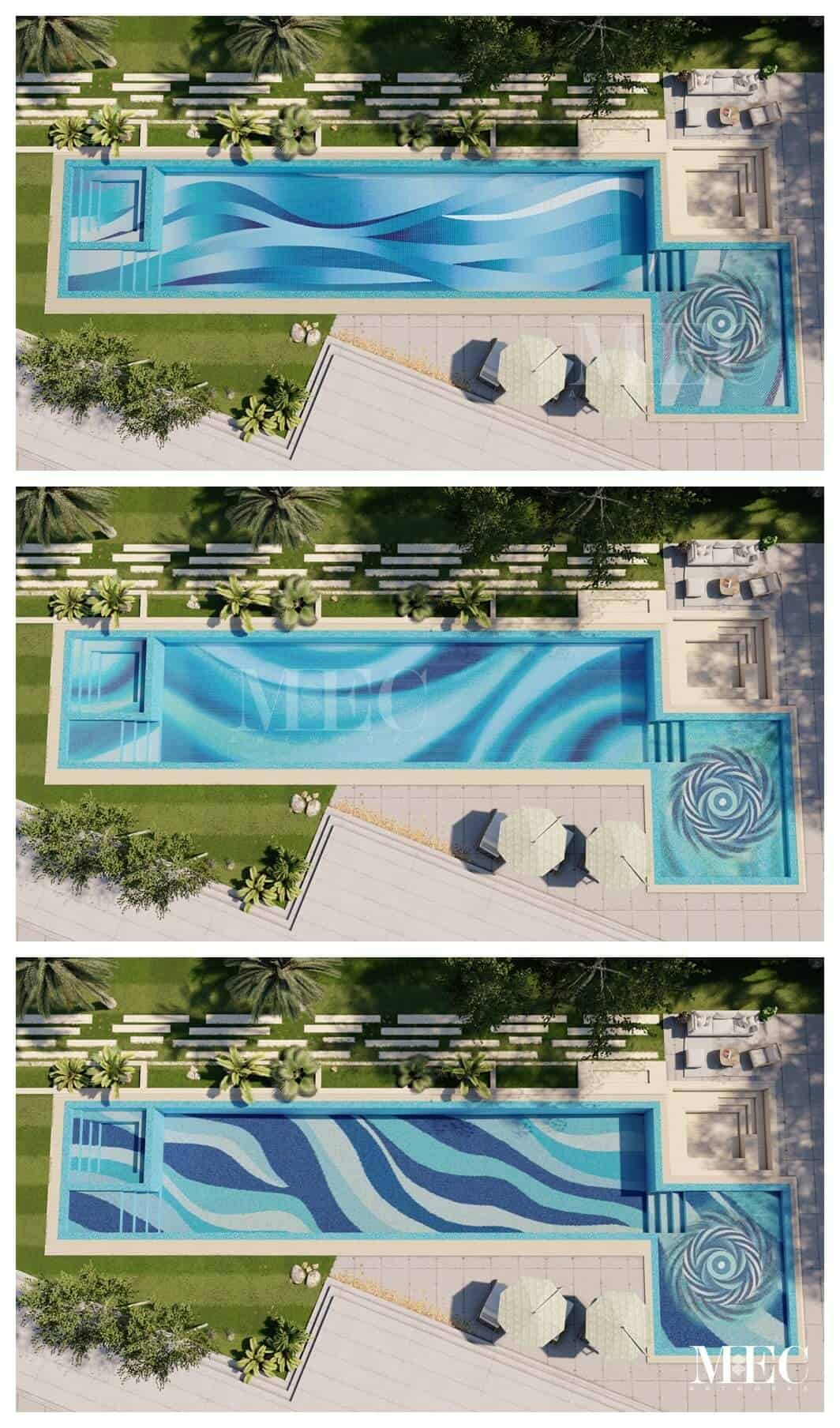 More Custom Pool Tile Mosaic Options
We received a reply from Chase, here's an excerpt from it:
"Thank you, these look really nice. I will forward them now and get feedback… I will let them select between the design options, but my only comment would be to have another option for the "evil eye" on the shallow shelf."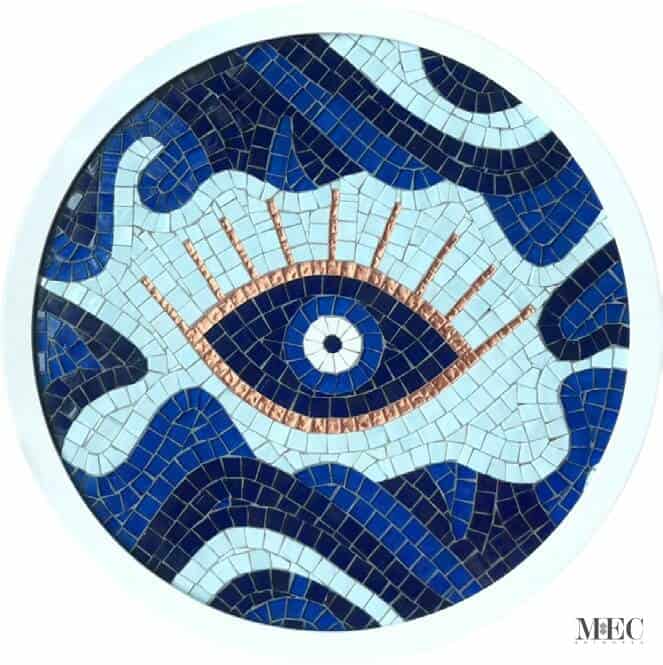 The landscape designer believed that the homeowners would want some more options. He shared with us some more inspiration design images so you could create something along those lines. We really enjoy a collaborative design process like this and all the creative challenges it brings. We promised to get back to them, in 3-4 days, with new mosaic design renders showing new custom tile options for the shallow portion of the pool.
Here are the additional options for the evil eye mosaic portion of the swimming pool.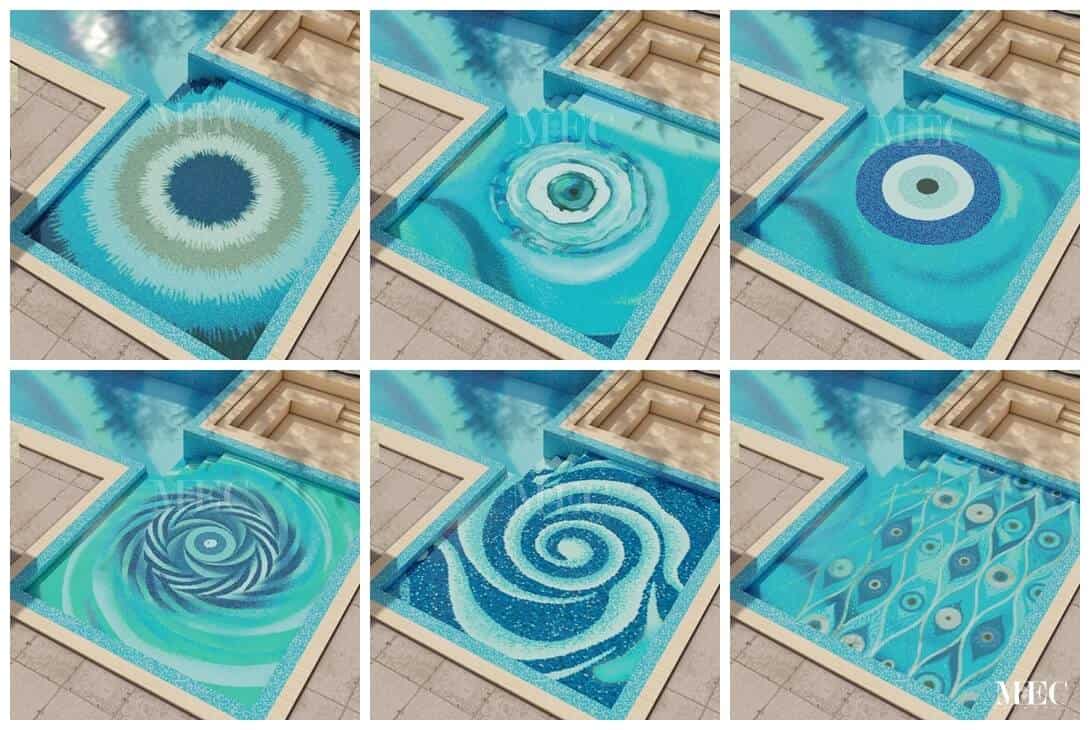 The sun shelf pool medallion designs combine the classic blue color palette or evil eye imagery with an abstract spiral touch. Swimming pool medallions are a good way to add mosaic tile art to your backyard. The 3D space renders you see are worth around USD 200 but are prepared for clients free of charge depending on the project requirements.
Feedback, Notes & Mosaic Design Revisions
Dana had some concerns about the color of the glass mosaic tiles that were proposed. We reassured her that we understood the palette she wanted to go for. The design consultant told the Izairis of MEC's ability to achieve the color tones of their choice from the mosaic tile range we have.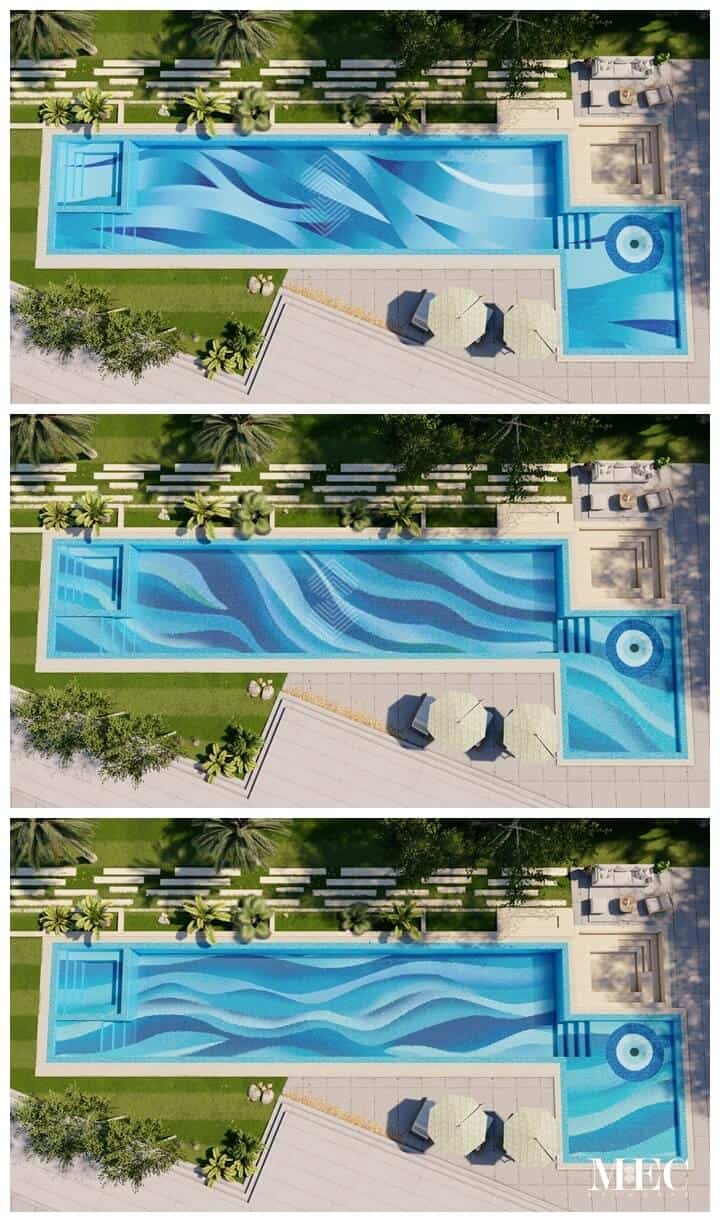 "Thank you for sending over the revised designs" said Dana's feedback email message. "Mike and I reviewed it," she continued, "and we think the last one in your presentation is close to what we are looking for".
Regarding the color palette, she shared, "… we are still going back and forth on the different shades of blue and turquoise".
We shared some photos of MEC's recent abstract mosaic tile pool projects for reference. However, in terms of design, they were a little different from the Izairis pool project. Dana commented; "… we prefer to have less drama and go with colors that complement each other".
We knew that the client did not want the custom pool tile mosaic design to be overwhelming. So, the design team paid special attention to introducing a smooth flow and an organic shift between the design elements.
Connecting New Clients with Old Ones for Authentic Testimonials
Dana wanted to know if we could connect them to any other client of MEC's who had gotten a custom mosaic pool in the recent past. They wanted to talk to an actual client about their experience with MEC. Furthermore, Dana was hoping to get some tips on hiring the right tile installing professionals from them. Luckily,
Her priority was to talk to someone from Florida. However, the Florida clients we talked to were hesitant to share their contact information due to some privacy concerns regarding their residence. We obviously respected that and thanked them for the time they had taken to respond. Luckily, there was a designer from New York, Josephine*, with whom we collaborated to create several commissioned mosaic art pieces. The latest project we worked on was a swimming pool mosaic. The mosaic had been delivered to the clients. That project was in the installation stage at the time of our correspondence with Dana. Josephine was on board with talking to the Izairis about her experience with MEC, so we connected the two parties.
Glass Tile Mosaic Color Sample Board
MEC usually sends the color mood-board once the design is finalized but for the client's peace of mind we offered to ship them out before, if they so preferred. "It would be very helpful if you could send us tile samples", said Dana, and we were happy to proceed accordingly.
Tile sample boards help clients better visualize how the mosaic (we plan to use for a project) would look in their space.
Here is the tile color sample board we dispatched to the Izairis' address: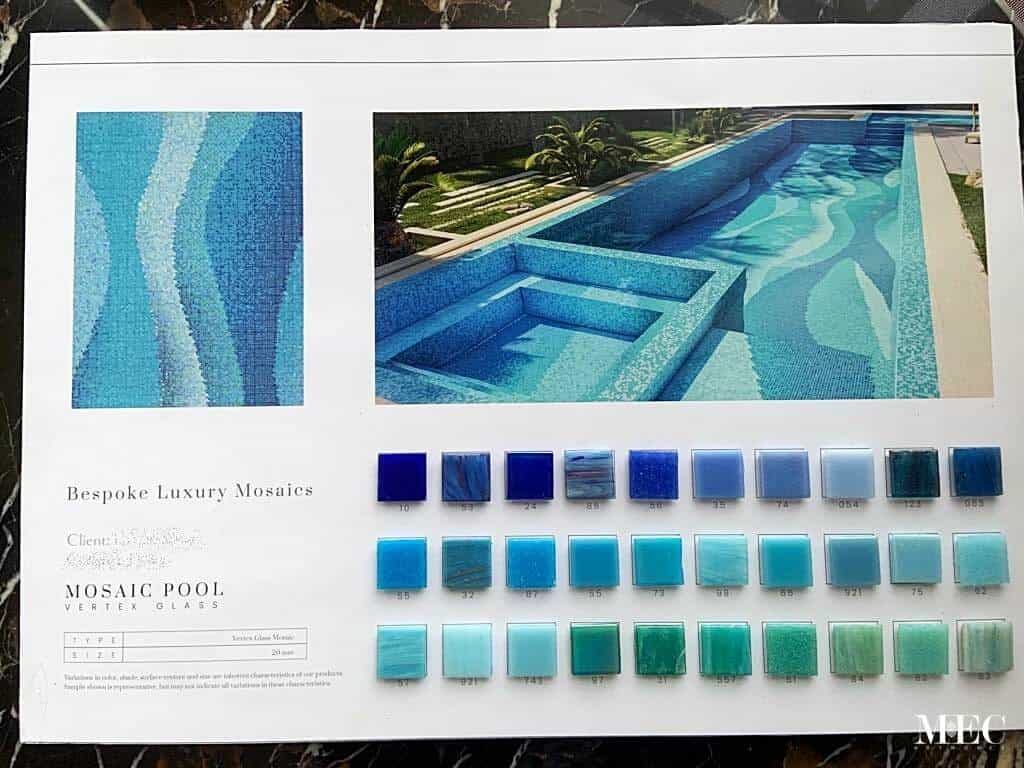 We love adding a little souvenir when sending packages to our clients. This time it was a handcrafted glass mosaic tile coasters for the Izairis and Chase.
Stay Tuned For More…
The project is ongoing as we speak. Stay tuned for the latest update on the Izairi Villa pool!