Chinoiserie Wall Mosaic Tile Bathroom Mural
MEC recently worked on a scenic, made-to-order Chinoiserie mosaic niche for a bathroom wall. The scenic handcrafted niche mosaic features design inspired elements inspired from Chinoiserie wallpapers and Roman architecture. Each custom artwork has its own unique design journey, this sepia Chinoiserie mosaic was no exception.
Chinoiserie Wall Art
If you have guessed that Chinoiserie has oriental origin, based on this name, you might be surprised. Because although this term originates from chinois, French for Chinese, it is a decorative style developed in the West. This exuberant 17th-18th century style was inspired from elements found in Chinese, Japanese and other Asian countries' art and design. The art style stems from European preconceptions of a "mysterious" Asia. Chinoiserie features some recurring, common themes. Some of which include; fantasy landscapes, pagodas, delicate trees, flowers exotic birds and figures in Chinese outfits.
The Mosaic Inspiration – a Chinoiserie Wall Design in Italy
On his summer trip to Italy, Brett, well in love with a Chinoiserie wallpaper that covered the walls of the place he stayed at. The hotel interior also had some beautiful fresco work on the ceilings with signs of a rich architectural heritage everywhere. Yet, it was chinoiserie in particular that won Brett's heart. So much so, that Brett knew he had to introduce Chinoiserie in his interior design back home. The client and their spouse were in the process of getting a new house built. Interior decor and style decisions were being discussed as the construction was underway.
Color Palette and Design Development
When Brett shared the idea with us, the MEC design consultant could right away see how well a custom Chinoiserie mosaic niche could fit into the master bath interior. Before we could reach just the perfect mosaic art design, for that enchanted effect, there were a few considerations.
The monotone bathroom interior did not leave space for too much color or clutter. So we had to keep it subtle, simple and elegant. The first step was identifying some of the important elements of Chinoiserie style.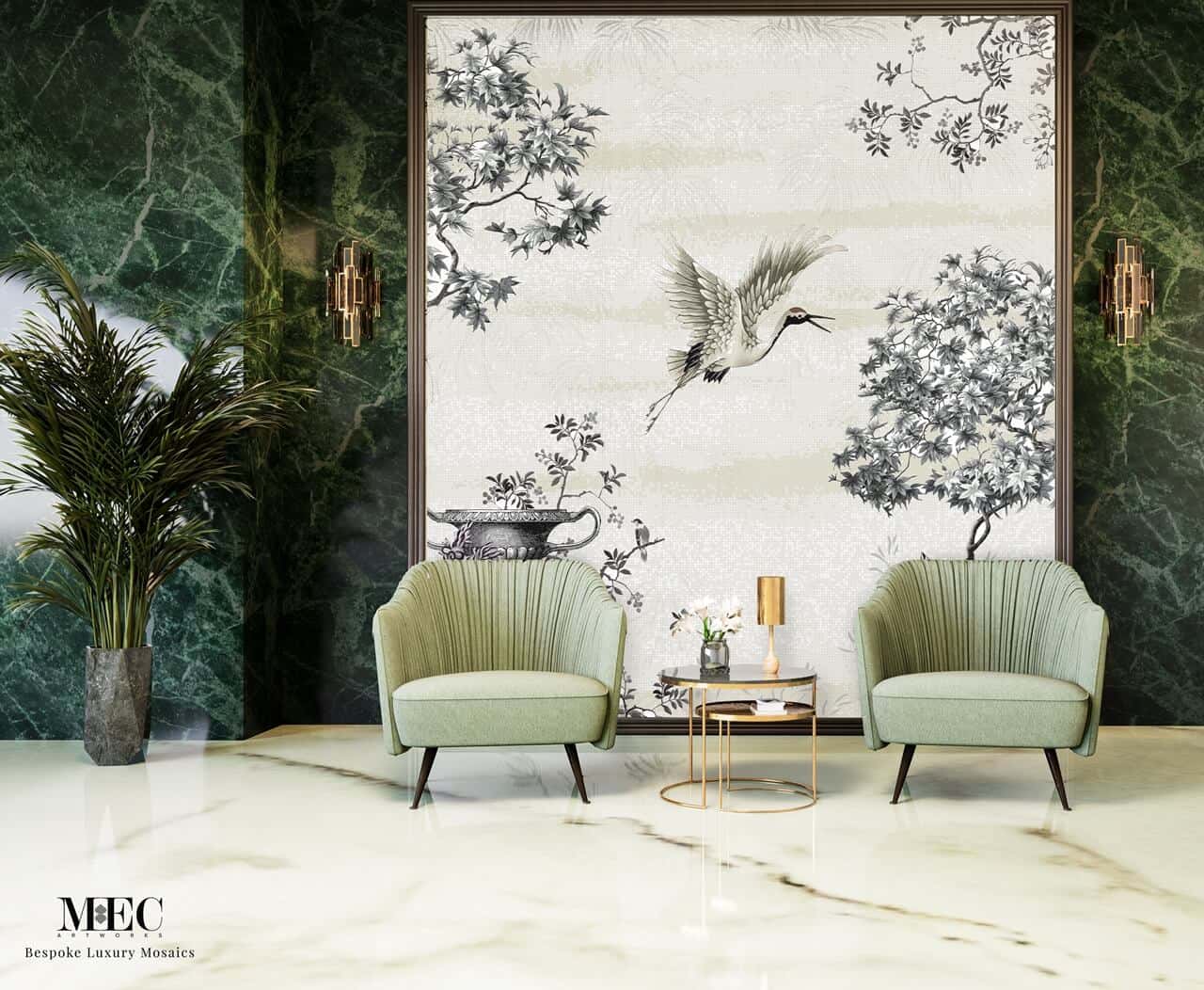 The initial render was created in grayscale, but later some sepia and olive green tones were added to the plants and birds. The colors were selected from our Vertex Serie Nature and Murano Bloom glass tile libraries.
These delicate celadon green Chinoiserie panels are stunning!  The Italians, English and French used these designs on furniture, porcelain, fabrics and wallpaper
From stylized nature and fantastical creatures to luxurious materials and powerful motifs. We studied Chinoiserie style with the intention of creating something beautiful in the handcut glass mosaic medium. We presented some ideas to Brett. Since the plan was to keep the Chinoiserie mosaic niche relatively less design heavy, we asked Brett to identify the elements and motifs they liked the most for the bathroom interior. Birds, delicate branches and magical sky – were the top three on the list.
Birds in Custom Chinoiserie Mosaic Niche
Herons and Cranes are often seen in Chinoiserie and oriental art. The client's designer and our design consultant agreed that this Chinoiserie mosaic niche needed a flying crane in the center.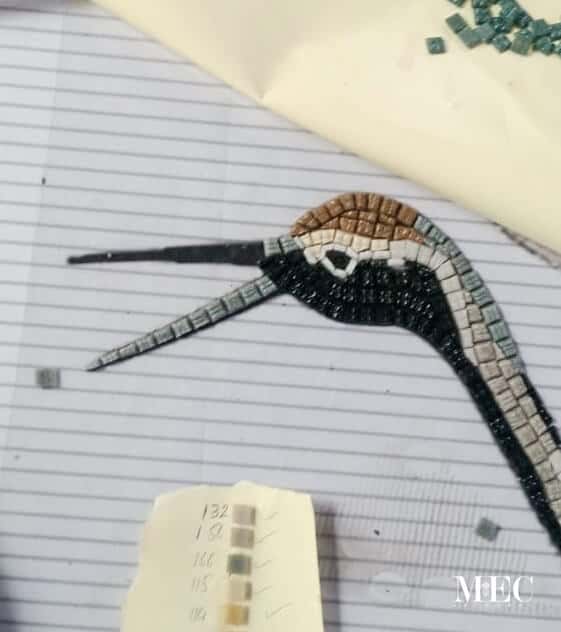 The mosaic crane is not the only feathered beauty in this mosaic niche, if you see the area around the Roman Urn, you will spot another bird. For more bird and animal mosaic tile design ideas head over to this blog post.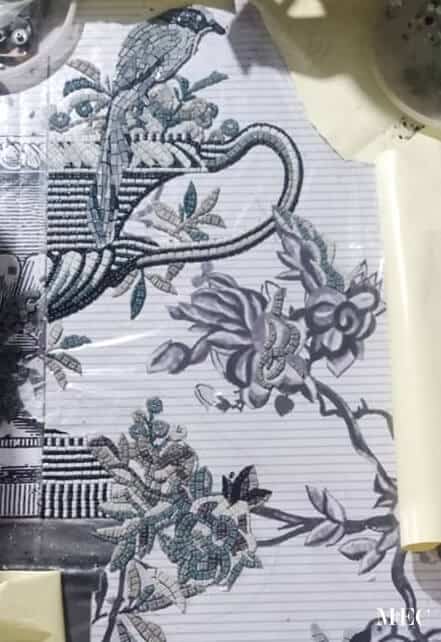 Tree Mosaic Art, Branches & Flower Mosaic
Is Chinoiserie even complete without the trees and branches? Since this mosaic art design was custom created, there was a lot of room for creativity. The client and their designer had a lot of reference images to choose the mural plants from.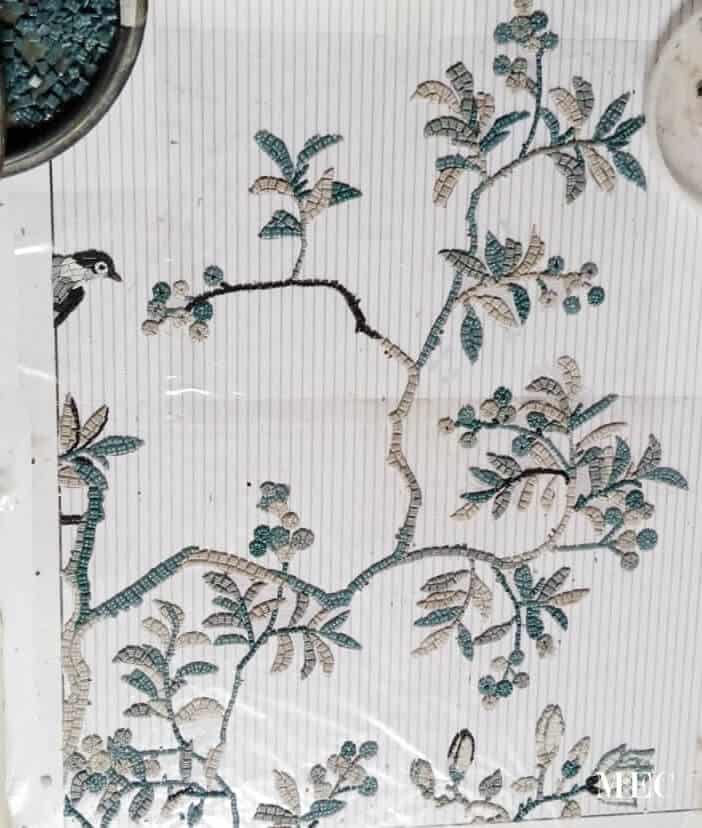 Everything from the shape of the leaves and flowers to the type of branches were individually selected with attention to detail. The blooming branches and tree mosaic art colors match the bathroom interior for a more cohesive appearance.
Roman Design Fusion Mosaic
The house design was quite classical in terms of the mold work and paneling. So Brett and their interior designer wanted the Roman element to be incorporated in the Chinoiserie mosaic niche. After some discussion and renders with 4 different options, a Roman urn was finalized for the bathroom wall mosaic art design. We love how interesting the Chinoiserie and Roman design fusion was.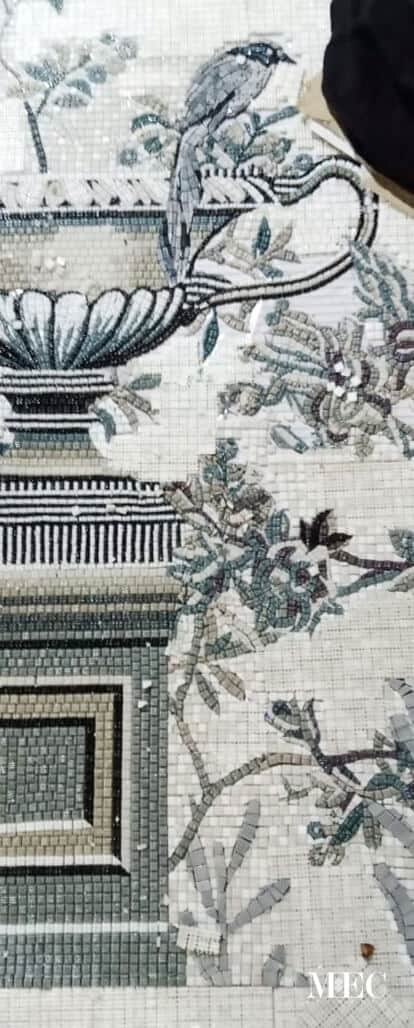 Another important step in the custom niche mosaic design was to select the color palette that could bring the entire bathroom interior together. The designer working on Brett's house suggested a more muted, almost-sepia color theme for the bathroom wall niche mosaic.
Mosaic Tile Material, Texture and Fabrication Techniques
A mix of Vertex glass Serie Nature and Murano Bloom glass tile colors were selected for the fabrication of the stunning custom Chinoiserie mosaic. We used a mix of intricate hand cut details with a PIXL grid background. Here are some similar tree mosaic art and bird mosaic artworks we showed to the client as  a reference for hand cut mosaic techniques: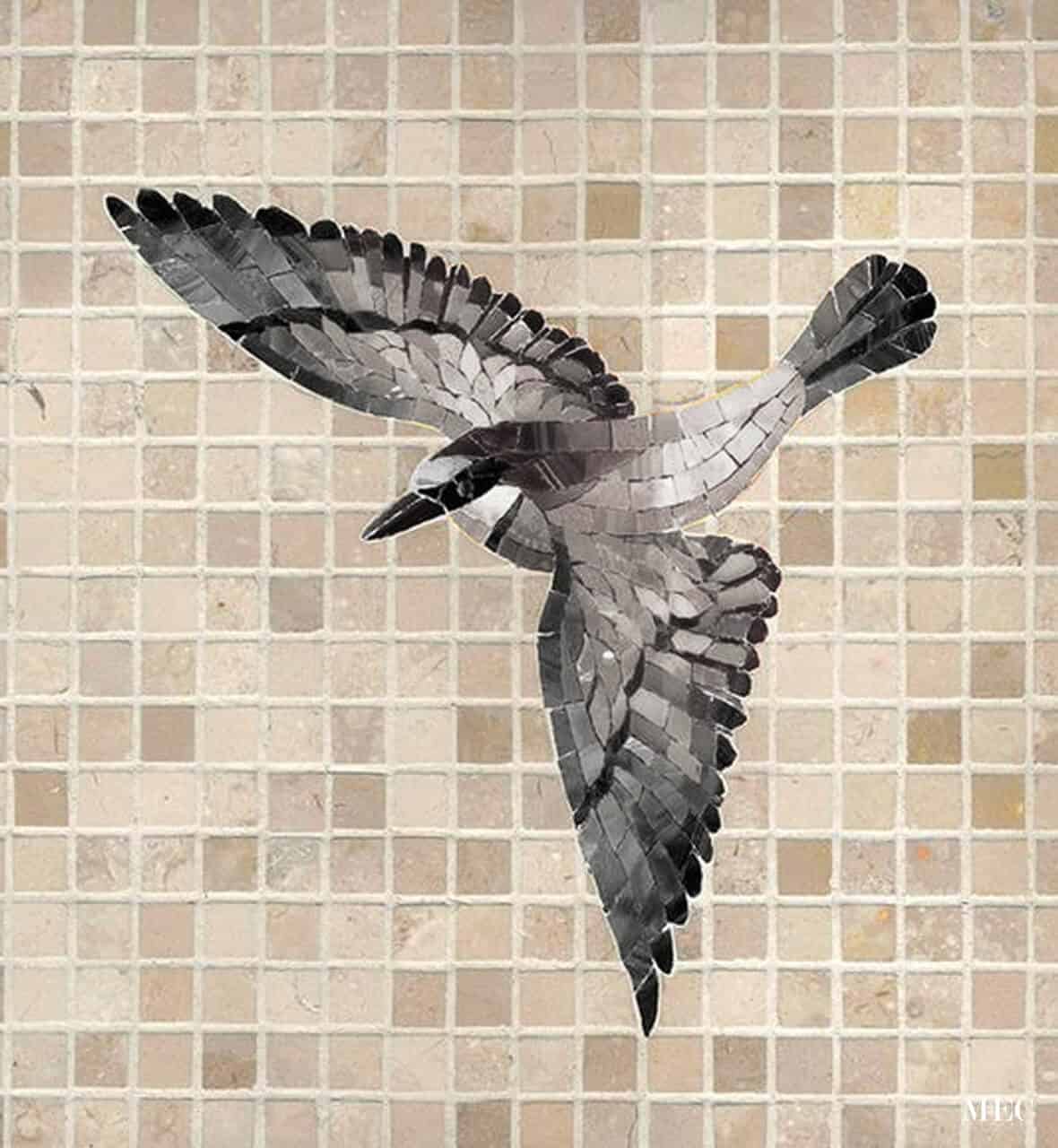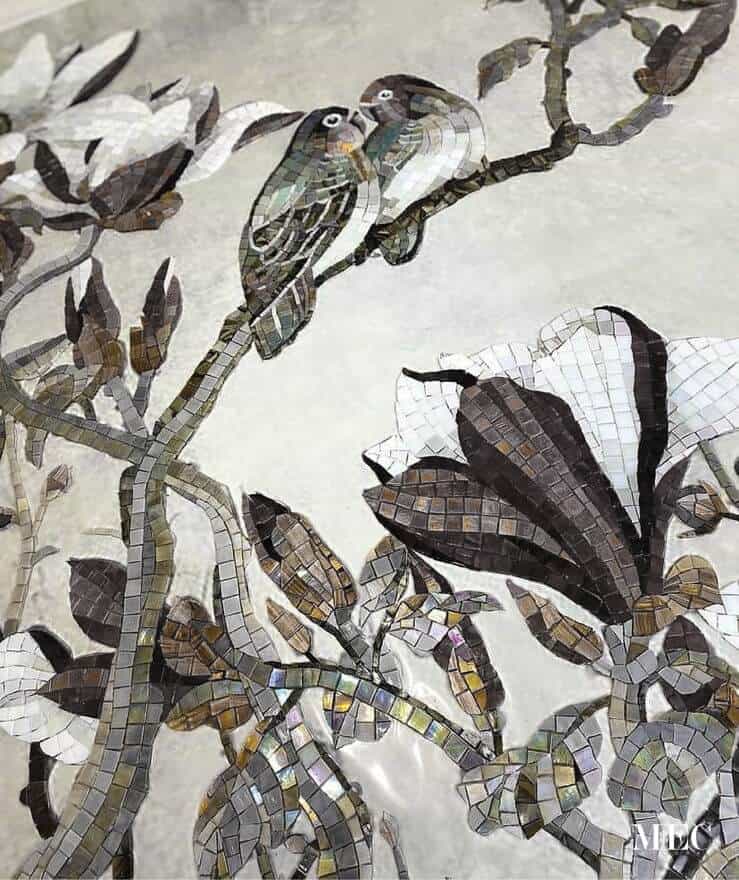 The mosaic sky was made using an exclusively developed software called AddTek.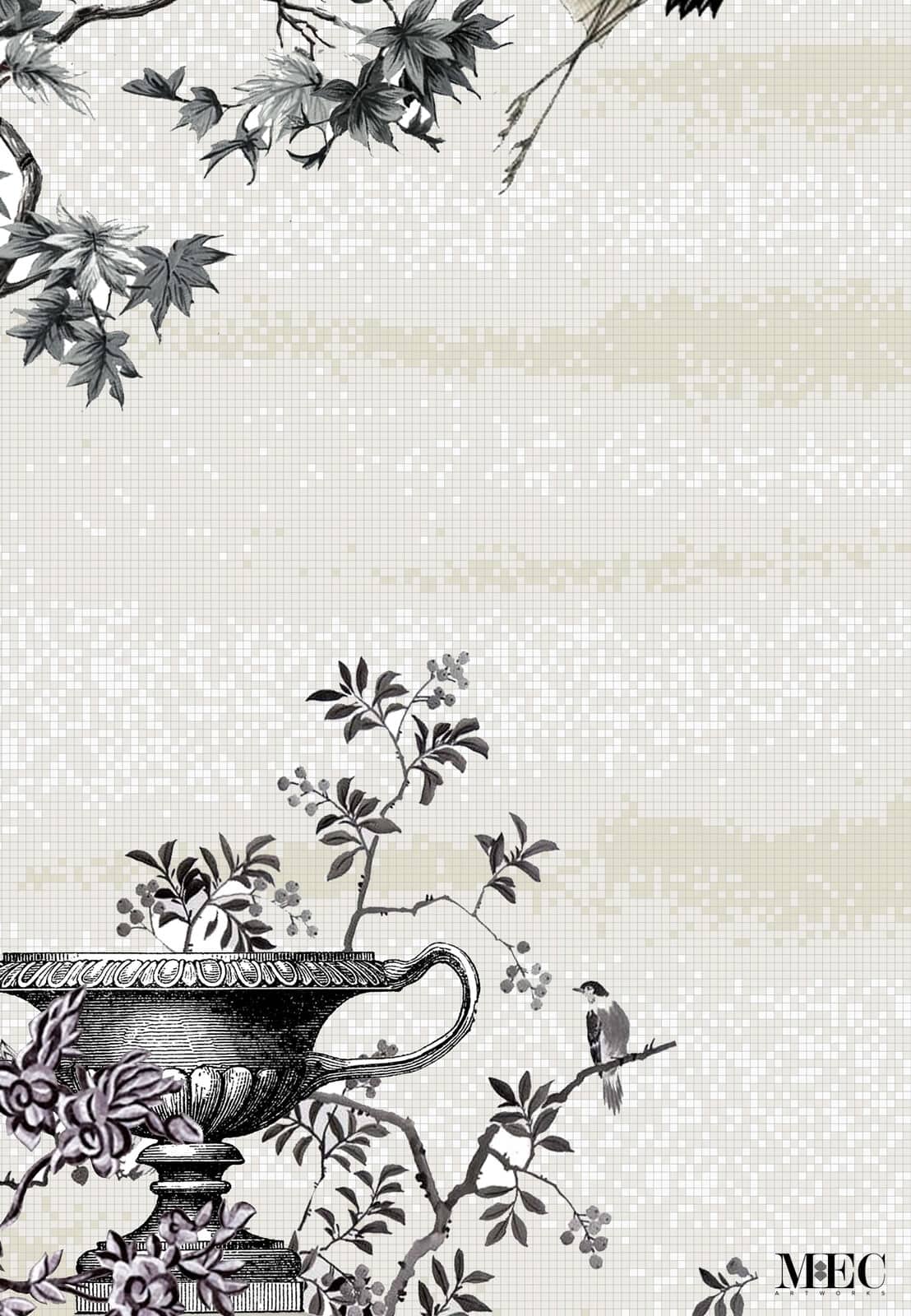 A pixelated grid and neutral/light color themes are often used to  make the background appear more subtle and blended. Which then helps the foreground elements stand out yet stay harmonized. For this Chinoiserie mosaic niche design the background has warm grays, off white shades & white. Neutral unsaturated tones.
More Updates Coming Soon
This custom Chinoiserie mosaic niche artwork has been shipped to the client and we are waiting for the post installation photos to share with you. So stay tuned for more updates on this mosaic beauty.
Get Your Own Unique Chinoiserie Mosaic Tile Murals
Has this project inspired you to consider similar custom mosaic tile murals for your own space? MEC can help. We are all about helping architects, designers and homeowners get designs of their choice fabricated in the mosaic medium. MEC can convert a photo into a mosaic tile pattern or turn your rough sketch into a personalized masterpiece. We can create designs from scratch based on your ideas and preferences. Simply drop us a message today to book a visual meeting with a mosaic design consultant.