Bathroom tiles with mosaic features can bring an artistic elegance to your space. From intricate patterns to captivating color palettes, discover how these mosaic features can transform your bathroom into a work of art.
When we think about our bathroom, it holds a special place in our homes. It is more than just a practical area; it is a haven for relaxation and self-care. So in this realm, bathroom tile has an impact on the ambiance, aesthetic, and practicality of these small retreats. Mosaics are versatile, transforming features that can breathe new life into your bathroom. In this article, we will explore the 7 unique ideas for bathroom tiles with mosaic designs, specially curated to inspire your next project.
Where can you Put Mosaic Tiles in your Bathroom?
you can use mosaic tiles in a variety of places in your bathroom. They offer visual interest, style, and usefulness. These tiles are water-resistant and can survive the damp atmosphere of the shower. Choose our mosaic tiles bathroom collection that complements the color scheme, materials, and fixtures in your bathroom.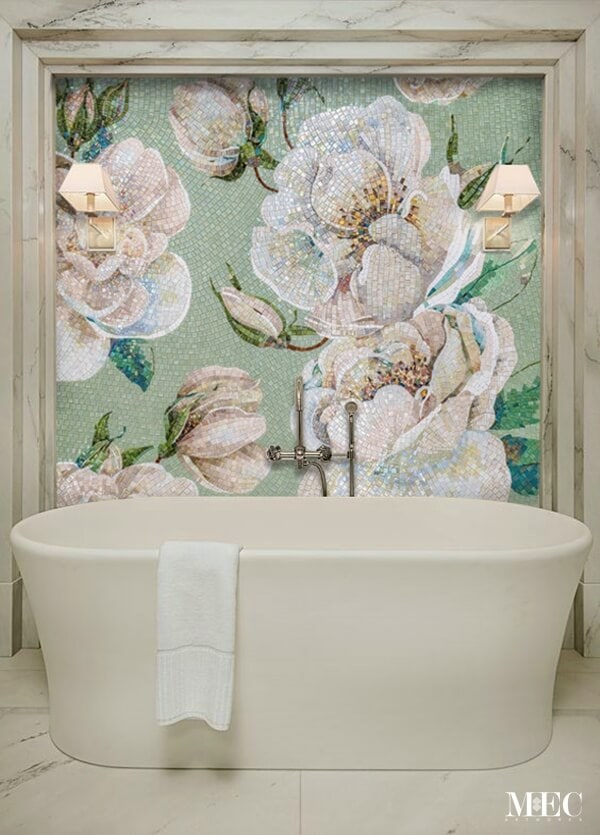 Exclusive Bathroom Mosaic Collection
50+ Bathroom Designs
Bathroom Tile Perfection Awaits – Click to Explore Our Mosaic Magic!
Table of Contents
At MEC, we take immense pride in being a leading provider of mosaic designs for bathroom spaces. With our significant knowledge and great eye for detail, we are committed to creating magnificent mosaic masterpieces for your bathroom design.
Our experts are fully skilled in crafting a mosaic tile for your bathroom designs. We offer you various mosaic designs and you can choose that best suits your bathroom style and preference. Let's explore the realm of mosaic tiles and unveil how they can elevate the style and sophistication of your bathroom.
Here's the 7 ideas for Bathroom Mosaic Tiles
1. Marble Mosaic Bathroom Tile for Timeless Beauty
Marble is still an excellent choice for bathroom décor. Its enduring appeal not only boosts home value but also exudes pure beauty. Marble's distinct veining patterns add depth and richness to your bathroom environment.
Marble mosaic tiles, whether used as an accent or to cover entire surfaces, add a touch of traditional luxury that stands the test of time.
They transform your bathroom into a haven of eternal elegance with their enduring beauty.
Whether you want a shower wall and floor ornamented with marble mosaic tiles for your bathroom, our professionals can help.
Our diverse range of patterns, colors, and styles gives you plenty of options for making your bathroom tiles with mosaic features really one-of-a-kind.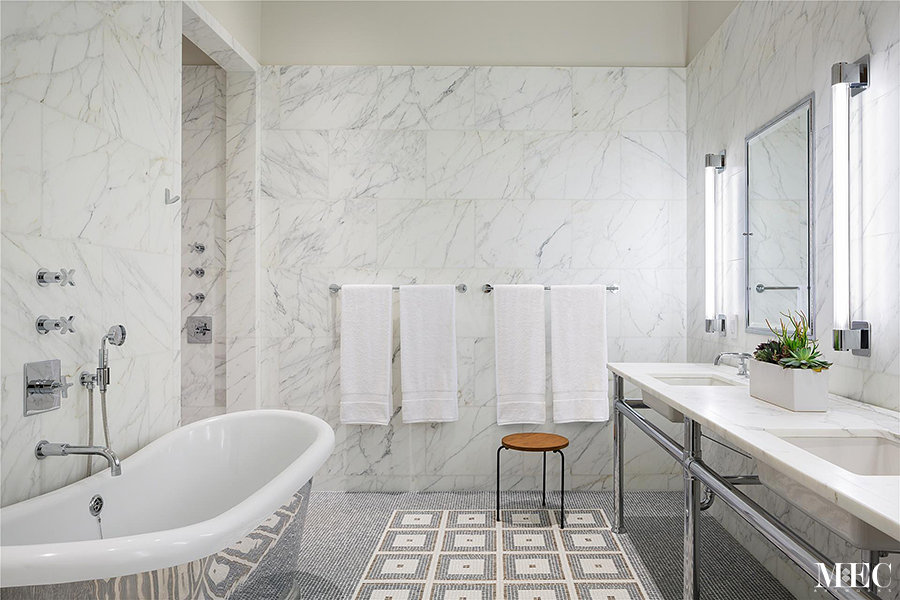 2. Mediterranean Vibes: Blue and White Bathroom Tiles with Mosaic feature
Consider the serene beauty of the Mediterranean Sea depicted in beautiful patterns of blue and white mosaic tiles. These tiles bring the Mediterranean's coastal appeal right into your bathroom. The tranquil blend of blues and whites produces a sense of calm and freshness, transforming your bathroom into a beach haven. Blue and white mosaic tiles fill your bathroom with the exhilarating essence of the Mediterranean. It offers you relaxation and a touch of timeless beauty, whether used as an accent or throughout the space.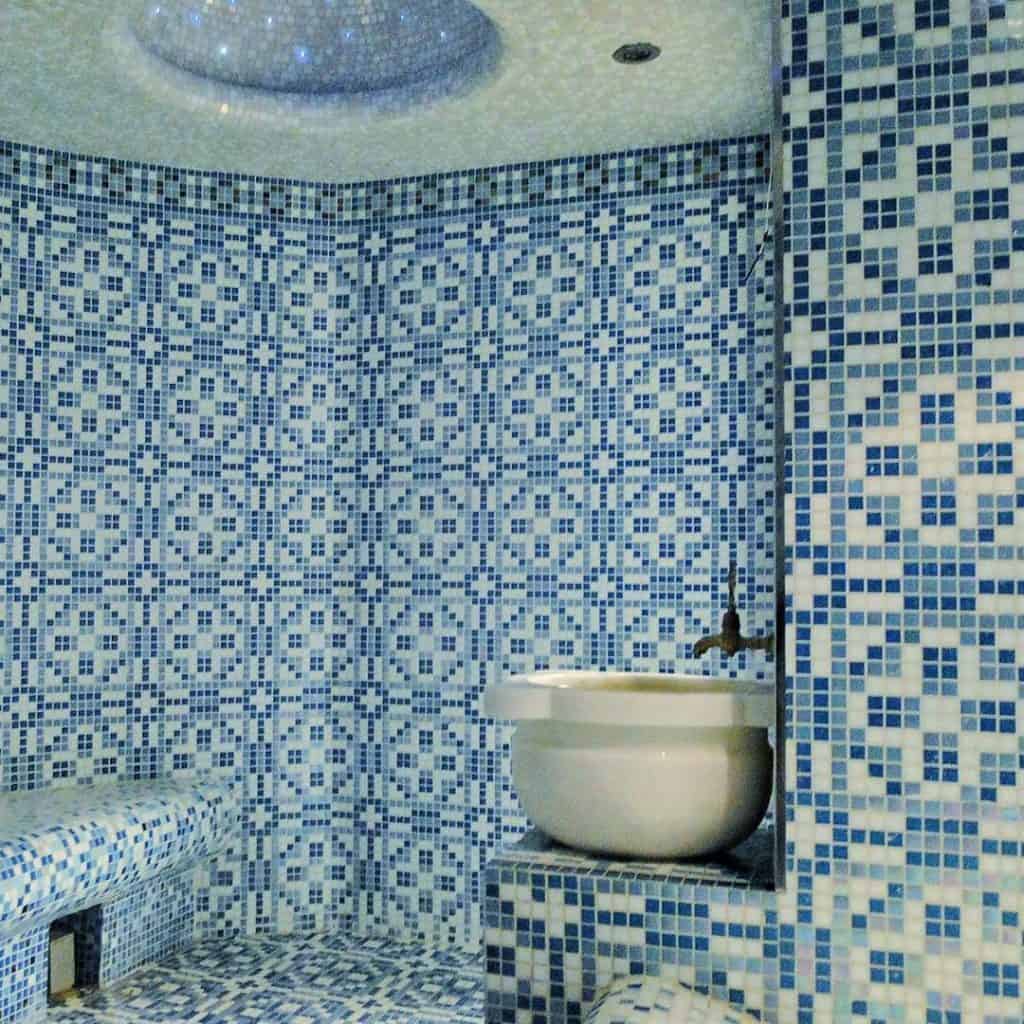 Creating a Seaside Escape
Consider the following techniques to infuse your bathroom with a coastal vibe with blue and white mosaic tiles:
Select your Bathroom Tiles with Mosaic Feature/design: Start by choosing the perfect blue and white mosaic tile design. Choose the designs that give you the essence of the sea such as waves, shells, or fish scales. These patterns will set the tone for your coastal bathroom.
Accent Wall or Shower: one of the most effective methods to use blue and white mosaic tile is to create an accent wall or use it in a shower area. Covering accent walls or shower spaces with these tiles creates an instant focus point that reflects the seaside motif.
Flooring: Extend the beach theme to the bathroom floor by using a checkered or alternating pattern of blue and white mosaic tiles to mimic the sea's gentle waves and give depth.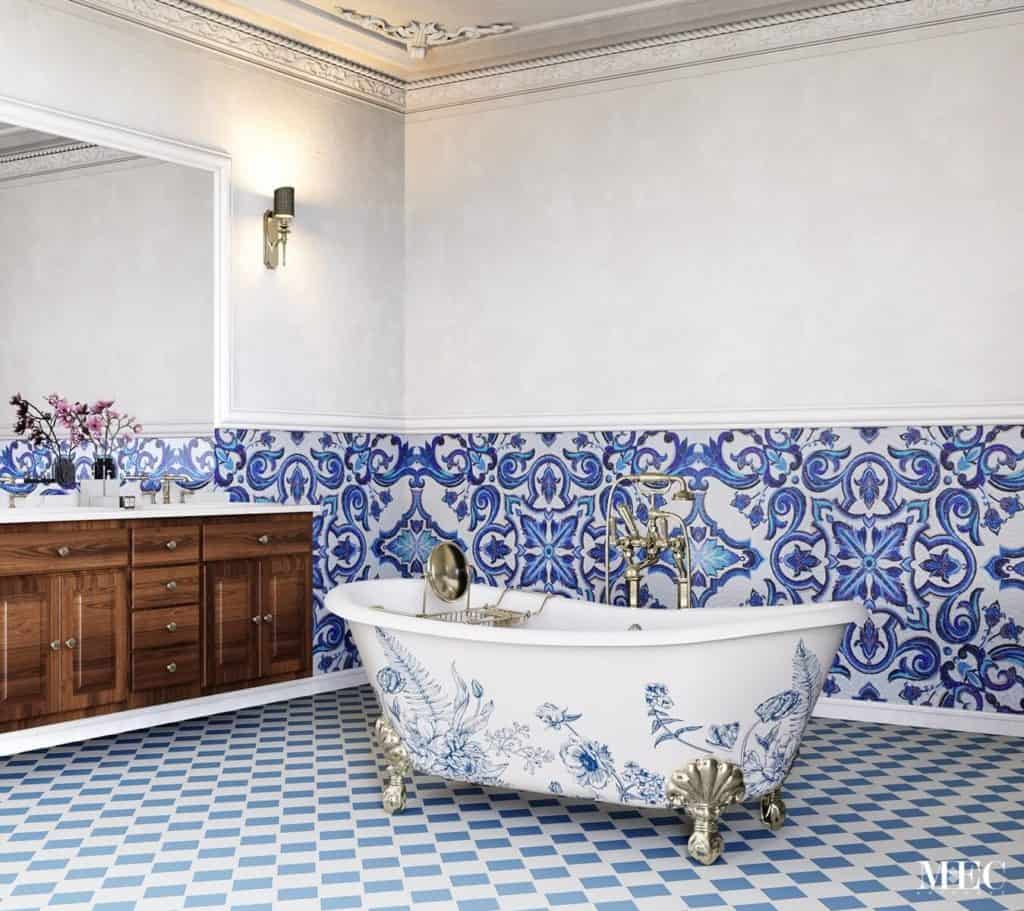 3. Incorporate a Mosaic Rug Beneath Your Bathtub
Another way to create an aesthetic look to your bathrooms is adding a mosaic rug beneath your bathtub. Choose a mosaic tile that fits your color scheme and improves the aesthetic appeal of your bathroom, allowing the rug to truly shine out. Incorporating a mosaic rug beneath your bathtub gives an artistic flair and sophistication to your bathroom décor. It becomes a unique focal point that can transform the ordinary space into a captivating and personalized retreat.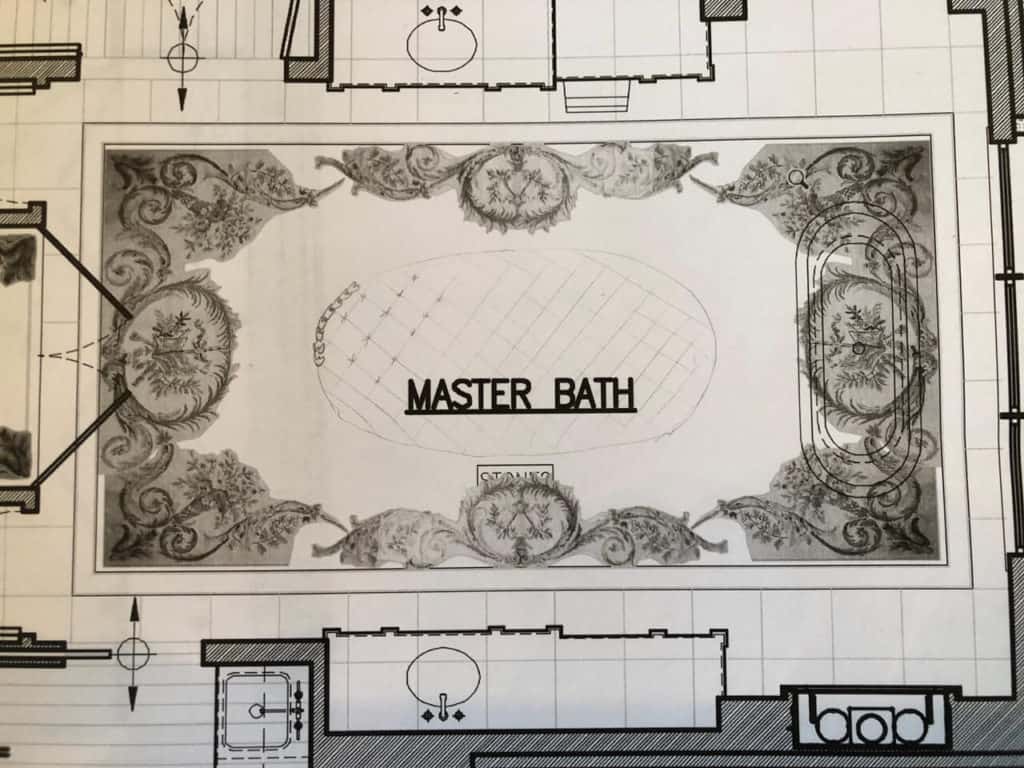 4. Choose Decorative Borders Bathroom Tiles with Mosaic Feature
Cover the entire bathroom wall with a mosaic border to incorporate different components of your bathroom wall design. Furthermore, It allows you to infuse your personal style, create focal points, and elevate the overall aesthetics of the space. Even in a serene and minimalistic setting, mosaic borders add artistic flair without overpowering the mosaic itself. They are easy to clean and maintain which makes them a practical choice for your bathroom environment.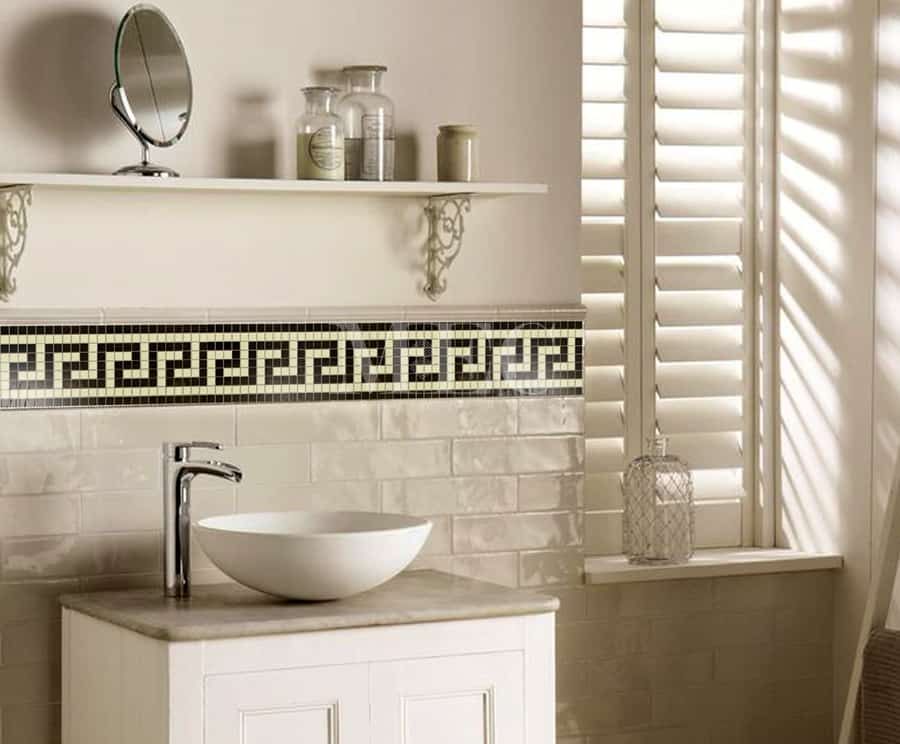 5. Blossoming Beauty: Floral Tile Murals
Floral tile murals bring the beauty of nature indoors, creating a calming and rejuvenating atmosphere in your bathroom. These murals can serve as a captivating focal point in your bathroom. It comes in a wide range of designs and color palettes. You can choose one that resonates with your personal style and complement's your bathroom existing decor.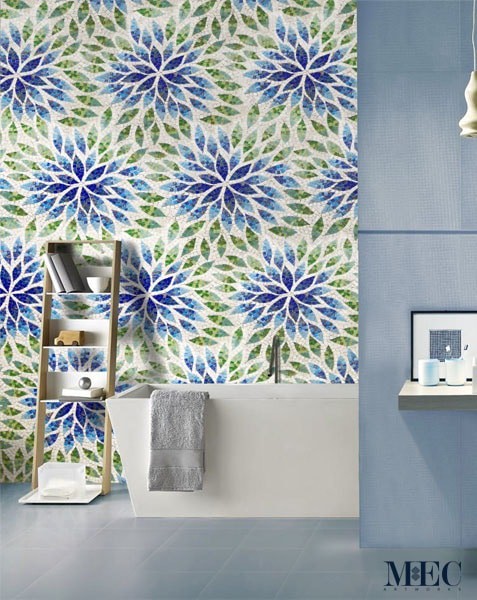 Petalo Floral Tile Mural offers a unique and personalized touch that sets your space apart from the ordinary.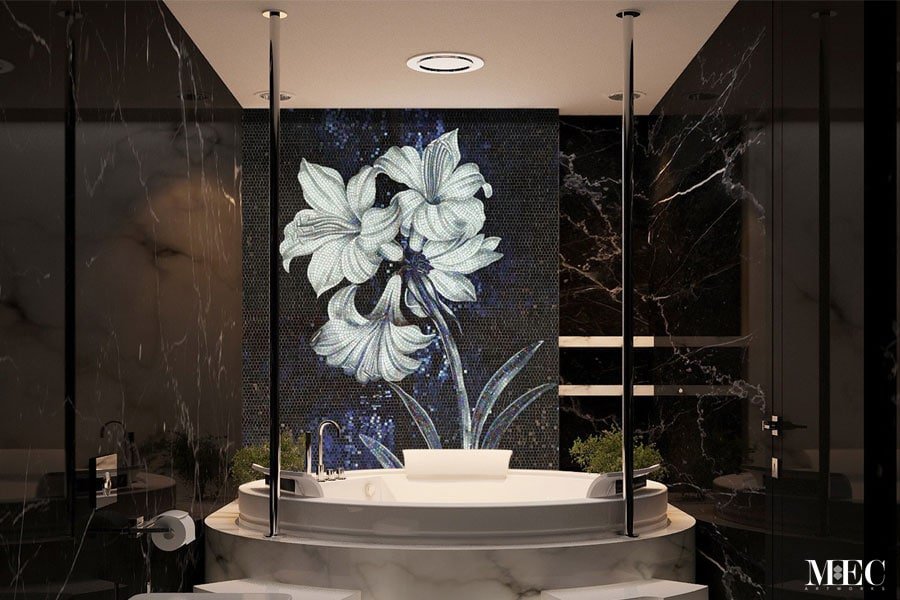 6. Black & Gold Bathroom Wall: The Midas Touch of Luxury
A black and gold bathroom wall exudes opulence and transforms your bathroom into a sanctuary of elegance and sophistication. The beautiful contrast between these two timeless colors immediately captivates the eye, bringing a sense of drama and elegance to your bathroom decor. It becomes the centerpiece of beautiful aesthetics when utilized as a striking focal point behind the vanity, as an enticing feature wall, or even in the shower area. Choosing a black and gold bathroom wall is like giving the Midas touch to your bathroom, which ensures it remains a realm of luxury and timeless beauty for years to come.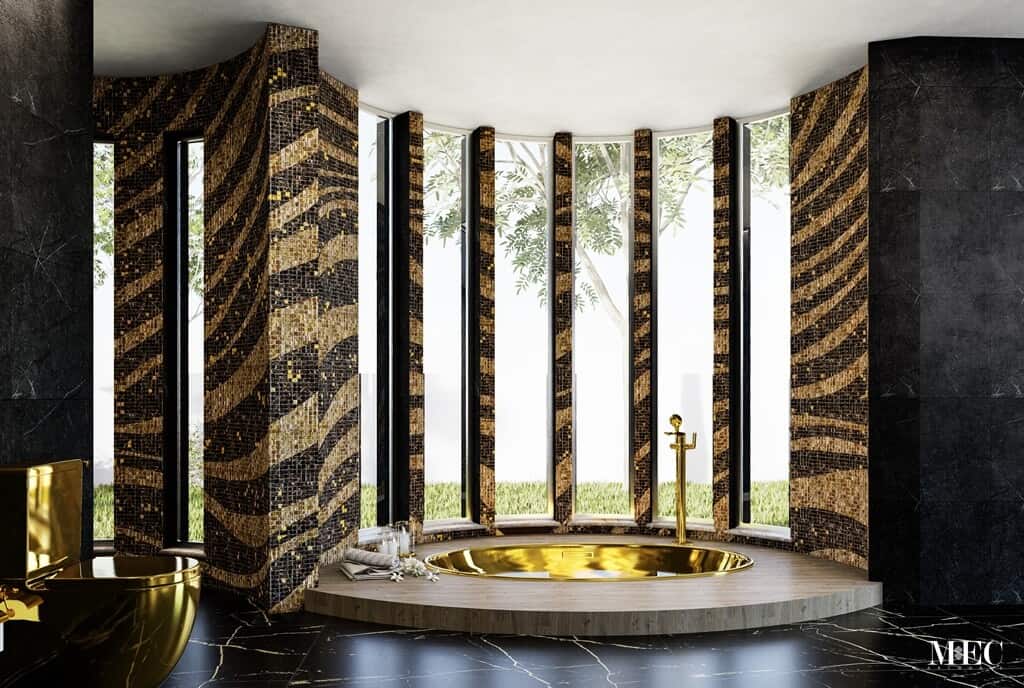 The carefully chosen Vertex Gem glass mosaic blend, enriched with Oro 24k gold foiled glass mosaic, brings a shimmering quality that truly captivates the eye.
7. Luxurious Shine: Creating a Sparkling Oasis with Metallic Mosaic Tile
The mesmerizing attraction of metallic mosaic tiles will elevate your bathroom in the realm of grandeur and extravagance. These gleaming gems have the intrinsic capacity to add a touch of luxury to any bathroom. It transforms into a brilliant retreat. Whether it's an
Accent wall behind the vanity
A gorgeous backsplash
Eye-catching shower niche
These tiles capture attention and offer a feel of grandeur. Metallic mosaic tiles are easy to clean and maintain. Their resistance to moisture and stains makes them a perfect choice for your bathroom. Our mosaic metallic tiles are perfect for those who are seeking a luxurious bathroom appearance.
If you're seeking more visual inspiration, be sure to explore our clients' projects showcasing the exquisite artwork of nature-inspired beauty backsplash meticulously crafted by MEC's skilled artisans.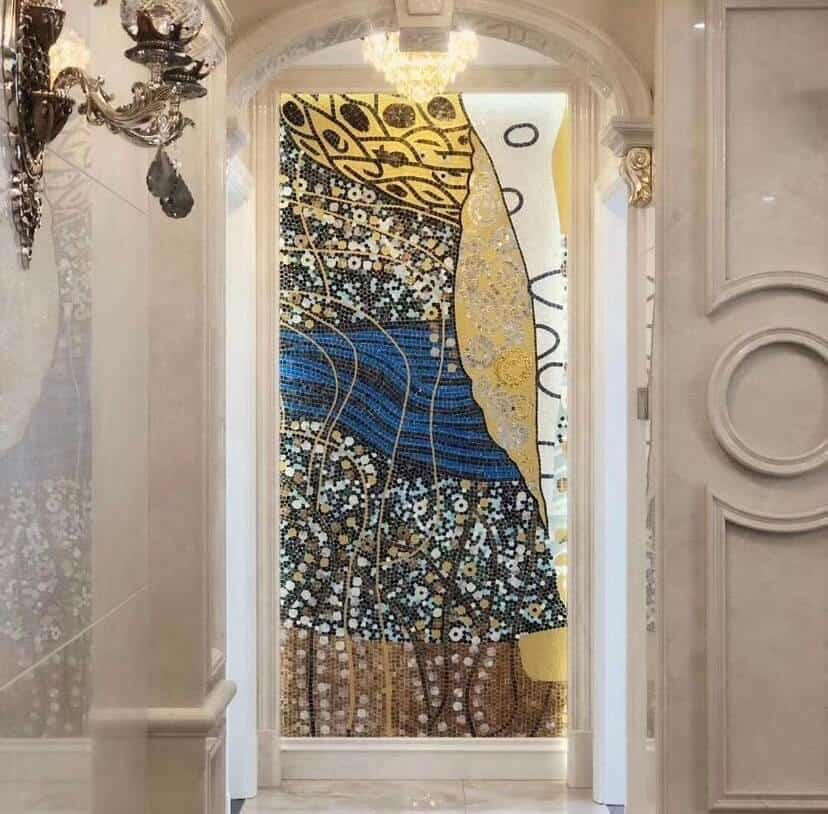 7. Mosaic Bird Wall Tiles with an Exquisite Shine
Mosaic bird wall tiles offer a unique and visually striking way to enhance the decor of your bathroom. It brings forth a marvelous and refreshing nature scene into your bathroom, featuring a pair of gorgeous exotic birds. You can choose from various bird species, color schemes, and layouts to suit your bathroom's style and your personal preferences. The bird-themed mosaic tiles bring a sense of nature's beauty and serenity into your bathroom, enhancing the overall ambiance. The shine not only provides a touch of luxury but also enhances the entire atmosphere by reflecting light and making the space appear larger. These tiles can become a focal point and create a luxurious inviting atmosphere in your bathroom.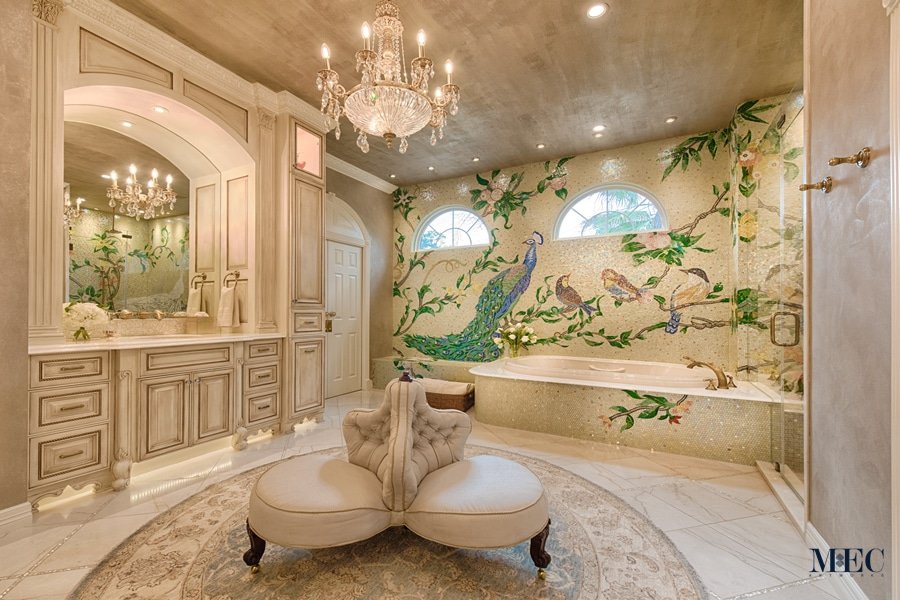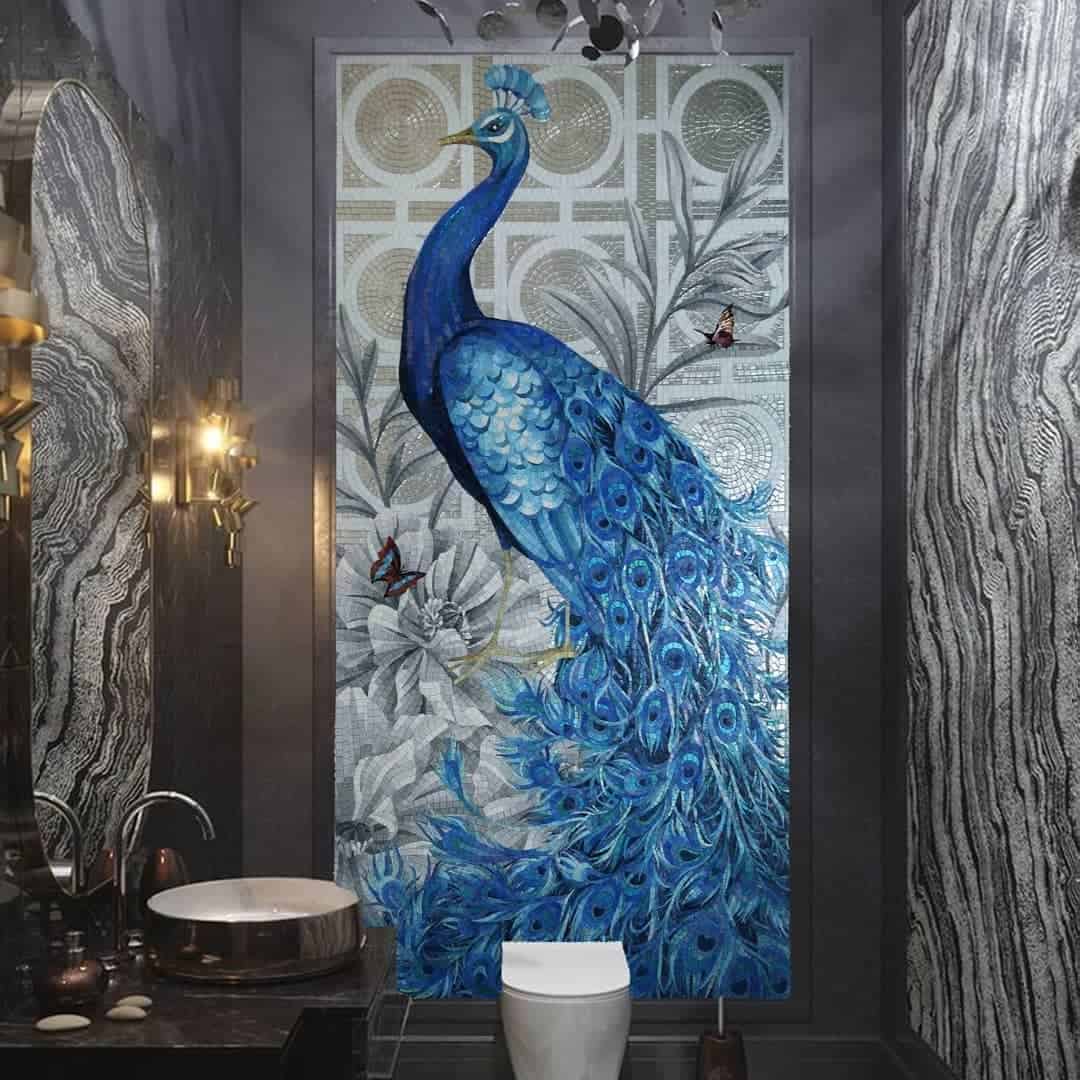 8. Tranquil Elegance: Koi Fish Mosaic Wall Art
Koi fish mosaic wall art is an exquisite choice to infuse your bathroom with a sense of serenity and sophistication. It allows you to design a bathroom that not only reflects your particular style but also provides a calm and beautiful respite from the worries of daily life. This can create a spa-like atmosphere in your bathroom, making it a great location to relax and unwind. With this captivating tile artwork, your walls become a canvas for nature's beauty and artistic expression.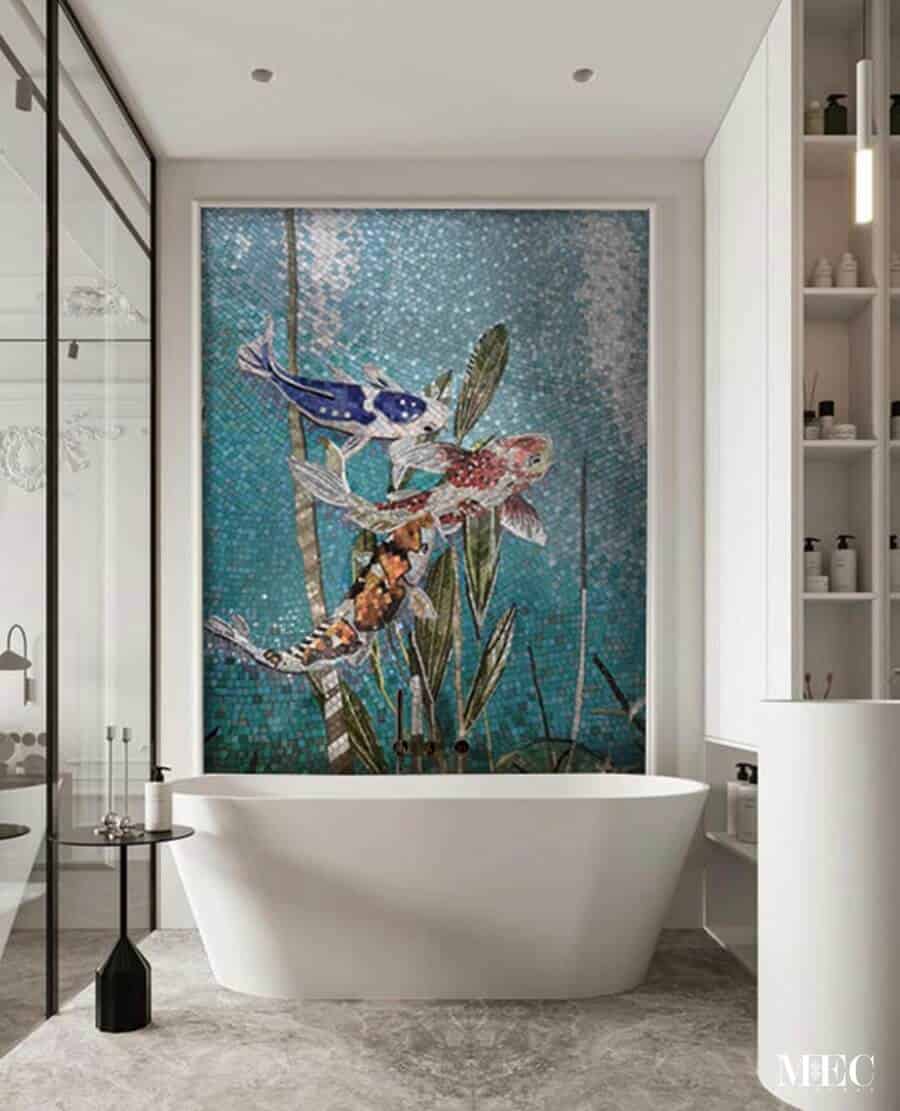 This breathtaking mosaic depicts two graceful koi fish gracefully gliding through turquoise blue waters amidst lush pond plants.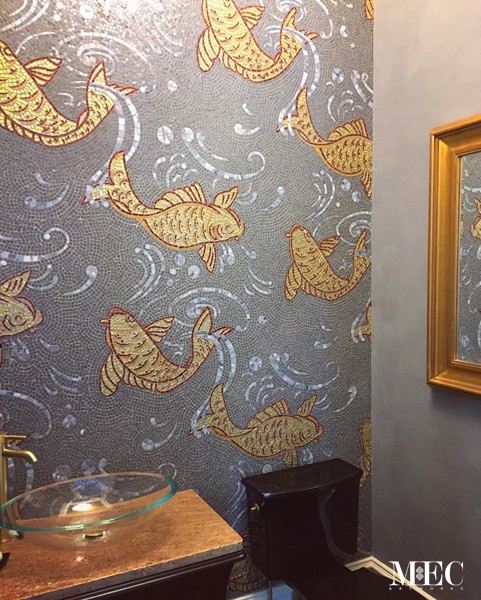 Wrapping up! Elevate the Aesthetics of your Bathroom Tiles with Mosaic Feature
In conclusion, we have explored the seven best bathroom tile ideas with mosaic features. Each idea represents an opportunity that change your bathroom into a space that not only reflects your style but also improves your daily routine. Whether you prefer timeless elegance, Nature-inspired mosaic bird and Koi fish art, or modern luxury. Mosaic tiles provide a versatile canvas for your creative vision. By implementing these ideas into your bathroom you can design a genuinely one-of-a-kind and intriguing setting.
Choose MEC as your trusted partner, giving a wide range of customization options to take your bathroom to new heights. Our persistent commitment to excellence, together with our talented artisans, has resulted in a portfolio committed to transforming ordinary bathrooms into spectacular spaces.
FAQs
Are mosaic tiles good for a bathroom?

Yes, glass mosaic tiles are an excellent choice for the bathroom. Their adaptability, durability, and aesthetic charm make them particularly well-suited for wet and humid environments.
Where do you put mosaic tiles in a bathroom?

You can use Mosaic tiles on shower walls, and bathroom floors, as backsplashes, or as decorative accents and focal points in a bathroom.
Is mosaic tile still in style?

Yes, mosaic tile remains a popular and trendy choice in interior design, delivering adaptability and timeless appeal for a variety of applications.
Are mosaic tiles hard to clean?
Mosaic tiles are generally easy to clean, but the number of grout lines may require more attention to maintain cleanliness. Consider using epoxy grout or periodically sealing regular grout once or twice a year for added protection.
Do mosaic tiles require special maintenance?

While mosaic tiles are known for their easy maintenance, it's essential to keep them looking their best with regular cleaning and occasional grout upkeep to prevent grout stains and ensure lasting beauty.